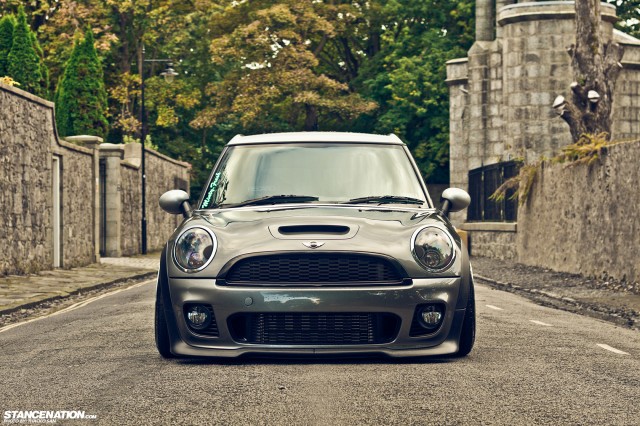 About a month or so ago I was contacted by James Olley who wanted to know if we were interested in a running a feature on his newly finished Mini Clubman. As sexy as this Mini is, the story behind the car is what made this an easy car to feature. James details cars for living, and back in September of last year he purchased the Clubman since he wanted something more "practical" for running around in and for carrying around his detailing kit as his other car, a 2006 Cooper S JCW GP, with its 2 bucket seats and harnesses wasn't really up to the job. Though if you want us to be honest with you, he wasn't just after "practicality". The idea all along was to have a somewhat uncommon car slammed on the ground which he could also use for his work. Mission Accomplished. But there is more to it.
Photos By: Thacko San exclusively for StanceNation.com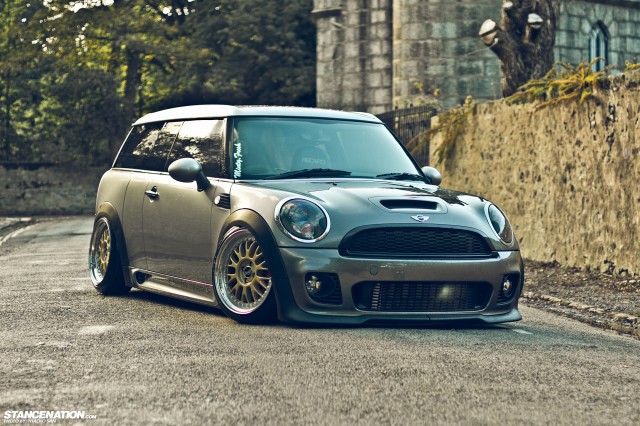 Right after purchasing the car, 650 miles from home, James popped in past Evolve Automotive (automotive shop) for a remap of the Mini. He brought the car from a decent 218 HP (stock), to healthy 265 hp! Yes, that's just a couple of hours into ownership! "A happy James with a good bit of power to take me back home!", James tells me. Already sitting in the workshop were a set of Rota RB's, 13mm spacers, AP coilovers and an Evolve Decat in the boot! That means that within 36 hours, the car was low, on a pretty sweet set of wheels and sitting reasonably flush! For the time being, James was pretty content with his set up but that's when things went downhill unfortunately. May of this year, James and a few of his friends went on a trip to the Pual Richard Circuit south of France to the MINI UNITED event. On the way to the track the car was hit by a Mitsubishi L200, which left the car "in a very bad condition!" as James tells me.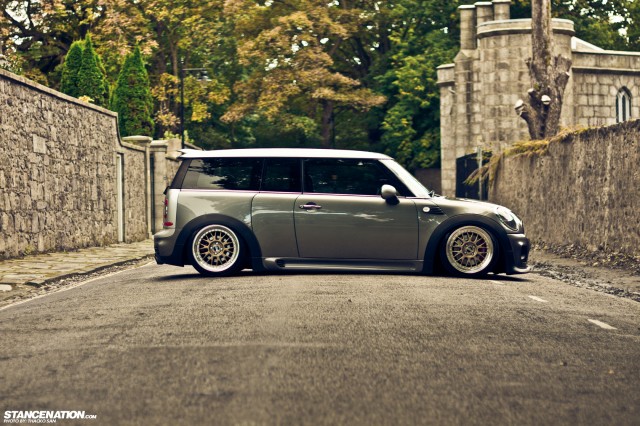 A long month later, the car was on its way back to the UK and off to MINICRAFT of west Sussex to be rebuilt! "If anyone was going to save this car, it was these guys" James says. After 5 weeks of intense work, the "Clubby" was rebuilt and looking good as new! By this point, James' friends have been giving him plenty of ideas on what to do with the car once it's back in shape. Even during the rebuild parts like the Evolve Intercooler were added to replace the stock one and a new JCW turbo due to a crack in the casing of the old one. A phone call to "Plush Automotive" in the UK and a discussion of what James' needs were, an "Air Ride" kit was on it's way from the USA!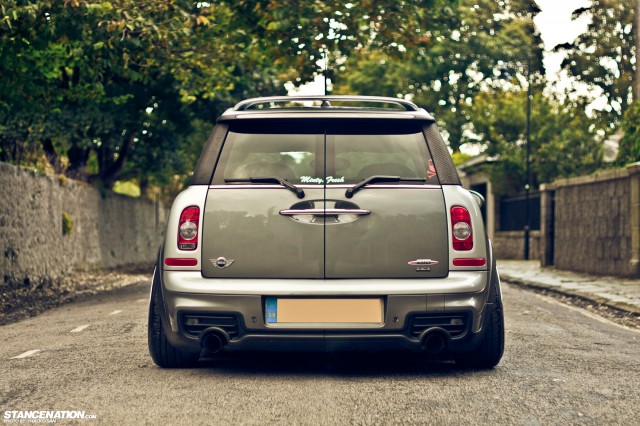 James also decided to step his game up and run a legit set of wheels. He says that he just couldn't run a proper Air Ride with no so proper Rota wheels. After some serious hunting on the internet was done, and with the current budget, he found a beautiful set of Image BPS wheels. 1.5″ lip front and 2.5″ Lip rear with a 17×8.5 set up all round. He had a couple of his friends help him with the installation of the kit, Marc Smith (Owner of the black supra we featured a while back) and his other friend Scott Forbes. They decided that the install had to be clean and out of the way to retain as much space in the car (it is a hauler after all!) as well as to keep people wondering how it can be driven that low when he does pop that trunk.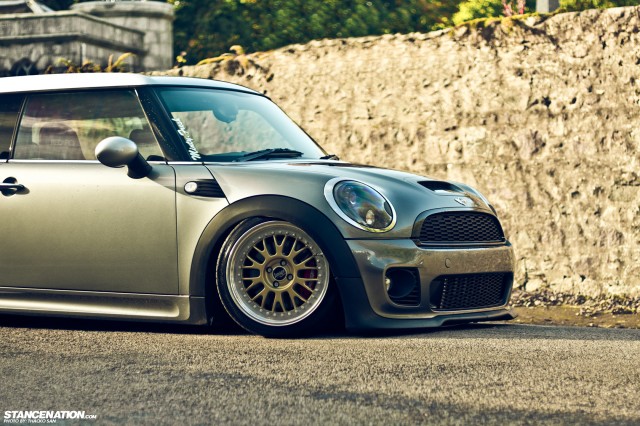 With that said, James is currently running the Accuair Awitchspeed kit with adjustable camber plates up front, and pillow ball rear top mounts. Heidden in the trunk are two 380xx air compressors, a VU4 manifold, and one 3.5 gallon air tank.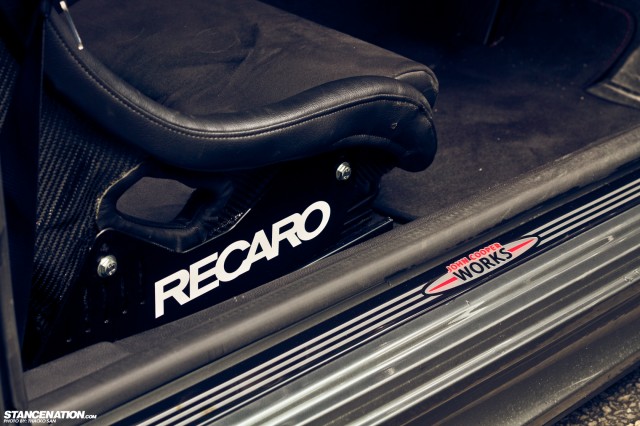 Interior appears to be stock besides the Recaro Pole positions with leather/alcantara carbon backing but James did add a couple more things. The center console was trimmed in Alcantara as well as the door bolsters. Little things that many people won't notice, but he sure does.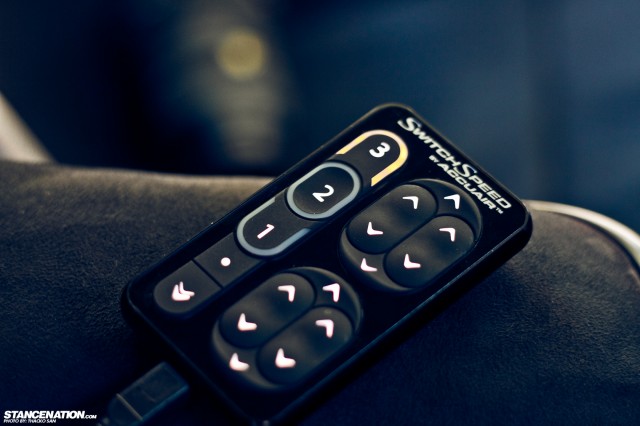 So what does the future hold I asked James, to which he said "Nothing as of yet, maybe some different wheels or possibly repaint the car in Lamborghini Grey for a super stealth look! Unsure how that will sit with gold wheels haha!" When I asked him what his favorite thing about the car was he states that he enjoys it's rarity. Well, in the stance scene at least. IN the UK, Clubmans, especially the John Cooper Works edition are not common at all. Plenty of power under the hood too for such a small vehicle.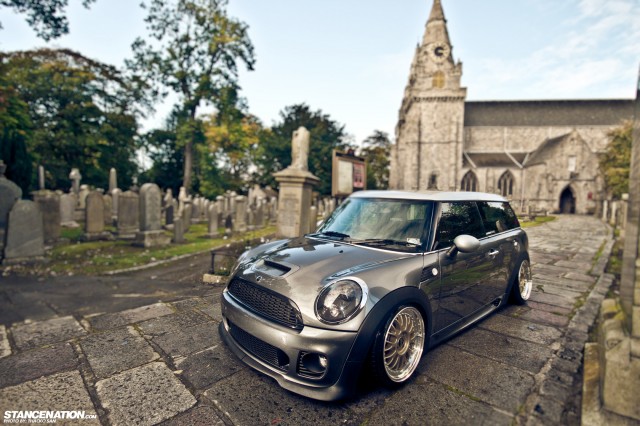 With that said, I'll leave you with a couple more photos as well as a huge thank you to our friend Thacko San from Minty Fresh for the awesome photos as well as James Olley for approaching me about this feature. Big shout out to all the UK fans out there as well, keep up the good work. We've got our eyes on you!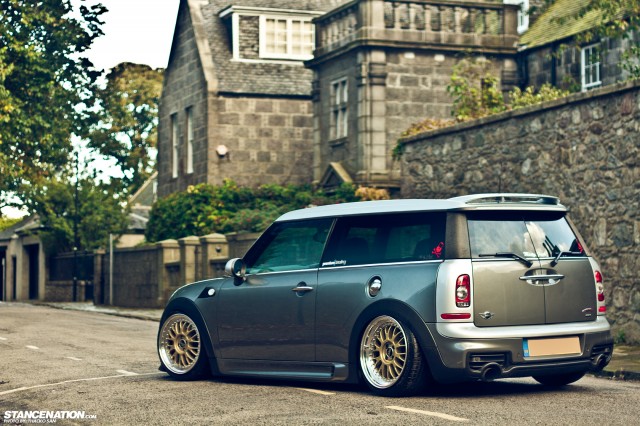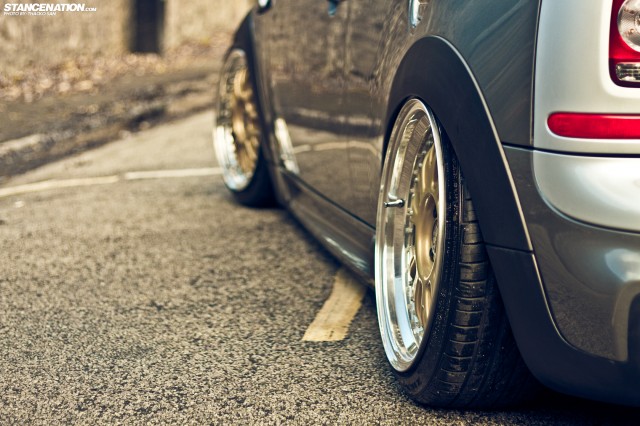 [toggle_box]
[toggle_item title="Wheels/Tires/Suspension" active="true"]Accuair Switchspeed kit
Accuair Struts for the mini
Adjustable camber plates up front
Pillow ball rear top mounts
2 x 380cc air compressors
VU4 Manifold
3.5 gallon air tank
Image BPS Wheels
17 x 8.5 with 1.5″ lip front
17 x 8.5 with 2.5″ lip rear
10mm spacer up front and 5mm rear for clearance issues with the strut[/toggle_item]
[toggle_item title="Exterior" active="false"]JCW Aero Kit[/toggle_item]
[toggle_item title="Interior" active="false"]MINI Center console Trimmed in Alcantara
Door Bolsters trimmed in Alcantara
Recaro Pole positions Leather/Alcantara carbon backed[/toggle_item]
[toggle_item title="Engine" active="false"]Evolve Automotive Remap
Evolve Automotive Intercooler
Evolve Automotive De Cat Downpipe[/toggle_item]
[/toggle_box]