Indecision is a problem for many car enthusiast. With all of the part options available to automotive enthusiasts, it can get pretty hard deciding what we really want. Enthusiasts are constantly buying, selling, and trading parts with the hope that we can own something a bit more rare or valuable than what was already planned or purchased. Chances are, as soon as you find your next addition, something else will catch your eye and send you right back where you started. Agreed? With that said, I'd like to introduce Mathew Gokim out of Southern California and his stunning Infiniti Q45 (that could have been a G had he not been introduced to the world of VIP).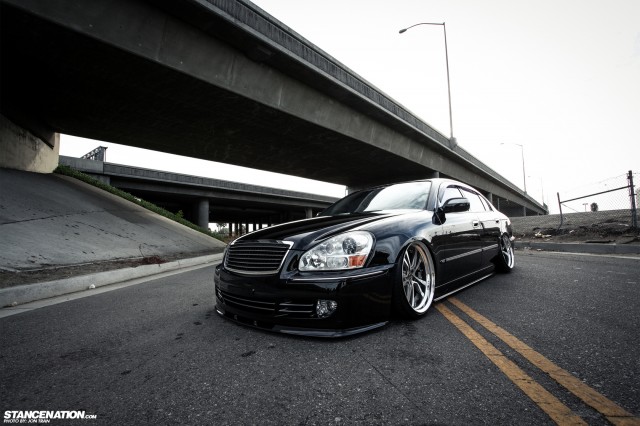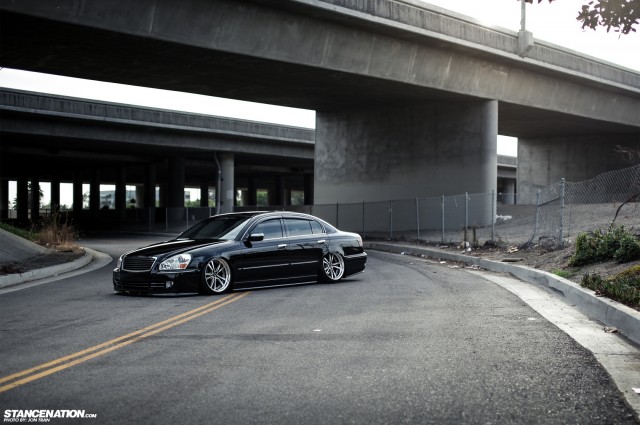 Before I get into all the details of this build, I'd like to start with a little back story. Mathew is a huge Nissan enthusiast. As many of you know, Infiniti is the luxury division of Nissan Motor Company, so it's no surprise that Matthew's previous car was an Infiniti G35. He had just started building his G35 when he was first introduced to the VIP scene. As you can expect, he was instantly hooked. Instead of trying to start over with his current project, Mathew decided he wanted to start with a fresh canvas so he began looking for his next project. After Matthew saw some of the Japanese Q45's also known as the Cima, he knew right away what he wanted.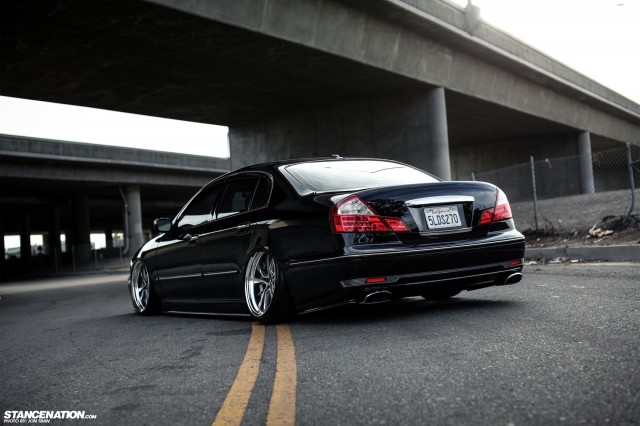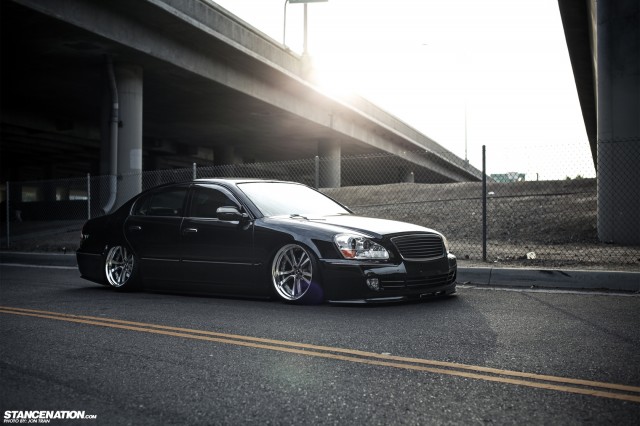 Soon after buying the Q Matthew, jumped right into the build and even bought a body kit and rims. Realizing that he wasn't satisfied with the way the build was going, he decided to go all out and build the Q of his dreams. That's what brings us here. The Q45 is a beautiful car to begin with, but when you add parts from one of the finest Japanese aero companies (Mode Parfume), you end up with a car on an entirely different level. With that said, Matthew dressed his Q in a beautiful Mode Parfume Phantom Ga-mu kit with a carbon fiber "under flap" kit and prism sink fog lights. With the new kit fitted, Matthew moved to the little details. Just under the new rear bumper sits a set of Mode Parfume crescent exhaust tips that are connected to a custom dual exhaust conversion with a muffler delete. Helping to add more JDM goodness, Matthew added Cima window visors, chrome trunk garnish and the part that initially started this build, the Cima front grill.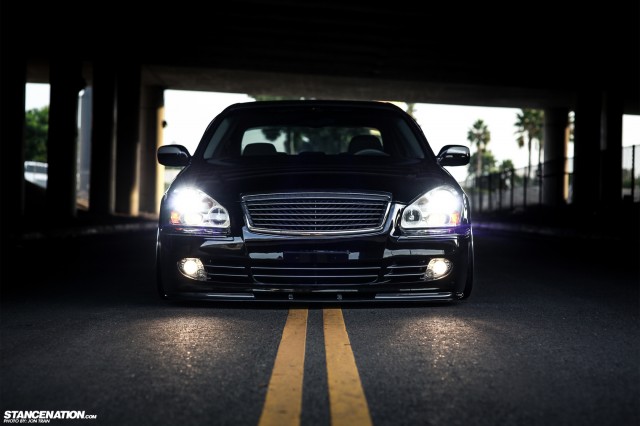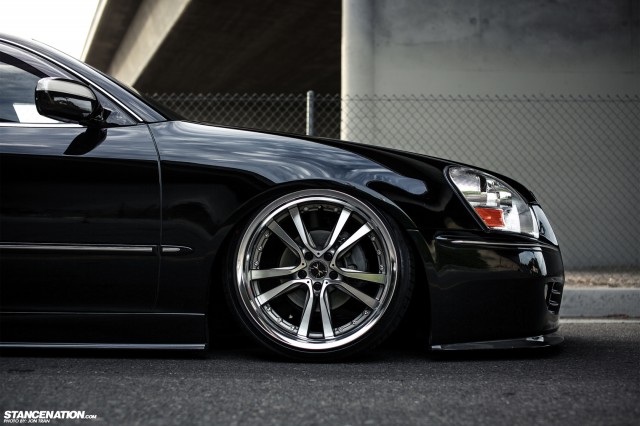 I know that some might not agree but I've always believed that the wheels make or break the car. No build is complete with out a clean set of wheels. With the clean new body, Matthew was going to need a pretty incredible set of wheels. I'd say he made the right choice with the beautiful Weds Maverick 405s in 20×9.5 and 10.5 in a shinning bronze finish. The wheels are a bit aggressive and sharp but they do a great job of breaking the smooth look from rest of the car. I can't keep my eyes off of them personally, how about you?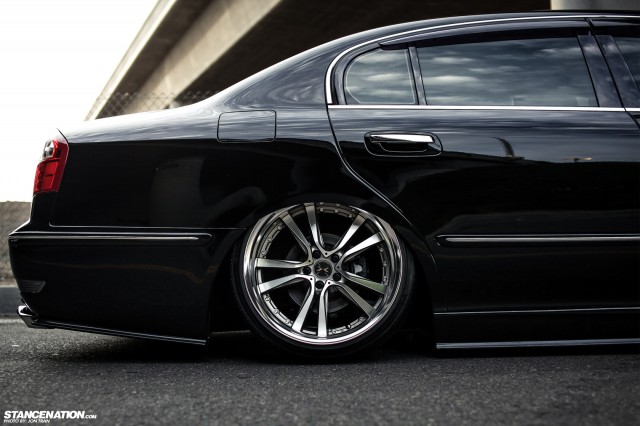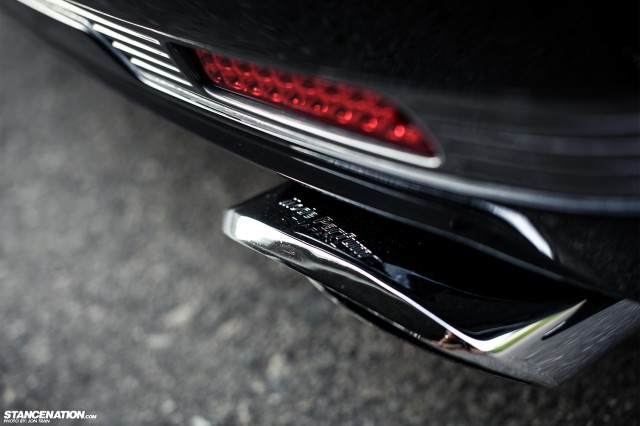 Stateside, when you're rolling in a big body sedan, air ride system is almost a must. It's hard to keep everything clean and scratch free when your rolling on coils. Matthew's Q is rolling on Airrunner Air ride system with Dakota digital electronic pressure gauge. For the parts that cant be adjusted with a flip of a switch, Matthew chose Megan front camber plates, Battle Version rear upper arms and SPL pro titanium rear camber kit. It's easy to see why VIP gets so much attention, this Q can easily fit in a group of high dollar luxury sedans.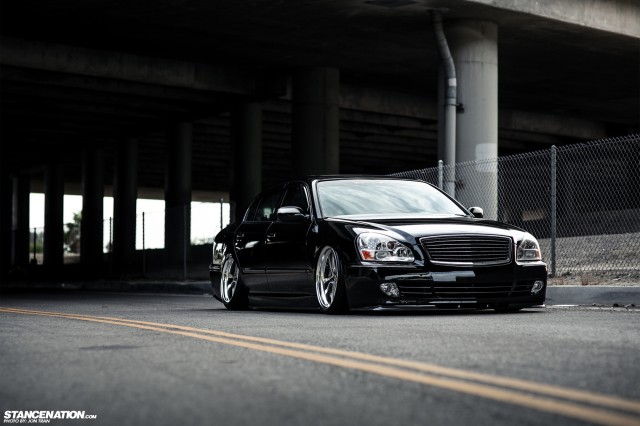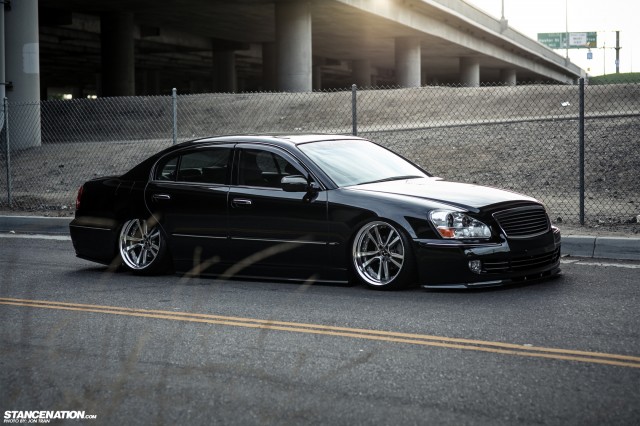 No self respecting VIP project could be considered finished without interior additions. Sitting in Matthews Q, you can relax with comfort of Garson Luxury neck and seat belt pads. If you're into enjoying a beverage or two while cruising around, you'll probably enjoy the Garson Luxury drink holder to hold your drink, in class. It would be difficult to start the engine without noticing the Garson Luxury starter ring or open the doors without seeing the Garson Luxury keyless emblem. These are just a couple little details that really make all the difference on a big beautiful VIP sedan like this.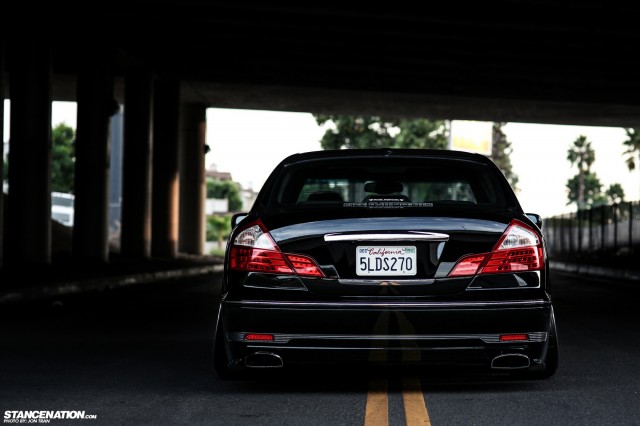 I guess there could be a couple of morals to this story. First, try not to jump into things too quickly. If you rush into buying parts or cars too quickly, you'll probably end up back on the classified section of your favorite forum. Second, don't waste time trying to cut corners. If you have an idea as to what you want, do what it takes to get exactly that and don't settle. Huge thanks to our photographer Jon Tran for killer photos as well as Matthew himself for building such a jaw dropping ride. As always, scroll down for a couple more photos as well as the entire specification list.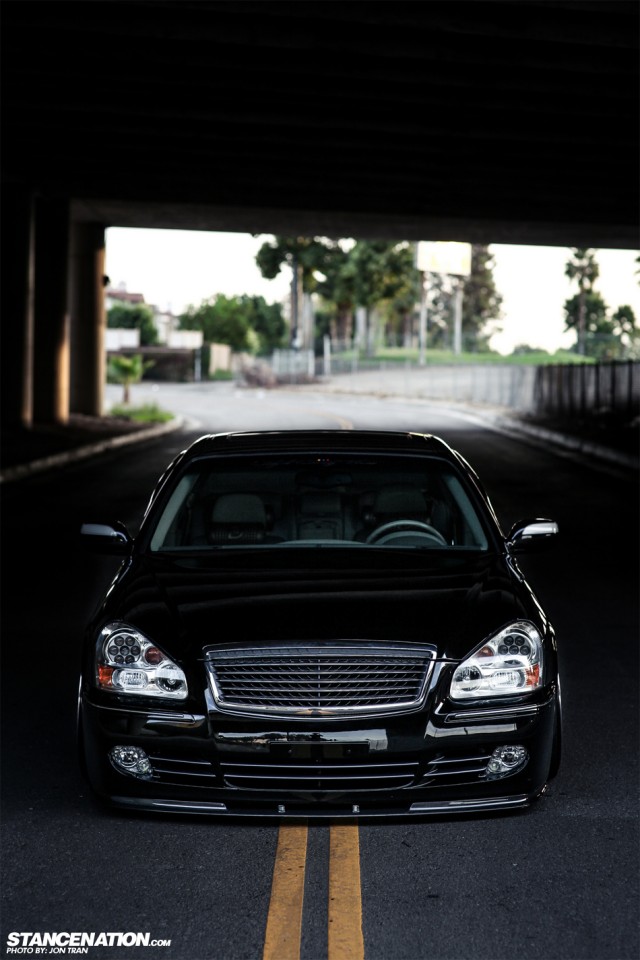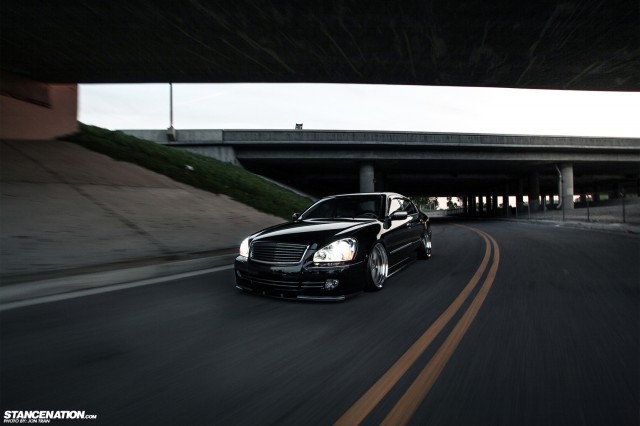 [toggle_box]
[toggle_item title="Wheels/Tires/Suspension" active="true"]20×9.5 & 20×10 WEDS Maverick 405s (Shining Bronze)
Hankook 225/35 & 235/35
Airrunner Air Suspension System
Dakota Digital Electronic Pressure Gauge
Megan Racing Front Camber Plates
Battle Version Rear Upper Arms
SPL Pro Titanium Rear Camber Kit[/toggle_item]
[toggle_item title="Exterior" active="false"]Mode Parfume Phantom Ga-mu Body Kit
Mode Parfume Carbon Fiber Underflap Kit
Mode Parfume Prism Sink Fog Lights
Mode Parfume Crescent Exhaust Tips
Dual Exhaust Conversion + Muffler Delete
JDM Cima Window Visors
JDM Cima Front Grille (Kouki)
JDM Cima Chrome Trunk Garnish
Garson Luxury Keyless Emblem[/toggle_item]
[toggle_item title="Interior" active="false"]Garson Luxury Neck Pads (Type Vega)
Garson Luxury Seat Belt Pads (Type Vega)
Garson Luxury Drink Holder (Type Vega)
Garson Jewelry Starter Ring[/toggle_item]
[/toggle_box]