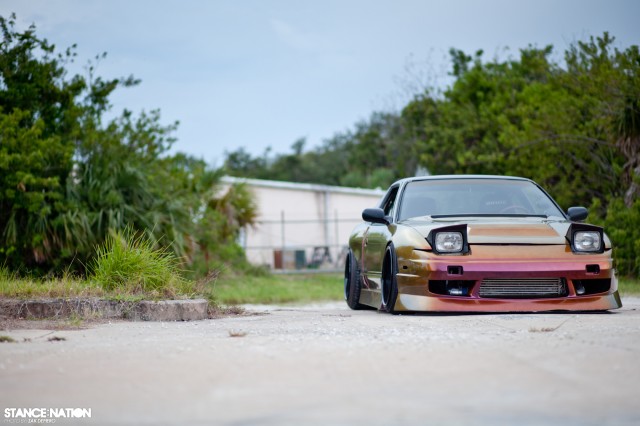 It's safe to say I have a soft spot for S-chassis, specifically S13s.  I'm not alone in the sentiment, they've become a staple at any of the events we attend and are attractive to enthusiasts from almost every sector of the scene.  Show guys, track guys, and obviously — the drift guys love the rear-wheel drive Nissan.  The S13 (or RPS13) simply offers so many flavors.  Do you want a convertible, coupe, or fastback?  What about headlight design?  You can even have your S13 with Honda minivan headlights if you want.  Truth is, for guys like us such a wide variety of selection is a highly desirable quality.  Even if events seem to be saturated with them it begs the question – Why the hell not?
Photos By: Zak DePiero exclusively for StanceNation.com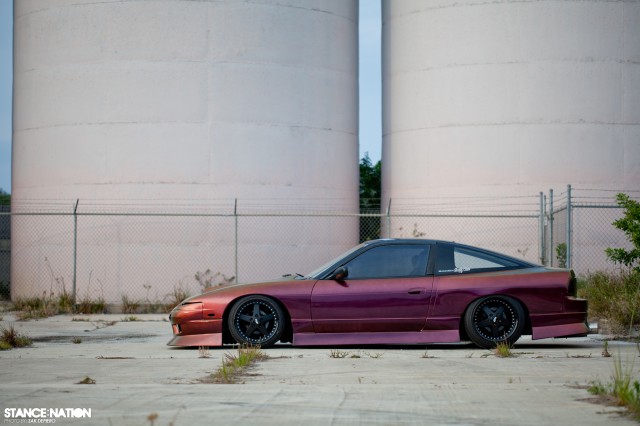 You rarely meet an S-chassis owner that has only owned one.  Maybe this trend stems from a necessity of parts or just an obsession with the cars; whatever the reason may be the guys keep getting them.  They exist almost in a community of their own. Khashaud Parsan, like his friend and crew mate Marc Neron (featured last month) is one of those guys.  This is his 4th 240SX and the project has quickly come together over the past 6-7 months.  Parsan picked up this car as a bare chassis after his previous car blew up with the intention of a ground-up build.  He tells us he's been into drifting for the past 6 years, so when he began this project he knew the steps to take in order to create his daily drifter.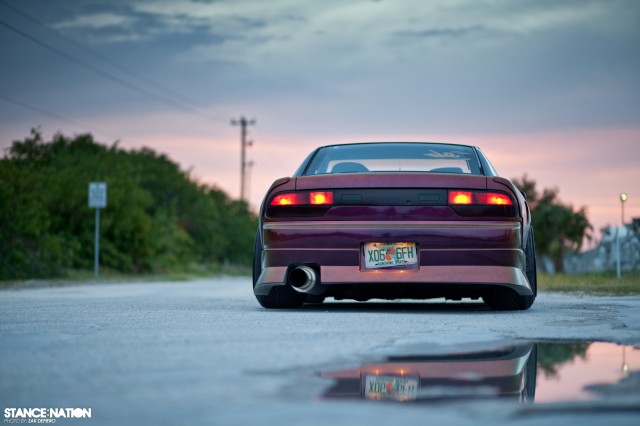 Normally I'd attempt to phrase this a bit more eloquently, but to put it simply – This car is low as shit.  The classic URAS Monkey Magic aero floats slightly above ground level, undoubtedly striking fear into convoys of ants crossing the ground.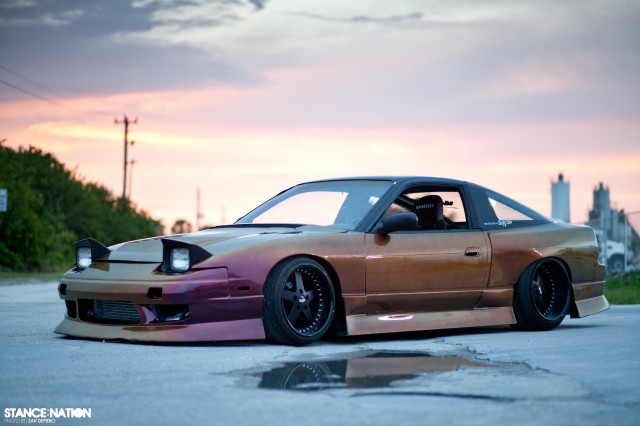 The Magenta-Gold Harlequin paint looks great in the Florida sunset and contrasts well with the black Work Equips as it flows over the aggressive aero kit and D-Max hood.  B-Magic rear over fenders add girth to the body lines and help to fit the 12.5″ wide rear wheels.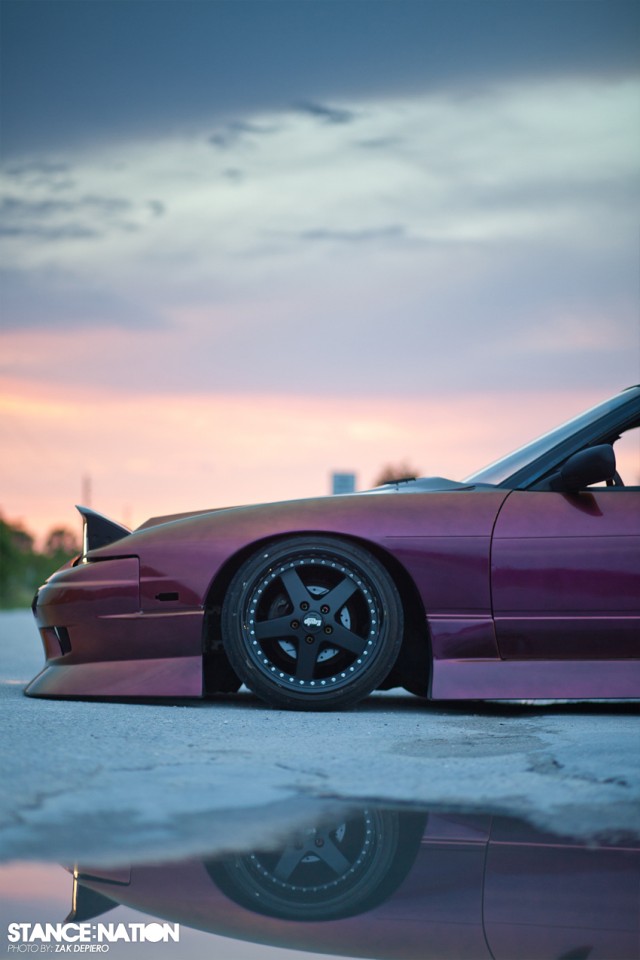 Not only is the car laid-out from the suspension settings, but the choice to go with 17″ wheels allows Khashaud to use tire sizes that offer shorter rolling heights, such as the 205/40/17 on the front.  This effectively places the car at a "slightly above subterranean" ride-height.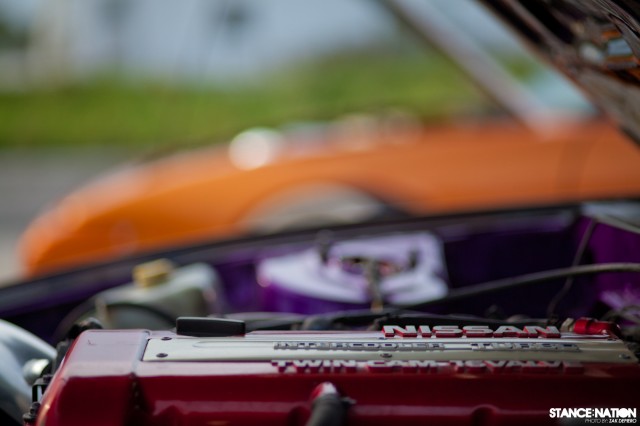 Motivation comes courtesy of the tried-and-true SR20DET, this time an early red-top version fitted with an S15 T28 turbo.  Parsan tells us he recently has added a set of 550cc injectors, an Enthalphy tune and a Z32 MAF.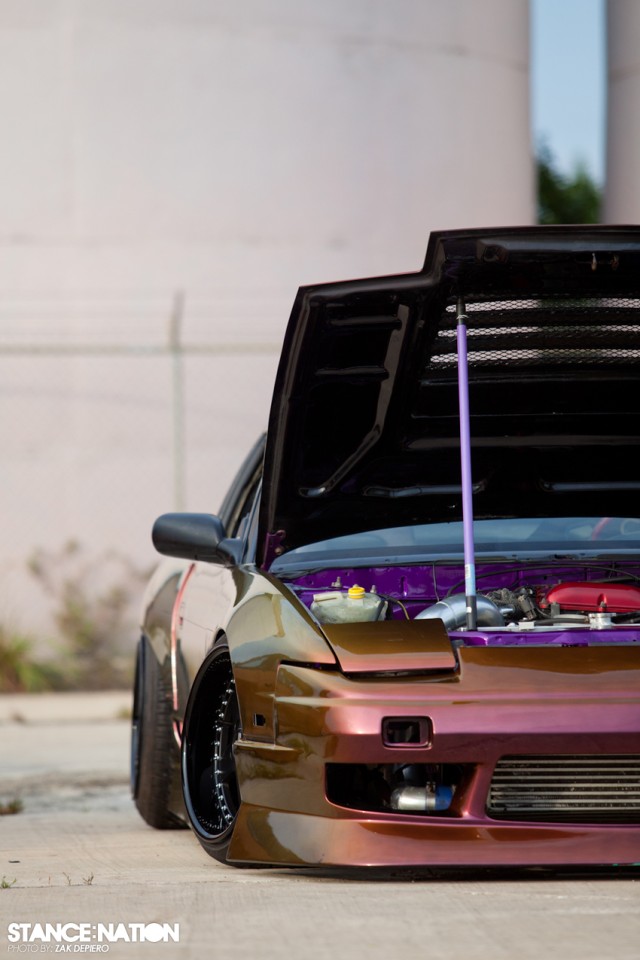 17×12.5″ and 17×9.5″ Work Equips featuring a +6 offset front and rear stuff the fenders and contribute to the low and wide stance we all love.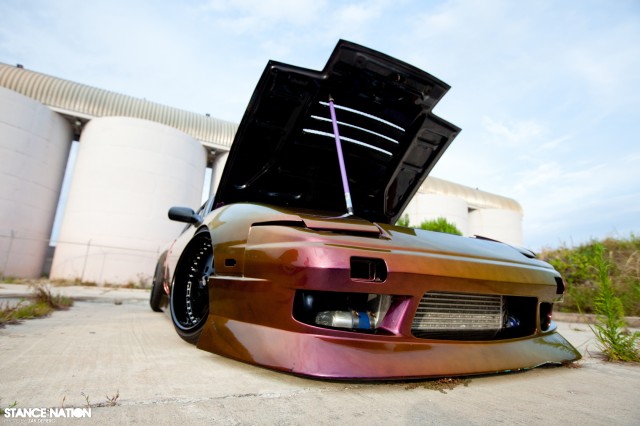 It's a great feeling when you find something you truly enjoy.  Limiting that notion to cars, it can be a certain model or brand.  Often, the best examples are built through experience.  Khashaud and his RPS13 are the product of a long-term relationship with, or addiction to, the S-chassis and he admits he's not done yet.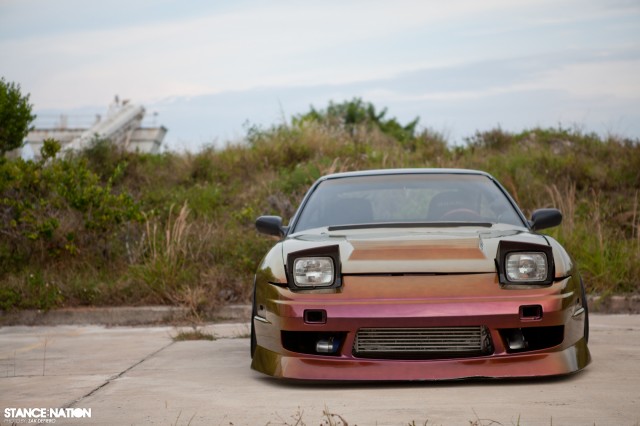 Future plans include a FormulaD-spec rollcage, angle modifications, more power, and safety upgrades.  He didn't say it, but I am sensing the possibility of a foray into Pro-Am level drifting.
Low.  Daily.  Drifted.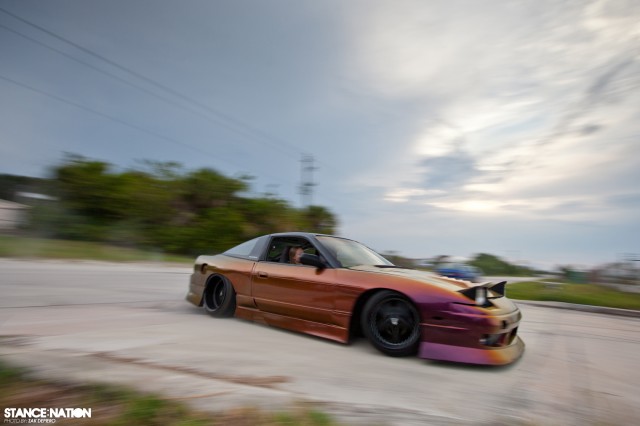 Wherever the future takes Khashaud and his car, we here at Stance:Nation wish him the best of luck in future endeavors and look forward to where it takes him. In the meantime, I'm sure he will continue killin' it on the streets of Florida with the rest of We Drift Inc.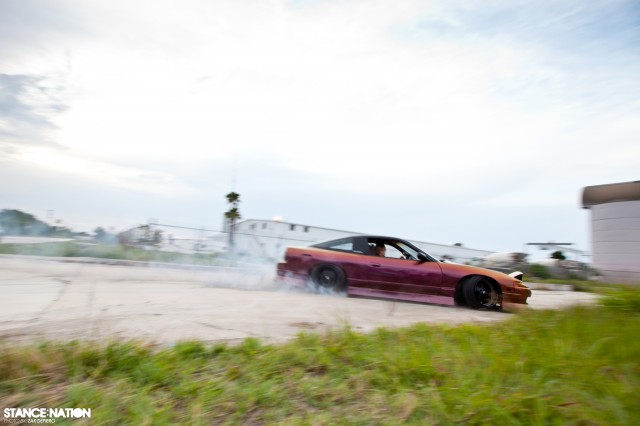 If you think your car has what it takes to be on our site make sure you email us at snfeatures@gmail.com. Make sure you include a few photos and your spec list as well as any other information we should know about you or your car. We're always looking for cars to feature! In the meantime we'll see you guys over on our facebook.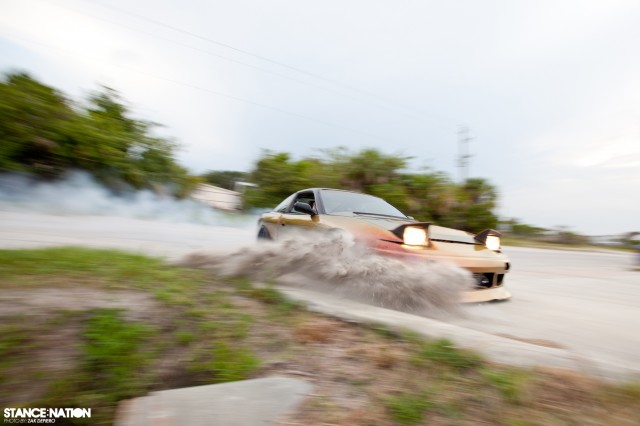 Be on a lookout for some awesome photos of both cars in the next few days!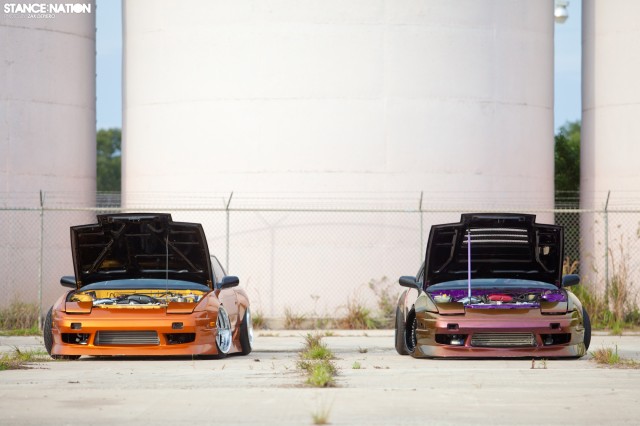 [toggle_box]
[toggle_item title="Wheels/Tires/Suspension" active="true"]Emusa front coilovers
Godspeed rear coilovers
Godspeed front tension links rear camber tension and toe links
solid aluminum subframe bushings
5lug conversion
drilled slotted rotors
work equips +6
17×9.5 205/40/17
17×12.5 rears 255/40/17 [/toggle_item]
[toggle_item title="Exterior" active="false"]d-max vented hood
b-magic wides
uras 4 monkey magic full body kit
Magenta to gold harlequint paint in the day time it's gold towards night it's more purple[/toggle_item]
[toggle_item title="Interior" active="false"]bride seat with buddy club seat rail
rci seat belt
battery relocation[/toggle_item]
[toggle_item title="Engine" active="false"]SR20det redtop swap
s15 t28 turbo
steel braided oil lines
screamer dump
aftermarket manifold
poly mounts
aluminum pulleys
fmic
blitz blow off valve
3in exhaust straight back to Apexi n1
aluminum radiator[/toggle_item]
[/toggle_box]