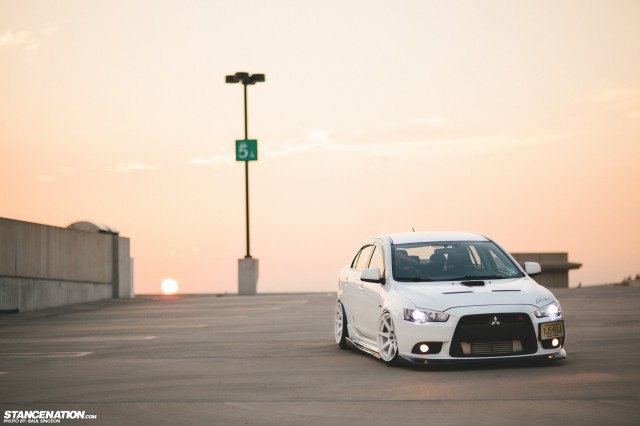 We draw inspiration from every direction when conceptualizing and executing our art form.  It may be a car we loved growing up or simply one we passed on the way to work.  Maybe it's the way it looks, how it drives, or what it sounds like – nevertheless certain details rouse our souls and we incorporate these qualities into our own vehicles.  Not always is it a car that serves as our inspiration, however.  Sometimes it's an era, an image, somewhere or someone.  It's not just the physical unit that is so influential; but the emotions that are evoked within us.  Whatever it may be, we take this muse and it ultimately determines how we convey who we are.
Photos By: Raul Singson & Ronnie Corado exclusively for StanceNation.com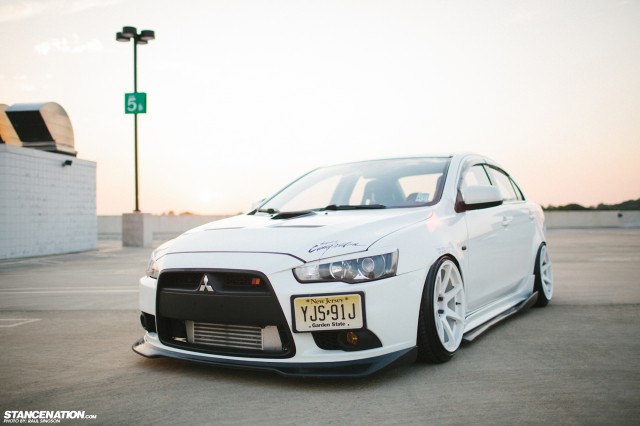 This is not an Evolution.  It's a Lancer Ralliart.  The Ralliart version fills a marketing void in the Lancer segment, and I've always wondered what took them so long – considering Subaru has offered both the WRX and the WRX STi in various forms for a substantially longer timespan.  They are pretty awesome, contributing one more turbo, all-wheel-drive vehicle to the market while fueling the never-ending Subaru vs. Mitsubishi rally-bred saga.  I'm surprised these cars aren't seen more often.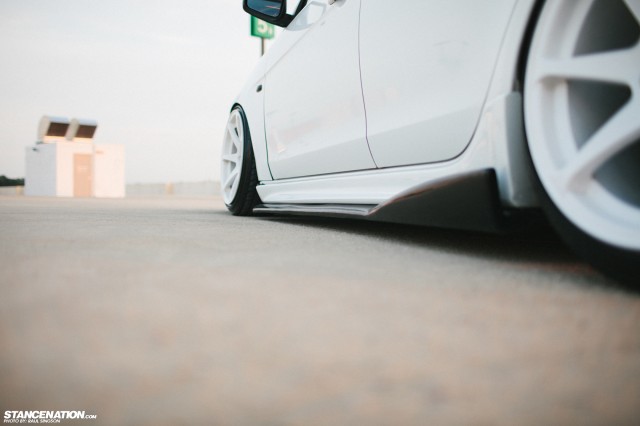 The Garden State's Fernando Roxas Jr. is doing a great job at pulling the Ralliart Lancer out of obscurity with his super fresh white-on-white 2009 model.  He tell us he wanted to keep it clean and simple, true to the 'OEM +' aesthetic.  A JDP front lip is affixed to the front while an EVO 9 diffuser is custom fitted to the rear, accentuating the naturally aggressive lines of the Lancer.  Fernando enjoys the pristine look of the all-white color scheme; it's clean like freshly bleached teeth – really awesome turbocharged teeth.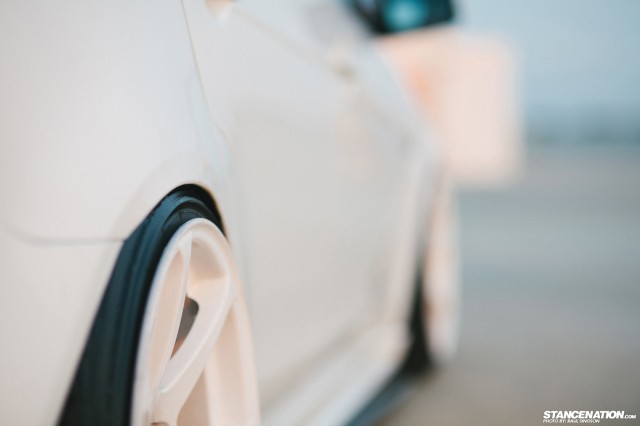 The already tough job of keeping a white car (and white wheels) clean is exacerbated by the low down stance, provided by a set of D2 RS coilovers.  Eighteen-inch MB Battles sit close to the fenders, fitted well with 225-treadwidth Falkens stretched over them.  Fitting these wheels onto the car actually prompted Fernando to discover a talent within himself — fender rolling.  After a bad experience with a shop, he purchased a roller of his own and finished the job personally.  He has become known for his fender-modification skills and has since performed several rolls for other enthusiasts in the area.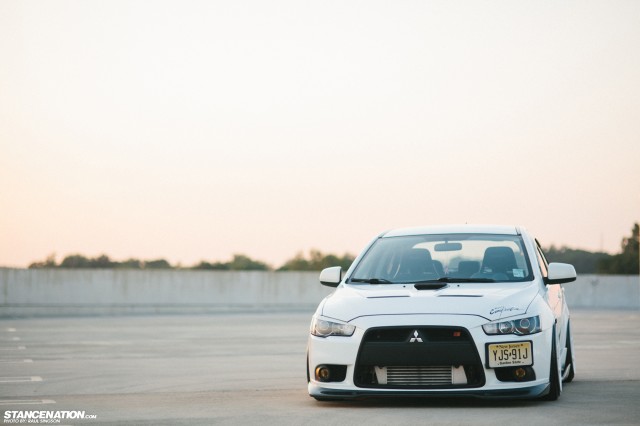 Despite the 'clean and low street-cruiser' personality of the car, this Lancer is no slouch.  With simple bolt-ons and a mild tune, it throws down 275whp to all four with 284 lb/ft of twist.  Personally, I haven't heard much about these Ralliarts but I'm thoroughly impressed by its power-production capabilities from such minimal modifications.  Fernando isn't done either, with plans for an upgraded turbo and a big-brake setup to keep it all under control.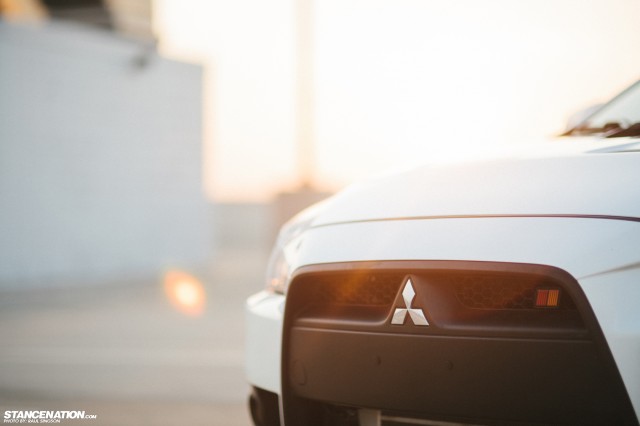 You may have noticed the pink ribbon dangling from the rear-view mirror.  The small pink addition is the only real tangent from the all-white theme — but it's not there for color-coordination.  It hangs there as a tribute to Roxas' mother, who unfortunately passed away in October of 2008 after a 13-year battle with breast cancer.  Her favorite color?  White.  As you can see she was a true inspiration for Fernando, not only for his car but as a figure that has shaped his life and his character — as mothers often do.  In the wake of her passing, Roxas has created this clean and powerful Lancer with a little inspiration from Mom.  I'm sure she would be proud.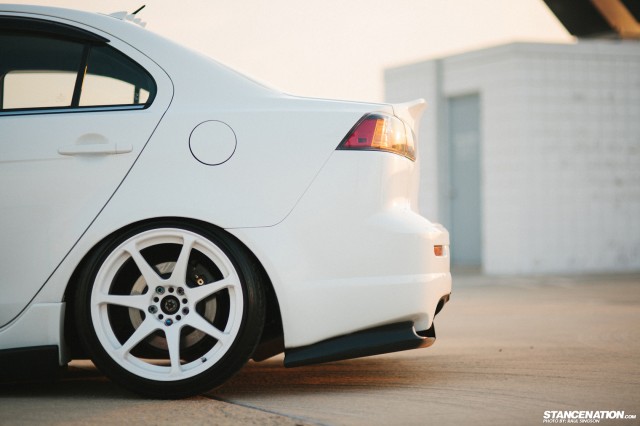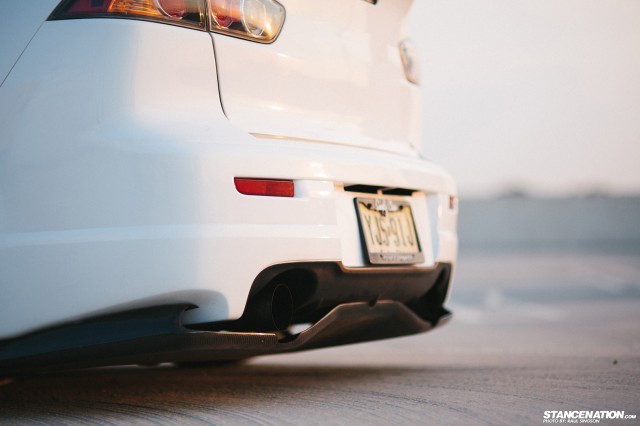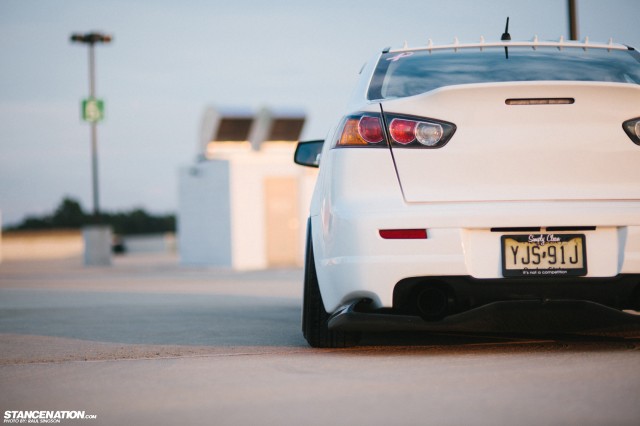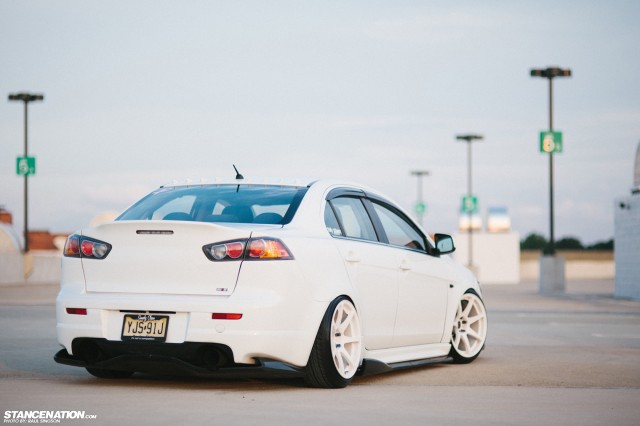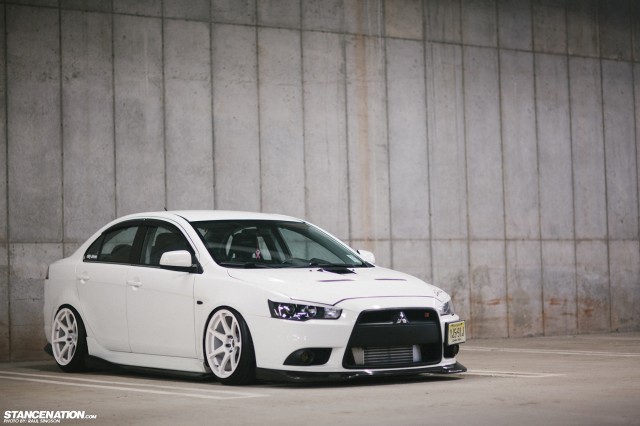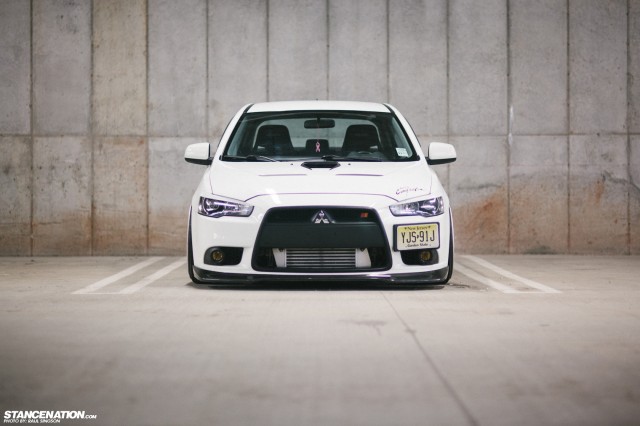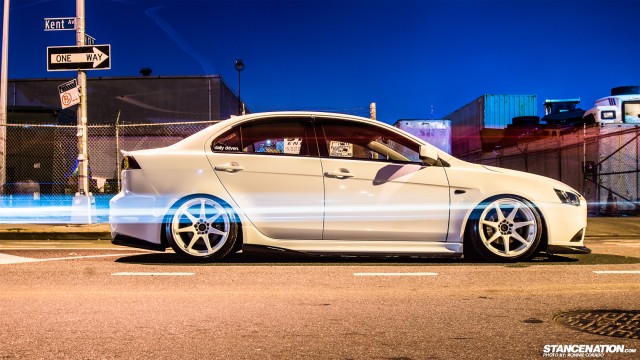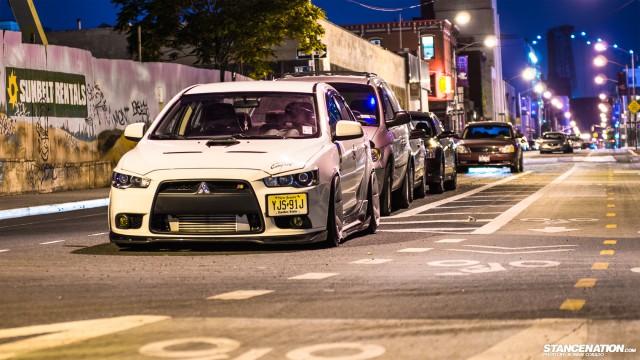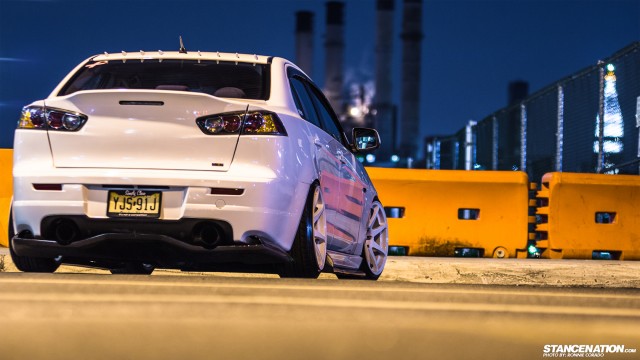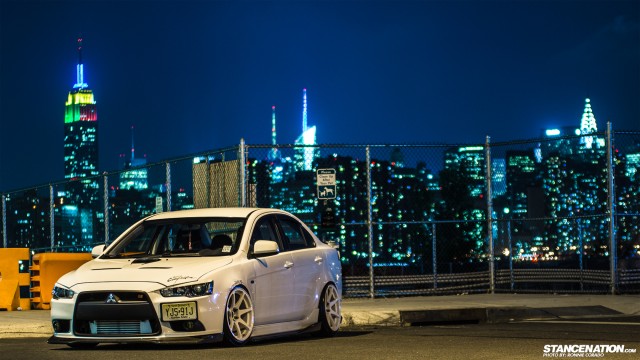 [toggle_box]
[toggle_item title="Wheels/Tires/Suspension" active="true"]D2 RS Coilovers
Falken 225/40/18
MB Battle 18×9.5 +15
GTSPEC Front Strut Bar
Whiteline Rear Camber Kit
CUSCO Full Underbody Power Braces
[/toggle_item]
[toggle_item title="Exterior" active="false"]TSX Projector Retrofit
Rolled & Pulled Fenders
JDP Engineering Front Lip
Custom Evo 9 Rear Diffuser[/toggle_item]
[toggle_item title="Interior" active="false"]AEM Boost
AEM AFR Wideband[/toggle_item]
[toggle_item title="Engine" active="false"]AEM Intake
Synapse BOV
Ultimate Racing Full Turboback
Ultimate Racing Intercooler Piping
Ultimate Racing Front Mount Intercooler[/toggle_item]
[/toggle_box]