It really doesn't take that much to create a car that gets the world's attention. While wide bodies, crazy engine bays or fancy interiors are all nice, at the end of the day the most important thing for any car to have is personality, and we feel that cars lack personalities in 2020 more than ever in the past. At least in the "stance" side of the car culture. What exactly is a personality you ask? Well you see that's one of those things that is hard to explain especially when it comes to cars. You just automatically know it as soon as you see the car. Perhaps it's a mixture of the cars overall presence and the individual modification choices combined? In a sea of wide bodied, super cambered, crazy wrapped 86's, there is just something about this one that we are huge fans of. We're excited to see how this car will end up looking like when it truly is "complete" but we felt that we should share with you its current stage..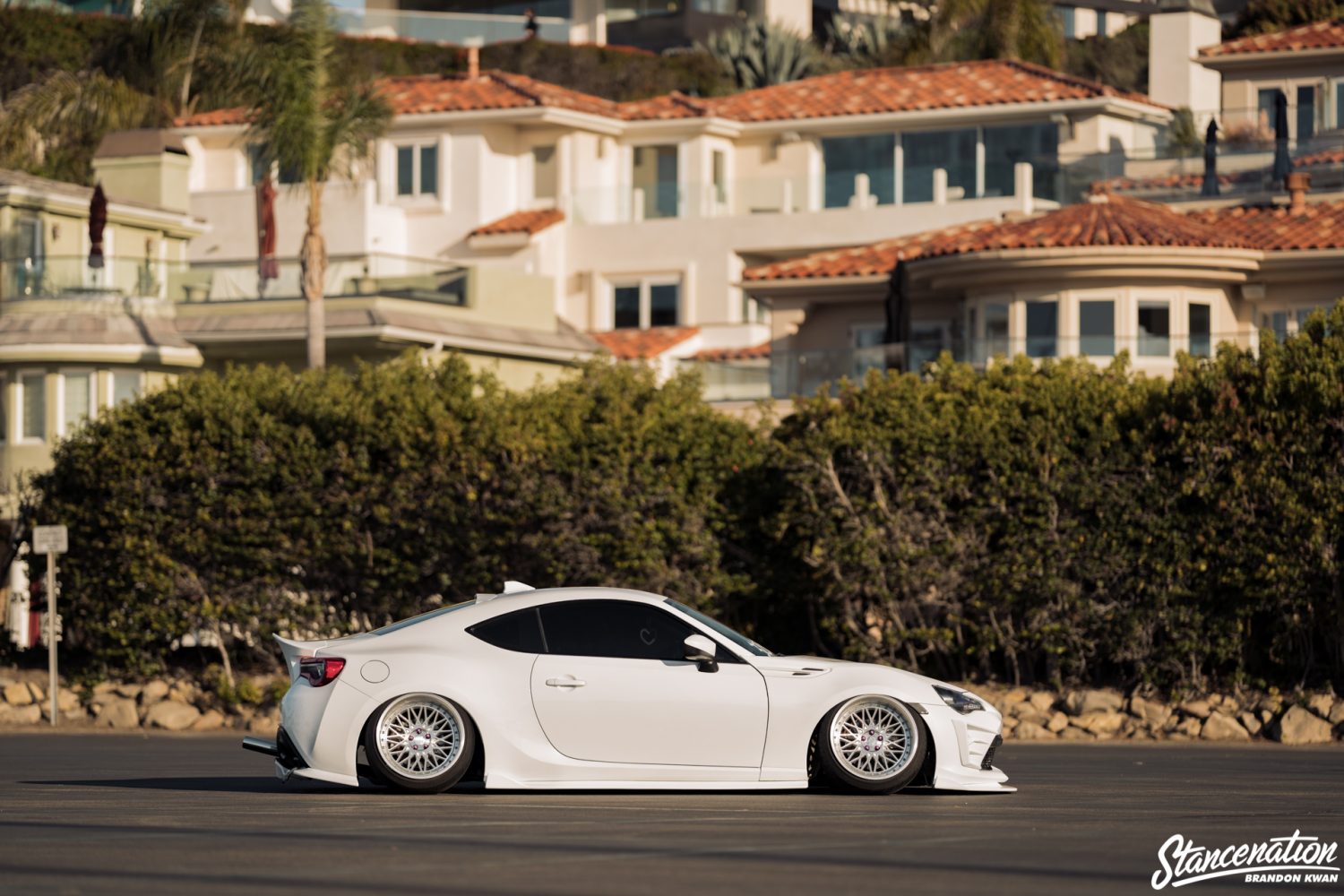 Yes, that is a relatively simple…lip kit, wheel and a drop type of car, but it's on the right path and we feel it's executed just right so far.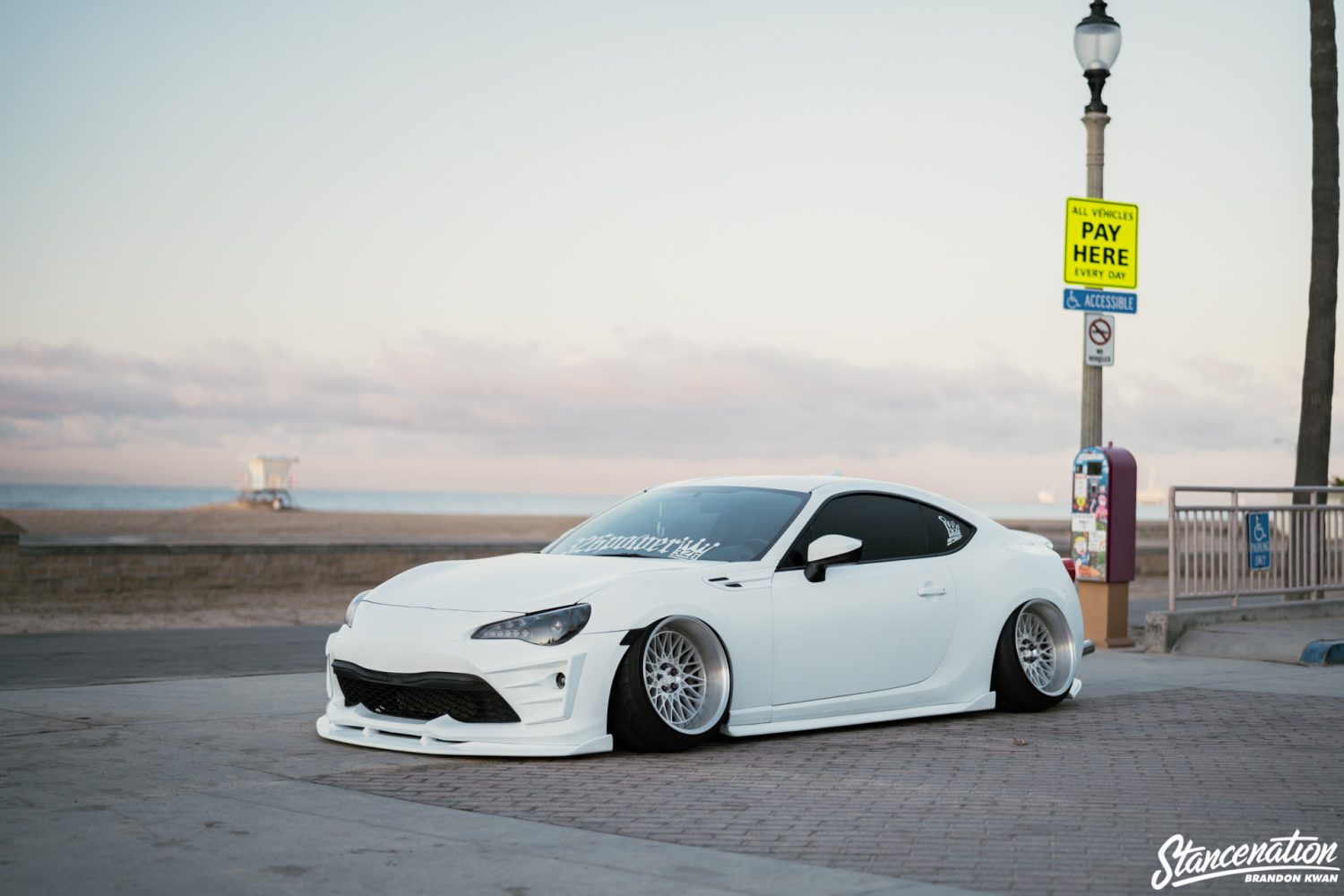 Exterior aero is provided by 326 Power *3D Star* and while it is a simple lip kit it is not something we've seen much of before since it is a pretty new product from 326. The car also features 326 Power fog lamp covers/surroundings. Again, simple, but not something you've seen much of in the past.
Other exterior tweaks include a Seidoworks trunk spoiler, OLM fog lights and resprayed headlight housing to black for that mean look. Finally the car was resprayed with a fresh coat of Ultra White paint from Lexus.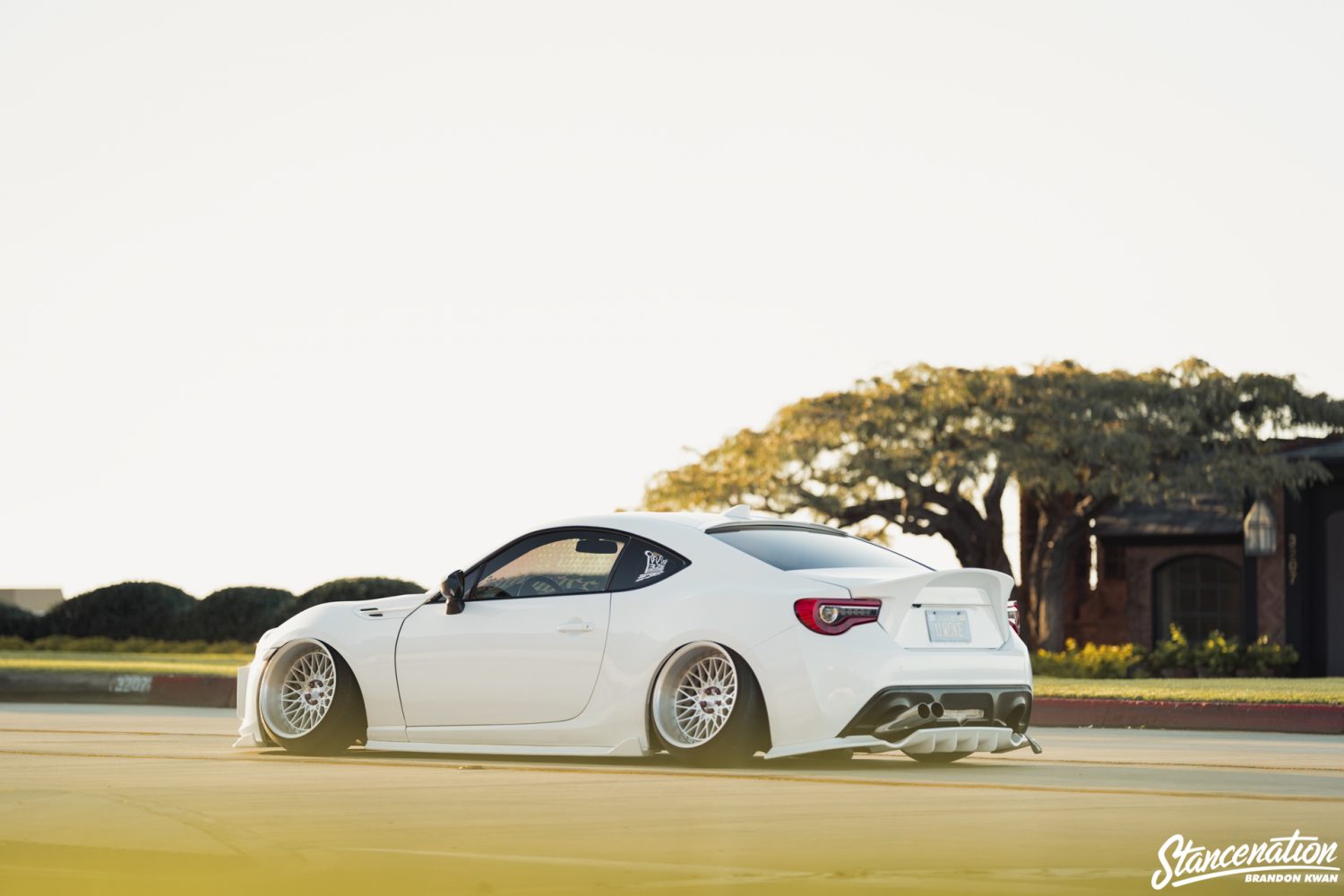 Out back is a set of ISR blast pipes which we are usually not fans of but we feel that it works with this cars overall look. Small details such as the Valenti clear brake light and Verus carbon fiber side markers also add a nice touch..
But more important than anything else on the car is proper stance, and this 86 is got it!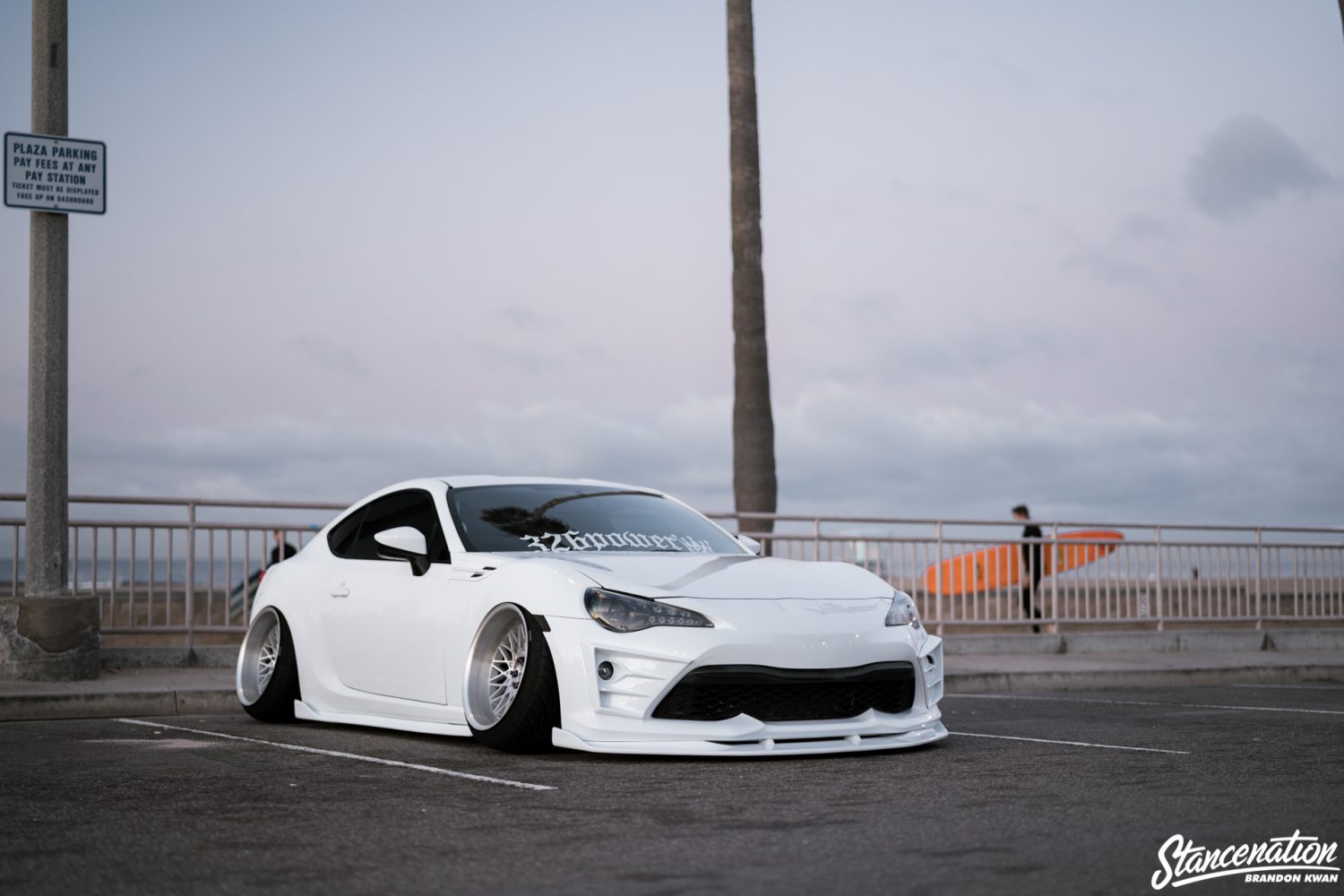 Car is equipped with Air Lift Performance struts with the new 3H management. Of course, pretty much every suspension arm has been replaced with all sorts of Racer X goodies to give it that mean negative camber posture.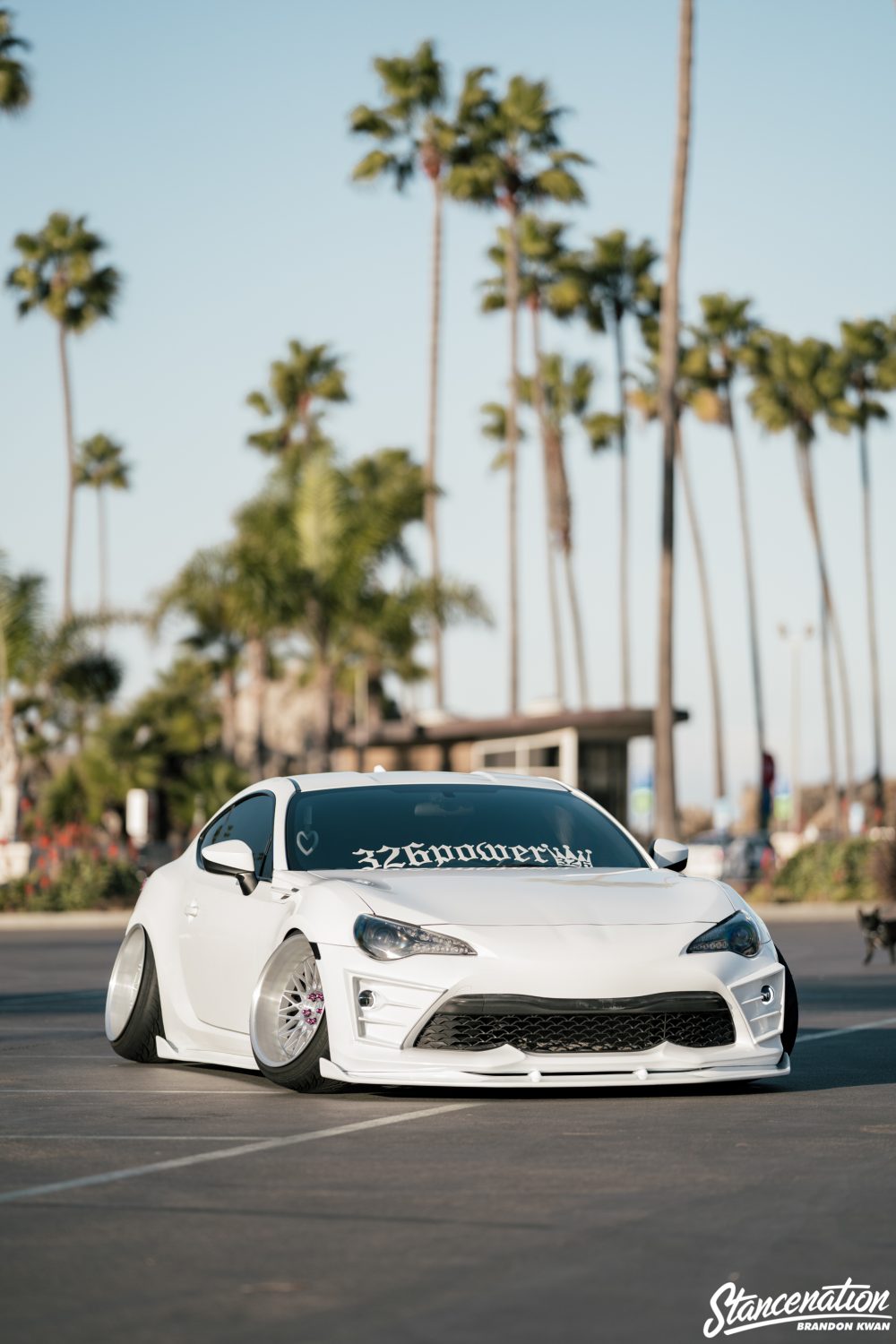 Wheel choice is rather unique on this car as well. The wheel is called Yabaking Mesh and it's made by 326 POWER. Jared is running a 18×10.5 square setup finished in fancy machine polished faces and brushed lips. Perfect combo if you ask us. We are genuinely stoked to see where the future takes this car. If this is any sign of what's coming, we're on board!