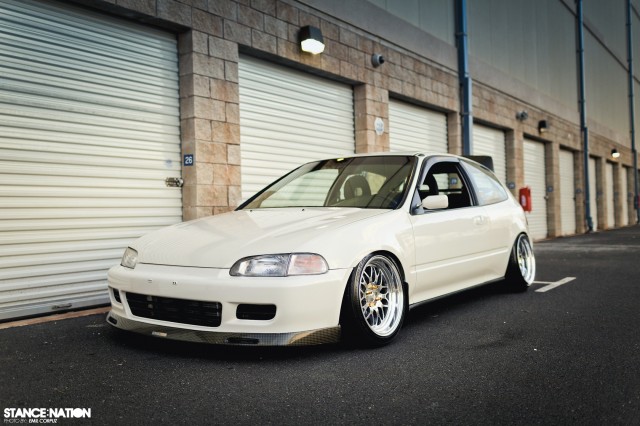 What do you know, Hawaii is back in the spotlight yet again! This time around we have found one of the cleanest EG hatches from the islands (as far as we know) that we are stoked to share with you. This is one of those builds that took several years to complete, one thing at a time. However, knowing Hawaiians and the passion they have for their cars, we wouldn't be surprised if Josh (owner) stops here.  With inspiration from several online forums, magazines and pretty much any Honda related blog or website Josh's goal was to set himself apart from other Hondas on the islands. Did he do it right? We think so. Scroll down to take a closer look at this super clean EG.
Photos & Video By: Emil Corpuz & Jay Mora exclusively for StanceNation.com
Whether Hondas are your thing or not, we're sure that you can appreciate a clean car when you see one. Most of the Hawaiian cars that we featured tend to have nothing but legit/quality parts. Same goes for Josh's Civic of course, from shoes to aero, it's as quality as it gets! Check out the video above.
Love this shot of our video guy Jay Mora doing work. Check out his fan page by clicking here.
Up front Josh added the legendary BackYard Special Carbon Kevlar front lip. He also swapped out the dated and plain OEM mirrors with Vision Technica Type TC mirrors and added a few touches of JDM. JDM headlights and corners, JDM tail lights and lastly JDM window visors. Lastly, he finished it all off with a matching BackYard Special Carbon Kevlar rear spoiler. It's a love/hate addition which we learned to love over time. How about you?
Suspension wise Josh is running Function Form type 2 full coilovers accompanied by a few more goodies such as Function 7 control arms, a ASR polished subframe brace and lastly BLOX front and rear camber kit to clear those aggressive wheels. It's honestly just the right stance for this particular car and we wouldn't change a thing.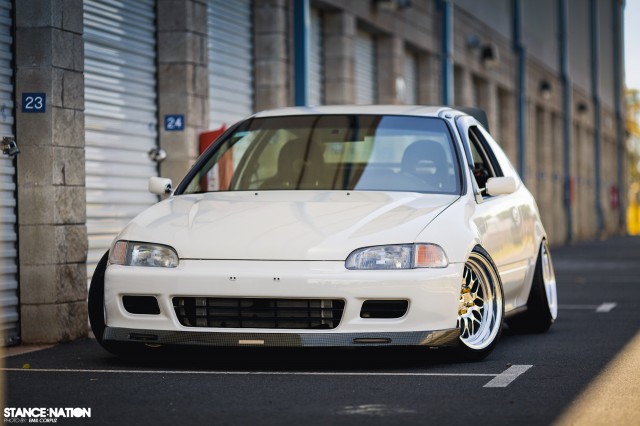 Been a few weeks since we had a set of JLine's on our site! These particular JLine wheels are called SDMSL2 and are 16X8 up front and 16X9.5 in the rear. Pretty aggressive for an EG with what appear to be stock fenders, especially in the rear. They are wrapped in a set of Falken Ziex ZE 912 tires sozed in 205/40/16!
Gotta love those gold lug nuts! Great addition in our opinion.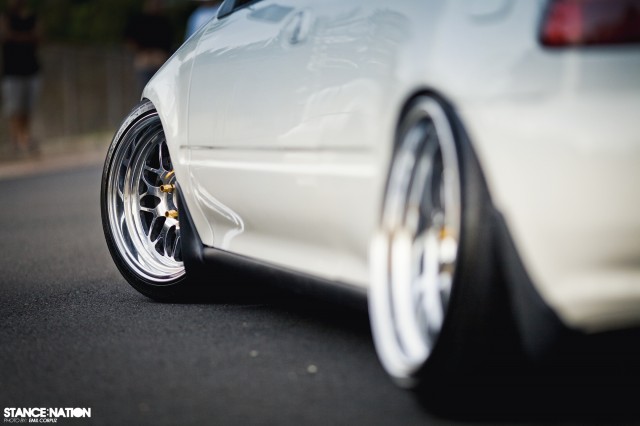 The interior is pretty cool actually. It features a full EG6 SiR anniversary swap including the speedometer. Other things Josh changed out were the MOMO steering wheel and as you'll later see in the photos below, a Miracle X Bar with all optional bars.
Pretty clean bay don't you say? Tucked radiator lines, Wilwood brake booster delete, Wilwood clutch reservoir, hasport motor mounts & rywire tuck harness do the job. The motor is stock at the moment but as we said at the beginning, we're pretty sire it won't stay stock for a while! We will have to wait and see…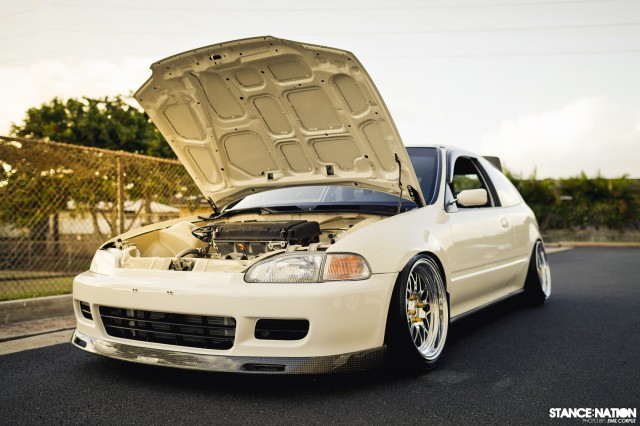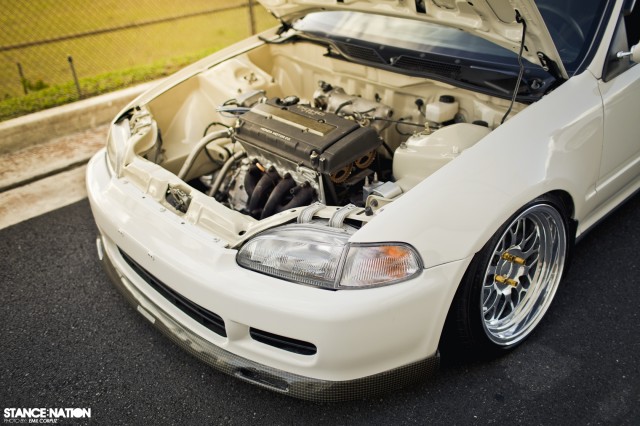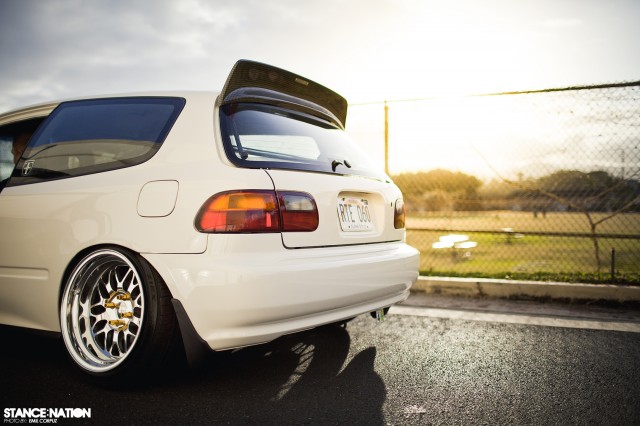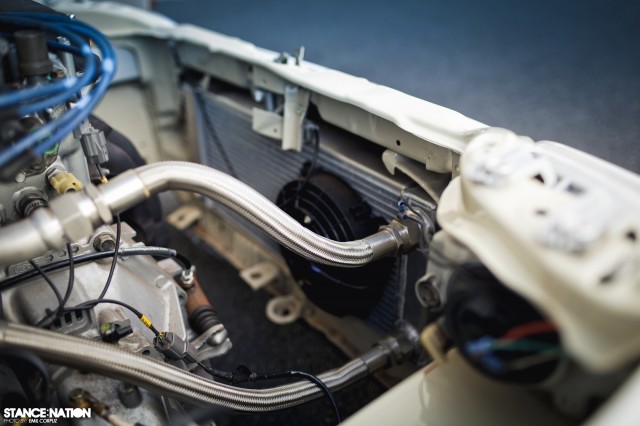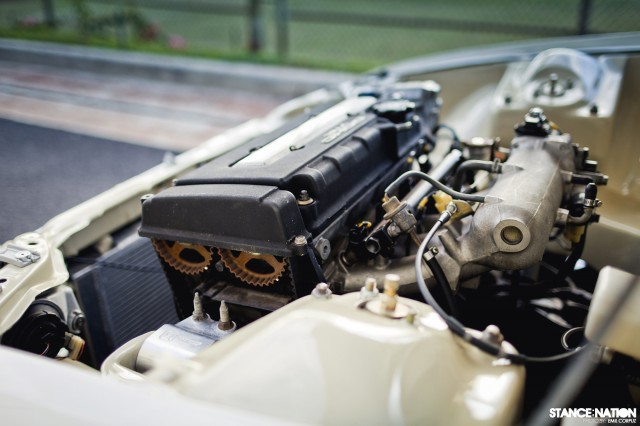 We will leave you with a few more photos like we always do. Big shout out to our video and photo guys Jay & Emil and of course Josh himself. Josh also wanted to give a shout out to New City Fender, Marc Gays Edrada, Chang Korean, Jakeup, John Hachi, Roger Top Guaps, Alex, Albert BSK, Jone, Jermy, Tango Gang & lastly ST6!
If you think your ride has what it takes to be on our site make sure to email us a few photos to snfeatures@gmail.com! Don't forget to tell us a bit about your ride too!