Here at StanceNation, we take pride in our reputation for providing you with coverage of the cleanest, most well-built vehicles throughout the world. In pursuit of keeping that reputation alive, we're bringing you a car out of Melbourne, Australia that proves to be no exception to the rule. In a sea of cars with heavily modified fenders and body lines, it's refreshing to be able to bring you one that hasn't been excessively modified to such an extent, that can still make a statement.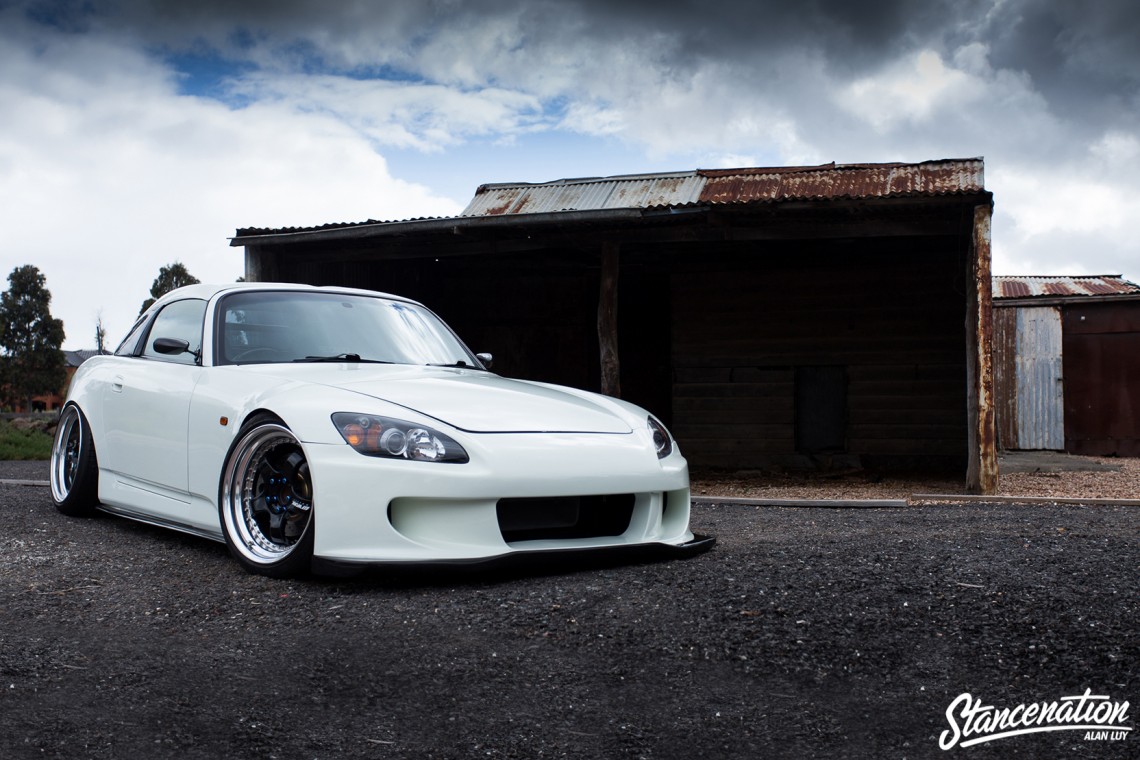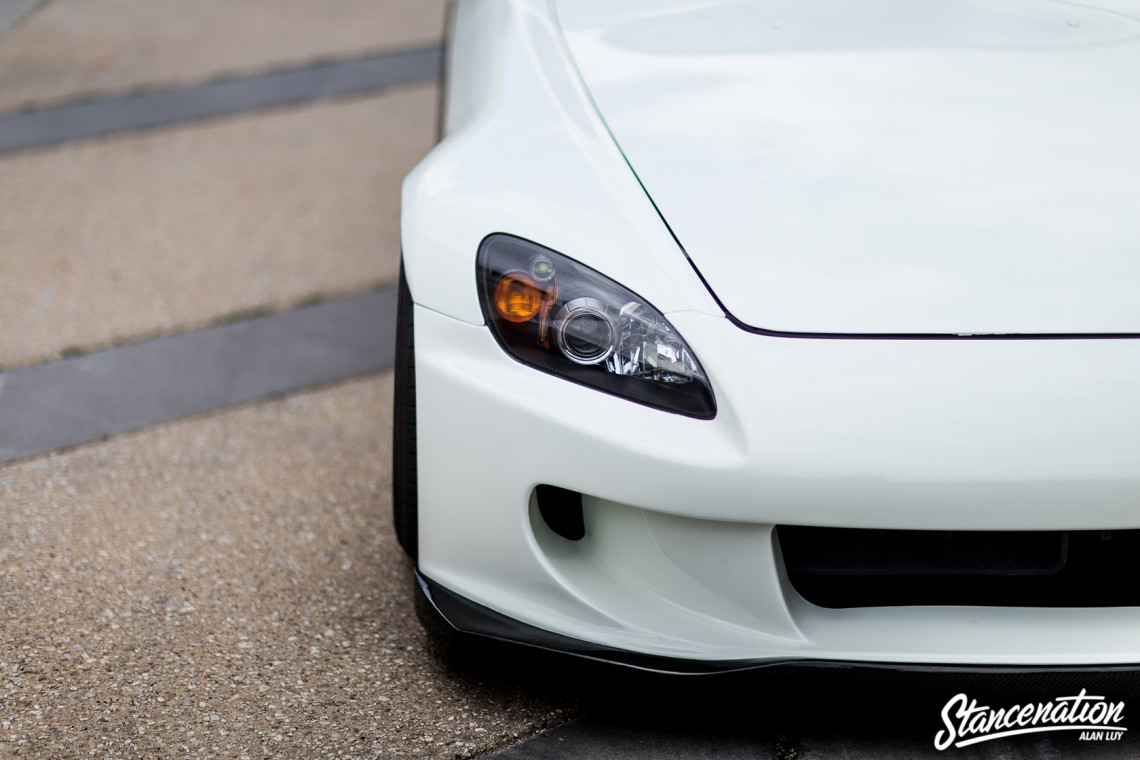 Six years ago, Justin Lim started his search for a vehicle that could provide him one simple pleasure: enjoyable summer cruising. The S2000 platform was able to capture his attention with its ability to provide enjoyable warm-weather driving , and kept his attention with its timeless shape and styling. Like all builds that run into figurative speed bumps, shortly after purchasing the car, it suffered extensive hail damage that unfortunately wasn't covered by his insurance company. This alone would be enough to stop some in their tracks and force them to give up on building their dream, but Justin saw it as an opportunity to build that car he wanted. With all of the damage repaired and paid for out-of-pocket, Justin also opted for a full color change and then built upon that timeless look to bring you the clean masterpiece you see before you.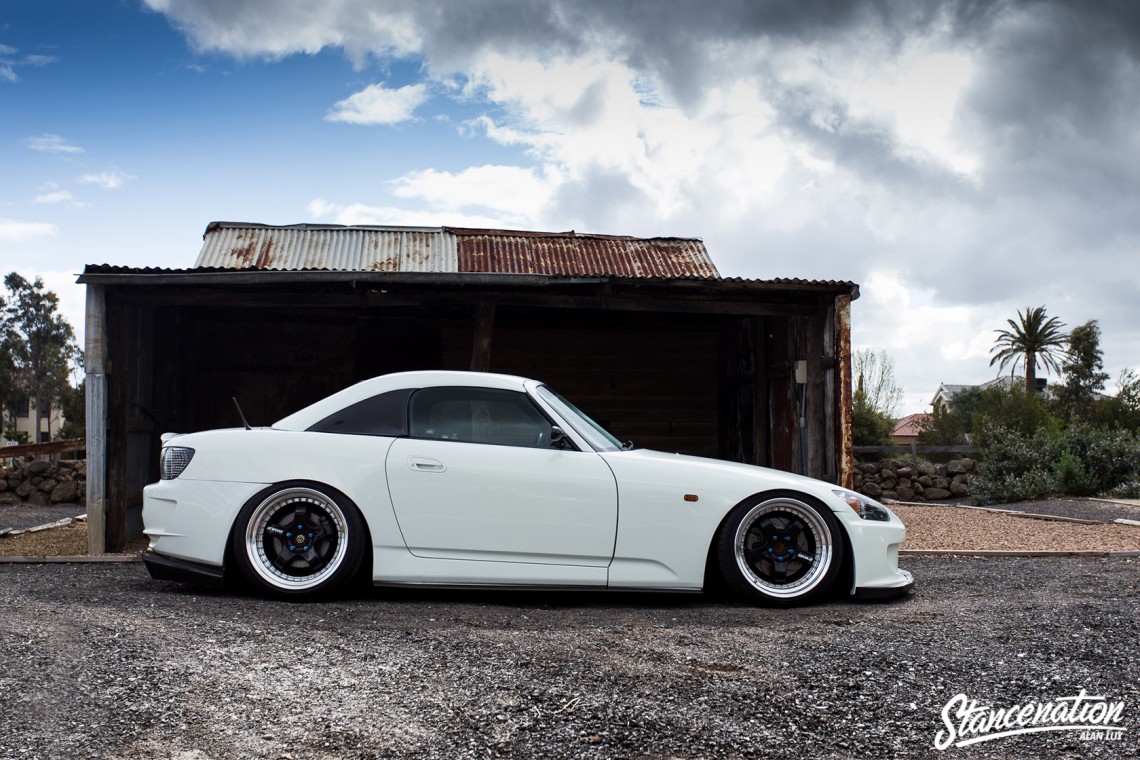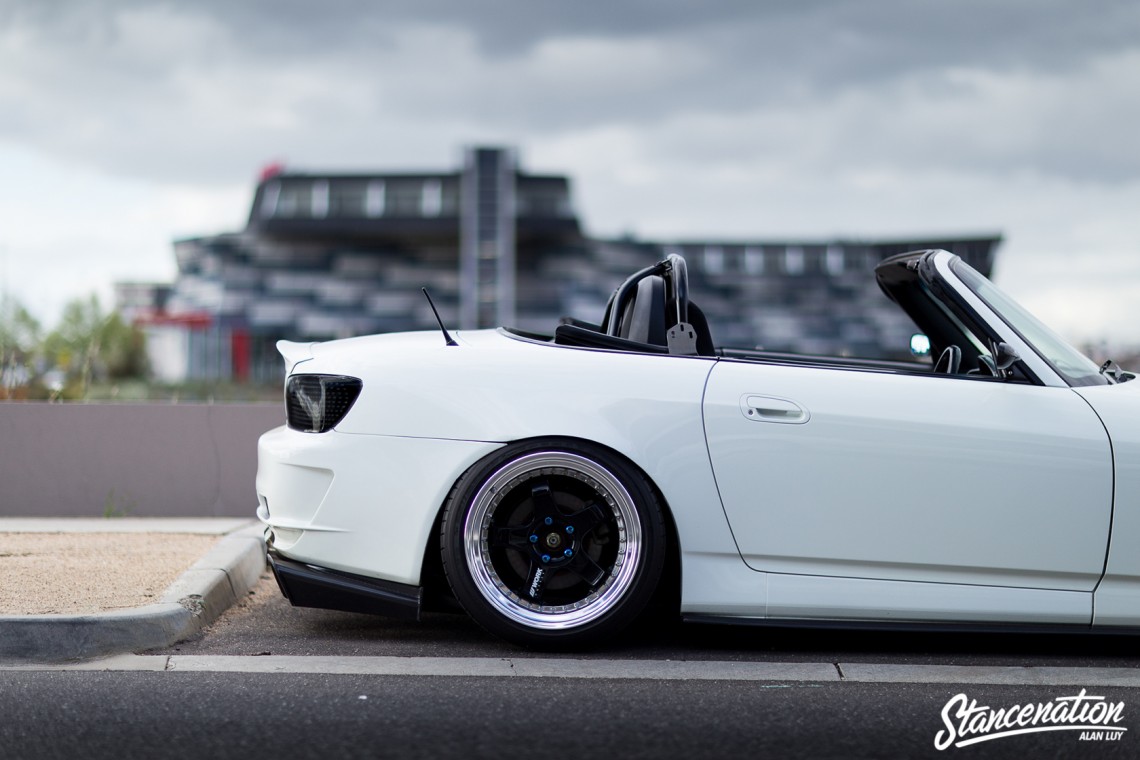 Keeping it classy, the car sits on a beautiful set of 3 piece black and polished Work Meister s1's. Clocking in at 18X9+30 (225/40/18) in the front, and 18X10+30 (225/35/18) in the rear for a picture perfect fit. Behind the scenes the car is also fitted with a Goodridge braided brake line kit, EBC gold slotted and dimpled front rotors, RDA blank rear rotors, and Akebono ProACT front and rear Ceramic pads to provide plenty of stopping power when it's demanded.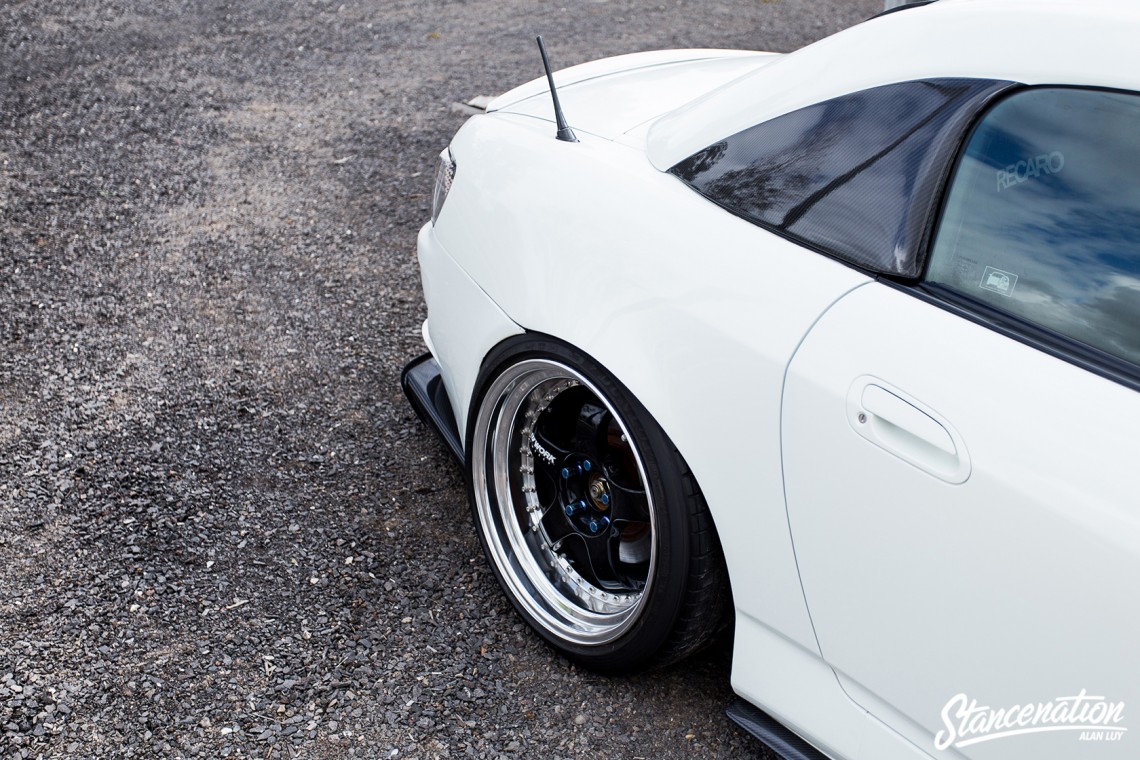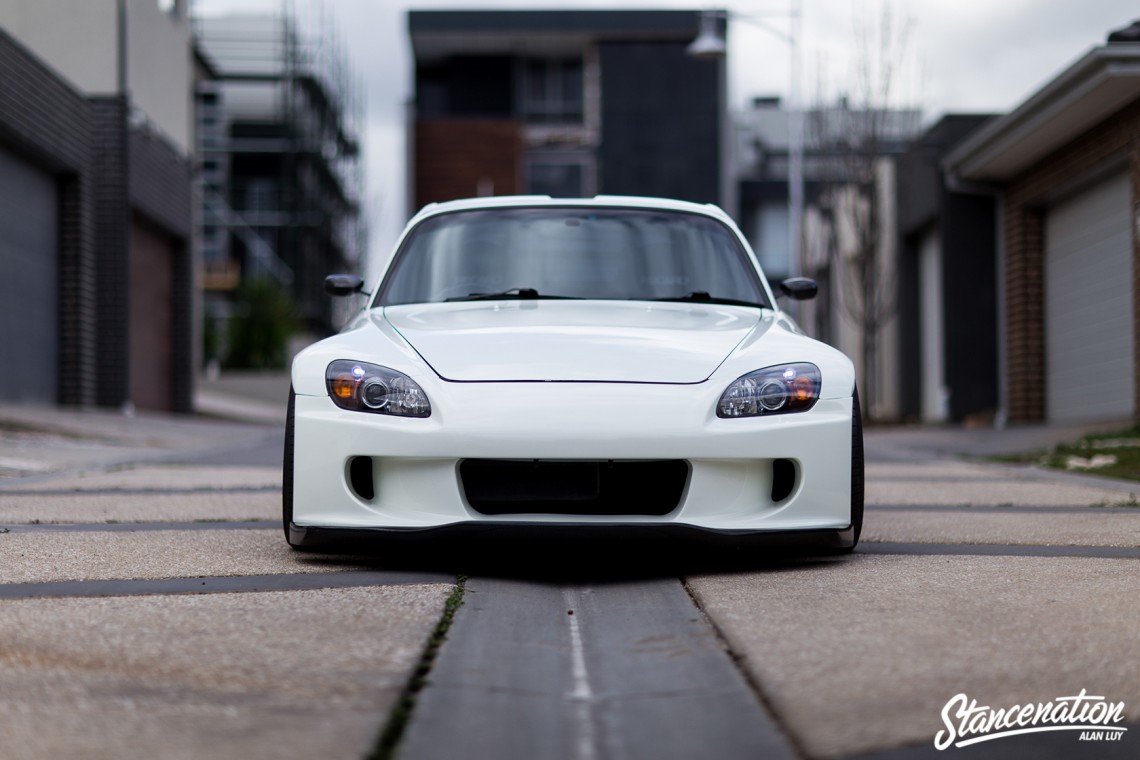 On a car such as this in my opinion, exterior enhancements just aren't enough to put it over the top. The s2000 begs to be driven, and should be able to perform as well as it looks. Whether the driver actually puts it to the test or not is up to them. To get the car's handling and fitment up to par with the sleek, aesthetic style and form of the body, Justin dressed the car with more than enough J's Racing, Cusco, and Hardrace parts to accomplish just that. End that list with a set of BuddyClub RSD coilovers that bring the car down nicely, and you have the formula for a fun to drive, great handling vehicle. A full list of suspension and chassis components can be found at the bottom of the page.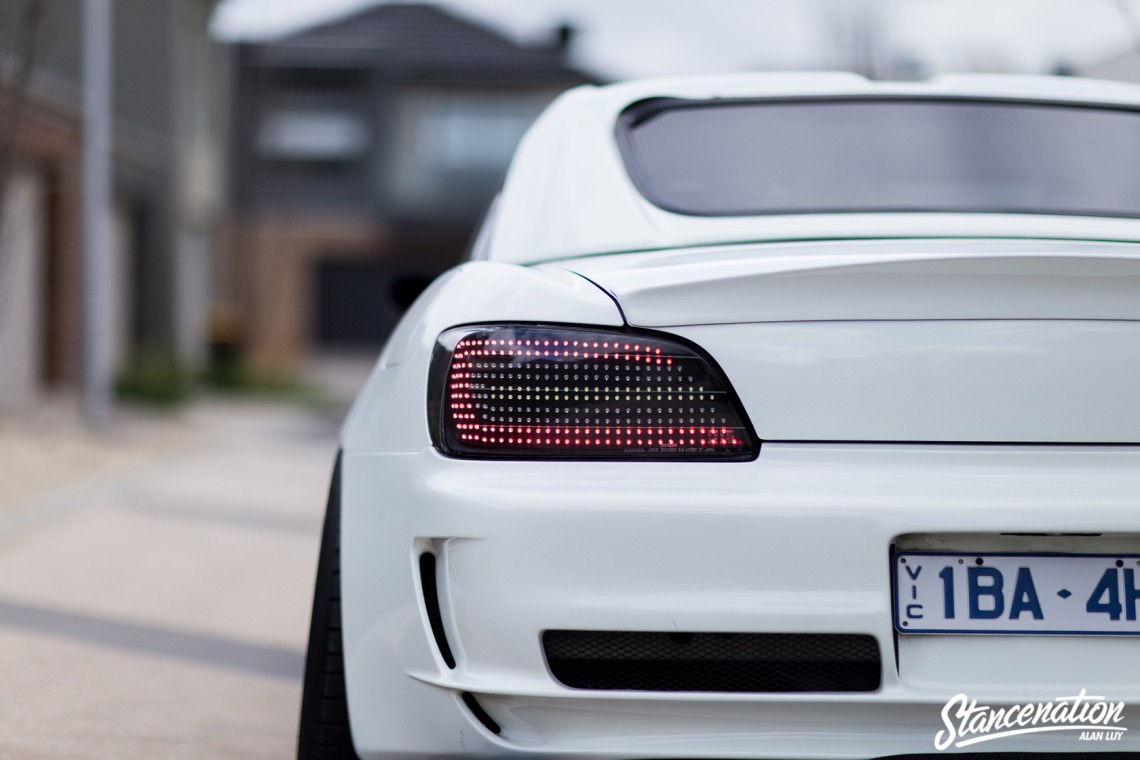 Moving on to the aero/exterior of the car, you'll see a handful of obvious additions that really set this S2000 apart from the others. Flared front and rear fenders by DT Panels allow just enough clearance for the Work Wheels. Out front you'll see a Shine ASM style front bumper that is also fitted with a Forcewerkz Carbon Fiber ASM style front lip. The look continues to the rear with a Shine ASM style Rear bumper, and tying the two together is a set of Carbon Plus Carbon fiber side diffusers. The M-Racing Carbon fiber type1 side mirrors add a subtle touch that continues the carbon fiber theme that you see around the car. Though all of these additions to the car look amazing, my two favorite pieces that have yet to be mentioned would have to be the Carbon Plus Carbon fiber Mugen Style hardtop and GTM duckbill spoiler. Let's also not forget the AP2 headlights and bad-ass CarShop-Glow LED tail lights which happen to be Justin's favorite part of the car. I can't blame him.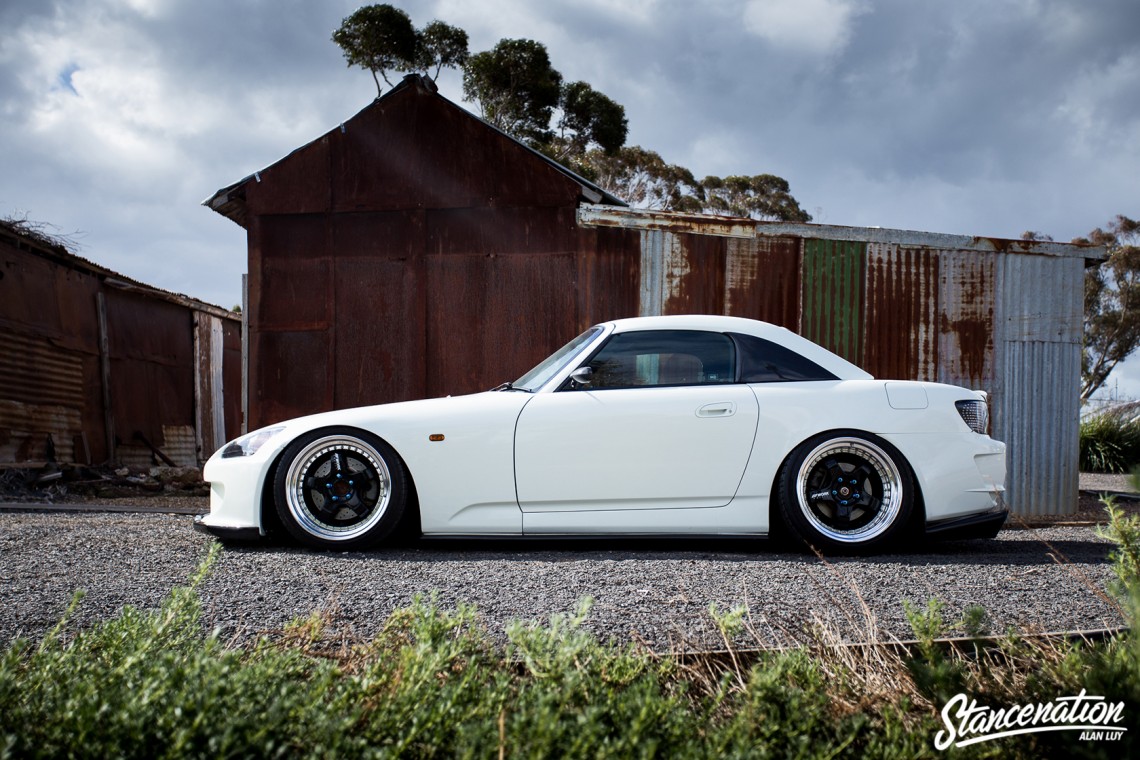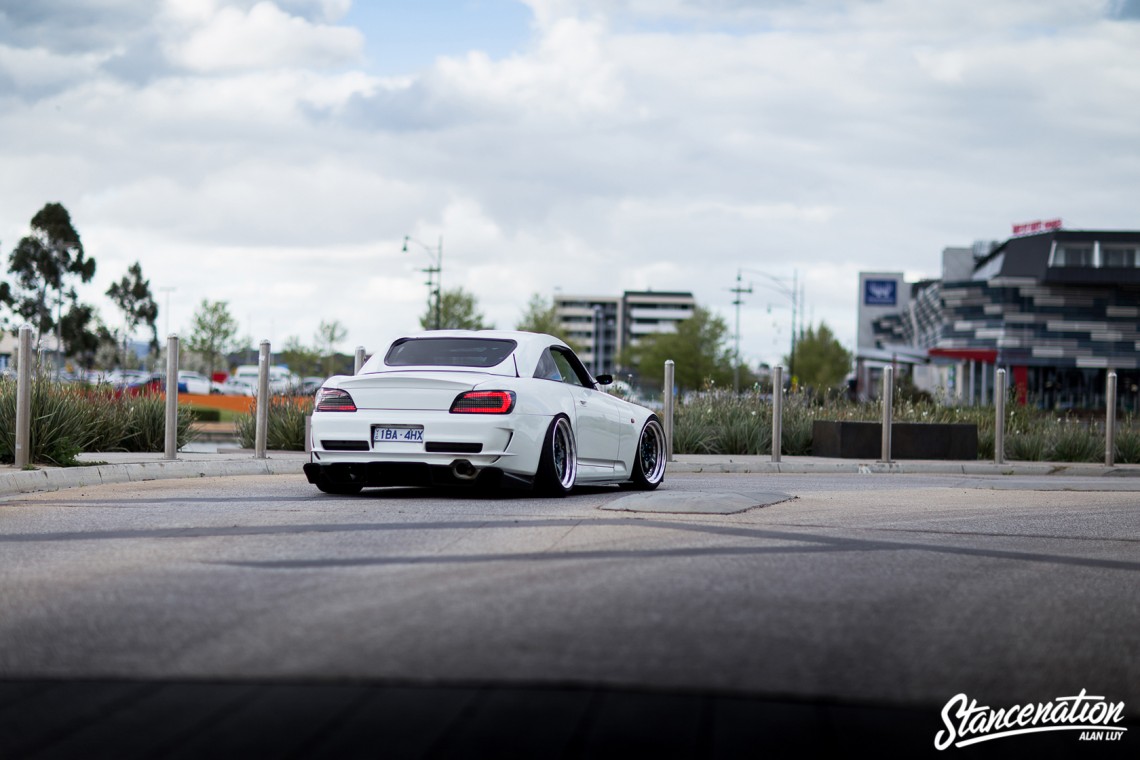 Under the hood you'll see a modest amount of changes including a Berk Stainless 70mm high flow cat, ASM 70mm S-Special Stainless exhaust, HKS stainless exhaust manifold header, Password JDM Carbon fiber air-intake with cooling plate, Spoon sports fan switch, Spoon sports low temperature thermostat, and an Innovative 75a solid engine + transmission mount.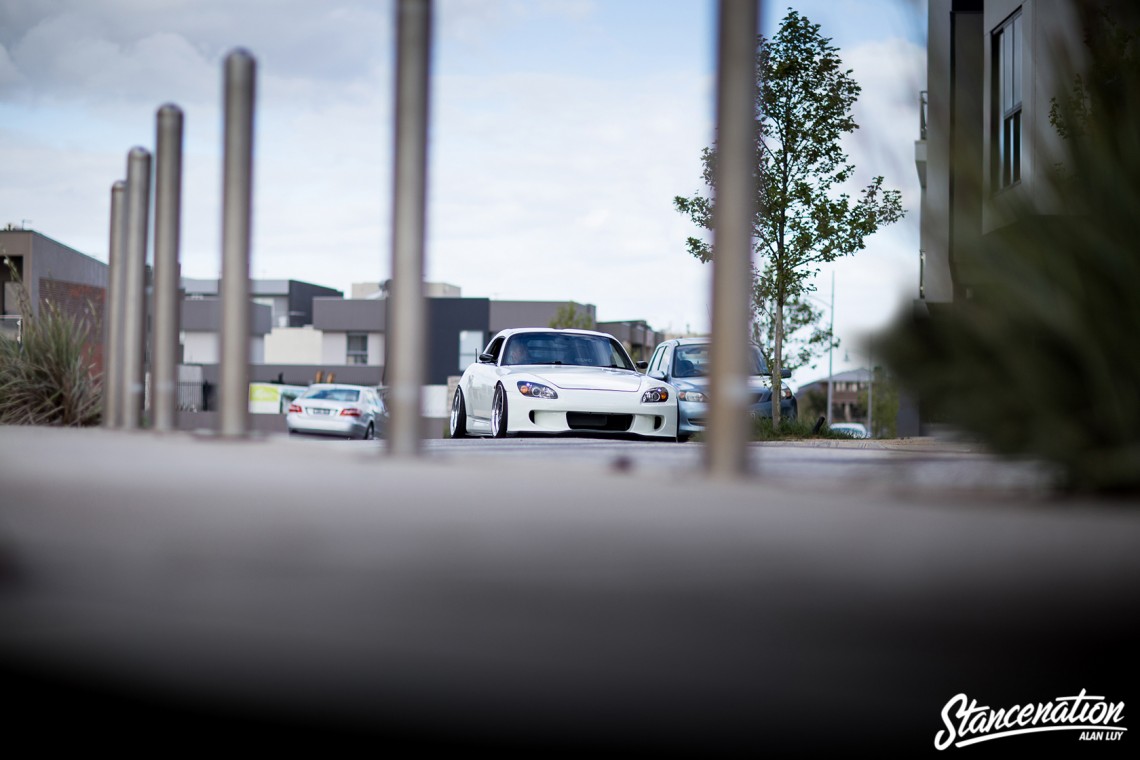 Something that often gets overlooked in modified vehicles is the interior. But if you were to remove the top and have a look inside, you'd see that that isn't the case with this one. Though the list isn't a large one, the car isn't begging for anything else considering the size of the cockpit. ASM floor mats and an ARC burnt titanium shift knob complement the Recaro Pole position seats fitted to a set of BuddyClub seat rails. Other additions to the interior include seat belt extenders, an Ap2 Radio door cover, and an Ap2 center console. The factory audio system was also given some proper attention to make those summer cruises more enjoyable with a Pioneer head unit, JL audio C5 6.5" component speakers, JL audio 10" stealth box 10w3v3, JL audio 300/2 2 channel amp, and a JL audio E1400D mono block amp.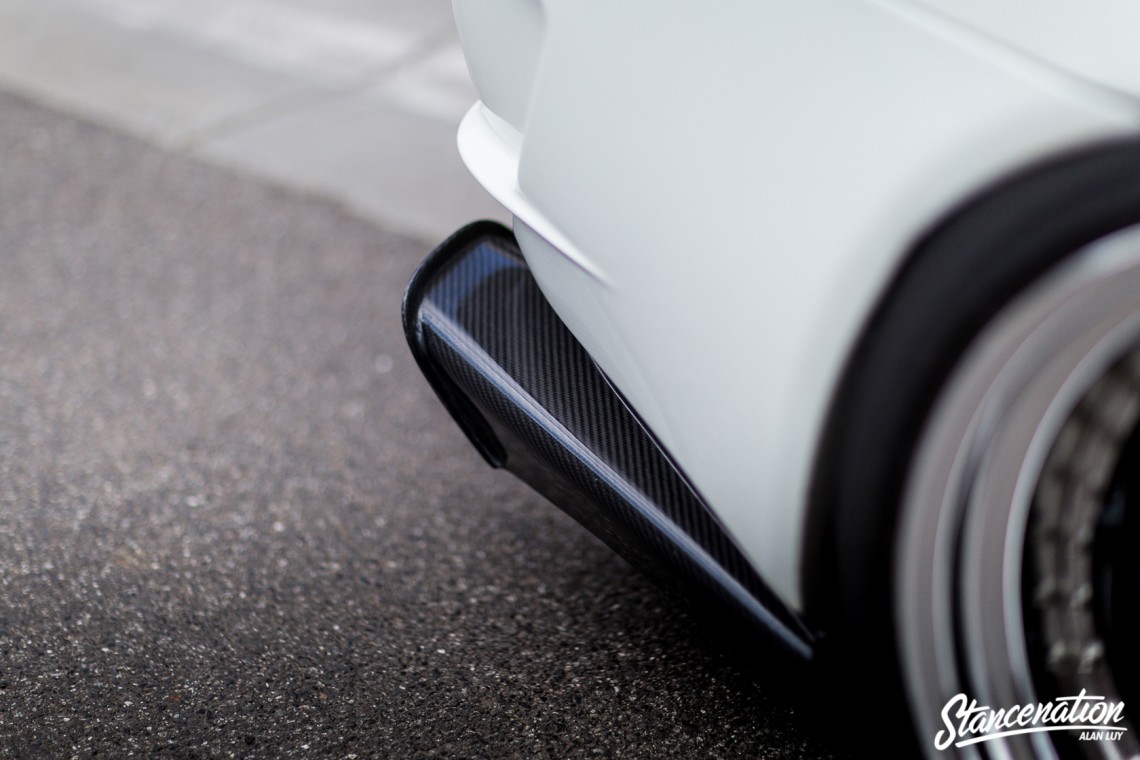 In the future Justin would like to put his car on air suspension, and with that I hope to see a few other additions as well. Possibly some re-lipped Meisters for a more aggressive stance? We'll see! Until then, enjoy the rest of these great shots from Alan Luy.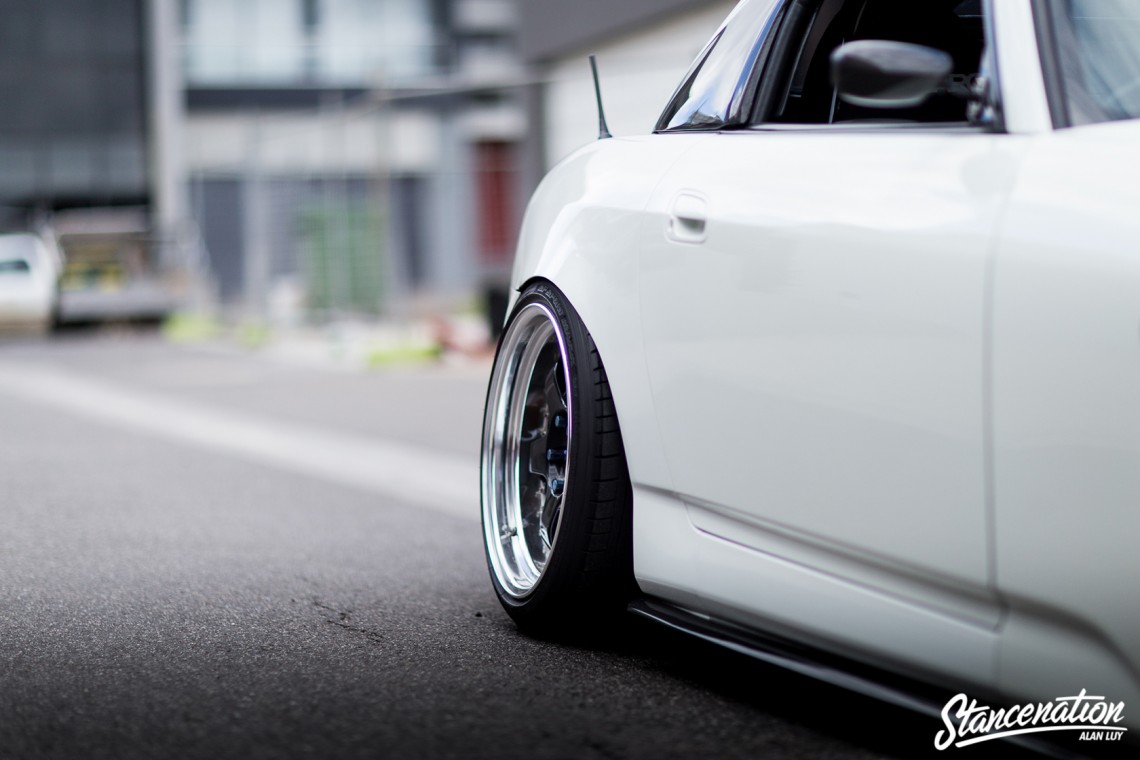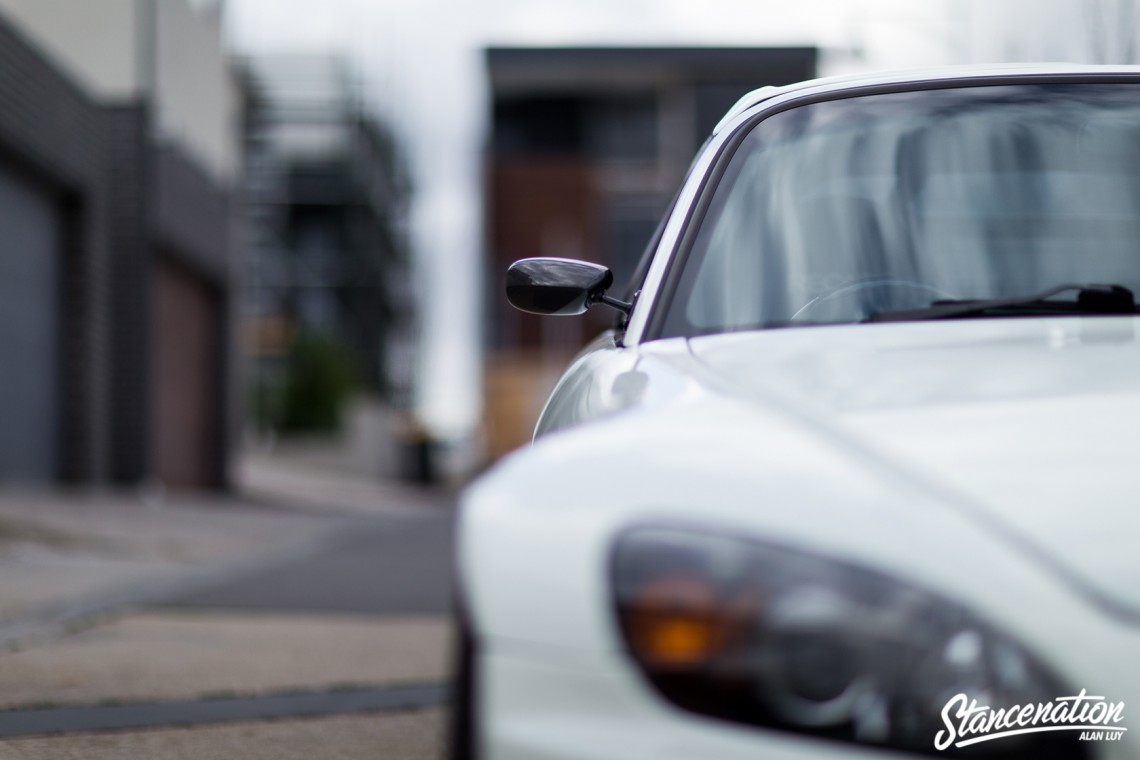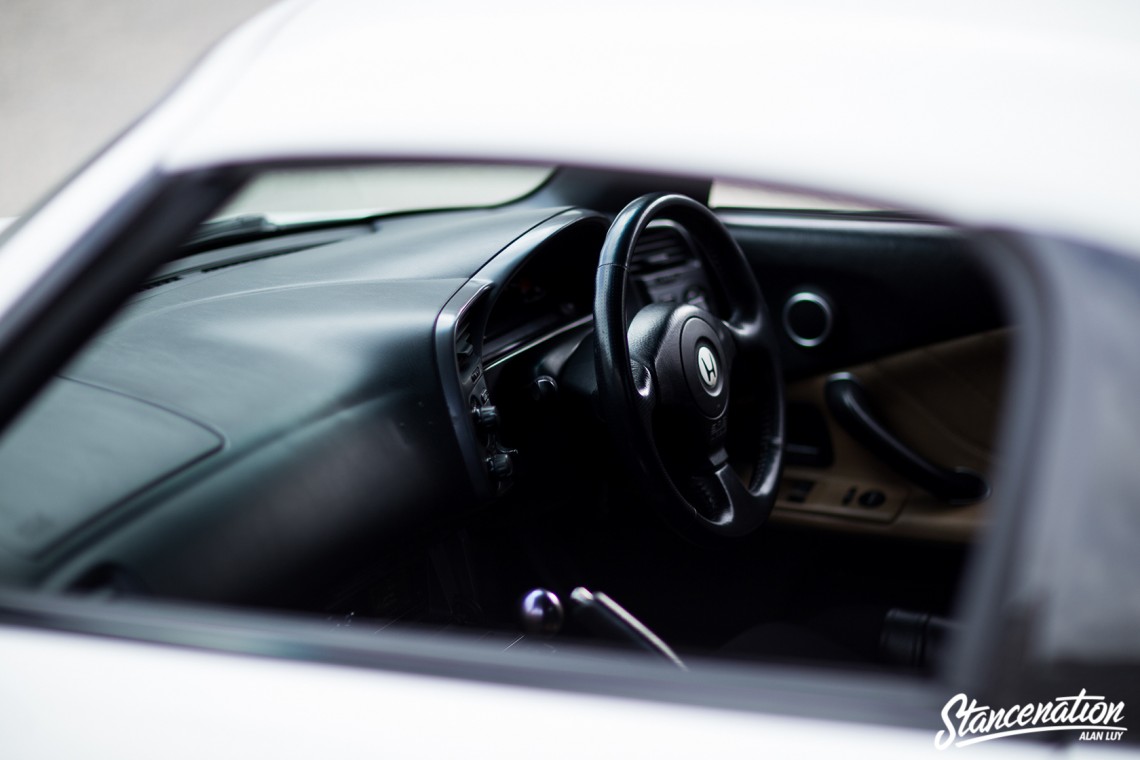 Exterior:
CarShop-Glow LED tail lights
DT Panels custom flared front and rear fenders
Shine ASM style front bar
Shine ASM style Rear bar
Forcewerkz Carbon Fiber ASM style front lip
Carbon Plus Carbon fiber Mugen Style hardtop
Carbon Plus Carbon fiber side diffuser
Carbon Plus Carbon fiber Spoon style diffuser
M-racing Carbon Fiber type I side mirrors
GTM duckbill spoiler
AP2 headlights
Tein bonnet dampers
Engine/Exhaust:
HKS stainless header
Berk Stainless 70mm high flow cat
ASM 70mm S-Special Stainless exhaust
Password JDM Carbon fiber air-intake with cooling plate
Spoon sports fan switch
Spoon sports low temperature thermostat
Innovative 75a solid engine + transmission mount
Chassis/Driveline:
BuddyClub RSD coilovers
J's racing strut brace
J's racing engine torque damper
J's racing driveshaft spacers
Cusco front lower arm bar
Cusco Floor ladder bar
Cusco 5 point chromoly roll bar (painted black)
Whiteline front swaybar
Hardrace rear adjustable toe arms
Hardrace front and rear roll center adjuster
Hasport 70a Differential Mounts
Brakes/Wheels:
Goodridge braided brake line kit
EBC Gold slotted and dimpled front rotors
RDA blank rear rotors
Akebono ProACT front and rear Ceramic Pads
Work Meister s1 3p F:18X9+30 R:18X10+30 [F:225/40/18 R:255/35/18]
Interoir/Audio:
ASM floor mats
ARC burnt titanium shift knob
Recaro Pole position seats
BuddyClub seat rails
Seat belt extenders
Ap2 Radio door cover
Ap2 center console
Pioneer headunit
JL audio C5 6.5" component speakers
JL audio 10" stealthbox 10w3v3
JL audio 300/2 2 channel amp
JL audio E1400D monoblock amp