I'm going to be straight forward with this one, 370Z's, in my case have been hit or miss. I'm a firm fan of its predecessor as it being the car that sparked a tiny flame of interest in my adolescence. However, this new rendition, the 370Z to me in stock form is lacking…which thankfully we wouldn't bother you with here at Stance:Nation. This particular 370Z here is anything but lacking. It's mean, its low, but rounding out the trifecta is that is crisp and clean. It is definitely a pleasure to introduce to you Joseph Mann's immaculate Nissan 370Z.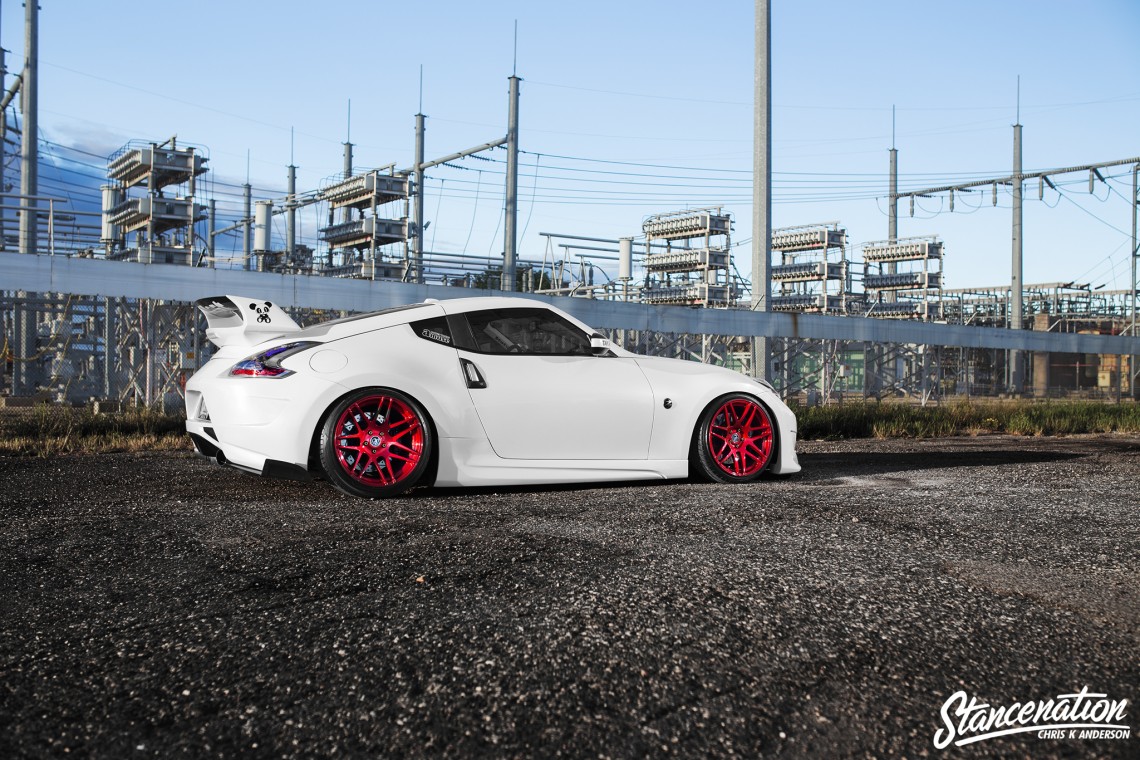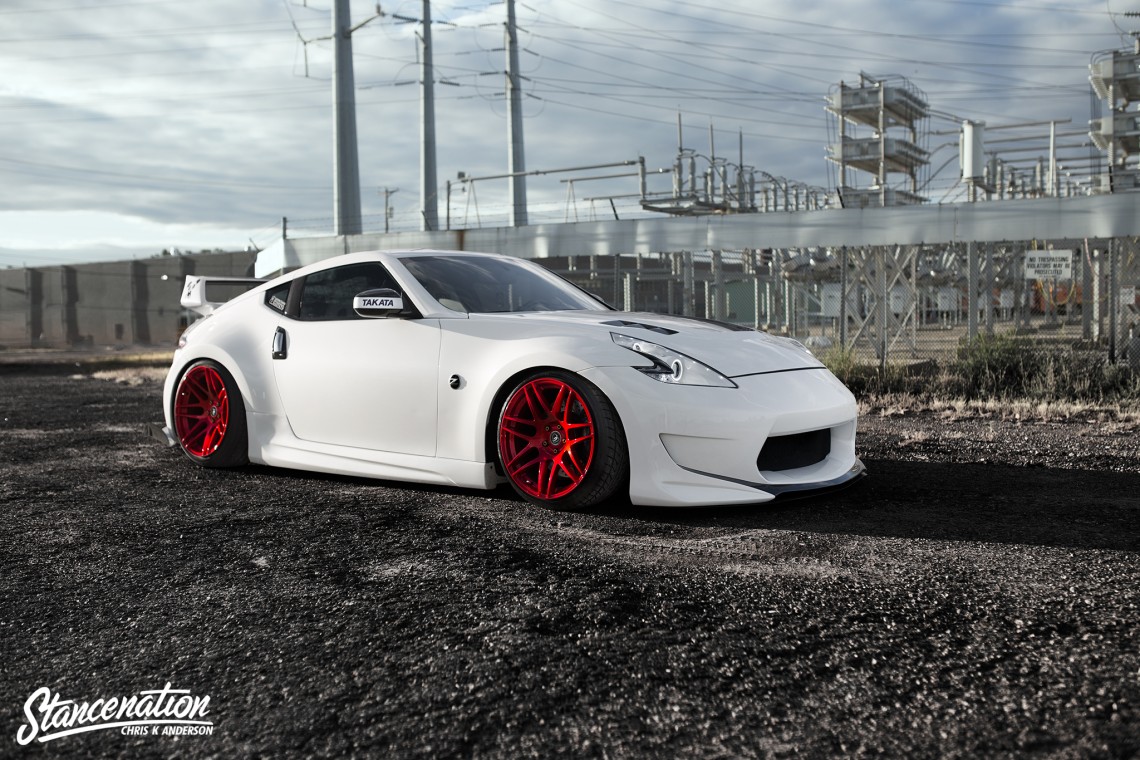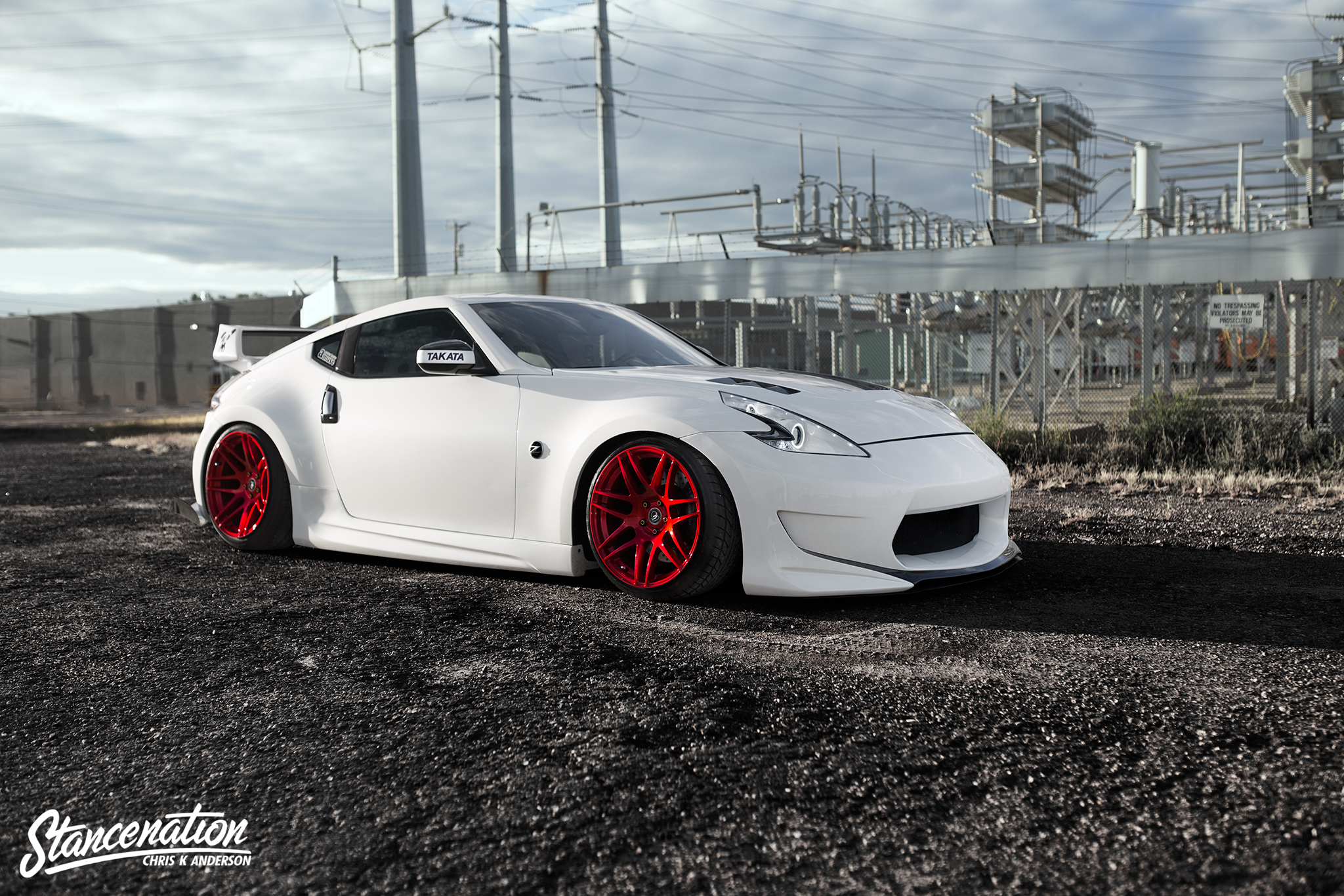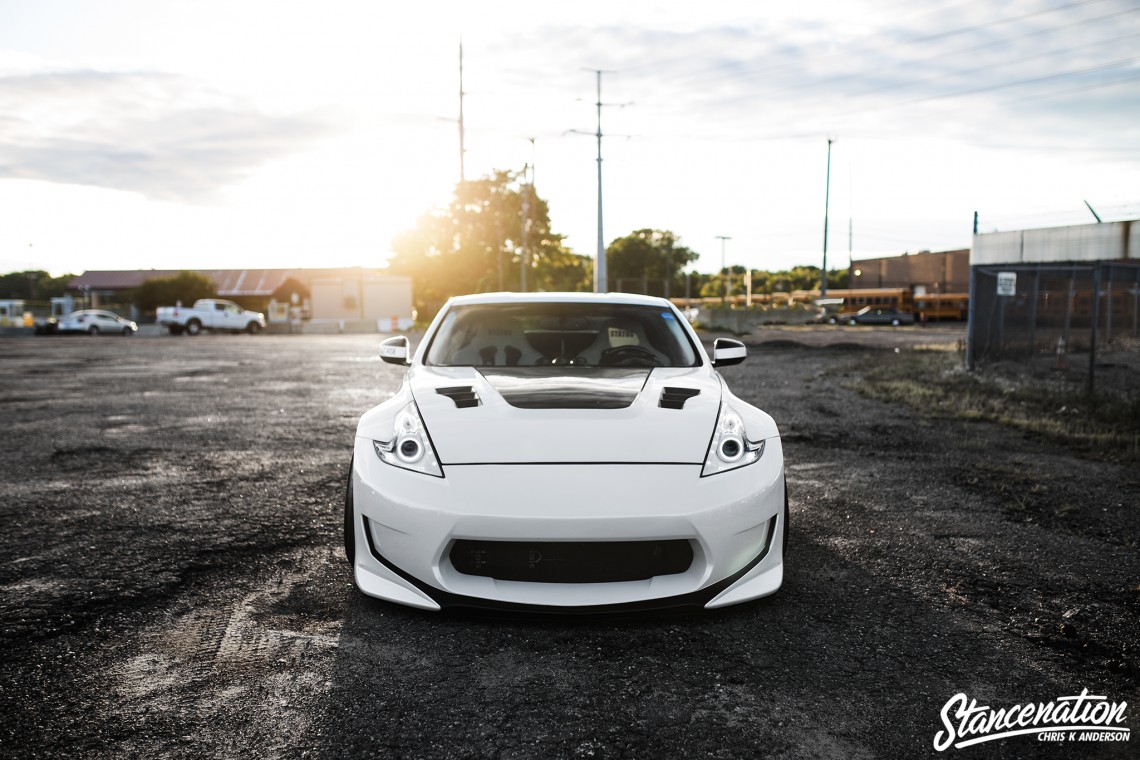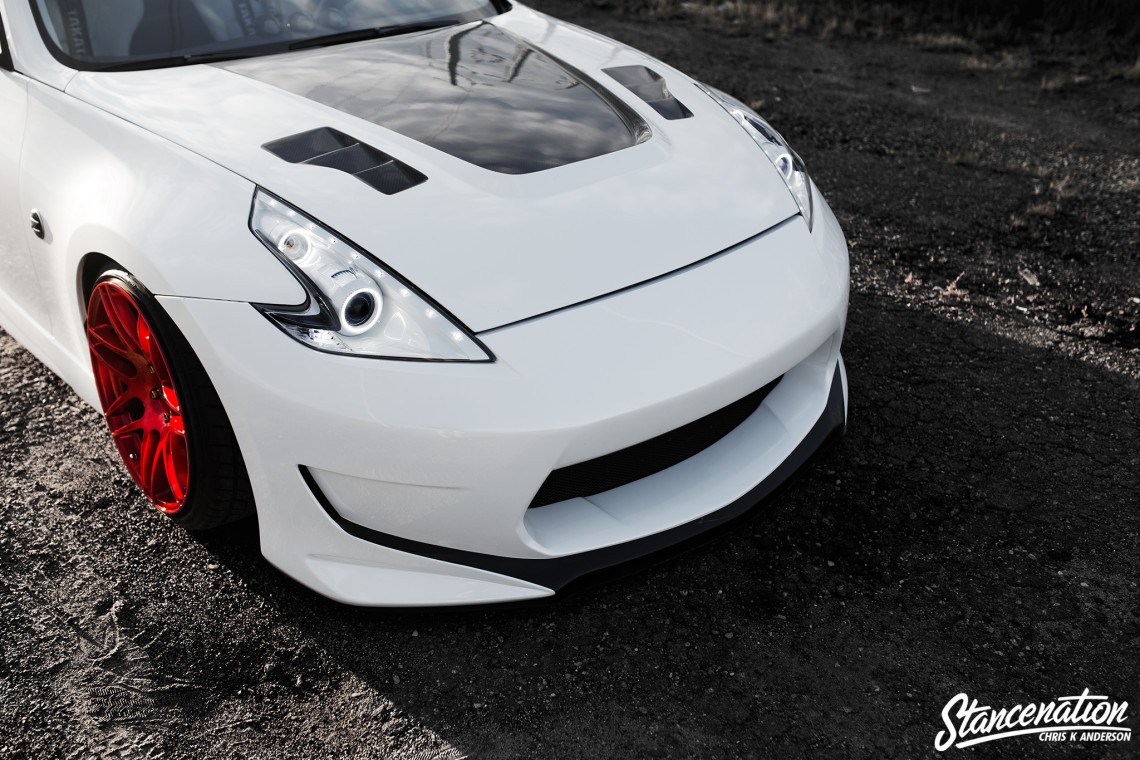 Owning this car for the better part of 4 years, Joseph's love for Japanese automotives stemmed from an early age. When Joseph hit the turnpike of adulthood, the Nissan line was naturally a favorite and it was reasonably priced. Now lets get to why Joseph likes it. Both of us share the same like for the 370Z in simply how it looks. He says many people don't even know what it is and I would have to agree. To the untrained eye the full Amuse kit adds such an aggressive flair that the rear could be mistaken for a Porsche as it is strangely reminiscent to the Blackbird from the Wangan manga series.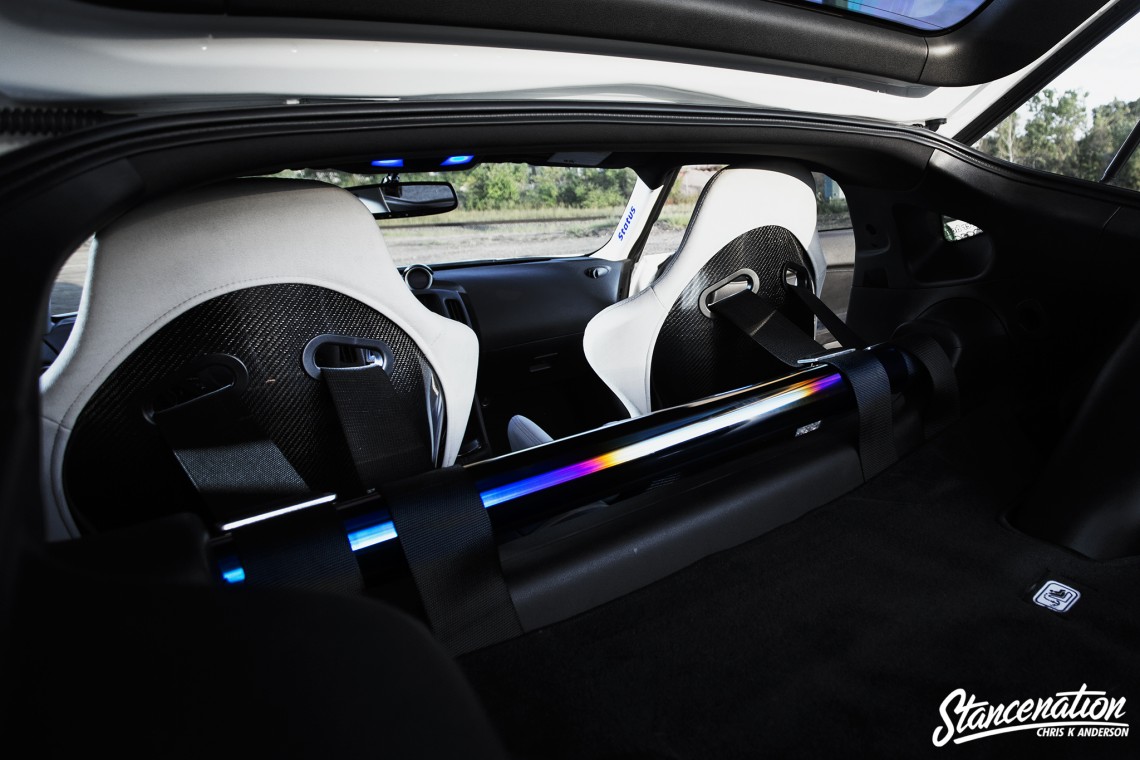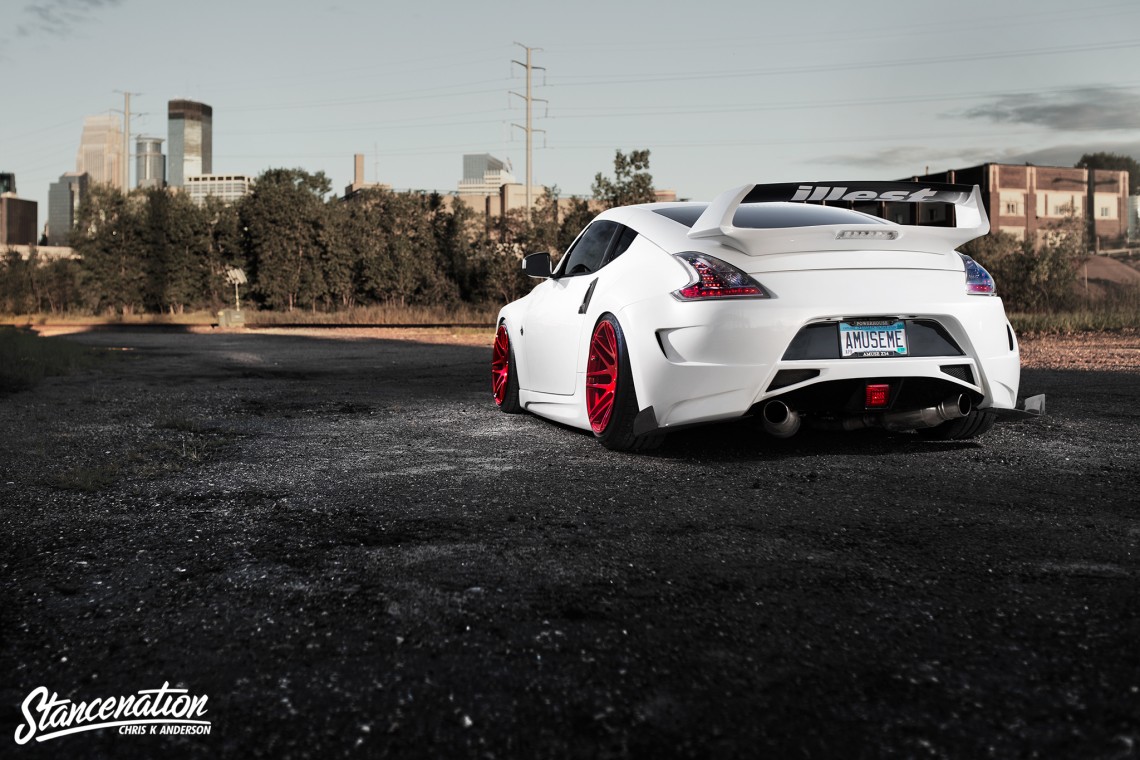 Gracing the car on all sides is an authentic Amuse kit, which took 6 months to source. It makes the saying of "You can never rush perfection." hold true. The front bumper and hood add plenty of action to the business end of the car, eliminating the "fangs" that plague the stock bumper. The rear bumper changes up the rear giving plenty of clearance for the exhaust system. In addition, color matching the unpainted kit to the 370Z's white, is a pain. What I love the most is that nothing was skimped on in this build. Quality parts contribute to this quality build.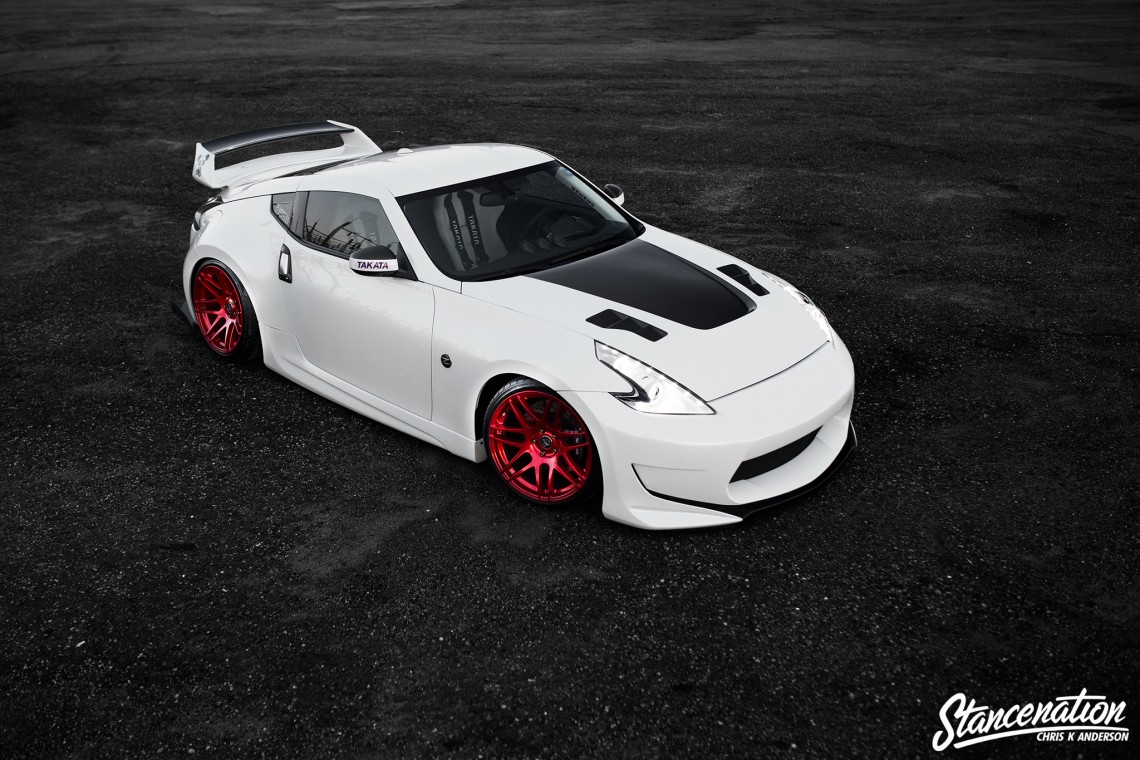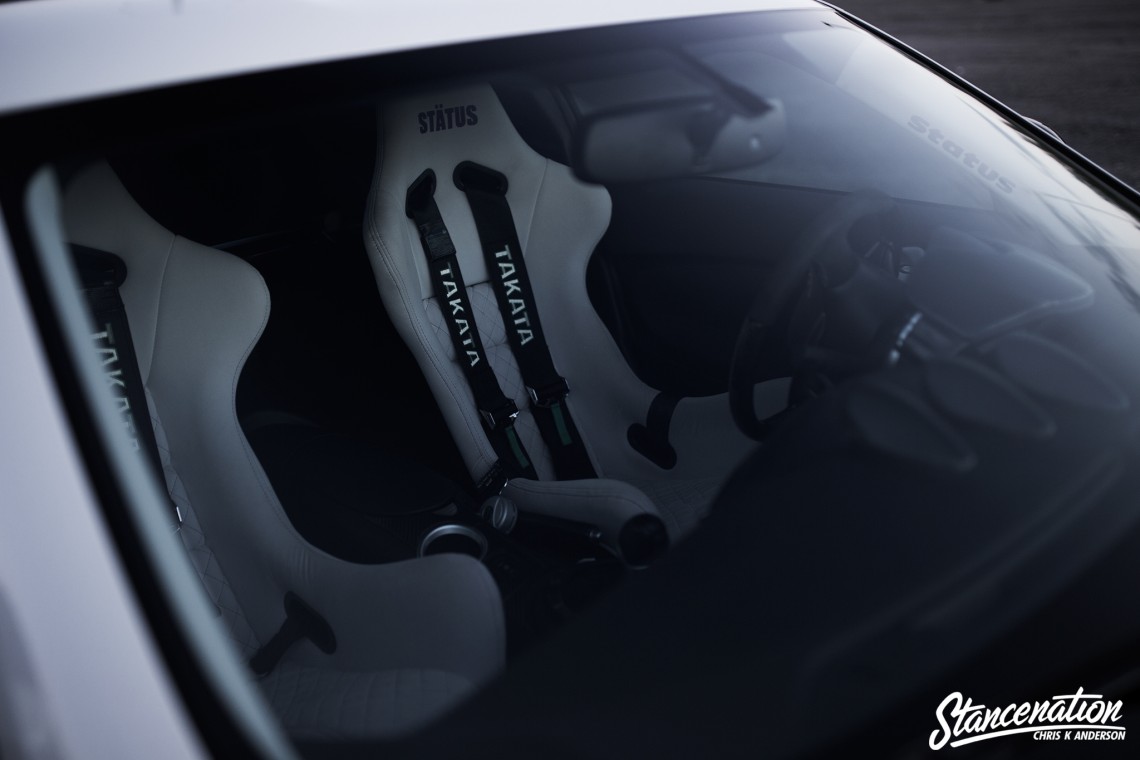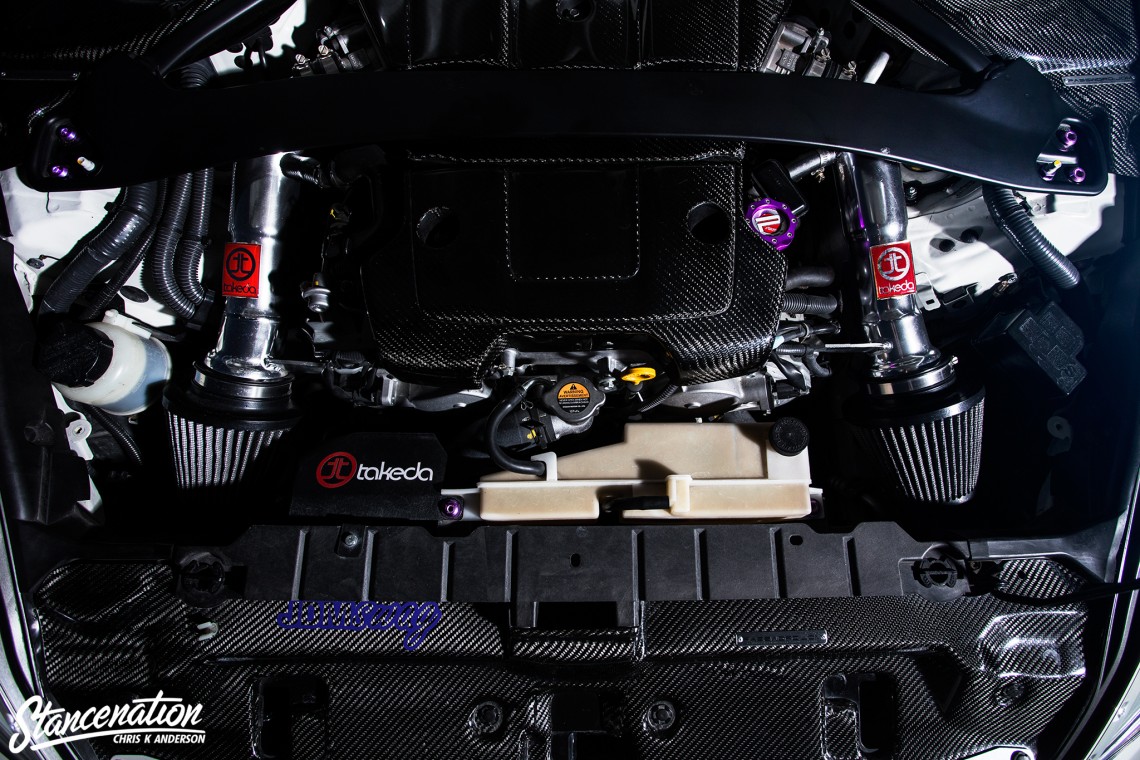 Takata racing harnesses mated to Amuse Titanium Strut bar working in conjunction with Status carbon fiber/suede seats keep the operator safe and secure in the cockpit of this beauty. Meanwhile, sitting pretty underneath the fenders lie candy red Forgestar F14 Super Deep Concave Series measuring in at 19×9.5 and 19×11. Stance super+ coilovers and SPC front camber arms as well as 20/25mm spacers aid in the attainment of such fitment. However, do not drool on these for too long as Joseph tells us he has a set of Avant Garde wheels on the way…amongst other things like an Armytrix exhaust and Airlift suspensions. New year, new mods.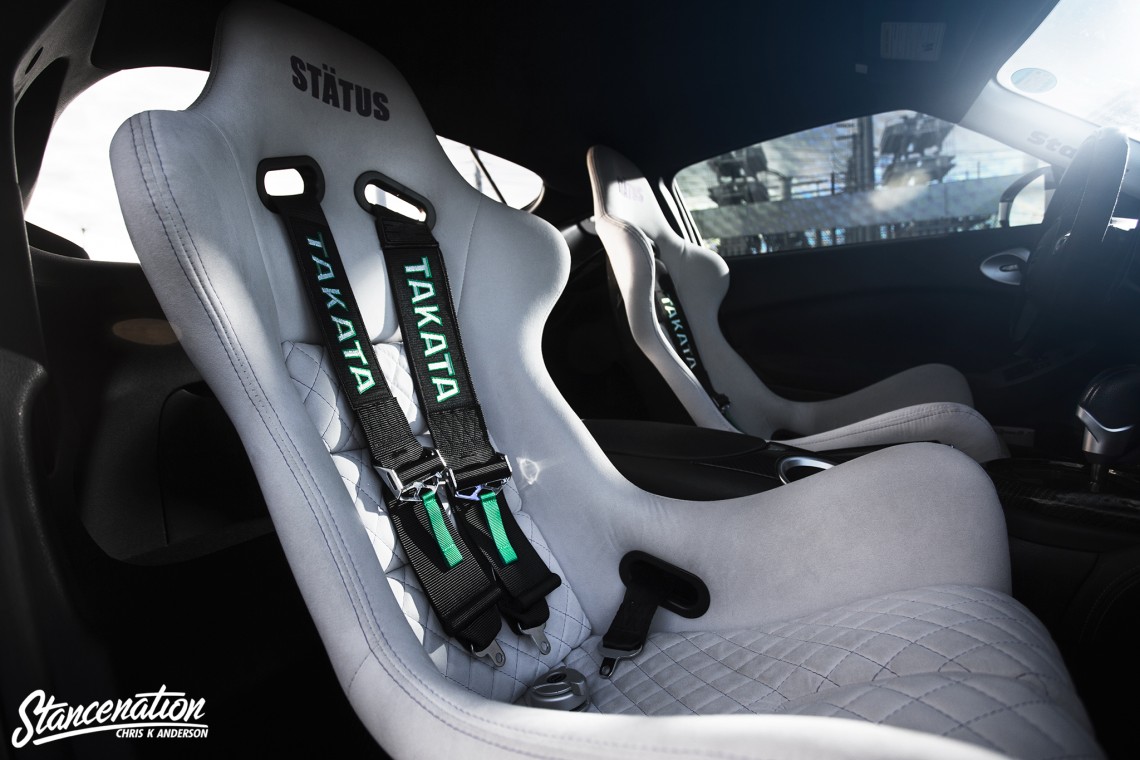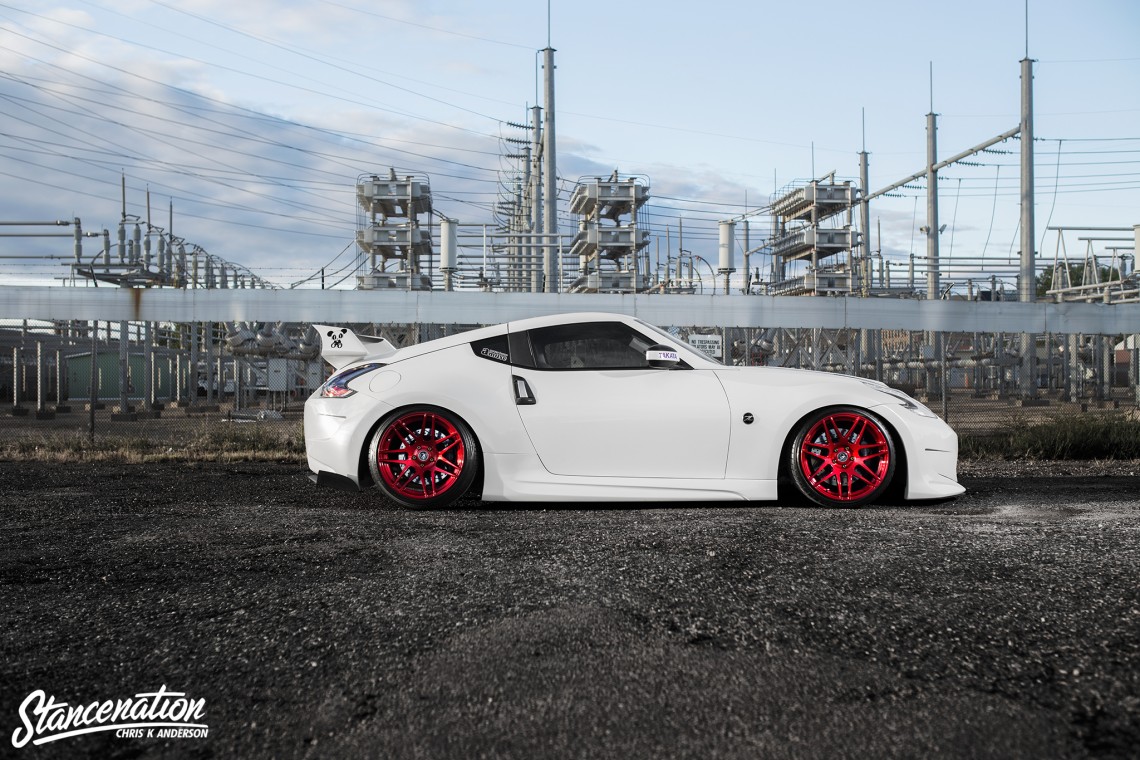 Enjoy the rest of the photos taken by our very own Chris Anderson! The shots are absolutely beautiful and truly capture the true essence of this car.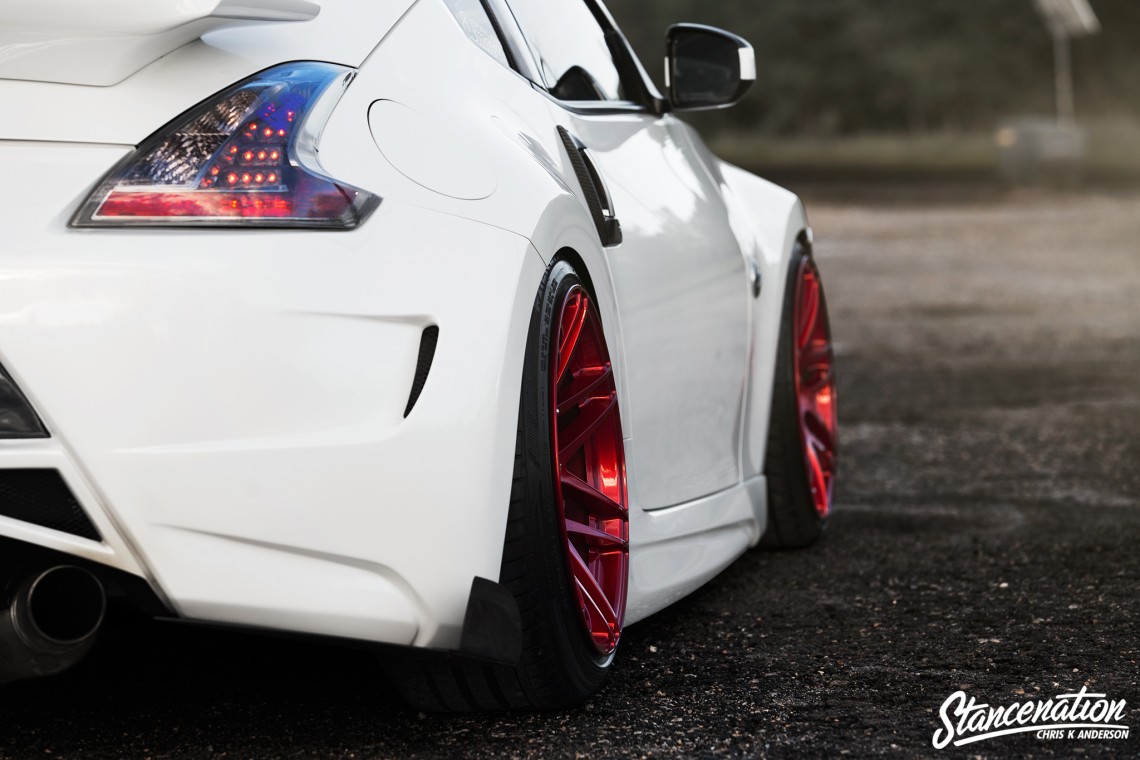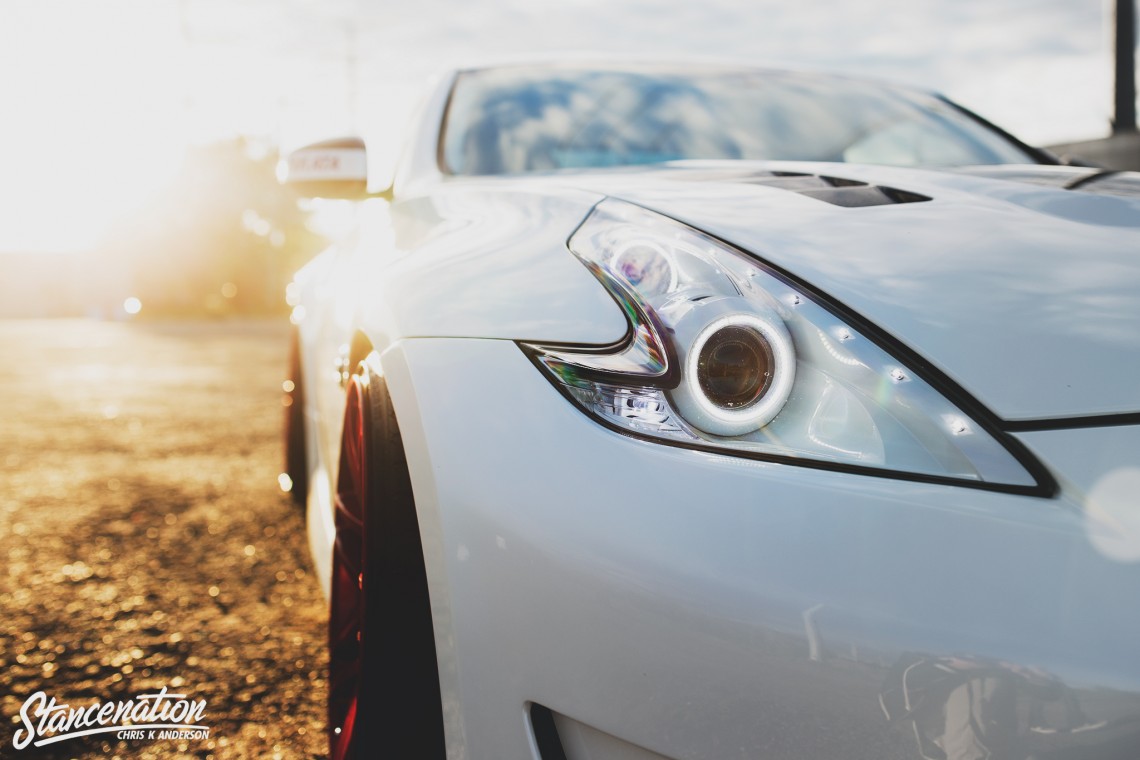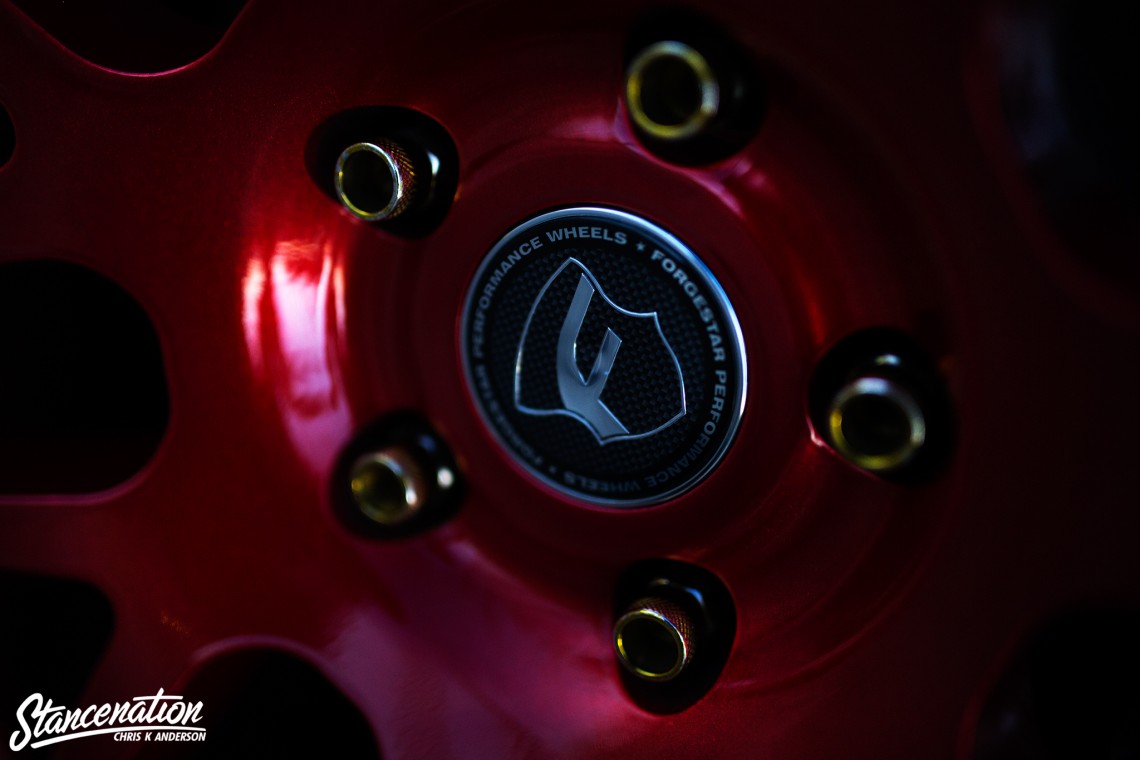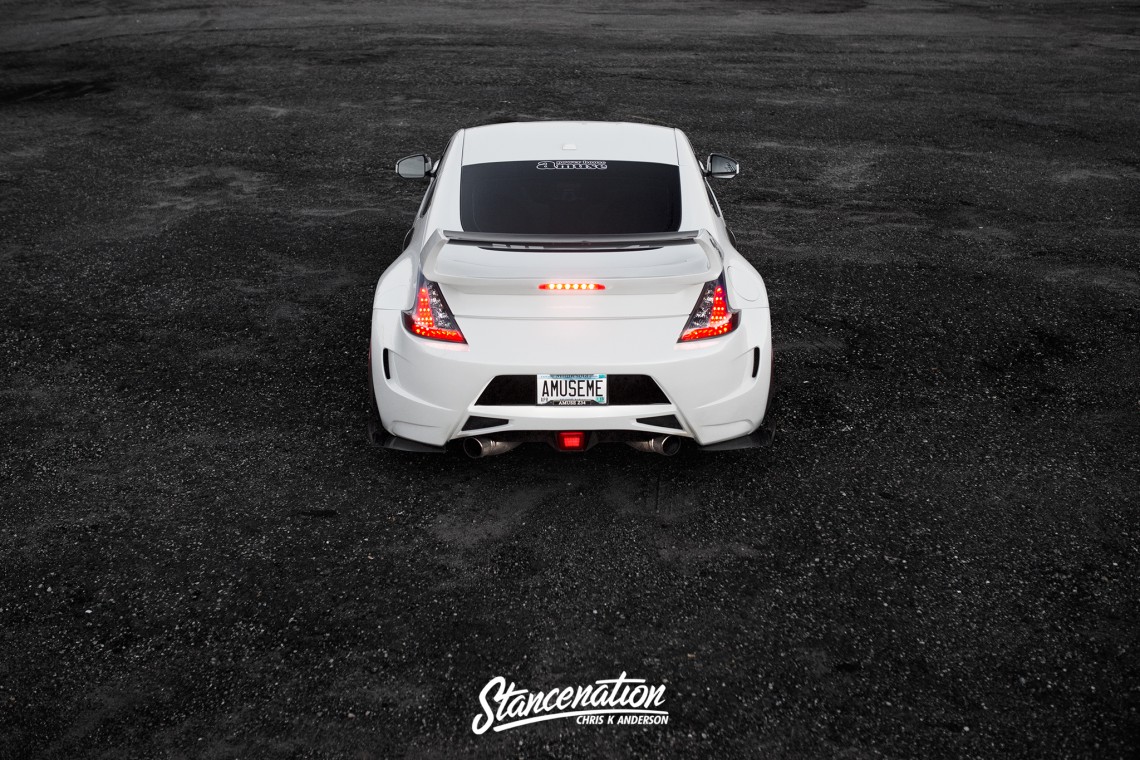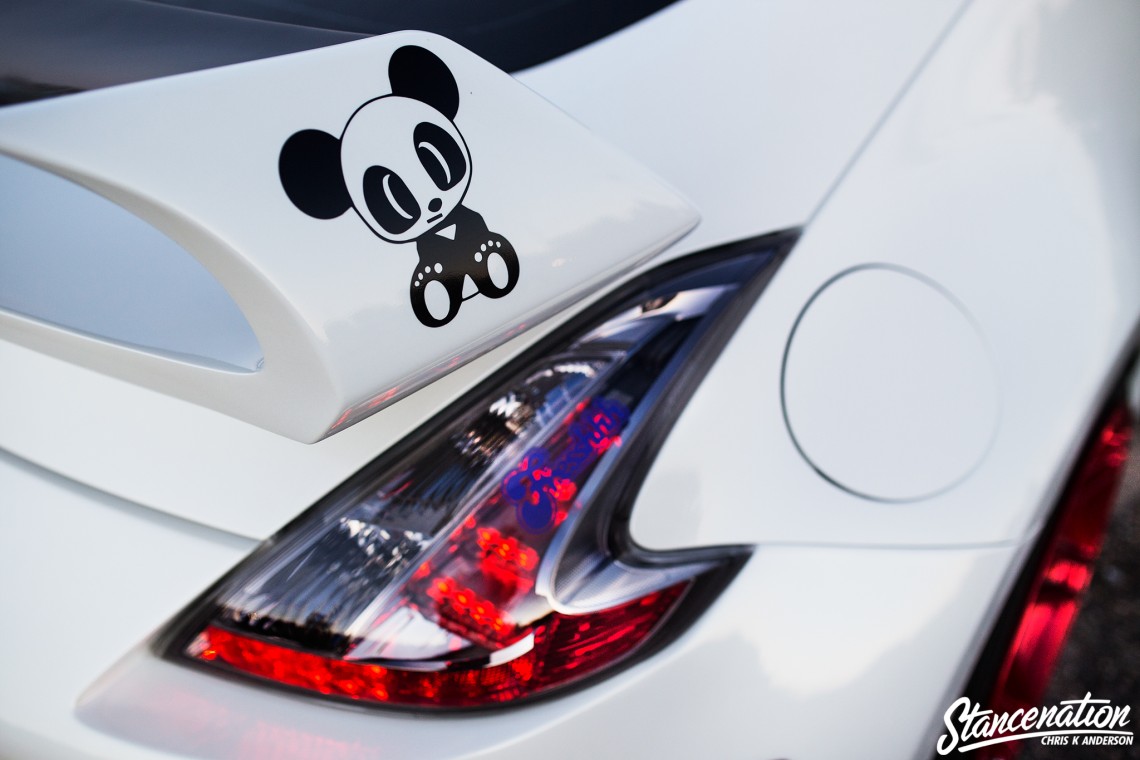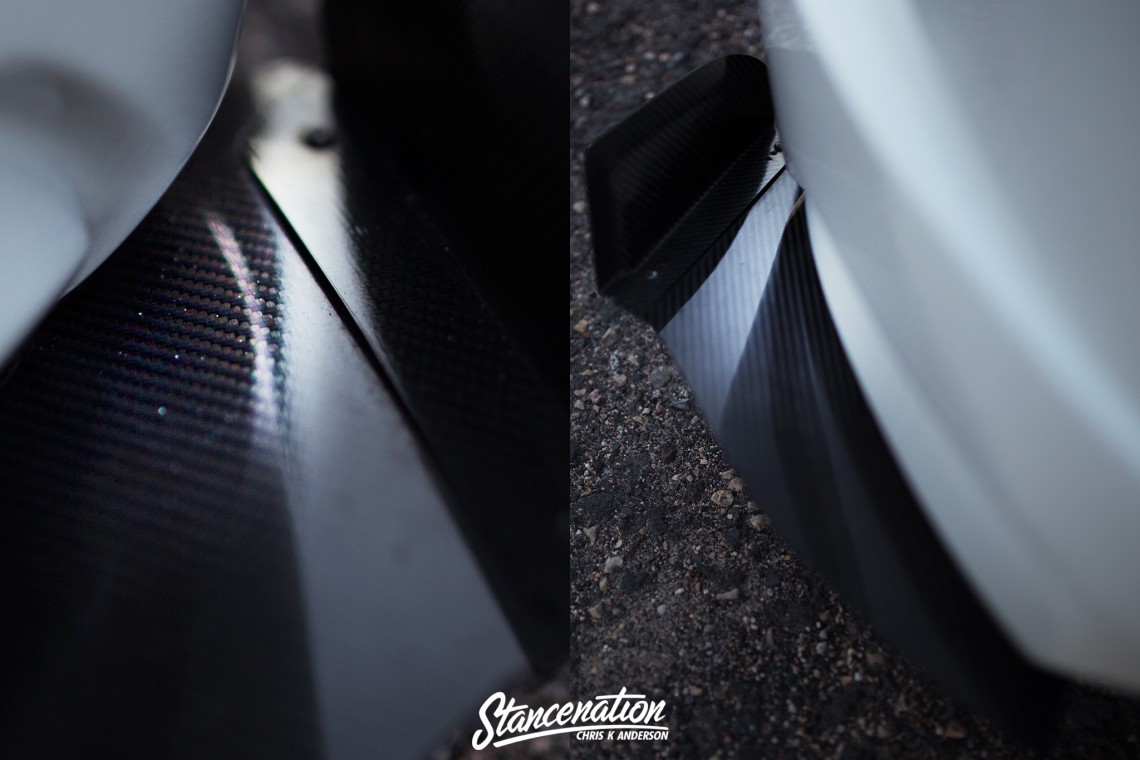 Exterior:
powerhouse Amuse authentic kit,
carbon fiber hood, seibon carbon fiber mirror covers,
Password JDM carbon fiber rear diffusers,
180′ degree custom headlights with double halos and led landing strip,
Aluminum front under diffuser,
JDM aftermarket taillights,
Top Secret rear brake light,
Seibon carbon fiber c-pillars and door handle covers,
Interior:
Custom carbon fiber and suede steering wheel,
Carbon fiber interior trim pieces,
Status ring GT-X carbon fiber and suede custom seats,
Takata racing harnesses,
powerhouse Amuse full titanium strut bar.
GTR push start button
wheel/suspenion:
Forgestar f14 super deep concave series 19×9.5 19×11
Stop tech drilled and slotted rotors,
Kics gold lug nuts
Stance super+ coilovers,
SPC front camber arms,
20mm front wheel spacer and 25mm rear wheel spacer,
Tires front 225/35/19
Tires rear 245/40/19
Engine:
Password JDM carbon fiber engine bay covers
purple password jdm oil cap
purple dress up bolts
berk high flow cats
AAM mid pipe with aero mufflers
Takata cold air intakes
Oasis tune
Stillen 19 roll oil cooler