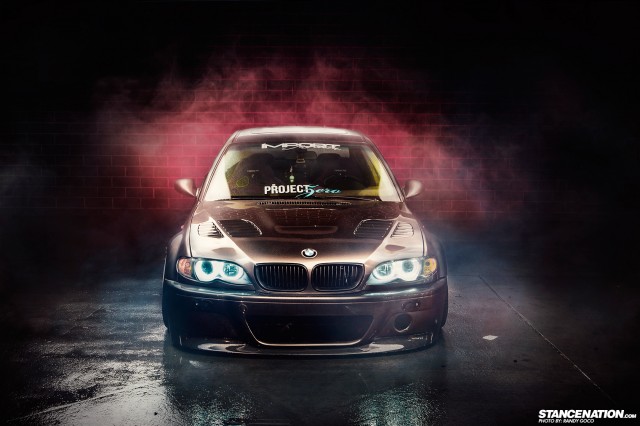 When it comes to features we've been excited to share, this particular BMW E46 3-series is definitely up there. This one has been some time in the making, but the wait will definitely be worth it, and I'm certainly honored to be writing about it. This car is a personal favorite of mine for many reasons, and some major props to Randy Goco for knocking out some killer photos for us. So let's cut the foreplay and get stuck in the deep end; presenting Boogie Santo's 3-Series.
Photos By: Randy Goco exclusively for StanceNation.com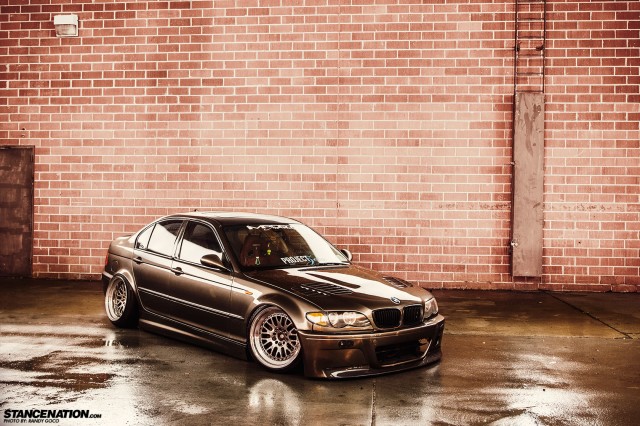 "I guess the only thing that really comes to mind is to stop being so cookie-cutter. Don't be afraid to come out of your comfort zone. A lot of people always hate because they're too impatient to save up for a proper set of wheels or modification for their car. Is it really worth browsing ebay stores to fulfill that little itch you have to add something to your car? Will it really compliment your build? Stop and think about it." – Boogie Santos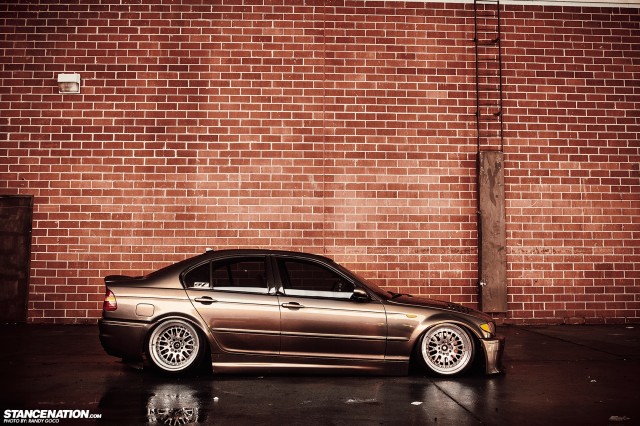 As I sat down to start writing this feature up, I was going through the notes I had been given, and some of Boogie's own words. Now, I don't know Boogie personally, but just from reading what he has to say about the car, the story he has with it, and some of his insights on the current scene, I can tell that he is loved by plenty, envied by many, and respected by all. His BMW is his labor of love (and the trio of blood, sweat, and tears) over the years, and something that he is constantly perfecting, although the current look will be really hard to top! Oddly enough though, when Boogie first purchased the 3-series back in 2002, it was meant to be a daily with the intent of, "I wouldn't change a thing." Where'd you lose the plot Boogie!?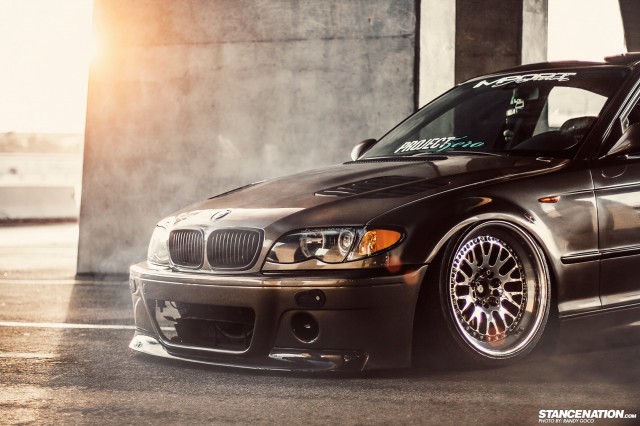 We aren't complaining though, far from it! Boogie has certainly turned out one of the freshest BMWs we've seen, and the car is much more than a hard slam and some nice wheels. This build is well thought out, well planned, and well executed all with top-quality parts and top-notch work mostly done by Boogie himself. That's another great thing about Boogie. He gets stuck in a project often figuring out his own solutions to the problems and obstacles he comes across, like removing the air suspension kit he bought because it wasn't to his standard, tearing it all down, and building his own. Impressed yet?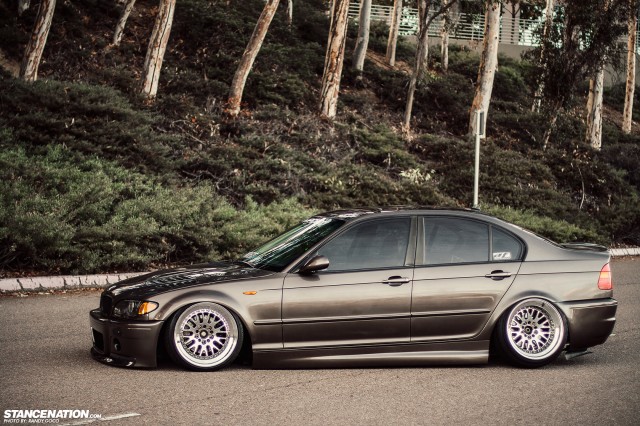 Alright, enough about Boogie and how much of a rock-star he is, and more onto this sexy BMW 3-series. We'll start with arguably my favorite part of the car, and that's the exterior. It's a work of art. It's subtle, yet aggressive, custom, but could pass off as OEM, and I absolutely love it. Nothing was skimped on either. On the front of the car, a Vorsteiner CSL CF bumper, CF splitter, and CF GTR hood start the menacing glare this car has. Out back, there's an OEM M3 bumper crafted to fit the 4dr, complimented by an RE Amemiya diffuser and F1-style brake light, and a CF CSL trunk. As if that wasn't enough, Boogie crafted a custom, metal wide-body to house the steam-roller sized CCWs. The wide-body uses all OEM BMW parts, starting with a pair of M3 fenders in the front, and the rears being cut and radiused. The result is the perfect balance of custom and OEM to create a one-off look that is both aggressive and subtle.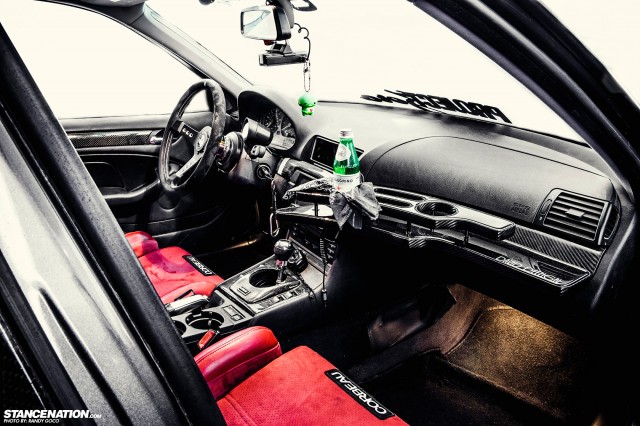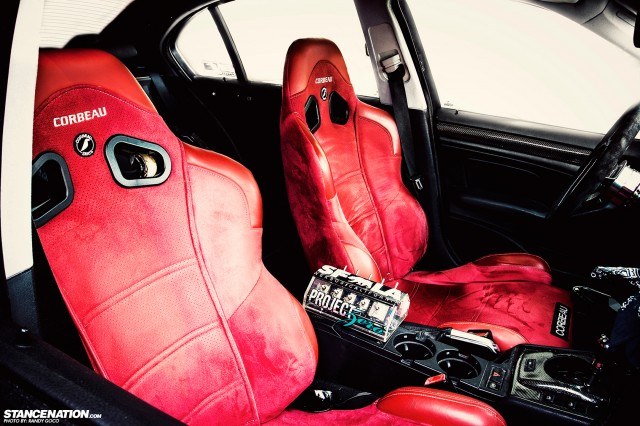 On the inside, that balance of custom and OEM continues. The first thing to jump out at you are the red, suede/leather wrapped, Corbeau bucket seats. The red suede and leather continues onto the rear seats, while a healthy smattering of carbon fiber trim pieces keep with the race-car vibe of the interior. To add a bit of class, Boogie's e46 has a pair of David Dee Dezign VIP tables in the front and rear. The interior is well-rounded, and the red adds a nice touch. I've always been a fan of the blood-red interior option you can get in BMWs so it's no surprise that I feel it works well here.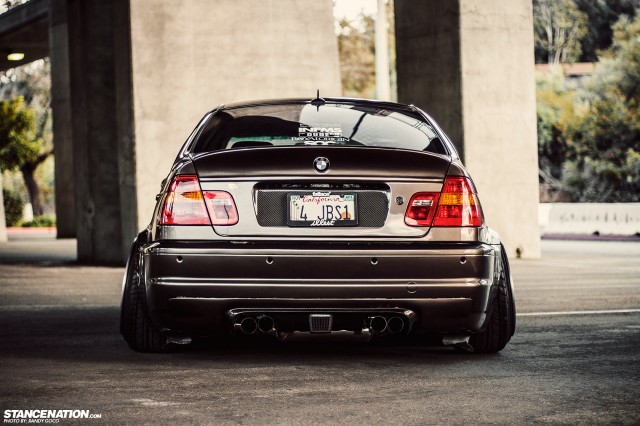 Now, all of that fancy bodywork wouldn't mean too much without an impressive set of rollers and a killer stance. Boogie didn't disappoint in either department. The air-assisted stance is certainly the highlight. After running no less than four, previous suspension setups which were all various coilover setups, Boogie decided to go air to get the necessary levels of low without destroying bumpers and oil-pans. However, the air setup he originally bought wasn't up to his standard, so he tore it all apart and built his own. Boogie's air setup is centered around BC Racing coilovers with shortened bodies, and Universal Air Suspension Aerosport bags. Management and manifold are Accuair pieces as well as the tank combined with Viair 440 compressors. The result? Well, a picture says a thousand words and we've got plenty of pictures here to share. It's certainly one of the lowest E46s I have seen. It's hard to argue with the car air'ed out that going air wasn't the right choice, and it certainly goes a long way into achieving that spot-on fitment.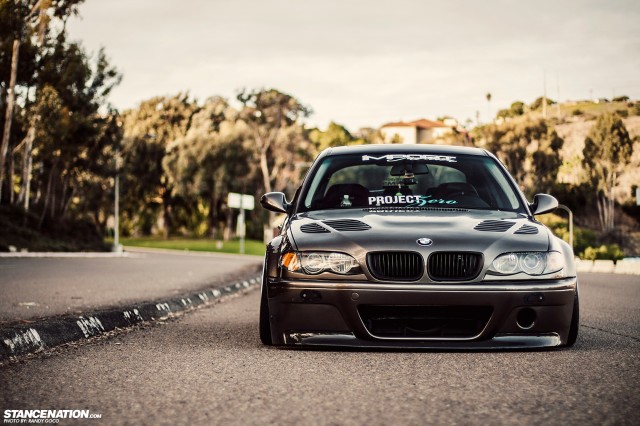 The right set of rollers for Boogie was a crucial choice as well. With that body work, and all the time and effort into getting the suspension setup right, an equally impressive set of wheels was needed. Boogie has run some impressive hoops before including a few sets of BBS LMs and CHs in 19″ staggered sizes respectively. This time though, something a little more custom was in order. Enter Complete Custom Wheel. CCW wheels are certainly known throughout all automotive circles for being not only high-quality, but also completely custom. Each wheel is built to the owner's specs and the experts at CCW are there to help everyone create their dream wheels. Boogie chose the Classics which are a timeless 3-piece design, and look right at home on his E46. The 18 inch Classics measure up at 10 inches wide up front, and 12 inches in back to fill up the wide-body, and they do a damn good job. With the help of BC camber plates in the front and Megan RLCAs in the rear to dial in the camber, Boogie's BMW has the right amount of tuck up front, and that perfect fitment in the rear that defines the Euro fitment.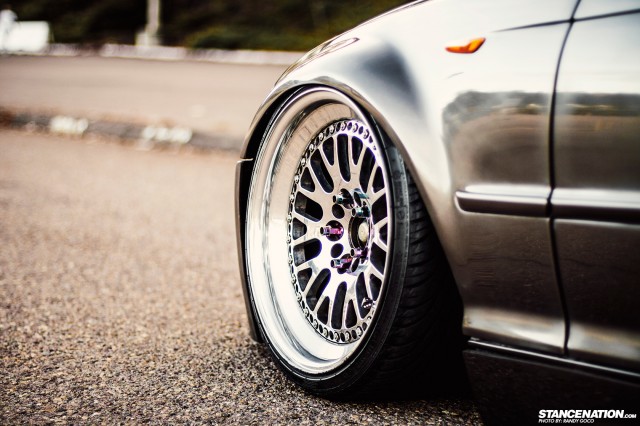 So, what's next for Boogie and his Bimmer? Well, according to him, quite a bit! More body work, and even wider, wide-body, new wheels, more interior work, the list goes on. We'll leave it up to Boogie to show the stages as he's always been one to share the progress of his builds. Whatever is next though will certainly be impressive. This car has progressed from a daily hauler to a show stopper, and that progression certainly isn't stopping anytime soon. At the end of the day, Boogie likes building cars and that's why his E46 will continue to change. Boogie is also entertaining the idea of starting a new project too to go along with his BMW. I guess he just has too many good ideas and not enough cars! Boogie has quite the list of shout-outs he'd like to give, so like his car, I'll let him do the honors;
I'd like to give a shoutout first and foremost to my team Project Zero. Also to my crew over at Import Fashion, my StanceNation fam, Autofashion fam, Jason from Pann Auto, DudeBlvd, 5&adime, Sauce|Bauce, Driftsociety, the homies at Wrong Fitment Crew, Scikotics, my Dapper fam, my Vanguard fam, the homies at Royal Origin, Bojangles Photography, Goco Photography, TLA Photography, Illinspired Photography, Ksaengphotography, Glory.Image.Fame, Endthread Clothing, Egonomics Clothing, FckYourCrew, Joey from VIP Modular, David Deezign, James from Primer Autobody, the homies over at Limitless Society, all my Jdub brothers and sisters, and last but certainly not least, my Jumooluks! As you can see, I get around =P -Boogie Santos