Black cars. If you've ever owned one, one that you really cared about, you know the struggle. Given the right circumstances, they can look amazing. If the circumstance isn't quite optimal; dust, direct sunlight, scratches, swirls, leftover wax, etc. You can have a disaster on your hands. Black paint is notoriously difficult to get right and it's always impressive when done correctly. Even more so when you're looking at a car with a custom metal wide body kit, as nothing hides in the depths of a beautiful black paint job. Caymen Sans is certainly not a novice when it comes to this reality. He's owned this 2007 Nissan 350Z for 9 years. In fact, it was actually his first car, a labor of love that has introduced him to new friends and a passion for the car scene.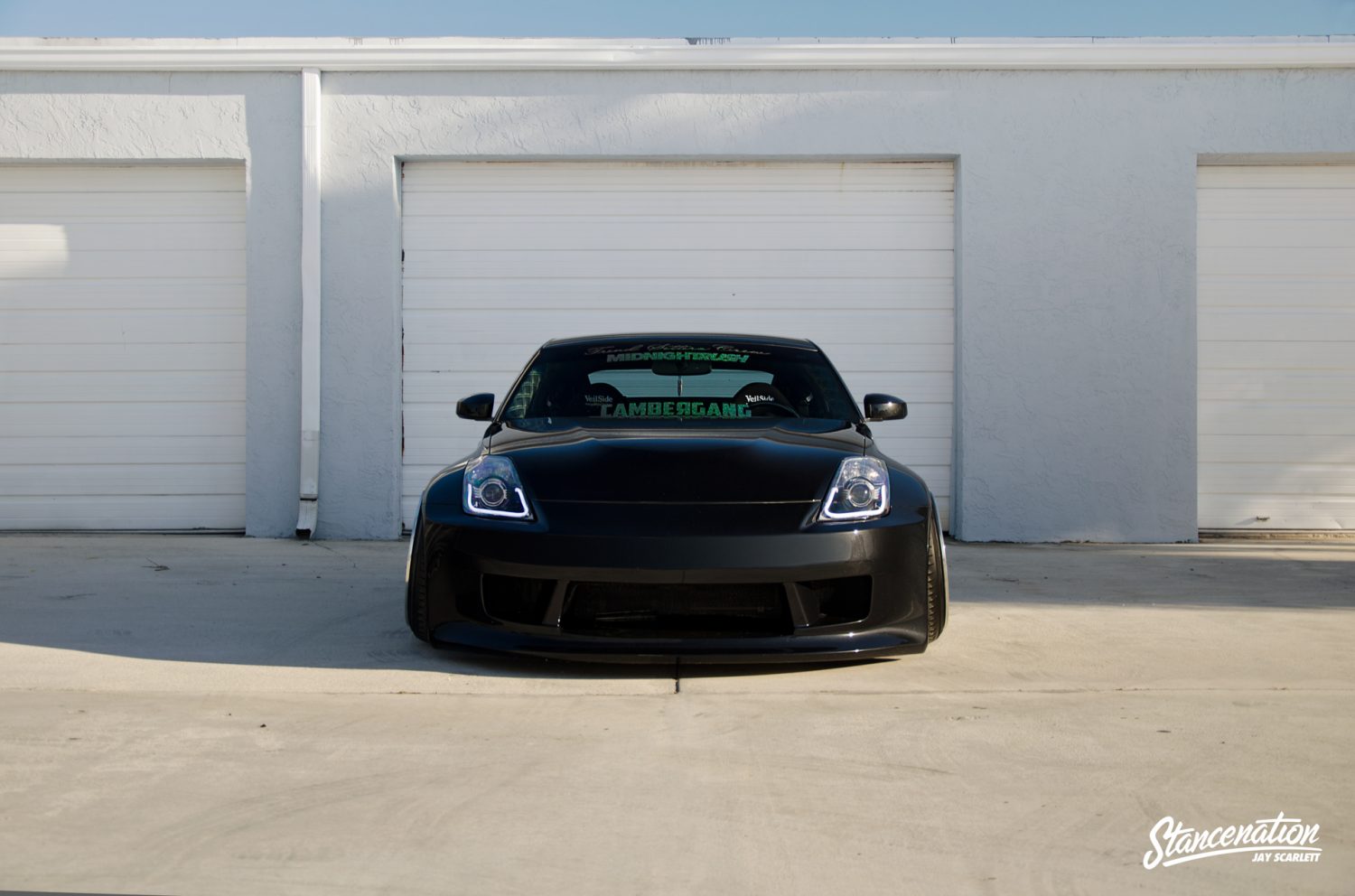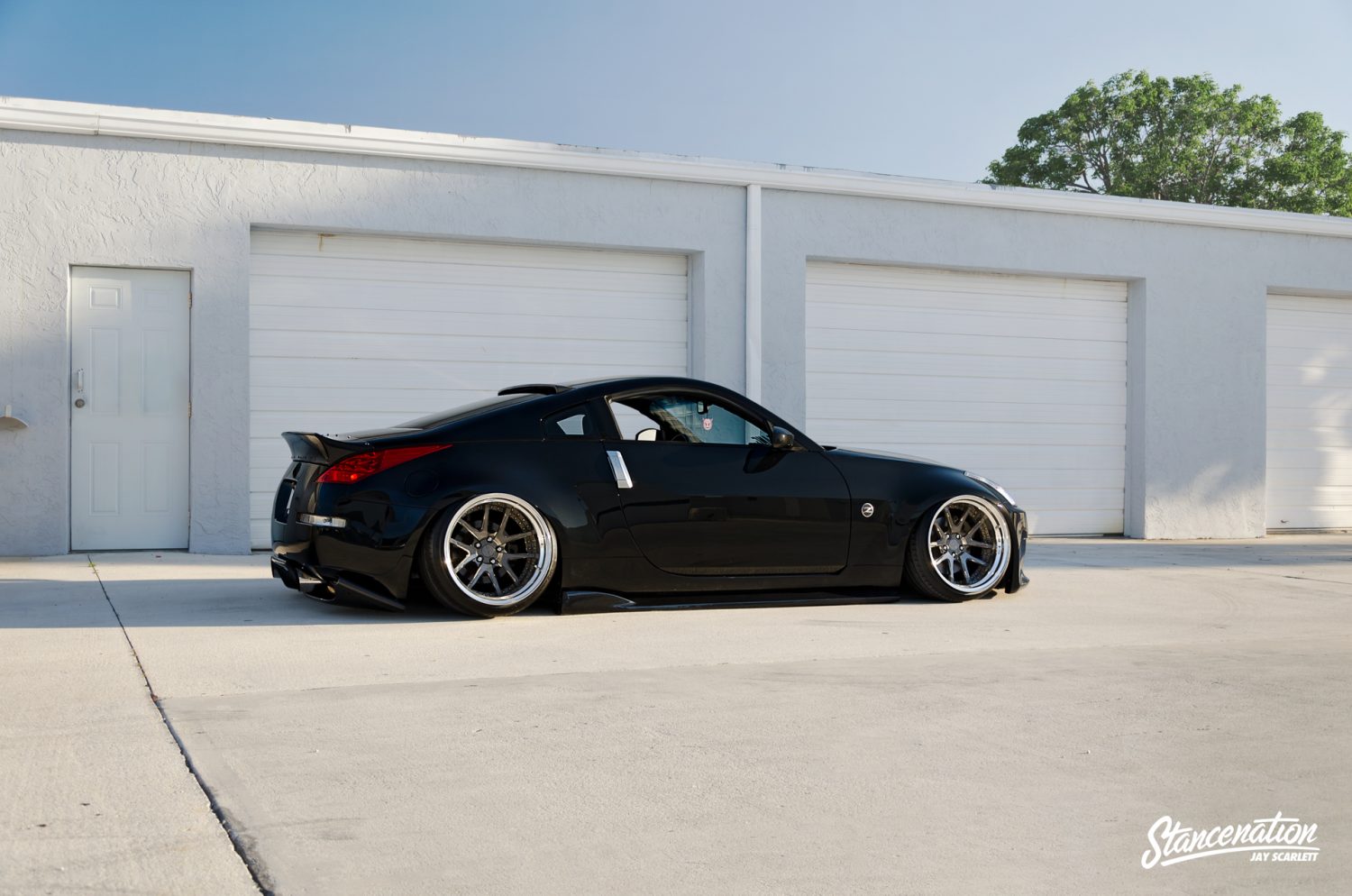 There was a time, not that long ago, where I would usually cringe when reading the words "custom metal wide body." We're spoiled today; there are countless shops around the globe that have figured out how to tastefully widen a car. Auto Arts Inc. of Raleigh, NC had the vision to pull this one off. The lines are perfectly exaggerated. Just enough to show you that it isn't stock, yet close enough that it almost seems like it could be. This Z also sports a matching widened Vertex front bumper that flows perfectly with those widened fenders. Keen eyes will also spot a carbon roof shell by AIS, as well as a carbon upper spoiler. There's also an aggressive rear diffuser and a set of Chargespeed side skirt add-on pieces to help finish it off.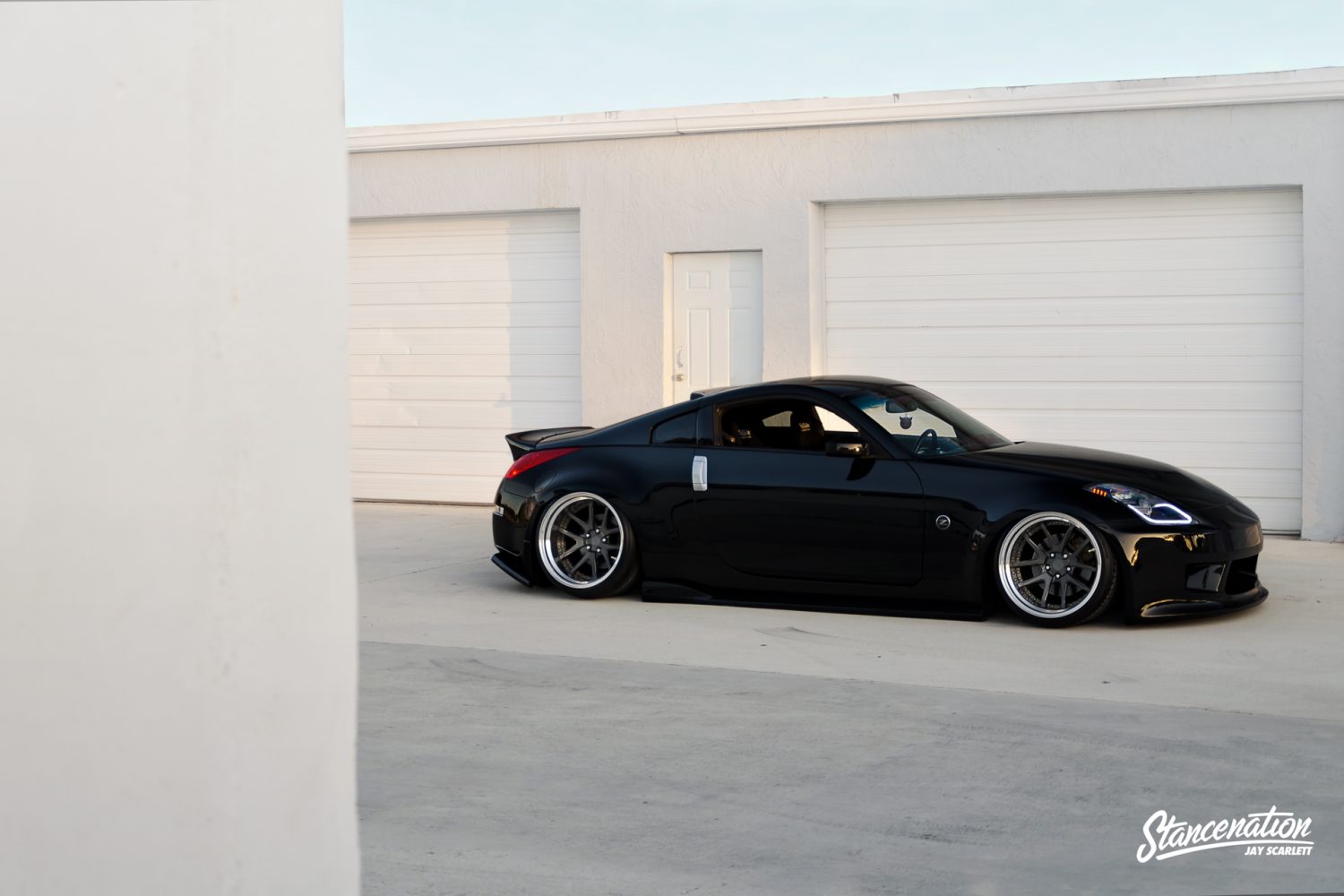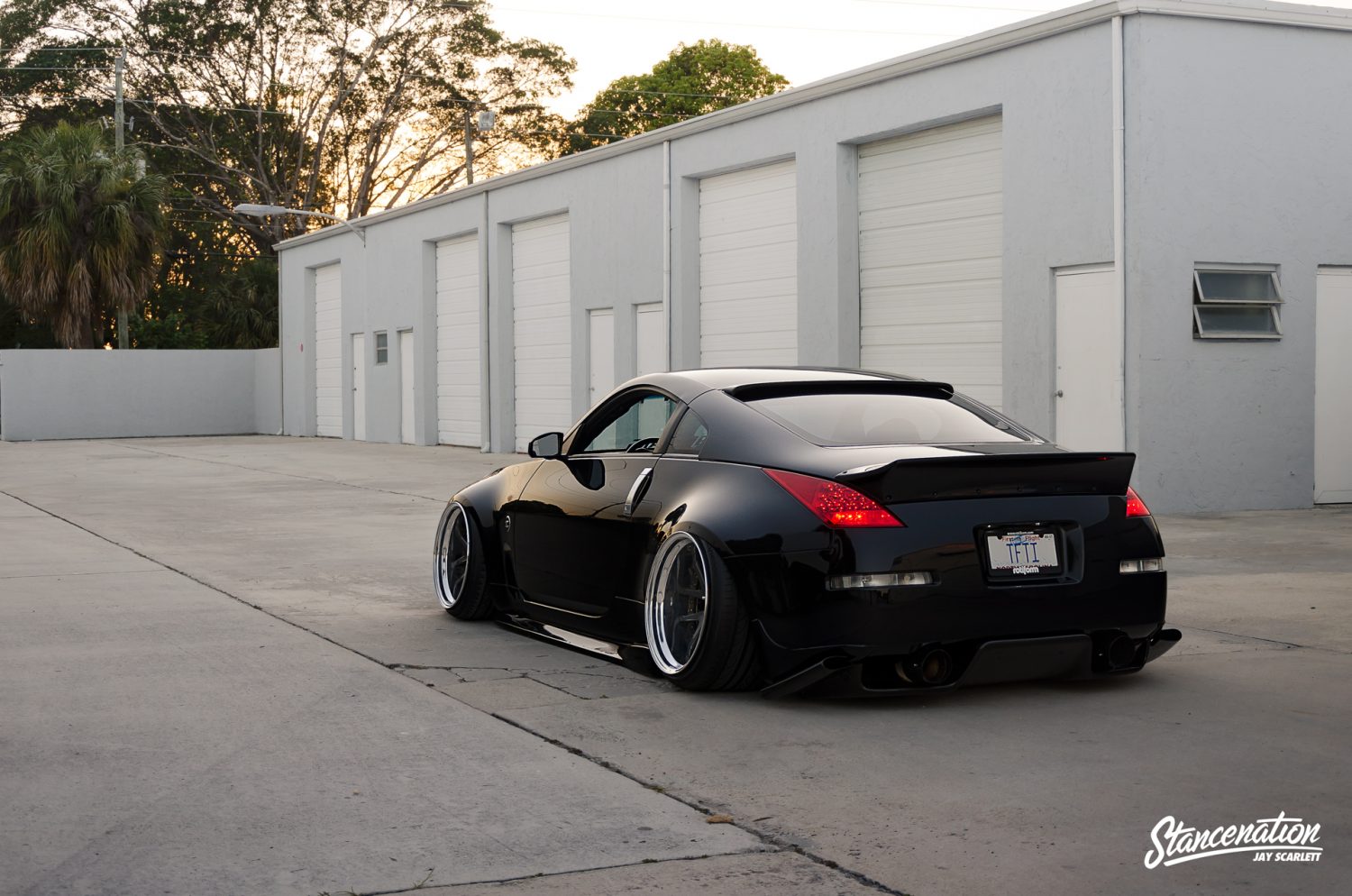 Back on the subject of black cars. There's something so satisfying about a properly done example. Cars like Caymen's 350Z, draped in black, carbon fiber, and dark colored wheels can somehow manage being both aggressive and classy. No small feat. The rear quarter shot of this car, with the striking black car against a white wall, the Rocket Bunny duckbill spoiler that effortlessly finishes off the hatch of the car, and the polished lips of the wheels. That flow is tough to find with a lot of different colors, where a black car can create a blank canvas to attach all of these different things.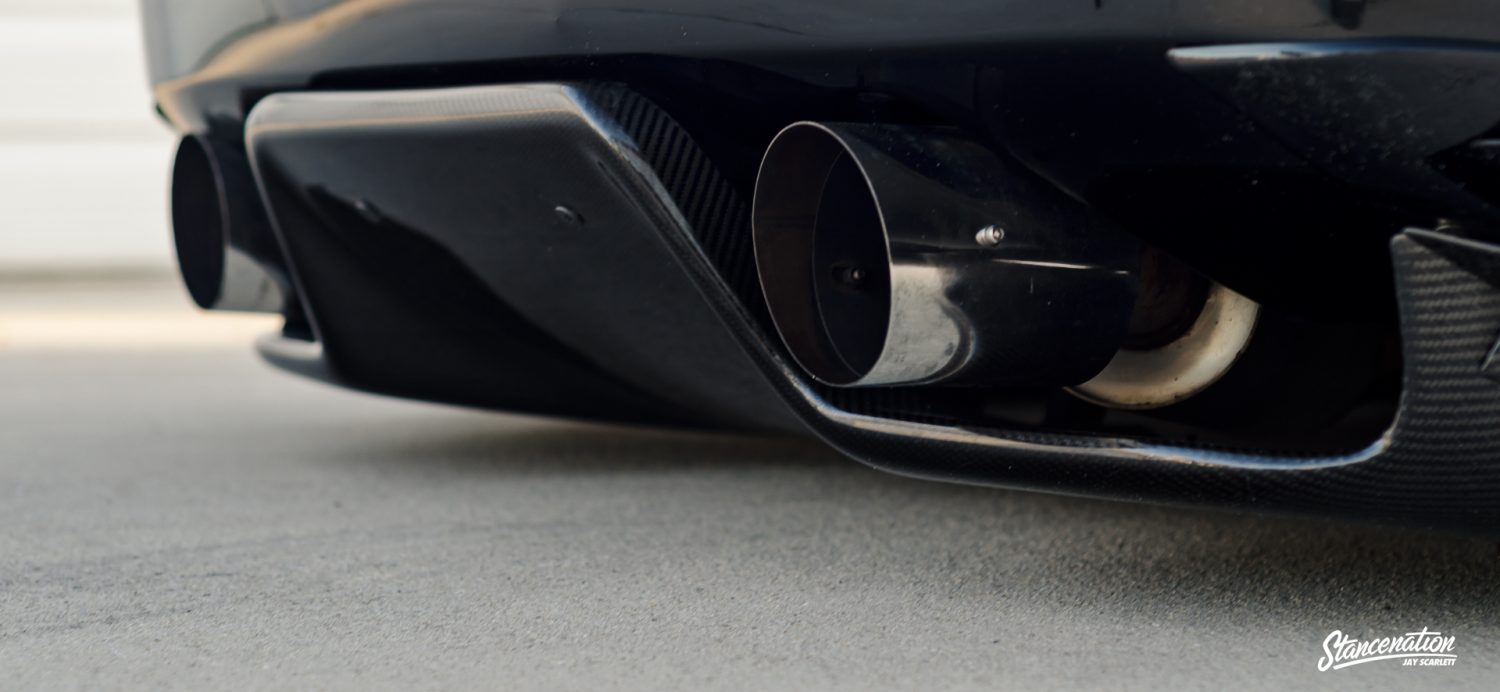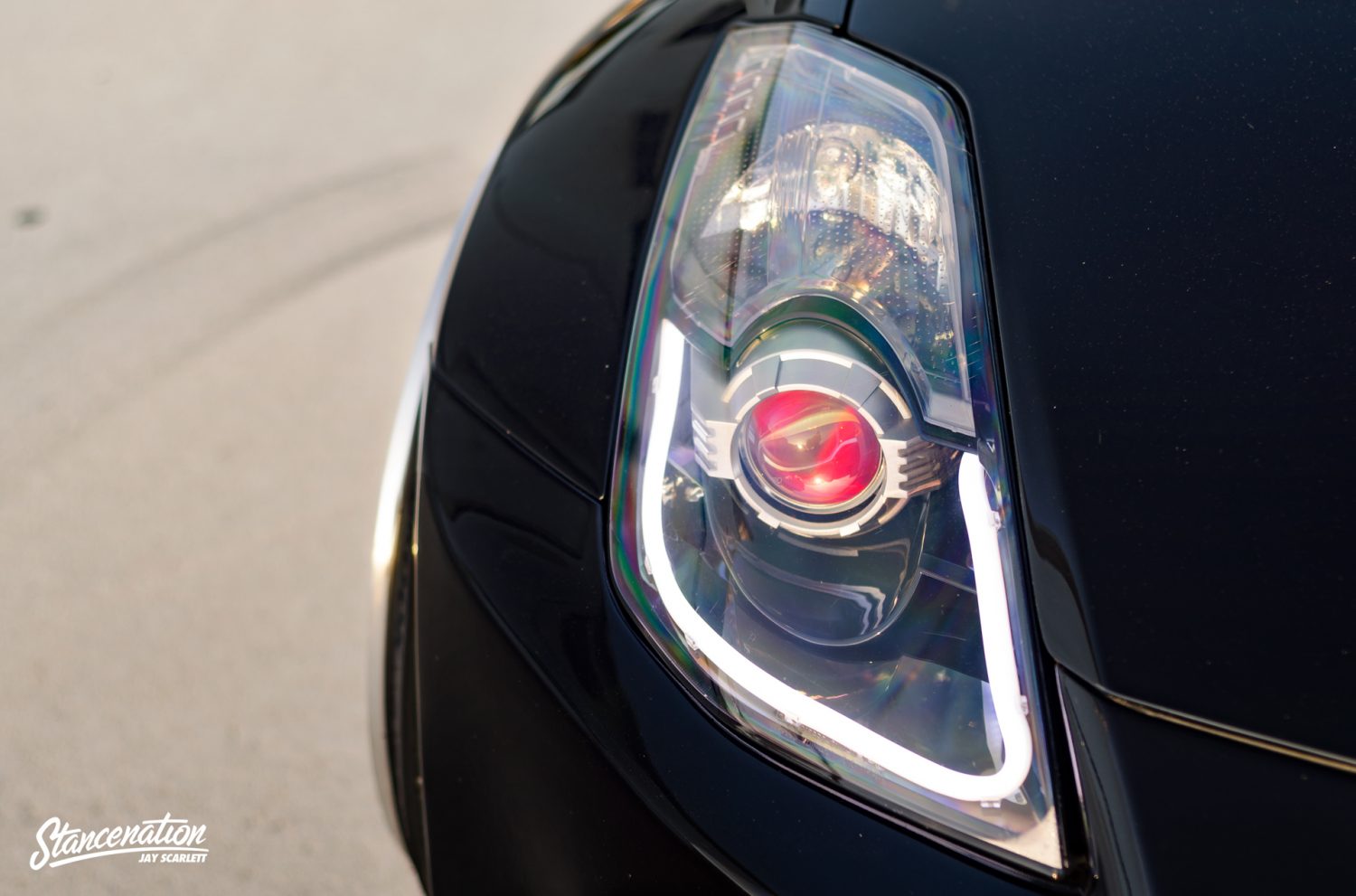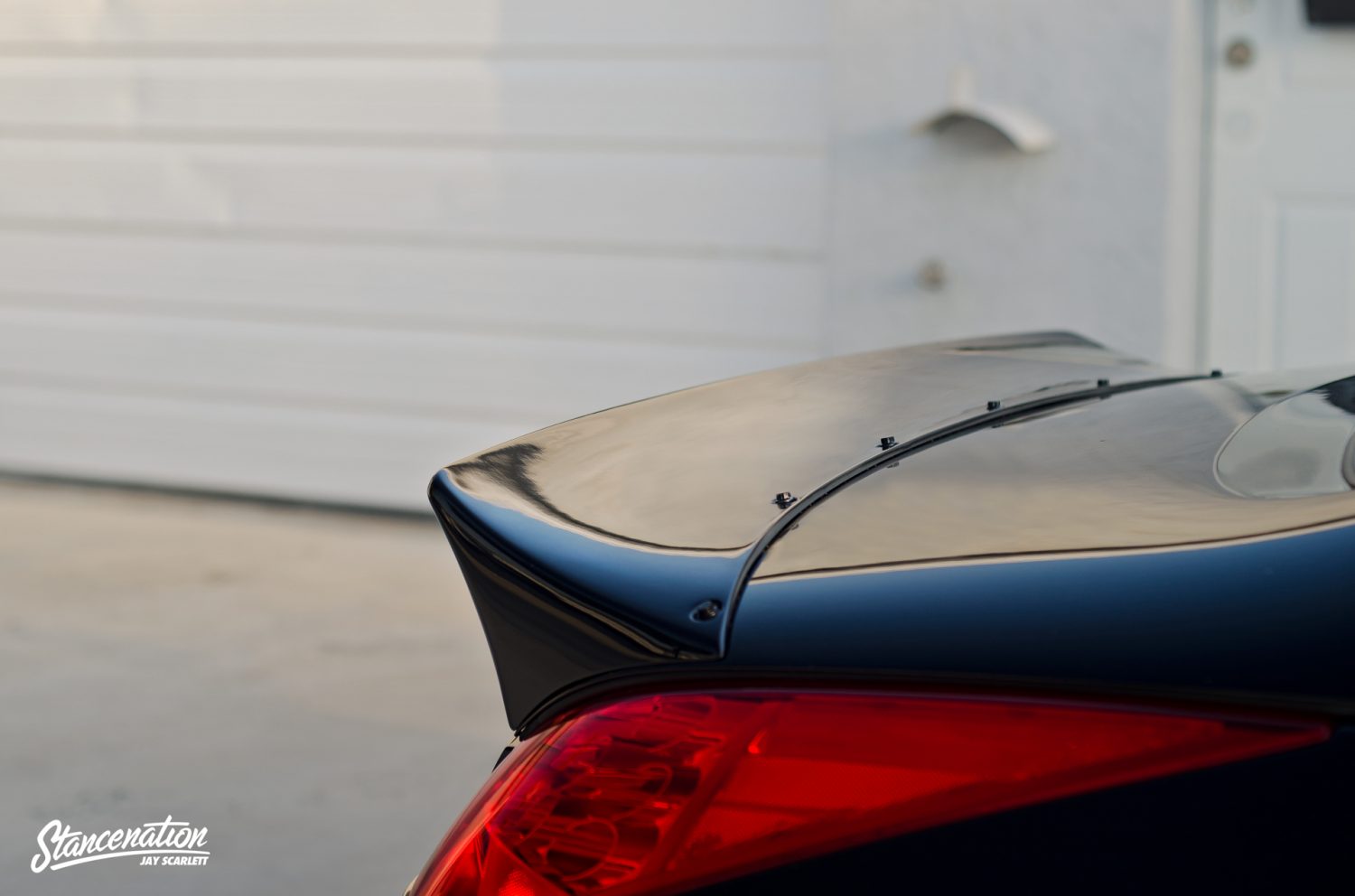 That aggressive stance is achieved in part by Air Lift air suspension, managed by their 3p system. A set of adjustable arms by SPL and Megan Racing dial in the fit of the massive Rotiform SNA wheels. Finished in an Anthracite face, with polished lips and candy gold hardware, these deep concave faced Roti's come in at 19×12 et-28 front and 19×13 et-30 rear. That's a 6-inch lip up front and a massive 7" out back!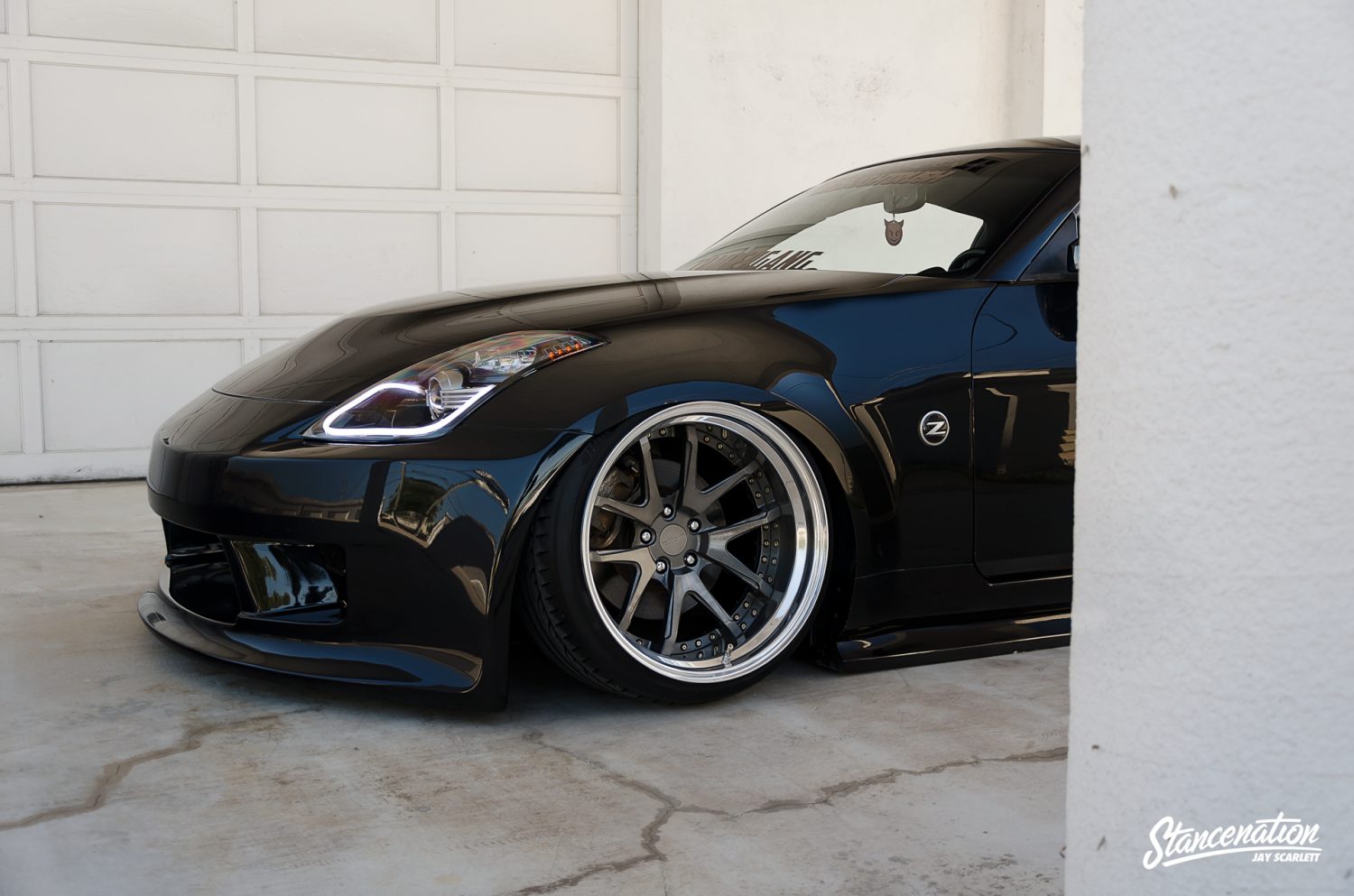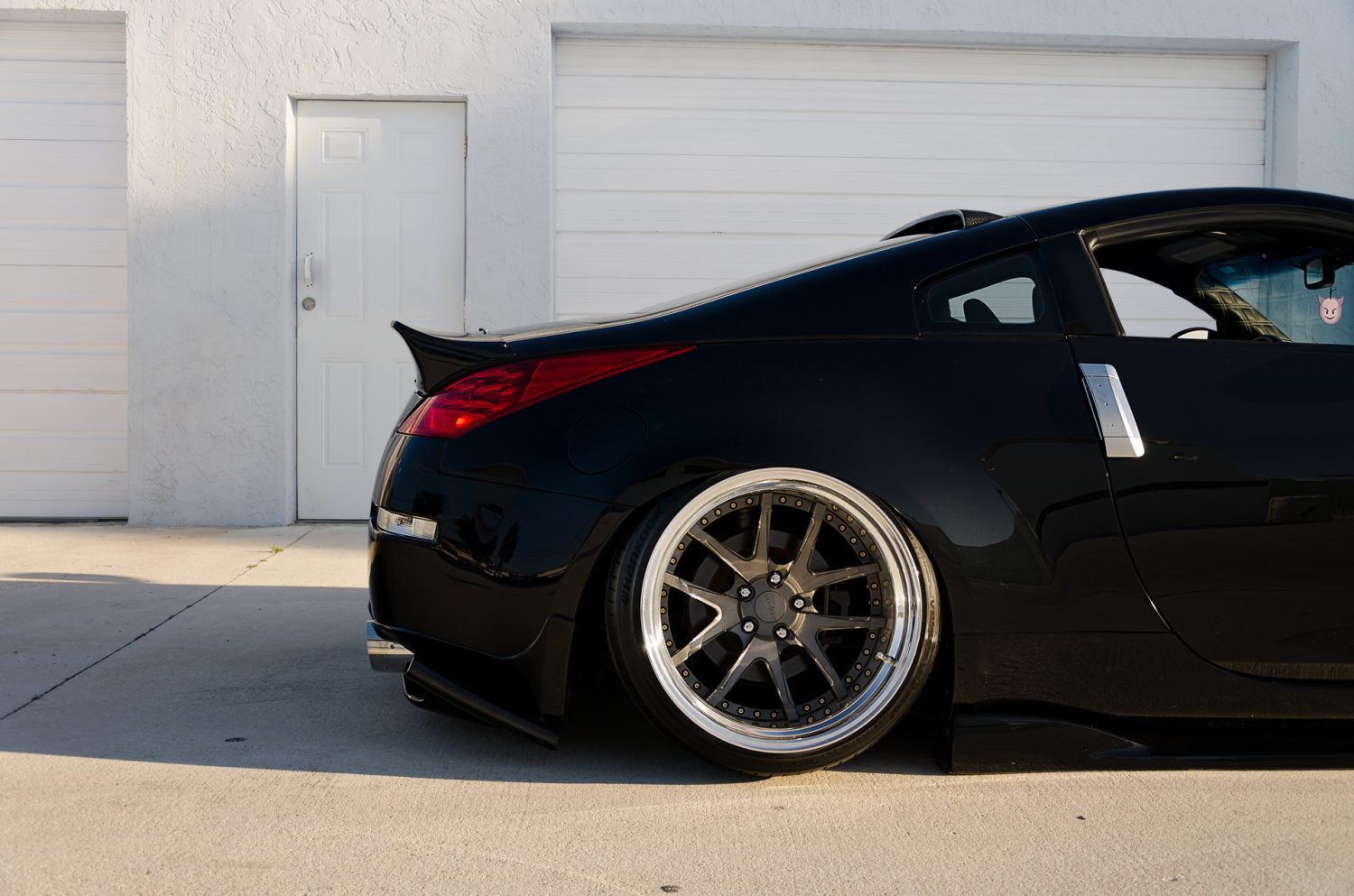 Inside is more of the black on black, with a set of Veilside VS D1-R seats providing a great combo of performance and style. There's a custom diamond stitched theme going on with the soft trim such as the headliner, door cars, dashboard, and trunk liner. Most of the remaining hard parts are hydro-dipped in carbon fiber.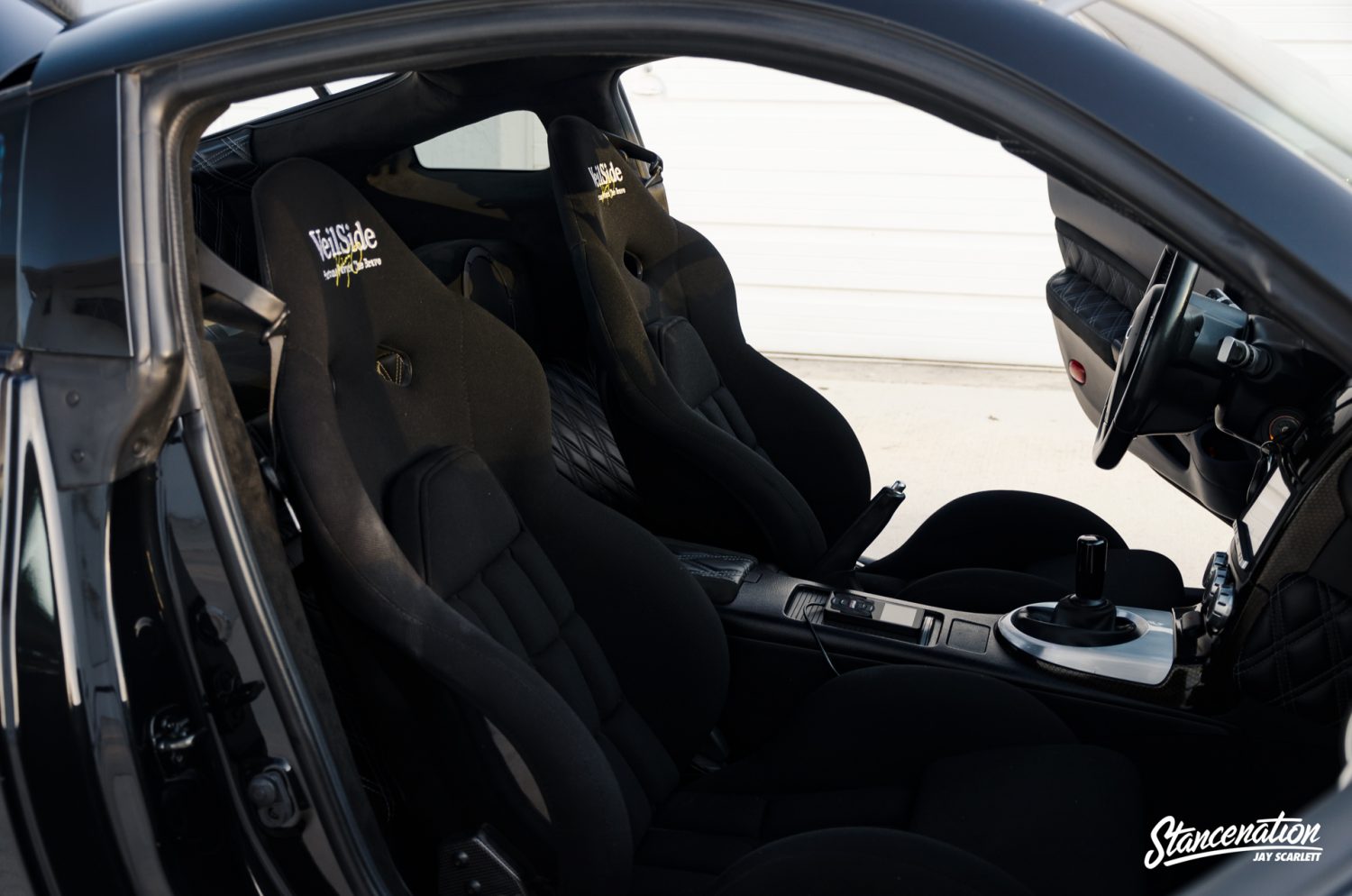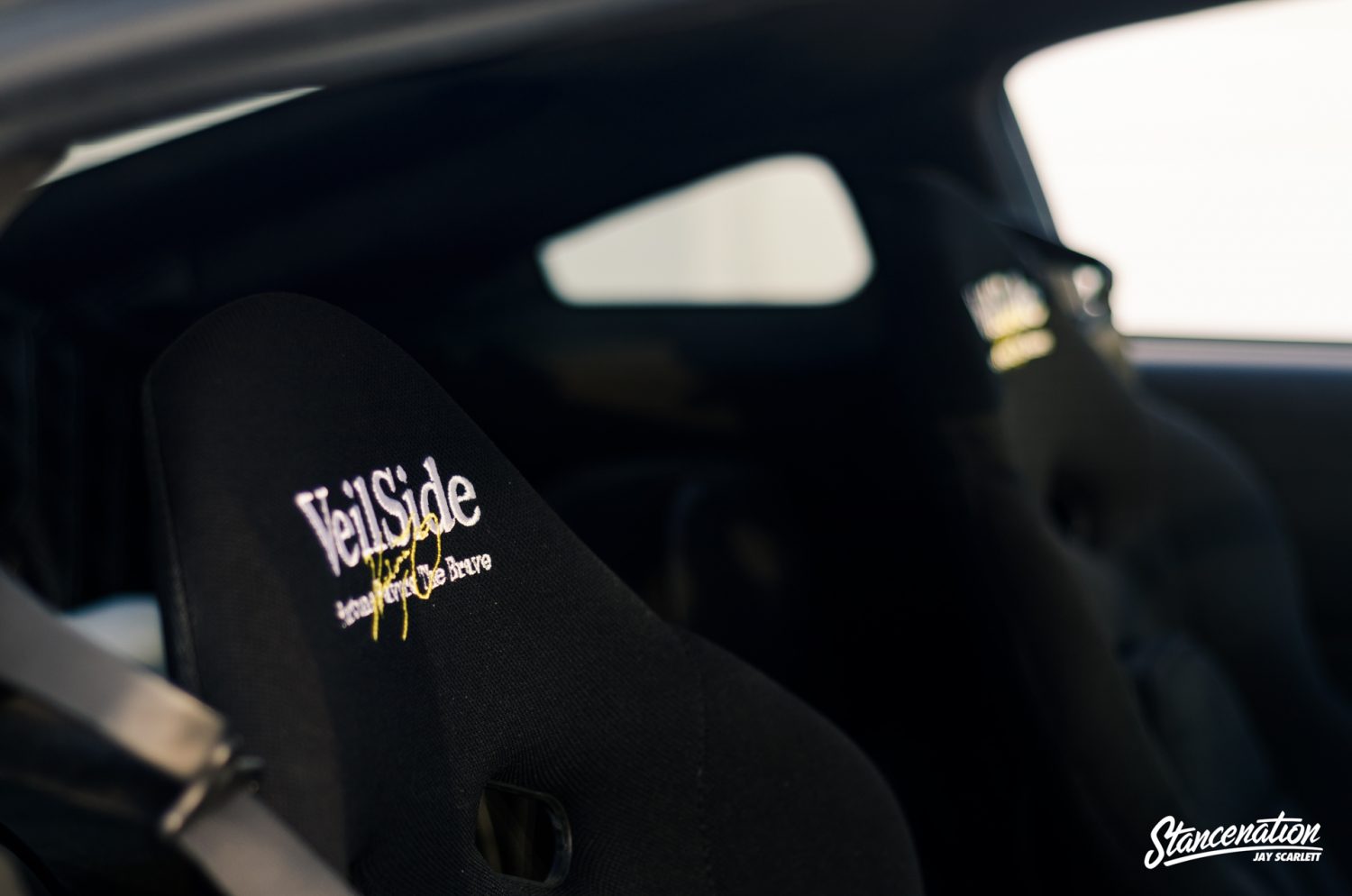 Short, simple, and well put together. Caymen has this car dialed in. Future plans include a supercharger and enjoying this 350Z while he brews up the next project. If this one is any indication, we'll be on the lookout for what he comes up with next!