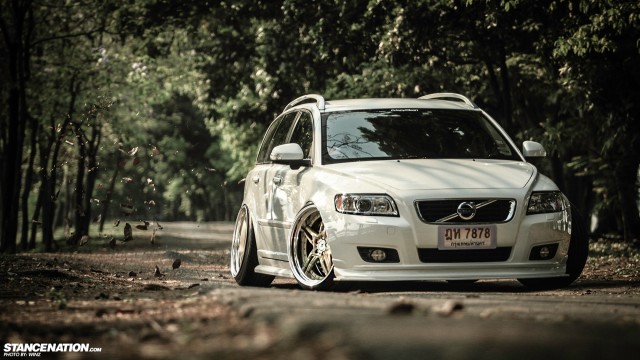 When most people think about Volvo, the last thing that comes to mind is an enthusiast-oriented vehicle.  They are built with safety first and are marketed as such, catering to families with kids with the notion of being safe, reliable, and sensible transportation.  Stock, a Volvo V50 wagon is just that, plus it has all the space of a station wagon.  So, why on earth would one end up here on an enthusiast website?  Well, just look at the damn thing!  It's safe to say that this isn't your parent's Volvo.
Photos By: Winz & Tuti exclusively for StanceNation.com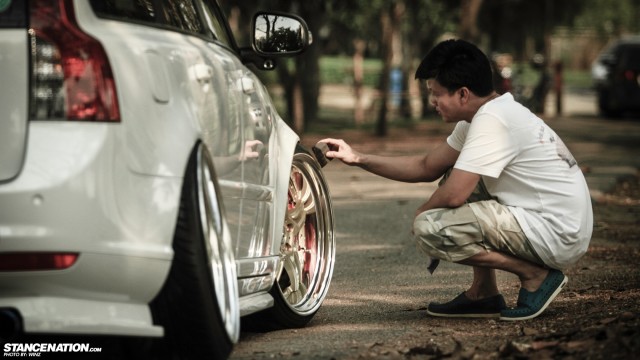 Now, I'm going to be up front about a few things here.  First, I do like Volvos.  Does anybody else remember the Elevate cars from the mid-2000s?  The S40 and S60R definitely showed that the European automaker could turn out a performance-oriented car.  Fast forward a few years, and the introduction of the C30R hatchback, and well do I need to keep explaining?  Volvo has showed that they can do more than safe and sensible.  Second, I have a big thing for wagons.  Like, I love wagons; RS4 Avant, RS6 Avant, Legacy GT wagon, WRX wagon, IS300 Sportcross, CTS-V wagon, you get the idea here.  So, it's not really a surprise that I was excited to see photos of this Volvo V50 from Thailand, and why we're sharing it with all of you on Stance Nation.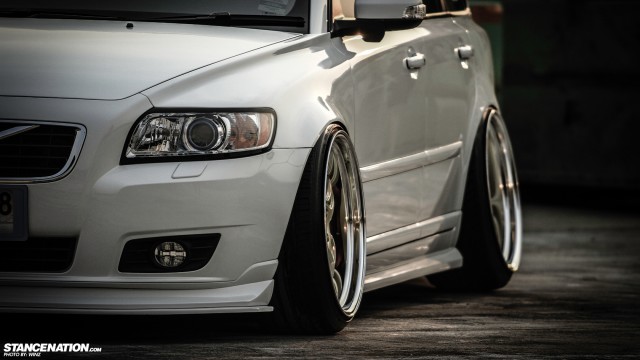 Thailand's car scene has been, for the lack of a better term, amazing the last few years.  2012 saw a lot of coverage coming from Thailand, and the cars have been very impressive.  With builds encompassing everything from full-on JGTC-styled street cars all the way to VIP builds that can hang with the best in Japan, the Thai scene has really showed that they deserve a little bit of attention.  The owners and builders of these cars also seem really friendly as I have seen more than a few Thai builds shared on forums, and the owner/builder is always friendly and willing to share all the little details.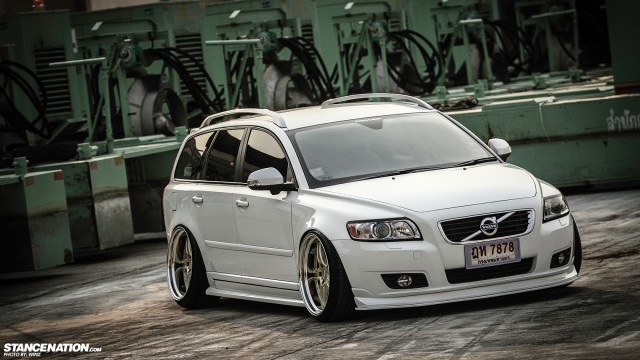 Momm, the owner of this V50 is no different.  Despite a bit of a language barrier, he was able to share with us all the important info he could, plus a few insights of his own on the local, Thai scene.  Also, many thanks to our friends and photographers Winz and Tuti for bagging these awesome photos so we could share this car with you all.  Our scene really is something that despite being all over the world, we can all share with each other and interact like we're all local to each other.
Let's focus on the car now and get down to business.  This Volvo is on point.  If you parked it next to a stock V50, you would be hard to not notice how much more aggressive Momm's V50 is.  The static, hard-slam comes courtesy of BC SportBR coilovers with custom Swift springs (20k up front, and 19k in the rear) to ensure there is no bottoming-out and that those wheel lips don't come in contact with the fenders.  To fine-tune the suspension and camber to fit wheels that definitely weren't meant to fit under a Volvo, BCSport adjustable ball-joints were added up front, and out back are some adjustable toe-arms and camber kit from ORT.  The final numbers for the camber are -3.5 up front and -7.5 out back.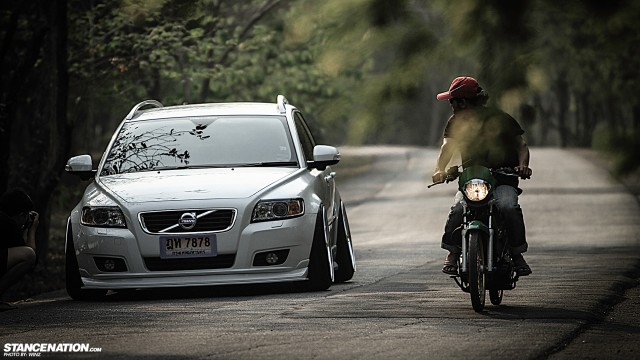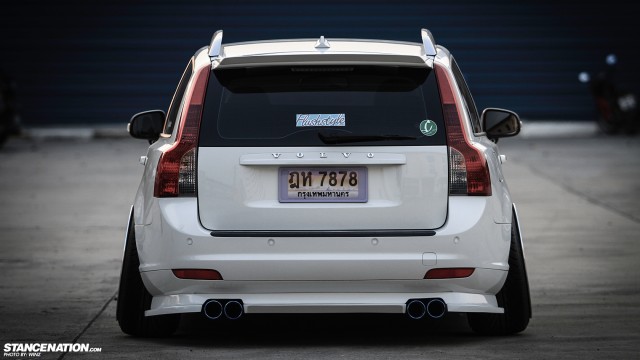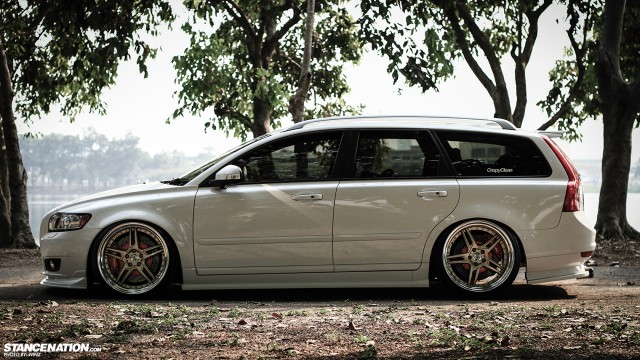 All of that suspension work and camber would be wasted if this thing wasn't rolling around on something impressive.  Momm didn't disappoint in that department either.  The Work Durandal DD5.2s look absolutely stunning on his wagon.  Sized up at 20×10 and 20×10.5, they fill up the Volvo arches easily, and the camber out back results in the rears tucking up just right.  Filling up the insides of the wheels are a big-brake kit from Veilside with 6-piston calipers and 380mm rotors in the front, and 4-piston calipers and 355mm rotors in the rear.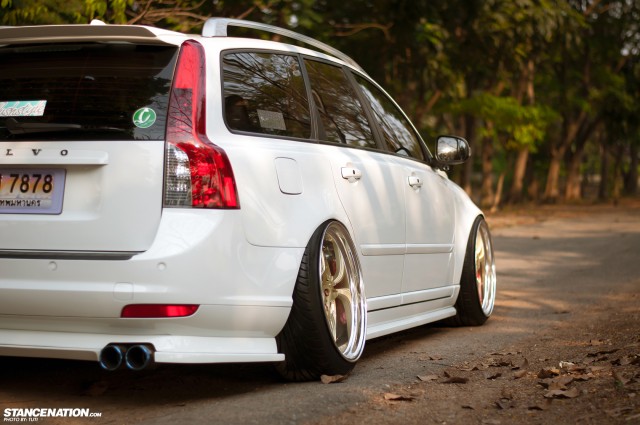 The rest of the car is clean and subtle.  Nothing really jumps out at you and screams for attention, other than the aggressive stance and fitment, and that was Momm's goal.  His focus really was his stance and wheel fitment as he explained to us that this was his favorite feature about his car.  The exterior does sport a few touches including a front lip, side-skirts, rear-lip, and roof spoiler which were all custom built by Momm.  Other than that though, this car is pretty much all about the fitment and showing what it can do to a car, and platform, that is really over looked in our scene.
Momm has done a great example of showing what can be done on a rather sensible budget.  The last few cars I've had the chance to feature have been pretty intense, but this is a great example of a car that is focused on the fitment.  Fair warning though, if your car is all about stance and fitment, you better be sure you're on point as there won't be much else to distract people if you come up short.  Momm certainly didn't, but that isn't stopping him from making a few changes.  He tells us that in the future he's planning on getting rid of the 20s and going down to 19s so he can run the car lower, which I'm excited about.  I'm a big fan of really low, static cars.  Either way, Momm nailed it with his Volvo wagon so take note.  If you're looking to do something different, this is how you do it.
I'm definitely excited to share this one with you all because not only are we showcasing something different, but we're taking a closer look at a scene that is really flourishing.  As Momm tells us, the scene in Thailand is very big.  I know that we've shared a few event photos from some events in Thailand, and we're excited to be bringing you all some features of the amazing cars they're building.  With stance and VIP being really popular over there definitely keep your eyes peeled for more features coming from Thailand.
Wheels/Tires/Suspension

Coilovers by BCSport BR series
Swift Springs (custom spring F.20K, R.19K)
Front camber -3.5 by BCSport adjustable camber ball joint
Rear camber -7.5 by ORT camber kit
Rear toe adjustable by ORT
Wheels : W-Work Durandal DD5.2
F 10″ et+10 , Toyo tire 225/35/20
R 10.5 et+7 , Toyo tire 235/35/20
Brakes: Veilside F-380 mm rotor with 6 potsR-355mm and 4 pots

Exterior

Custom front lip
Custom rear bumper lip,
Custom side skirts
Custom roof win