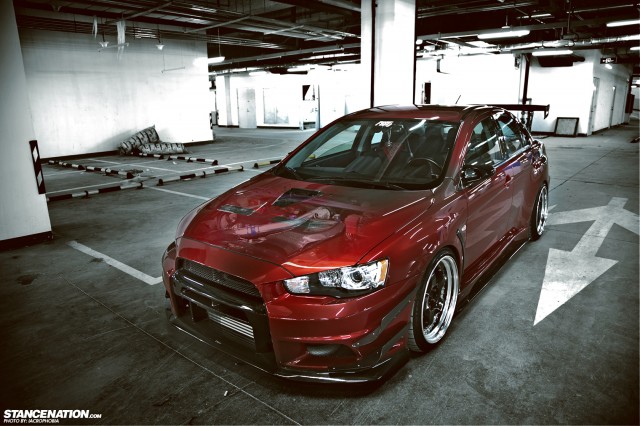 The debate between Subaru and Mitsubishi owners is not a new ordeal, and has been argued from both sides time and time again. With both manufacturers producing sought after all wheel drive platforms that combine both functionality and performance, there will always be preference. Yet, it seems that the desire and admiration for one manufacturer must result in a bitter hatred for the other. But from rivalry comes competition, and from competition comes rapid improvement and a desire to out-do the opposing side. Without rivalry and competition, some of the innovations we enjoy regularly would not be a reality, and cars most certainly would not have evolved into the incredible machines they are today. So, lets take a look at two friends from China who have overcome the rivalry associated with Subaru and Mitsubishi; one with an EVO X, and the other with an Impreza WRX.
Photos By: iAcrophobia exclusively for StanceNation.com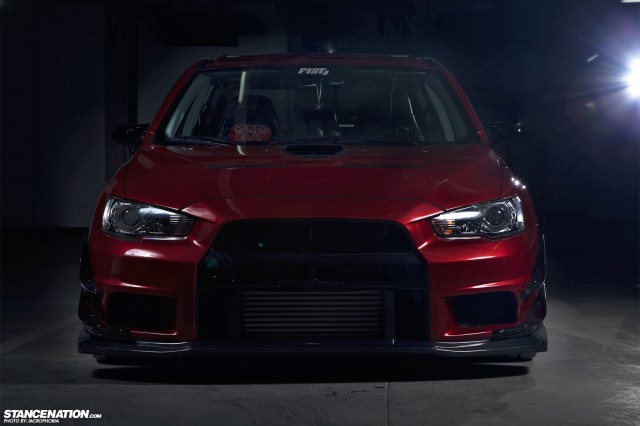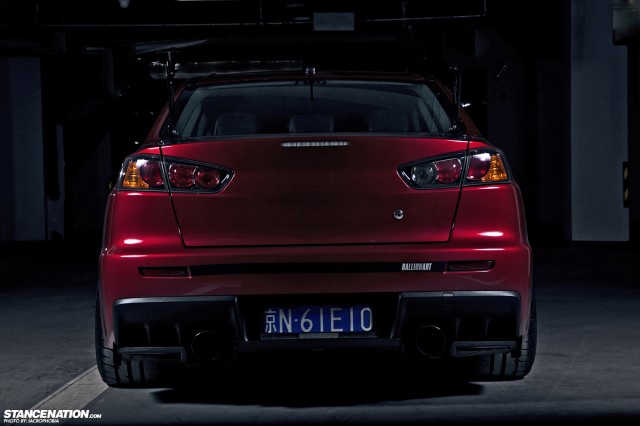 First up is this beautiful EVO X, owned by Simon Wang out of China. Simon has owned this car for about 2 years now, and in those 2 years it has undergone quite a transformation! The first and most noticeable modification is the body and exterior of the car, which has been fully kitted by Varis, and hunkered down on a set of classic Work Meisters. The Meisters are sized at a respectable 18×10.5 all around, with an offset of +19 in the front, and +18 in the rear, and are wrapped in 255/35/ 18 Bridgestone rubber. The extremely aggressive aero paired with the step-lipped Work wheels is a perfect combination for the EVO X, and only adds to the intimidating presence of the Simon's ride.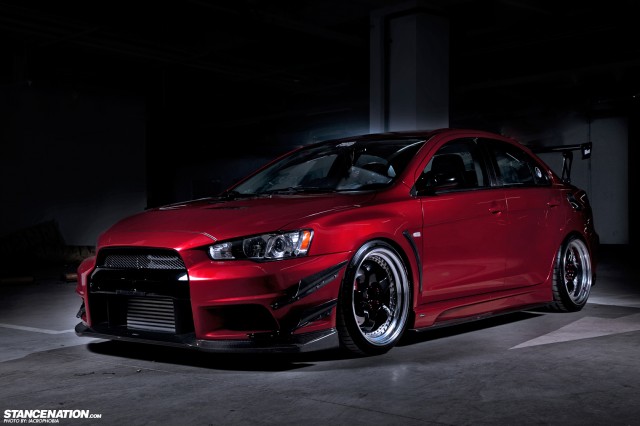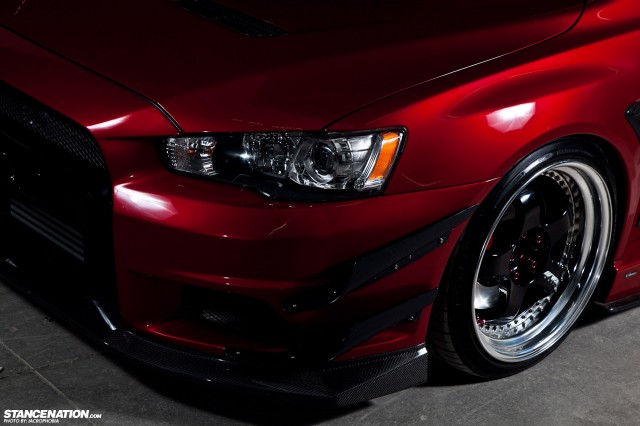 Popping the hood reveals the original inline four, but with a twist; a CBRD BBX Full Ported Turbo Kit replaces the stock snail, and is paired with a Perrin intercooler. Simon also built the internals up, to keep up with the added boost, and installed Weisco forged pistons, Supertech valves, and a Kelford camshaft. Air flows into the engine through an HKS intake, and the exhaust is routed via a titanium Titek exhaust.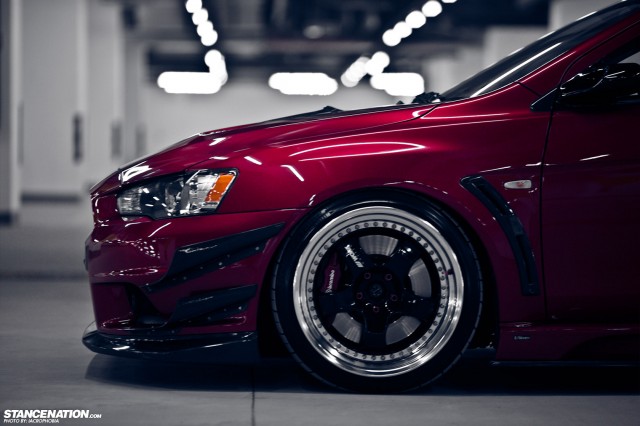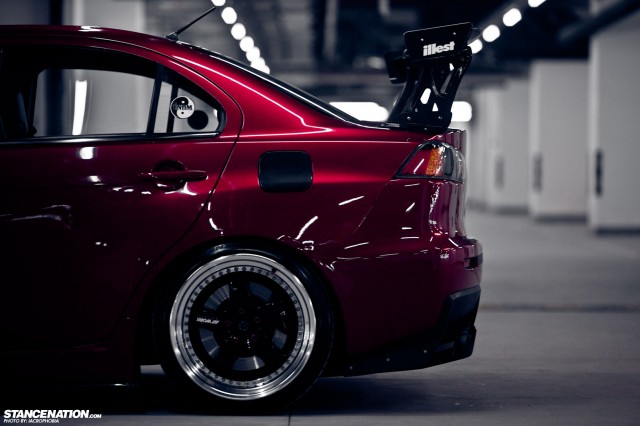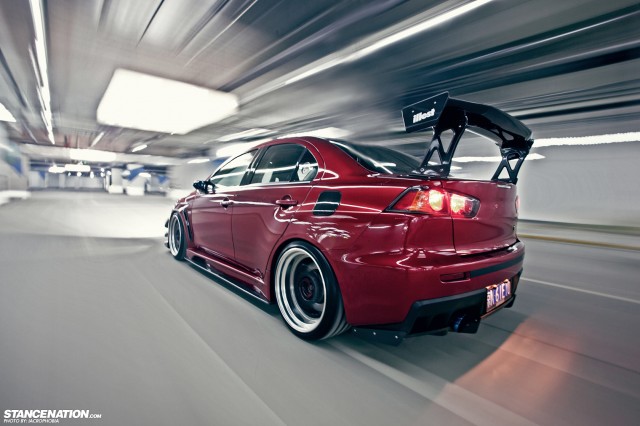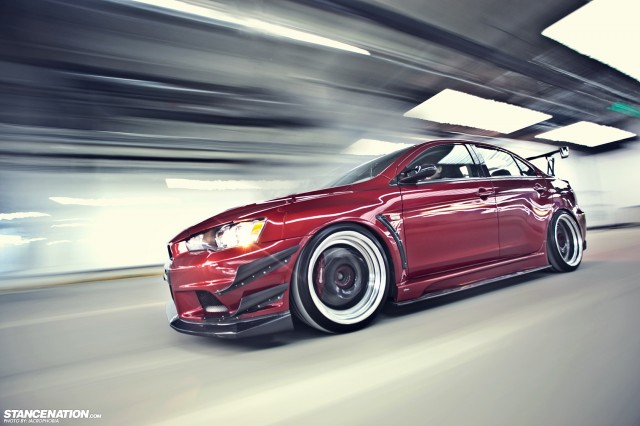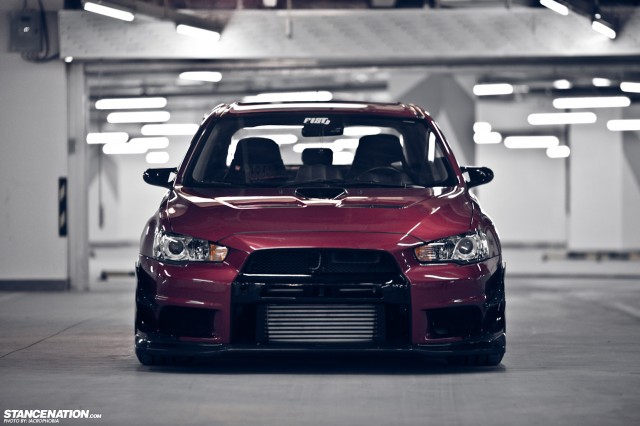 On the other side of the spectrum is Feng Guo's WRX, which he has had for about 6 months now. Despite only owning the car for half a year, the spec list is impressive, and Feng has quickly covered all of the bases, except for engine work, which is next on the list! Just like Simon, Feng has gone quite aggressive when it comes to the exterior styling of his WRX, most To bring the rest of the exterior together, a set of OEM side skirts were fitted, and an OEM style carbon fiber hood was bolted on.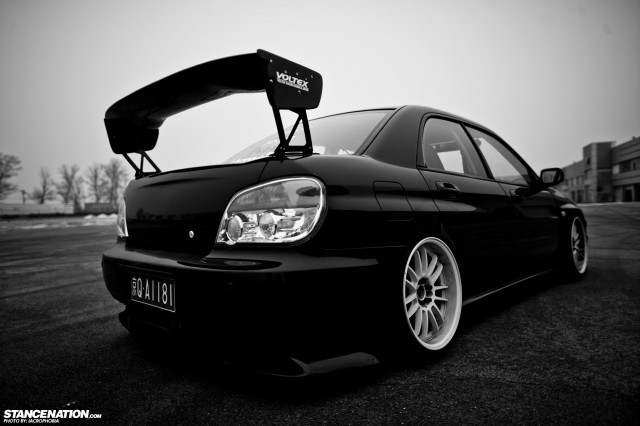 As for suspension, Feng opted for Airlift's front and rear struts, paired with the rightfully popular Accuair E-Level Management. This combination of parts from air-ride's industry leaders ensures a safe, reliable, and well performing suspension set up, that is able to bring the Subaru's body down just right over those perfectly sized Rota SVNs. The Rotas are spec'd at 18×10 all around, with an offset of 35, and Nitto 225/40/18 tires; just the perfect combination to ensure that those OEM STI Brembo brakes feel right at home, and that the fitment is perfect when aired out.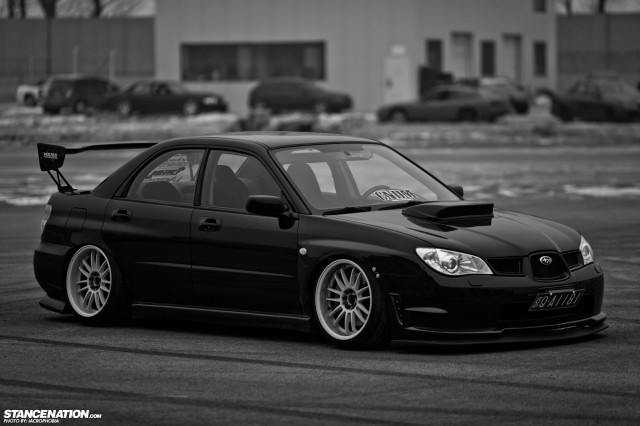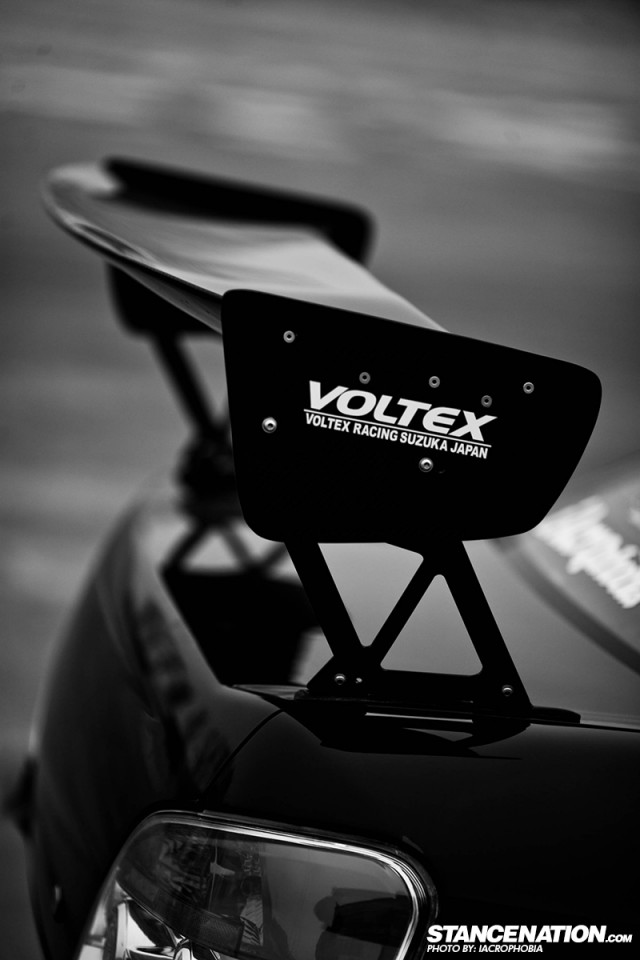 These two friends have overcome the common rivalry between Subaru and Mitsubishi owners, and needless to say, they have done it well. Everyone should take a note out of their books, and stop the hate amongst different areas of car modification; whether it is making it low, fast, loud, old or new, domestic or import. Everyone builds a car for himself or herself; just because someone else's idea of the best platform to build up isn't yours, or their styling isn't conventional, doesn't mean that it is wrong.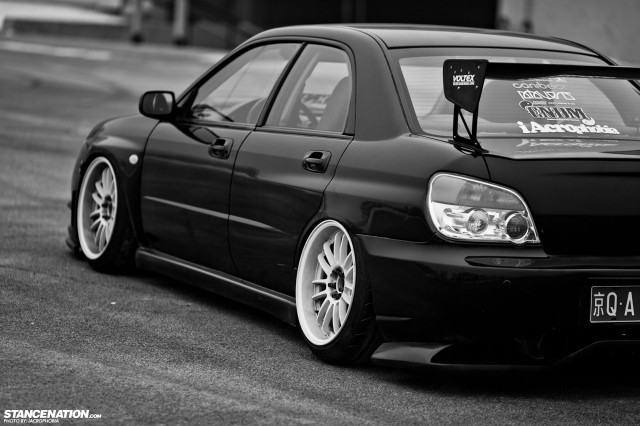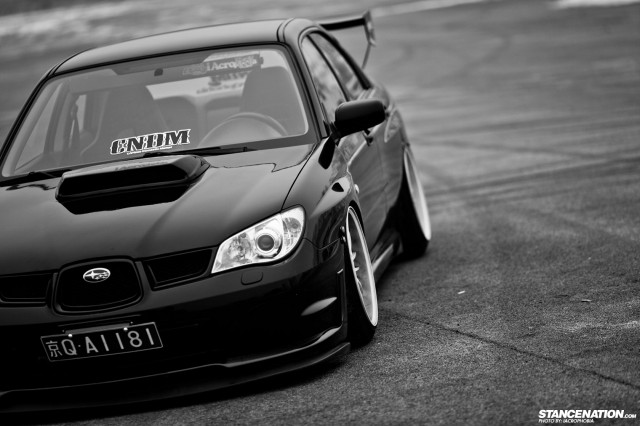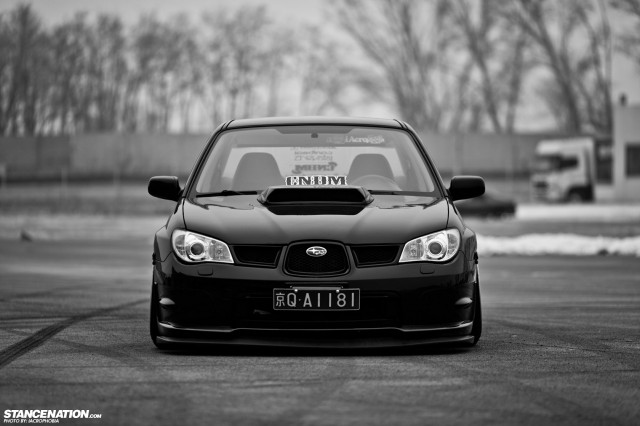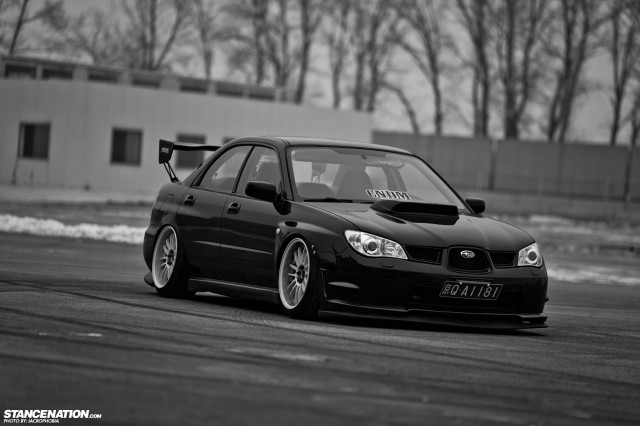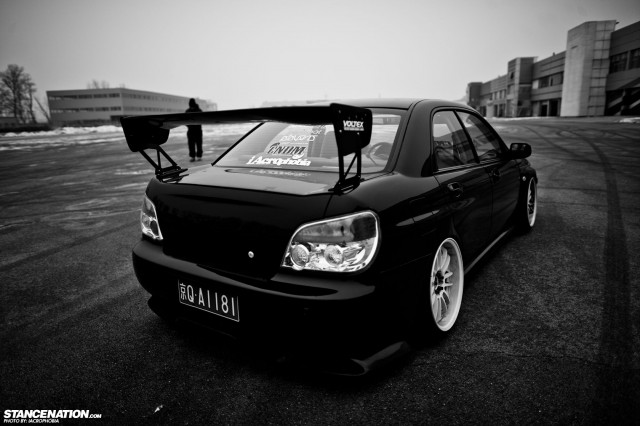 [toggle_box]
[toggle_item title="Mitsubishi" active="true"]Varis full kit
Work Meister S1 F: 19×10.5J ET24 +5mm spacer R: ET23 +5mm spacer
Bridgestone RE11 255/35/19
KELFORD camshaft
CBRD BBX Full Ported Turbo Kit
SUPERTECH valve
WISECO Forging piston
COBB FIST ECUFLASH ID 1000 CC Injection Nozzle
HKS spark plug
PERRIN Intercooler
HKS Oil Cooler
HKS Intake
TITEK Titanium Exhaust[/toggle_item]
[toggle_item title="Subaru" active="true"]S204 Style Front Bumper Lip
OEM Impreza 2004 WRX Side Skirt
OEM Style Carbon Fiber Hood
VOLTEX Rear Diffuser
VOLTEX GT Wing
Cipherauto Harness Bar
AirLift Front & Rear Kit
AccuAir E-Level Air Management
ROTA SVN 18x10J ET35
NITTO NT-05 225/40/18
STI OEM Brembo Brake Calipers
[/toggle_item]
[/toggle_box]