The JDM is always USDM'er on other side of the ocean.  Okay so maybe that isn't quite the expression, but hear me out.
First, I have to offer a quick history lesson.  Over a decade ago, in the post-millennium North American Japanese import community, a trend exploded.  Immediately following Y2K our computers miraculously still worked and it was the advent of JDM.  This trendy term has since come to encompass many different styles and meanings.  However in the beginning the term simply referred to a more understated style of Honda tuning that utilized parts of Japanese origin.  Yes there are obviously other Japanese brands, occasionally the Nissan enthusiasts used it, but the term was primarily heard in the Honda community at the time.  The game was to emulate Japanese vehicles as closely as possible, even down to window glass and parking stickers.  It was an obsession for many and the attention to minute details remains impressive today.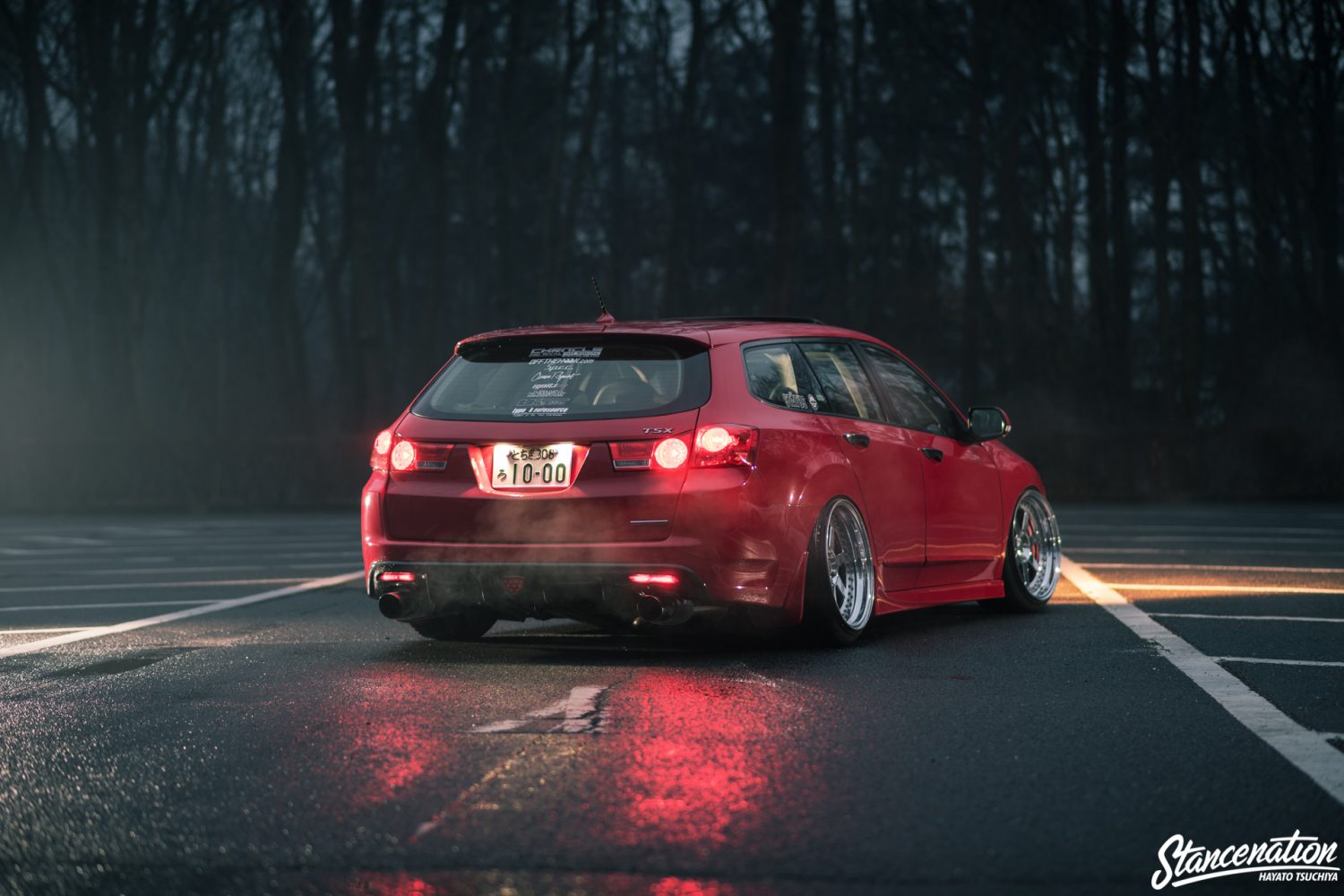 Flash-forward several years and hop across the Pacific Ocean to the actual Japanese Domestic Market.  Lo and behold a similar phenomenon is occurring, with the exception of being the exact opposite.  The USDM scene is booming in Japan and U.S.-market-style Honda tuning is the hottest trend.  Every action really does have an equal and opposite reaction.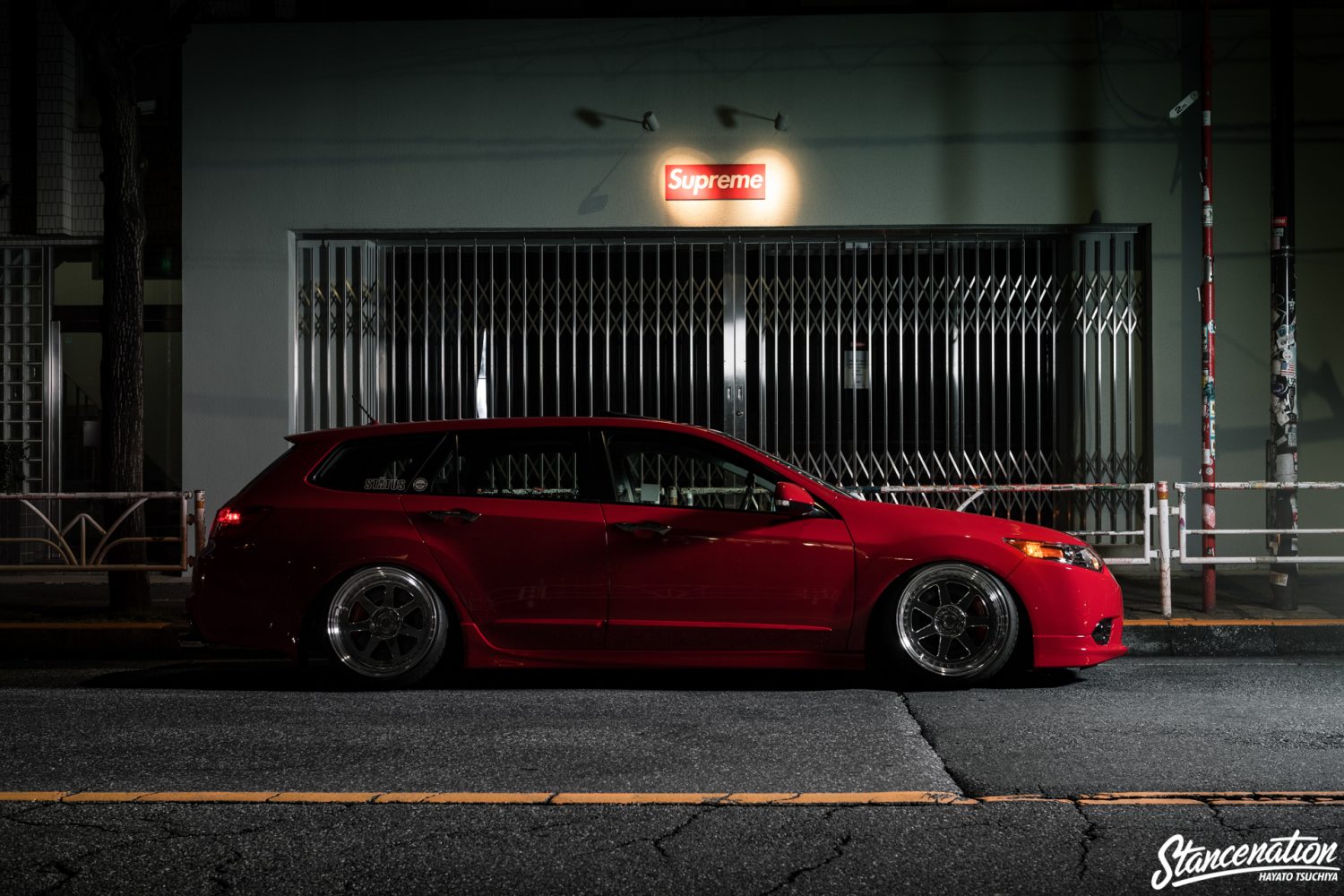 The attention to detail amongst USDM enthusiasts is obsessive, in typical Japanese fashion.  Show up at many of the USDM-scene shows in Japan, such as the popular USDM Jam, and suddenly it is Southern California without the fad diets.  Among these hardcore, obsessive USDM'ers is Norifumi  Kobayashi.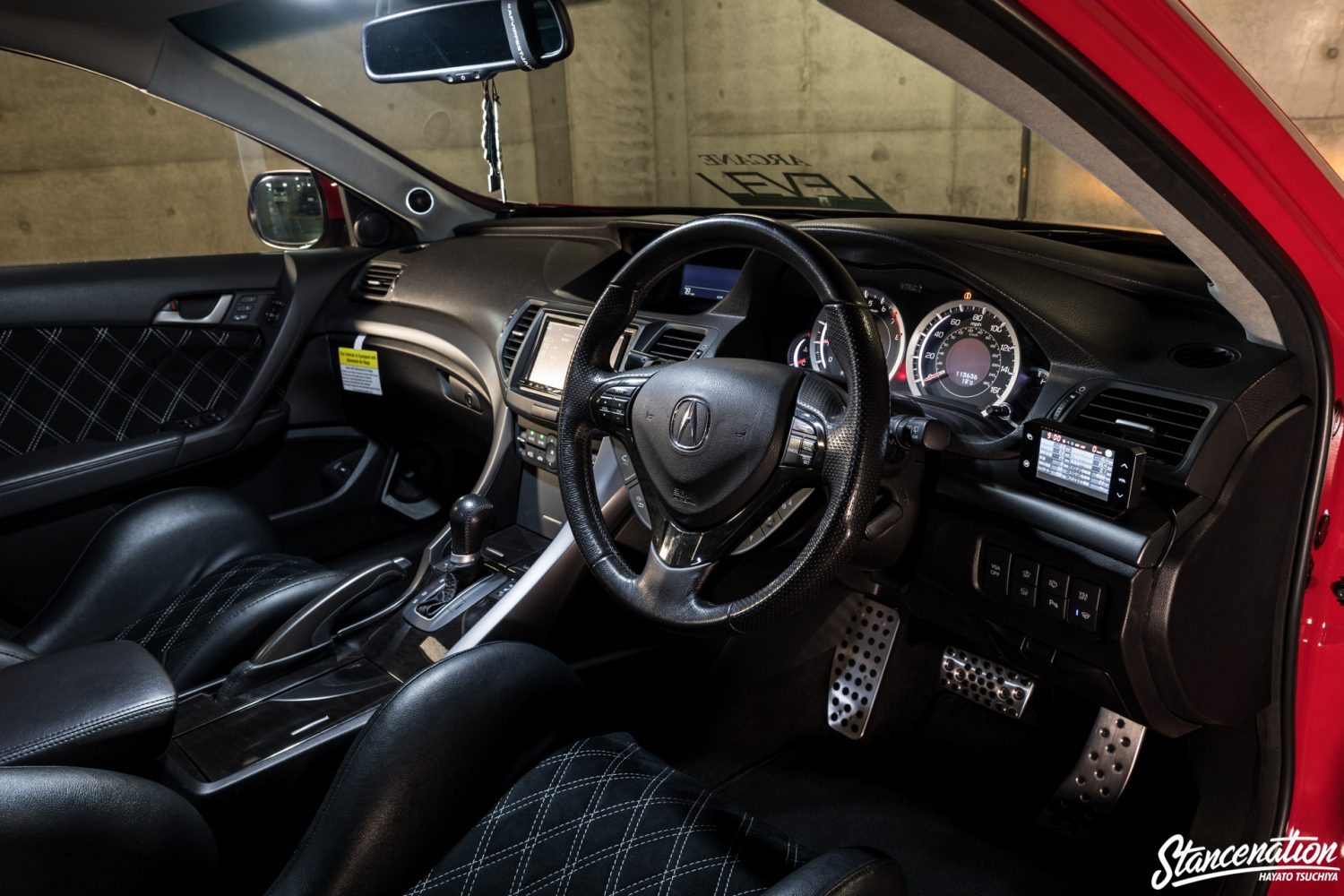 This is Kobayashi's Honda Accord Tourer, though it may be more appropriately referred to as an Acura TSX Sport Wagon.  Although Norifumi resides in Tochigi, Japan this particular TSX would seem more at home in Anytown, USA.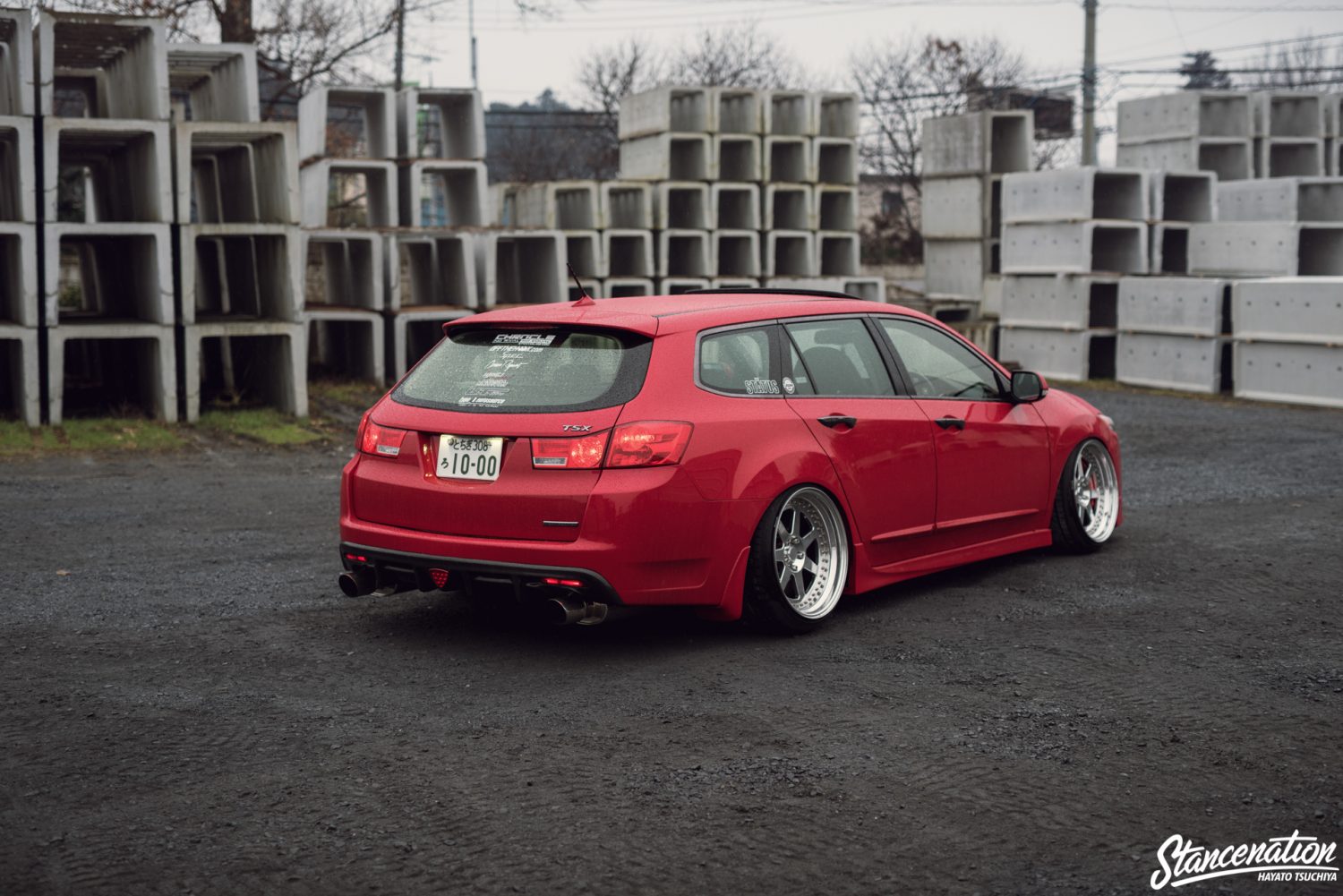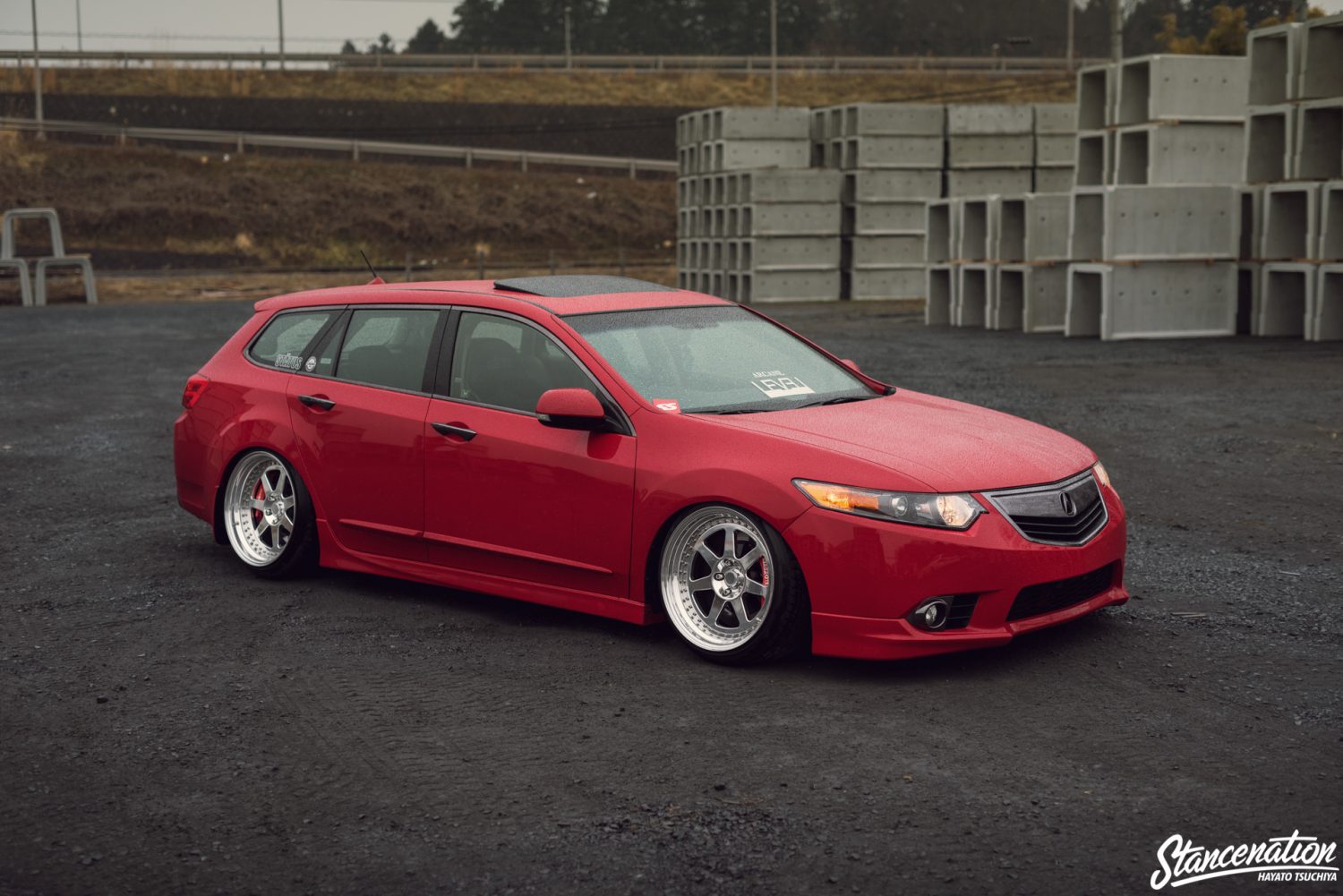 The list of OEM Acura conversion parts is staggering.  Kobayashi has sourced everything from steering wheels and seats to window switches.  I would type a list itemizing these parts but I'm trying to avoid necessitating a carpal tunnel procedure.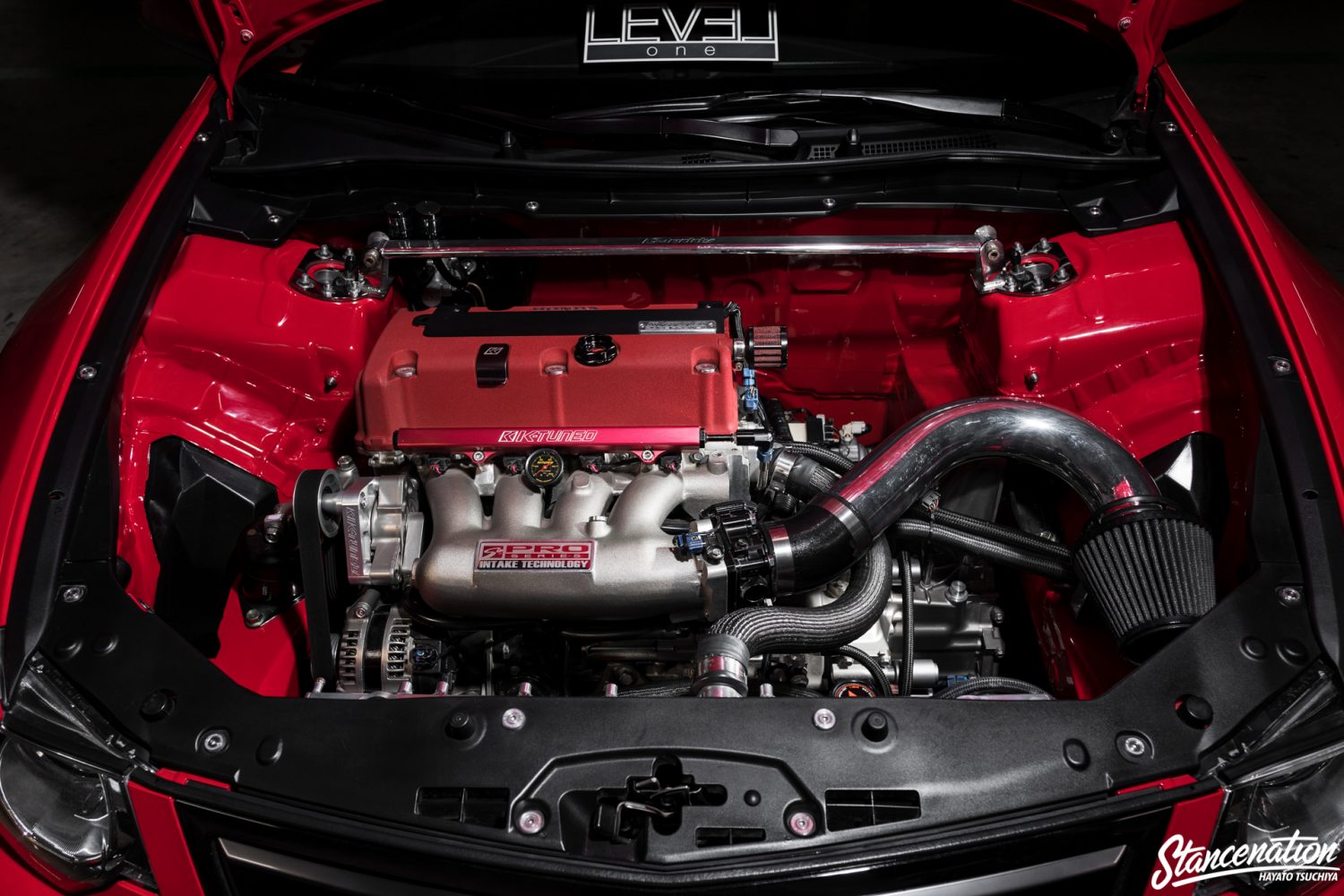 Kobayashi purchased the Accord Tourer 7 years ago in Premium White Pearl.  Of course, it has since been color changed to a North American-exclusive Milano Red finish.  The color choice proved beneficial when OEM exterior pieces were ordered, as they are supplied pre-painted by Honda/Acura.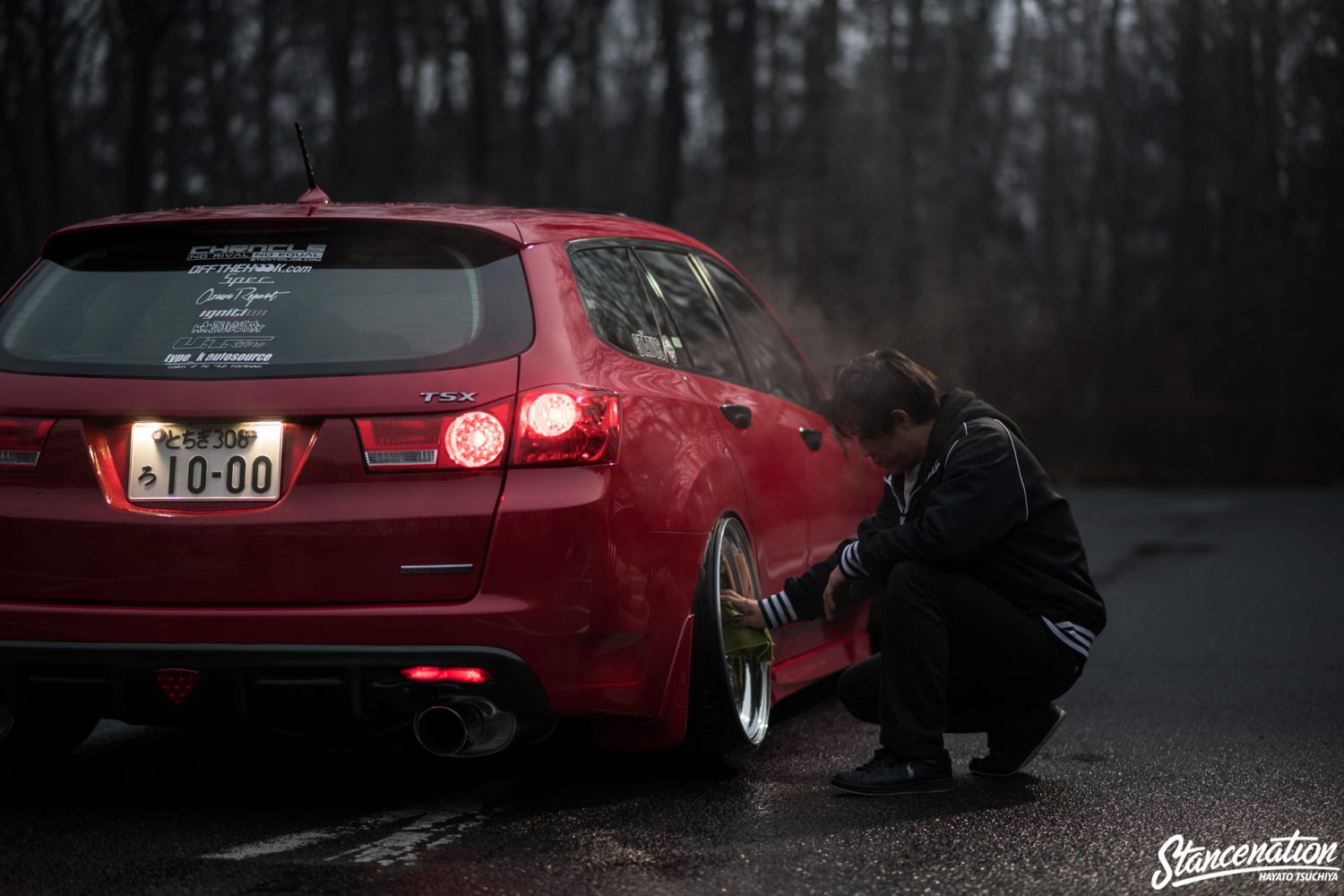 The static ride-height is maintained by a custom built suspension featuring 30K front and 8K rear springs.  Beautiful, polished 18×10.5" Arcane Legend wheels frame the massive StopTech calipers both fore and aft.  Arcane is based out of Whittier, California.   StopTech?  Straight outta Compton.  Kobayashi has chosen not only to convert his car to Acura specs, but also to modify it using primarily US-spec tuning brands.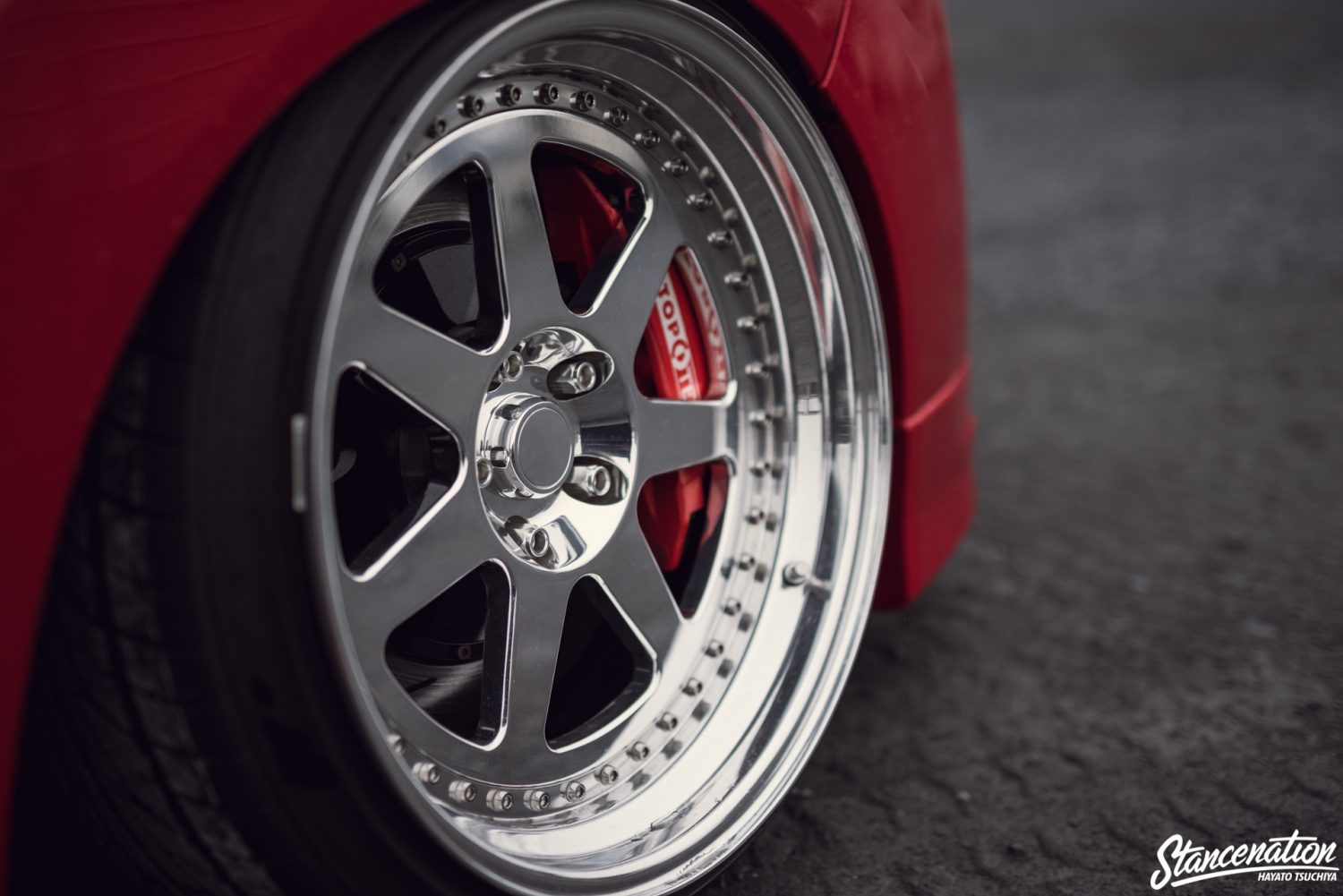 The K24 powerplant has been touched by some of the more influential stateside K-Series specialists:  Skunk2 Racing and K-Tuned.  Tuning, however, is provided by the popular Japanese HKS F-Con IS.  Currently, the modifications are limited to external upgrades.  Although, Kobayashi has plans for a 300+hp naturally-aspirated build in the future.  The engine bay has been shaved and the wires have been tucked away, of course.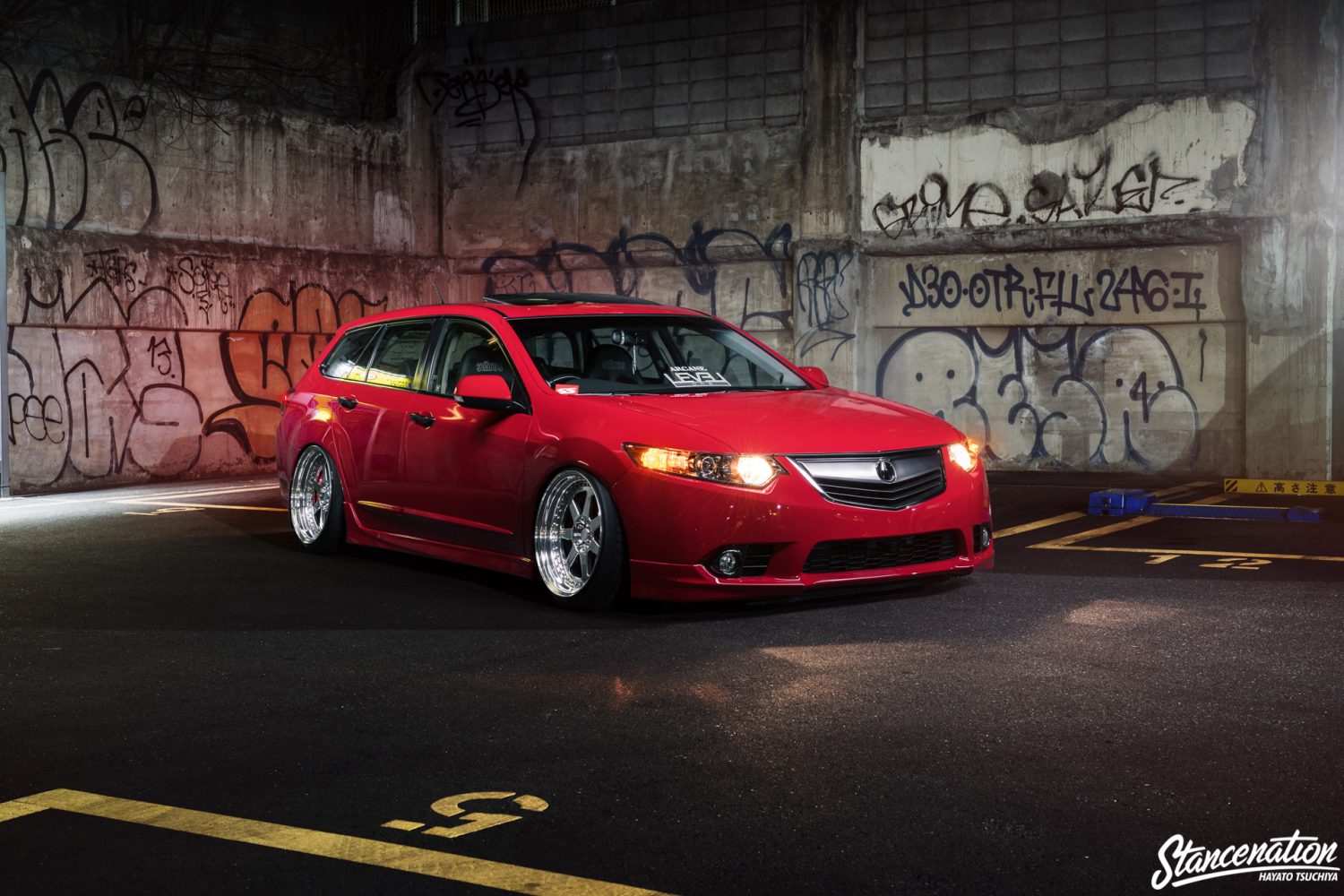 The Acura-spec interior is augmented by Status Racing North America Icon seats.  Diamond stitched leather and suede throughout the cabin adds a dash of upscale style to the plush environment.
Along with the planned powerplant upgrades, Kobayashi is looking to switch all of the glass to Acura panes.  USDM specialists Type_K Autosource along with Makiru Factory, Ignition Motorgroup Concept, Ozawa Report, U.T. Store, Spec Carlife Shop, and Garage Revolver were key players in the extensive project.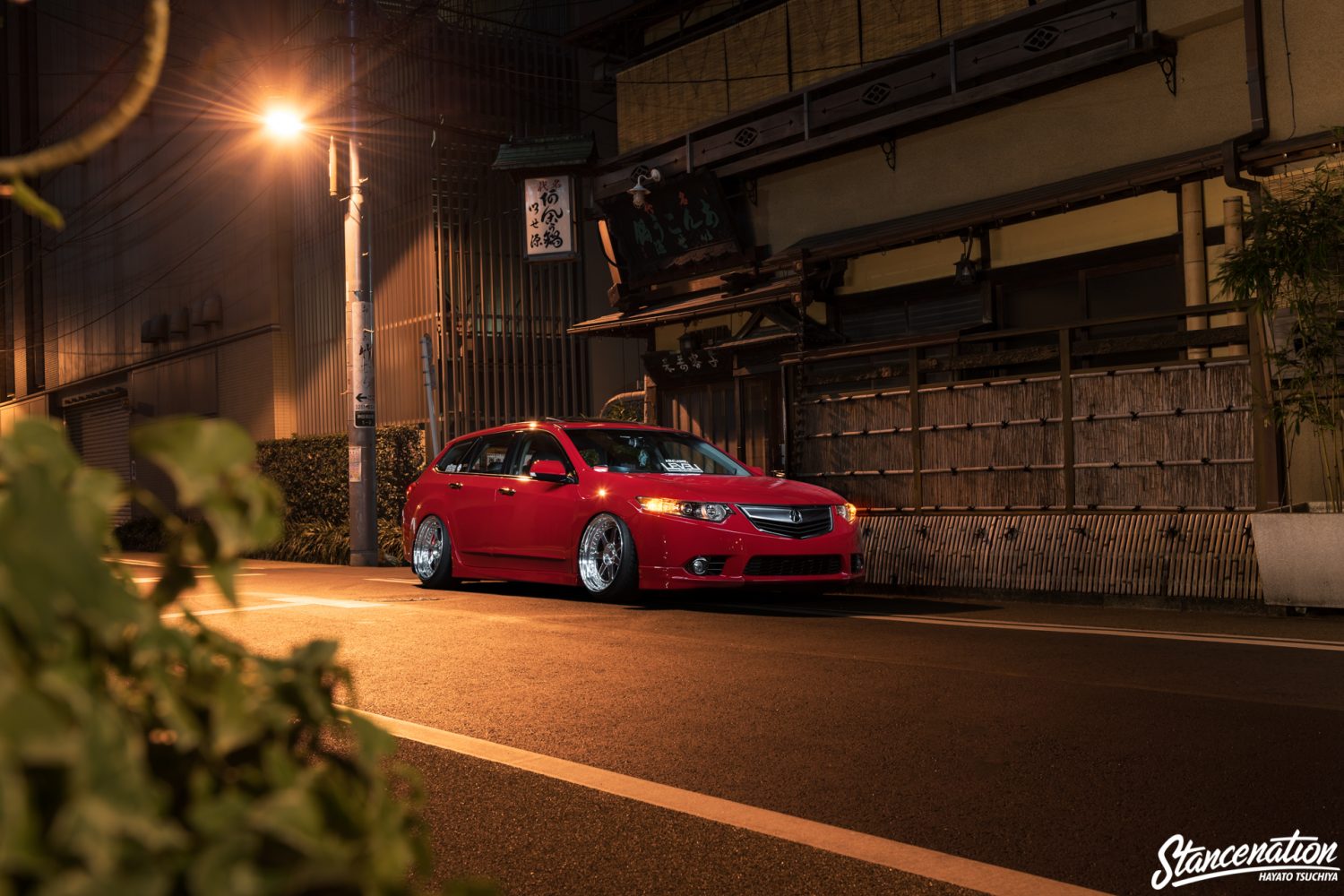 The obsession is real for Norifumi Kobayashi. It wasn't enough to simply switch the 'H' badges for 'A' ones (although he did do that).  The time and energy dedicated to the research and parts-sourcing for the US-spec conversion is mind-boggling.  However, it's not only the level of detail and quantity of parts changed on the car.  The concept, a Honda tuned in the North American aesthetic, was executed exquisitely.  Not only is the car built with North American components, it looks fantastic regardless of what country it is being driven in or what acronym is being used to describe the style.