As I write this feature, a lot is going through my mind.  The past few weeks have been a real test to me and my character as I come to terms with where I fit into this thing we call the, "scene."  I thought long and hard about it.  You see, I'm not a Lexus guy, a Toyota guy, a VIP guy, a VW guy, or insert-marquee-here guy.  I'm just a car guy.  I like everything from VIP sedans like this, to lifted trucks, to drag cars, to slammed, old-skool American Muscle.  I have my preferences though.  There's a reason I write the VIP features here, and a reason why I have three Lexus' in my garage.  None are quite this cool though.  Maybe someday.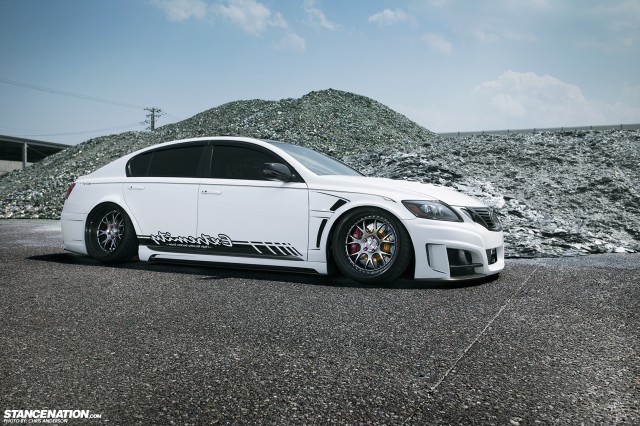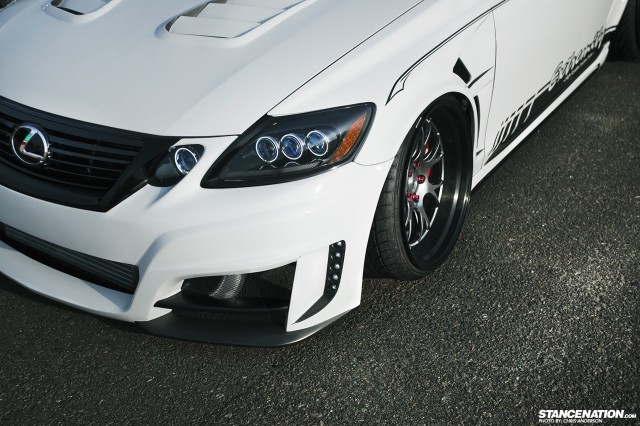 Teppei Koresawa has his preferences too.  Prior to this UZS190, third-generation Aristo, he had a second-gen JZS161, so it was a natural progression.  I had a similar bout, buying my first Lexus, an IS300 in 2006 and just coming to like the brand, and choosing to buy more (both a UCF10 and UCF20 LS400) in the coming years.  Sticking with a certain brand or model breeds a sense of familiarity, yet keeps things exciting with a new chassis or new model.  Most of the time, you already have a game-plan in your head for the newer car before you even get it, so when you do, you jump straight in.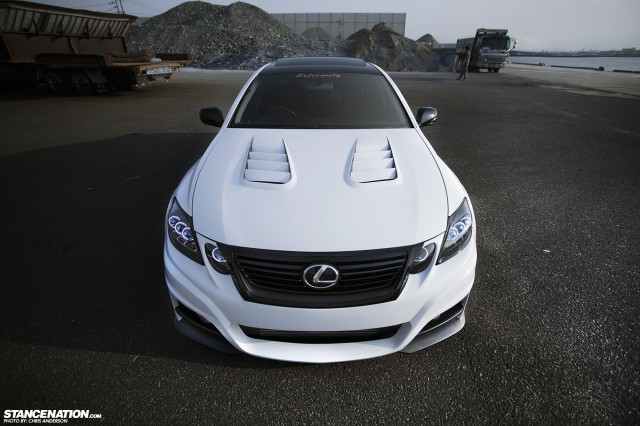 Teppei is certainly one of those who jumps right in with his cars.  It seems to be a common trait with the Japanese, but like a lot of others, Teppei has done pretty much all of the work to this Aristo himself.  It really kind of puts things into perspective when you look at it too, that this is very far from a simple car.  Custom bumpers, hood, fenders, lighting, this car has it all which means that Teppei has been a very busy guy over the two years he's had the car.  This car is a great example of some of the new-age VIP builds going on in Japan that are really aggressive.  Third-gens have really been getting under my skin as a platform that I want to try my own hand at so let's get to it and find out what makes this Aristo so special.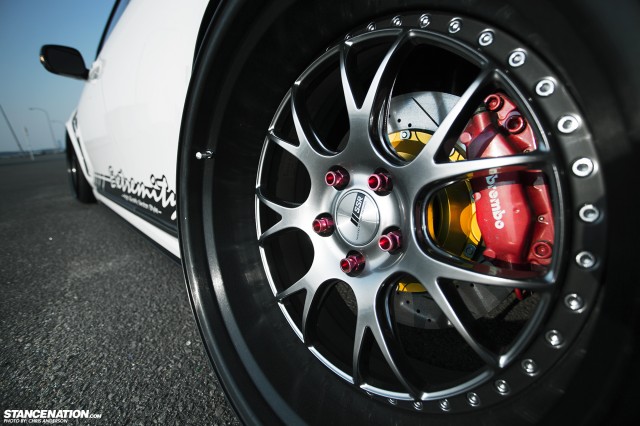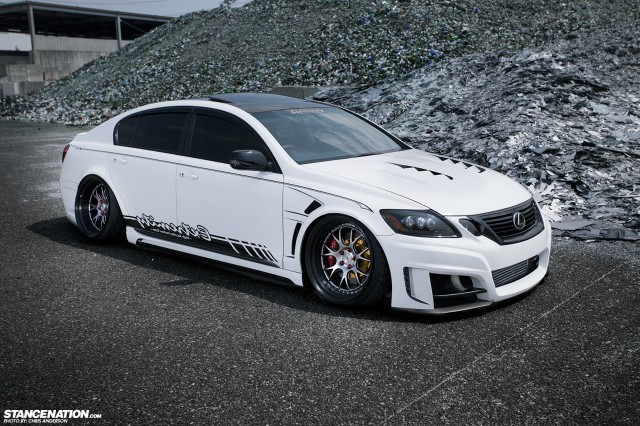 VIP is all about presence, and Teppei's Aristo certainly makes itself known wherever it goes.  The wild and aggressive exterior has  been customized by the owner himself which when it comes to the levels that Japan is at is no easy feat.  Custom vents on the hood and fenders and tweaked bumpers are the norm now for Japan.  While most here in the US are satisfied with their expensive, VIP, body-kits from Japan, our friends across the pacific have the testicular fortitude to cut up their big-dollar kits, or even make their own.  Teppei's Aristo finds a nice balance between a racer-type style, and the VIP style.  The Job Design and Sard IS mix of aero give a very aggressive, almost GT style look with the rear diffuser and diffuser-mounted brake light and the super aggressive front end.  The car features custom, front and rear ducting, and to help swallow up those massive wheels, both the front over-fenders and rear quarters were radiused for extra clearance.  Still adding to the custom touches, Teppei added some vents to both front fenders and crafted a one-off vented hood to finish off the front end.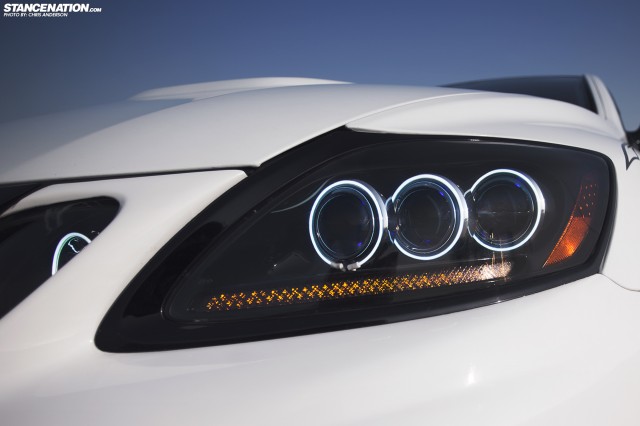 The icing on the cake, at least for Teppei, is his custom, triple-projector headlights.  Not only were they the hardest part of his build (thus far), they are one of his favorite features.  The custom lights are made up of LS600H projectors and CCFL inverters and a relocated blinker with LED accents finishing them off.  The rear tail lights are finished in similar LED fashion, and like always look absolutely amazing.  Teppei is just keeping with the trends though, with VIP lighting in Japan escalating to some serious levels of fit, finish, and presentation.  Teppei's solution keeps with his theme of balancing the aggressive, race-style and the more traditional VIP flare.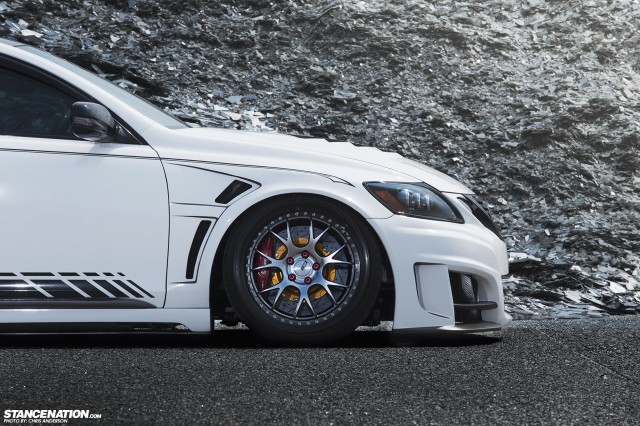 Such a car wouldn't be much without the right set of wheels.  The wheels can make or break a car, and in the VIP community, big and wide is the only way to go.  With such crazy body-work and fender work, Teppei needed a suitable wheel to match his car's theme.  SSRs can be seen anywhere from the showground to the race track so it made sense for our man to look at their various offerings.  Teppei chose SSR MS3s finished in brushed aluminum faces and black barrels and lips that tie in perfectly with the details of the car.  Coming in at a very healthy 20×9.5 -16 and 20×10.5 -21, they do a fantastic job of filling up those custom fenders.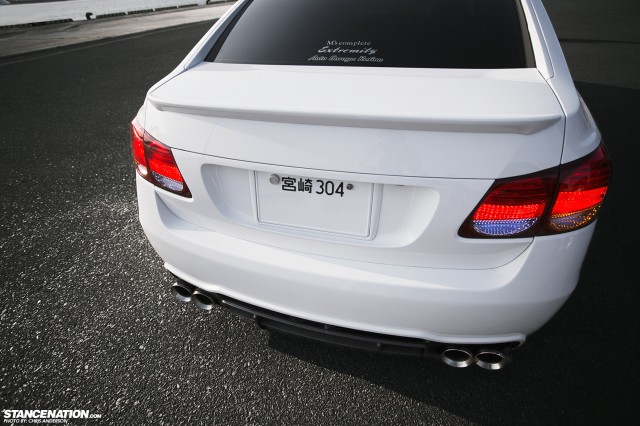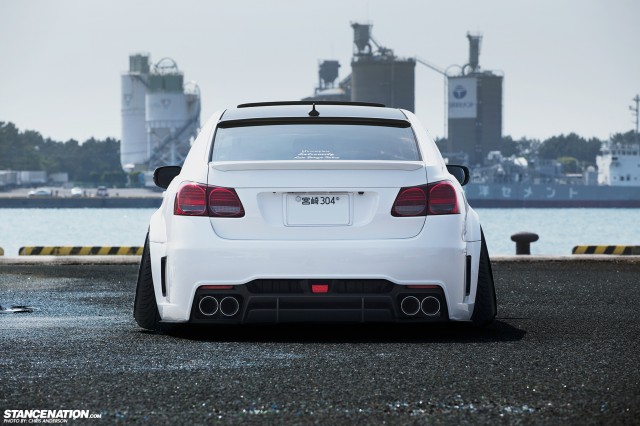 Of course this big sedan is brought down ever so close to the earth, and the age-old question of bags or coils begin to type on people's keyboards.  Like cars, I can appreciate either setup, and like cars I have my preference.  Teppei does too, and he's sitting on the same side of the fence as me.  This big-body is rolling static on RSR Black I coilovers spec'd to Teppei's liking.  To achieve the necessary camber, and other adjustments, the rest of the suspension components have been tossed aside and upgraded as well.  Up front, the arms were shortened along with the knuckles, while out back a host of Silk Road pieces find new homes where the old tie-rods, tension rods, and upper arms used to be.  The car has millimeter perfect fitment with the right amount of tire tip in the rear to make guys like me all tight in the pants.  While camber may not be your thing, just remember what style of tuning we're dealing with here.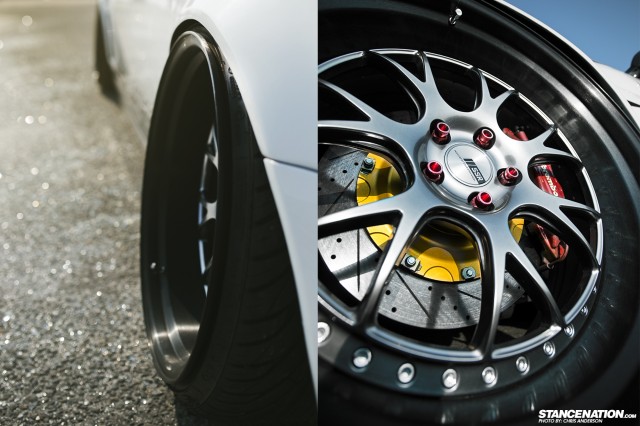 Filling out the wheels both front and rear is a Brembo big brake kit.  I still see a lot of people confused to see a car like this with big-brakes, but let's take a few things into consideration here; it is a big sedan, so the bigger brakes do help out, and secondly big wheels with tiny brakes just looks odd.  It's just one of the many details that really finish this car out.  Even the Trust intercooler, and quad-tip, carbon exhaust, while very performance oriented, fit right at home on this Aristo.  The details of this build are what make it special, and Teppei did a great job mixing in a lot of performance oriented cues into a VIP build.  It's definitely a big trend I've been seeing in Japan, and I really like it since I have a big background in performance vehicles.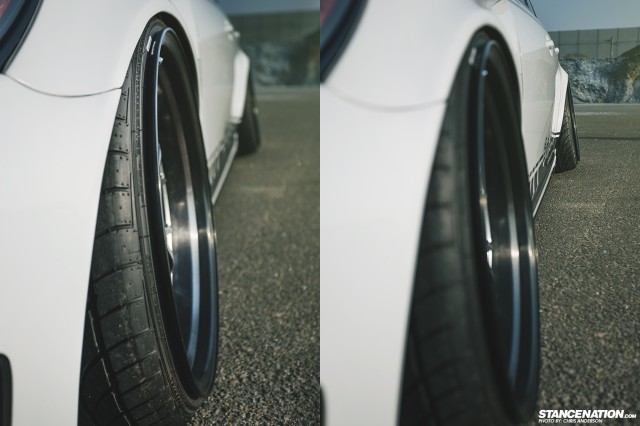 And that brings us back to the beginning.  Teppei here is just like me, a car guy.  While he has shown that he prefers VIP tuning, he didn't stay confined to any rules of what a VIP car should be.  He took influence from GT cars and more performance oriented cars and applied it to his car to create his own look.  Even though that look is trending in Japan, everyone has their own take on it.  What I'm getting at is you don't need to stick to some imaginary rule-book.  Build your car for you, and do what you like to it.  Mind you that you should stick to a theme, but don't let something so trivial of, "that's not the norm," stop you from doing something to your car.  Do it because you love it.  Do it because you love cars.