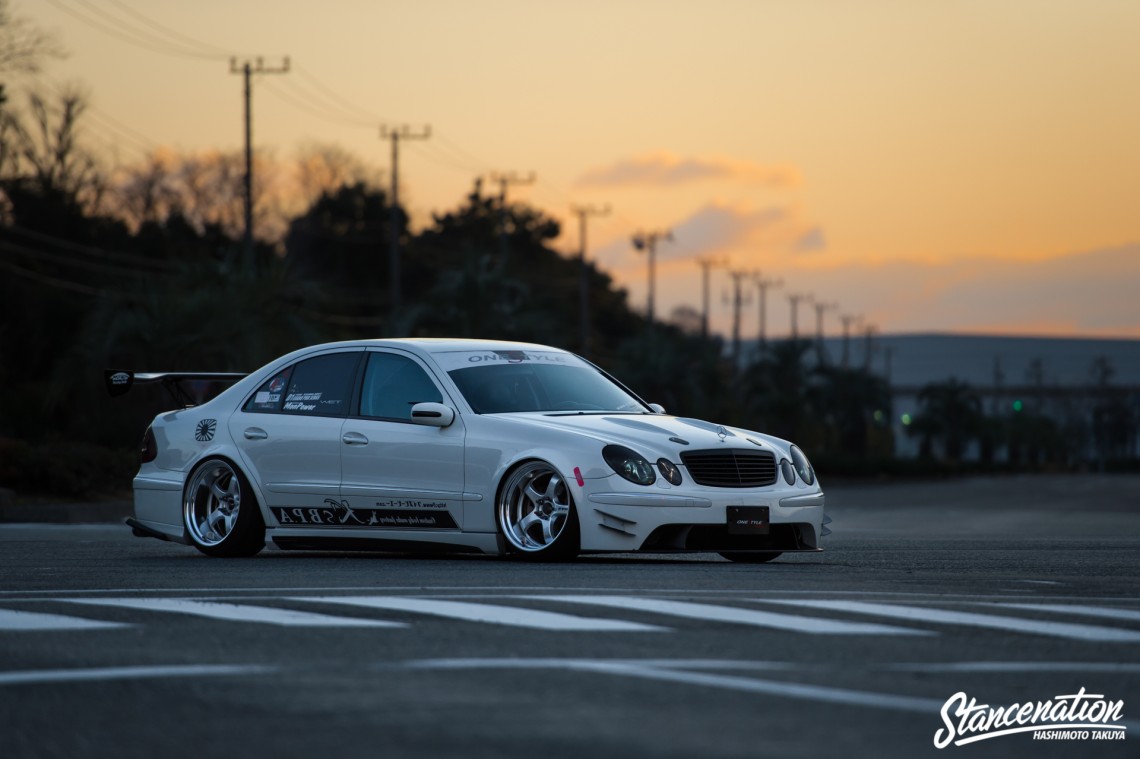 In today's culture, style is everything.  It influences the way we dress, the things we buy, the places we live, the music we listen to, and even the food we eat.  Everything has a style and everyone is influenced in one way or another.  There are those that innovate and those that set the trends.  On the flip-side, there are those that will blindly follow whatever the trendsetters deem cool without any reason or understanding.  People want to be stylish, whether it's by doing their own thing, or following the herd and the masses, style is a huge influence for modern society.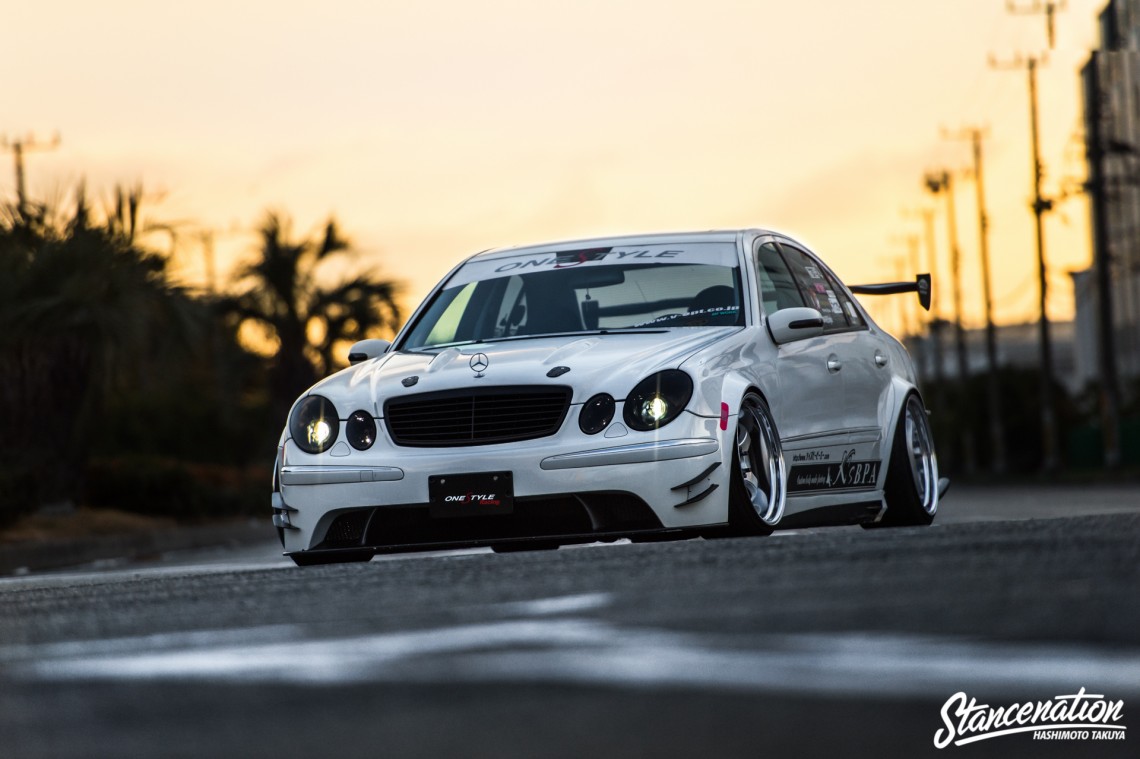 It should come as no surprise then that when it comes to car customization, style is indeed everything.  If your car doesn't look good, well…  But, is there a clear definition of what looks good and what doesn't?  The simple answer is yes AND no.  Yeah, not really a good answer, but it's the simple one.  To elaborate, there are indeed trends, and they come and go.  What's deemed cool today will most likely not be cool 5-years from now, and that's what determines what is in style and what isn't.  Styles though, can exist even if it's not trendy, and some styles, as they say, never go out of style.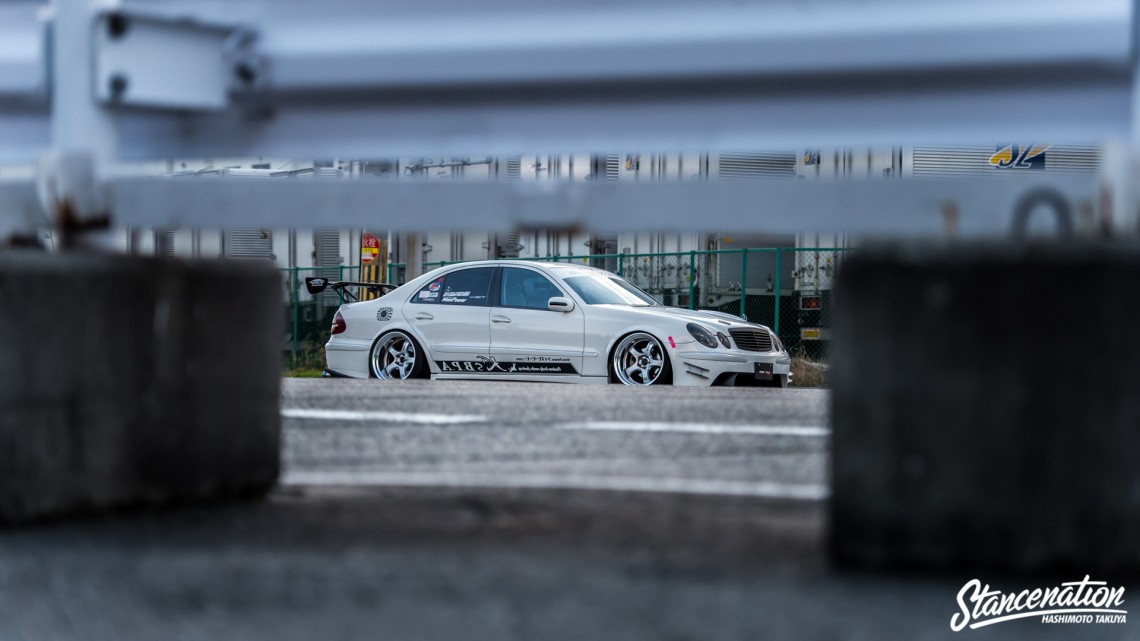 What's on the up-and-up right now is modifying big-body sedans, which is something this writer has been a fan of for a long time.  I've always liked sedans, no matter the generation, and own my fair share of 4-door, custom cars.  To me, a big sedan laid out with some big wheels will never go out of style, and it is quite the sight to see today how people are going about styling these cars.  Of course, there is one style that has come under some heat from the purists that has raised some controversy.  Where would we be without a little controversy?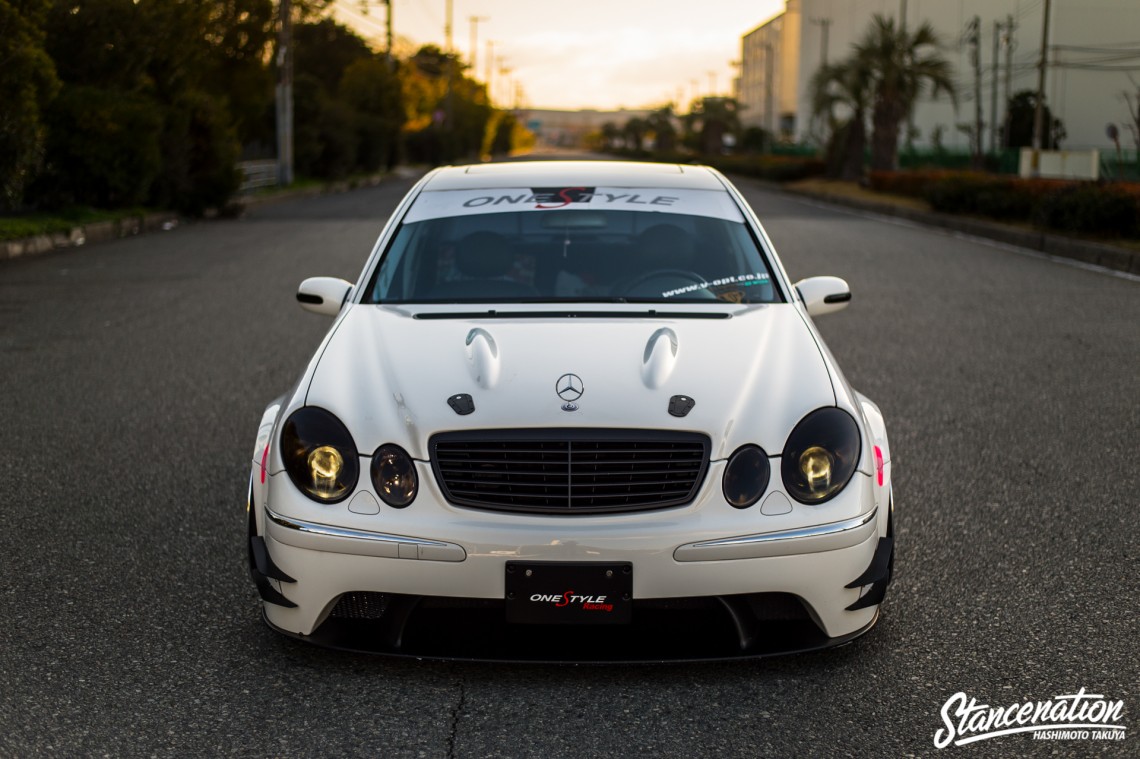 A fellow publication posed the question; is race car a style, and this is what divided the internet.  Well, we're here again with another car that is sure to have people splitting hairs on the same question, and I'm sure it'll be interesting to see the different opinions on this one.  Toshiki Omura hails from Osaka, Japan, and his W211 E-class Benz is no stranger to the internet.  The obviously GT-Styled Benz has been shared here before, but we finally caught up with Omura-san to get a little more personal with one of our favorites.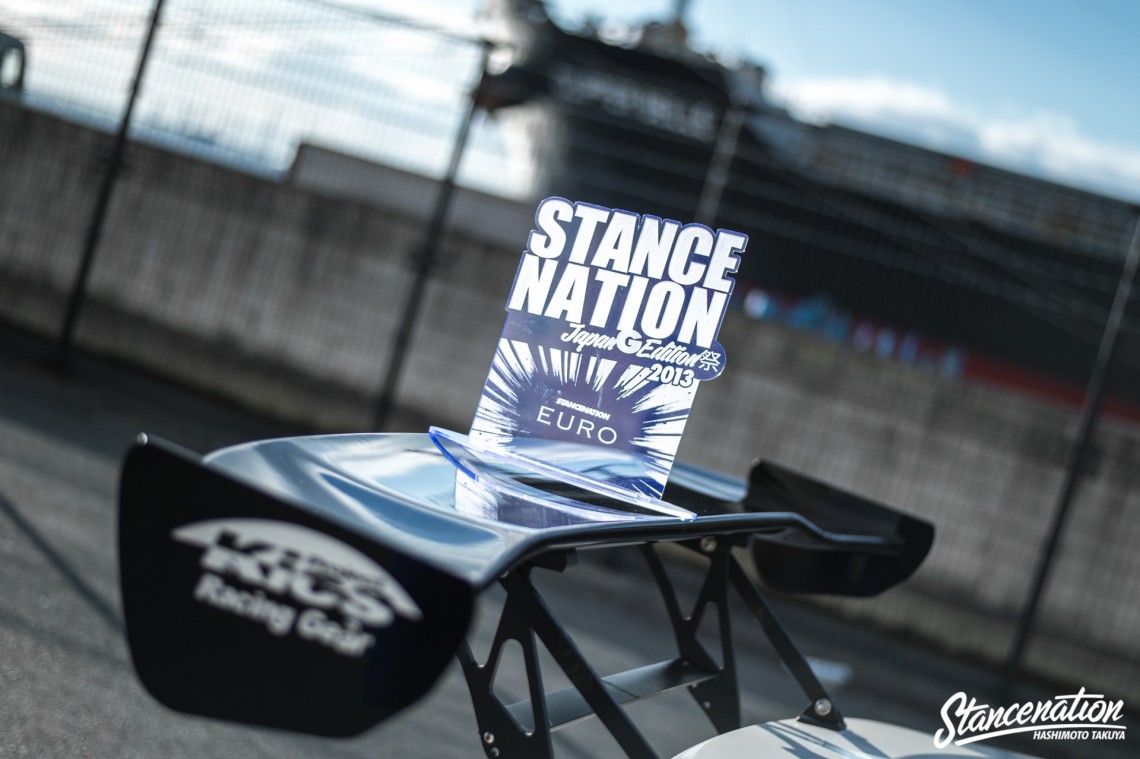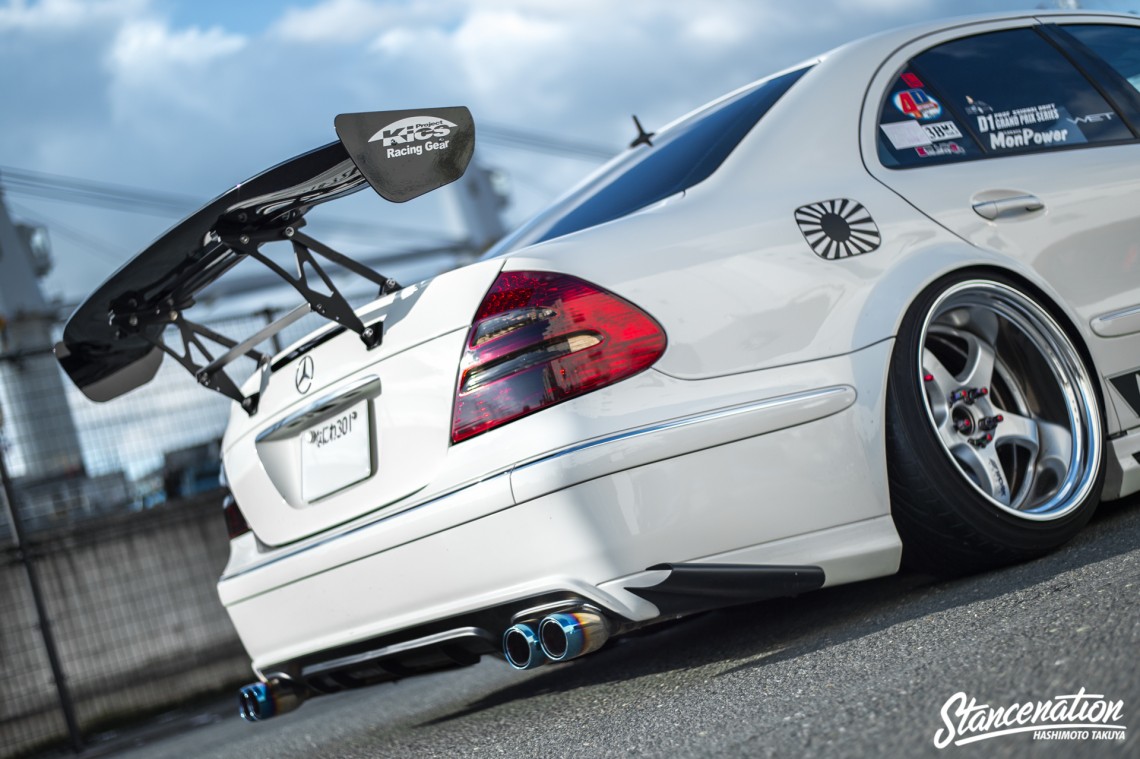 When it comes to styling sedans, it's hard to top Japan, and Omura-san's 4-door Mercedes is another reason why I keep saying that.  It's also a perfect example of that race-car style that has had some people up in arms.  For the purists, a car can't look like a race-car without being used to race.  Thing is, some race-cars actually look pretty damn good.  It really shouldn't come as such a shock that some people want to incorporate some of those looks into their street or show cars.  However, we then get into acronyms such as; Race Inspired Cosmetic Enhancements, aka RICE.  Well, serve me up a big-ass, warm bowl of it, because if they want to call this rice, I'm all about it then!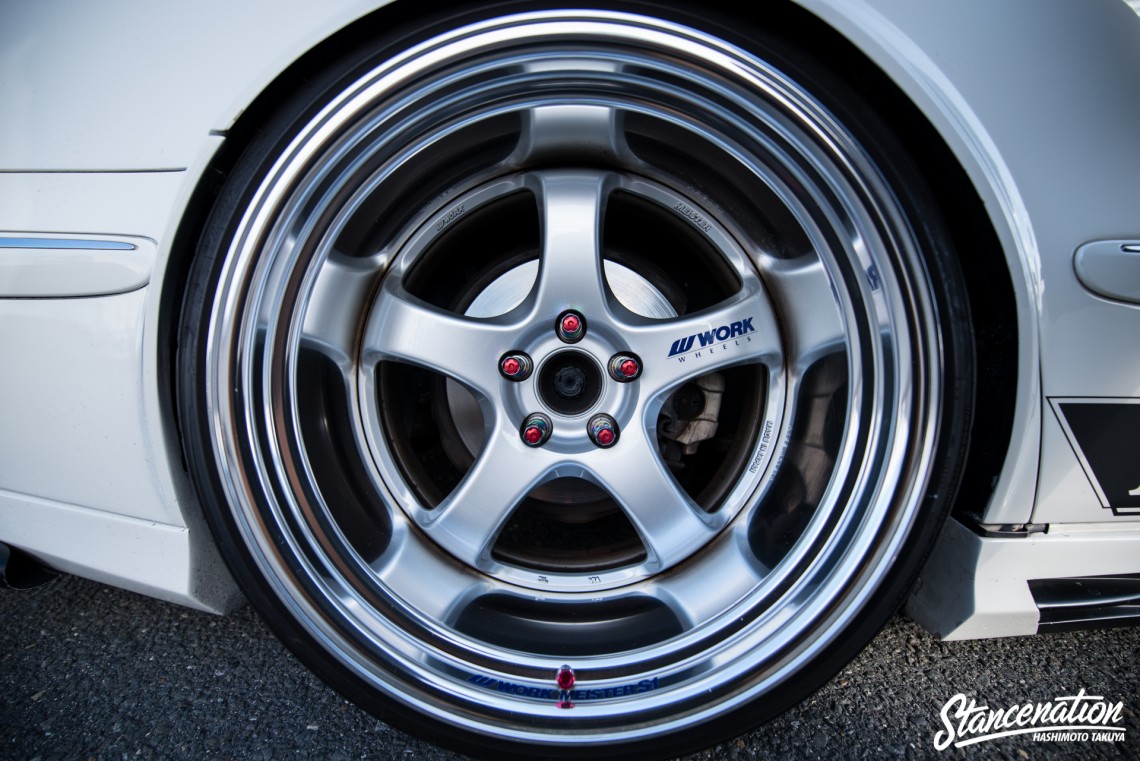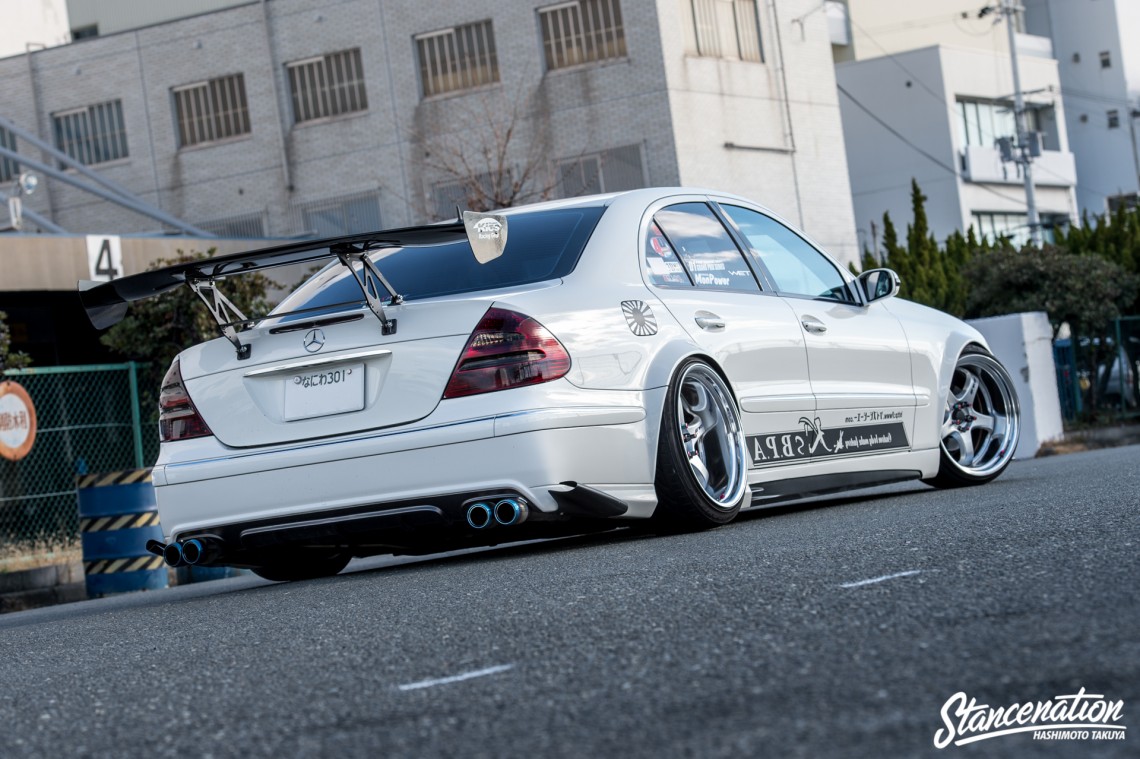 Omura-san's Benz looks amazing, and when it comes down to it, style is all about what looks good.  It's hard not to look at this Mercedes, and it's refreshing to see some Japanese influence on the German sedan.  I've been growing a bit tired of that traditional, OEM-plus look that is usually associated with euro cars.  Don't be afraid to go against the grain from time to time!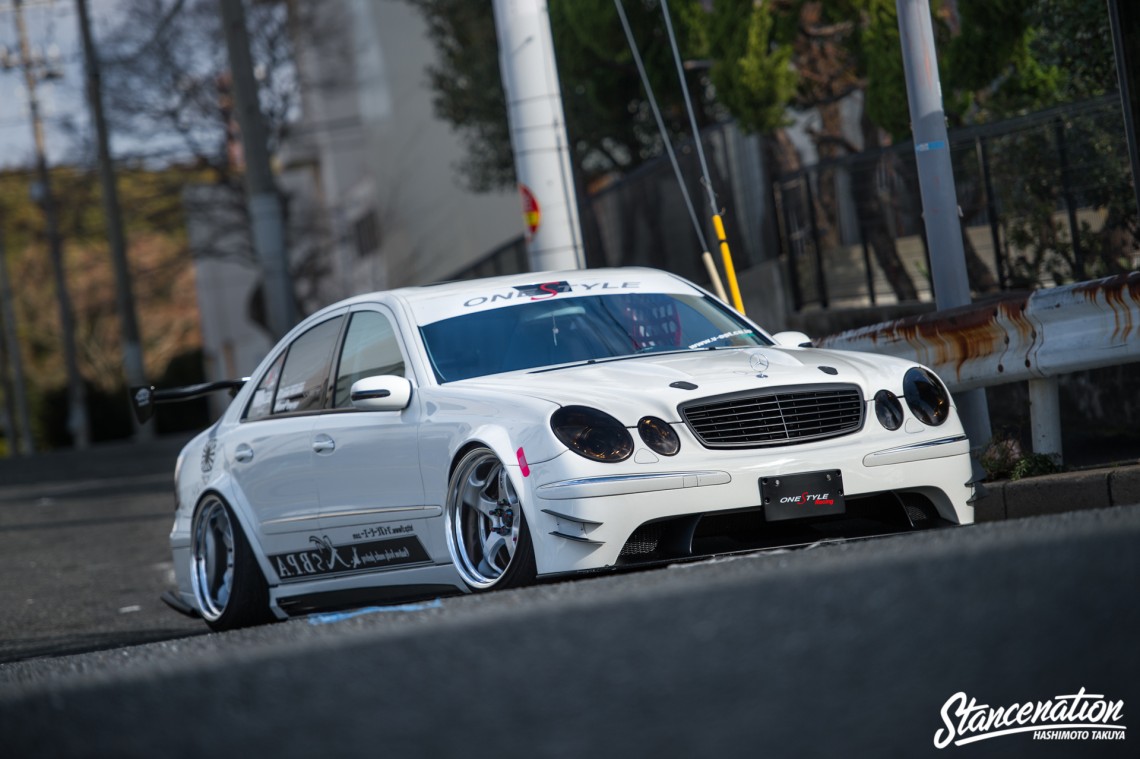 Of course, Omura-san being in Japan with a German car, there were some challenges he had to overcome in order to turn out this race-inspired example.  The first big one was the aero, there was none available that suited Omura-san's fancy.  So what did he do?  He used a mash-up of Ridox and K-Break aero for the JZS160 Aristo like you do!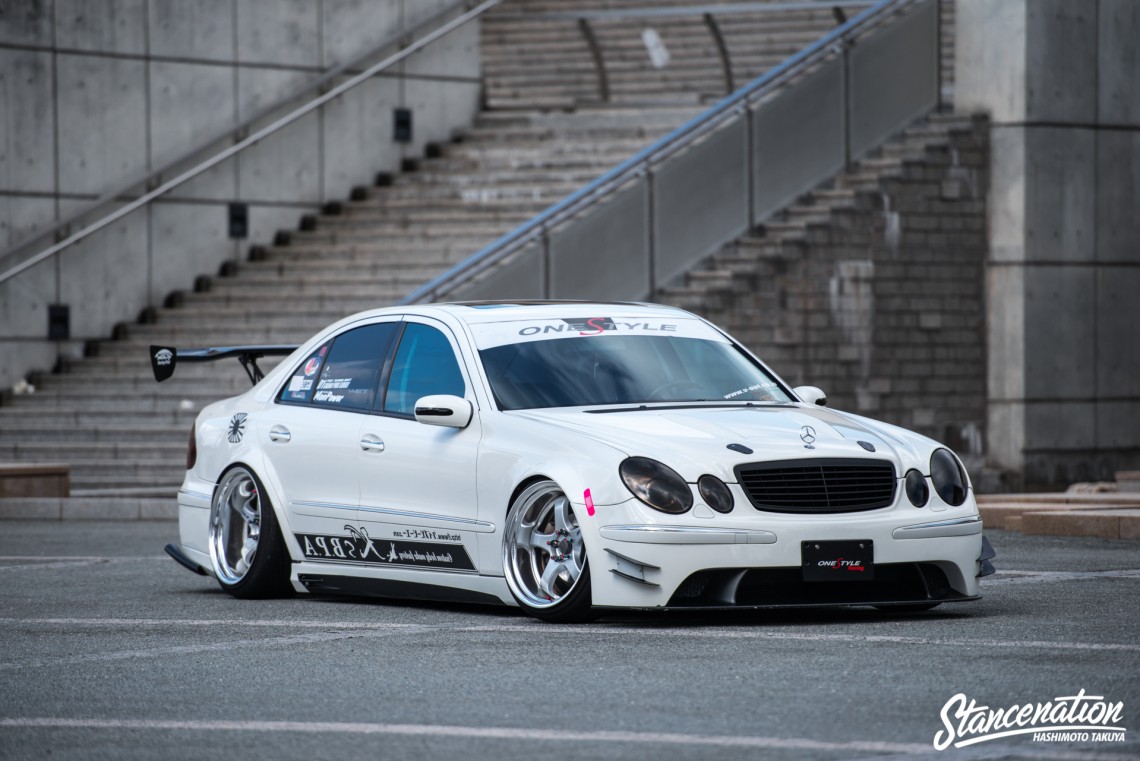 The front bumper is a Ridox item for the JZS160 Aristo that was mashed-up with the the OE Mercedes bumper, and looks right at home on the car.  Custom front canards and a diffuser add to the race-car appeal.  The side-skirts are K-Break items, again for an Aristo, that were custom fitted to the Benz, and finished to look like they were made for the car.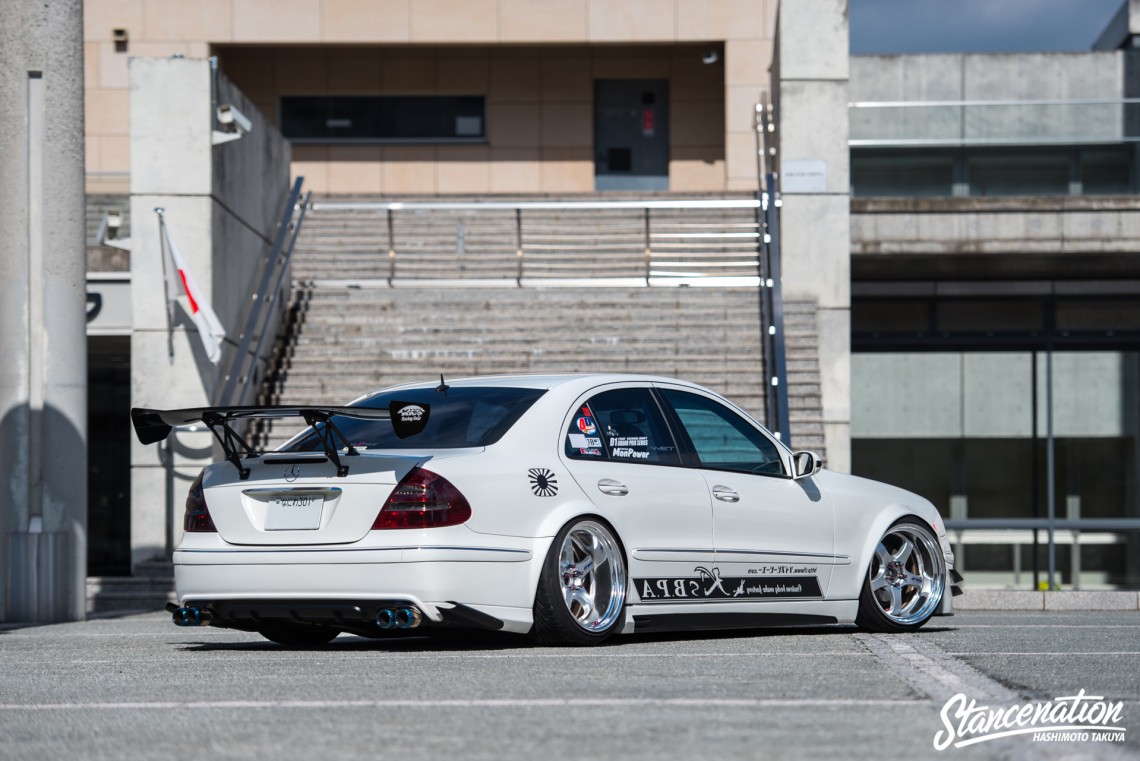 The rear is also a K-Break piece that was mashed up with the OE Mercedes rear bumper, and finished with a custom diffuser and Vortex generator to match the rest of the car.  Adding to the race-style of the Benz is a URAS 3 DGT carbon wing with custom stands which were hand-made by a certain D1-GP racer.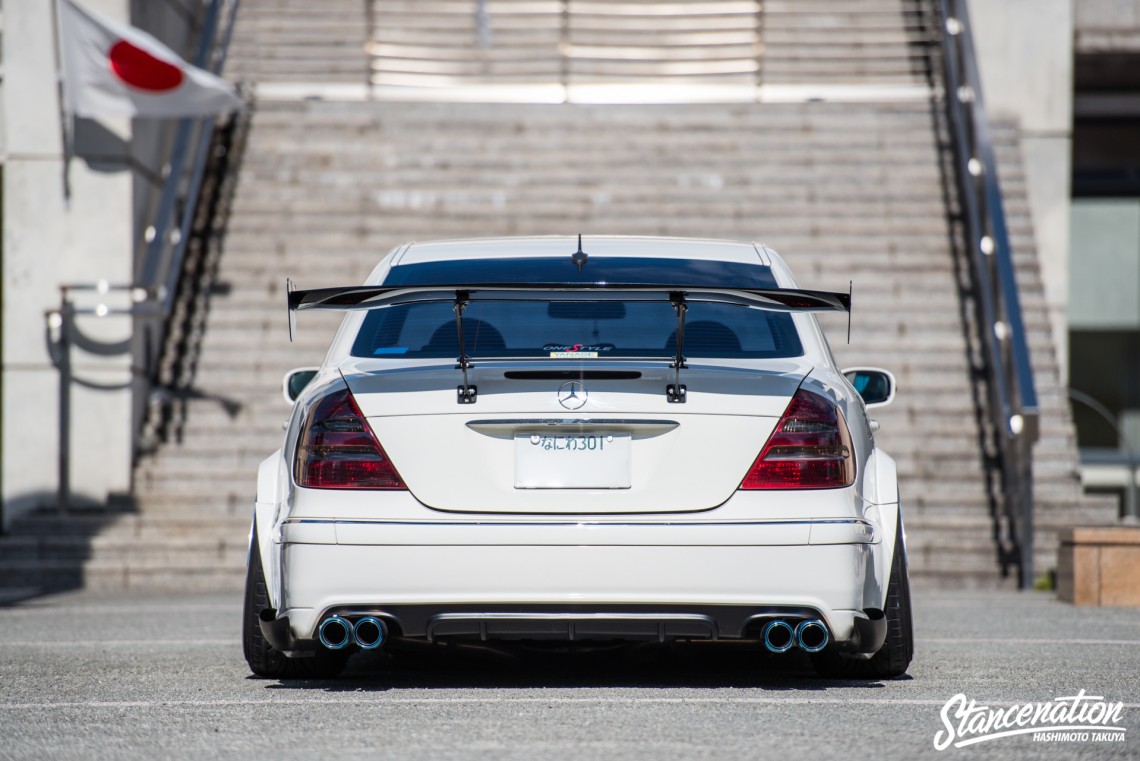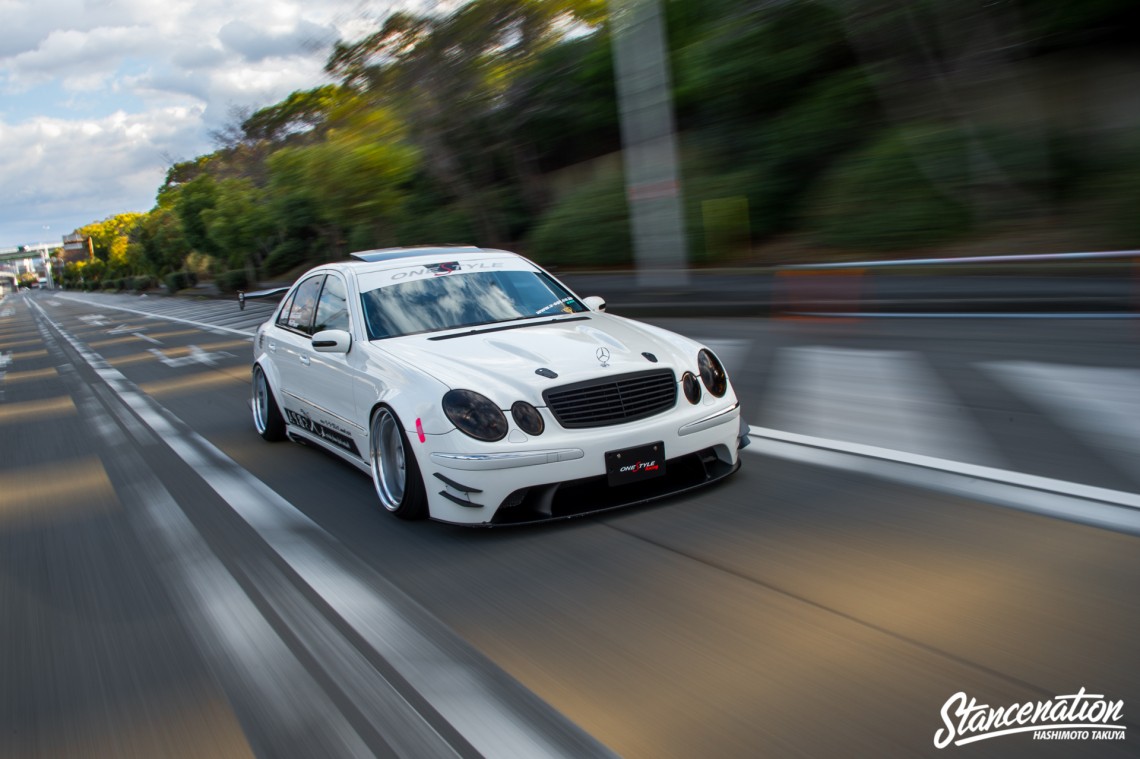 With the aero sorted, it was time for Omura-san to address his second, big challenge with the car; widening the hips.  Wide will never go out of style, especially when it comes to sedans.  So, what was the big challenge that our friend had to face?  Well, the front fenders on his Mercedes are aluminum, and you can't really weld steel to aluminum, so Omura-san had to find a way to create his over-fenders without welding it and keeping the strength high.  A tall order, and one that our friend isn't quite giving up how he accomplished it!  What I can report is that the front has been widened 7cm, and the rear 10cm with a 3cm radius all the way around.  It's certainly one of the defining points of this Benz.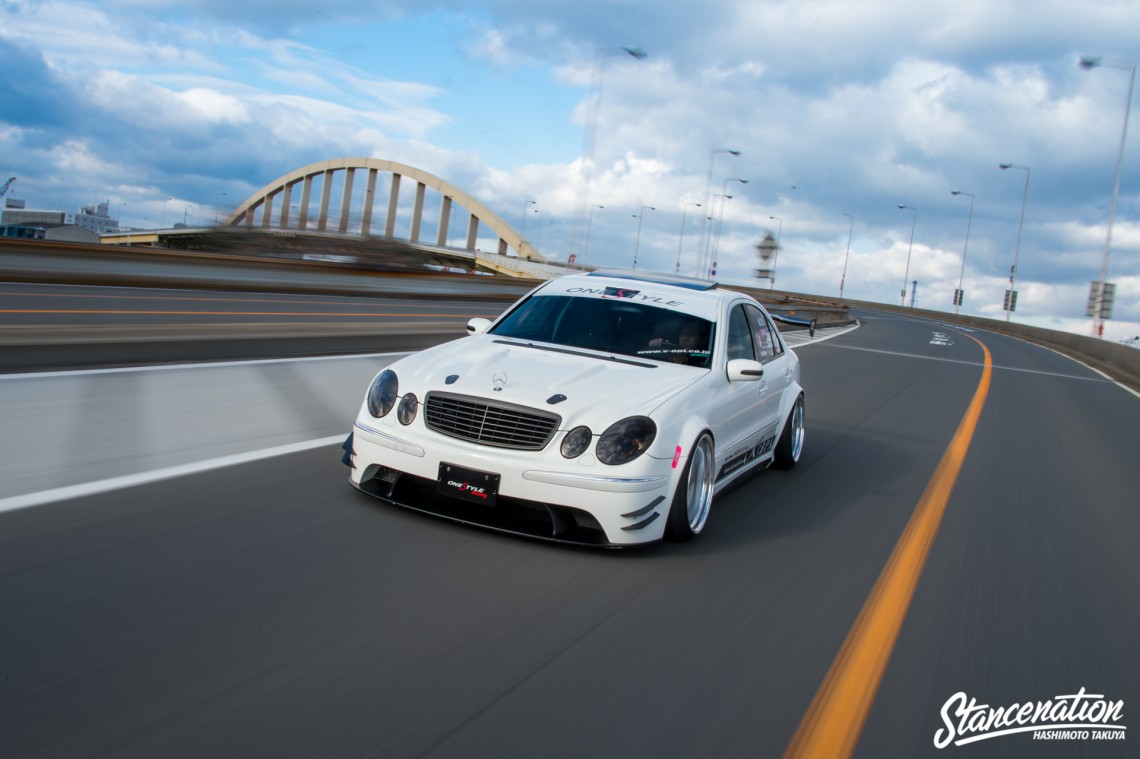 The final, big hurdle that Omura-san overcame was the creation of his C63 AMG-styled hood.  It is a more subtle modification, but one that really rounds out the race-inspired look of the car with bulges in the hood and  dual hood-latches.  It really finished off the car nice.
Of course, all these body modifications wouldn't work so well without a killer stance to go with it.  This is still StanceNation, and with K's BPA oon the side of the car, you know it's going to be something special.  You all are familiar with the K's BPA Celsior, and Omura-san's Benz is rolling on an equally ridiculous suspension setup.  The E-class is sitting on Scherzen coilovers with custom-spec'd K's BPA springs with 50kg rates up front, and 30kg in the rear.  This insures the ultra-aggressive Work Meisters don't ruin those one-off fenders.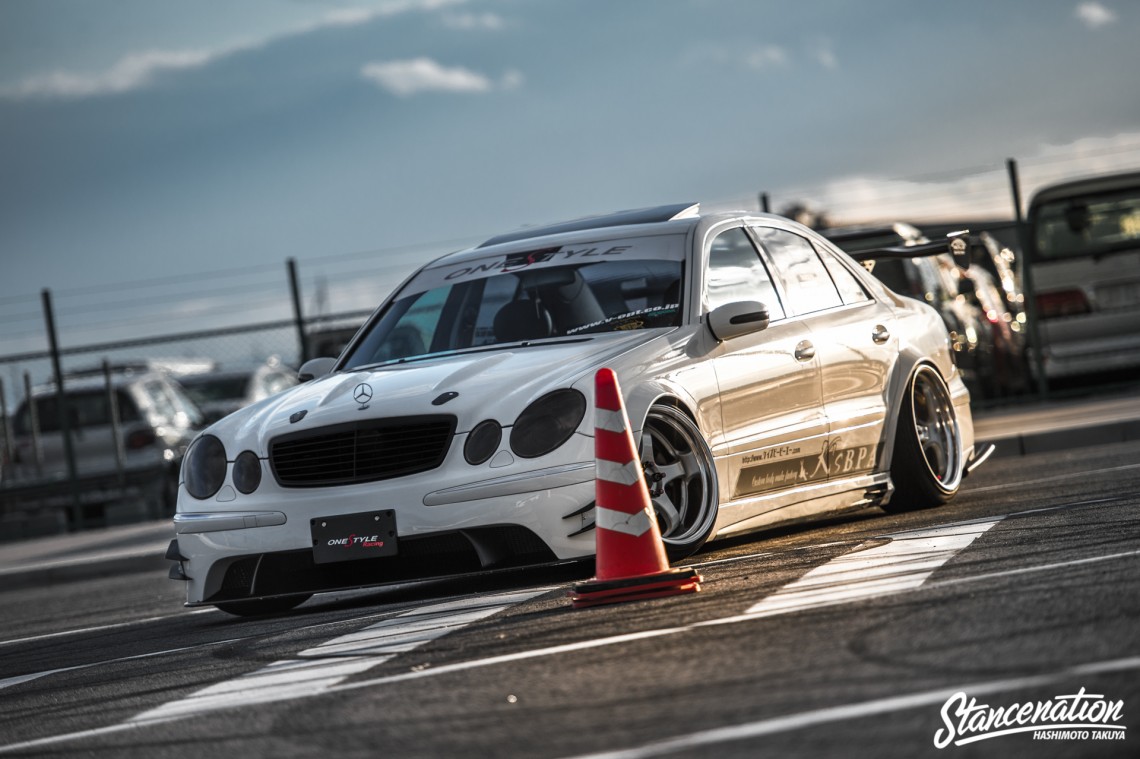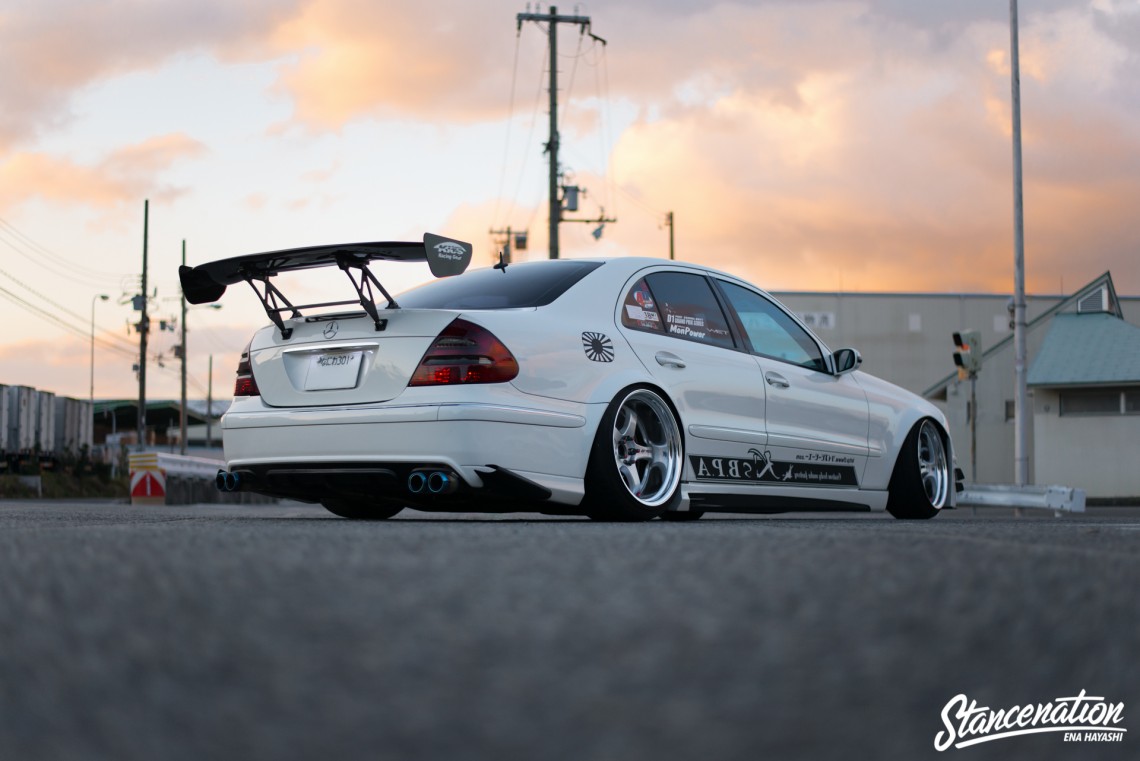 The 2-piece, Work Meister S1Rs come in at a very healthy 19×10 -20 up front, and 19×11 -35 in the rear for maximum dish.  I mean, you gotta have some nice lips to match those wide hips.  The wheels are wrapped are wrapped in Toyo T1R tires, 225/35/19 front and 255/35/19 rear.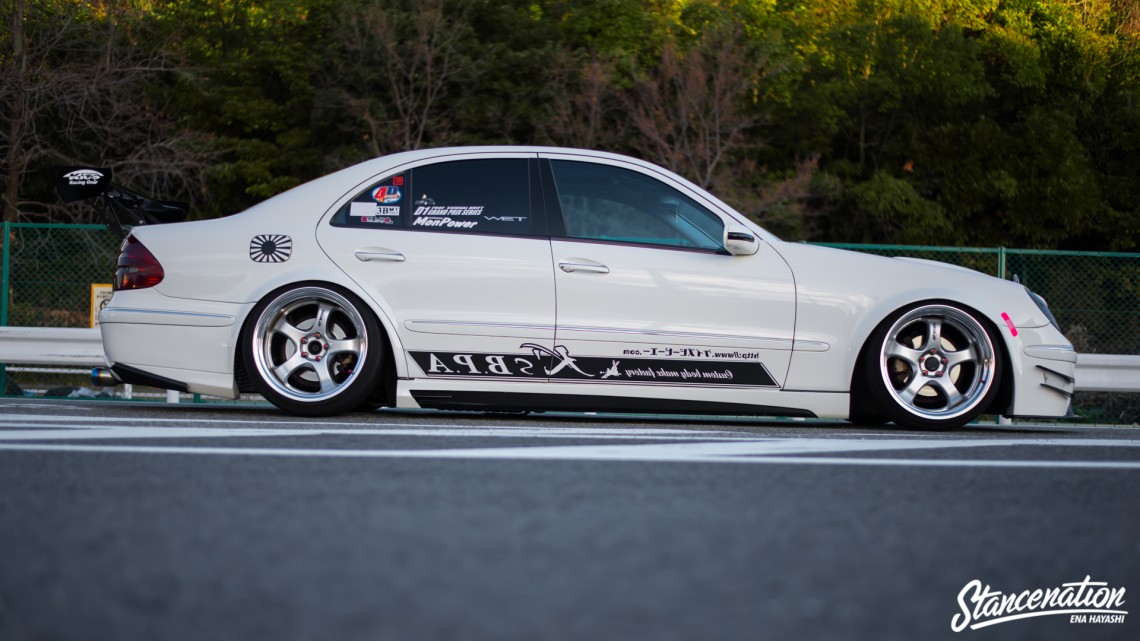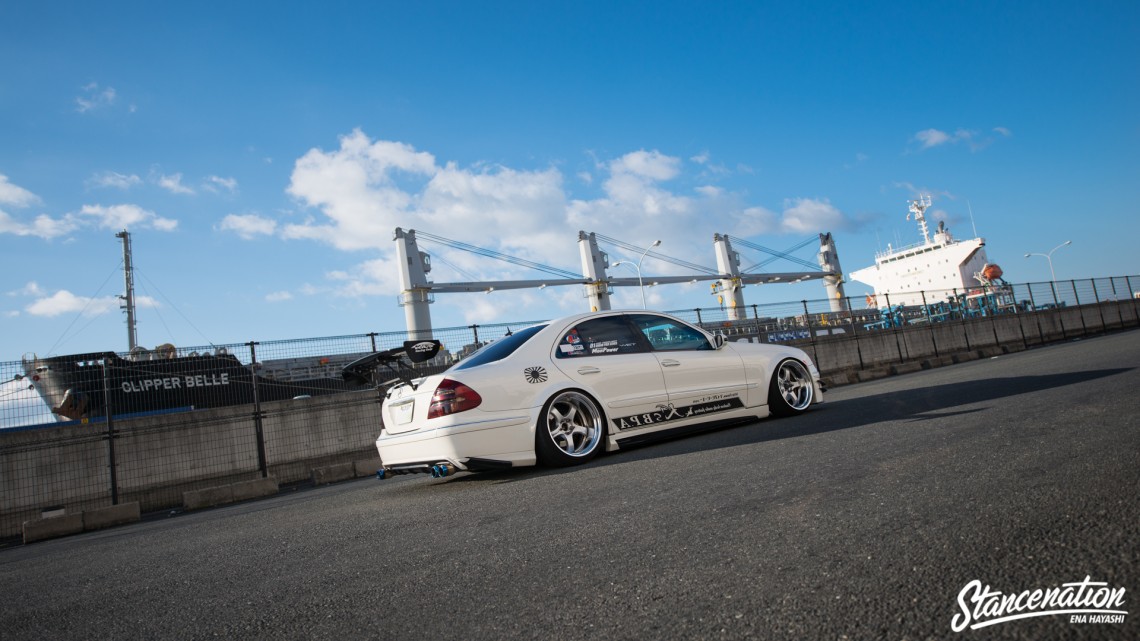 With it's aggressive stance, wide-body, slammed ride height, carbon wing, and race-inspired wheels, it certainly looks the part of a race car, so what's all the hubbub if he doesn't drive it around a race track?  There are plenty of people with near-stock, commuter cars with #BECAUSERACECAR stickers that don't catch any gripe, but it's not okay to put some serious work into your car to make it look good but because it's not driven on the track it's stupid?  Come on people…
So, is race-car a style?  This writer thinks so.  Whether it races or not, it's still made to look like a race car.  It's all about looks.  It's all about style.  Style is everything.  Till next time…