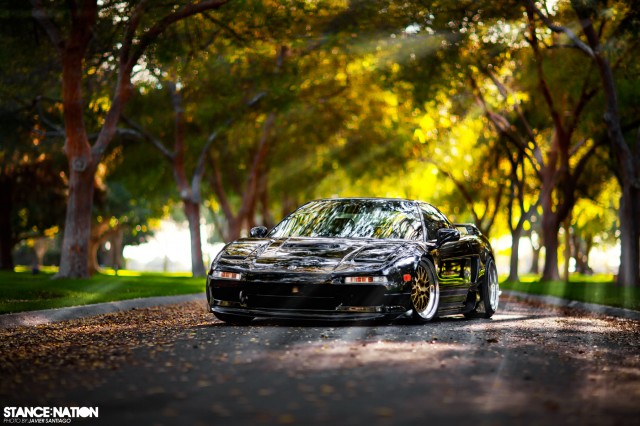 Our photographer Javier Santiago recently took a trip to the sunny Southern California where he got a chance to shoot this incredible Acura NSX. Kien (owner) bought his NSX about 6 years ago after he saw how quickly his 350z's value was depreciating. He somehow stumbled upon this pristine 1991 black NSX with only 24,000 miles on the clock. It was owned by an investment banker who barely drove the car, and the rest was history as they say. Owning an NSX meant going fast around the corners (track) and in between cones (auto-x), so during almost all 6 years of owning his NSX Kien's main focus was strictly on making his ride more responsive.
Photos By: Javier Santiago exclusively for StanceNation.com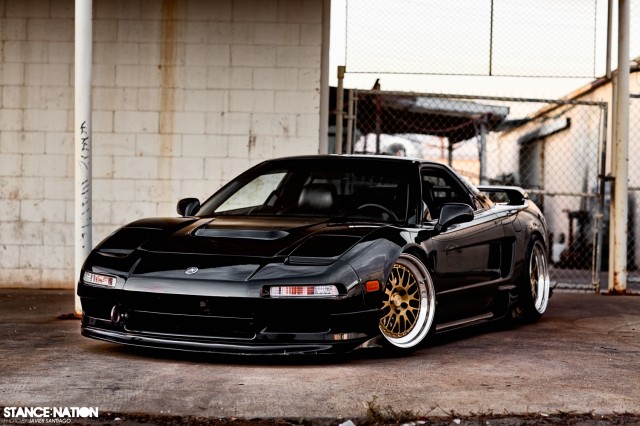 Kien first began with the addition of modifications that increased acceleration, beginning with a Comptech carbon fiber intake with Uni-filter which was later stacked with Downforce Ram Air. To expedite exhaust flow, a set of Taitec headers was added, custom test pipes to further free flow exhaust gases, and finally, a Pride V2 exhaust was capped for the wicked F1 scream. Since the NSX has a long second gear (not so ideal for quick acceleration) a set of japanese short gears were added to speed up revs.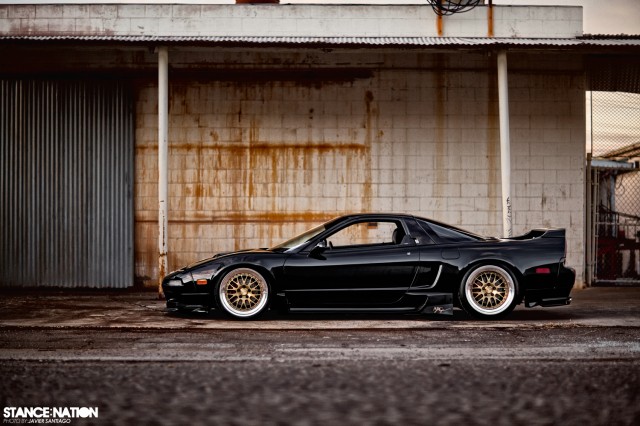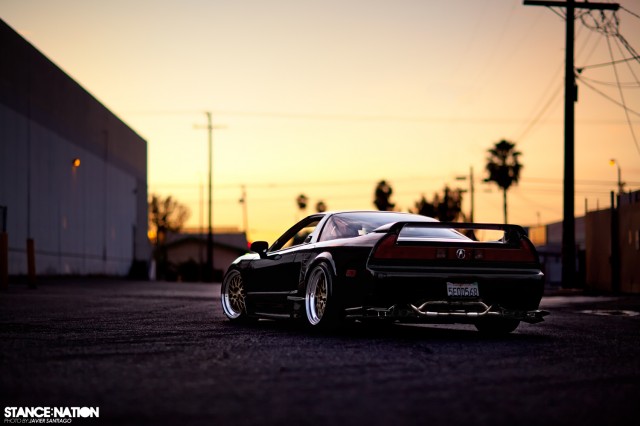 Aero parts include Shine Auto Type 1 front lip with custom front spats, color matched Type R hood, custom widened front fenders, Marga Hills side skirts with custom side spats & pulled rear fenders. The rear bumper incorporates a set of I's Impact spats with custom rear vortex generators topped off with a Seibon CF rear spoiler and CF deck lip spoiler, all painted jet black. Check out the rear end shots of this thing, the exhaust/diffuser area is just incredible.
The suspension was tackled using a set of Bilstein coilovers to drop the NSX at all four corners while sitting on 18X9 with +38 offset up front and 18X11.5 with +25 offset in the rear, CCW LM20's. The wheels were finished in anodized gold with gold ARP hardware which in our opinion works oh-so-well. He wrapped them in some 215/30/18's up front and 265/35/18's in the rear. Note: After this photo-shoot, Kien has gone with a bit more wider tire in the rear.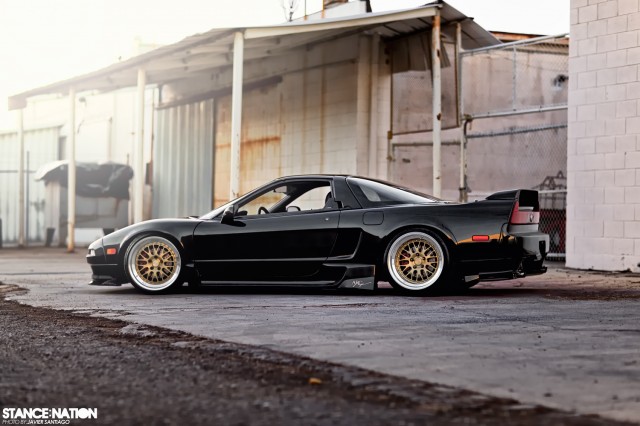 When asked what the future holds, Kien told us that the fitment of the NSX will be pushed further with wider 18X10's up front and 19×12 rear wheels, sitting tucked in front vented wide fenders, custom massaged rear quarter panels. There is also a very good possibility of supercharged or turbo charged configuration. We'll end it here with a huge shout out to Javier as well as Kien for making this feature happen. Make sure you email us through our contact page if you think your car has what it takes to be on our site!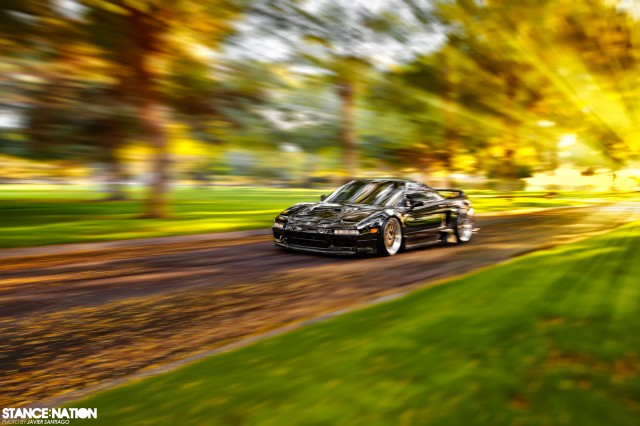 [toggle_box]
[toggle_item title="Engine" active="false"]Comptech carbon fiber intake w/Uni-filter
Downforce Ram Air
Taitec headers
Custom test pipes
Pride V2 exhaust
Custom JDM short gears [/toggle_item]
[toggle_item title="Exterior" active="false"]Shine Auto Type 1 front lip
Type R hood
Custom widened front fenders
Marga Hills side skirts
Pulled rear fenders.
I's Impact spats
Vortex generators
Seibon CF rear spoiler
Seibon CF deck lip spoiler[/toggle_item]
[toggle_item title="Wheels/Suspension" active="true"]CCW LM20 18X9 & 18X11.5
Anodized Gold finish w/gold ARP hardware
Bilstein coilovers [/toggle_item]
[/toggle_box]