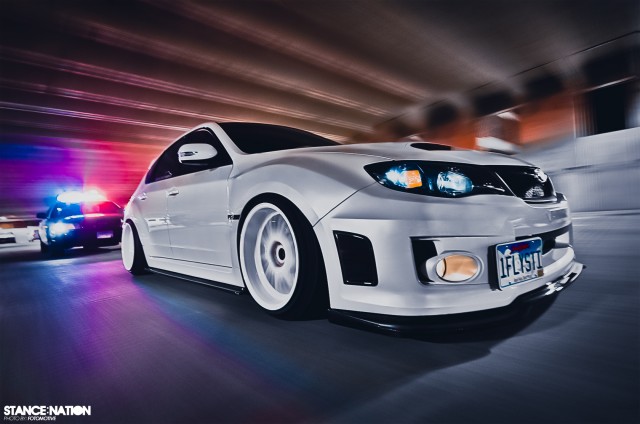 Today we have yet another car with just the right amount of form and function. It belongs to our friend Peter MacDonald out of South Dakota. We've had our eye on it ever since we first posted it on our Facebook and with the help of Chris & Jeremiah from FOTOmotive we are fortunately able to take a closer look at this sexy white on white STi! Peter picked this bad boy up brand spanking new just last year. Since getting his car he has racked up not only thousands of miles, but also thousands of dollars in all sorts of aftermarket parts. Everything from wheels, suspension & control arms to catback, downpipe & injectors. Let's take a look at a few of those modifications shall we?
Photos By: Chris Yushta & Jeremiah Lewis exclusively for StanceNation.com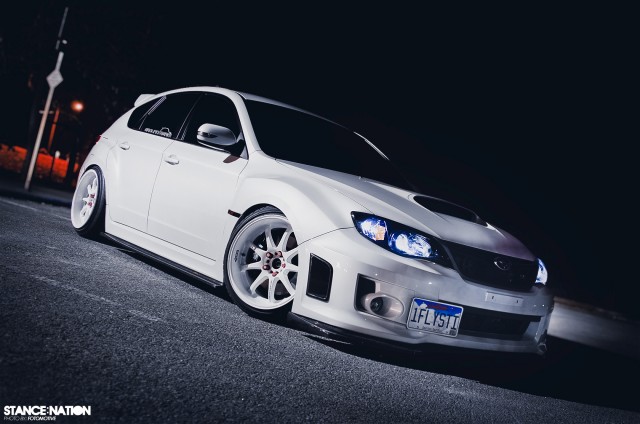 First and foremost we would like to say that you can never go wrong with Work XD9's on your STi. As common as that setup may, be it just works (no pun intended). Peter is rocking his Work XD9's in 18×10 with +18 offset all around wrapped in 225/40/18 Falken tires. Those red Rays extended lug nuts were also a nice addition in our opinion. In a way, they do a great job separating the white on white look without really going overboard. Peter also went with the famous BC coilovers and Cusco rear control arms. His fitment is right on point we gotta say. What do you think?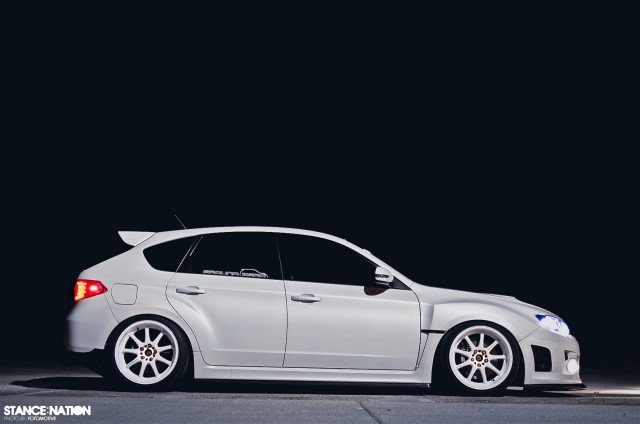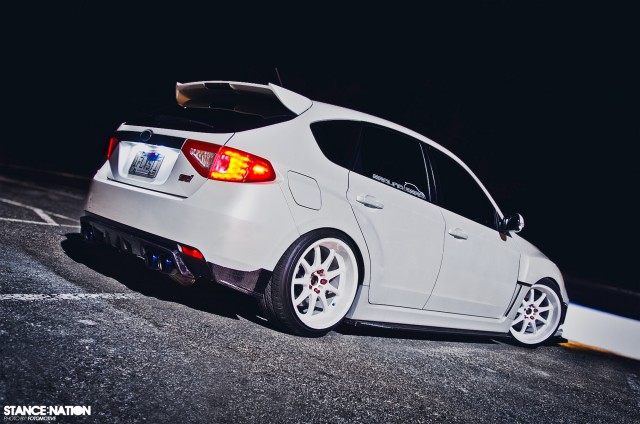 Peter also tells us that he enjoys taking the car out to some Auto X races every now and then. This is his "daily driver and weekend warrior" so don't think it's a garage queen or a show car. Though since we brought up shows, Peter has been collecting trophies left and right all last year, but that's besides the point. Let's take a closer look at some of the exterior changes. One of the most noticeable ones being that Blacktop Aero Carbon lip kit up front and Blacktop Aero rear Carbon Diffuser. He also went ahead and changed up some of the smaller things such as the Carbon Fiber rear hatch trim and ChargeSpeed Carbon front bumper vents.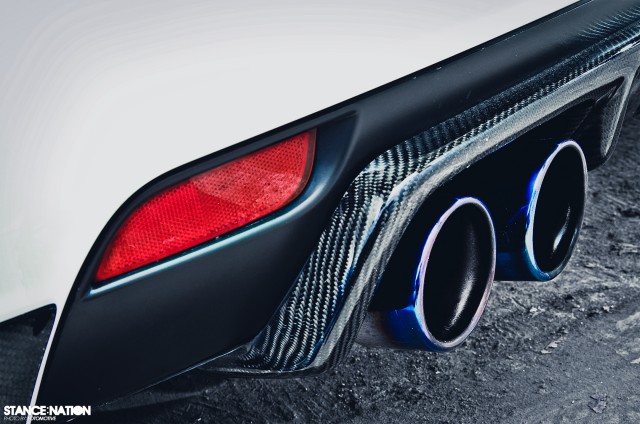 So what's under that hood you ask already, right? Car is ProTuned On E85 at 334WHP/377TQ thanks to things like AEM Intake, Cobb AP, Cobb Down pipe and Invidia Q300 Catback system. Just like last time, we'll include the full spec list on the very bottom of this feature. In the near future Peter will be looking to upgrade the turbo to FPgreen turbo as well as adding a front mount intercooler to the engine. As far as body the car goes, Peter will be looking at doing a carbon rear wing and carbon hood. All relatively simple stuff which will make this Subaru look even better in our opinion.
On that note, we'll end right here but as always leave you with some awesome photo for your viewing pleasure. Huge thanks to Chris and Jeremiah from FOTOmotive for their contribution. Make sure you check out their facebook by clicking here, they do great work as you can see. You know the drill here, if you think you've got a ride worthy of being on our site here please make sure to email us via our contact page with some photos. In the meantime we'll see you over on our forums and/or Facebook!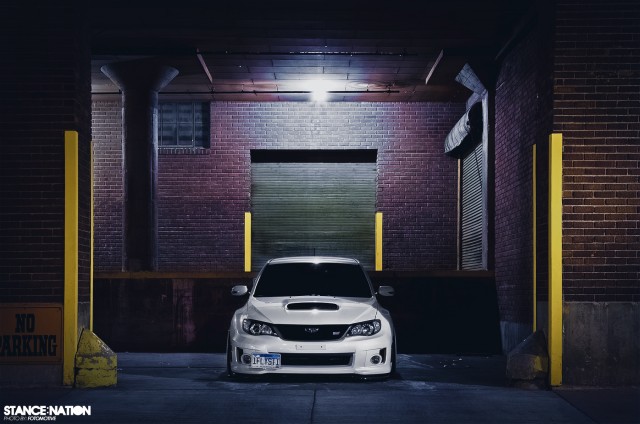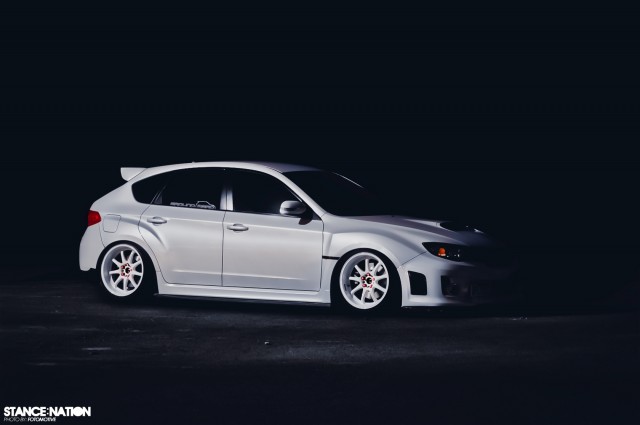 [toggle_box]
[toggle_item title="Engine" active="false"]Intake Silencer Delete
Perrin Radiator Shroud
Perrin Alternator Cover
TWM Short Shifter, Rear Stay & Front Stay Bushings
AEM Intake
Cobb AP
Cobb Downpipe
Invidia Q300 Catback
Grimmspeed Uppipe EWG with 38mm Tial Wastegate
Grimmspeed Air Oil Seperator
Grimmspeed 3 Port Boost Controller
Injector Dynamics 1000cc Injectors
Walbro 255 Fuel Pump
ProTuned On E85 at 334HP 377TQ[/toggle_item]
[toggle_item title="Exterior" active="false"]Lamin-x Tail Light Over Lays
Lamin-x Fog Light Over Lays
R205 JDM Side Badges
Blacktop Aero Carbon Lip Kit
Blacktop Aero Rear Carbon Diffuser
Carbon Fiber Rear Hatch Trim
ChargeSpeed Carbon Front Bumper Vents
Grimmspeed License Pate Kit
Hella Super Tone Horns
2 Color LED Turn Signal Kit
LED License Plate Lights
Tinted Windows 15% all around with 35% Windshield.
Red Pinstriped Grill[/toggle_item]
[toggle_item title="Interior" active="false"]Coachworks Shift Boot
Coachworks E Brake Boot
Prosports Boost, Oil Pressure & Oil Temp gauges
ATI Gauge Cluster
Clarion Touch Screen DVD
1 12in Memphis M Class Sub
Kicker 400.1 Amp
Custom Box and Install[/toggle_item][toggle_item title="Wheels/Brakes/Suspension" active="true"]BC BN Series Coilovers
Cusco Rear Control Arms
Work XD9's 18×10 +18 in White
Falken 512 tires (225/40/18)
Ray Red Extended Lug Nuts[/toggle_item]
[/toggle_box]