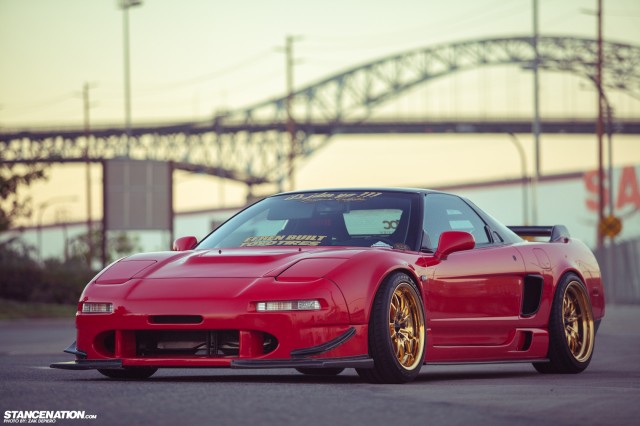 Everything begins as a concept, as a vision. Often times, that dream is never realized. There are plenty of astounding ideas that unfortunately never make it past existence as a simple notion. It is the execution of these concepts that fulfills the intrinsic greatness of the concepts themselves. Singers, actors, athletes — all must take the plunge and push themselves in order to succeed. An artist can see and feel beauty before it is created, however that beauty must materialize before it can be appreciated and their talent must hold true through the entirety of the design process.
Photos By: Zak DePiero exclusively for StanceNation.com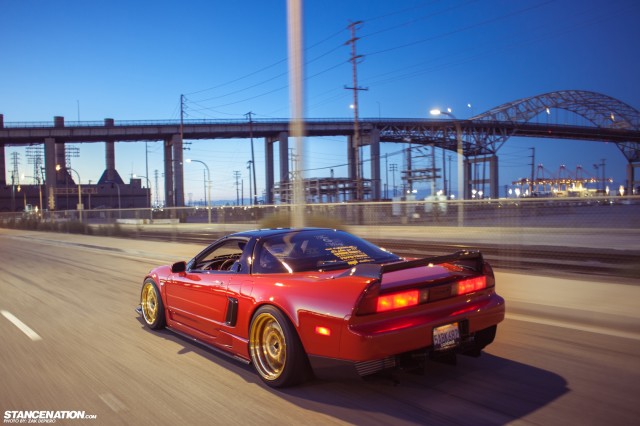 A comprehensive automotive build of any sort is a daunting task. Time-constraints, locating parts, the physical labor, not to mention the financial mountain to climb all of these contribute to the difficulty of completing a car. Often, the build process is shortened and cars are thrown together cheaply – not only on the quality of parts utilized but the execution of the build itself. The original vision is lost in translation and the execution is disappointing. They say the road to hell is paved with good intentions, a philosophy that holds truth concerning a variety of builds. Everyone has grandeur plans for their cars; the daring few that remain on that path often produce the most impressive of builds – those that inspire.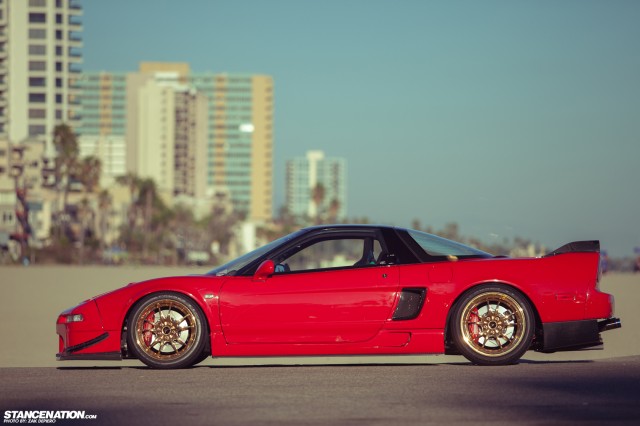 Honda's supercar, sold in North America as the Acura NSX, is not the most common of platforms people choose when they embark on a mission to build an extensively modified Honda. Obviously there are plenty of good reasons they are so rarely seen, price and availability being two major ones. The aluminum-chassis, mid-engined Japanese exotic won the hearts of many sports car enthusiasts – much to the chagrin of Italy's finest horsemen. It brought Maranello's engineers back to the drawing board in order to produce a replacement for the 348 – though Ferrari would not produce an aluminum-chassis Berlinetta until the 360. For Honda loyalists it is paramount on wish lists and remains popular and impressive into the modern era. Michael Mao is a Honda fan, having built 2 Hondas prior he was set on a third Honda product – inevitably choosing this 1992 Formula Red NSX. He set forth to produce a true head-turner and to amplify the super in supercar with his own, unique twist.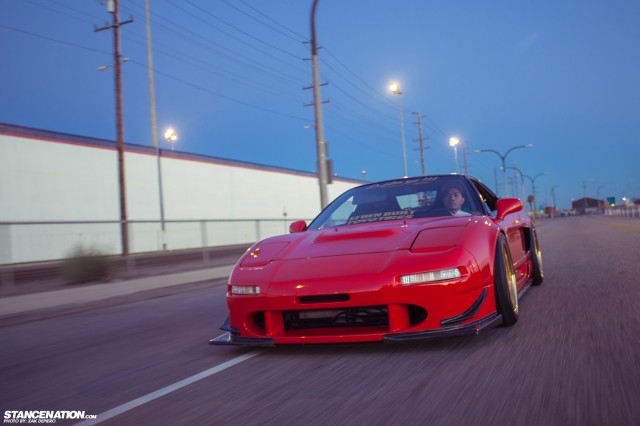 The NSX was impressive when it debuted, however during the latter years of the model run it suffered criticisms of being underpowered. Mike decided to remedy this issue with help from Efren Built and some twins. Obviously, we're not discussing children – the car doesn't even have a backseat. Efren Built fabricated a beautiful twin-turbo setup for the C30A, utilizing Garrett's popular GT2871RS turbochargers. The twin-intercooler setup is spectacularly menacing and the system really exemplifies the merger of function and form. Fuel delivery is handled by Injector Dynamics 1000cc injectors backed by a Walbro GSS341 fuel pump, managed by AEM's EMS system. Recently, an AEM Methanol system has been added to the equation. A twin-disc clutch from OS Giken replaces the factory unit – which undoubtedly was not prepared for the increased power of the re-imagined DOHC VTEC V6.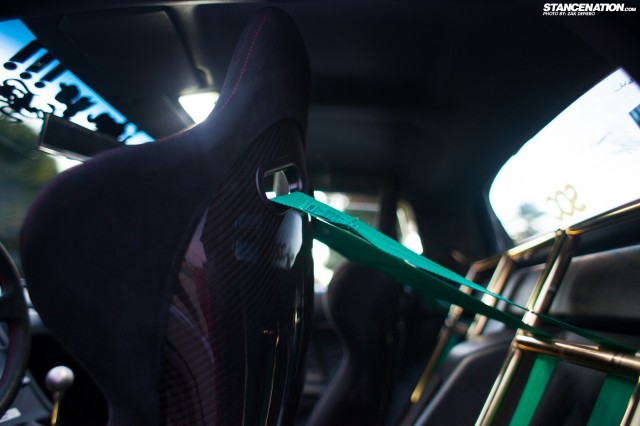 While the NSX's factory suspension is renowned in the sports car world, the extensive modifications continue beneath the vehicle. JRZ coilovers matched with Swift springs provide race-engineered control, with OEM NSX-R swaybars for added roll stiffness. Industry leader StopTech provided the massive front and rear big brake systems and to balance the sheer acceleration the force-fed engine is capable of. As with any 20-year old vehicle, bushings are an obvious wear item – an issue that was resolved with a full master bushing kit from Energy Suspension.
Hopefully, you notice a pattern developing with Mike's NSX; a pattern of high quality custom or high-end components resonates through the entire build. This theme continues within, with seating from Status and belts provided by Takata. A NASA-spec roll-cage envelopes passengers that are lucky enough to find themselves in the car, with audio provided by Alpine. While the vehicle is primarily for street and show purposes, the race theme is present and the continuity of the theme ties the whole build together.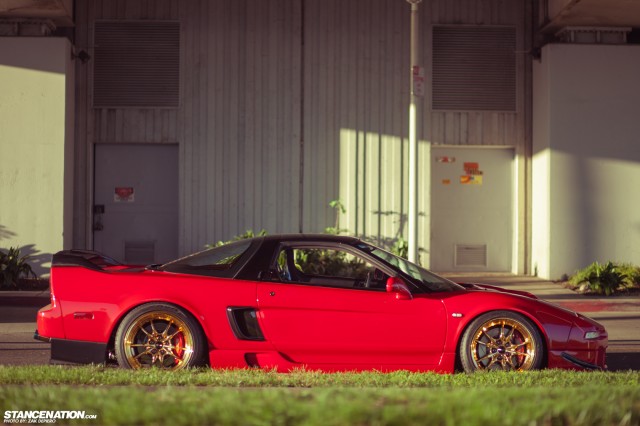 Exotics have common elements that set them apart from average vehicles. There are many characteristics but when it comes to aesthetics they can each be described as low and wide. The NSX has an elegant, yet commanding stance in factory form – but of course these qualities are amplified with Mike's car. A combination of JGTC-inspired aero components from Taitec and Downforce improve aerodynamics and intensify the aggressive nature of the car. Improved OEM components from (or inspired by) Honda's own NSX-R are also present, with the rear wing and deeply vented Seibon hood. Of course, the package is complete – even incorporating the underbody paneling.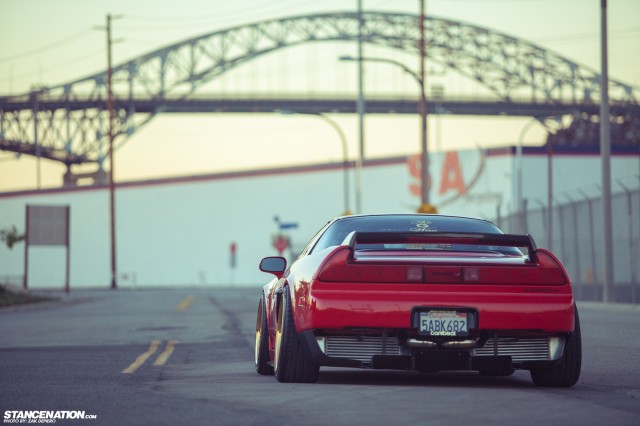 The strong race heritage of the NSX is heavily represented with Michael's car – though the entire package is offset by what many consider to be the most signature component of this controversial build – the wheels. Beautiful to many and blasphemy to others, the custom re-barreled 24-karat gold plated Mugen MF10 wheels became the center piece of many a conversation (or argument) after the car's debut. Wheelflip of Santa Fe did an excellent job creating the only (that I am aware of) set of 17×9"/18×10" Mugen MF10s ever. Originally, they were mirror face Mugen MF10s – already coveted wheels within the Honda community. However, Mike was on a mission. A mission to stand out and to defy convention, and he did just that with some serious cojones and a dose of precious metal. The custom wheels fit well against the body of the car – with mildly stretched 235/40/17 and 245/40/18 Toyo T1-R tires providing an aggressive stance to match the overall attitude of the NSX.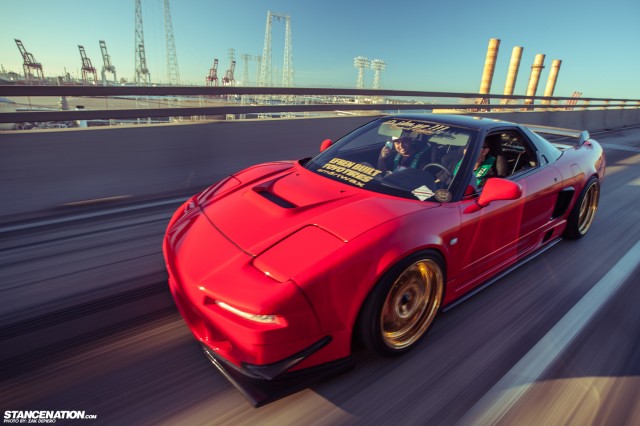 So there you have it. Mike's dream. Having compiled a healthy collection of trophies and features his vision is most definitely reality. While the car has plenty of dissenters Mike remains a fan of his creation because it's just that — his dream. Regardless of differing opinions, the quality of the build is remarkable and inspirational. He has a few more finishing touches up his sleeve and you can be sure that it will be done right, from extraordinary concept to staggeringly superb execution and it will only be done one way – Mike's way.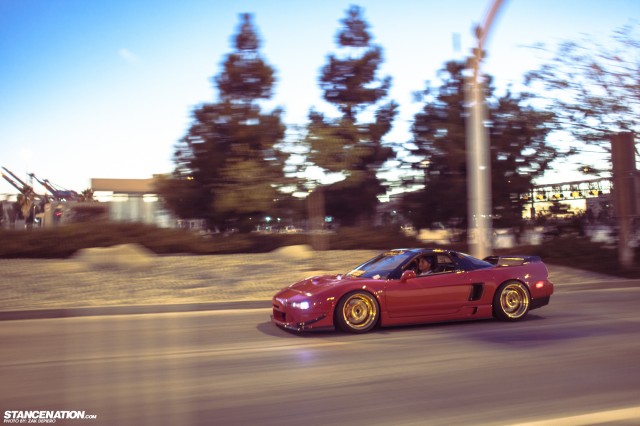 [toggle_box]
[toggle_item title="Wheels/Tires/Suspension" active="true"]Wheels & Tires:
Mugen MF10 Rebarreled & 24KT GOLD 17×9 & 17×10
Toyot Proxes T1 Sport 235/40/17 & 245/40/18
Evasive Motorsports Titanium Lug Nuts
Brakes & Suspension:
Swift JRZ-RS Full Coilover
NSX-R Front & Rear Chassis Bars
StopTech Stainless Steel Brake Lines
Energy Suspension Complete Bushings Set
NSX-R Front & Rear Sway Bars
StopTech Big Brake Kit Front & Rear
ARP Extended Wheel Studs
[/toggle_item]
[toggle_item title="Engine" active="false"]AEM EMS V1 Series 2
NSX-R Engine Torque Damper
Mugen Oil Cap
OS Giken Twin-Disk Clutch Kit
HKS SSQV IV BOV
Dual Tial 38mm Wastegates
Injector Dynamics 1000c Injectors
Walbro GSS341 Fuel Pump
Custom 3″ Downpipe/Exhaust
Aeromotive Fuel Pressure Regulator A1000-6
Dali Racing Carbon Fiber Coil Covers
DownForce Air Intake Scoop
Odyssey Battery
Polished Valve Covers, Charge Pipe, Catch Tank/Overflow Tank
Efren Built Custom Twin Turbo Kit
Dual Garrett Ball Bearing Turbochargers GT2871R
Custom Fabricated Coolant Tank
Custom Fabricated Intercoolers
Custom Fabricated Turbo Manifolds
Custom Fabricated Catch Can[/toggle_item]
[toggle_item title="Interior" active="false"]SOS Carbon Fiber Instrument Cluster Bezel
Vision Limited Edition Steering Wheel
Status Racing Limited Edition Bucket Seats x2
Takata 4pt HArness x2
Taitec Seat Rails x2
DownForce Center Console
NSX-R Shift Boot
NSX-R Shift KNob
Rapid Steering Wheel Hub
Zendaru Floor Mats
NASA Roll Cage/Harness Bar
Mugen Pedals
Mugen "Don't Shft Miss" Badge
Alpine IVA-W203/P1 Double Din Navi/iPod
Alpine 5.5in Component Speakers
[/toggle_item]
[toggle_item title="Exterior" active="false"]
Taitec JGTC 2000 Front Bumper
Taitec Aluminum Underbody Diffuser Tray
Taitec JGTC Front Canards
Taitec GT Carbon Fiber Rear Diffuser
VIS NSX-R Carbon Fiber Hood
Seibon NSX-R Rear Trunk Spoiler
DownForce Stacy's Side Skirts
DownForce Carbon Fiber NSX-R GT Side Scoops
DownForce Carbon Fiber License Plate Bezel
DownForce 10mm Wider Front Fenders
DownForce Carbon Fiber Side Diffuser
DownForce Carbon Fiber Rear Window Garnish[/toggle_item]
[/toggle_box]