As of late, we here at StanceNation have been featuring cars that take the topic of modifications to the next level. From the magnificent fender work on Sada-San's Y32 to the blasphemous/barrier breaking -15 degrees that sit at each corner of Kusunoki's S15. However, with all things aside, we cannot simply overlook the conservative beauty behind this Subaru STI wagon. Extremely well thought out, and flawlessly executed, Kenji Iwahashi does not let us forget about the beauty in modesty.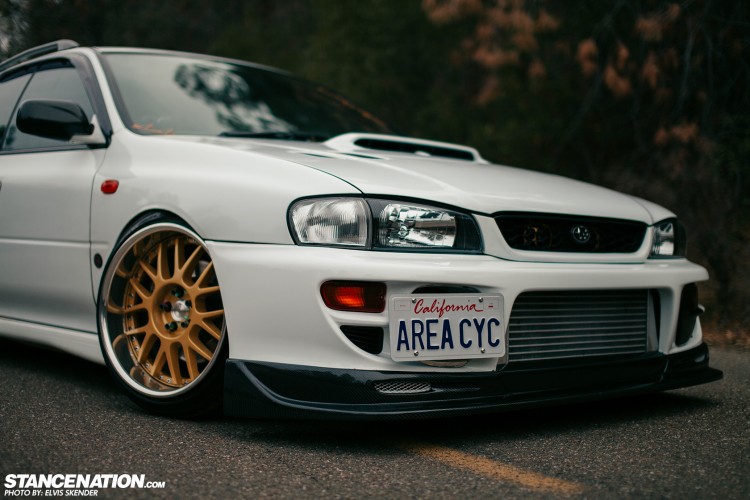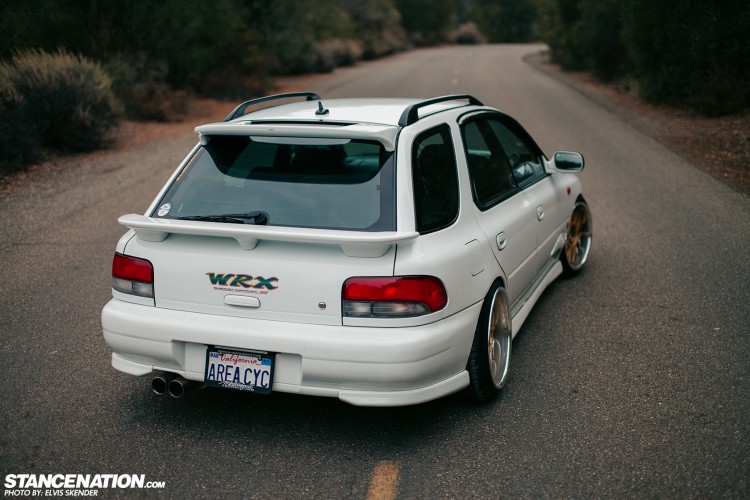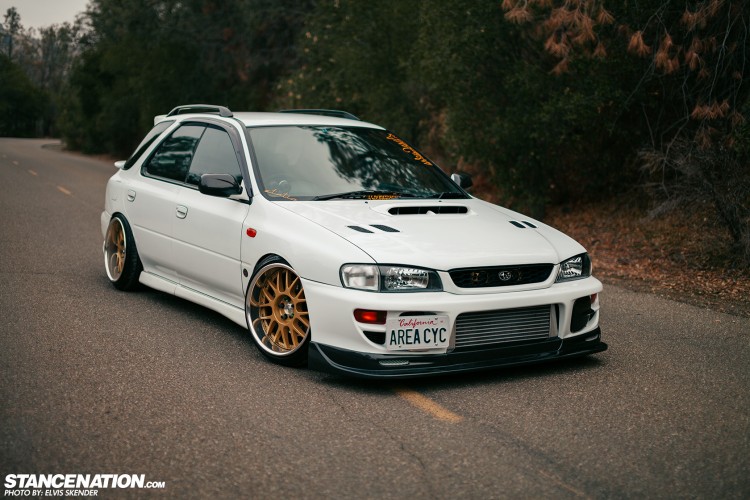 Originally, Iwahashi began his car history with a '93 Subaru when the new bicycle shop he owned required transportation to facilitate product that needed to be moved to and from the store. After a few years, he decided he needed more power and after doing some research, he settled upon a 200o Subaru STI Wagon. This GF8, maintains the sporty aggressive look but with that useful cargo space in the rear that helps Iwahashi shuttle things at, hopefully, an appropriate speed.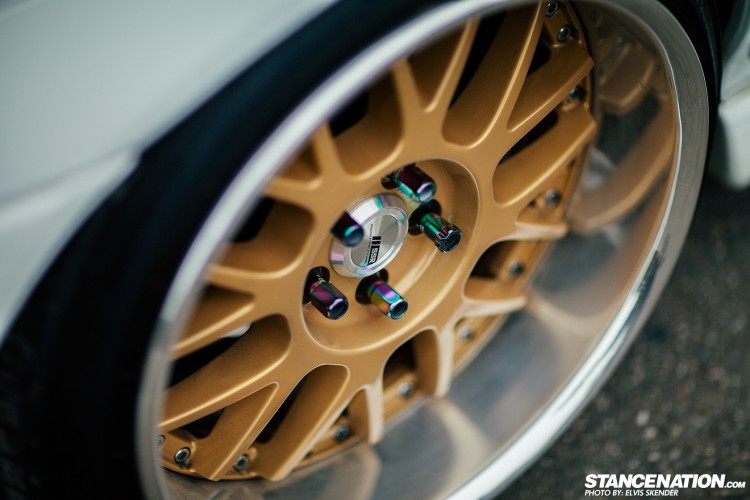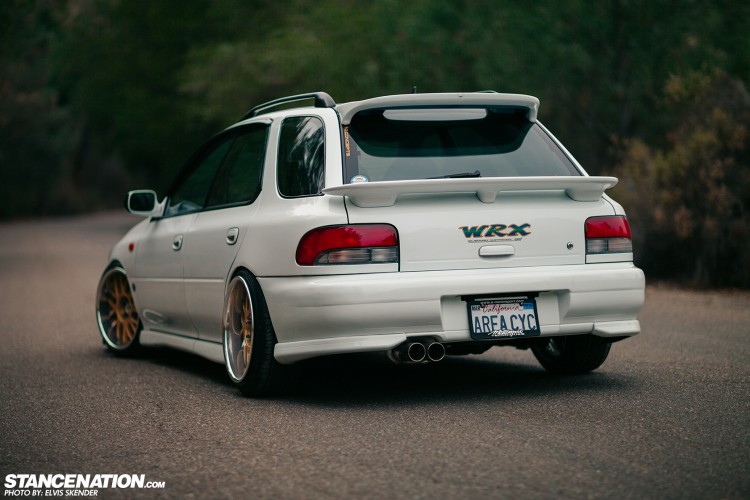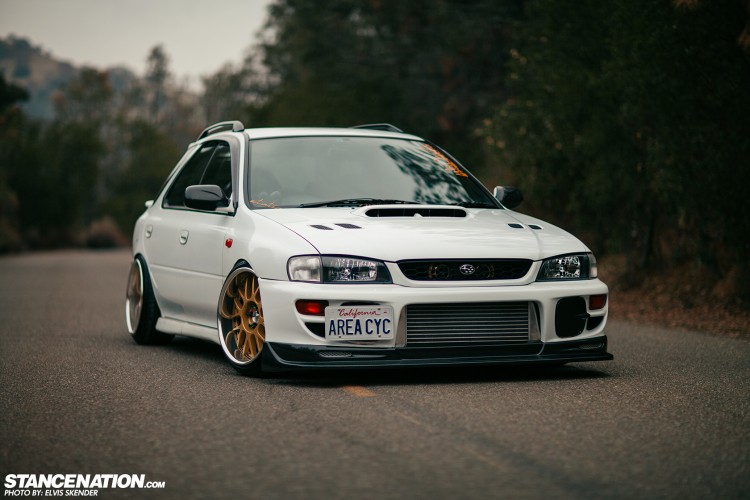 Unfortunately, this build is not one of those with tubbed rears, custom arms, and extensive bodywork to attain its stance. However, even while lacking that, this car still has the ability to shine with its simple modifications. Stance GR Plus coilovers help this car get low, while SSR MS1 with custom powder coated gold centers. Coming in at a 17×9.5 15offset squared set up, they are the principle behind the custom powder coated manifold that sits in the engine bay.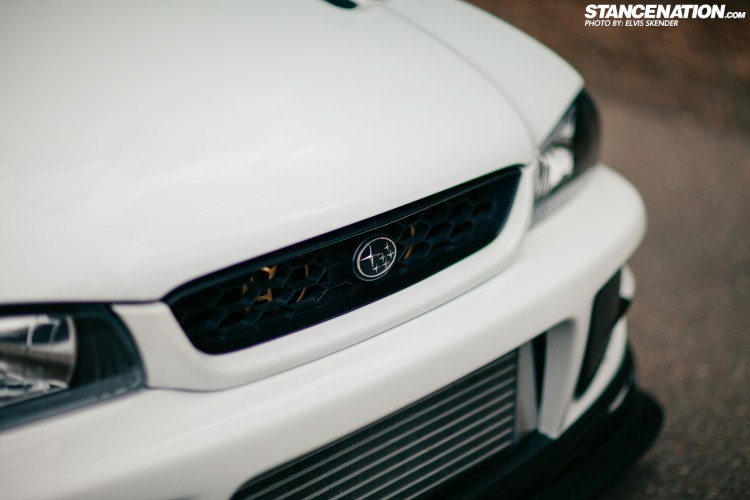 One of my own personal favorite thing is captured solely in this picture. White cars look great with contrast and this car embodies that perfectly. Blacked out headlight housing along with the carbon fiber light coverings, side mirrors, and Seibon Carbon Fiber front lip provide stark contrast in the color scheme of the car. Furthermore, the car is a reasonable height above the ground to at least maintain more than a sliver of functionality that hopefully appeals to a group of our readers who strongly disagree with the whole form over function bit. Photo credit goes to Elvis Skender, whoever that may be.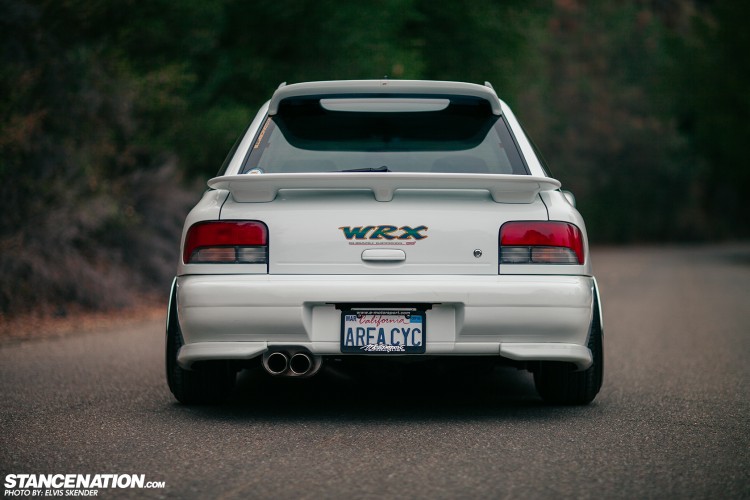 Simple interior modifications grace the inside of the car. A mix between style, pleasure, and business, they add a healthy amount of personalization to this Subaru. Immediately off the bat, I noticed the Nardi Suede Deep Corn steering wheel, and the boost gauge to help keep track of whats happening under the hood in the EJ207 engine that resides underneath. Future plans for this car have always been in the current direction of functionality and simplicity. There aren't any drastic or major modifications in mind except a possible color change, however, speed and simplicity are the main things on Kenji Iwahashi's mind.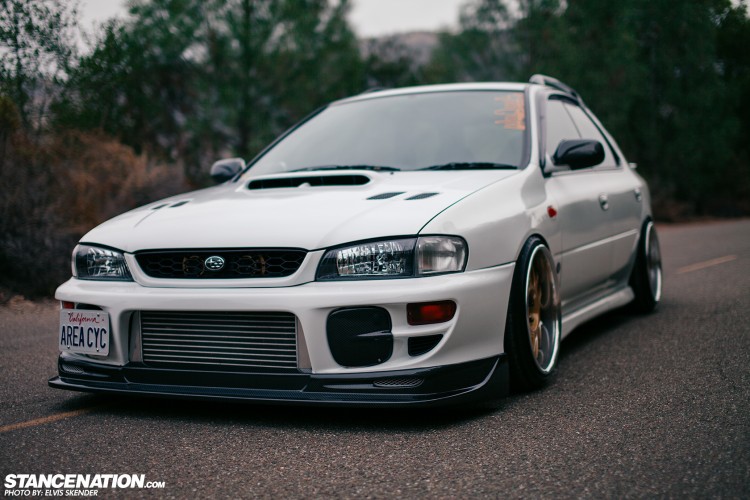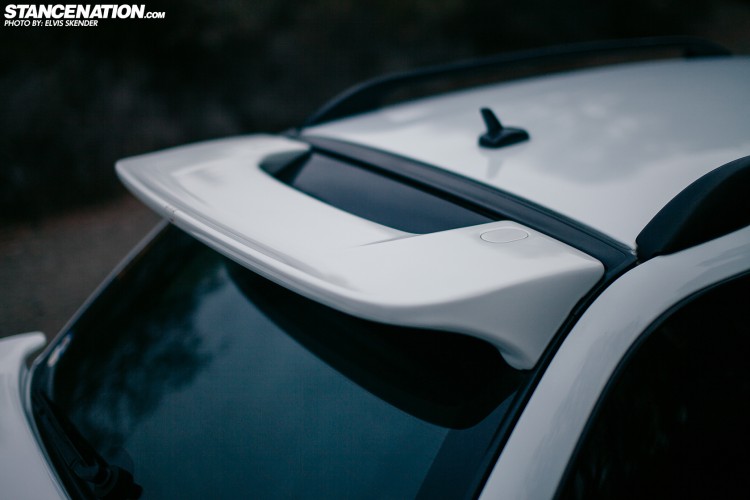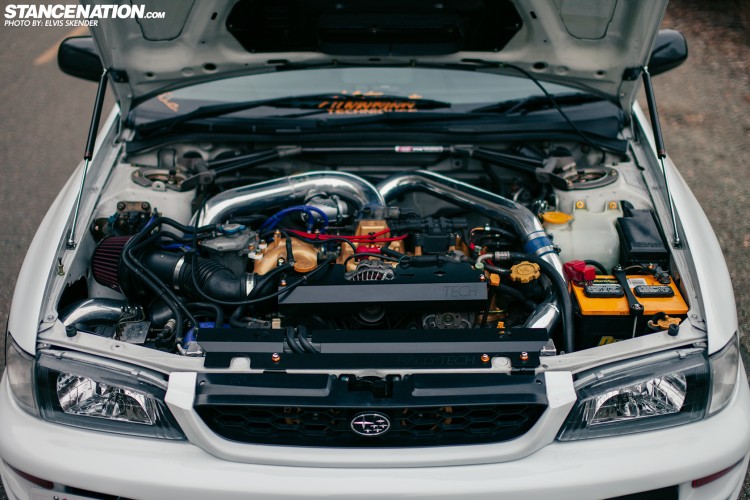 Many builds run into roadblocks and this was not the first. The most challenging thing that needed to be done was sourcing all the JDM goodies and parts necessary to make this happen. However, Kenji would like to take this moment to thank Norm from N1 Concepts in Hayward for making this possible. Stay tuned, StanceNation, Kenji says he has a plan to build another RHD car for the future. If this is his work car, I can only begin to imagine what he may build for pleasure.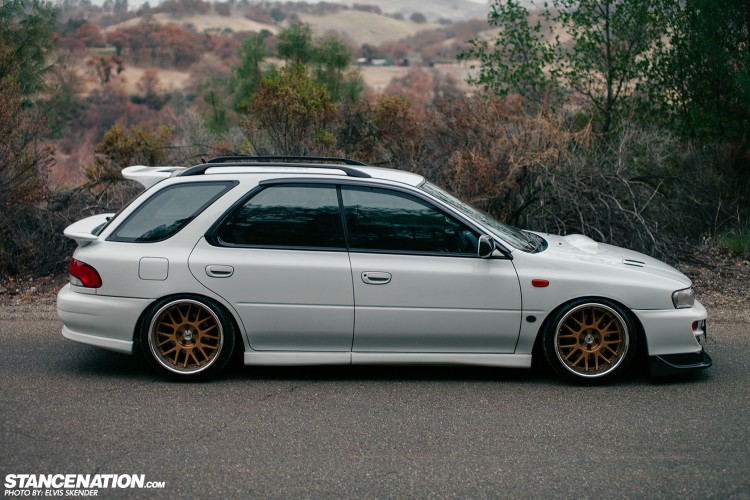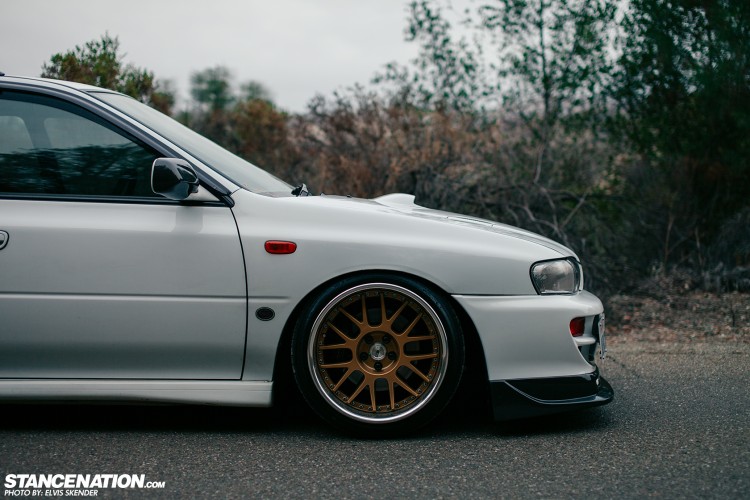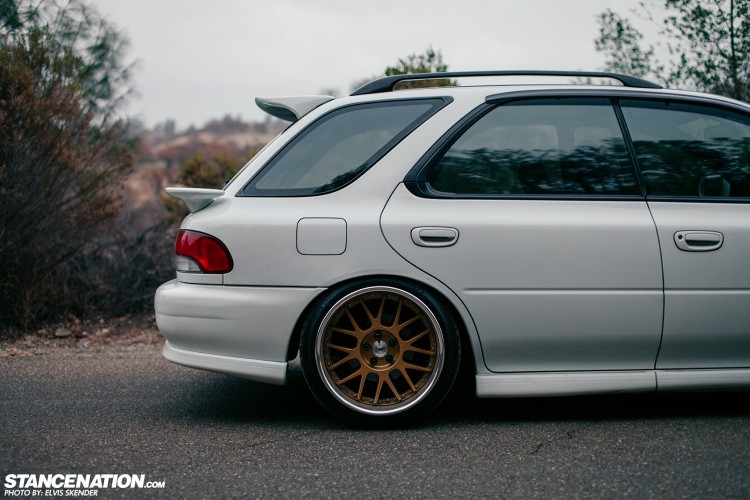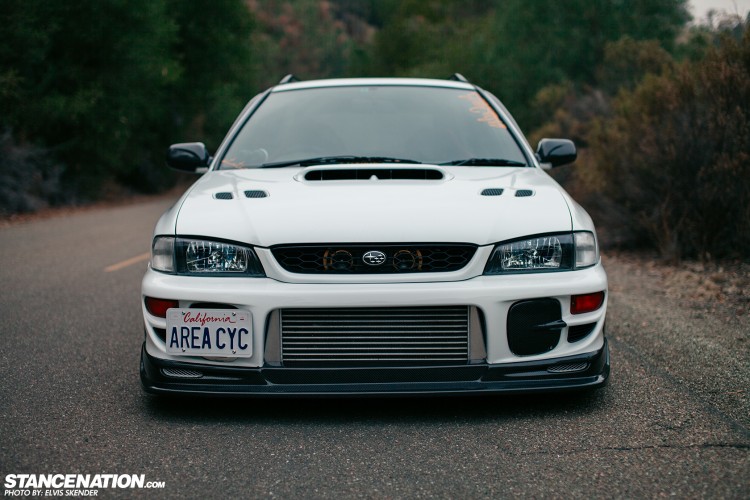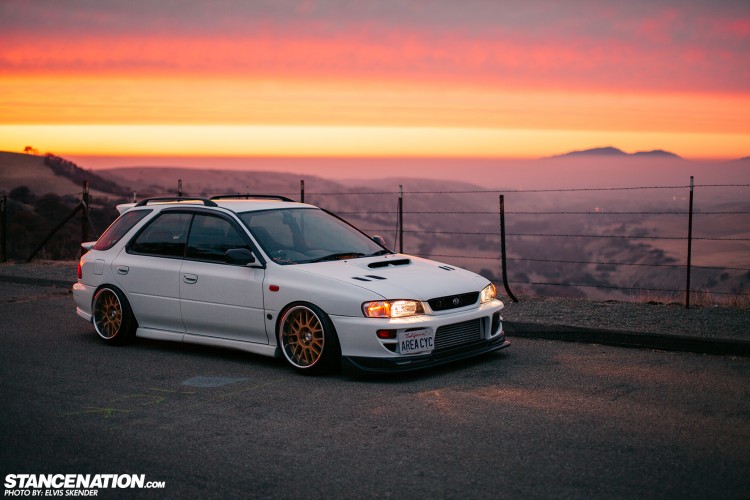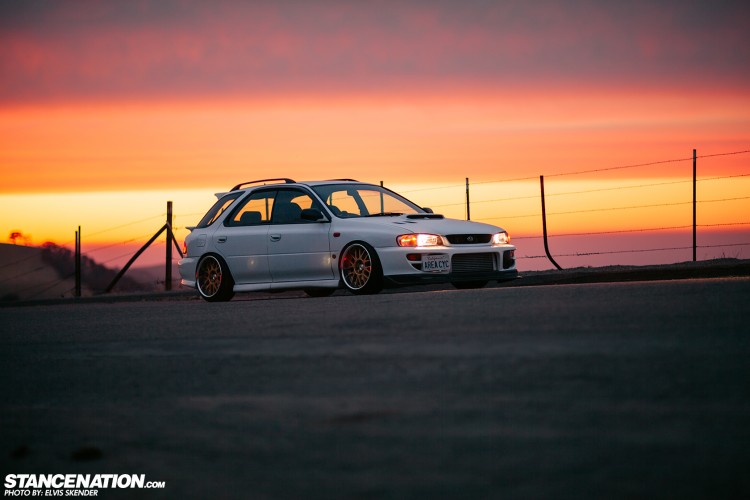 Wheels/Tires/Suspension:
SSR MS1 17×9.5 15offset polished barrel front to back. Custom powder coated gold centers
stance gr plus coilovers
sti brakes
Exterior:
Seibon carbon cwest style front lip
Carbon for light cover
Carbon side mirror covers
jdm rain visors
black housing headlight
Interior:
sti seats
nardi suede deep corn wheel
greddy boost gauge
Defi water temp
sti rear wings
lathe werks gold to shift knob
Engine:
blitz boost controller
blitz front mount
stromung cat back
ej207 engine
powder coated manifold to match wheels
hks bov
exedy single hyper plate clutch