There are those cars where you run across a photo of it online and it just makes you stop whatever you're doing.  You look, you stare, you right-click and save-as, and you search for more.  Who owns it?  Where is it from? I JUST WANT TO SEE MORE!!!  Ryo Teramoto-san's Toyota Chaser is one of those cars for me.  When I saw pictures of it, I couldn't press the 'Like' button hard enough.  I just looked, and admired, and pretty much hoarded whatever pictures I could find of it on the net, but the owner and details of the car had eluded me…until now at least.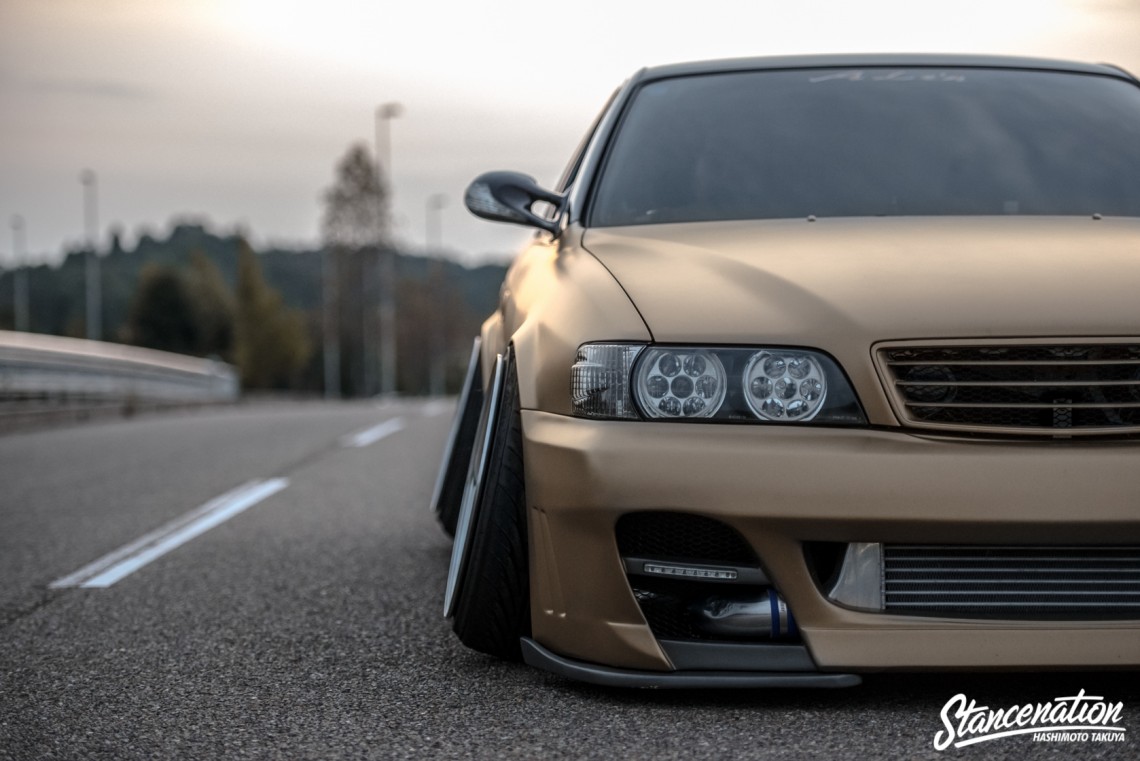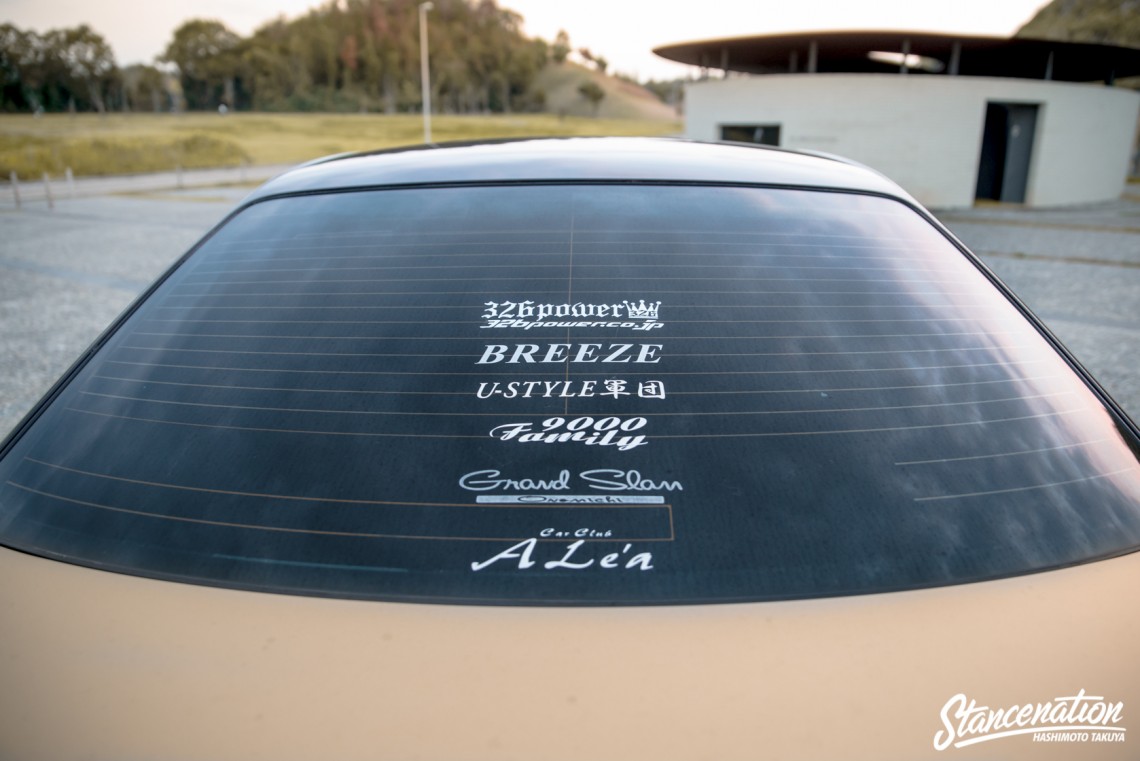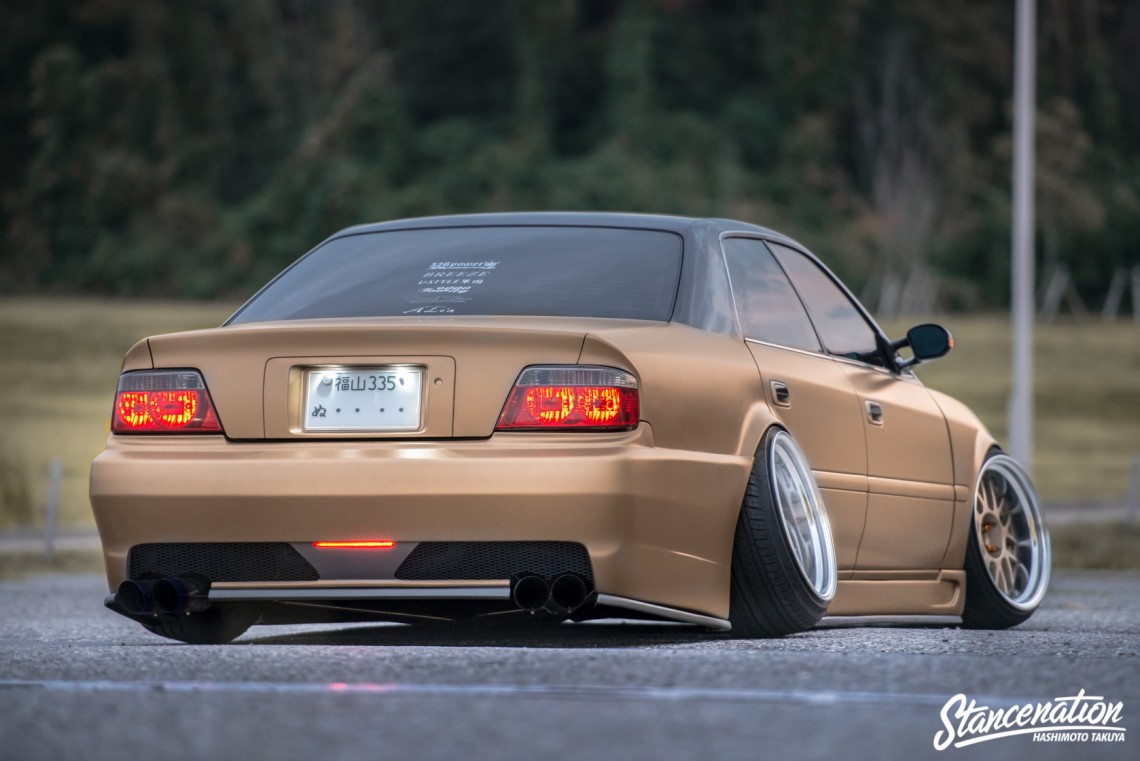 I do get surprises here at S:N.  The big-bossman that runs the show knows what I like, and so the usual messages began.  'Hey, I've got this feature you might be interested in, check it out,' followed by a picture.  When the gold, JZX100 Chaser Tourer V popped up, my heart skipped a beat, I got butterflies in my chest, and I may have pooped a little…okay, just kidding, but in reality I was pretty darn excited, and the photos our photographer, Takuya-san bagged are just outstanding.  This car just does so much for me, and the fit and finish is everything we expect coming from Japan.  From its mind-boggling stance to the custom body work, Teramoto-san's Chaser shows us why Japan is at the top of the VIP-Style ladder.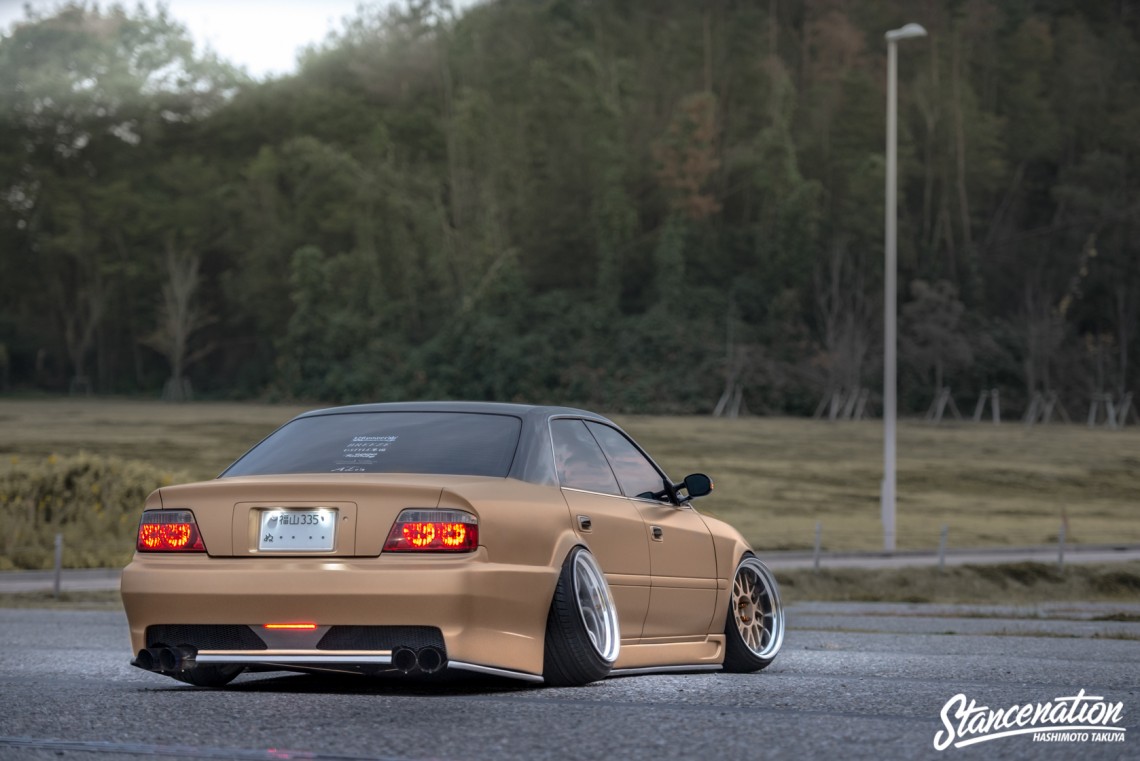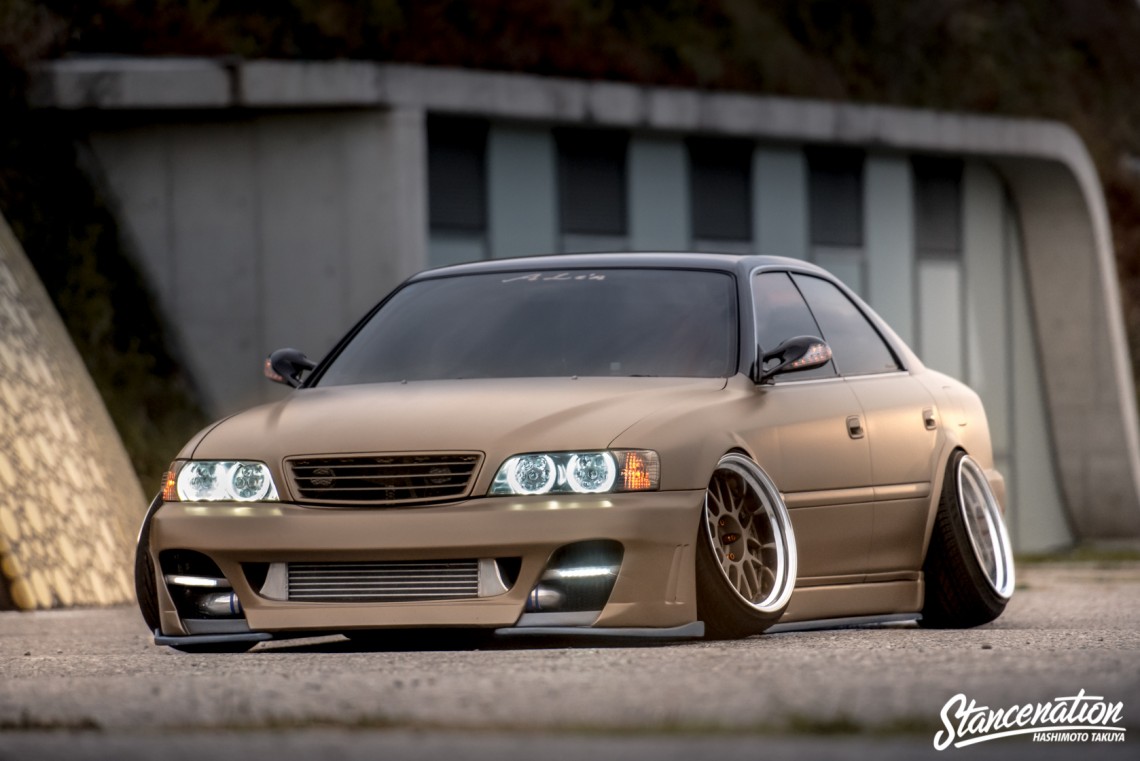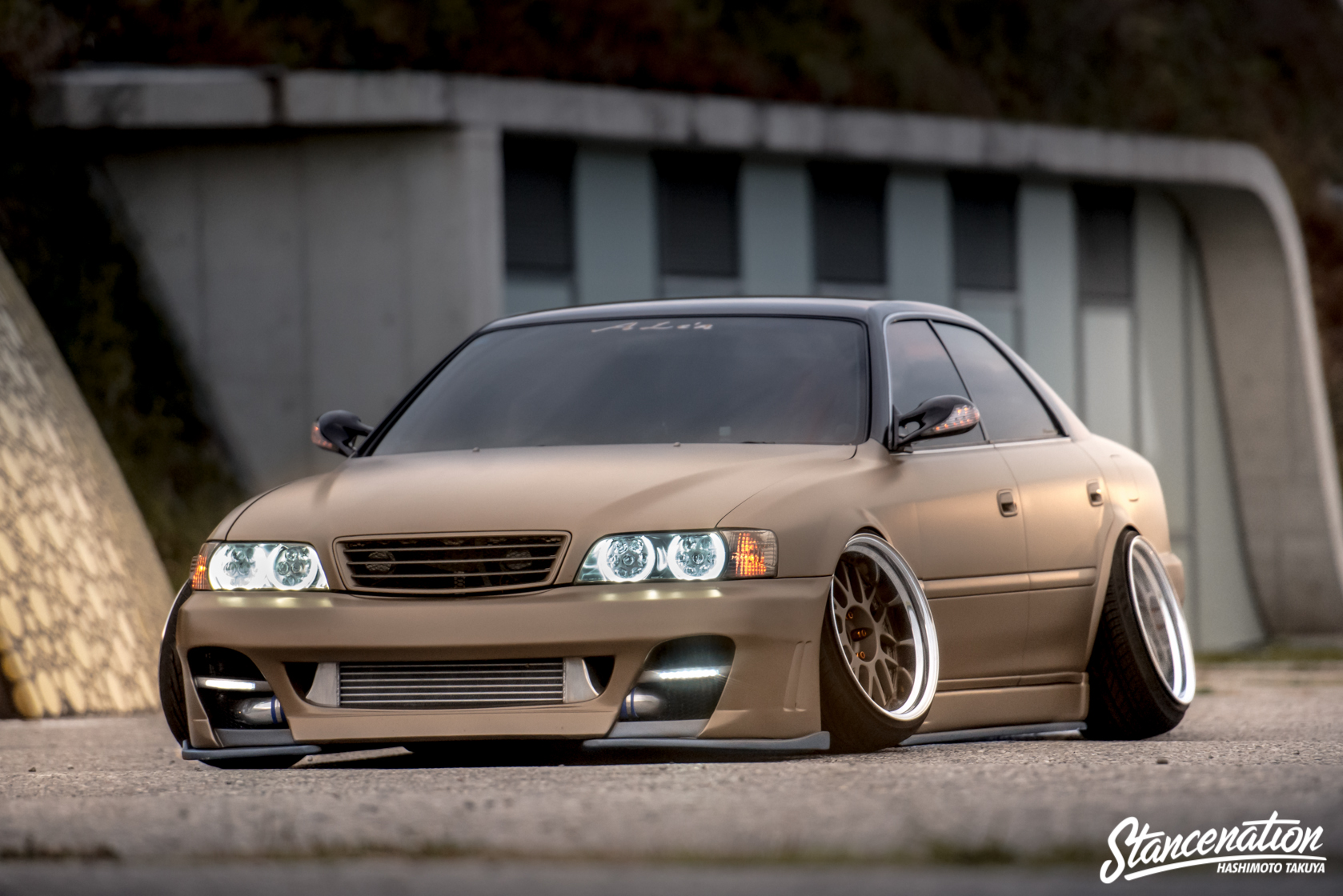 It's hard to look away from this car, and its stance is certainly what draws you in.  The Chaser is already a pretty aggressive looking sedan, so when you see one hammered to the ground with some healthy negative camber like this one, it's really hard to ignore.  The fitment is millimeter perfect, and the SSR MS1 wheels are an excellent match for the car's overall style.  It should come as no surprise that this JZX100 sits all natural, a quartet of 326Power coilovers sitting at each corner make sure the car is planted to the ground.  To keep the tires from hitting the fenders, the spring-rates have been upped considerably to 60-kilograms at each corner.  Yup, that's stiff, but rolling hard has its sacrifices.  To achieve that oni-kyan look, a host of suspension arms were installed.  Up front sees a pair of JIC Magic upper control arms, shortened knuckles, and a pair of 326Power RCA adapters.  In the rear, Ikeya Formula upper arms, and Silk Road lower arms help dial in the camber and keep the toe in check.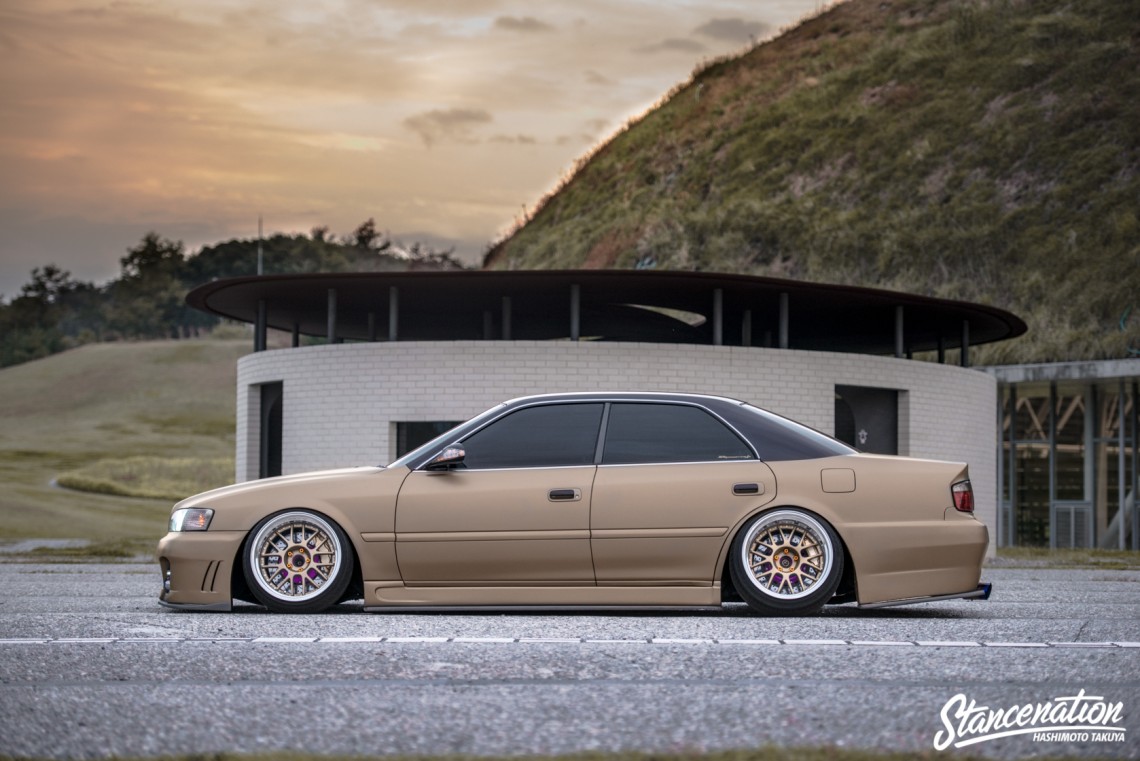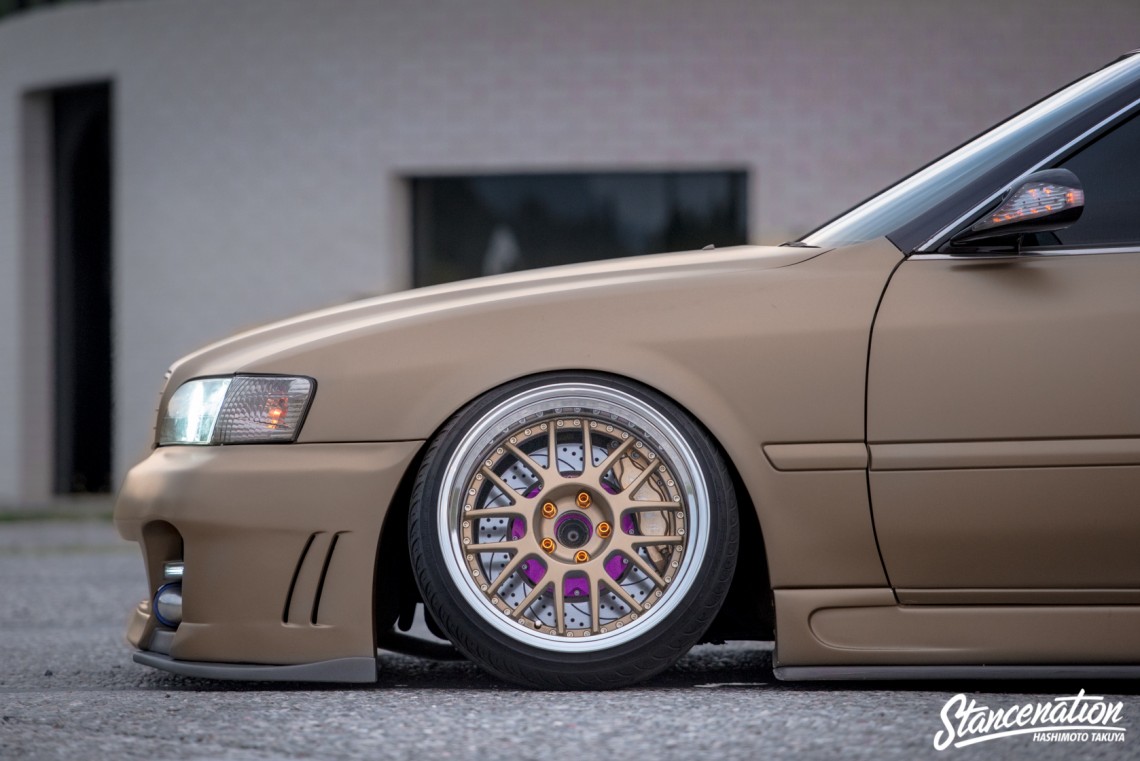 With his Chaser now planted firmly to the pavement, Teramoto-san focused on modifying the exterior.  As with most VIP-style builds in Japan,  it starts with the suspension and wheels, and as you go lower and wider, you realize the body needs modification for things to flow and fit together.  Of course, this JZX100 features plenty of custom touches to go along with the Station aero kit.  The fenders and quarters have been widened and radiused to perfection, looking almost OEM to house the SSR MS1 wheels.  Sized up at 18×10.5 -19 in the front, and 18×11 -39 in the rear, the gold and polished rollers sit nice and snug to the worked over body panels.  Sitting behind the wheels is a beefy, big-brake kit, with 6-pot calipers in the front, and 4-pot calipers in the rear with 356mm discs all around.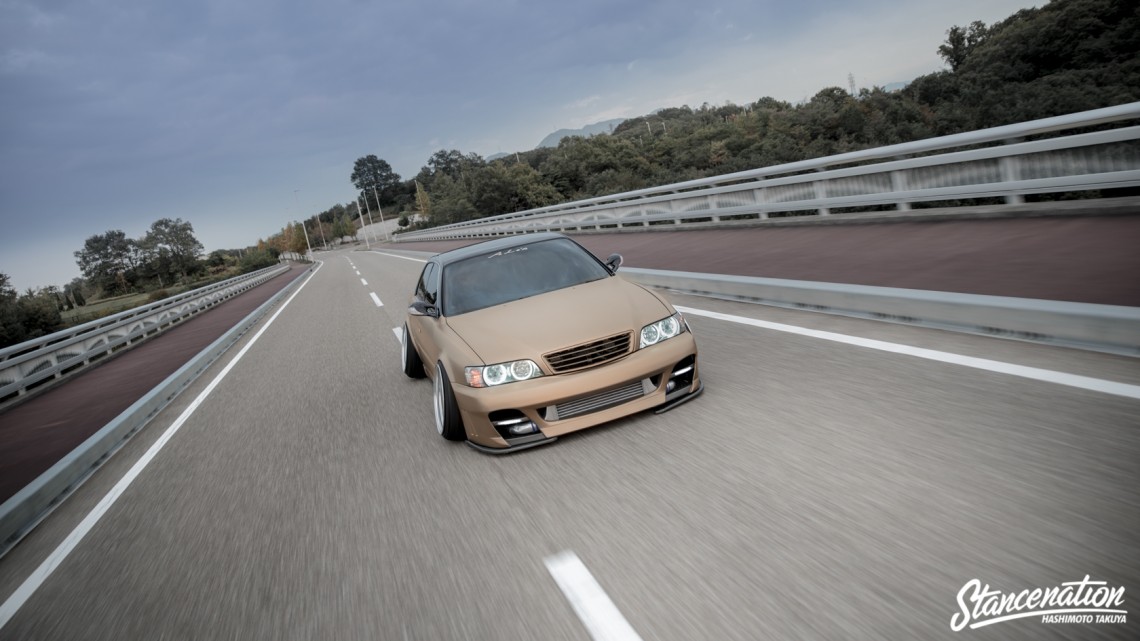 Besides an HKS intake, front-mount intercooler, and a custom exhaust, the twin-turbo JZ engine remains relatively stock.   As with most VIP cars, the under-hood modifications remain rather tame since opening the hood is rather taboo for these cars.  Rather interesting fact that I learned, but the reason you see almost no hoods popped at VIP-car meets is because opening the hood throws off the car's body-lines, and disturbs the overall presence of the vehicle.  Talk about bring the whole feng-shui aspect to car tuning.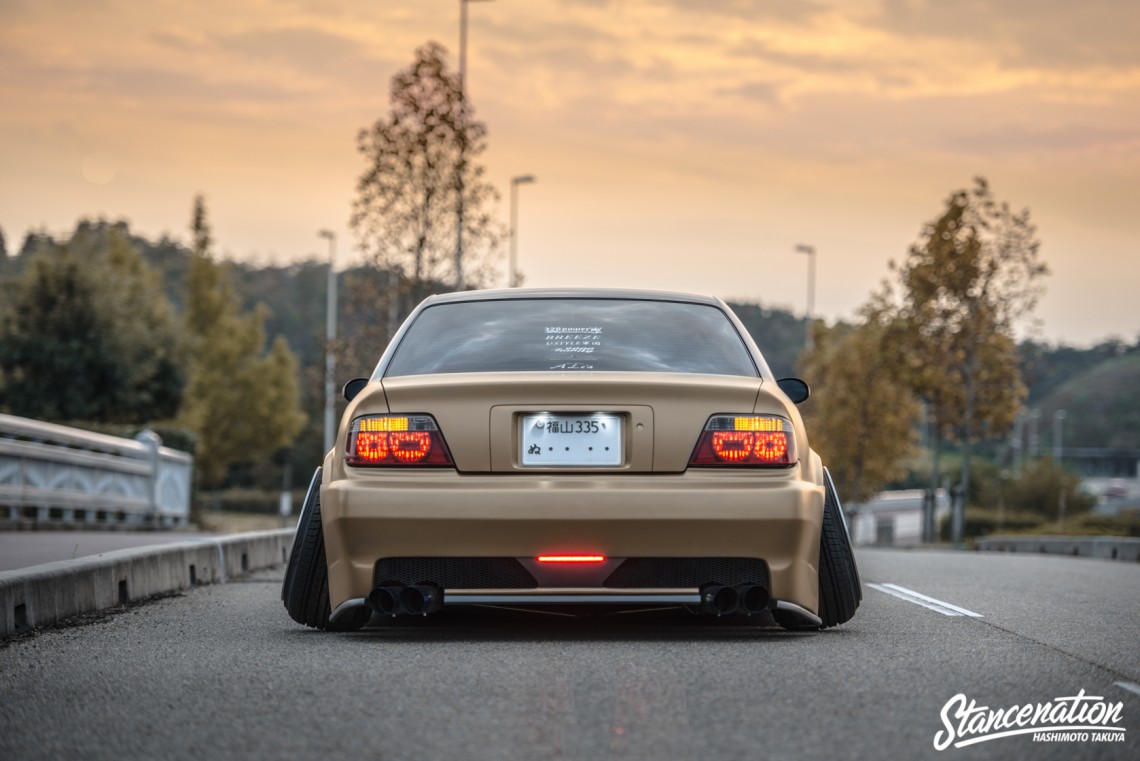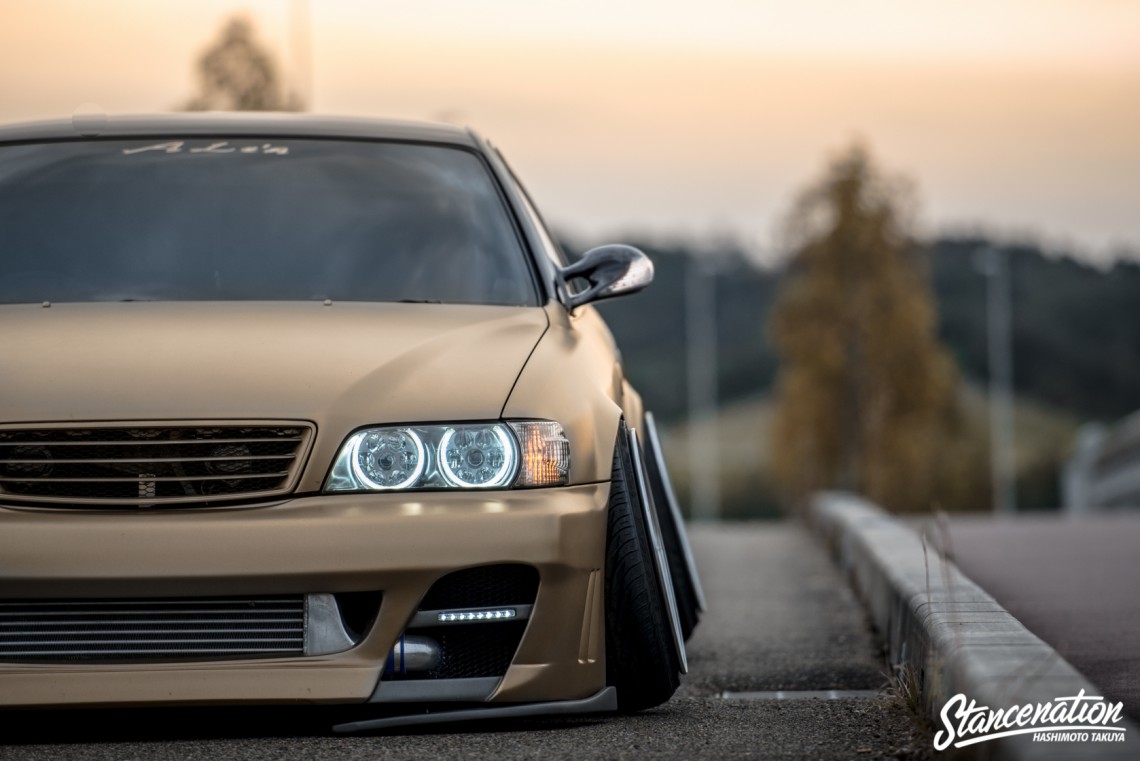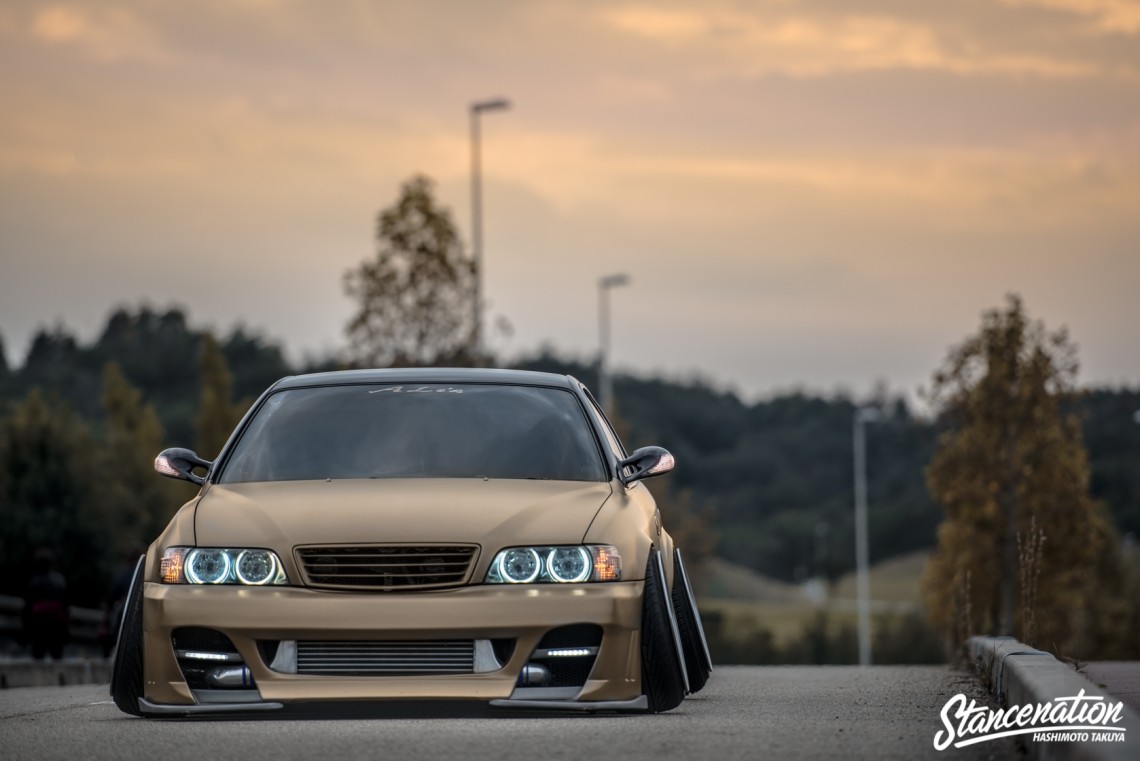 With the car finished off in its now signature gold and black, two-tone paint job, the only thing left for Teramoto-san to do is to enjoy the car, and enjoy it he does.  For him, the results of his labors are that much sweeter.  While we get to enjoy the photos of the car, he gets to enjoy his JZX100 personally, and it's a car that he has dreamed of owning since he was a child.  However, their journey together doesn't stop here, as Teramoto-san plans to continue evolving his Chaser to suit his liking.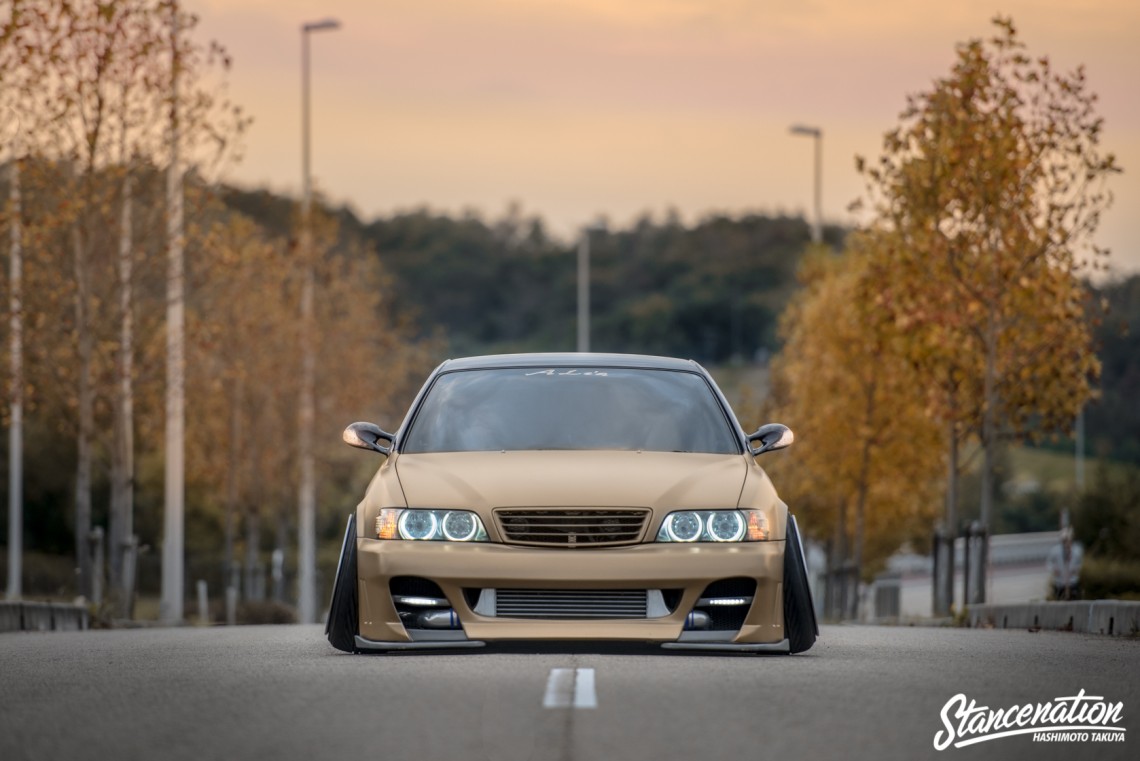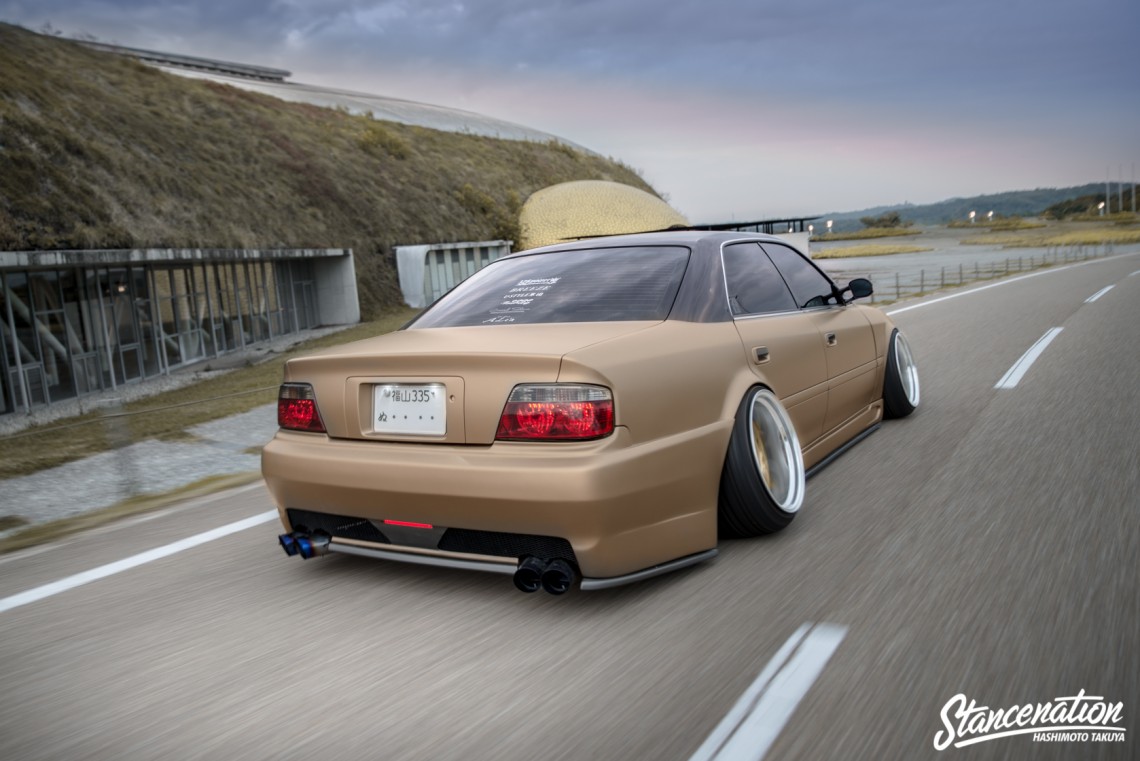 That's what I enjoy most about the Japanese car culture; the drive to always be changing.  Things get boring when they remain stagnant.  Cars get that way too.  If you're always driving your car with the same look, or don't think about changing things up, eventually it'll get boring.  Some people change things up by selling their car after he or she has 'finished' it, and getting a new project.  Other people, like myself, keep changing their cars up every year, whether it's something simple or drastic.  Either way, I've found a common theme with most of the Japanese cars that we feature, and that is that the owners are always wanting to keep changing their cars up.  It keeps their scene moving forward, whether it's VIP, USDM, drift, lowriders, etc.  The Japanese are masters of their craft, and Teramoto-san is a great example of that.  His JZX100 Chaser is one that sticks with you no matter how many others you see.  Creating an impact like that is no easy task, but Teramoto-san makes it look all so easy.  Hope you enjoy looking at this car as much as I do because I can guarantee this won't be the last time you see it.