I guess it's kind of true, big things do come in small packages. It's certainly refreshing seeing someone break from the mold and build something new. Very often nowadays people are choosing to build what's common, you know, the usual suspects; Nissan, Honda, Mitsubishi and/or a Subaru. But then, you have that one person like Justin Saiki who comes along and decides to do something completely different and build a Fiat. That's right, what you see before you is a modified Fiat 500 Abarth!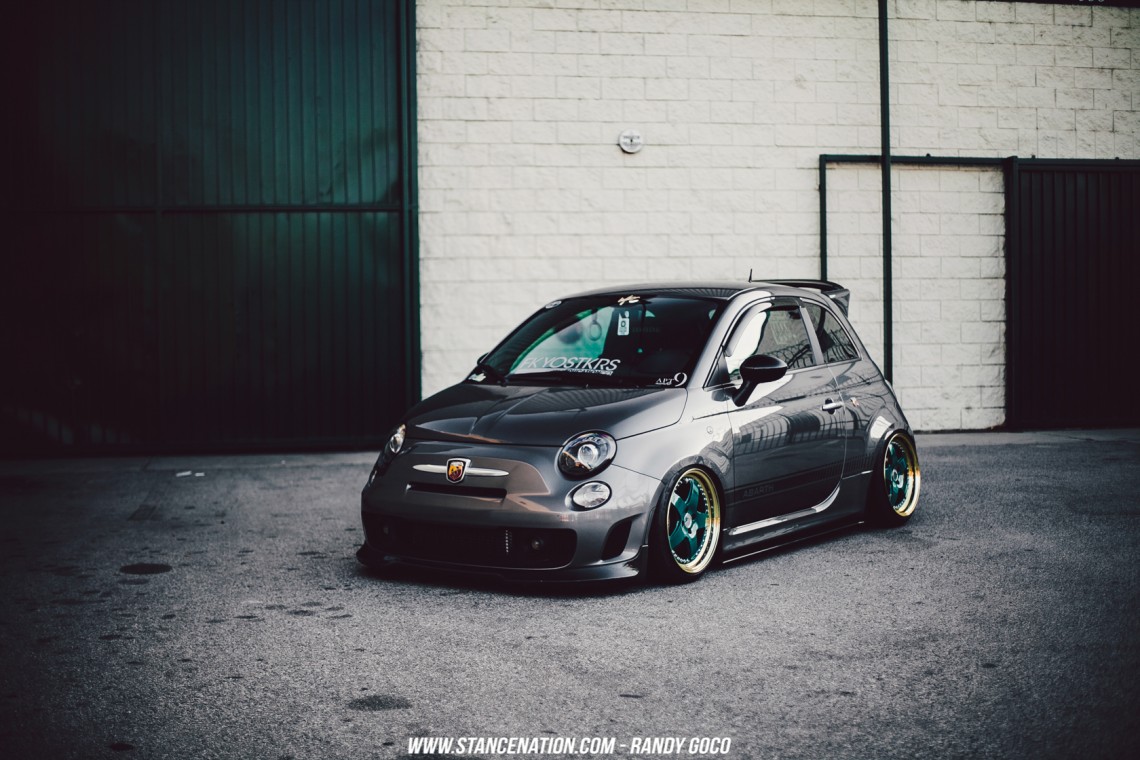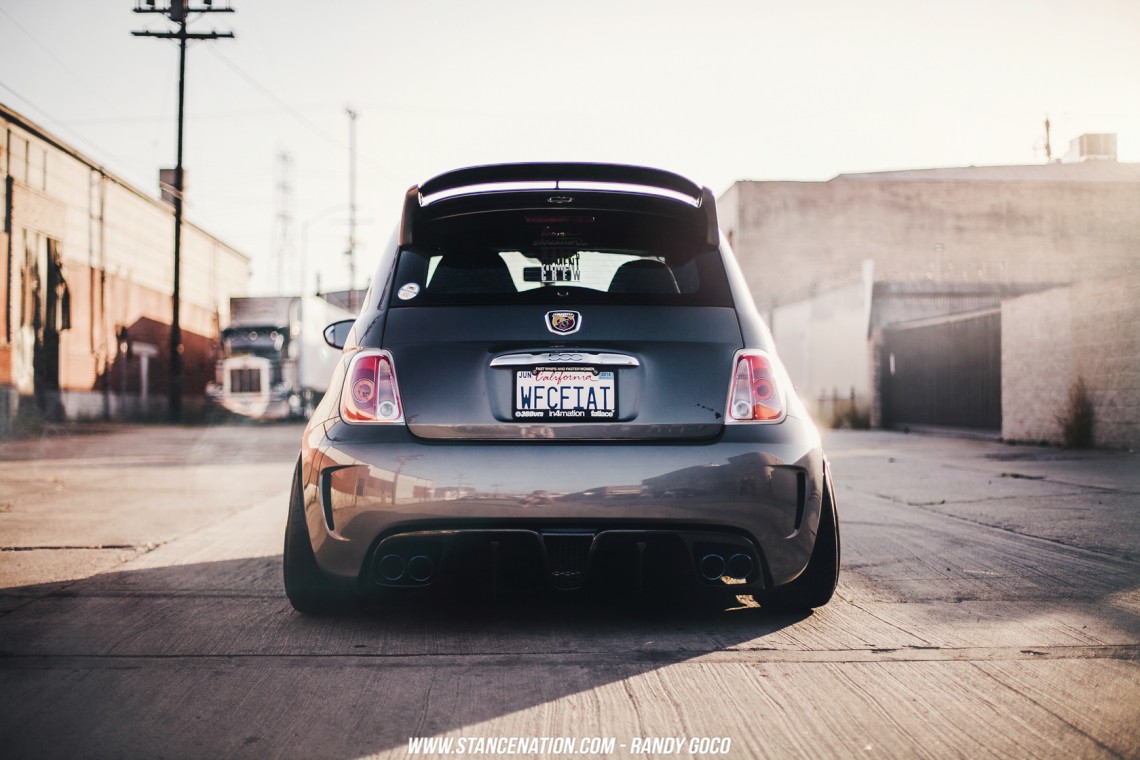 I never thought I would see a Fiat 500 on StanceNation, let alone end up writing about one. To be honest with you the only modified Fiat 500 I've ever seen online (that caught my eye) was in fact Justin's, on the Wrong Fitment Crew (WFC) forums. Justin is no stranger to the car scene, having owned cars like Civic and an STi in the past. That all changed back in 2012 however when he decided to switch things up. Surely he didn't build the car for anyone's approval, but the scene is in need of more innovation, in need of more risk, in need of variety, and that's why I'm glad he chose to go the route he did.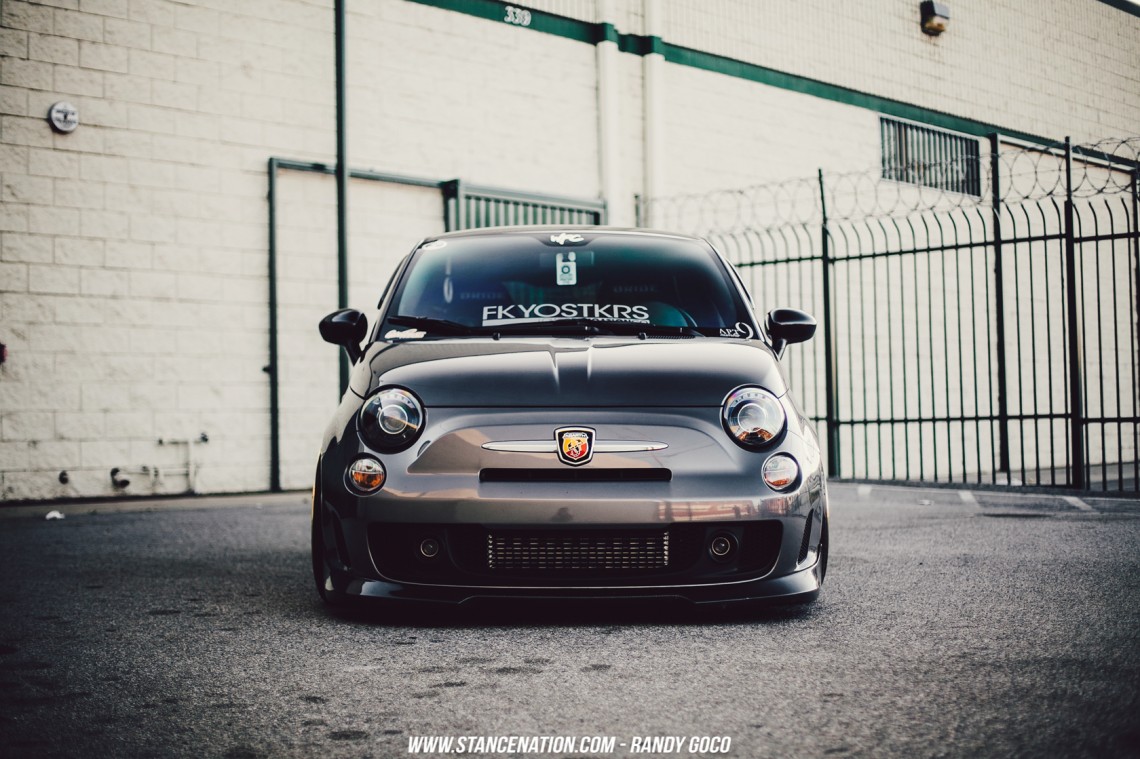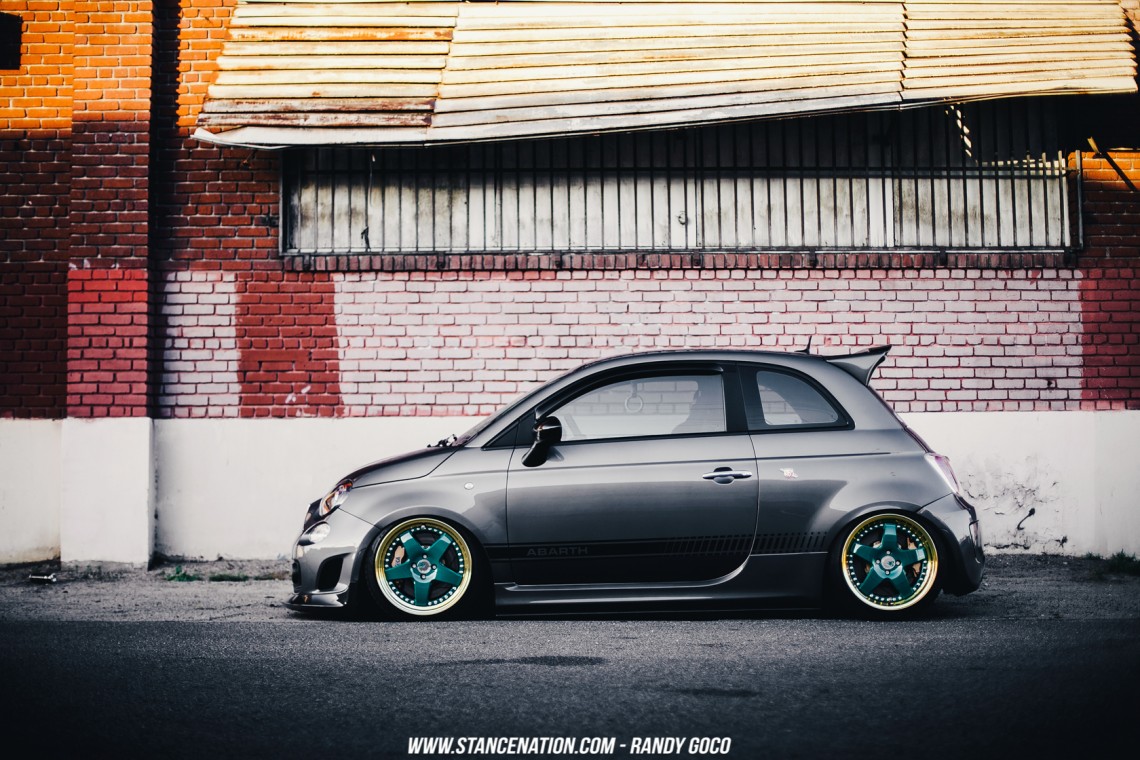 Modifying a Fiat was not an easy task for Justin as there are not many parts made for the US versions, but Justin was able to make due and create magic. The Arqary Carbon Fiber Kit transformed this Fiat's appearance quite a bit, and the The Arqray & FiftyGo 3 piece carbon fiber rear diffuser took the rear end of this thing to a whole new level. Surprisingly the Abarth packs a lot of punch for a car of its size, so the fresh new aggressive bits and pieces fit the car just right! It can especially be seen when compared to the "Plain Jane" looks of the standard Fiat 500. (Click Here)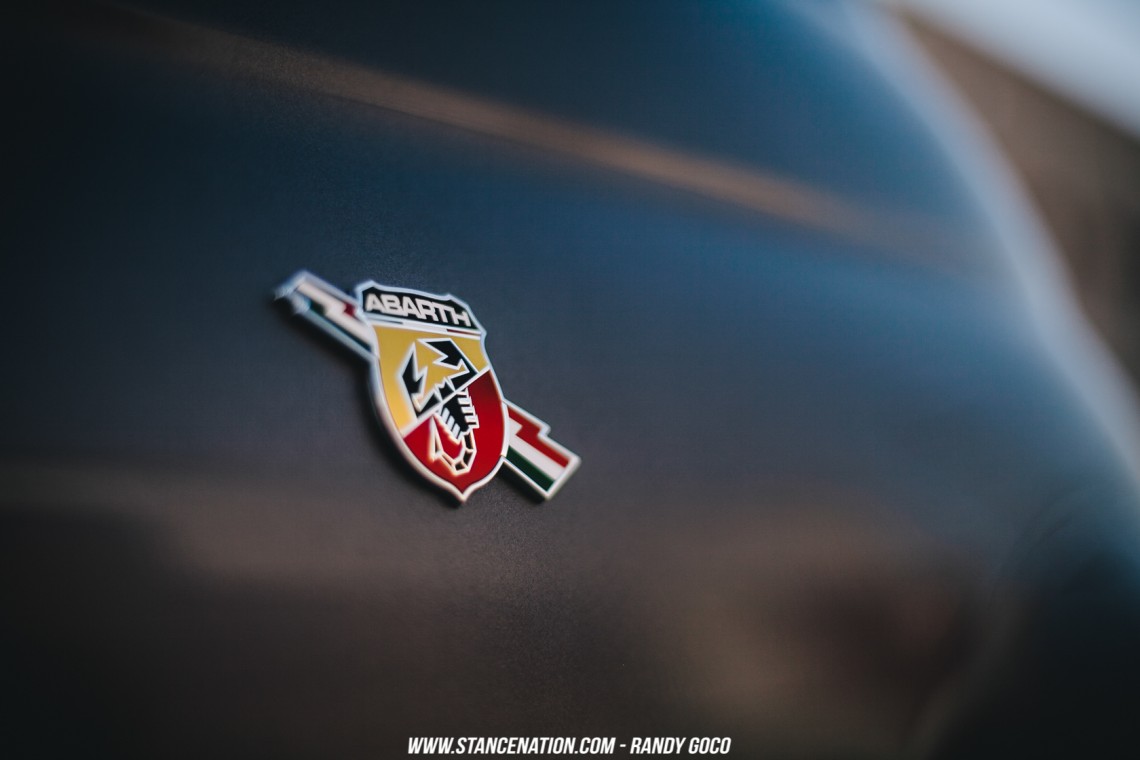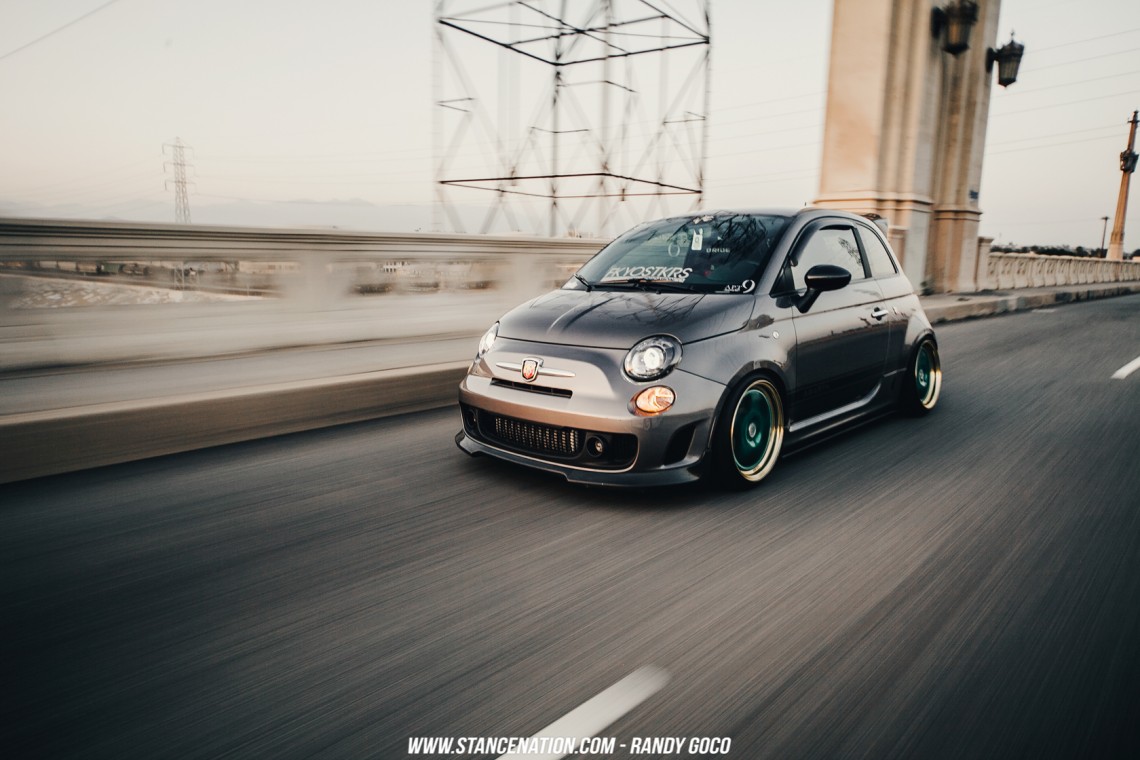 When it came to choosing the right set of shoes Justin chose to run a set of Avant Garde F130 wheels. Avant Garde wheels are making quite a splash in the scene with all the various wheel finishes & designs they offer. I actually run a set of Avant Garde wheels on my E92, so I am a believer. Justin took his shoes to the next level with the custom tri-colorway on the three-piece F130's. He started with a piano black barrel, added gold lips, and finished them off with a pearl green face. They are bold enough to bring attention to the car, but are not loud enough to cause any color clashing. It's Justin's way of doing something a little above average.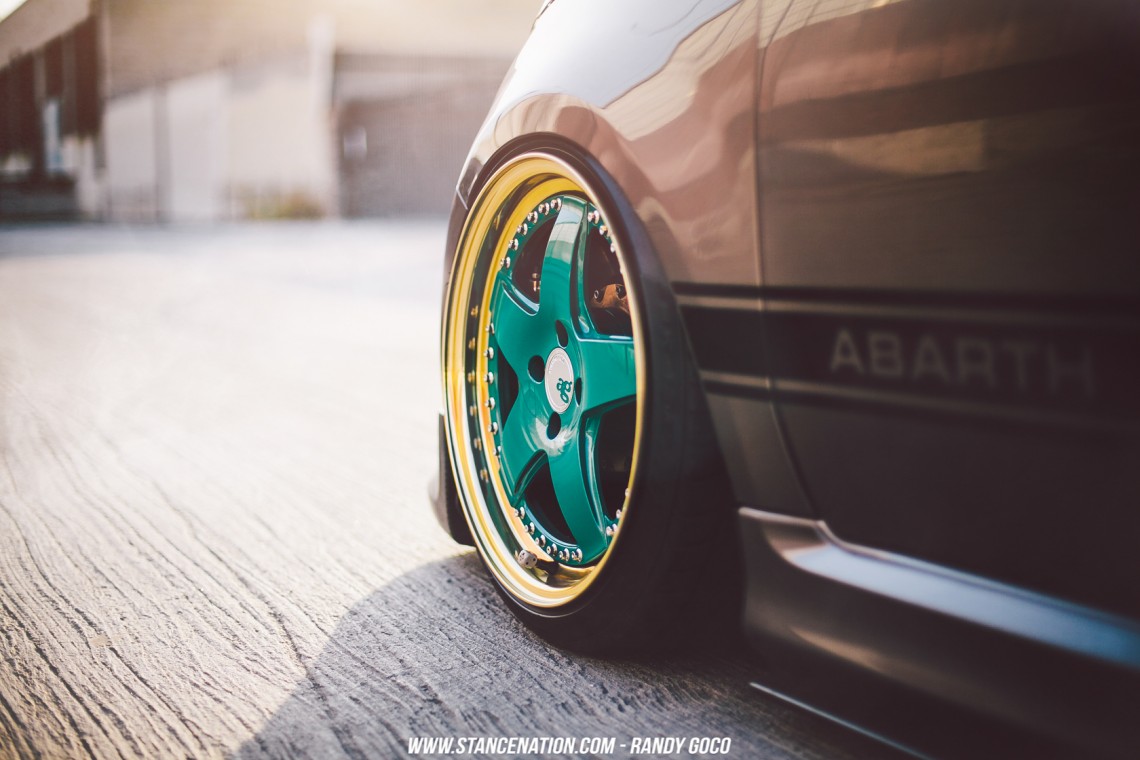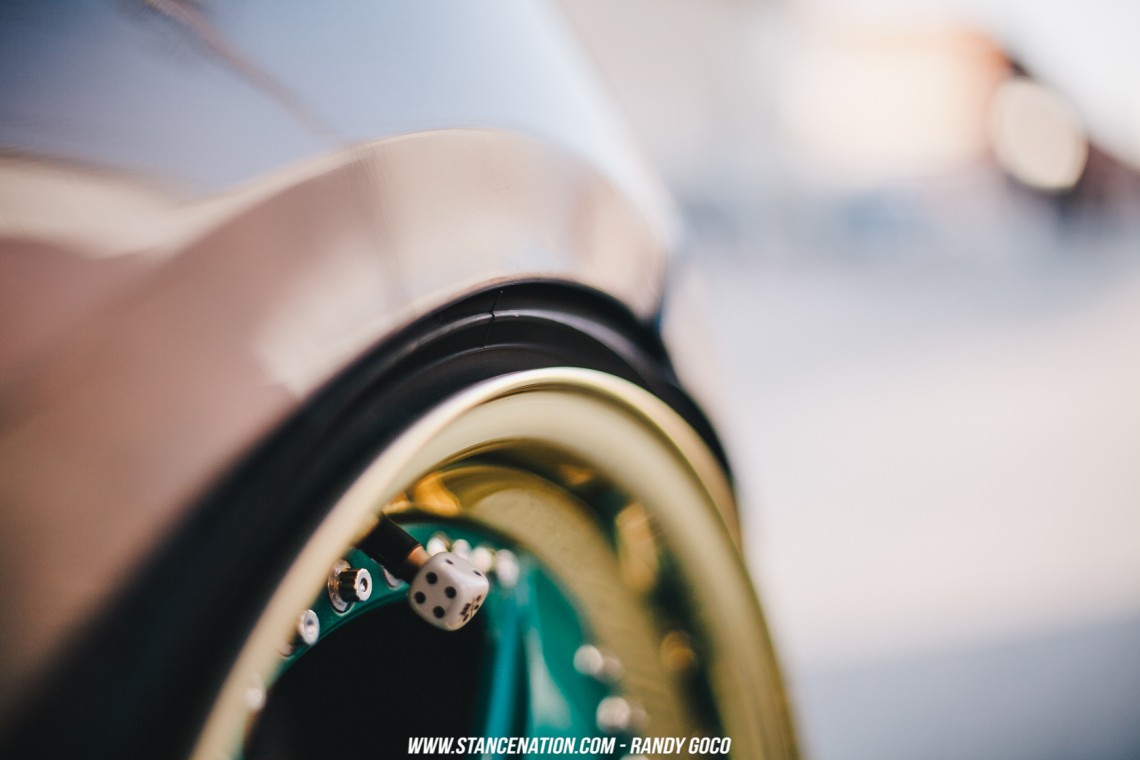 How did Justin dial in his fitment you ask? Air ride of course! Justin's Fiat is sitting on a set of BC Coilover fitted with a UAS Bag system. Bag over coil setups are a very cost-effective way to set a suspension up, especially if you already have a decent set of coilovers. Accuair management w/eLevel allows for Justin to adjust ride height with ease. The Accuair eLevel system is a must have if you are on air.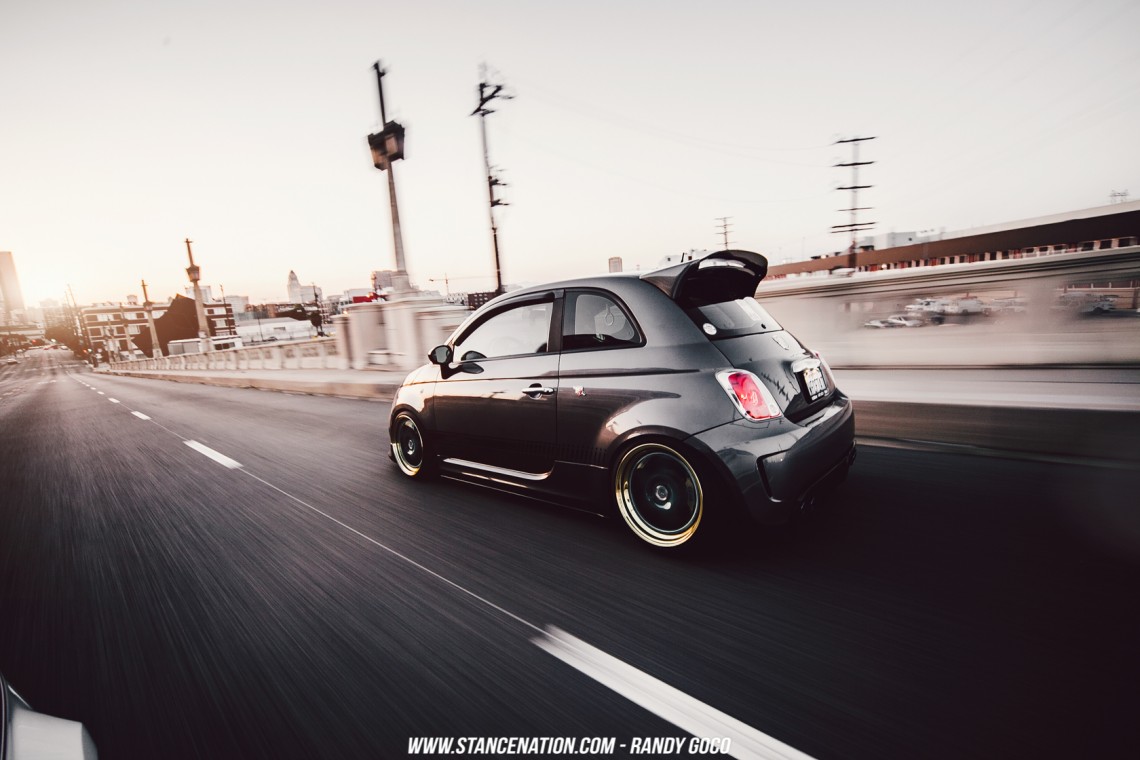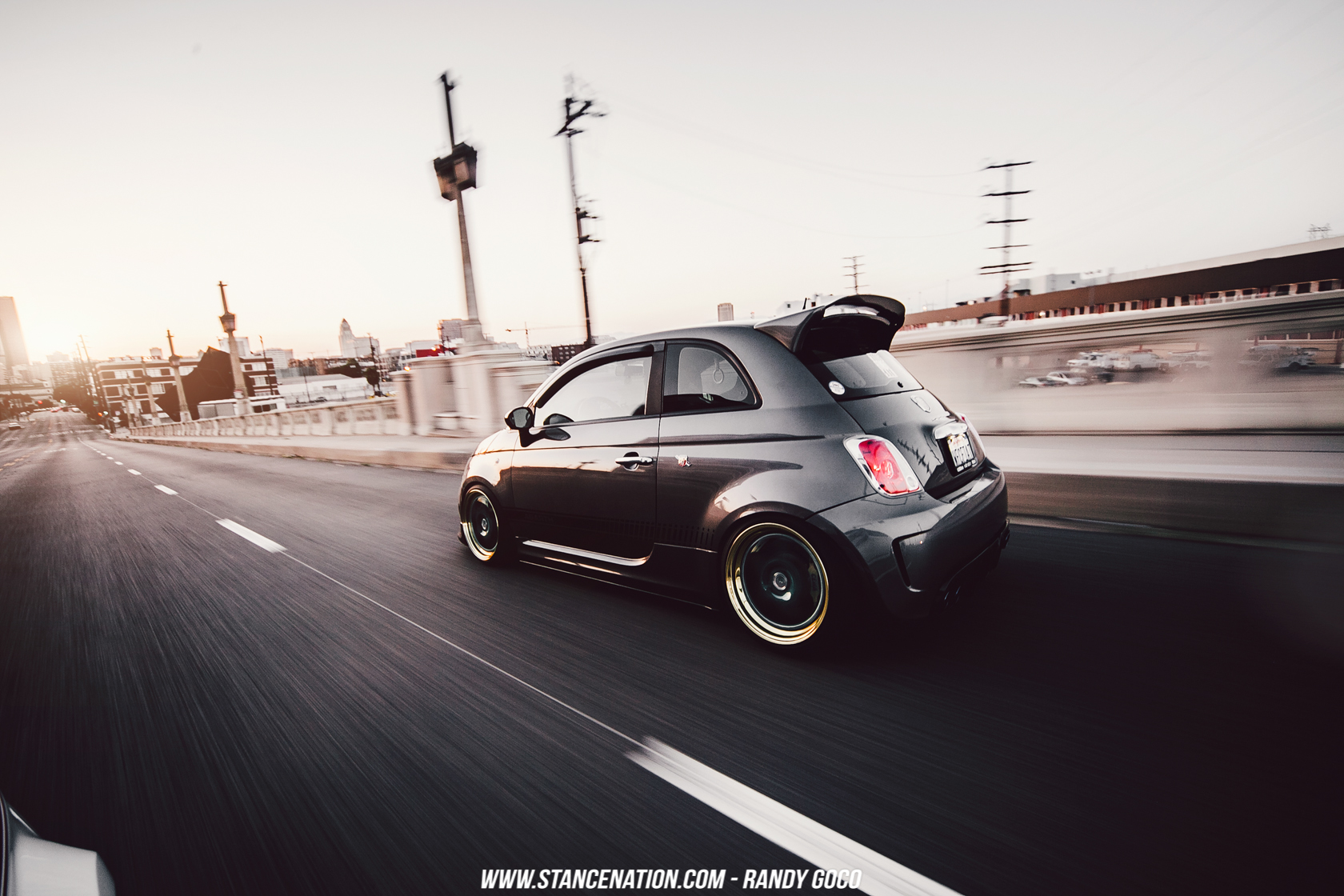 Justin's interior is just as dynamic as his exterior. The Bride Stradia II & Euroster II seats look right at home while his choice of Schroth Rallye Cross harnesses and black Schroth shoulder pads match the seats perfectly. There are all types of other odds and ins throughout Justin's interior such as his custom harness bar and custom wood flooring enclosure for his air tank setup. You want to talk small details? How about the Blox polished neo chrome shift knob & Bride Stradia leather side bolster protectors?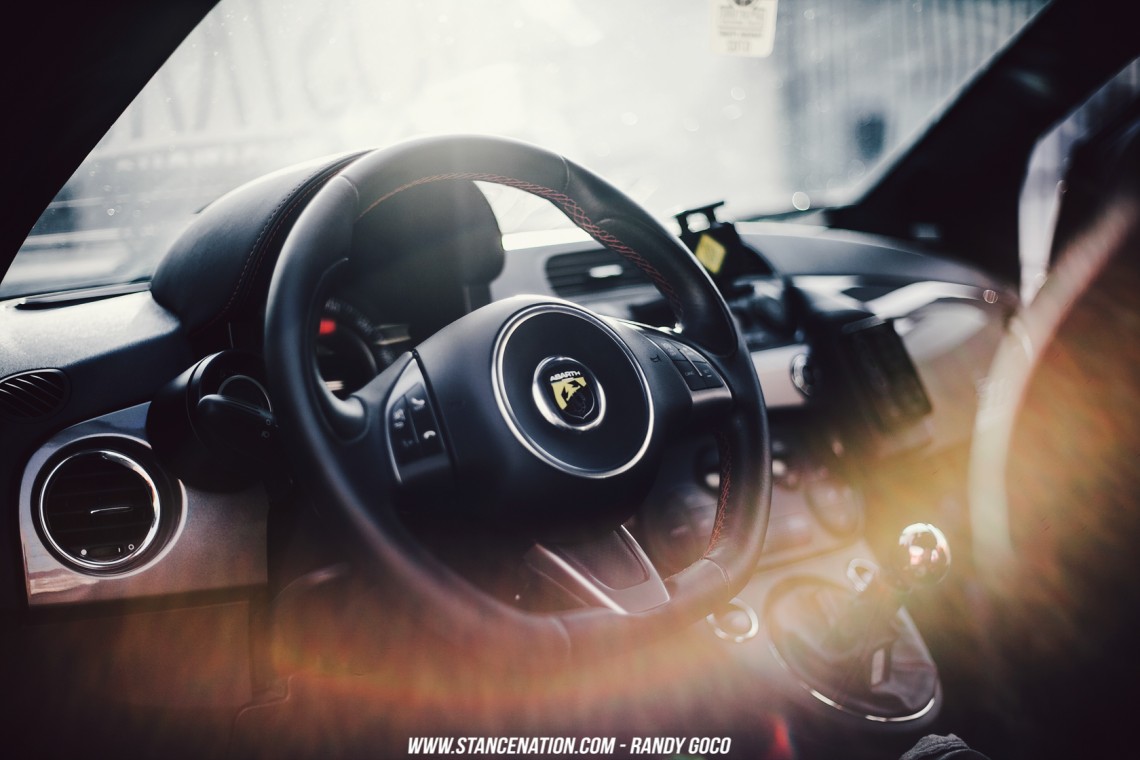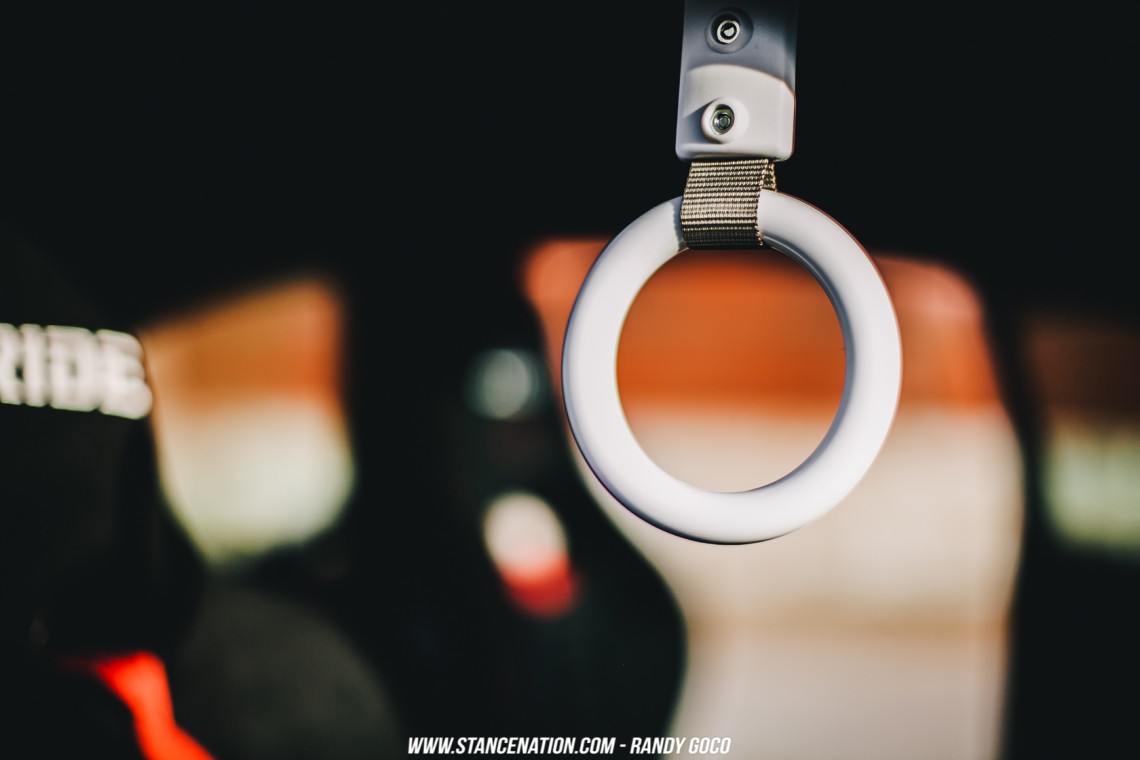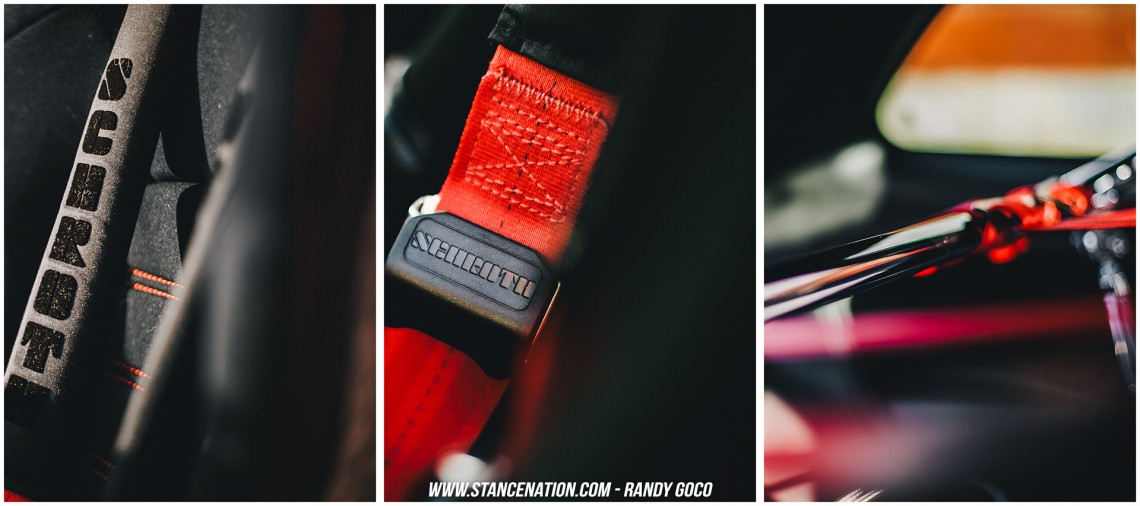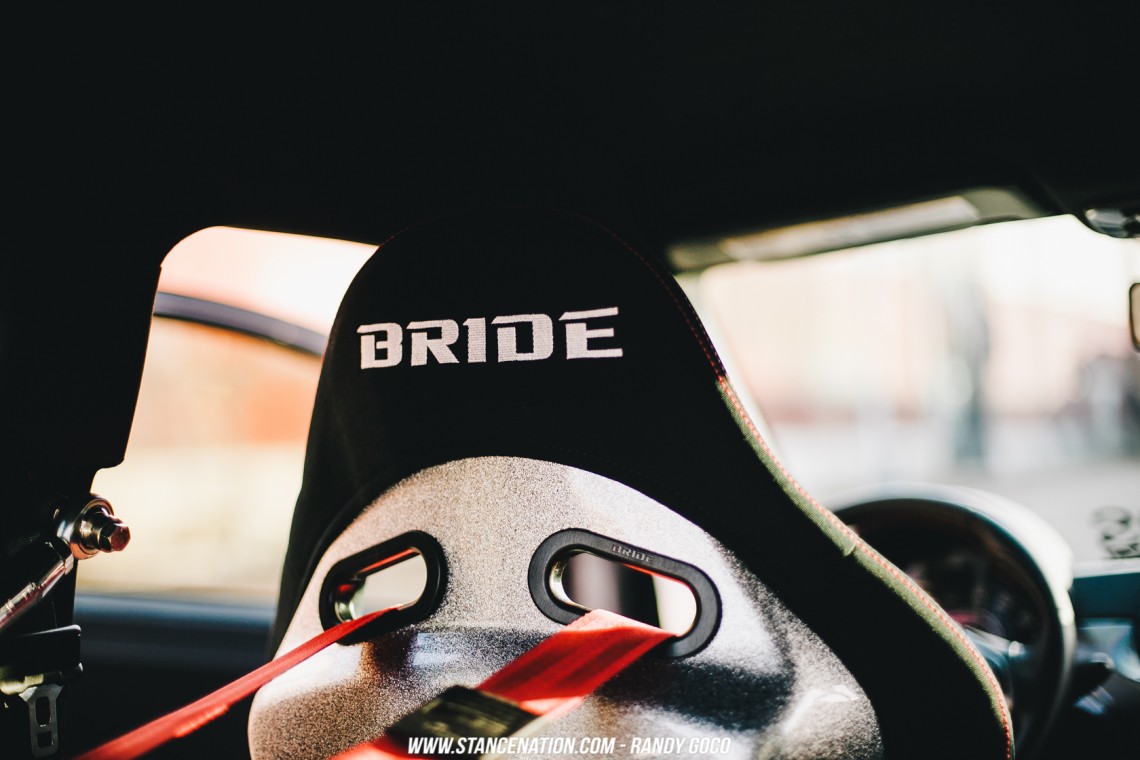 It's safe to say that Justin is killing the Fiat game at the moment. He is literally writing the playbook for the rest to follow. These oddity type builds are always intriguing because of the amount of time and devotion you have to place into venturing into uncharted territory.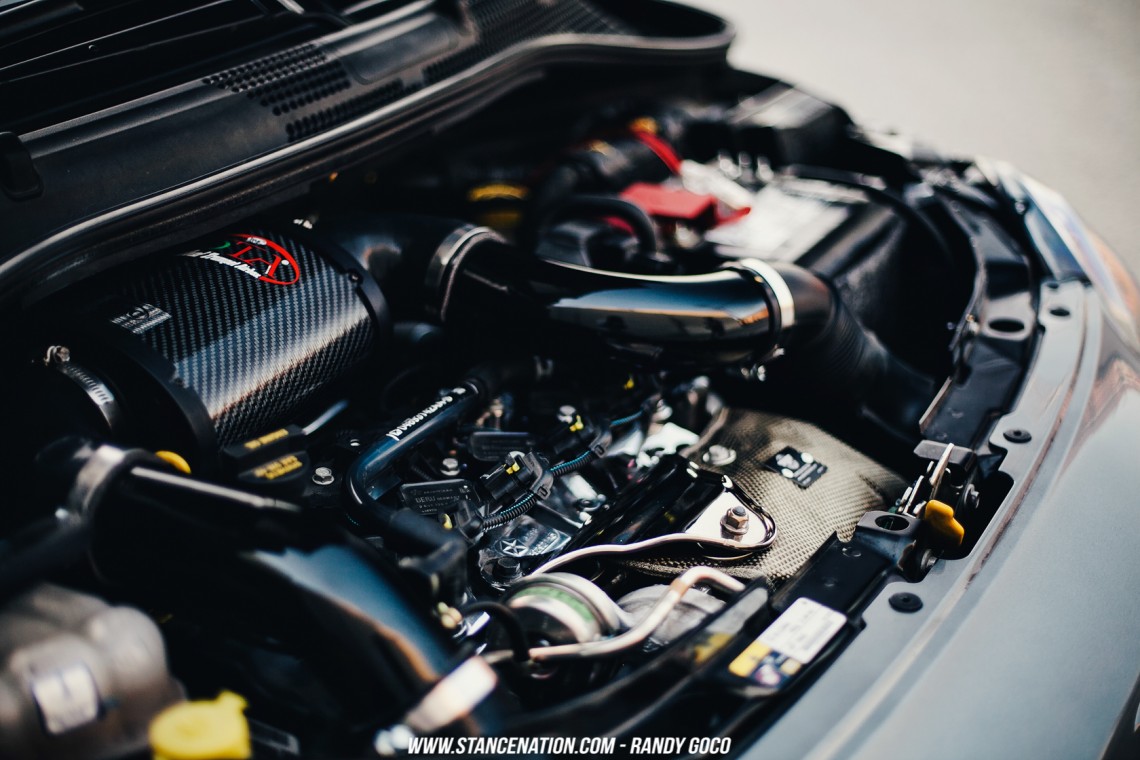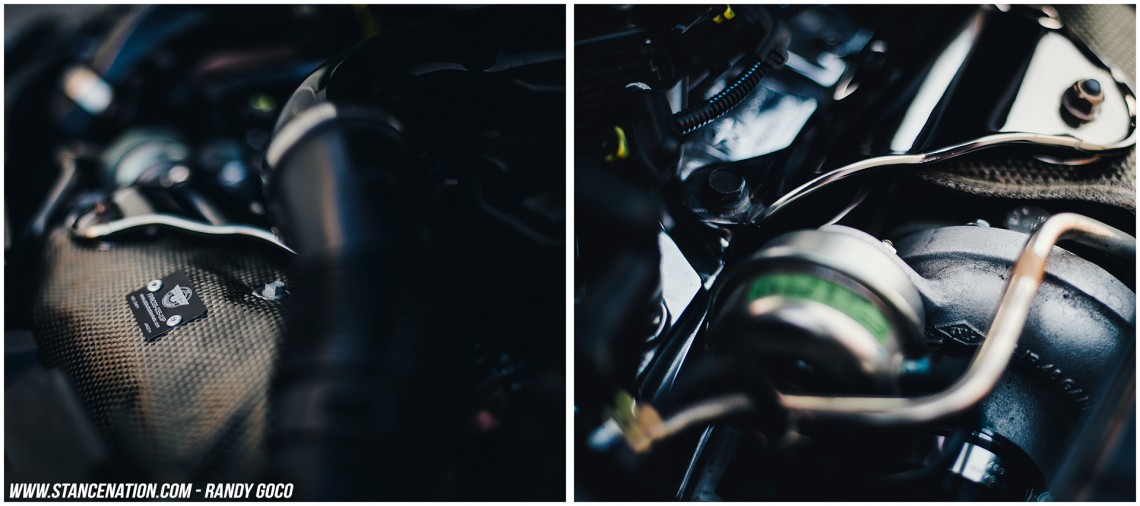 As with most builds, when Justin first started out he had no idea the car would get to this level. He simply wanted a fun daily, which he could also put on the track from time to time! What's even crazier is that he has even bigger plans for this car in the future! All I can say is that I can't wait to see what he comes up with next.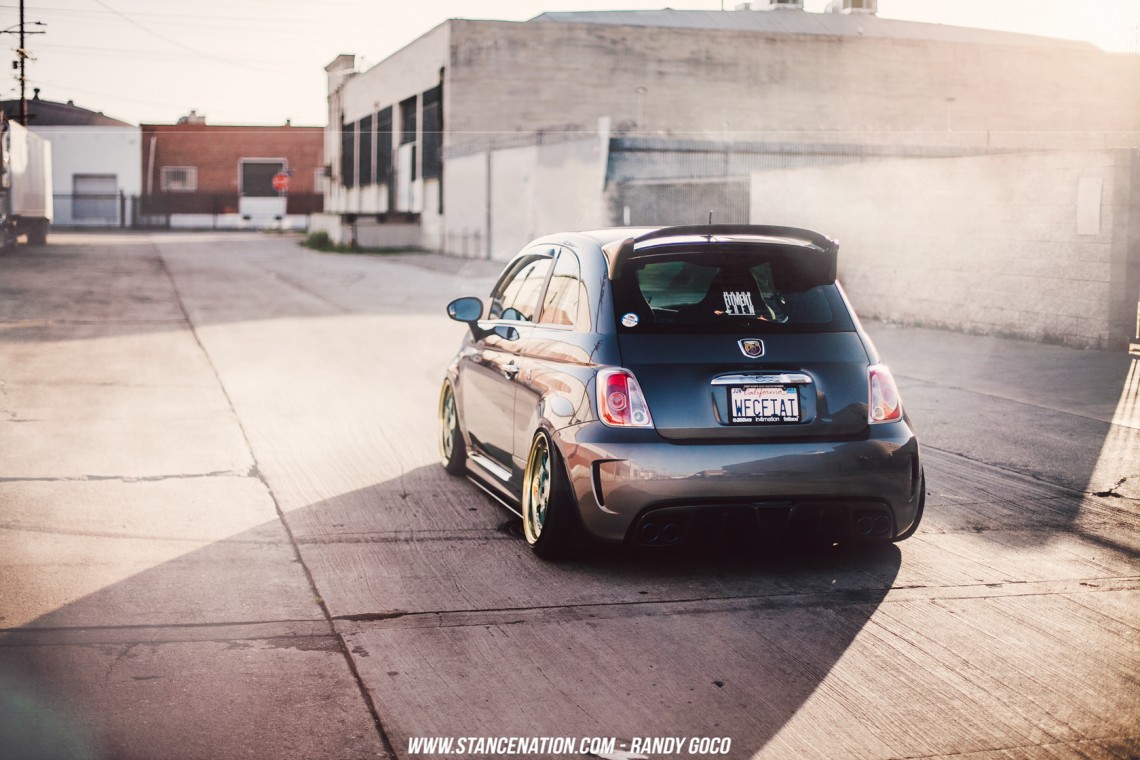 Exterior:
Arqray carbon fiber kit: (Front lip,Side skirts)
3 piece wing w/ color matched ends
Arqray x FiftyGo 3 piece carbon fiber rear diffuser
Color matched front and rear side markers from Klearz
Craven Speed stubby antenna
500 Madness HID 5K conversion kit
500T black housing headlights and turn signals
Mopar wind deflector kit (beast mode mod)
Wheels and Tires:
Avant Garde F130 17×8.5 Front, 17×9 Rear
Custom full forged 3 piece wheels
Gold painted outer barrels/Piano black inners/Green faces w/ pearl and gold flakes
Chrome hardware and chrome plated center cap with hand painted "AG" logo in green
Falken 452 Tires
Interior:
Bride Stradia II seat (driver), Bride Euroster II seat (passenger)
Bride Stradia leather side bolster protectors
Planted seat brackets w/ custom seat risers
Custom harness bar from 500 Madness
Schroth Rallye Cross harnesses w/ black shoulder pads
Blox polished neo chrome shift knob w/ leather shift boot by BLACK
TWM full replacement all metal shifter assembly
Custom real wood flooring for air suspension hardware by elScooby
Engine, Suspension, Brakes:
ATM front mount intercooler
Boomba check valve
Red R3T Eurocompulsion intake w/ ram air boot
Madness lightweight pulley
Arqray x Fifty Go titanium quad tip exhaust system
BC coilovers w/ UAS bags
Accuair management w/ elevel
Ceika 6 pot fronts and 4 pot rears with 330mm slotted rotors
Rear camber plate kit from RealCamber.com