The sought after and power suggesting 'R' badge is a staple in the automotive community. It has graced numerous vehicles over the years, allowing factory manufacturers to supply somewhat average cars with aggressive styling and added power. At the mention of anything "R", the Honda brand usually comes to mind, with models like the Civic, Accord, and Integra all receiving a Type R counterpart; providing these average common cars with upgraded suspension, weight ratios, and power potential. Laughably, the 'R' badge is also associated with Pep Boys or gas station stickers slapped hysterically on the rear of altezza toting, fart can wearing, power lacking cars; often pinned to the younger generation. Volkswagen's take on the 'R' is obviously not related to the latter use of the badging, but is a means of transforming a everyday commuter hatchback with all wheel drive, upgraded interior, and superior exterior styling. Giving the opportunity for a buyer to select an ideal car that is designed for everyday ease of use, paired with the corner hugging, seatbelt gripping properties of a sports car, exactly what Richard, the owner of this incredible Golf R, was looking for.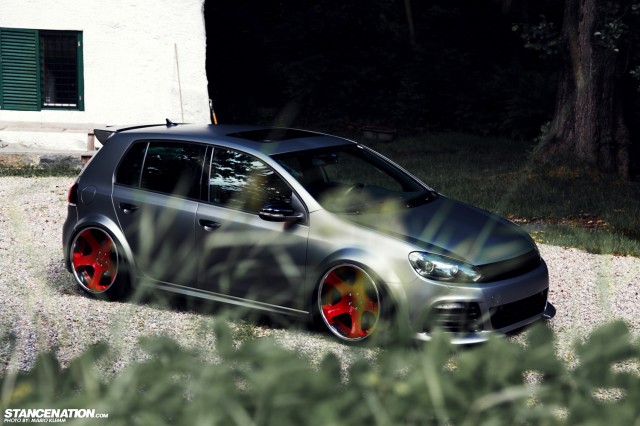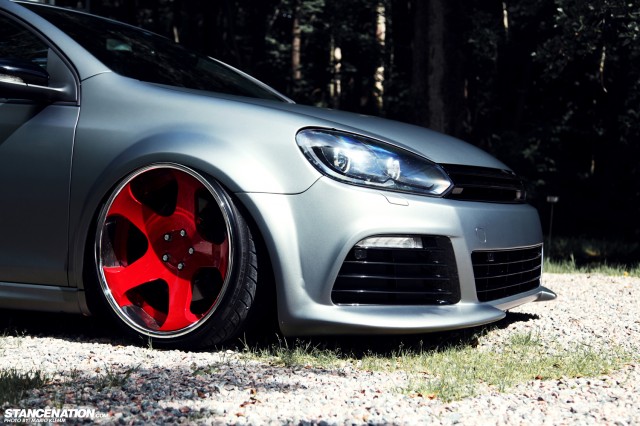 Keeping with the simple concept of the Golf R; a stylish, usable, and powerful daily driver, Richard aimed to take the car to a new level, without butchering Volkswagen's initial concept. Almost every surface on this car has been modified, and the true beauty of it is that the lines flow well and keep a stock body appearance. The wheel arches look right at home sitting over those beautiful candy red 3-piece Rotiform Nue wheels, sitting at an impressive 20×10 and 20×11, with Nankang supplying the 245/40 and 225/35 tires to achieve the perfect stretch. Without modification, this wheel and tire setup would poke a hysterical amount, so Richard went wide body – basing his fender work off of the Audi Allroad fenders. Keeping the wide body in the VAG family is a nice touch; it's details like this that set his Golf R apart from the rest.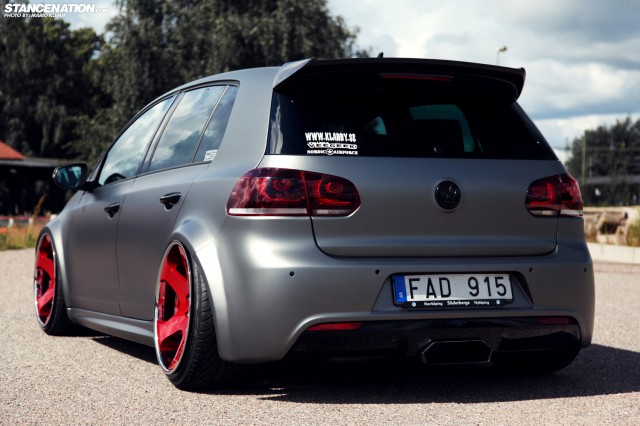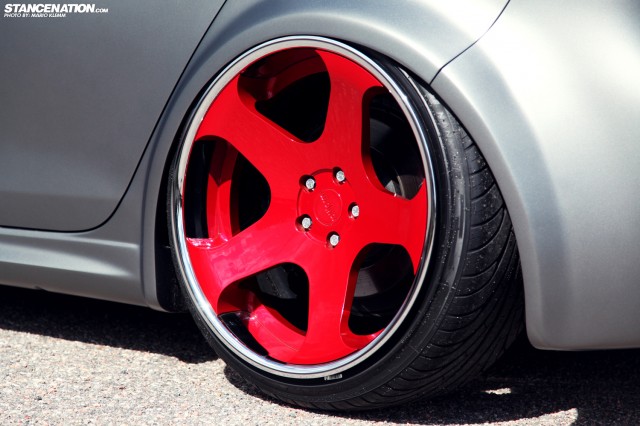 ​After the completion of bodywork; the wide body fenders, shaved front grille, custom rear valence, and much more, it was time to decide on the color. When spraying a basically brand new car that has had this much work done to it, the decision cannot be taken lightly. Sure, Richard could have just resprayed it the original finish… But why not do a very rare color that surely hasn't been done on the same model before? Many of you may be looking at the exterior finish and assume it has been vinyl wrapped, which has rapidly gained popularity in the last couple of years. This is the easy and safe approach to a matte finish, leaving the stock paint unscathed and protected under the vinyl. Richard decided to paint his however, taking the safe route obviously doesn't seem to be an option for him, so go big or go home – Ferrari Tungsten Silver base, with a matte top coat was chosen. The candy red plays off of the silver perfectly, which is no surprise, as even at the mention of Ferrari, the color red comes to mind.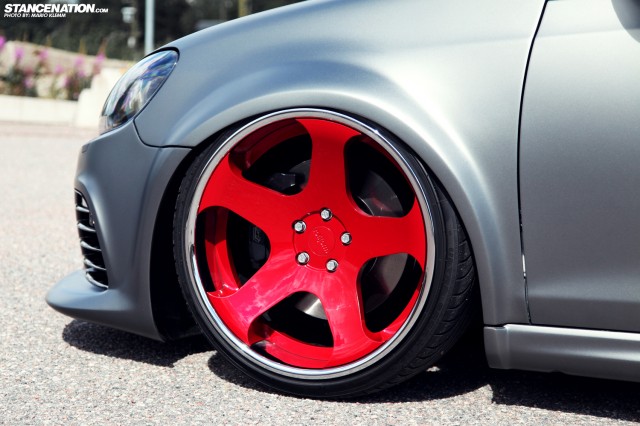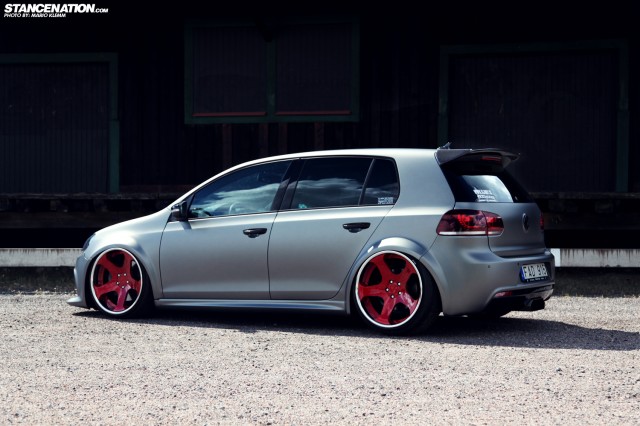 In order to keep a nice close relationship between the lip on the Rotiforms, and the wide body fenders, the decision to go with air ride was a natural one; allowing Richard to hunker his golf down to the low ride height he needed, with the ability to raise it up to tackle the rough roads in Sweden. The air ride kit was sent over from Air Lift, and was bolted in after some custom front struts were made. The trunk setup is simple yet eye catching; dual Vair compressors and a custom painted candy red tank sit nicely in front of an OEM carpeted speaker box, which houses 4 DLS 6.5" speakers and hides both of the amps. The rest of the interior carries on the candy red theme, which has been reupholstered in red and black nappa leather, with red contrast stitching. A set of Recaro Sportster RS seats replace the stock buckets, and continue on the red theme with candy red painted backs, and even Richards initials (RK) stitched on the headrests!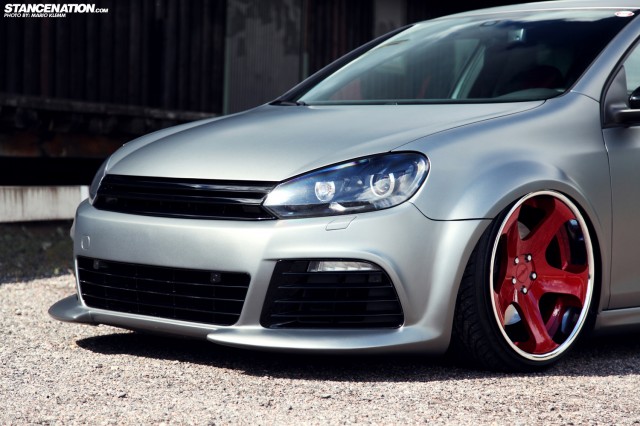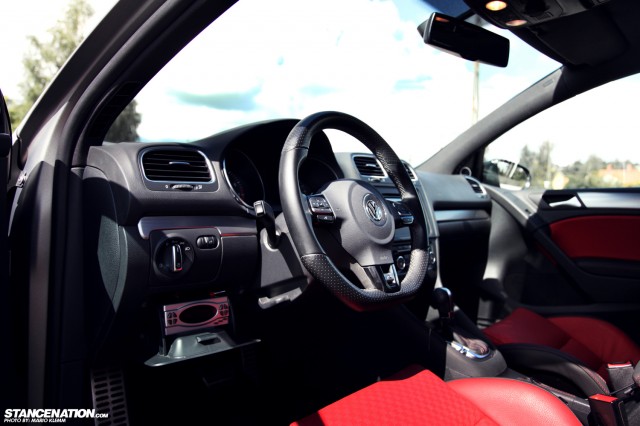 Consistency is key in building a well-rounded car, and this Golf R is a perfect example of consistency; not only in the color combinations and the red accents carried throughout the vehicle, but the overall demeanor of the car. Richard went all out in every aspect, and it definitely paid off for him; aggressive wide body, insane wheel and tire combination, incredible interior, and a jaw dropping color palette – what more could you ask for?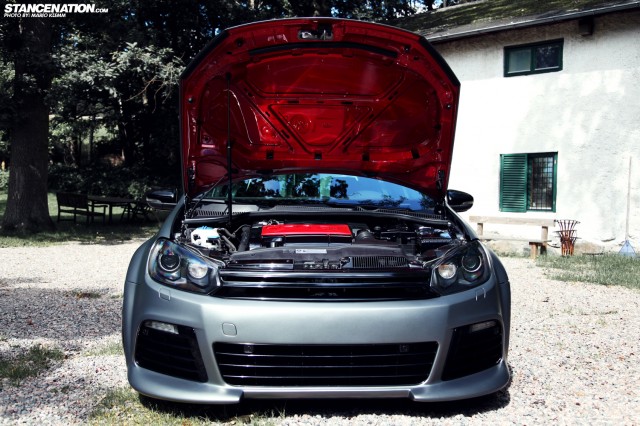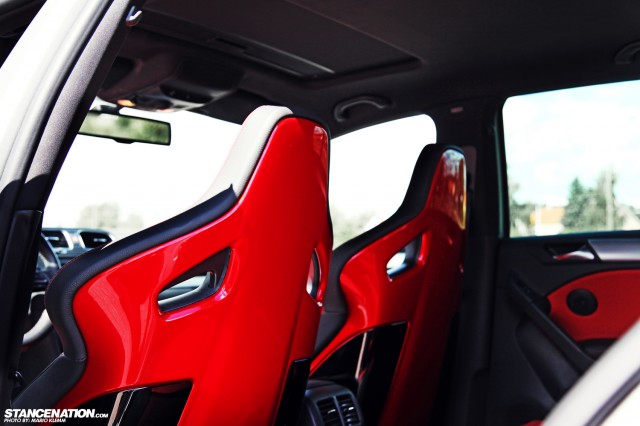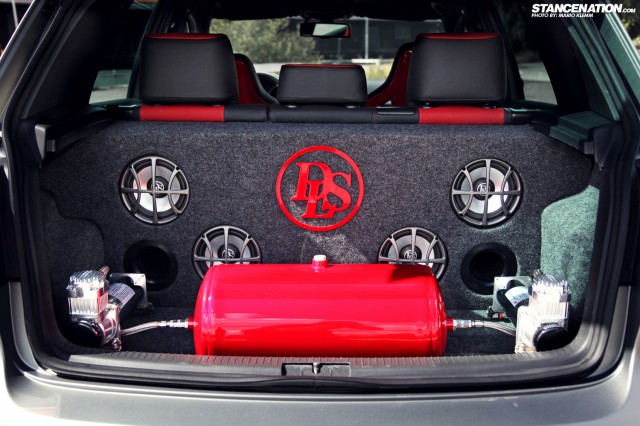 Big thanks to Richard Klarby, from us here at StanceNation, for allowing us to share your awesome Golf R, all the way from Sweden. Richard would also like to thank; his family Patrick Ädel, Fifteen52, Uffe at Lycksele Bildemontering, Niclas at DLS, Johan at Pioneer, Eric and Kotten at dialect, Micke at Carsystem, Matte (The Professor), VW-Smurfen, Bilskräddarna, Aker.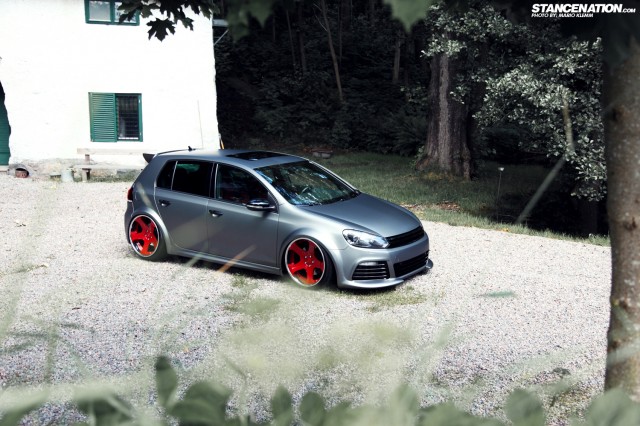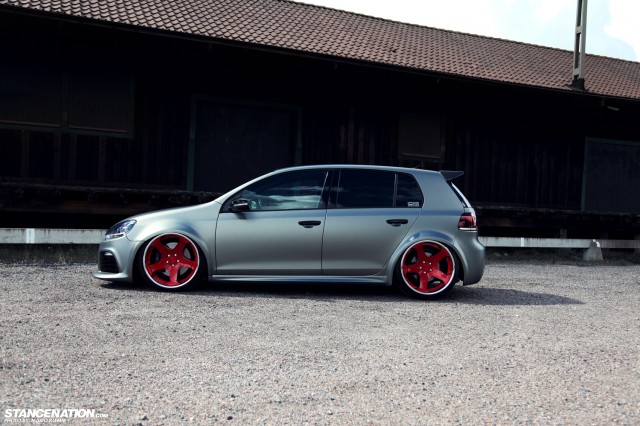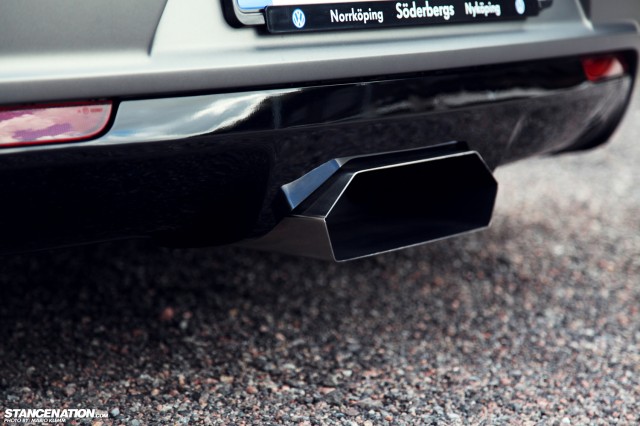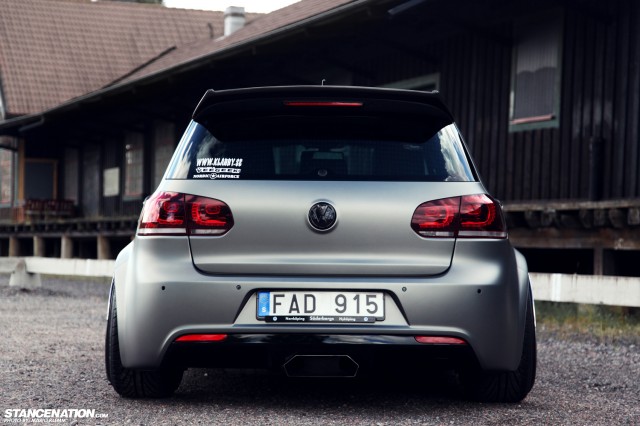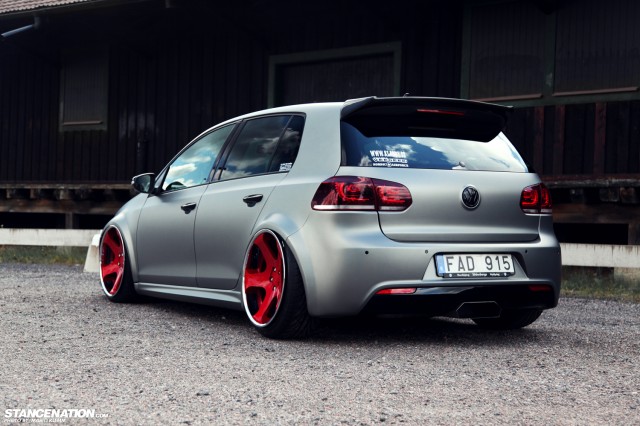 [toggle_box]
[toggle_item title="Wheels/Tires/Suspension" active="true"]Suspension: Air Lift Slam Series air ride system
Custom front struts
dual VIAIR 400c compressors
individual height control
18 l black steel air tank
96 mm adjust-ability
remote control
3.5 degrees of negative camber in rear
Brakes: Golf R 345×32 mm discs
Wheels/Tires: Rotiform Concave-NUE 3-piece forged wheels
20×10″ front, 20×11″ rear
Custom painted Candy Red centers and polished, deep dish lips
Hidden bolts on the inside of the inner center lip.
Nankang 245/40-20 rear, 225/35-20 front.
[/toggle_item]
[toggle_item title="Exterior" active="false"]Custom Widebody based on Audi Allroad
Flares bonded with a gap to the body
Fully custom corner splitters molded to front, extending to fenders.
Heavily modified wheel wells
Custom gloss black rear valance
Debadged front grill, painted in gloss black
Blacked out rear VW emblem
Underside of hood painted in candy red
Adaptive VW Bi-Xenon head lights and LED-running day lights
Dectane RV39LSL LED rear lights
Carbon fiber rear wing with integrated brake light
Shark fin on roof
Gloss black LED-mirrors
Ferrari Tungsten Silver paint, PPG water base with matte top coat on body.
[/toggle_item]
[toggle_item title="Interior" active="false"]Reupholstered in red and black nappa leather with red contrast stitching
Recaro Sportster RS sport seats custom upholstered with RK-initials stitched on head rest
backside painted in two tone candy red and solid black
R-Sport steering wheel with grey contrast stitching and perforated leather.
Multimedia: Pioneer AVIC-P9310BT Double-DIN head unit with NAV.
DLS RM6-2 front system
DLS 426 rear system
4x DLS 6.5 inch RW6 drivers in custom, 2×3″ vented, low depth sub box
DLS PowerCap 1 capacitor
DLS RA10 and RA25 amplifiers hidden from plain view[/toggle_item]
[toggle_item title="Engine" active="false"]VW EA113 2.0L TSI Turbo-Inline four
Custom engine cover
Hand built stainless trapezoid Aventador style exhaust tip[/toggle_item]
[/toggle_box]