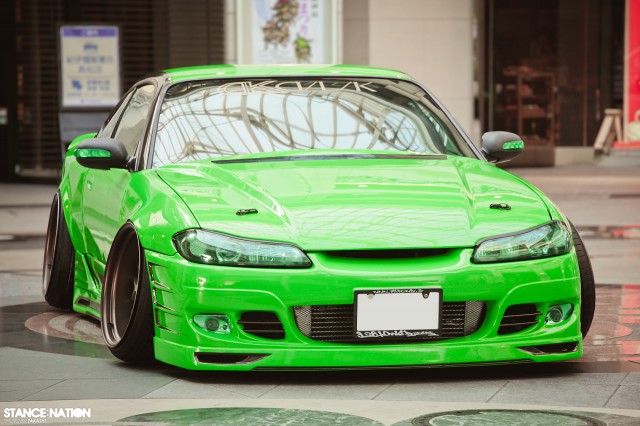 There are people who enjoy building simple builds that usually consist of suspension, wheels and maybe a front lip, then you have people like Takashi who enjoy taking things to a whole another level. People such as Takashi tend to not care what society thinks of their cars. The cars they build attract attention (good & bad), they start controversy on forums and social networks, and most importantly, they build cars the way they want to. It may not be the most liked Silvia stateside (yet), but from what our friends tell us, the Japanese are going crazy over it! With that said, let's take a closer look at this loud, wild, attention grabbing, 326 Power(ed) Nissan Silvia S15!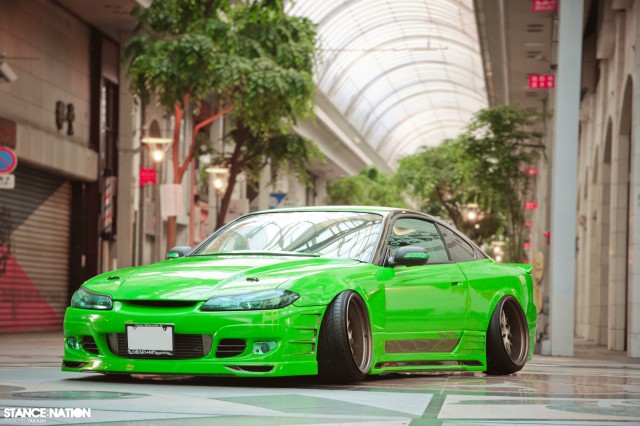 We're pretty sure that many of you guys have seen this car in it's previous stages. Takashi goes thru wheels and paint every few months it seems. (Click here for a photo of the previous setup) One of the things that we feel must be pointed out a few times is that this thing is coilovers. We wouldn't usually be making a big deal out of it but this is easily one of the craziest static setups we've ever seen. But then again, you can't expect anything less from full 326 Power suspension, from custom coilovers with super high spring rates, to upper arms and tension rods.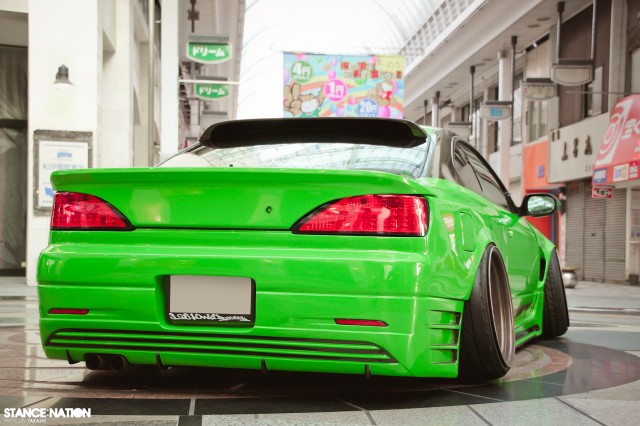 The exterior of this thing is just insane. Takashi literally built the fenders with the intention of running a crazy aggressive wheel setup. Everything from widening of fenders to radiusing was done in order to run some of the most aggressive setups out there. Like this particular set of Work Meister M1R. They are 18×10 all around (which doesn't seem that aggressive at first until we give you the offsets) with offset of -37 in the front and a ridiculously low -57 in the rear! When it comes to tires, it is running Achilles ATR's sized in 215/35/18. Which reminds us, is it just us or does there seem to be a huge amount of people that have their doubts in Achilles tires? Achilles tires seem to be a very popular tire to stretch in the land of rising sun and if we've learned anything by now it is that Japanese know everything in stretch/fitment department. With that said, go ahead and show some love to Achilles here stateside.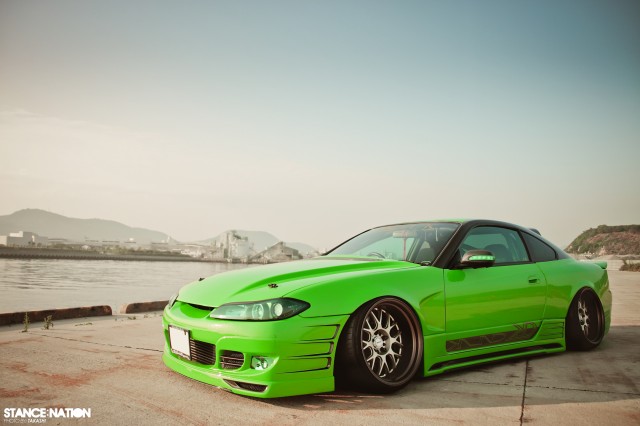 We almost forgot to mention that the car is also running one of our favorite S-Chassis kits. Yes, you guessed it right, it's the legendary 326 Power Aero! We weren't the biggest fans of those fake vents at first but overtime they have definitely grown on us. We would love to hear what you think about the kit so drop your comments below! Oh before we forget, the front fenders are one-off, built by Takashi and his friends at D/L/K!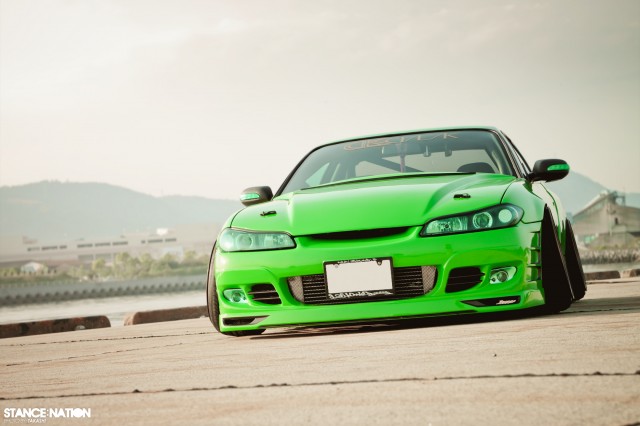 Oh you thought that stance was just for shows? Takashi drives his S15 all over Japan at the same height. Ridiculously low. Check out these photos he shot just for us couple of weeks ago. We also have a little surprise for you towards the bottom of the page so make sure you check that out.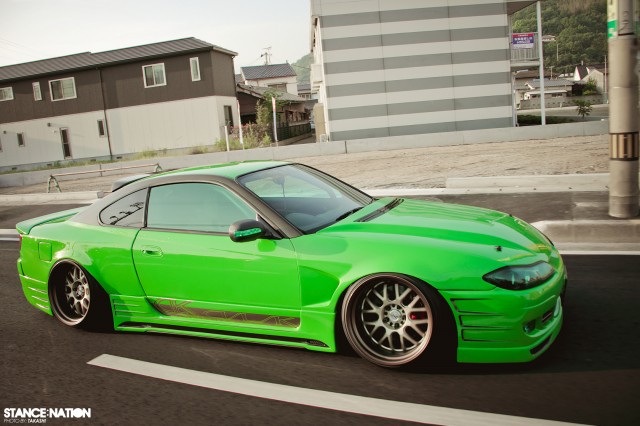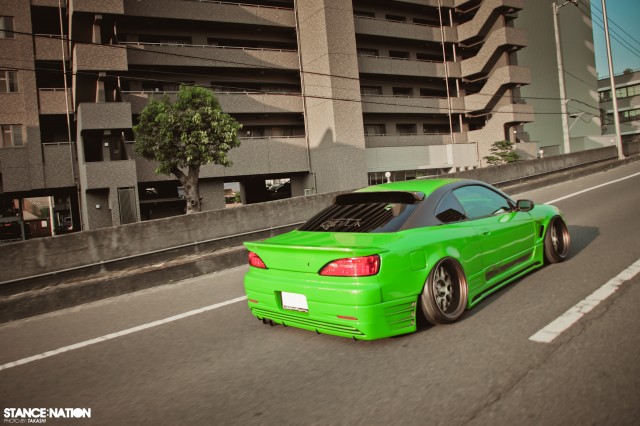 In the 7 years that Takashi owned his s15, it have gone thru almost 5 completely different stages. You kind of wonder what is up next when you see stuff like this right? Well, we did at least, and when we asked Takashi that, he simply told us that some day he wants to throw in a "V12 engine" of some kind. We're dead serious.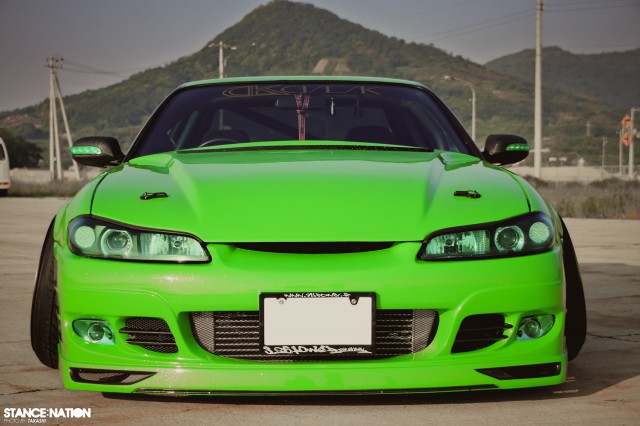 We are going to leave you here with a huge thanks to our new friend Takashi and the entire D/L/K crew! Expect more features from these guys right here on StanceNation! If you think your car has what it takes to be on our site make sure you email us at snfeatures@gmail.com. Make sure you include a few photos and your spec list as well as any other information we should know about you or your car. We're always looking for cars to feature! In the meantime we'll see you guys over on our facebook.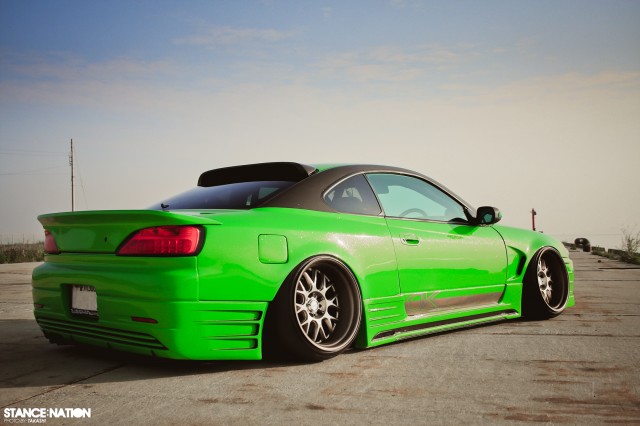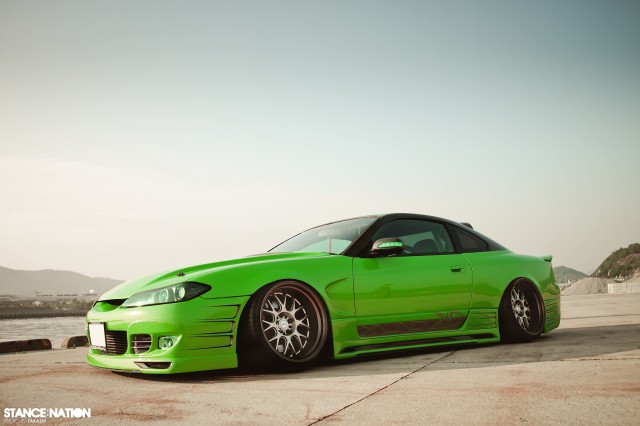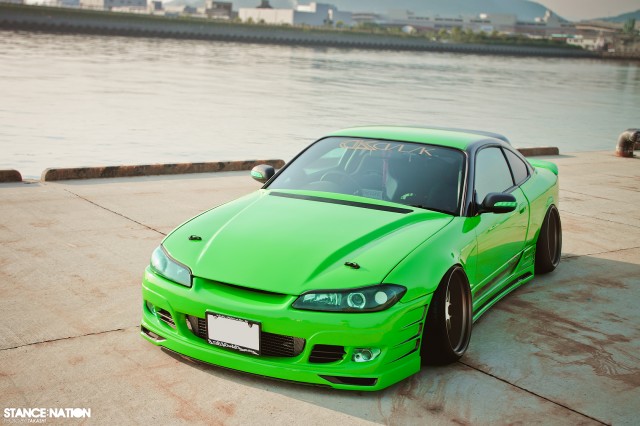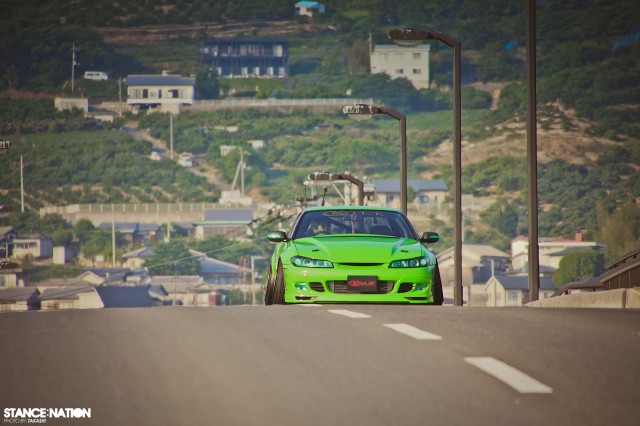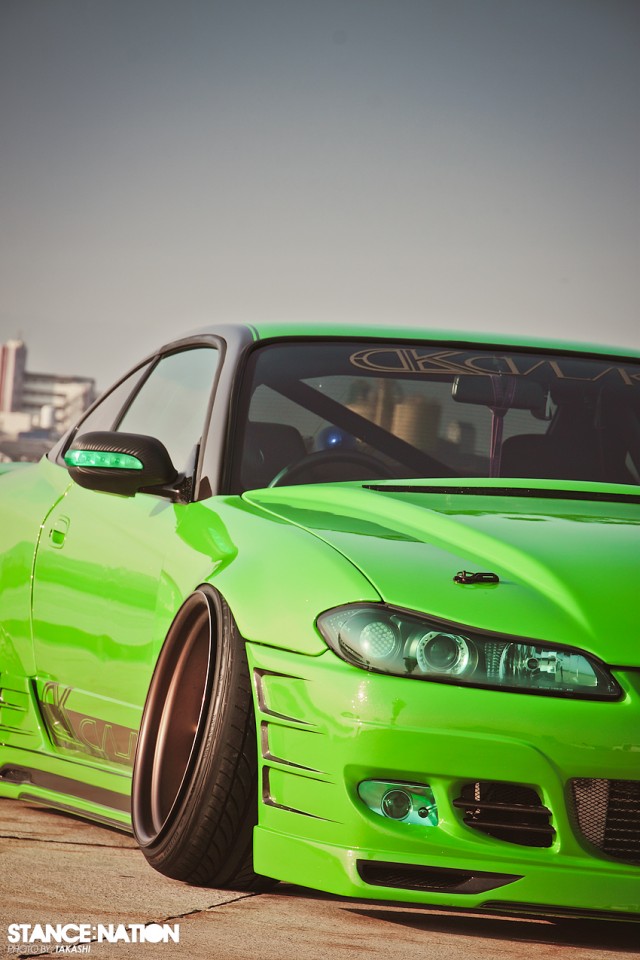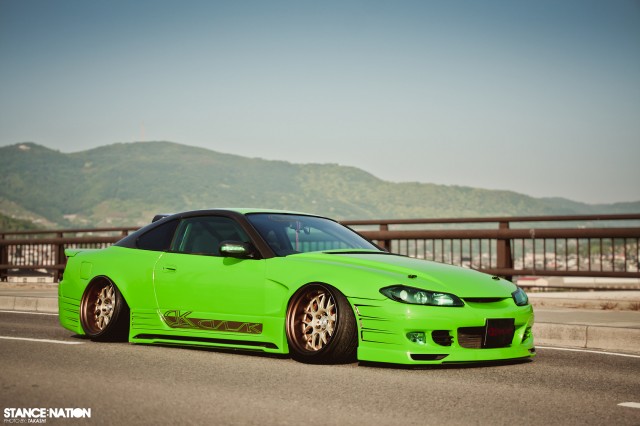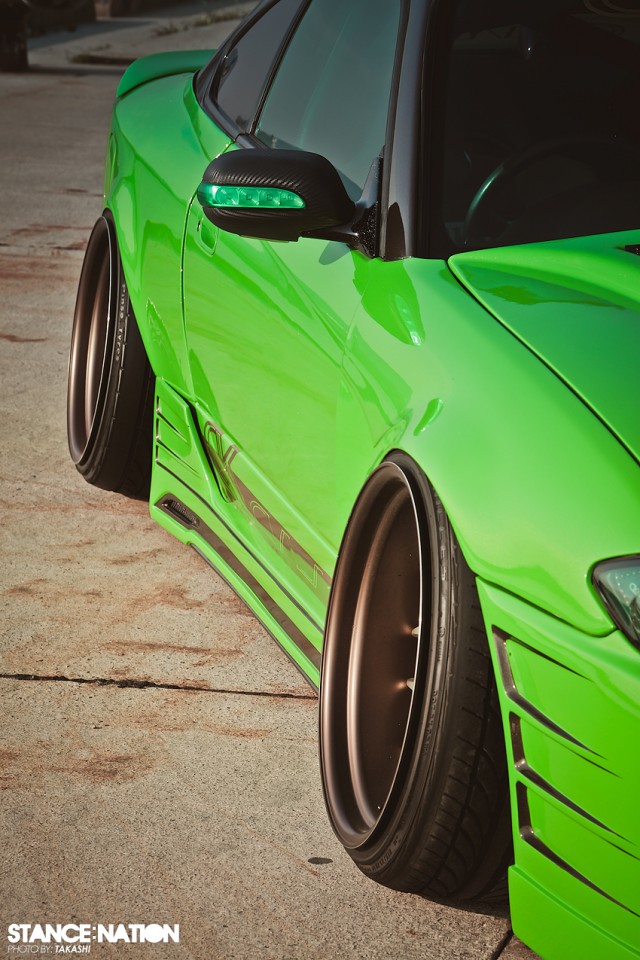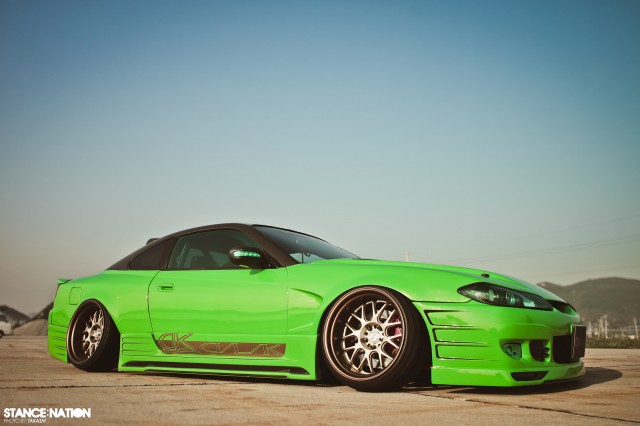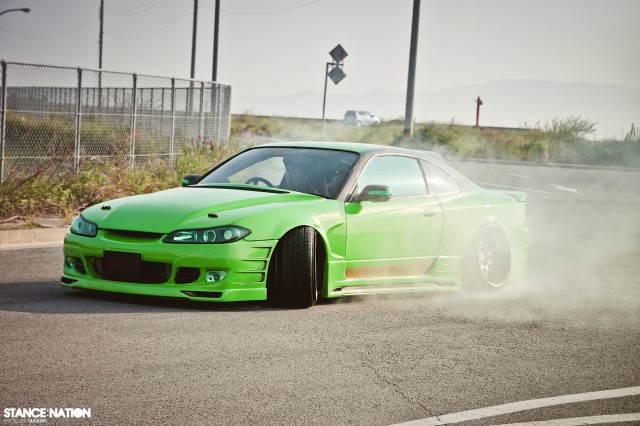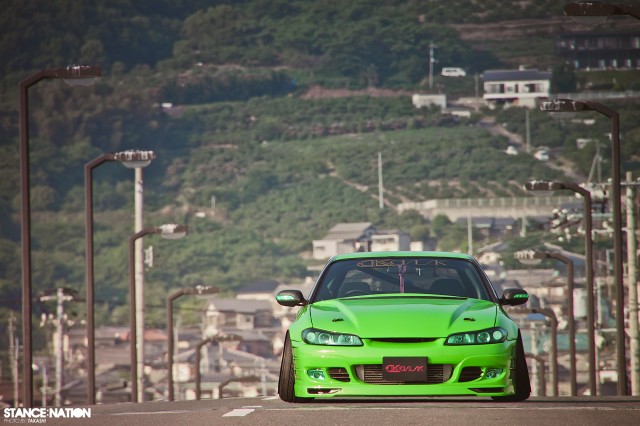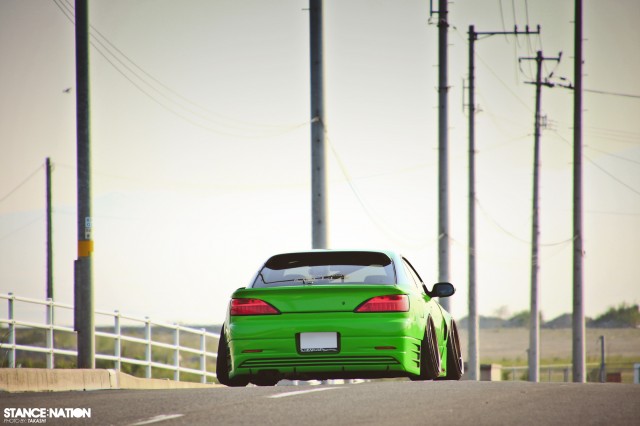 [toggle_box]
[toggle_item title="Wheels/Tires/Suspension" active="true"]Work Meister M1R
18×10 (-37 & -57)
Achilles ATR 215/35/18 (Running Pinto Tyres in these photos)
326 Power coilovers, arms and rods
Lots of one-off  & modified parts[/toggle_item]
[toggle_item title="Exterior" active="false"]326 Power Aero
One-off fenders
Fender widening and radiusing[/toggle_item]
[toggle_item title="Interior" active="false"]9 point Anti Roll bar
Nardi Steering Wheel
Boost Gauges (DeFi)[/toggle_item]
[toggle_item title="Engine" active="false"]D/L/K one-off exhaust
HKS FCON V-pro engine management
A'pexi head gasket
Trust cam shaft
& much more![/toggle_item]
[/toggle_box]