Life rarely turns out like we expect. So even though it's good to get what you want, many times you have to be willing to accept what's available right now. Now, that doesnt mean that you have to settle for less. Lukas and his EK civic have a story that has traveled all the way from South Poland to prove that if you are willing to adjust what you want, you might get more than you had hoped for.
Lukas' had an interest in Civic hatches before fate introduced him to this hot hatch, "I always wanted a Honda Civic EG". For those that don't know, this isn't an EG Civic. The EG generation of Honda Civic's was built between 1992 and 1995. The Civic you see here is an EK which was produced from 1996 to 2000. Now for most car enthusiast, when we decide what car we like, its hard to accept anything else. So why the change of heart?
In 2008 Lukas received a call from a friend suggesting that he look at a very clean Civic that he had found. Even though it wasn't the model that Lukas preferred, he was willing to take a look. At the time this EK Civic had black paint, 17×8 Oz Polaris rims and a 1″ drop. Even with these subtle changes, Lukas not only thought "It's beautiful", but he also believed he had "No need to change anything"…which we all say at first. As you can see, there have been some changes…wonderful changes.
Lukas is a member of a Polish group that goes by the name "Raceism". Don't be fooled by their name, this group doesn't discriminate. They have cars of all shapes, sizes, and origins. Although they are quite diverse, a large portion of the group is made up of small cars that are making big moves. Back in 2008 "stance" wasnt a popular term like it is now, especially not where Lukas is from. There were still lowered cars, deep dish wheels & barrels that poke out past the fenders, but in Poland that was considered "German" style of tuning & Lukas had no problem being a part of the crowd.
Inspired by what he was seeing from his friends, Lukas decided he wanted more. He knew that he wanted aggressive wheels and a clean simple look for the body so he chose mostly OEM body improvements. First he gave his Civic a face lift by upgrading to a 1999+ oem front end with an aftermarket grill and custom black housed headlights. Even though this front is available on this same generation of Civic, it actually requires quite a bit of fabrication along with changing the fenders, hood, headlights and grill. From the back you'll see custom taillights, rear wiper delete and the very popular duckbill rear spoiler.
With the updated front end Lukas had to have the car repainted. Lukas has a bit of an obsession with JDM white paint. Honda just happens to make one of the best white paints of all time called (NH 0) or Championship white however as mentioned before, not everything is going to turn out the way we expect. There was a little mix up while painting the car. Instead of the Championship white he had planned, his hatch ended up with a "cold white". Although the color wasn't exact, Lukas doesn't get hung up on the little details and he even chose to name the new color "Frost" white. The color is very crisp & the white compliments the gold wheels perfectly.
Speaking of wheels, these gold circles fit better than most wedding rings. They also add as much bling to his Civic as most diamonds would. Blessing the four corners of this three door Civic are a set of Mesh BBS' with custom inner barrels. The fronts are 16×9+10 wrapped in 196/40 Toyo T1Rs and the rears are 16×10+7 with 215/35 Dunlop Sp9000 . Helping to bring this civic down to earth is an MTS adjustable sport kit with H&R springs and a rear camber kit helps the back wheels squeeze as close to fenders as possible. Helping keep the frame rigid and reduce flexing are front and rear strut bars with an X-Bar adding additional strength to the rear.
One of the most attractive characteristics of a Civic hatch is the small light design. They weigh very little so if you remove some of the unnecessary components and add a bit of power, they can be strong competitors in a feather weight form. Now Lukas didn't think the back seat or really any of the rear interior was needed so he got rid of it. After it was removed he decided to have the interior sanded down and painted to match the body. He then installed 3″ seat belts to keep him safely held into his Bucket seat and a OMP steering wheel attached to a D1 spec adapter help Lukas keep full control.
When Honda designed this hatch, it was meant to be a fuel sipping economy car. They come from the factory fitted with a D15Z6 which im sure is a great motor, but is a bit smaller than Lukas would prefer. A common alternative is the very popular B series motor swap that can be found in many other Honda and Acura models including special edition Si and TYPE R versions. Lukas wanted something a bit bigger and less average so he chose an H22A that can be found in the Honda Civic's athletic big brother the Honda Prelude. This 2.2 liter is much larger than the 1.5 that would usually fill this engine bay. For the engine to connect to the standard mounts Lukas would have to raise his car and adjust his stance. That wasn't an option, so instead he decided to fabricate new motor mounting points. Now, only a half of an inch separates the hood from the highest point on the motor. Its a tight squeeze and worth all of the trouble.
Honda motors breath quite well right from the factory so the engine modifications are few. A cone filter and intake tube help direct air into the intake manifold. A thermal shield gasket helps the intake manifold stay cool despite being bolted to the head of the very hot VTEC motor. When the used air leaves the cylinder it gets pushed out of a custom 2.25″ exhaust. One day Lukas decided to clean under the hood and got a little carried away. He pulled the motor to make sure he could clean every little corner and ended up with a shaved, and repainted engine bay. Then before reinstalling the motor he had the wire harness and hoses tucked outta sight. Now Lukas doesn't mind lifting the hood up and show everyone the Honda heart in his hatch.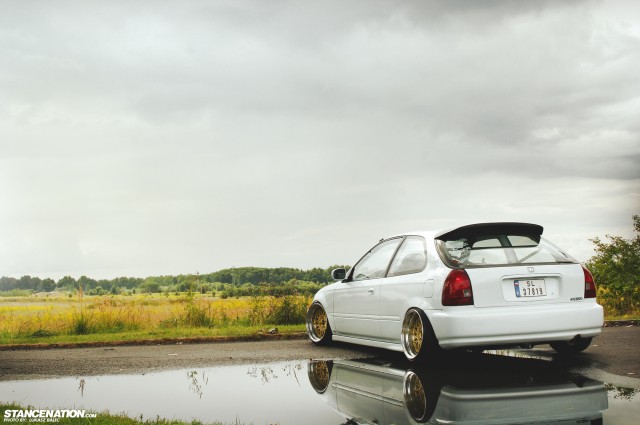 Since 2008 when Lukas purchased this Civic it has seen many changes and some that have even gone unmentioned here. Although this isnt exactly what Lukas originally wanted, he was willing to adapt and now has one of the cleanest Civics hatch backs around. Im sure that we will see more from the Raceism crew and were excited to see what pops up next.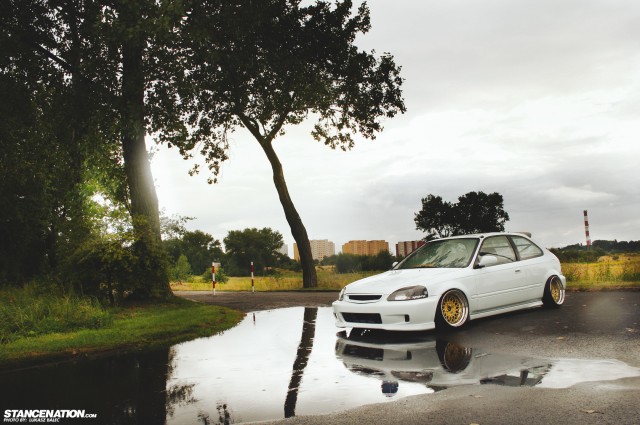 [toggle_box]
[toggle_item title="Wheels/Tires/Suspension" active="true"]BBS with custom inner barrels
Front: 16×9 ET10 with TOYO T1R 195/40
Rear: 16×10 ET7 with Dunlop SP9000 215/35
MTS Adjustable sport kit with H&R springs
Rear camber kit
Front and rear strut bars
X-Bar[/toggle_item]
[toggle_item title="Exterior" active="false"]Rolled & Pulled fenders
Repainted to frost white custom color
facelifted to version '99+
EK9 front lip
Customed headlights and rear lights
Aftermarket grill and duckbill
Removed rear wiper and side indicators[/toggle_item]
[toggle_item title="Interior" active="false"]Bare sheet painted in body color
One sports driver seat
3″ OMP seatbelts
OMP steering wheel with D1 Spec adapter[/toggle_item]
[toggle_item title="Engine" active="false"]Full wiretucked H22A JDM
Thermal shield intake manifold gasket
Custom 2,25″ exhaust[/toggle_item]
[/toggle_box]