Flash back to SEMA 2018 – Second day. Since I had spent my first half-day on the opposite side of the convention center in the conference/seminar area, I saw almost no cars. Well, no cars that immediately caught my attention. If you've ever hustled through that convention center barely on time (read: late) to a meeting, you know just how much you can miss. Coming into the show through the main entrance on that second morning though, I casually strolled past a bunch of cars; briefly peeking at an assortment of bagged fullsize trucks, restomod muscle cars, and the occasional "tuner car" build. Off in the distance I spot a giant wing and start to make my way toward it. Pretty soon I chuckle out loud to myself and say something to my friends like "wow, that's a giant wing for an S2000. Oh, wait, it's got an LS swap… huh… well, that's cool…" Now, looking at the very same car through JR Sang's beautiful pictures we have here, it's easy to see how the car stood out on that morning. It's absolutely got that special something that you need to stand out at a show like SEMA, the car has presence.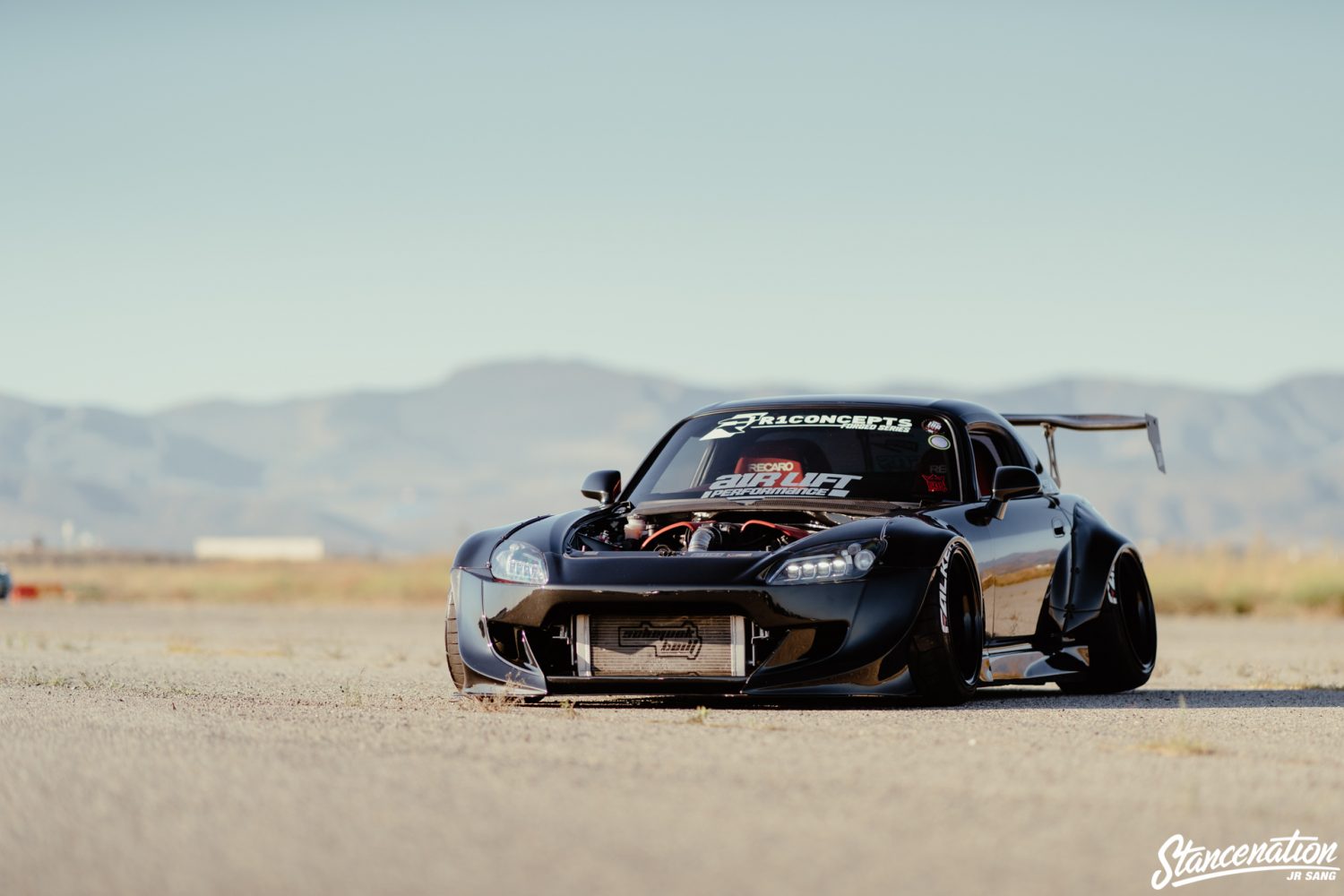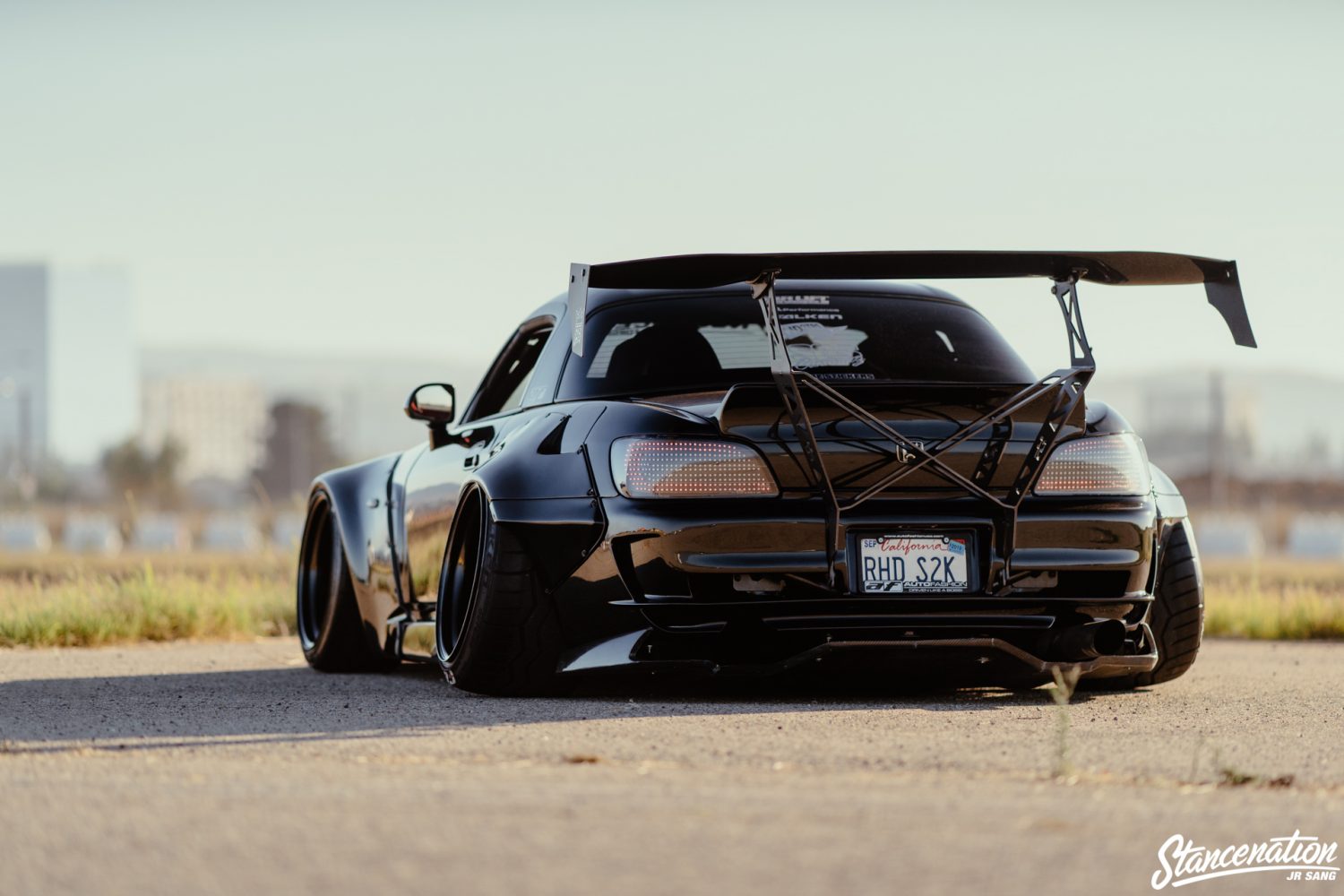 Visually, there's a lot going on here. That chassis mount Street Faction wing takes charge right away. There is a certain type of swagger needed to pull off something like that, and Wapo's S2000 has it by the bucket load. Of course, you can't have a wing like that and a mellow look everywhere else. He's taken this look even further by combining his favorite looks for the car in a kit that blends together like the manufacturers intended on those items going together from the start. Up front, it's a Pandem bumper, there's an ASM rear with a Voltex carbon diffuser, and it's all blended together with these impressive 90 and 100mm M&M Honda Racing hyper widebody overfenders and skirts.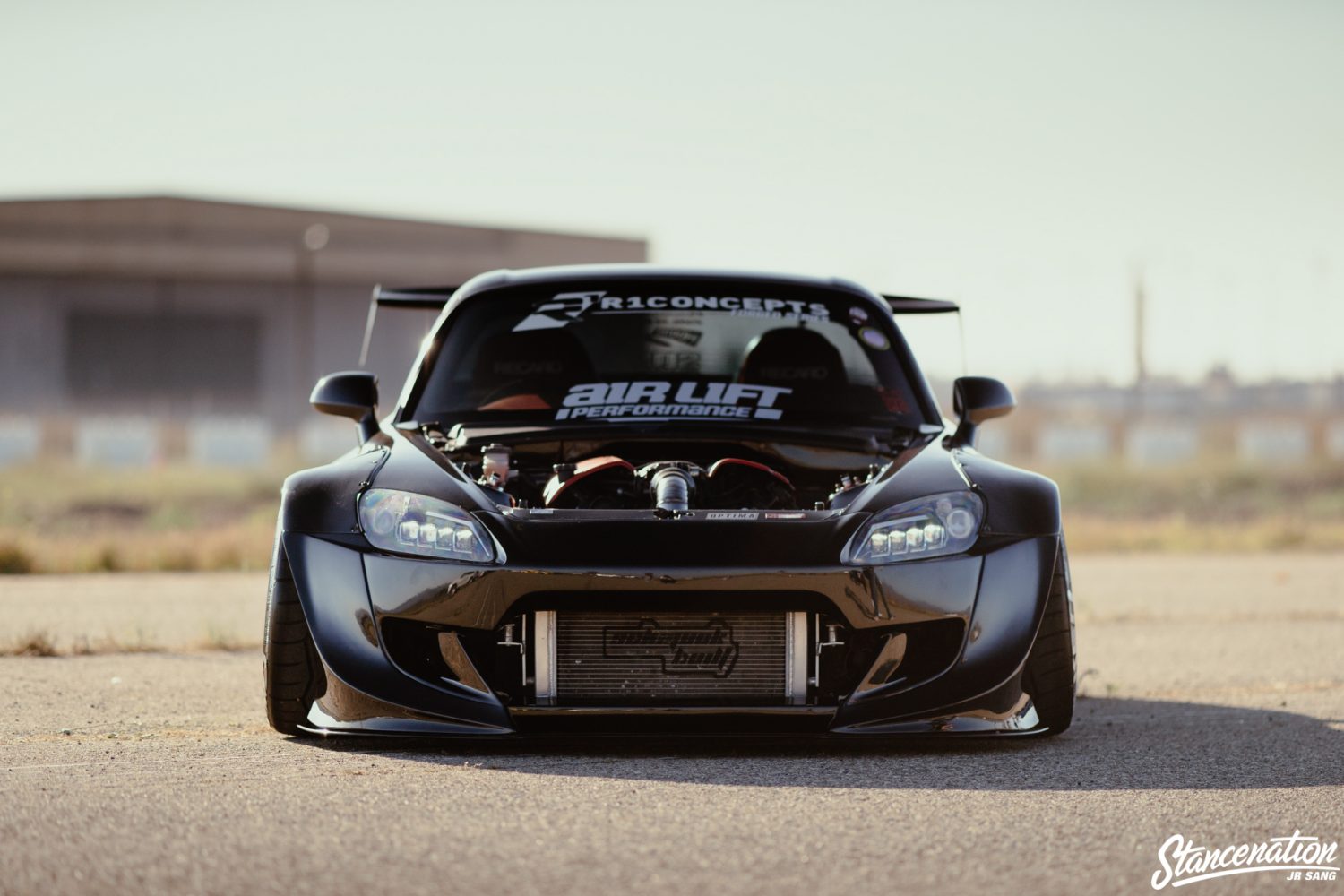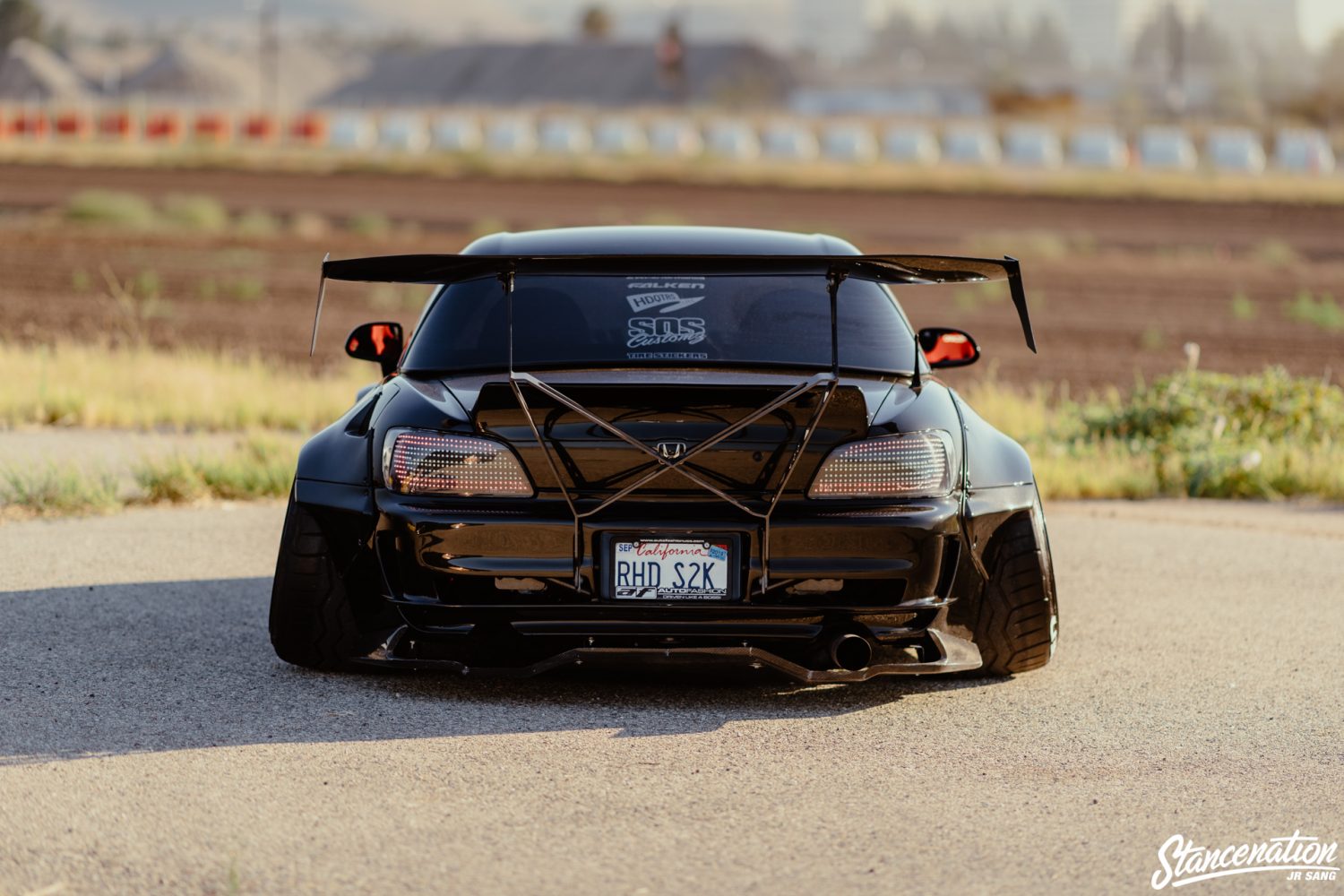 With all of the crazy body pieces, subtle details, like the custom headlights (built by Wapo himself) almost blend right into that deep BMW Sapphire Metallic black paint. On the lighting side again, the Car Shop Glow tails also flow perfectly with the car, just wild enough to fit in. But, not in such an outrageous way that they steal the show.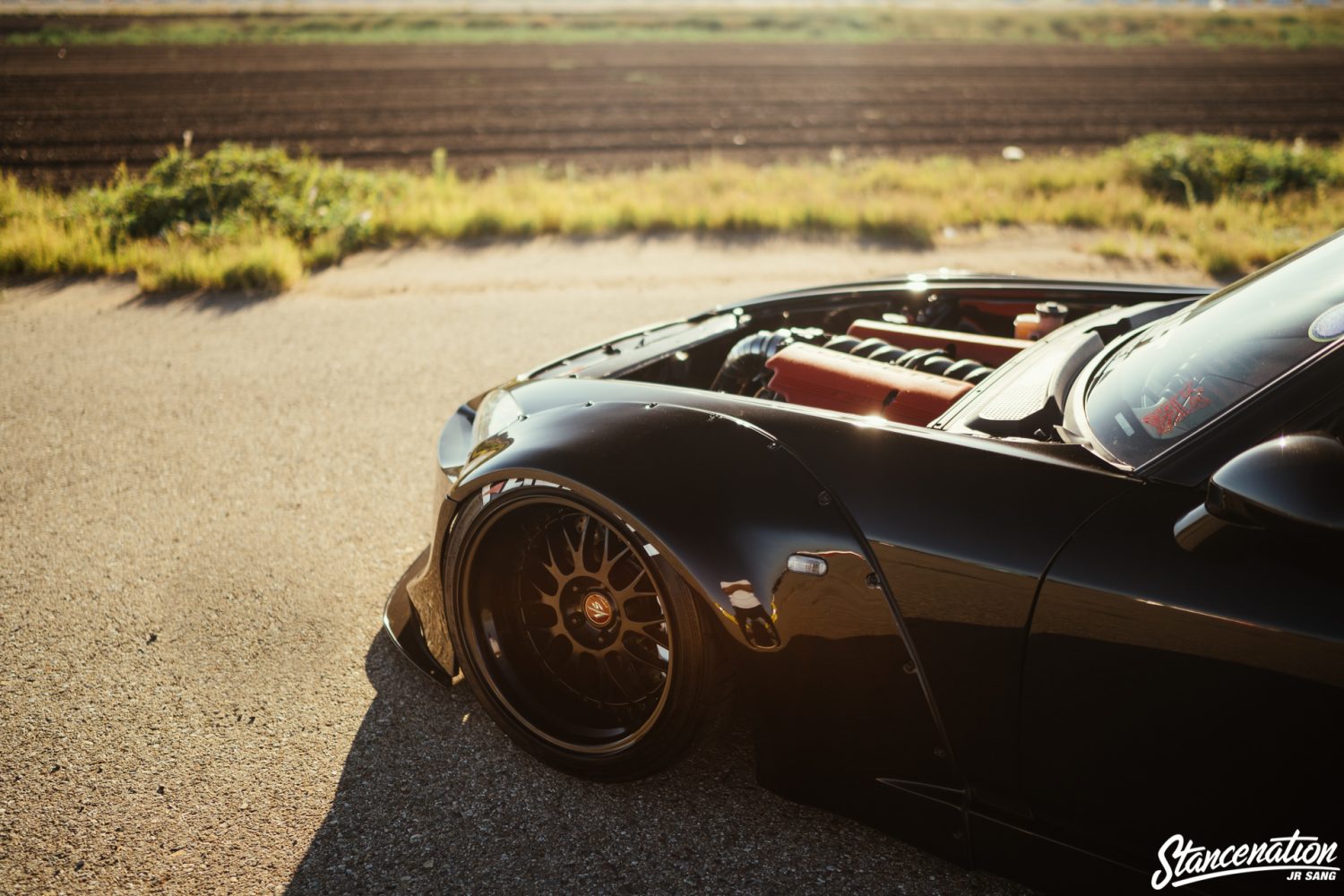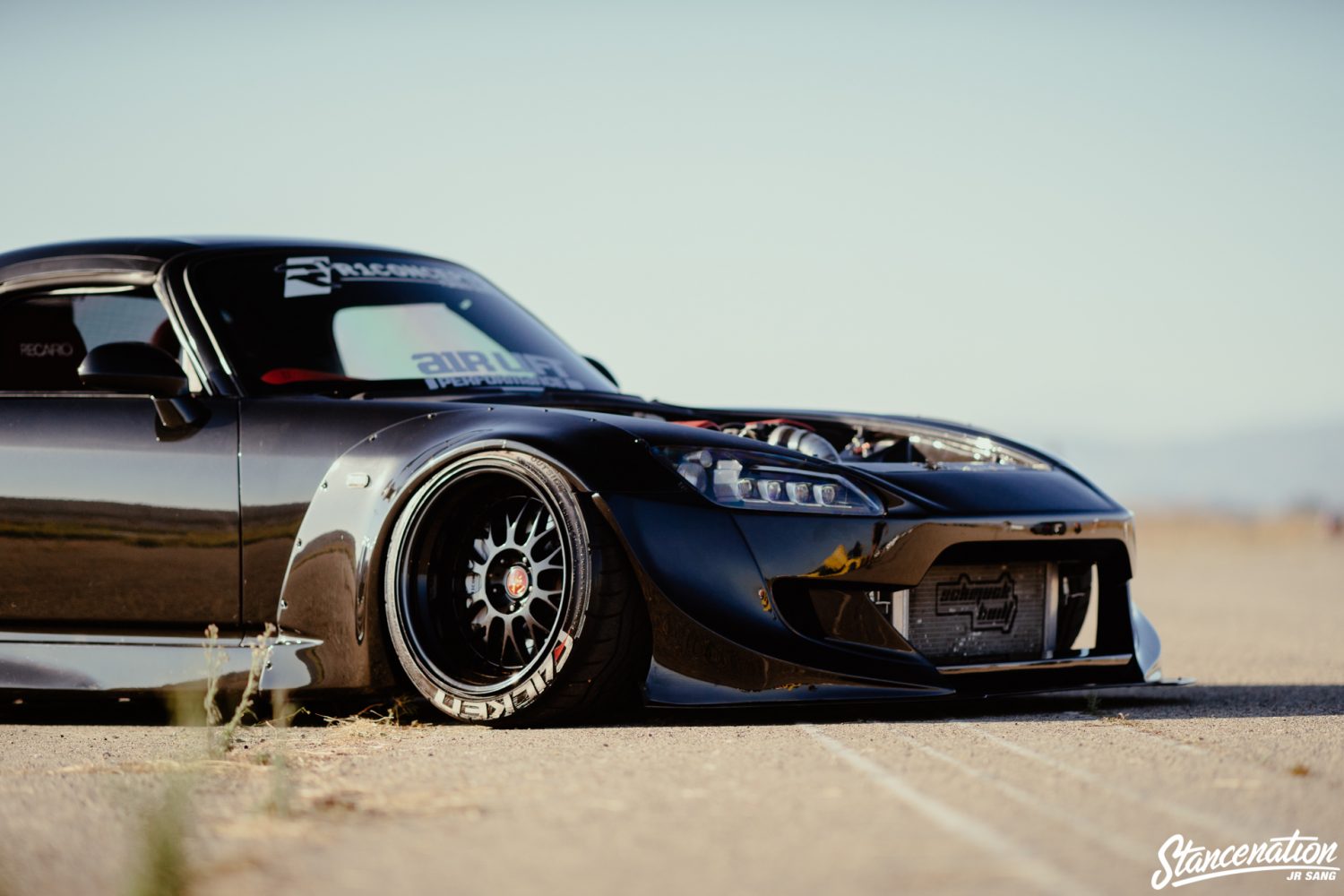 The interior however, kinda steals the show in my eyes. There is something about a bright red interior that just does it for me almost every time. Especially in contrast to a black or white car, and even more so when there are other subtle details to tie it together. Wapo has gone classic Honda here, a full RHD conversion with OEM red interior parts. Seats were an obvious choice, a pair of Recaro SPG's that fit the build perfectly. The OEM hardtop sports a diamond stitch headliner with matching inserts in the door panels. Steering wheel is a matching black/red No Good Racing 30th Anniversary piece.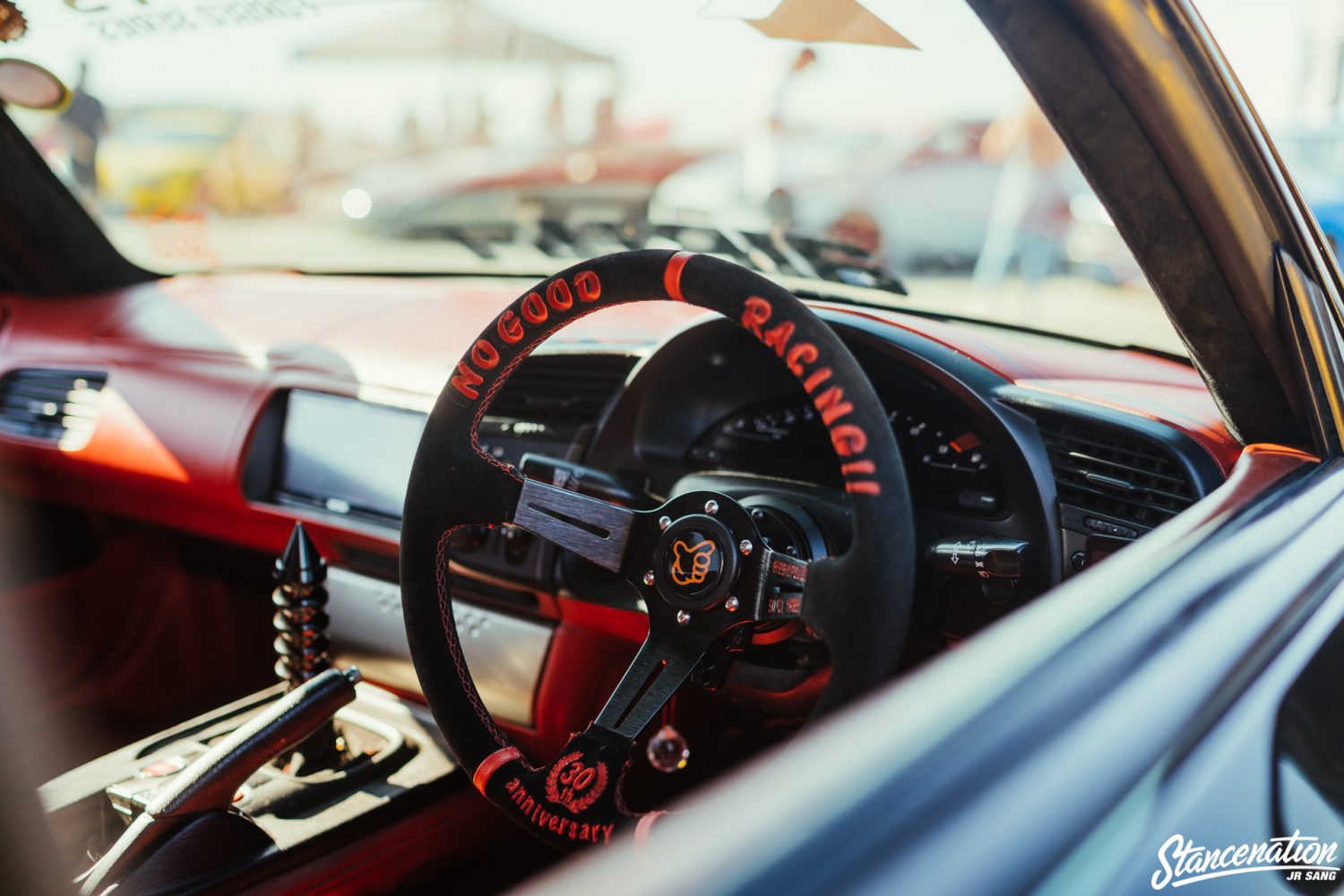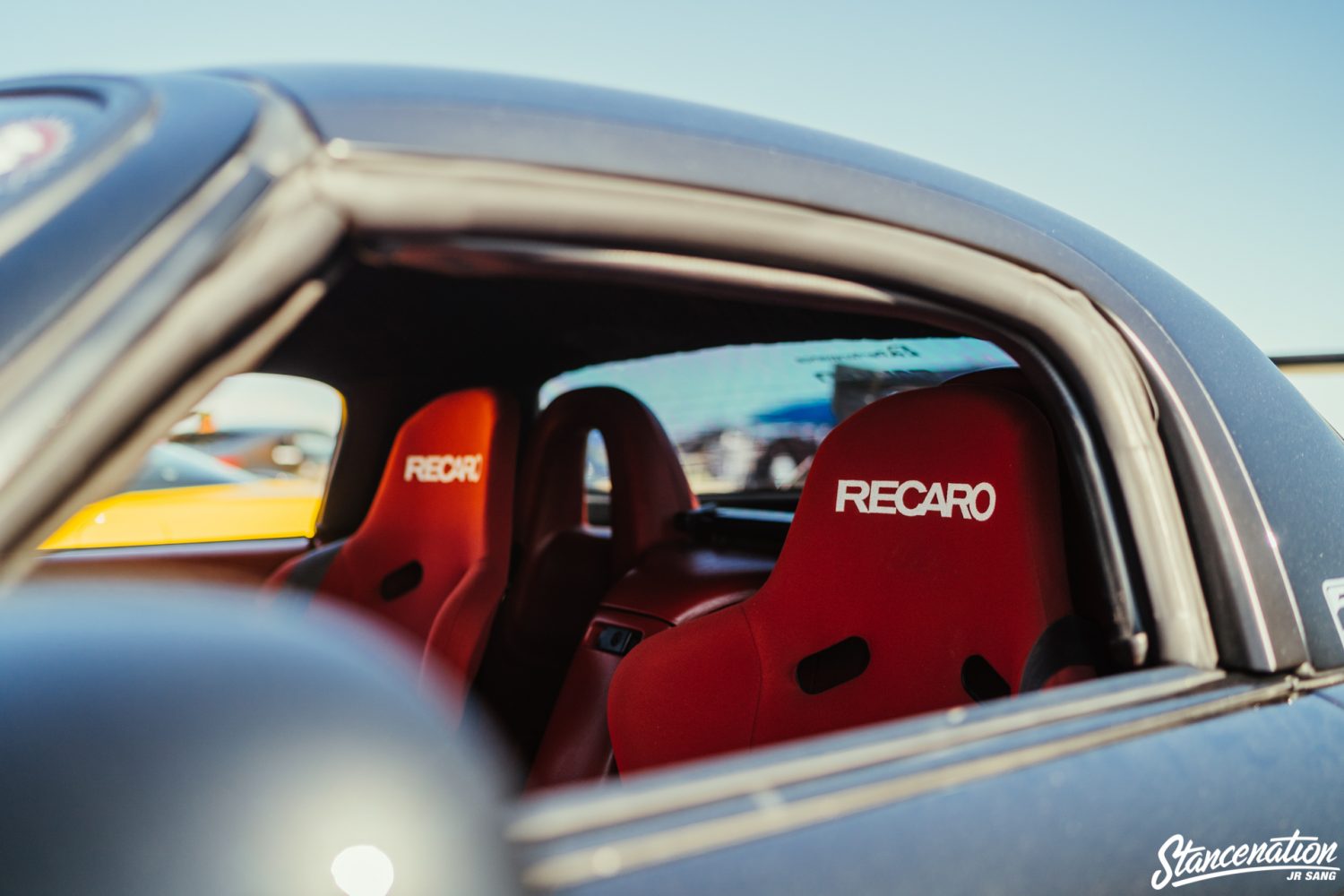 If the interior is stealing the show, the wheels are a strong supporting role here. Custom stepped from 17" to 18", these Work VSXX come in at a staggering (no pun intended) 18×11.5 in the front and 18×13.5 out back. They're finished in a matte/gloss black combo and I'm pretty sure they're the perfect wheel choice for this car. Black wheels on a black car can be hard to pull off, often times blending in and hiding. But, wrapped in sticky, stretched Falken Azenis RT615k, these black wheels stand out in just the right fashion. Of course, the Air Lift suspension that gets the ride height dialed in here definitely helps sell the entire package.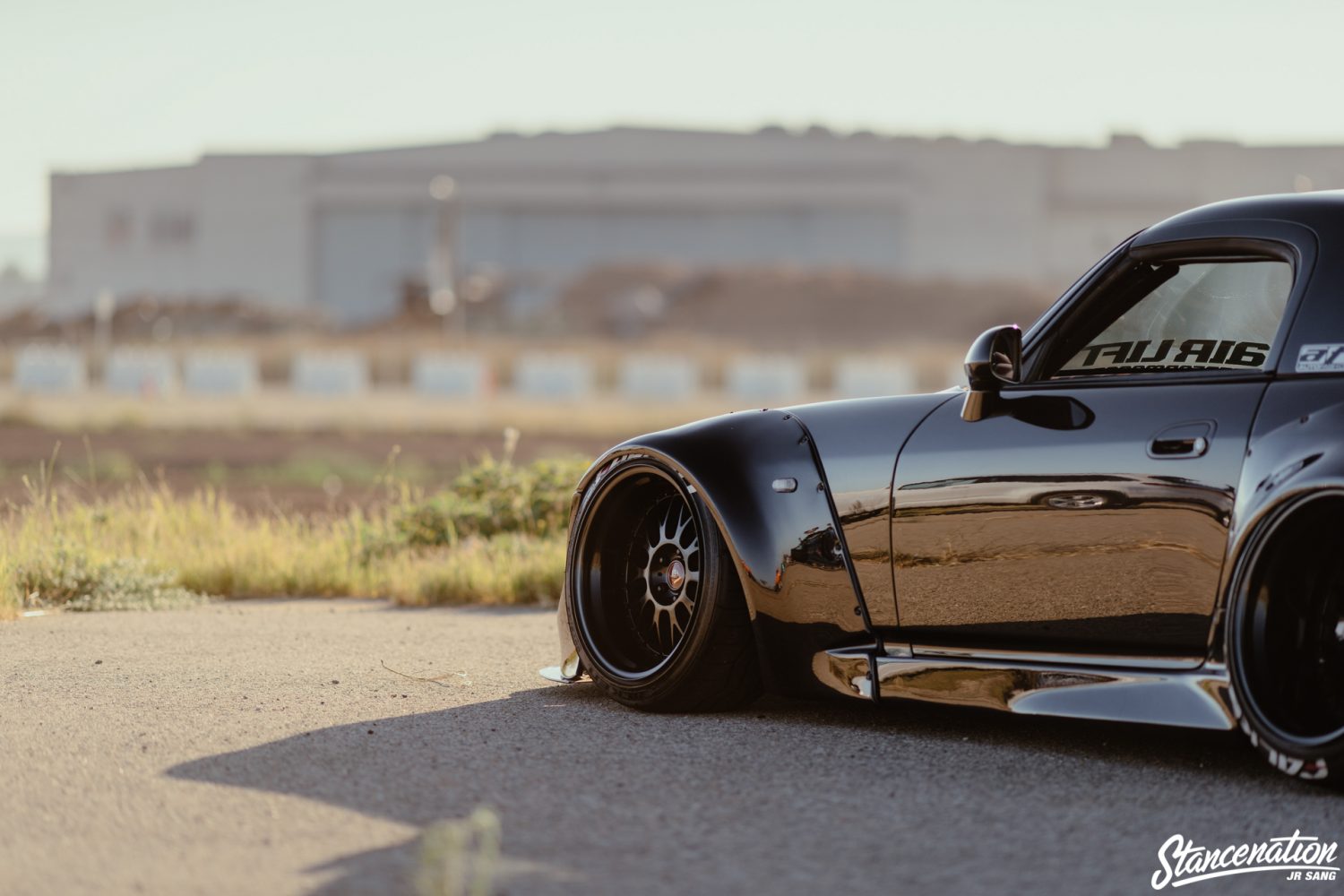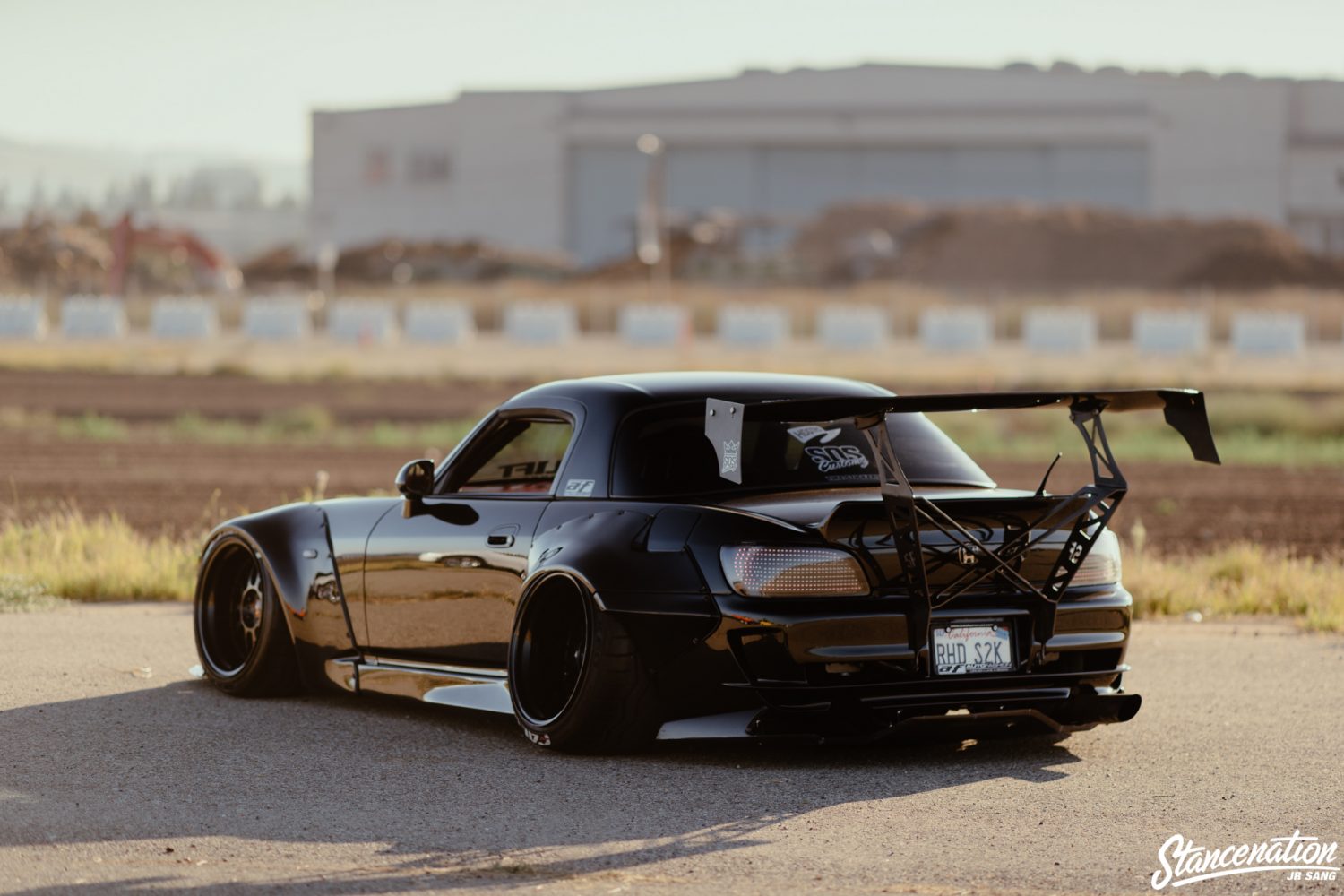 As mentioned, when I ran across this car in person, the big sell was in the engine bay. The stock S2000 powertrain is great, don't get me wrong. But, lets just say that I'm a big proponent of the "LS swap the world" mentality. In a chassis as refined and light as an S2000, I can't think of a reason NOT to have a 365hp/380tq v8 under the hood. Wapo mentions that it wasn't even the overall output that sold him on the LS1, it was reliability and parts availability. The real beauty of swapping in this drivetrain is that it makes this power in nearly stock form, as opposed to the strung out supercharged F20 that was previously in the car. Current engine mods are limited to custom headers, exhaust, a custom intake, and a tune.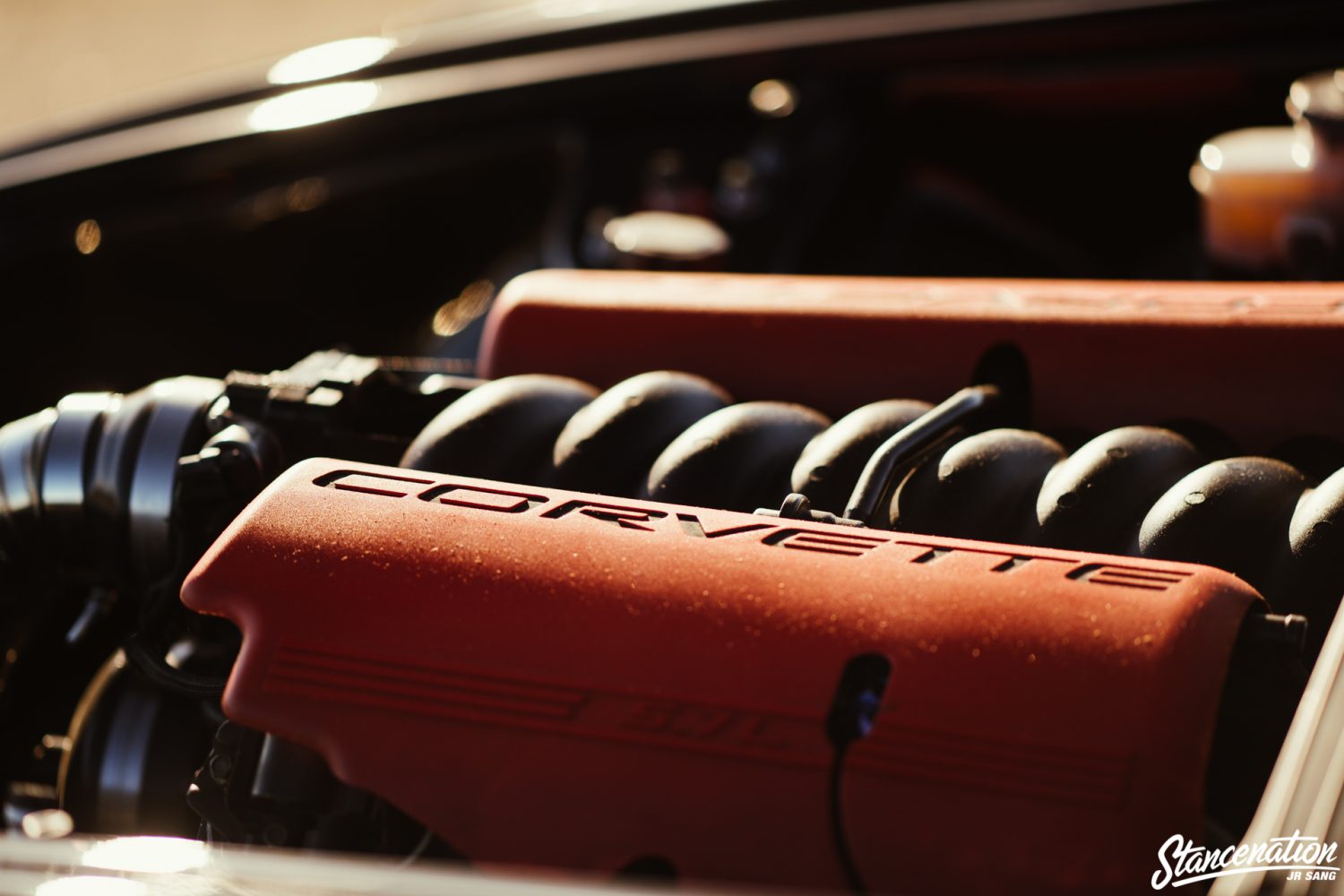 Wapo Felix has quite a bit to be proud of when it comes to his prized S2000. He's taken bits and pieces from all over and blended them together to create one of the wildest S2000 builds of recent memory. Even better? He's touched every nut and bolt on it with his own two hands. There's no shame in having a car built for you. But, there's special pride reserved for those who dream up a car, do the work, and turn out a product like this.