Perfection. Defined by Merriam Webster as "the condition, state, or quality of being free or as free as possible from all flaws or defects", its something many of us strive for, few will get close, but only a small handful of people ever achieve perfection. Of course, perfection has its own unique definition depending on who used the word and I find it safe to say that to myself, this hatchback Subaru is the epitome of perfection. However, it was not always this way as the road to perfection has its own share of twists and turns. Allow me to introduce to you Ian Galvez and his Subaru STi Hatch.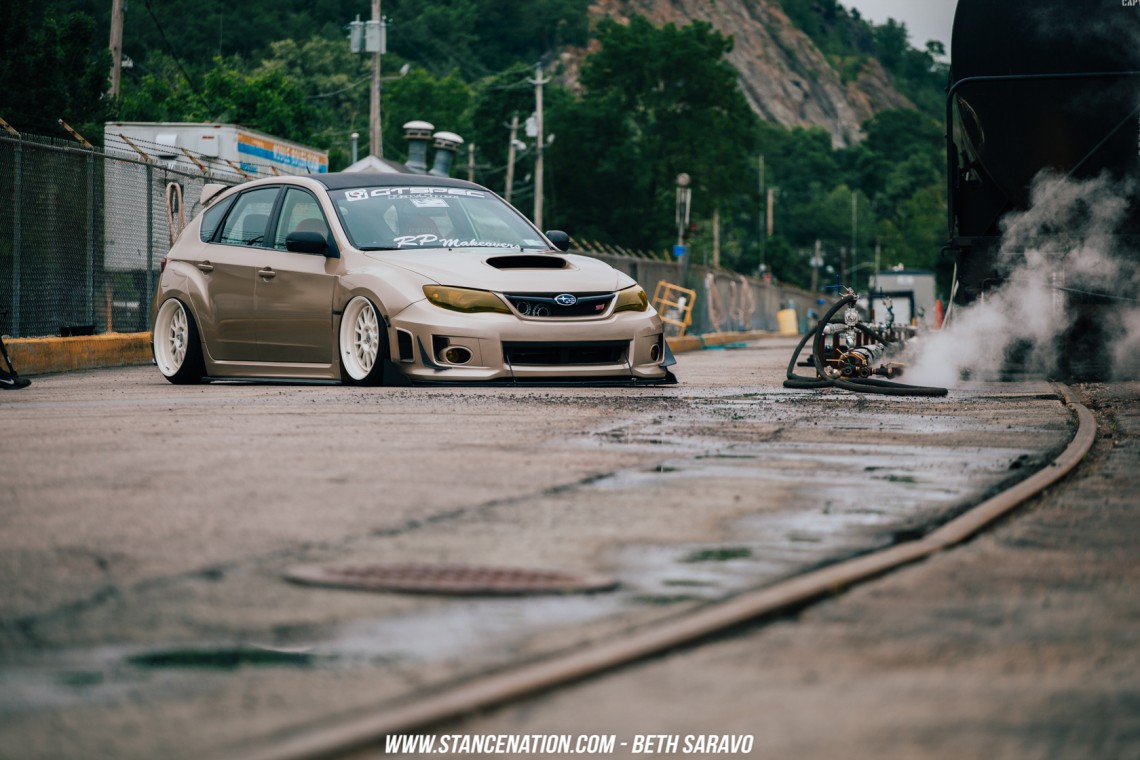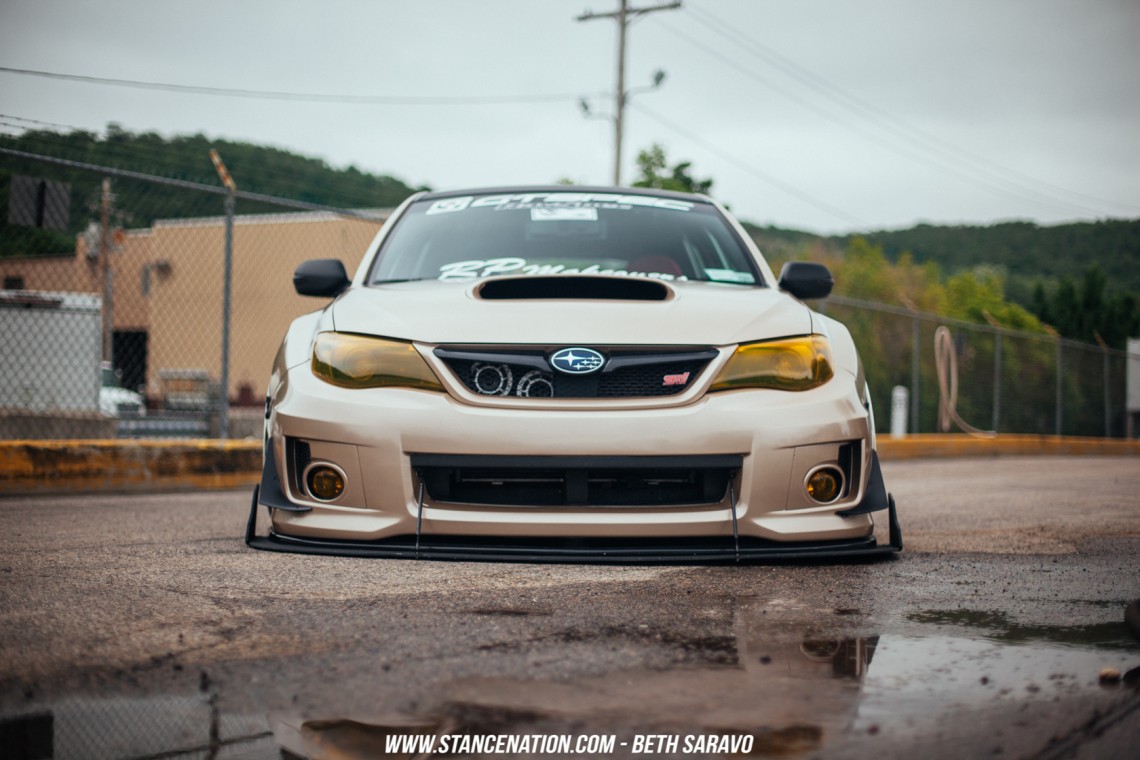 Initially the first thing that snags my attention is solely based off the fact of how low it is. In the front a custom lip made by Vilar Autobody paired with a Galvez Custom front splitter lend to the front fascia and aid the car in laying low to the ground. A pair of Galvez Custom Canards compliment the lip/splitter combination and give the car an even more aggressive look. Rounding out the sides and rear are BlackTop Aero Carbon Fiber skirts and rear. Finally, to top it all off, Ian had the car wrapped in Ashen Beige Metallic by RP Makeovers.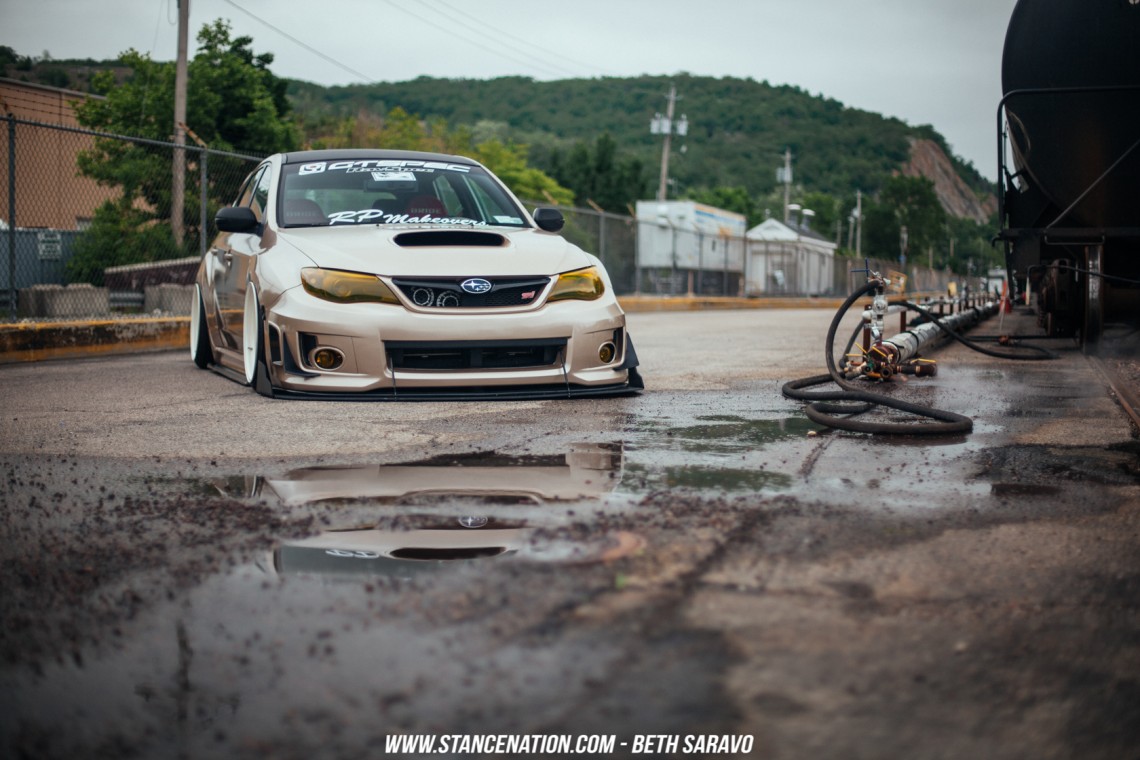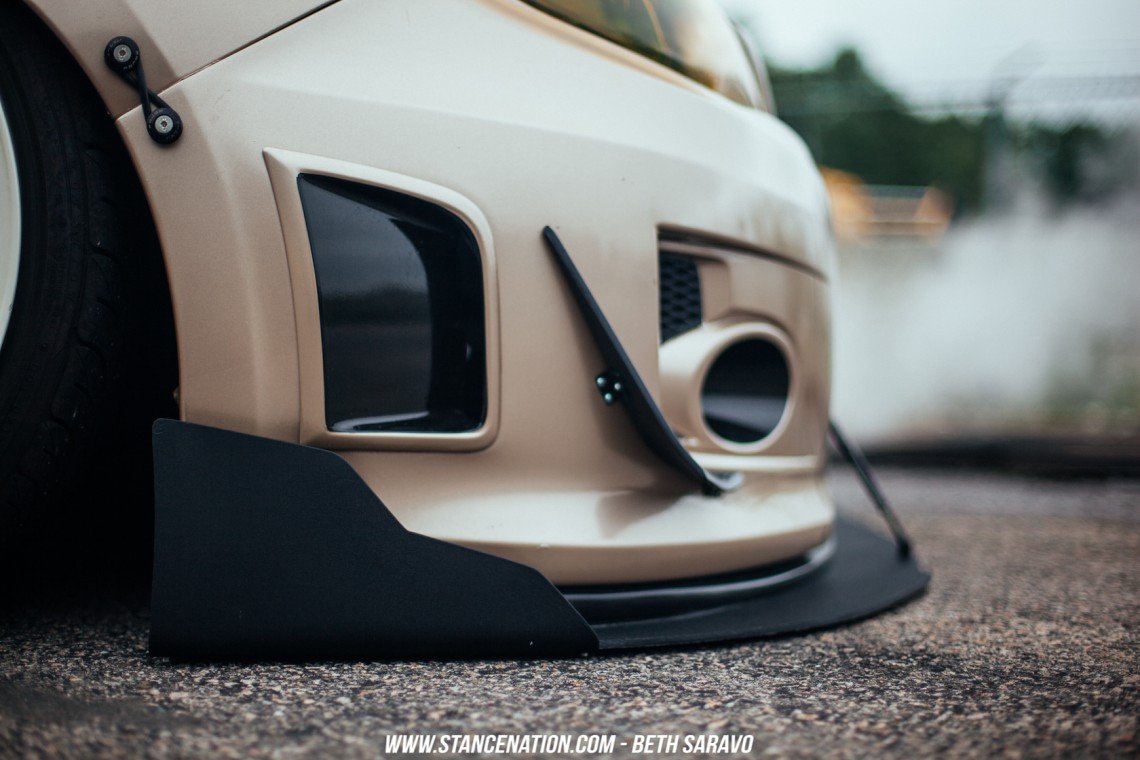 Ian's love for cars started at a young age thanks to his father and a particular S2000. Being taken weekly to meets allowed Ian to stay in the realm of cars and the modifications that follow. Finally one day, Ian's dream came true on December 13th 2011 when he attained his STi. From that point on, everything grew exponentially. He started a shared business with his father, Galvez Customs, responsible for the some of the aero parts you see on the car. But more importantly, the car scene and his STi has helped him forge some of the strongest relationships, something I feel all car enthusiasts can respect and relate too.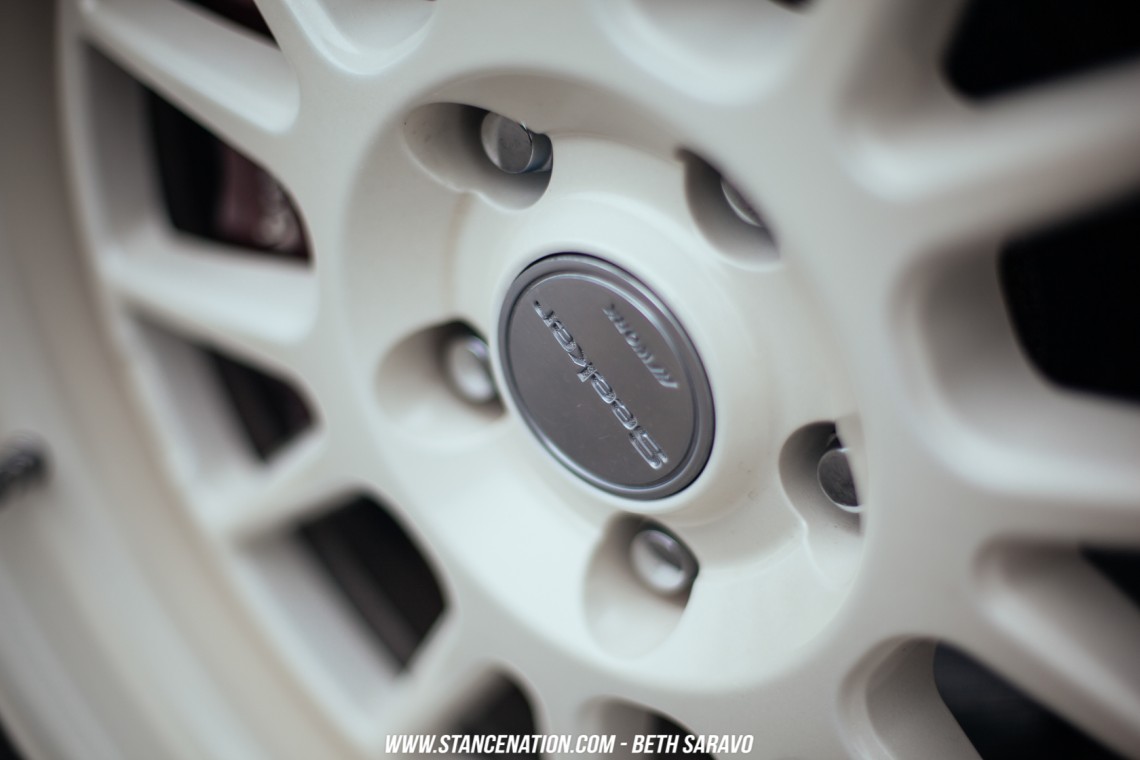 Ian tells us the most difficult thing about his build would have to be when he chose to fit 18×11 CCW LM20s while static. Without the aid of anyone, he trudged through a set of front and rear fenders before getting it right. However, the road to perfection is never easy. Currently however, the Subaru hatch sits on Work Seeker FX 18×10.5 +22F/+7R, respectively. Airlift Performance Struts gives the car variable height adjustment while Whiteline Rear Toe arms, GTSpec Rear Control Arms, and Front Camber bolts give the car flexibility in fine suspension adjustment. Whiteline 22mm Front and Rear Sway bars keep the car tight while Hawk Performance Ceramic Brake Pads sitting in Bronze/Copper Silver Flaked Brembos give the car appropriate stopping power.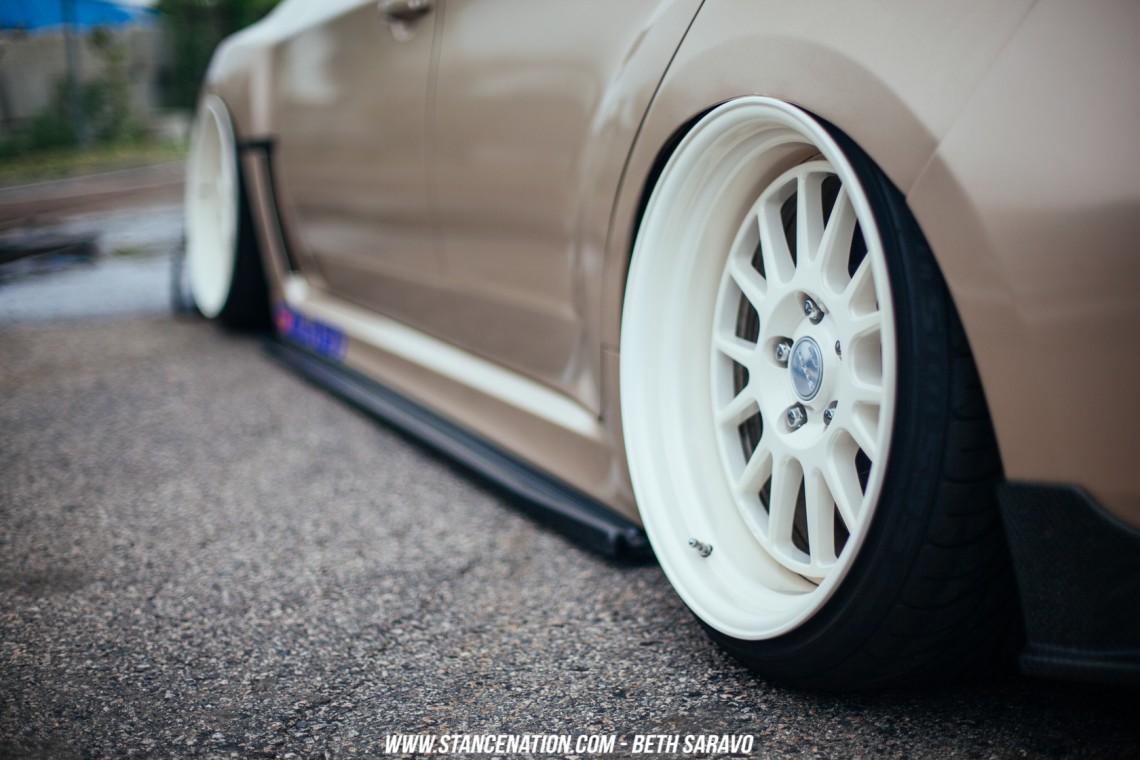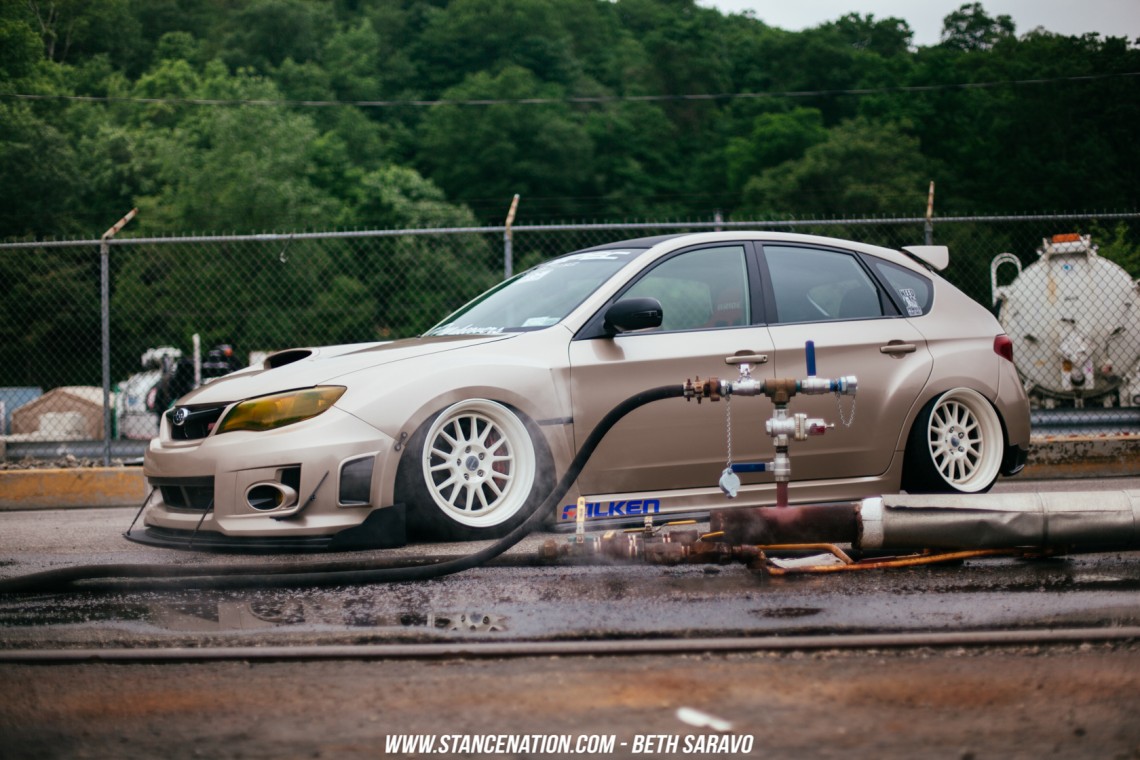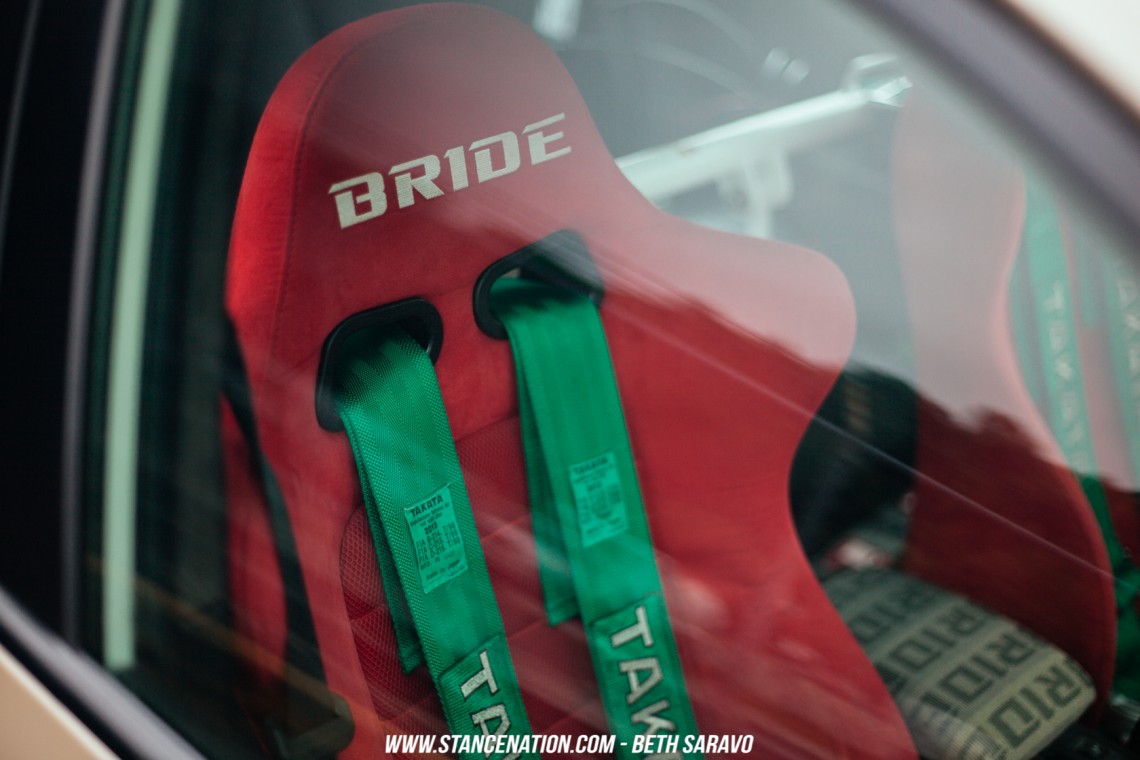 BAbove: Bride seats coupled with famous green Takata Racing Harness.
Below: Suede and Bride bless the interior as well as a hardwood floor for the trunk. Hardlines run from the 5 gallon air tank to each respective corner of the car.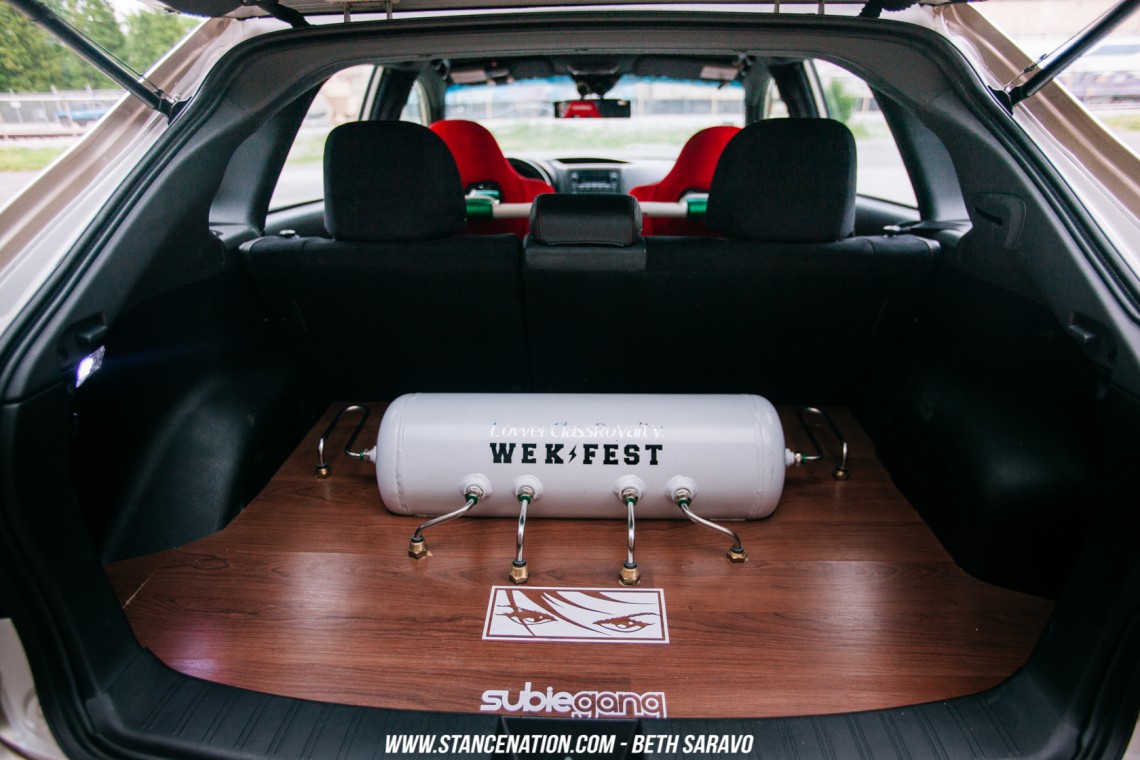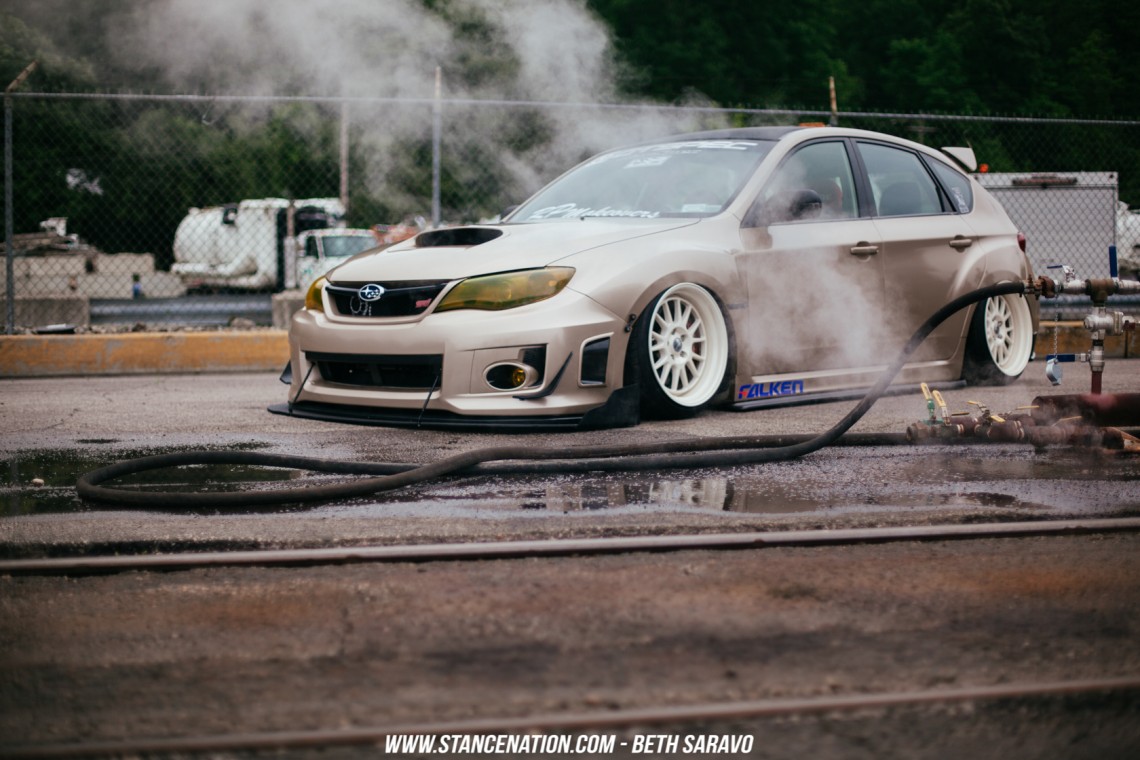 Ian would finally like to give his sponsors a shout out. More importantly, he'd like to thank all those that have helped out on build, as well as his personal life. But ultimately, he would like to thank his girlfriend Rachel, as she is ok with sharing him with the car scene. She's given unlimited support for all Ian's done and he truly wants to thank her for it. From the sounds of it, you both are perfect for one another. Keep it up Ian with your car build and your relationship, cause now you're StanceNation official.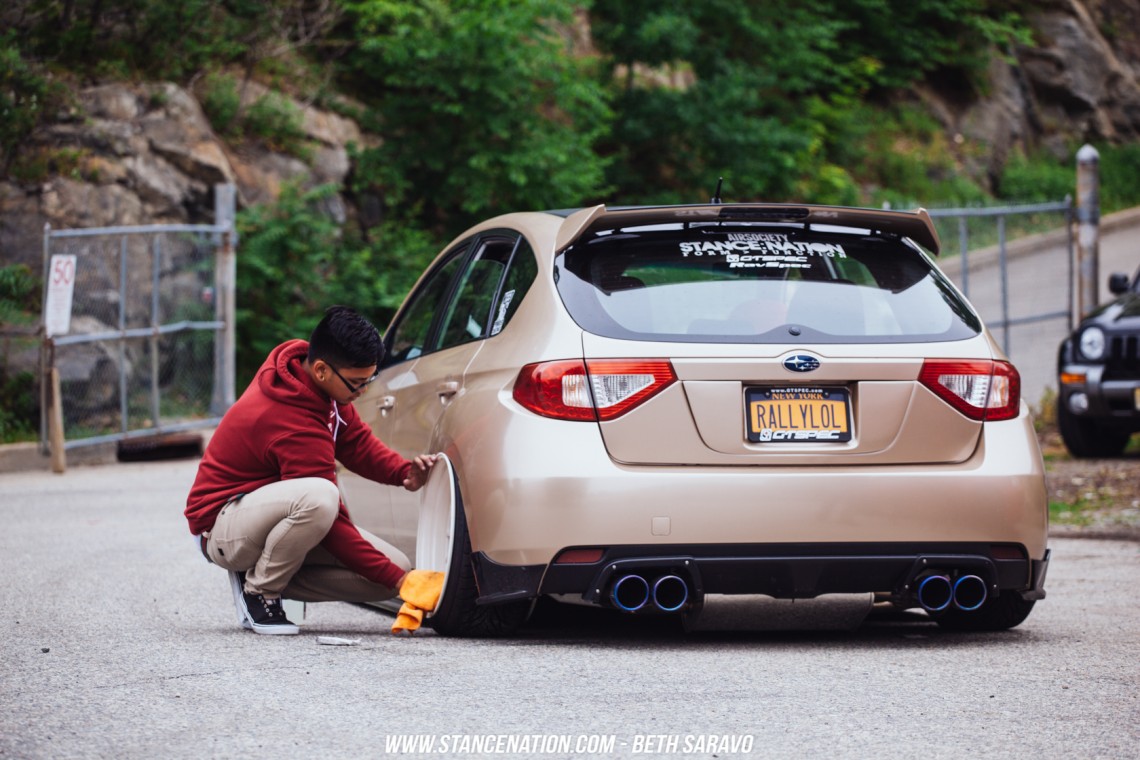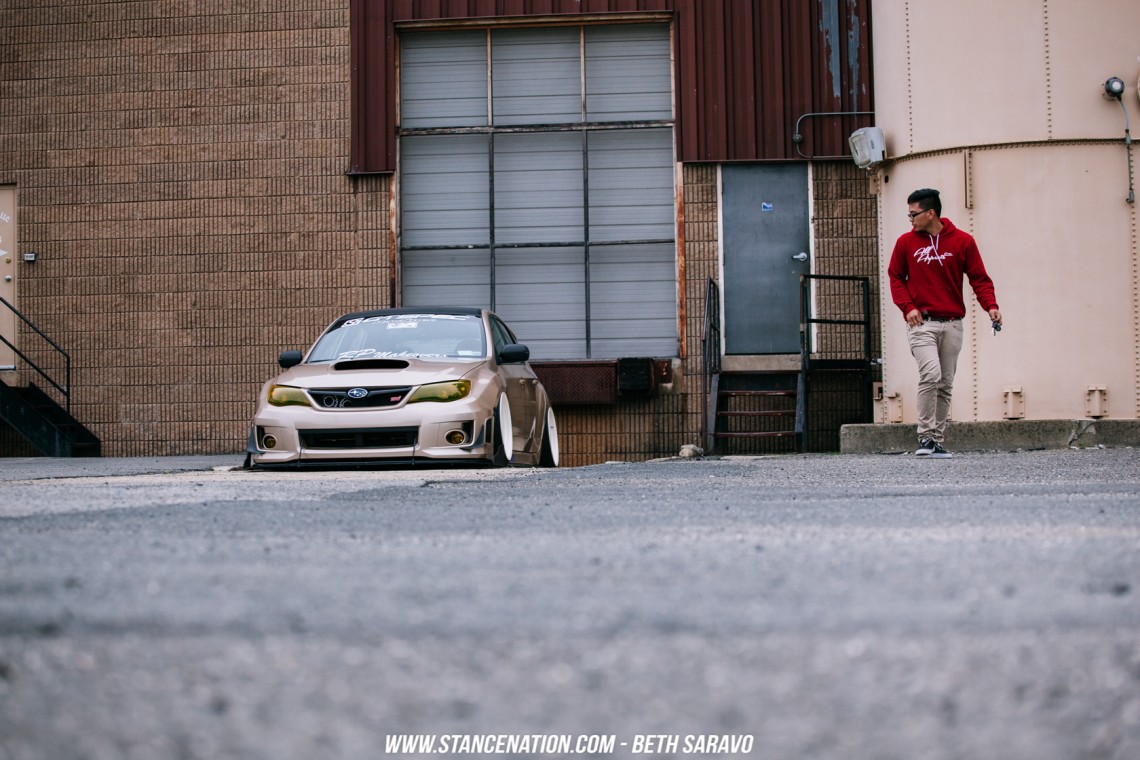 Finally, enjoy the beautiful shots by Beth Saravo exclusively for StanceNation.com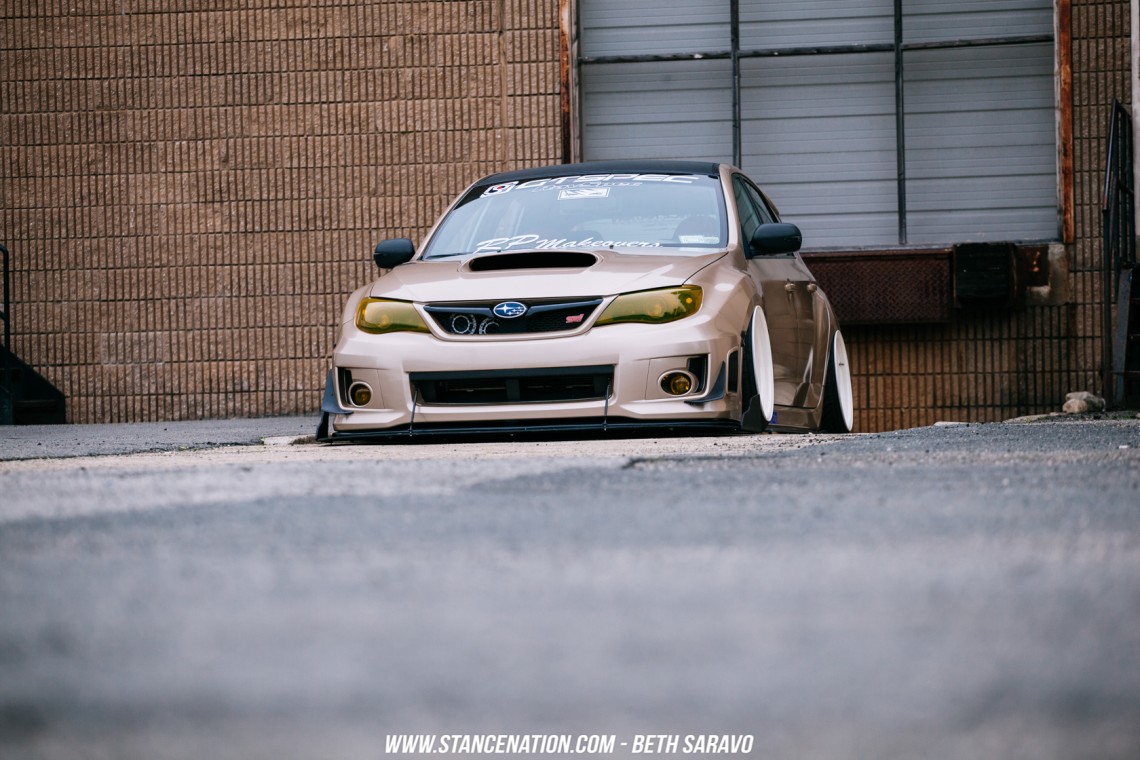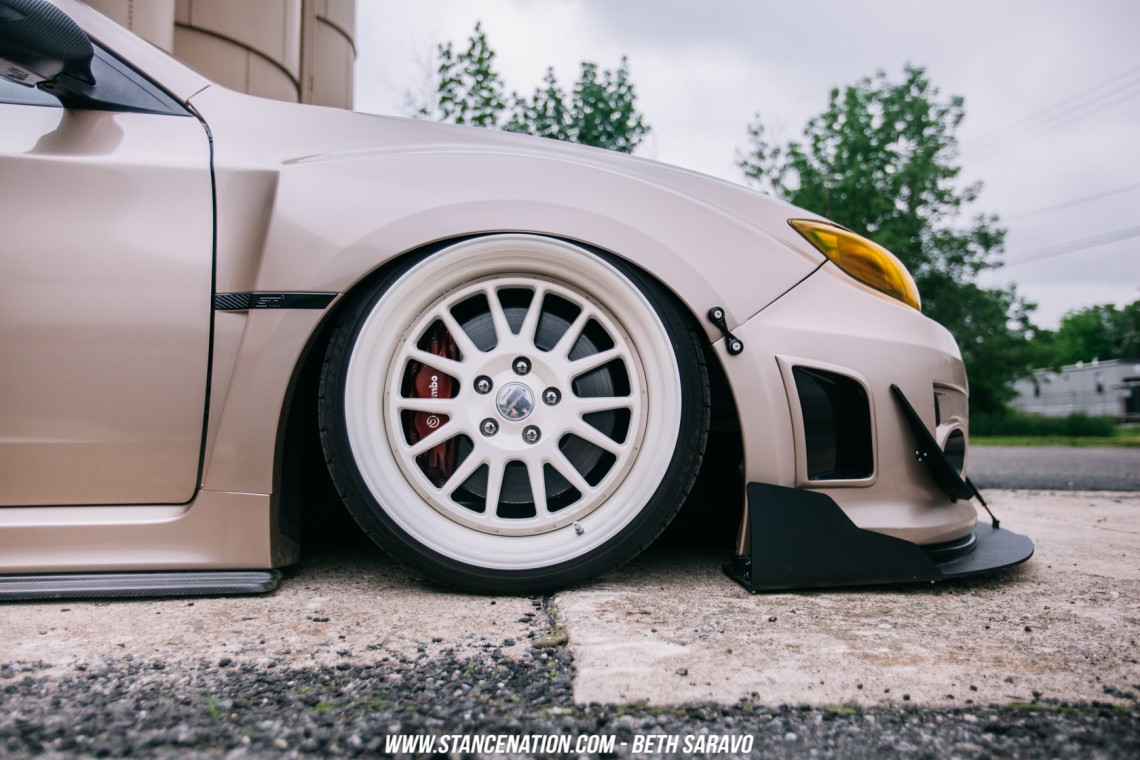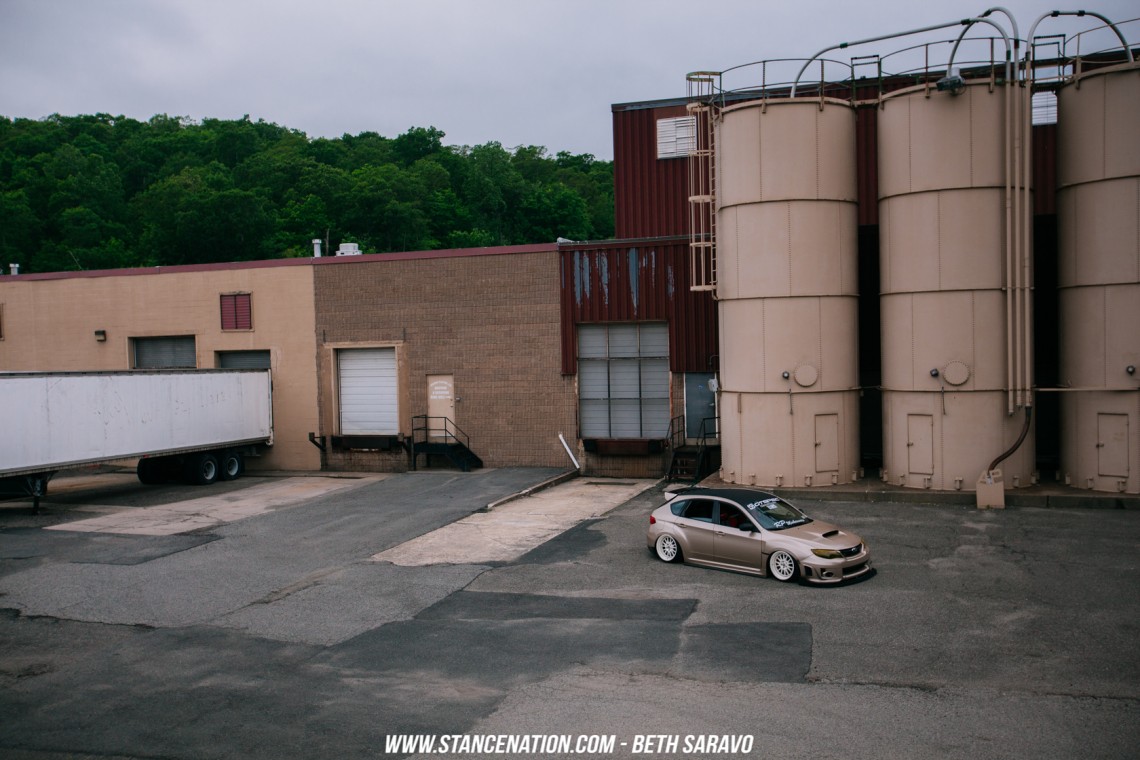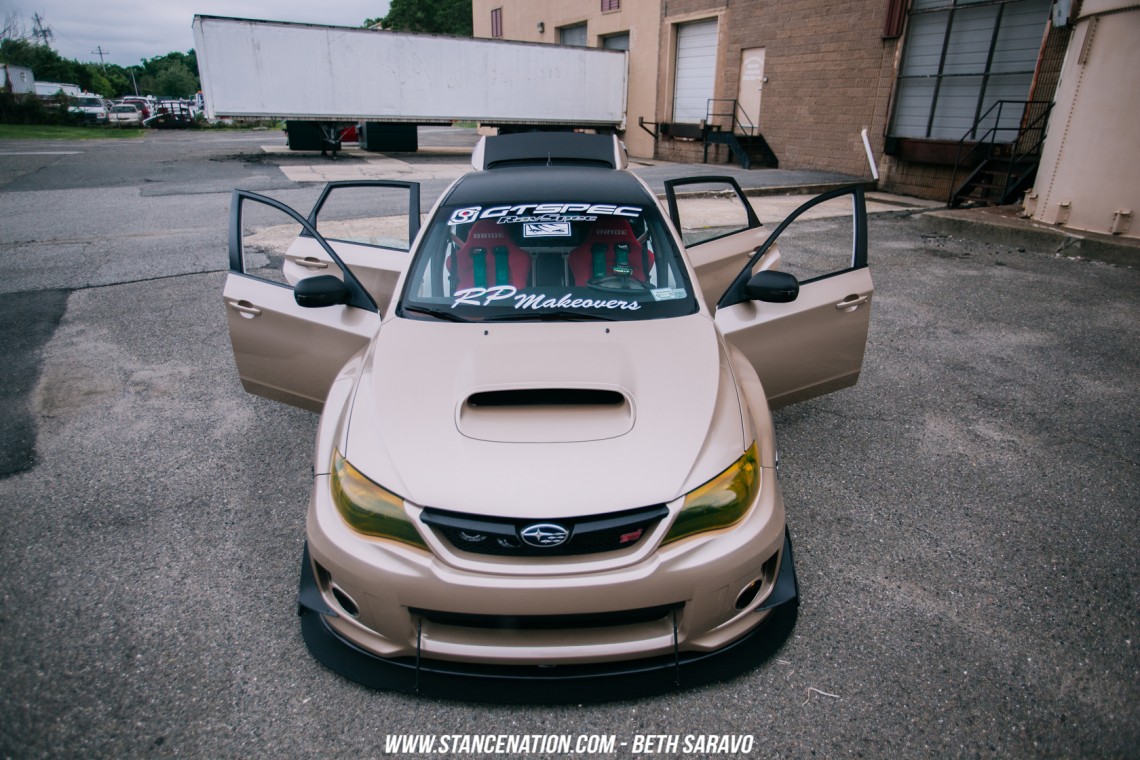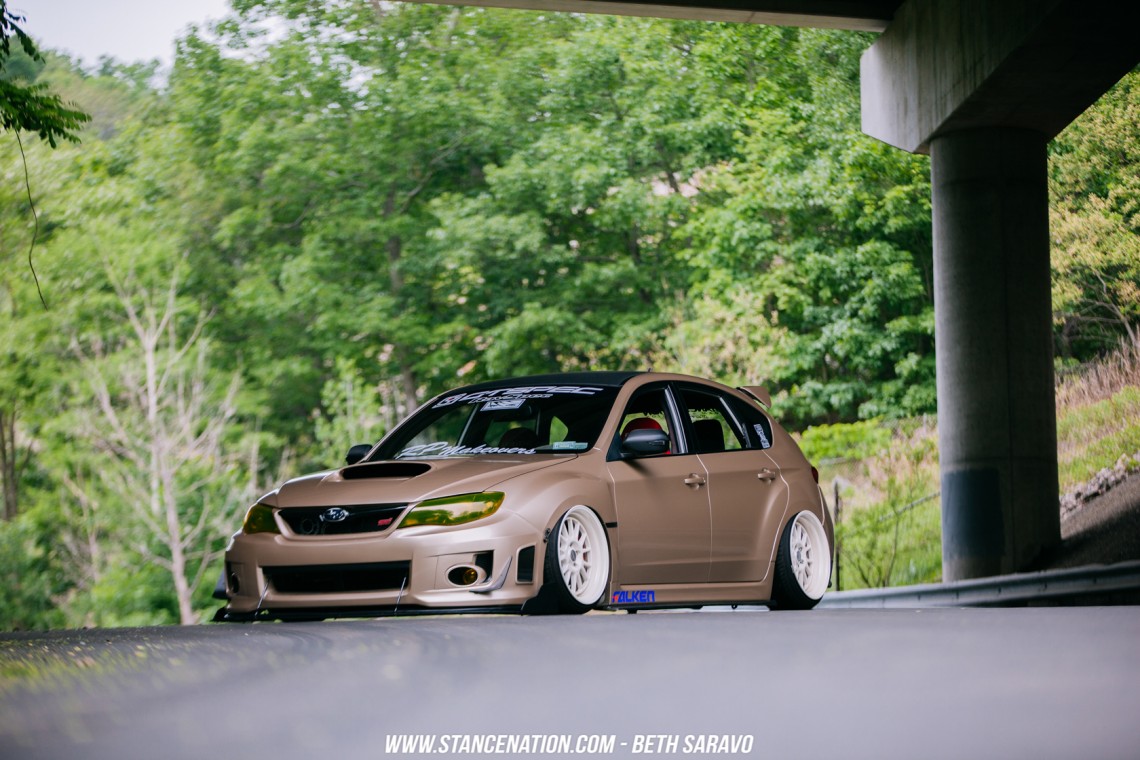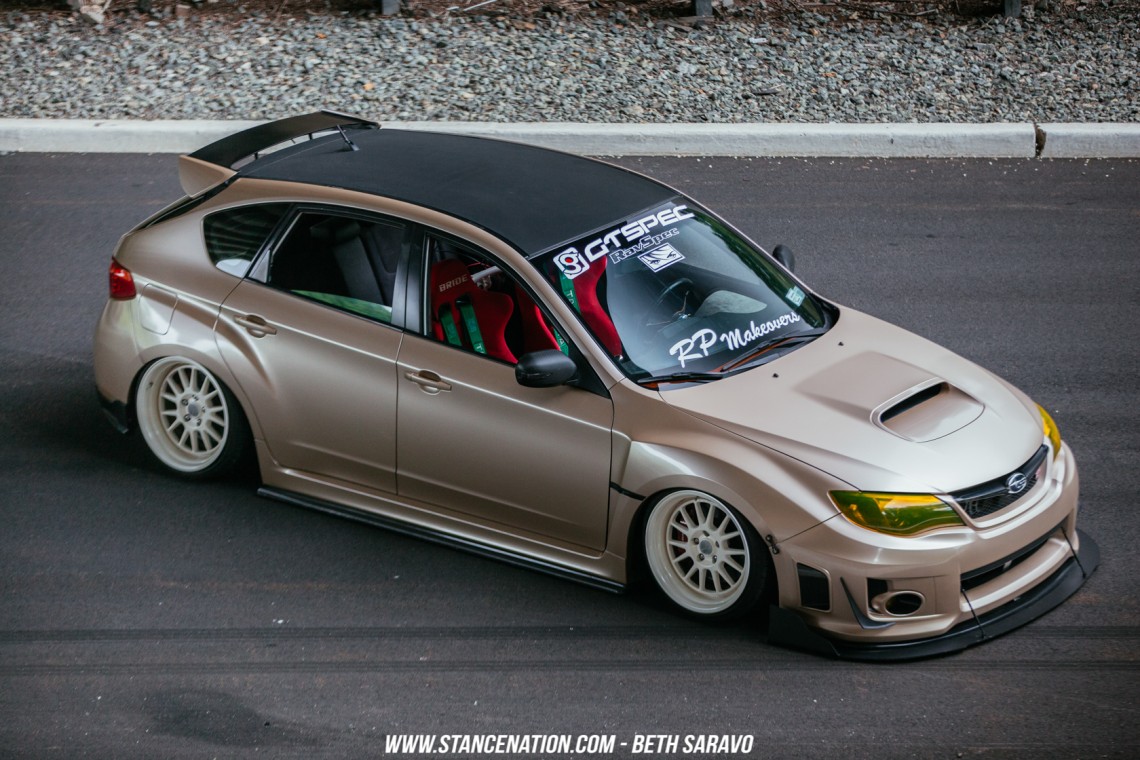 Exterior
Wrapped Ashen Beige Metallic by RP Makeovers
Custom Front Lip (Vilar Autobody)
BlackTop Aero CF Side Skirts
BlackTop Aero CF Rear Skirts
Galvez Customs front splitter
Galvez Customs canards
Perrin Wing Risers
Blacked out stock housing Headlights
Blacked out side markers
Blacked out rear reflectors
White Hella SuperTones
Carbign Craft CF License Plate Frame
Bronze/Copper Silver Flaked Brembos
Rewelded and Widened Rear Quarter Panels
Engine
Cobb SF Intake
Invidia TI Q300 Quad
Invidia Catless Downpipe
Cobb Acessport
Interior
KillerB White Shift Knob
4 Inch Shifter Extention
NRG Short Hub
NRG 2.8 Neochrome Quick Release
NRG Black/Red Stitched Steering Wheel
Bride Wrapped Interior
Suede Wrapped Interior
AEM Wideband.
Glow Shift Air Pressure Gauge
Hardwood Floor Trunk
Windshield Dual Gauge Pod
Suspension
Airlift Performance Struts
5 gallon aluminum tank
Whiteline 22mm Front Sway bar
Whiteline 22mm Rear Sway bar
Whiteline Rear Support Brace
Whiteline Rear Toe Arms
GTSpec Rear Control Arms
Ichiba Extended Studs
GTSpec Front Camber Bolts
Hawk Performance Ceramic Brake Pads
Wheels
Work Seeker FX 18×10.5 +22F/+7R
Powdercoated Satin Pearl White w/ Gold Flake
Shout Outs
-GT-Spec/RavSpec
-So Fresh/SubieGang
-RP Makeovers
-All Aspects Apparel #TripleAyeGang
-Accuair
-Falken Tire
-IAG PERFORMANCE
-Boostelo Racing
-Vilar Autobody
-Need Powdercoating