Society tells us that one day we must all 'grow up.' One day we'll have to quit playing with cars, sell our toys and get something more practical. After all, a family can't fit into that 2-door sports coupe with a roll cage. The status quo maintains that the day will come when we'll have to turn our music down, lose the awesome haircut, and buy a minivan. On the other hand, perhaps the minivan isn't such a bad idea.
Photos By: Santtu Kilpinen exclusively for StanceNation.com
Despite the connotations and stereotypes associated with vans, it has certainly worked out well for Finland's Teemu Neulanen. He tells us that 2 years ago his growing family needed something roomier, so he sold his Skoda Octavia and knew his next vehicle would be from the VAG. For those who are unfamiliar with the VW Touran, it is a minivan based on the Golf platform. The Touran was first released in 2003 and is available with a variety of options and engine configurations, both gasoline and diesel. Teemu picked up this black 2004 TDI model and while it serves the purpose of transporting his family of five, it's obvious that he hasn't conceded any of his style in exchange for the extra utility.
Neulanen began his quest for the perfect stance with a set of V-Maxxx 'Extreme' coilovers. Of course, that setup has evolved into the current custom bag-over-coil system, utilizing UA Aerosport bags and a VIAIR 480C compressor from LowToys. Classic Schmidt TH-Line wheels are nestled comfortably beneath the fenders. I never tire of seeing Schmidts on a VW, especially when they are as beautiful as this example. Sized 18×9"front and rear using Radinox lips and chrome bolts, the dimensions are well suited to the Touran.
The van has received a serious attitude adjustment with the addition of the updated 2012 'Highline' front-end, offering a more aggressive and streamlined face. Votex supplied the side and rear components to finish the clean, low aesthetic of the VW. On the inside black leather continues the subtle theme and is complimented well by a quality entertainment system, for the kids of course.
Teemu's Touran is a TDI, meaning it came with Volkswagen's 2.0L turbo-diesel powerplant. This particular oil-burner is no slouch, with an upgraded Garrett GT1852V turbocharger and a custom map from Findiesel the van scoots to a tune of 220hp and 500nM of torque (around 370lb/ft). I'm sure that's more than enough oomph to tote around his 3 children; ages 1, 2, and 3.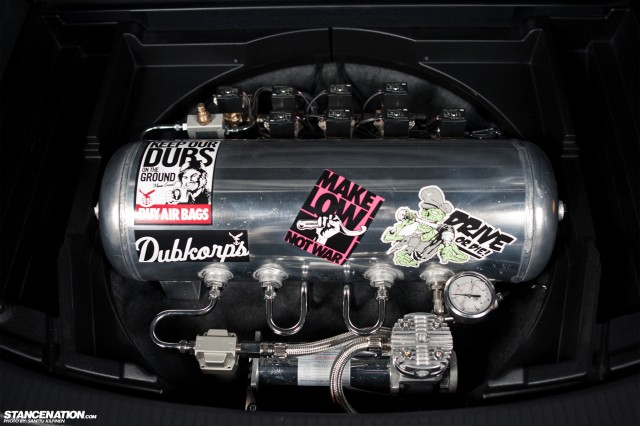 Life is full of compromises; that's understood. However, who's to say we can't do what we have to do along with what we want to do? This Teutonic family hauler is solid proof that with the right mindset and motivation 'growing up' doesn't have be synonymous with 'getting boring.' This Touran is used daily for all normal transportation duties, as well as for the artistic expression of its owner and show attendance. Teemu tells us the Finnish scene itself is still up-and-coming, with only 3-4 events per year. From my vantage point across the pond the future of Finland's stance community looks especially promising with vehicles of this caliber leading the way. Only time will tell if Neulanen's children will follow in his footsteps. It may prove difficult not to, especially when they're growing up living the low life in dad's slammed VW.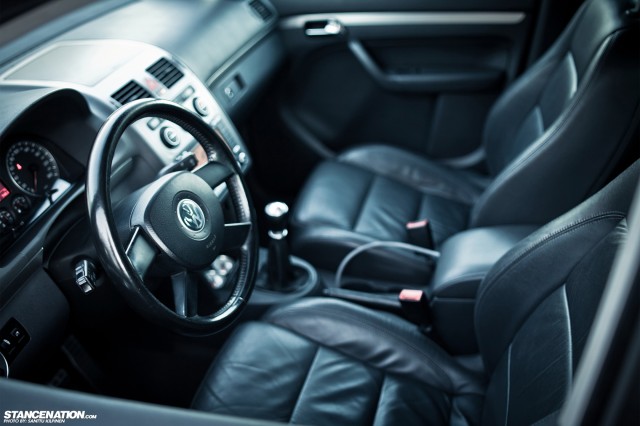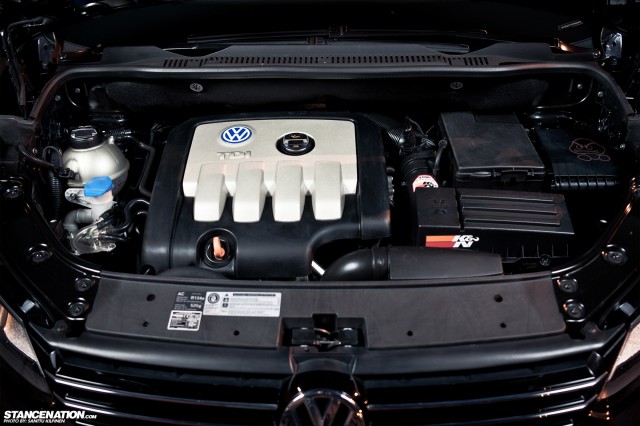 [toggle_box]
[toggle_item title="Wheels/Tires/Suspension" active="true"]Suspension:
V-maxx Extreme coilovers with custom front struts
UA Aerosport front bags
SS-5 rear bags
Viair 480C Compressor
GAS check valve
SMC water trap
SMC 3/8 valves x8
AVS 7 controller
5gal aluminum tank
Modified subframe
Audi TT RS aluminium front wishbones
Wheels:
Schmidt TH-Line 9×18 with Radinox outer lips
Flat centercaps
Toyo T1-R 215 and 225/35R18
Chrome wheelbolts
[/toggle_item]
[toggle_item title="Exterior" active="false"]2012 Facelift, including:
Adaptive xenon front lights with led drl
Highline front bumper with foglights
Highline grill
Bonnet and fenders
Mirrors
Votex sideskirts
Votex rear valance
Facelift Cross Touran oem taillights
Oem tint
Rear wiper removed, plugged with glass plug[/toggle_item]
[toggle_item title="Interior" active="false"]Full leather
Navi MFD2
Facelift silver center console panels
GTI Golf pedals an foot rest
W8 Passat rooflight
KPC dual-needle gauges
9″ JVC roof monitor and dvd (for kids)
Blaupunkt 8″ active subwoofer (under right front seat)
[/toggle_item]
[toggle_item title="Engine" active="false"]Garrett GT1852V turbo
Audi S3 intercooler
K&N air filter
Custom exhaust
Findiesel remapped
Audi R8 aluminum oil and coolant caps.
R32 Golf short shifter
220Hp/500Nm[/toggle_item]
[/toggle_box]