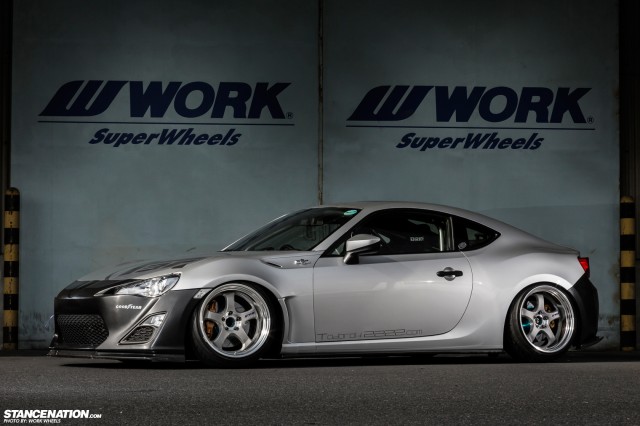 The Japanese have a way of turning the ordinary into the extraordinary. They can transform a collection of plants into a beautiful Japanese garden, a sushi roll into a fire-breathing dragon, even a piece of paper can be folded into a work of art. For Daisuke Miyazaki of Osaka, Japan, the medium he chose to metamorphose is the stunning Toyota 86 you see here. Known in the States as the Scion FR-S, this particular Toyota 86 is the RC version, a base-model only available in Japan and New Zealand. With unpainted bumpers, no air conditioning, and no option for an automatic transmission, the RC Hachi-Roku truly is a blank canvas.
Photos By: Jean-Christophe Pepino exclusively for StanceNation.com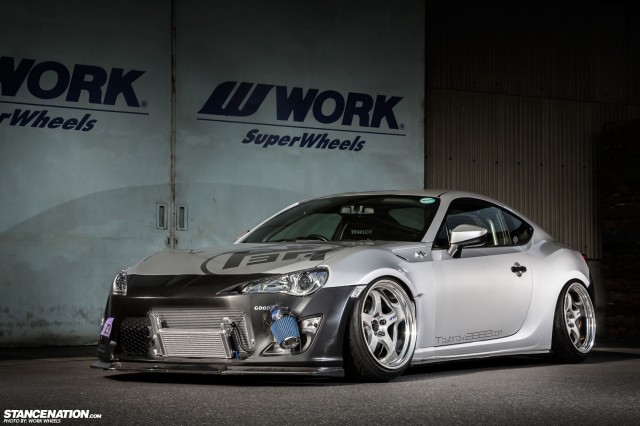 To help him realize his vision, Daisuke-san enlisted the help of Osaka-based Todoroki. Already in love with the styling of the 86, he set out to improve upon it. A set of Todoroki front fenders add a measure of aggressiveness to the car, and a full Chargespeed bottom line kit in carbon fiber perfectly compliments the car's body lines.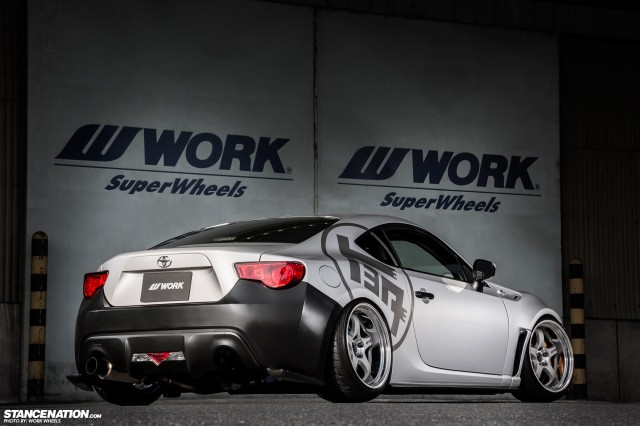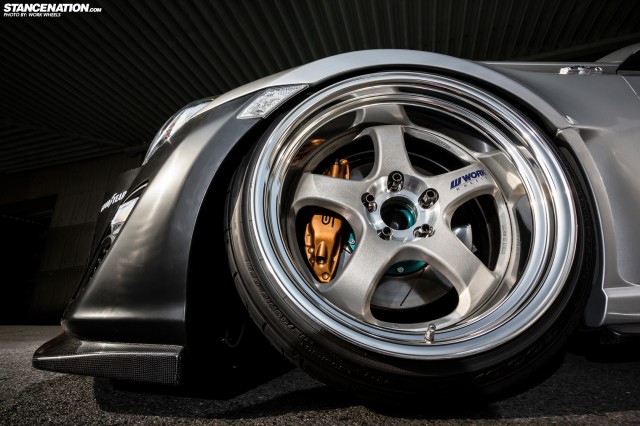 With the body mods taken care of, it was time to perfect the car's look with an aggressive stance. A set of Todoroki SPL coilovers with external reservoirs introduce the 86 to the pavement, and a carbon fiber TRD strut tower bar, Todoroki stabilizer bar, and Todoroki rear upper arms keep the suspension under control. A Cusco roll cage and spot welded chassis keep body flex to a minimum. To take advantage of the Hachi-Roku's new ride height, Daisuke-san added a set of custom-colored Work Meisters. To fit the 18×10 +12 fronts and 18×10.5 +17 rears wrapped in 215/40 and 225/40 rubber, Daisuke-san had to modify the wheel wells and accept a steering angle limited by wheels that hit the stabilizer and a "nightmare" rear arm angle and mounting location, but the resulting look is a thing of beauty.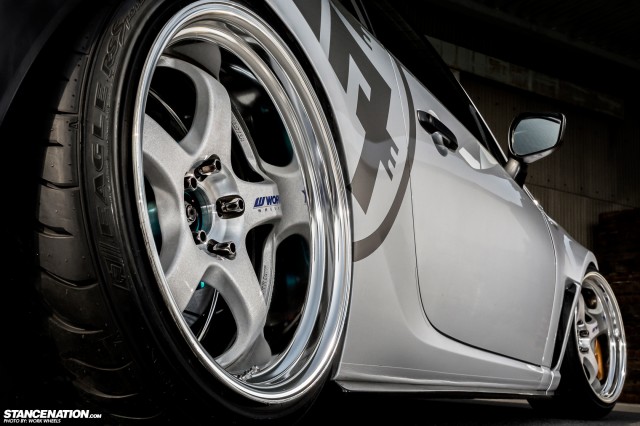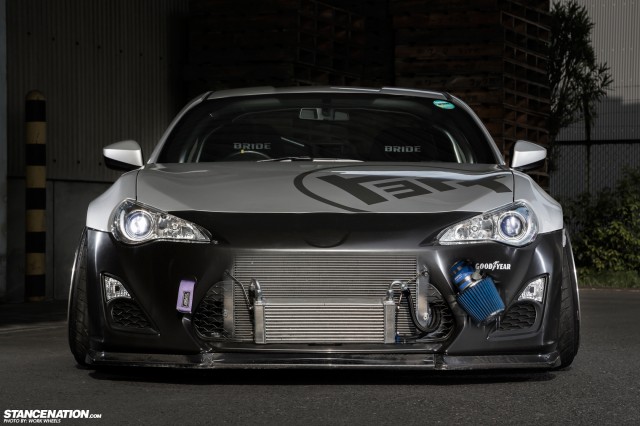 To back up the race look of his car, Daisuke-san stepped up the power of the 86. A Todoroki air filter handles the intake side, while a Kakimoto Racing front pipe and muffler handle the exhaust duties. A NOS nitrous setup brings power output to 315 hp at 6900 rpm, and an upgraded ORC clutch and flywheel help put that power to the ground. The plugs have been upgraded to HKS versions, and a Sard radiator and Todoroki oil cooler are on board to keep the motor running smoothly. An EcuTek tune has been added to maximize Daisuke-san's engine modifications.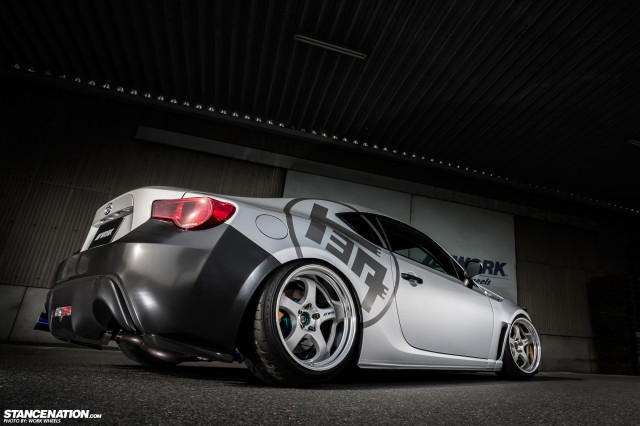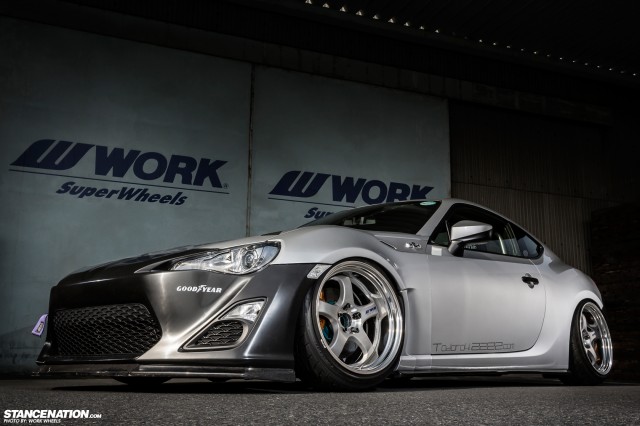 With more power on board, Daisuke-san upgraded the braking system to match. Project Mu SCR slotted rotors were fitted behind the Meisters, and Brembos borrowed from an Impreza STI bring them to a stop with the help of Project Mu HC+ pads. To fine-tune the interior, Takata seat belts keep Daisuke-san firmly planted in the Bride seats, and he controls the 86 via a OMP steering wheel. A Trust all-in-one meter lets Daisuke-san know what's happening under the hood.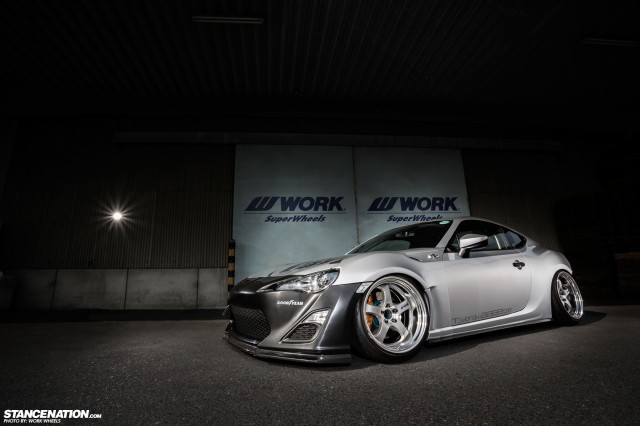 In genuine Japanese fashion, Daisuke Miyazaki has crafted this showpiece from the base model, cheapest Toyota 86 offering. Like the Japanese gardeners, sushi chefs, and origami masters of his country, he has created a work of art that is truly greater than the sum of its parts.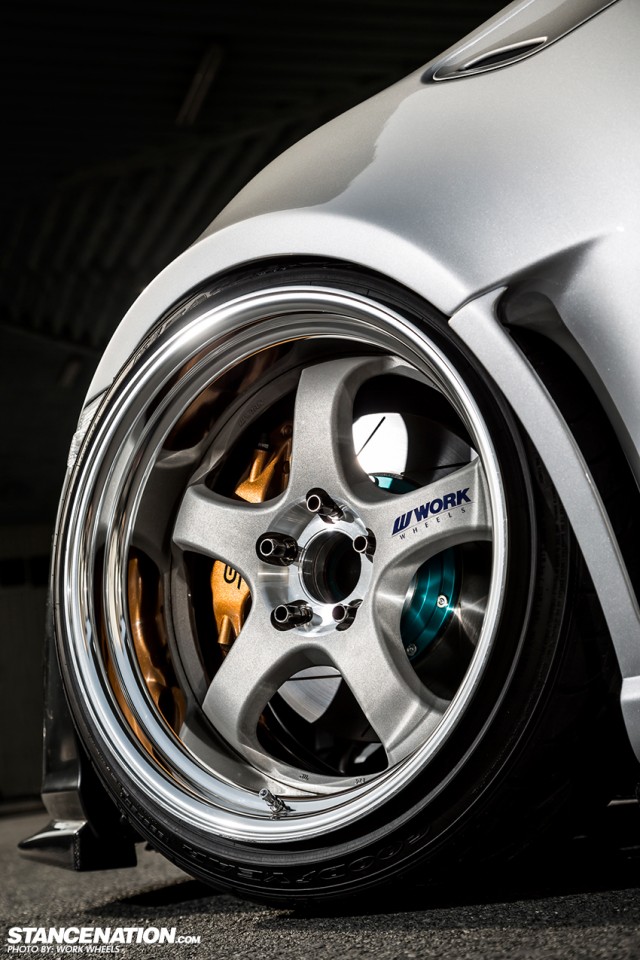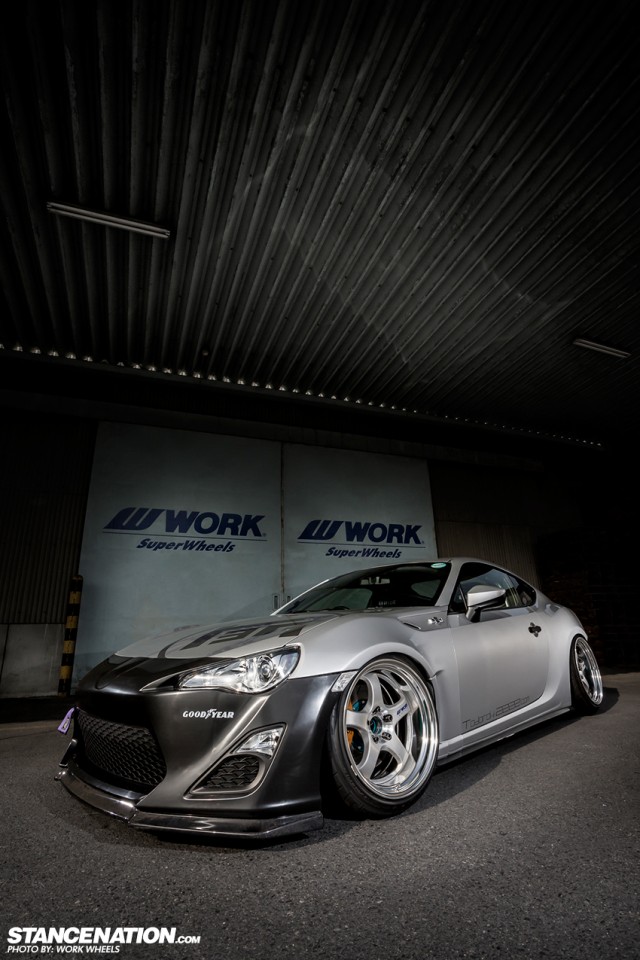 [toggle_box]
[toggle_item title="Wheels/Tires/Suspension" active="true"]Damper Todoroki SPL "stance" coilovers with separated tank
Springs F : Craft 12 kg/mm   R :Craft 14 kg/mm
Wheels F18 inch 10 J  INSET 12mm  R 18 inch 10.5 J  INSET 17mm
Wheels color SPL order
Tires F 215 / 40  -18 3bar   R 225 / 40  -18 3.2bar
Brake calipers Impreza STI Brembo
Brake rotors Project U SCR
Pad Project U HC+
Stabilizer Todoroki original
Strut brace TRD carbon
Uppermount rear arm Todoroki original[/toggle_item]
[toggle_item title="Exterior" active="false"]Body kit Charge Speed Bottom Line front and rear under bumper
Todoroki front fenders
[/toggle_item]
[toggle_item title="Interior" active="false"]Steering wheelOMP
Body welding Spot welded chassis
Seats Bride
Seat belt Takata
Meters, etc – Trust all in one meter
Rollcage Cusco[/toggle_item]
[toggle_item title="Engine" active="false"]ClutchORC single
LSD / Final ratio ATS final 4.5
Gearbox 6 gears normal
Flywheel ORC
Engine code FA20 (Comp. ratio 12.5 :1)
Computer Ecutek
Plugs HKS Racing #8
Air cleaner Todoroki original
Muffler Kakimoto Racing ф  ・ Frontpipe Kakimoto Racing ф
Misc.Todoroki original oil cooler[/toggle_item]
[/toggle_box]