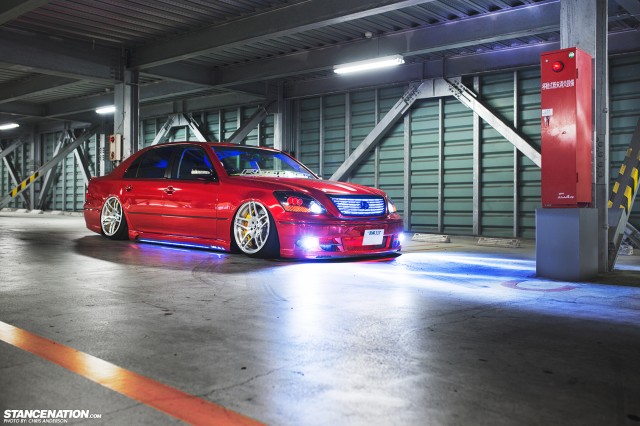 Neon lighting.  For most of us, it brings back memories of the Fast and the Furious and Hot Import Nights circa 2000 when neon under-glow and crazy lighting setups were the rage in the import community.  While majority of the US scene has moved on from those days, there were those who saw the appeal to custom automotive lighting and advanced it.  Leave it to our friends in Japan to have taken custom automotive lighting to new levels to show how it can really compliment a top-tier build.  With LEDs, retro-fitting, and acrylic LED now in use, the possibilities are seemingly endless for ways to light your car up.  Junpei Gotou from Miyazaki, Japan, has certainly found a knack for automotive lighting as his UCF30 Celsior is a rolling Las Vegas of neon and LED.  We were impressed, and hopefully you'll be too.
Photos & Video By: Chris Anderson exclusively for StanceNation.com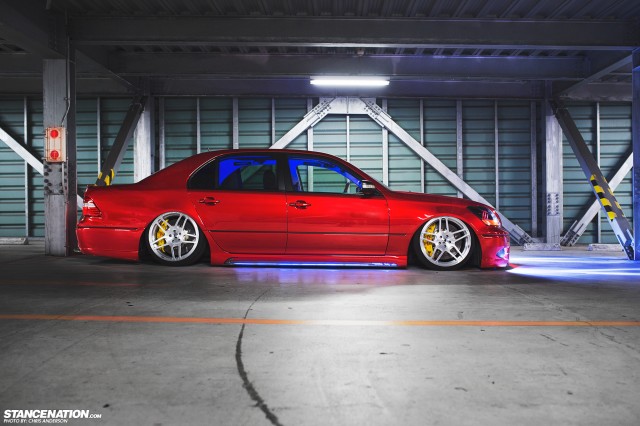 To be completely honest here, this is probably one of the most in-yer-face VIP cars that you will see.  A lot of VIP builds focus on class and refinement, but that's not the whole picture of VIP.  As Ohbayashi-san of K-Break said in an interview, "the key point is to make it look tough.  We make [the cars] wider, lower, and give them a strong presence."   Junpei's Celsior certainly delivers on that point despite being so atypical from your normal VIP car.  Loud paint, crazy lighting, a serious audio setup, and 1-piece wheels are a distant cry from your black and white paint jobs, puddle-lights, and deep-dish split wheels, but it doesn't make this car any less VIP than the others.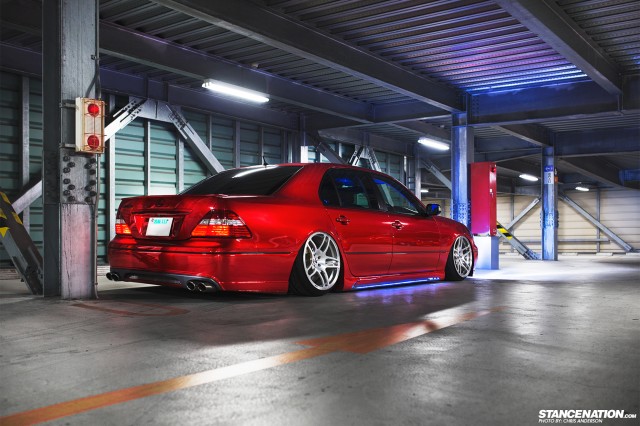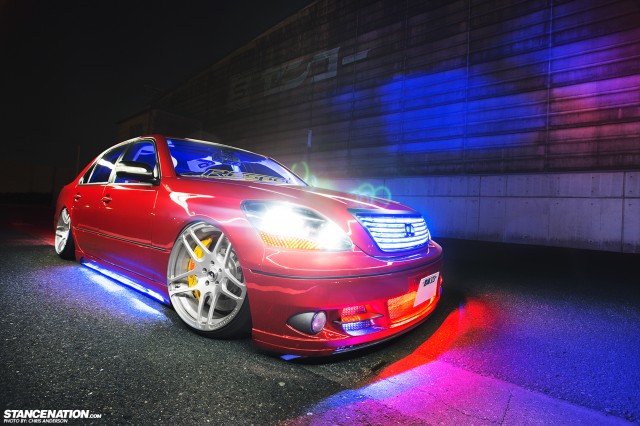 We'll start then with the part of this car that makes the biggest impression and that is the exterior and lighting.  For being so impressive, it is rather simple in design.  The side-skirts, grill, and head lights all feature acrylic LEDs and up close they are stunning to look at.  It's a new lighting technique that I've seen in a few applications, but mainly in Japan on various VIP builds.  I don't know too much about it other than it's illuminated acrylic that when not lit looks like regular glass, and the designs that people come up with are amazing to look at.  Junpei has done a great job integrating it into his Celsior that it really is the big highlight of the car.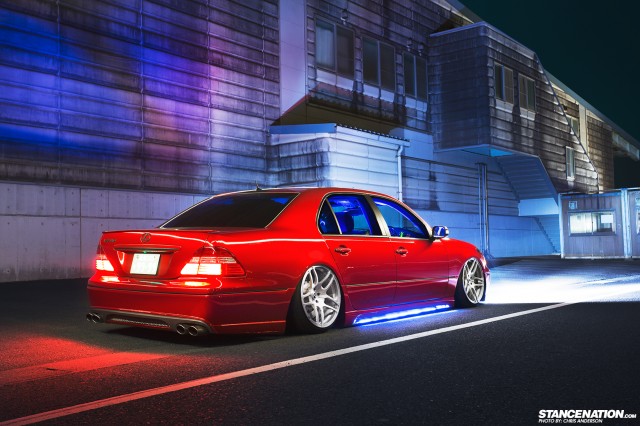 Being a Celsior aficionado having owned both previous generations, Junpei went with a classic Job Design Neo kit for his UCF30.  The kit fits the aggressive demeanor of his car and definitely makes that tough statement that is so important in the VIP culture.  Besides the acrylic LEDs being integrated into the side-skirts, the kit remains unmodified with the only other body mods being the front fenders being radiused and pulled 40mms and 20mms respectively and the rears 20mm each respectively.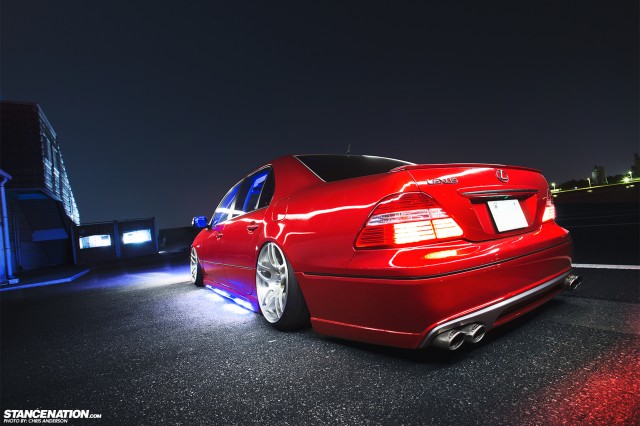 For suspension Junpei went with a tried and true Universal Air Suspension kit with touch-screen monitor.  UAS sells a very complete air setup for a reasonable price, and with simple analog management, it just works very well.  With the car resting safely on the ground, it was time to focus on upgrading the rolling stock of the car.  Forgoing the usual suspects when it comes to VIP platforms, Junpei went for arguably the crown of custom wheel manufactures with Forgiato wheels.  The forged, 1-piece DIECI-Ms were custom built to Junpei's specs and look absolutely stunning on his UCF30.  Sized up at 20×10.5 up front and 20×11 in the rear they look right at home on this Celsior and compliment the car perfectly.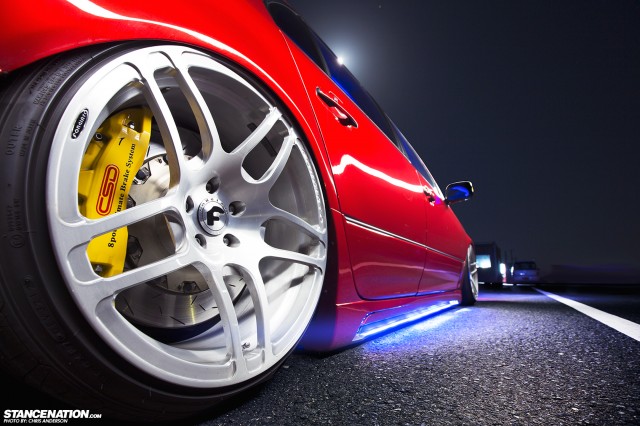 Sitting behind those gorgeous wheels are an absolutely monstrous set of brakes.  Forget your 6-piston or 8-piston calipers.  Those are for pansies apparently.  Junpei is out to stop the rotation of the earth with MASSIVE 16 (yes, sixteen) piston calipers.  Why such massive brakes?  It all comes down to the details and that tough image that a VIP car exudes.  What's the point of having large (18″, 19″, 20″, or larger) wheels but having small brakes peeking out behind the spokes?  It's all part of the over-all look more than just the performance aspect.  Junpei wanted to make a statement though, and went all out with his brakes (just like the rest of the car).  The rear sees are more sensible, yet still massive, 8-piston setup with equally large rotors that do a fine job of filling up the Forgiato wheels.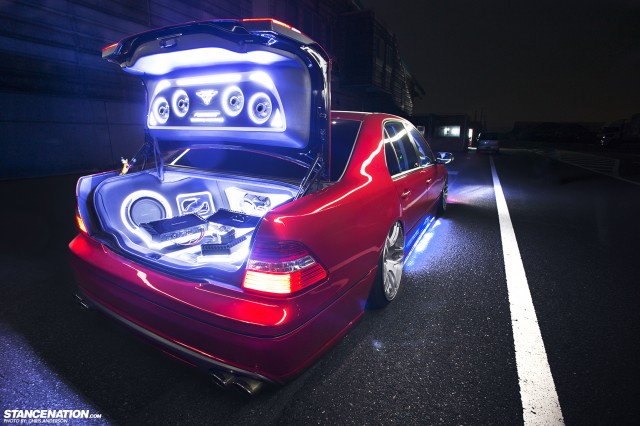 Popping the trunk, you'll really see how intricate Junpei has gotten with the LED lighting and audio setup.  White, acrylic LEDs line amps and subs and speakers which is really quite an impressive display.  You really don't see too many over-the-top audio setups anymore, and Junpei's setup is something else with the creative lighting and floating amp racks.  To start off, the trunk lid has four, Rockford Fosgate p152 speakers.  In the center of the trunk on the floating racks lie four RF t1000 amps with two additional t1500 on each side.  There are a total of four, 12″ RF subs, two on each side and two in a custom enclosure at the front of the trunk.  With everything lit up, it is one crazy display and one to leave any audiophile grinning ear-to-ear.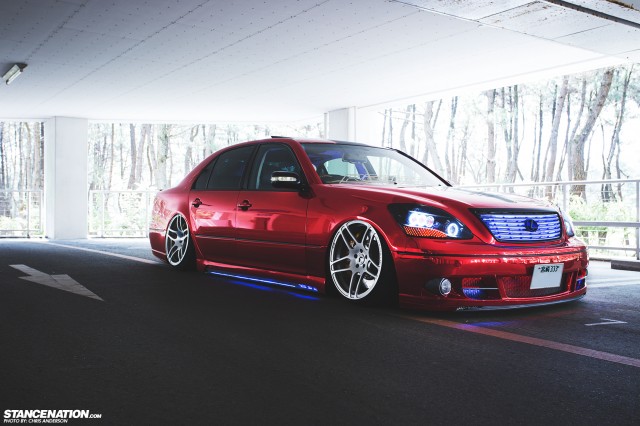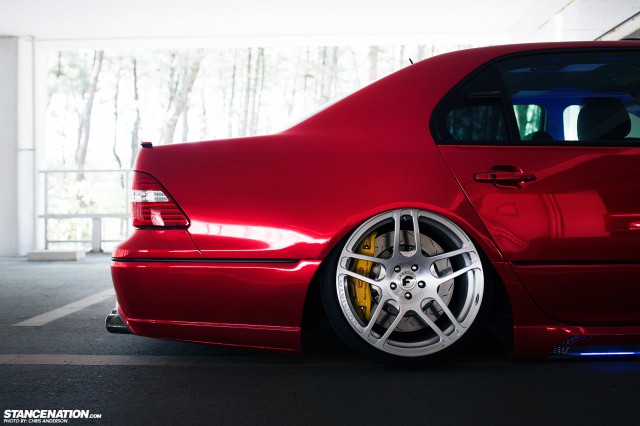 Like I mentioned earlier, VIP cars don't get much more in-yer-face than this Celsior.  The loud paint, crazy lights, and banging audio setup really toughen this luxo-sedan up.  Combined with classic styling, a healthy air-assisted slam, and some absolutely stunning, one-off wheels, this is a Celsior that can't be ignored.  Many agree too as Junpei has traveled all over Japan to various shows and events collecting over 30 trophies for his efforts.  Enjoy a few more photos and clock the video from photographer & videographer, Chris Anderson, who's making his S:N debut!  This photoshoot blew me away when I saw it, and hopefully it does the same for you as well.  It doesn't get much better than this.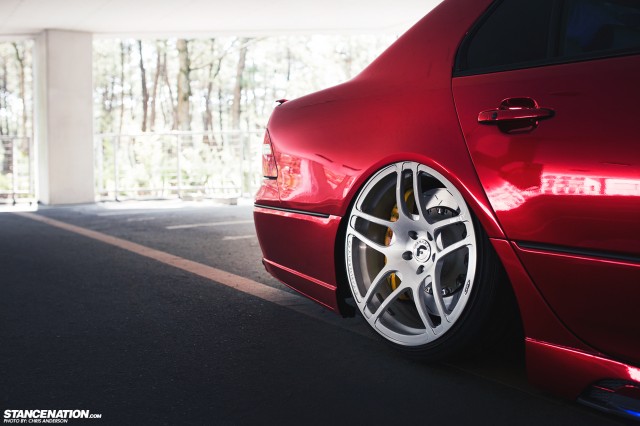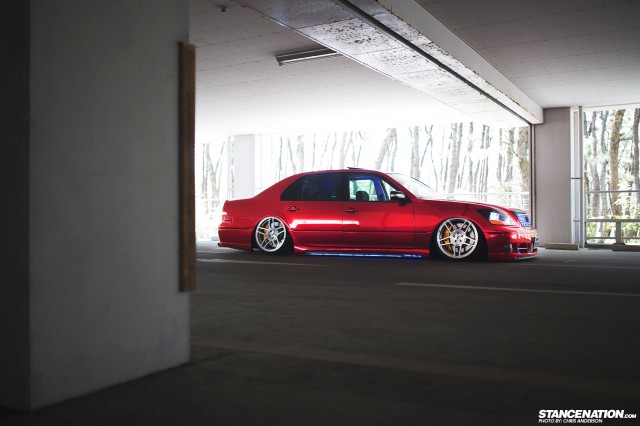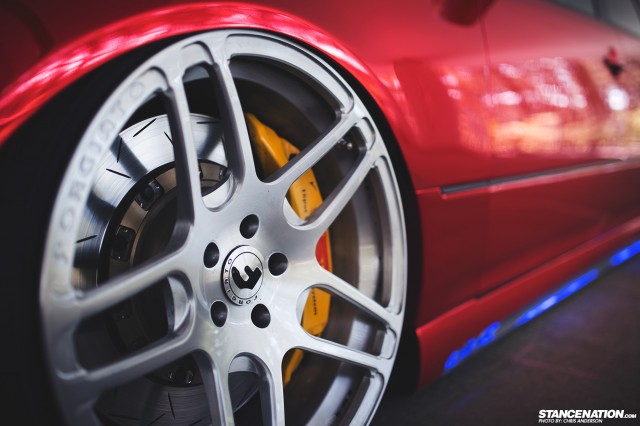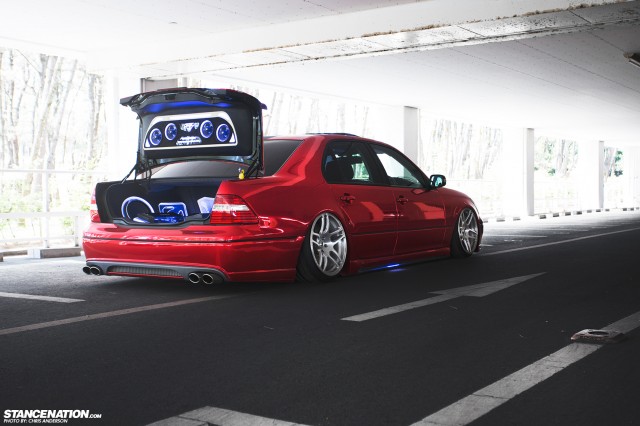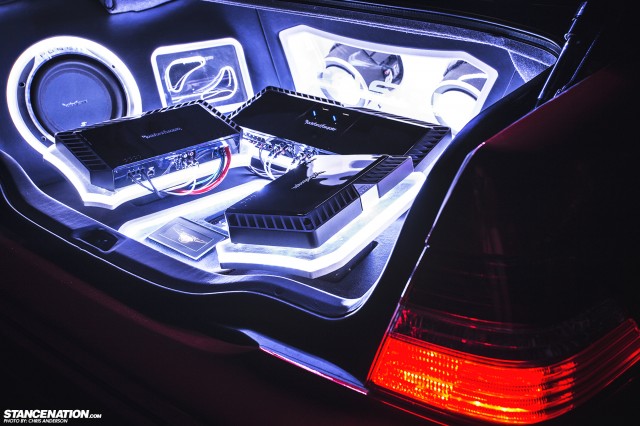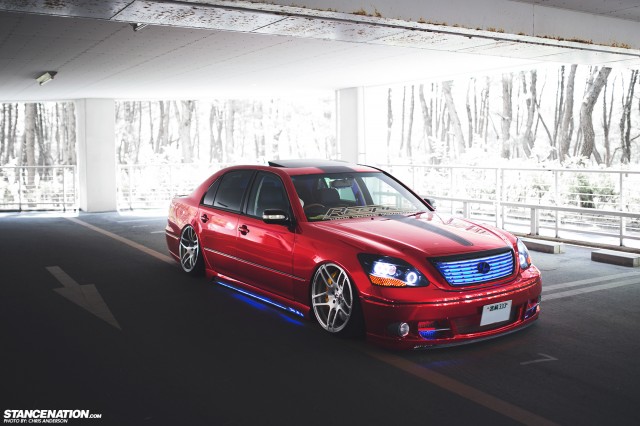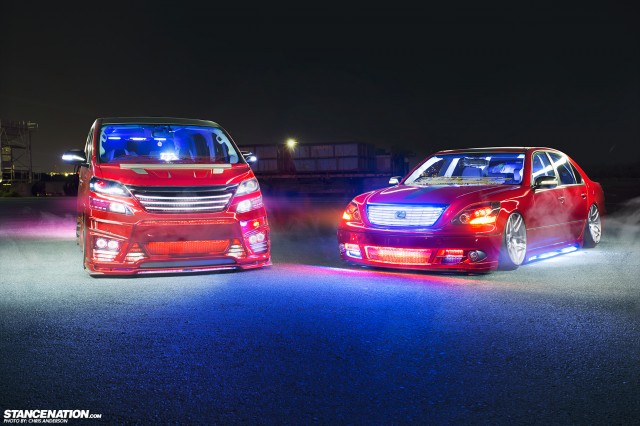 [toggle_box]
[toggle_item title="Wheels/Tires/Suspension" active="true"]
SUSPENSION: Universal Air Suspension w/ Touch screen controller x 2
WHEEL: Forgiato DIECI-M Custom 1-Piece Concave
Front- 20 x 10.5
Rear- 20 x 11
TIRE:
Front- 245-30-20
Rear- 255-30-20
BRAKES:
Front- CSD 16 Piston Brake System x 400mm Rotor
Rear- CSD 8 Piston Brake System x 400mm Rotor
[/toggle_item]
[toggle_item title="Exterior" active="false"]
Front- Job Design Hybrid-Neo
Side- Job Design Hybrid-Neo / Acrylic LED
Rear- Job Design Hybrid-Neo
Front- 40mm Arch Elevation x 20mm pull
Rear- 20mm Arch Elevation x 20mm pull
[/toggle_item]
[toggle_item title="Interior" active="false"] Trunk Lid- Rockford P152 x 4
Trunk Inside- AMPS- Rockford T1000-4 in middle
Rockford T1500-bdCP x on sides
SUBS- P3D210 (2 on sides / 2 facing in)
CAPACITOR- Rockford RFC10HB
[/toggle_item]
[/toggle_box]