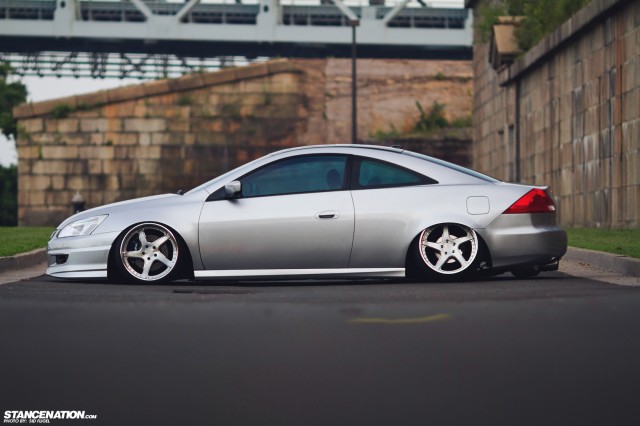 This one will surely cause all kinds of reactions. Ladies and gentleman, please allow me to introduce you to my friend Jamin Slaughter out of Staten Island, New York. As most of you know, east coast is home to some of the finest cars in the country, specifically VIP style & inspired cars. I suppose what I am really trying to say is that nowadays (in most cases) in order to get noticed in that part of the country you really gotta do something that just wasn't done before. That's exactly the case with Jamin and his slammed, wide Honda Accord Coupe. Not only does no one really mess with these cars in our scene but I personally have never seen one sitting the way Jamin's does.
Photos By: Sid Fligel exclusively for StanceNation.com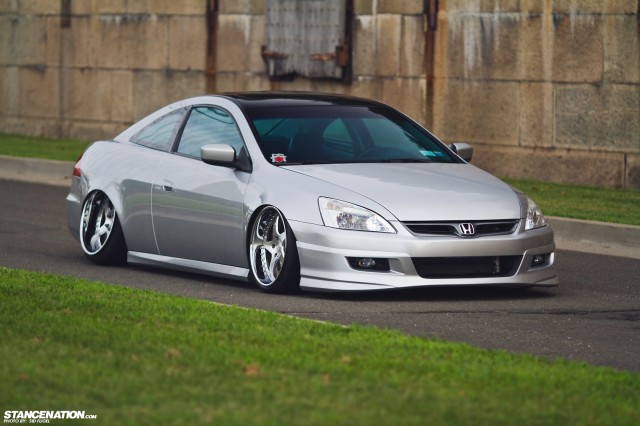 Now I know that in this scene "camber" is about as touchy of a subject as say "guns or religion" in politics, and that for every person who is for it there are even more who are against it. I personally love it, but it's not about me or you, it's about Jamin. And he happens to love it. You see, the truth is Jamin never wanted this particular car, he was after a LS430 but due to some financial issues things led Jamin to this Accord coupe. Jamin found love for the VIP car scene & lifestyle when he bumped into the "Liberty VIP" car club. Unfortunately at that time he was turned down from becoming a member because his car was not a traditional VIP platform car but that did lead to other great things. Ever since then Jamin has been trying to put every aspect of the VIP Style into his Accord because he truly is a huge fan of that side of scene. It's a love/hate thing, especially when it comes to camber.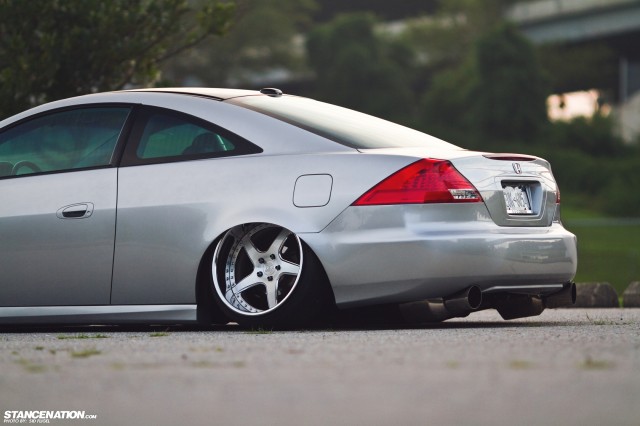 Let's start with a closer look at the fitment and those massive rear fenders. Jamin had his front fenders and rear quarter panels widened in order to tuck those massive wheels. Nowadays they sit about 4 inches wider then stock and tuck a set of beautiful VIP Modular VR15 wheels. I am pretty confident that Jamin has plans on going even more aggressive in the future to fill the current space between his wheels and fenders. His currents specs are 19×9 up front with an offset of -3 & 19×10 in the rear with just as aggressive offset of -4. Wheels are wrapped in 215/35/19 & 225/35/19 set of tires. Care to know how Jamin was able to get the car to sit so low?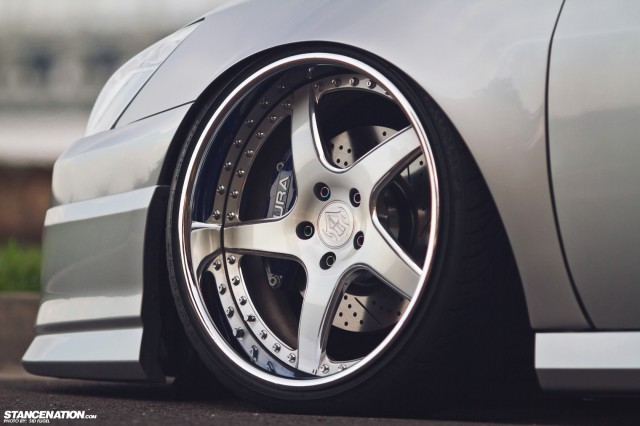 When it came time for suspension, Jamin went with the K-Sport Air Suspension. We don't feature too many cars with this setup but I hear some good things about it. It was an easy decision when it came to air management. Our good friends over at Accuair took care of things with their E-Level kit. While we are talking about wheels & suspension, I suppose it's a good time to mention the brake work on this Accord. Up front as you can see in the photos below is a pair of Acura RL front calipers accompanied by some custom 350Z cross drilled and slotted rotors.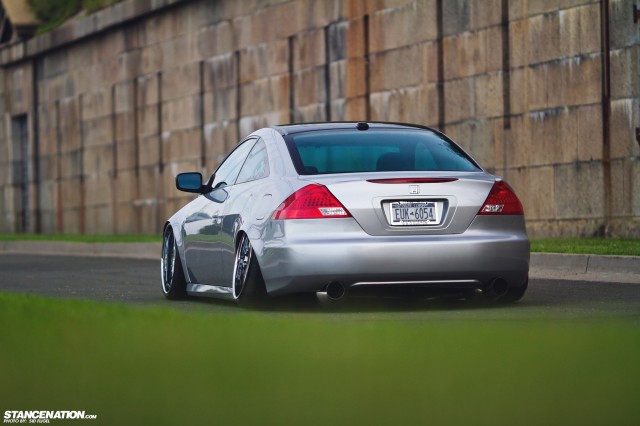 Funny thing about this car is that the exterior and engine is pretty stock at the moment. Up front Jamin is rocking a HPF front lip to bring the car down some more and that's it. When I asked Jamin about his future plans, I was pretty excited when I saw the response. He has plans of integrating a Hyundai Genisis rear bumper over the winter and either a Mercedes CLS550 or Lexus IS-F front bumper! I dunno about you but that sounds pretty promising to me!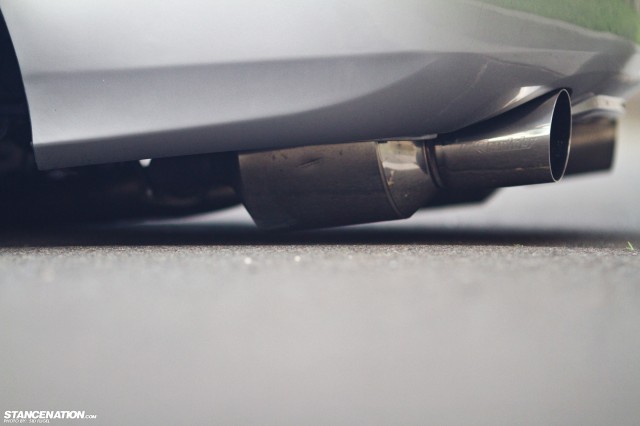 Yes, that is indeed his exhaust sitting just millimeters off the ground. Not a bad progress for having owned the car for just 2 years. Within those two years he has also gotten to be a part of a crew/club by the name of Empire Luxury.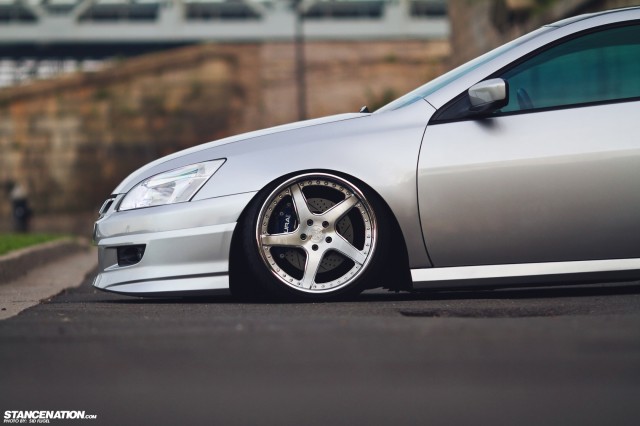 With that said, I would like to personally thank our awesome photographer Sid Fligel as well as Jamin of course for being patient with us with the release of the feature. I have a feeling that we will be seeing more of this car in the next year, you better be ready!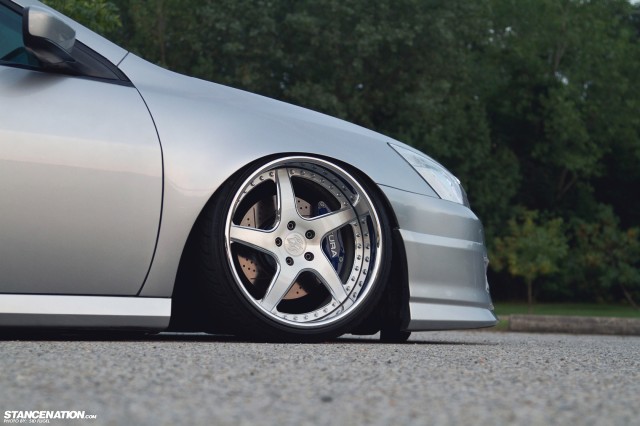 As always, if you think your car has what it takes to be on our site make sure you email us at snfeatures@gmail.com. Make sure you include a few photos and your spec list as well as any other information we should know about you or your car. We're always looking for cars to feature! In the meantime we'll see you guys over on our facebook.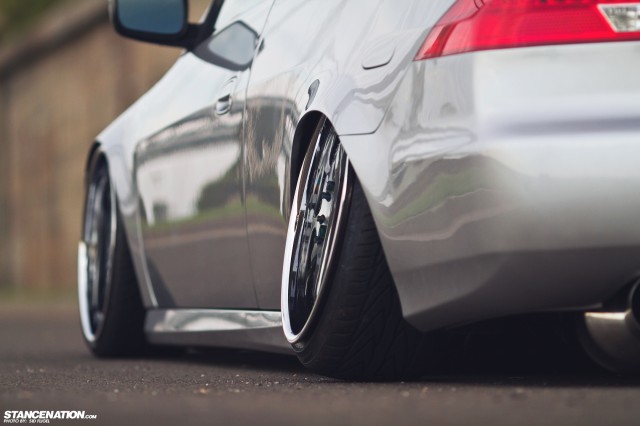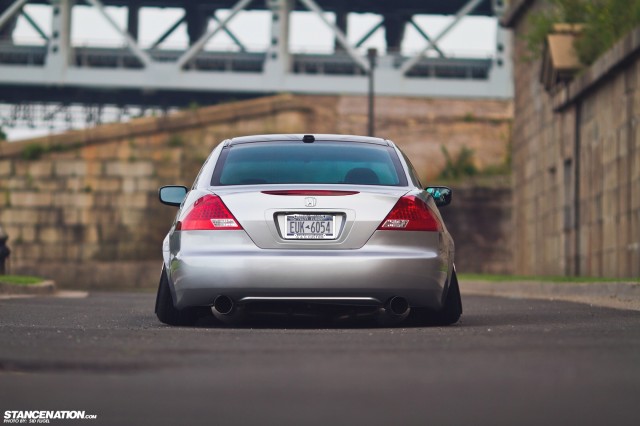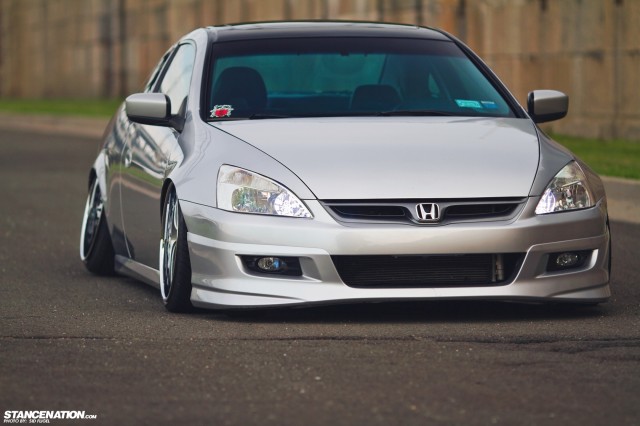 [toggle_box]
[toggle_item title="Wheels/Tires/Suspension" active="true"]VIP Modular VR15
19×9 -3 & 19×10 -4
215/32/19 & 225/35/19
Acura RL front Calipers
350Z Cross Drilled and slotted rotors
K-Sport Air Suspension
Accuair E-Level management[/toggle_item]
[toggle_item title="Exterior" active="false"]Pull front fenders
Custom widened rear fenders
HPF front lip[/toggle_item]
[toggle_item title="Interior" active="false"](3) 10″ sundown sa-10's powered by a 3,000 watt audio pipe amp
(4) 10″ mid bass speakers in the interior
(2) 8″ midbass
(4) 6.5 voice speakers
(4) tweeters pushed by a lanzar 700.2
Hifionics 600 watt amp
3 batteries[/toggle_item]
[/toggle_box]