I love out of the ordinary.  It makes people stop and think, but most importantly it gets people's attention.  I believe any attention is good attention.  The people that love what you're doing will say just that, but the people that hate it will literally go out of their way at any given chance to express their distaste.  Still attention though, right?  Well, get ready for a car that's certainly going to split some opinions and get all sorts of attention.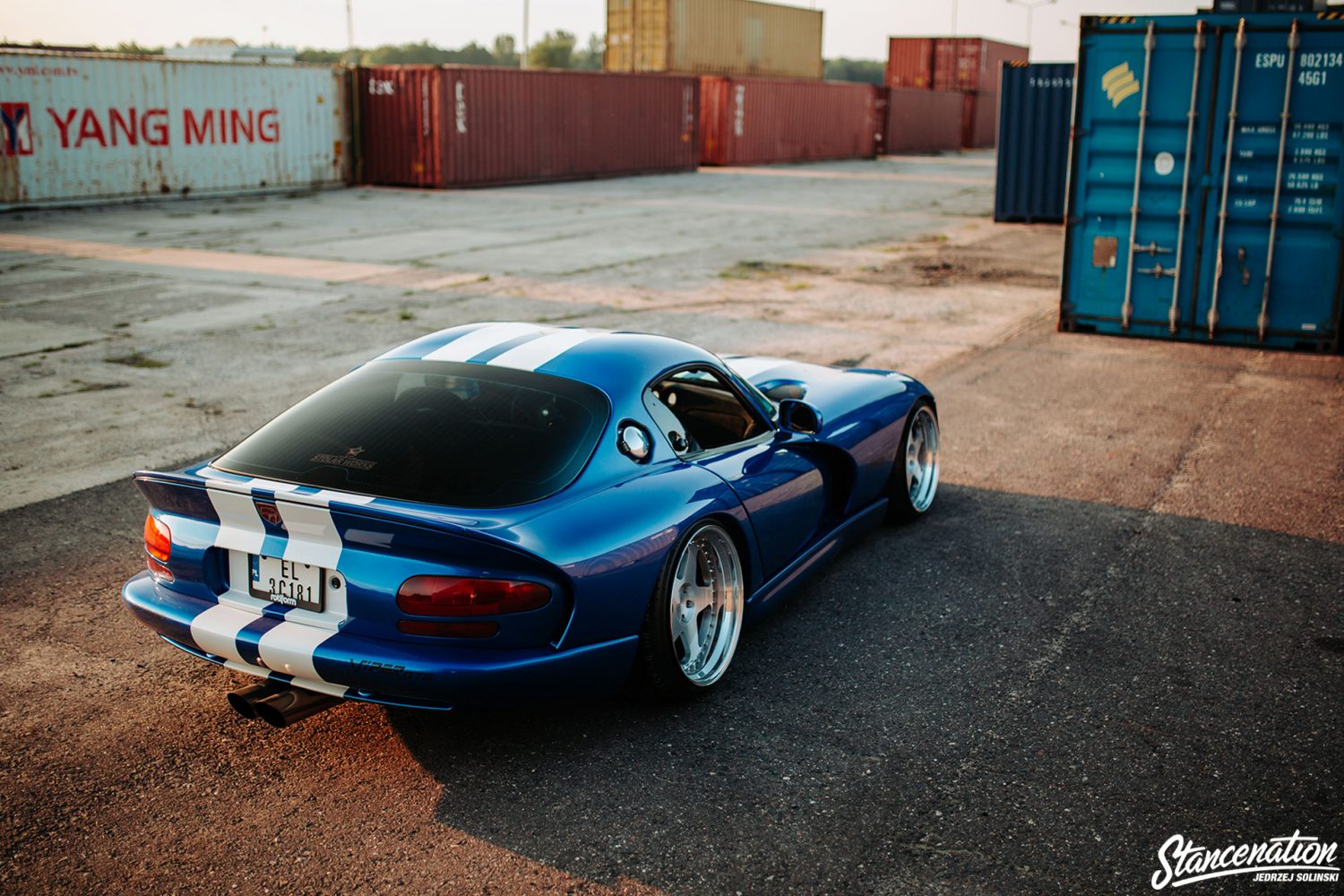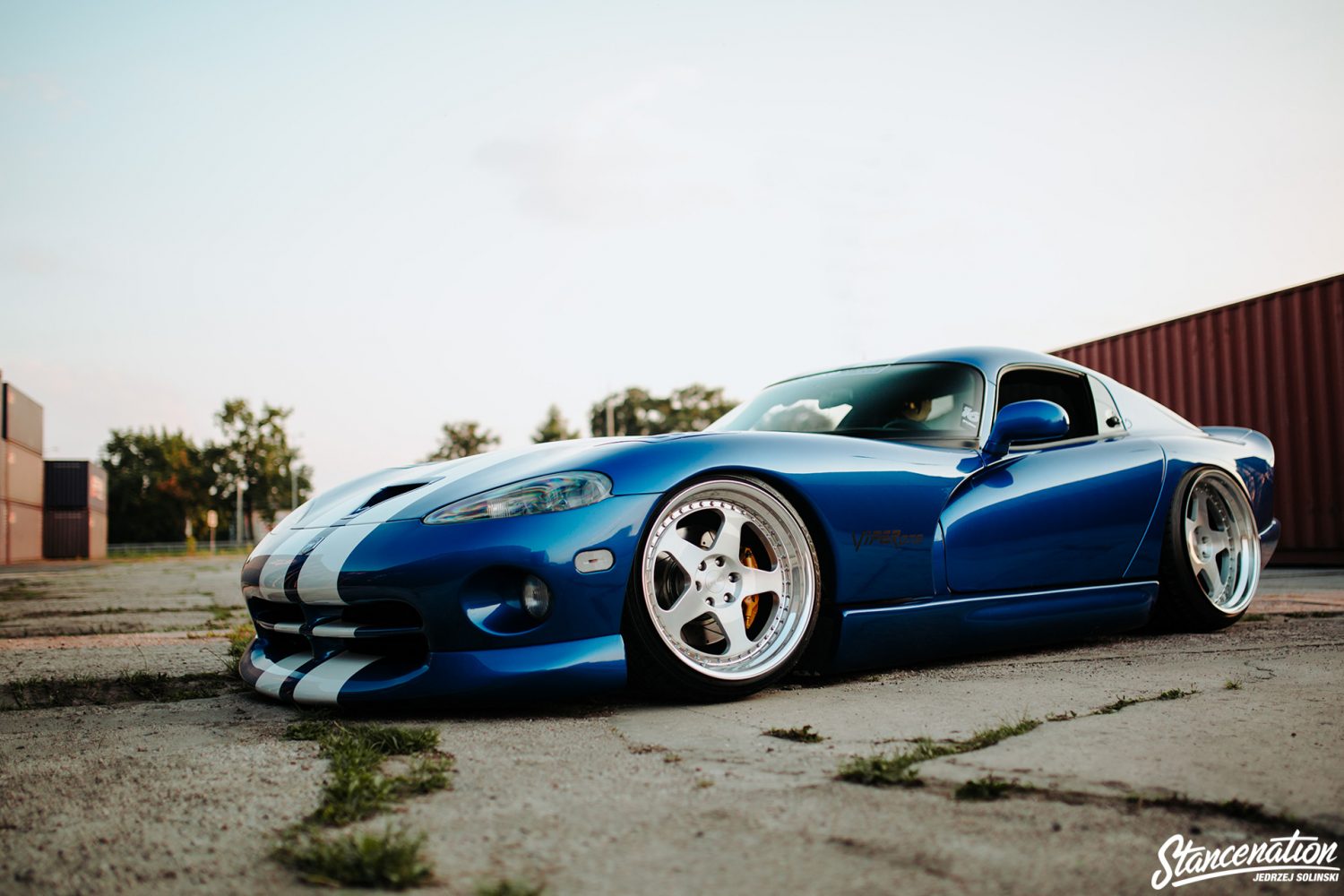 I first spotted this car on Instagram sporting little teasers of what's to come.  I immediately got excited.  I love the idea behind taking iconic cars like the Dodge Viper and slamming them to the ground and fitting ridiculous (in a good way) wheels on them.  For me, it's one part personal enjoyment and one part getting a reaction out of people, haha.  When I saw this car finished at the Raceism event in Poland though, I was all sorts of giddy and couldn't wait to tell the big-bossman about it so we can get it up on the site for a feature.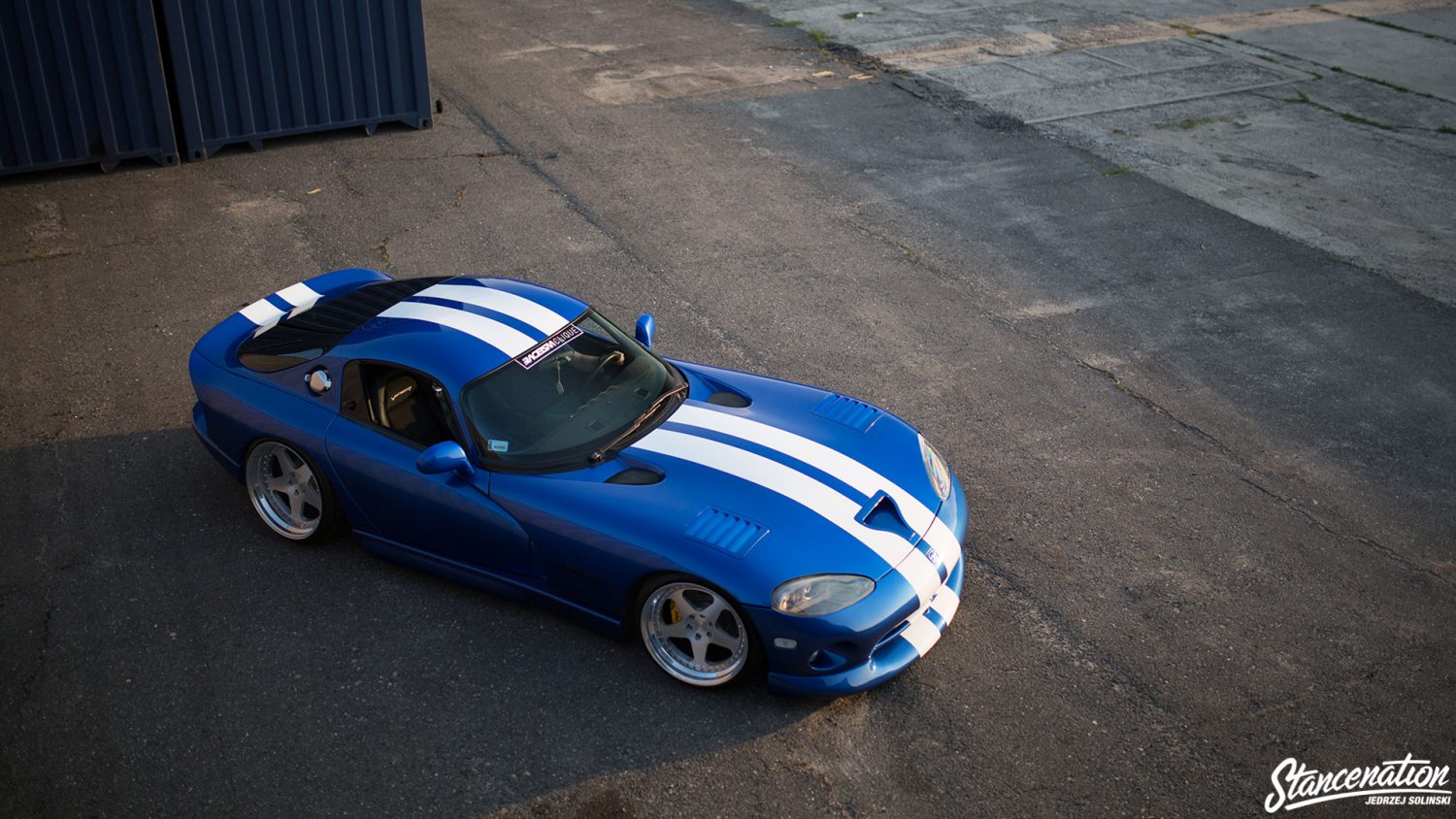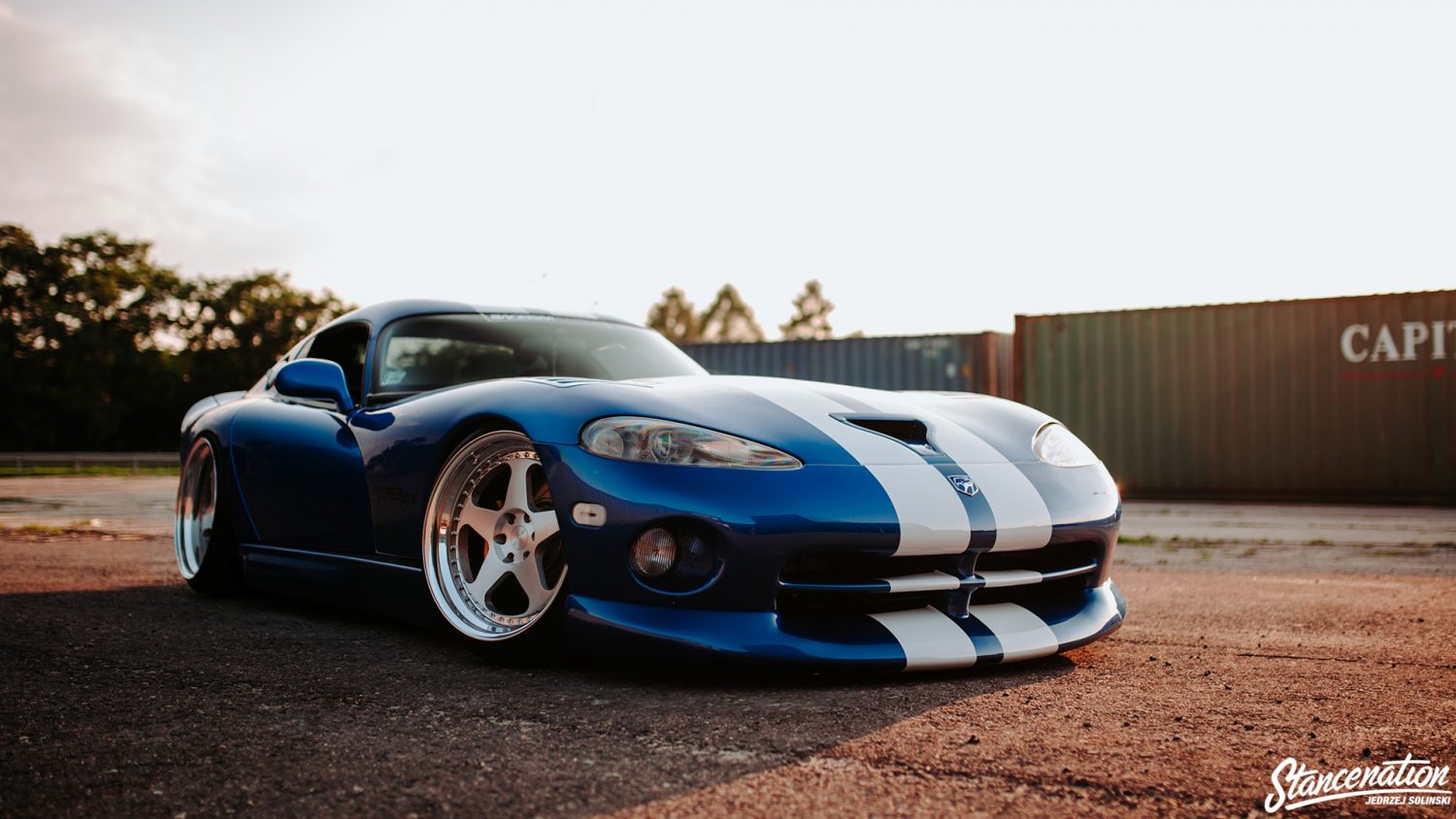 Whether or not the owner of this Viper did it to get a reaction out of people is kind of irrelevant because it's going to do just that.  People are going to love this car, or they're going to foam at the mouth and feverishly bash the keys on their phone or keyboard to tell you how wrong this is.  Why a Viper for Sebastian Polit from Poland?  "As a 90's kid I was in love with Ferrari F40 and Viper since I can remember.  F40s are super expensive but Vipers somehow are quite affordable."  The voice of reason won over…this time.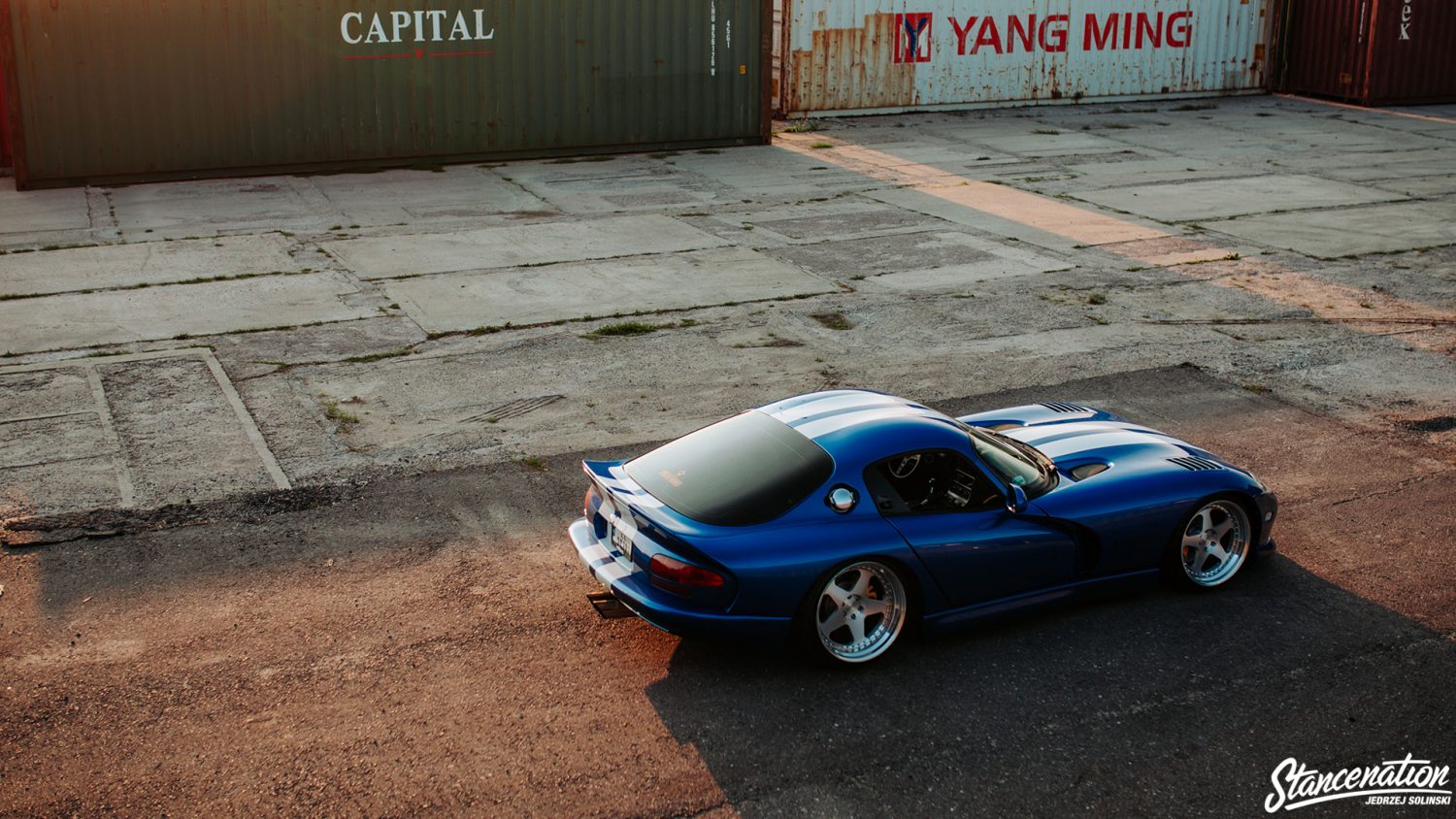 Now, a modified Viper isn't exactly a new thing.  Plenty of people have taken Dodge's crack at a super-car to astounding heights in the performance world, but Sebastian is taking the iconic coupe to new heights (literally) with his take on it.  For me, I think the car looks right at home absolutely hammered to the ground.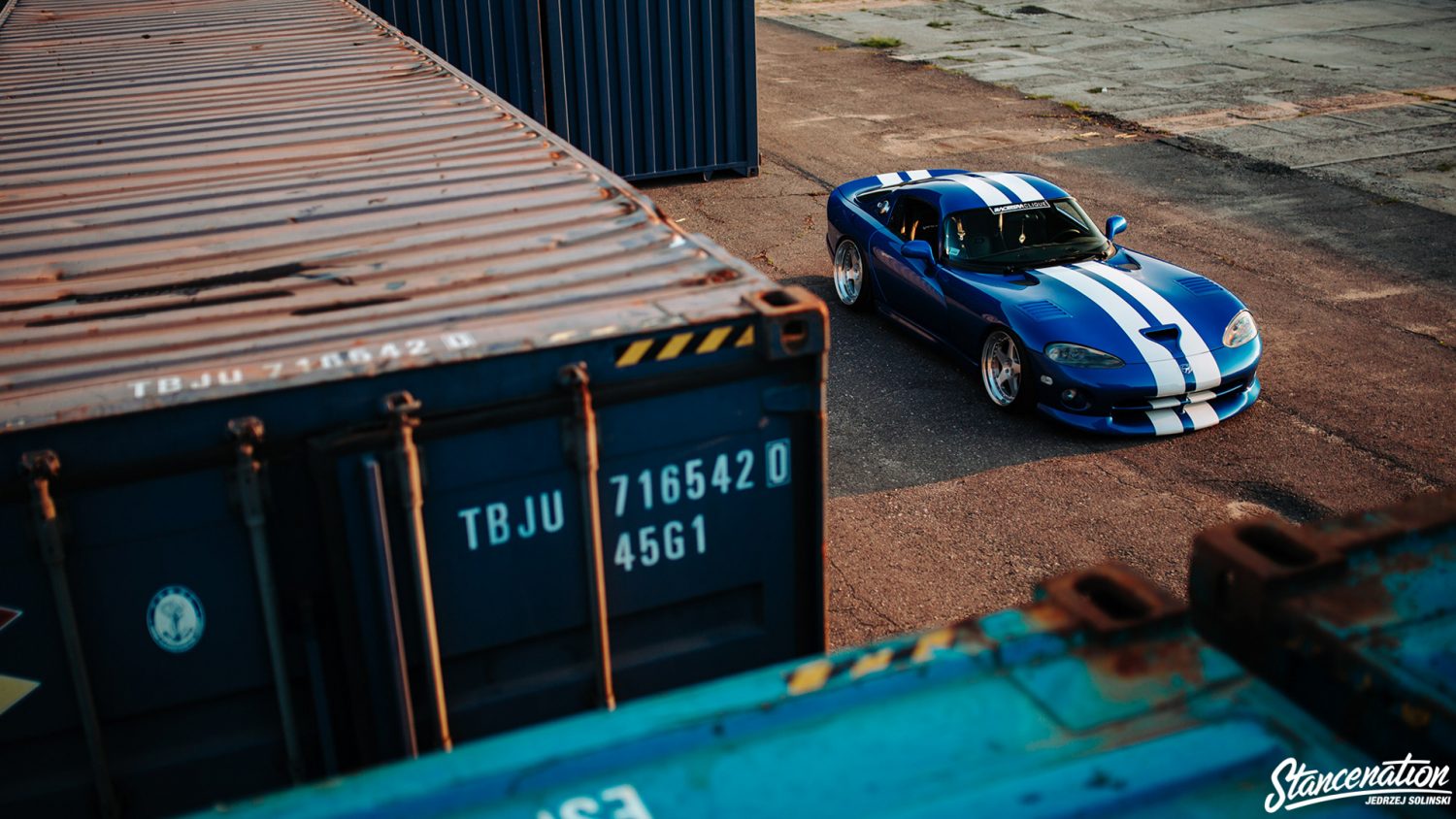 Vipers in the US aren't exactly common place, so you can imagine that they'd be pretty rare in Europe.  Now imagine how rare it would be to find one in Poland.  Luckily for Sebastian, he did, and after a bit of prying, he was able to get the former owner to sell it to him.  In fact, when Sebastian went to go look at the car, it was the first time he'd actually seen one in person.  It's kind of a cool story for someone to want to build a car that they've never seen in person before.  Usually, people are pretty set and have some experience with a car before they decide to build one, but I like Sebastian's impulsiveness in this case, haha.
The spec list on this Viper is rather short and sweet.  When it comes to stance and fitment, there isn't a lot out there for these cars.  To get the car planted to the ground, Sebastian enlisted the help of the crew over at BC Racing to develop a coilover complete with shortened struts and springs to get this Viper to pavement scraping height.  Y'all know I'm a big fan of ridiculously low static cars, and this Viper gets two, big thumbs-up from me.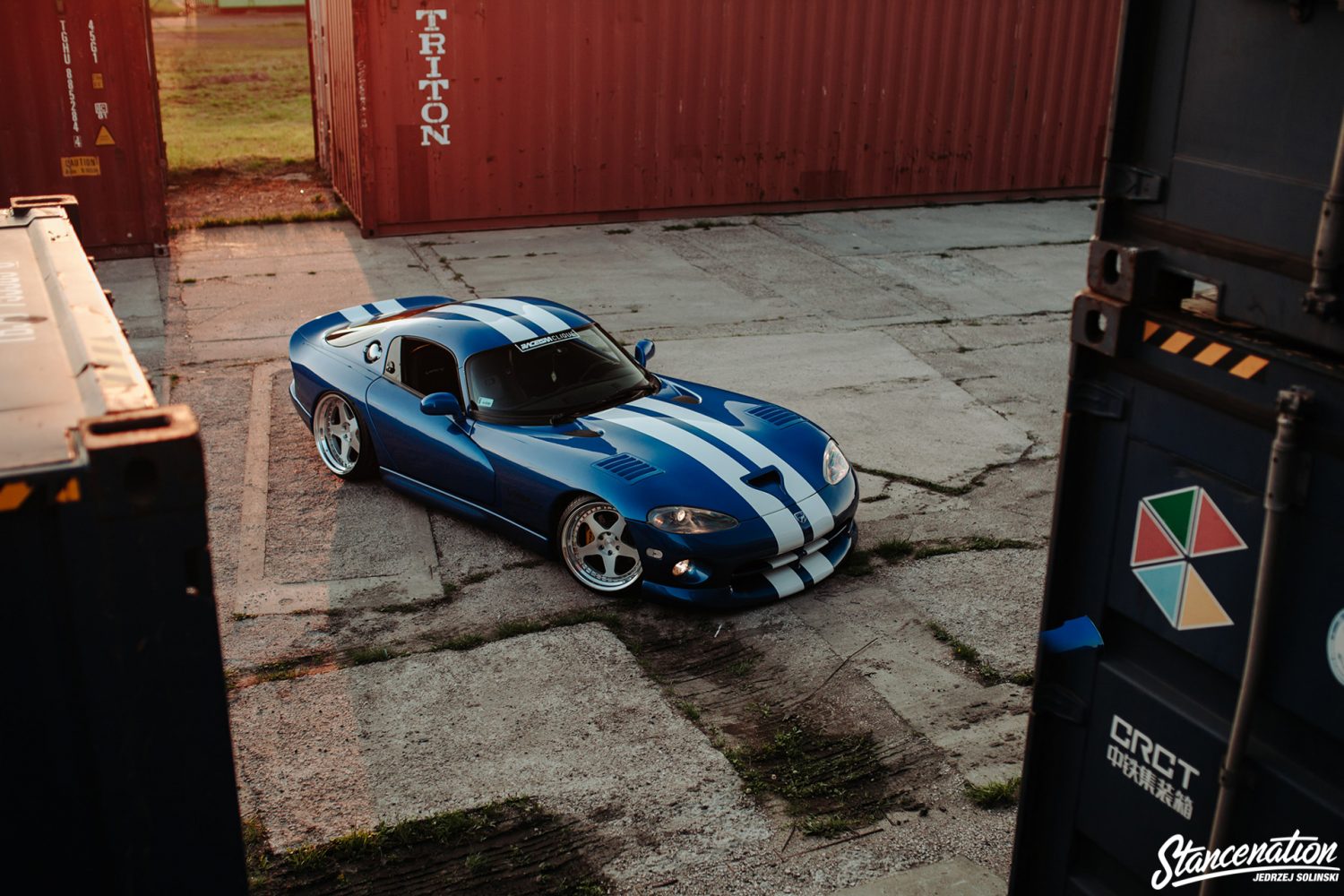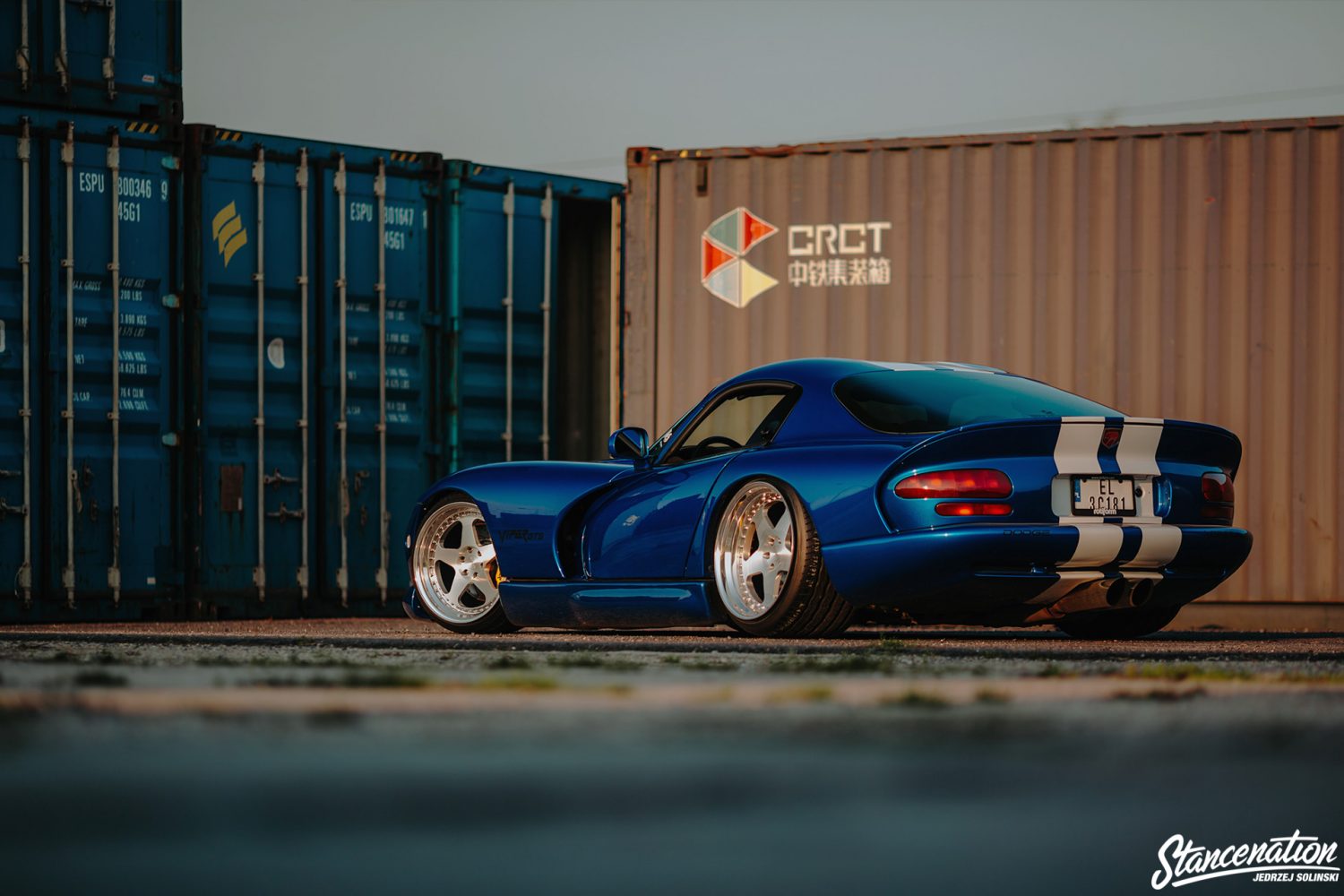 The rolling stock was upgraded to baller status thanks to the guys over at Rotiform.  Sebastian's Viper sits on a set of Rotiform ROC wheels coming in at 19×12 up front and 20×15 in the rear and are wrapped 285/30/19 and 345/25/20 rubbers.  Yes, that is correct; 20×15 with 345/25 tires on a stock-body car.  Don't worry, my wide-body cars are feeling a little insecure too.  The fitment was dialed in using the stock arms, but every rubber bushing under the car was upgraded to polyurethane bushings to help stiffen up the chassis.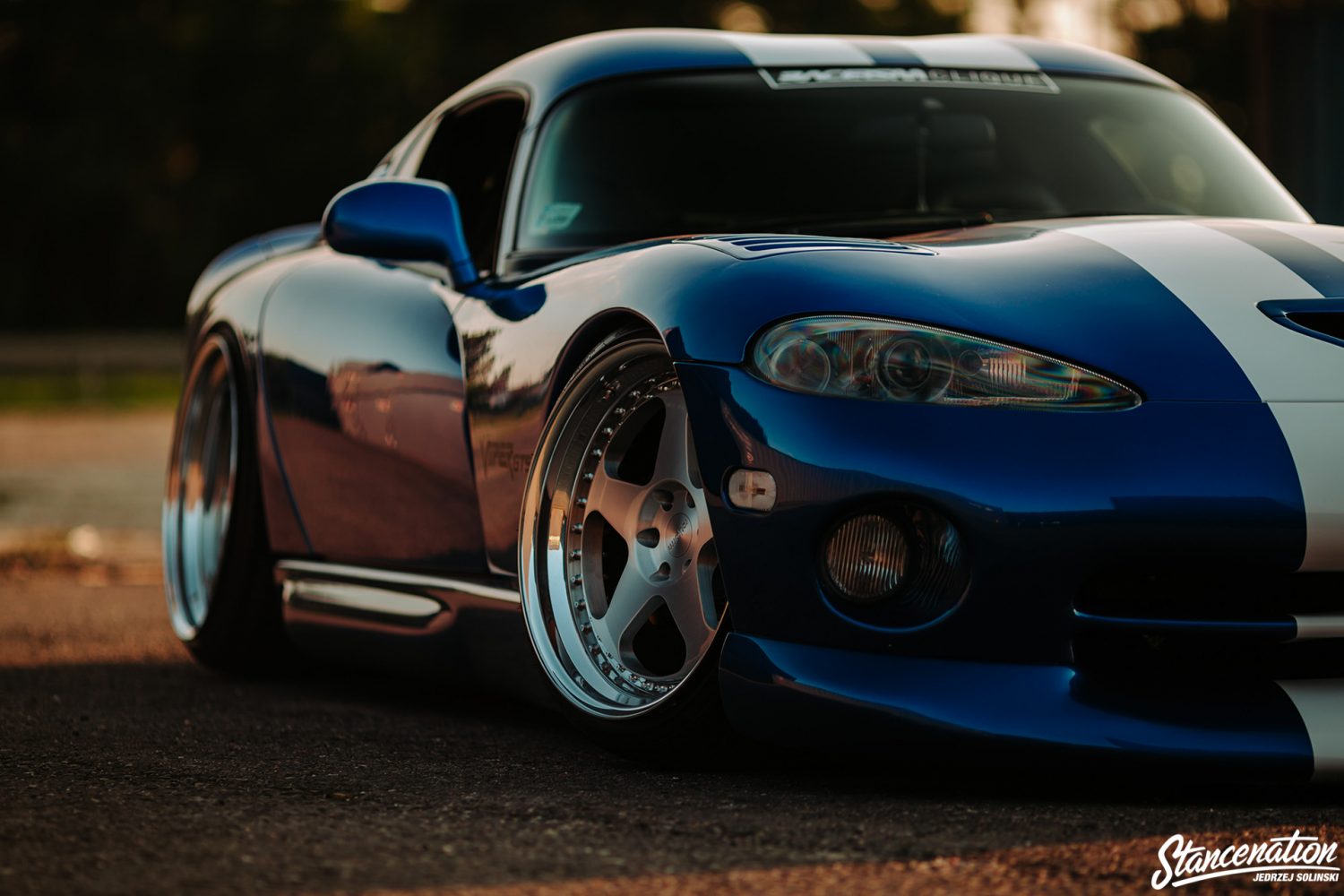 Inside, the car was redone with alcantara and black leather, and the factory steering wheel was exchanged for a Momo wheel.  When you have a factory, 8.0-liter V10 under the hood making near 500hp, not much needs to be added in the horsepower department, but Sebastian had a custom exhaust fab'd up with electronic cut-outs to let the super aggressive car sound more aggressive.  He also had a custom front lip made by Stolarworks that looks incredibly good on the car.  It's a very unique style, but keeps with the OEM look.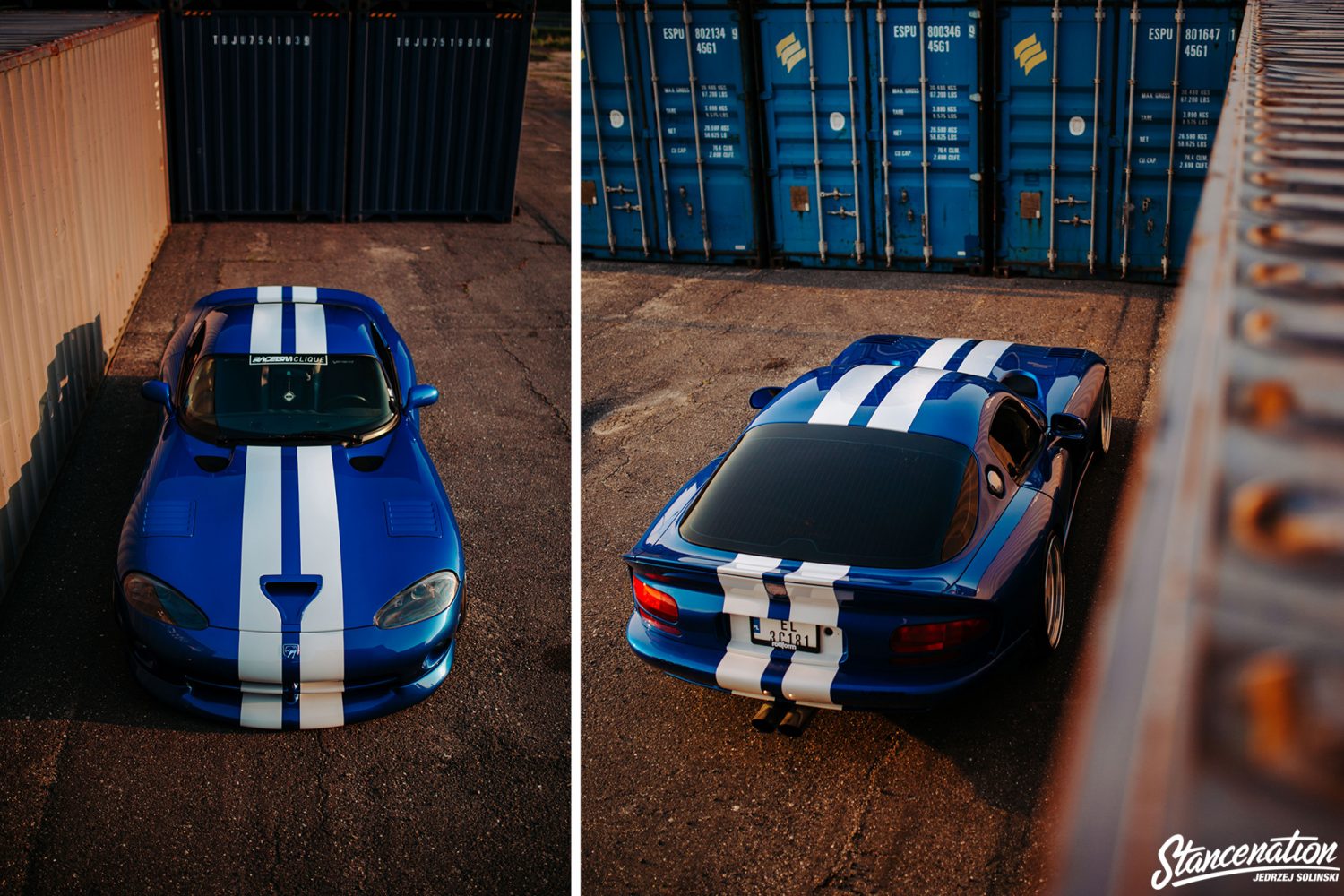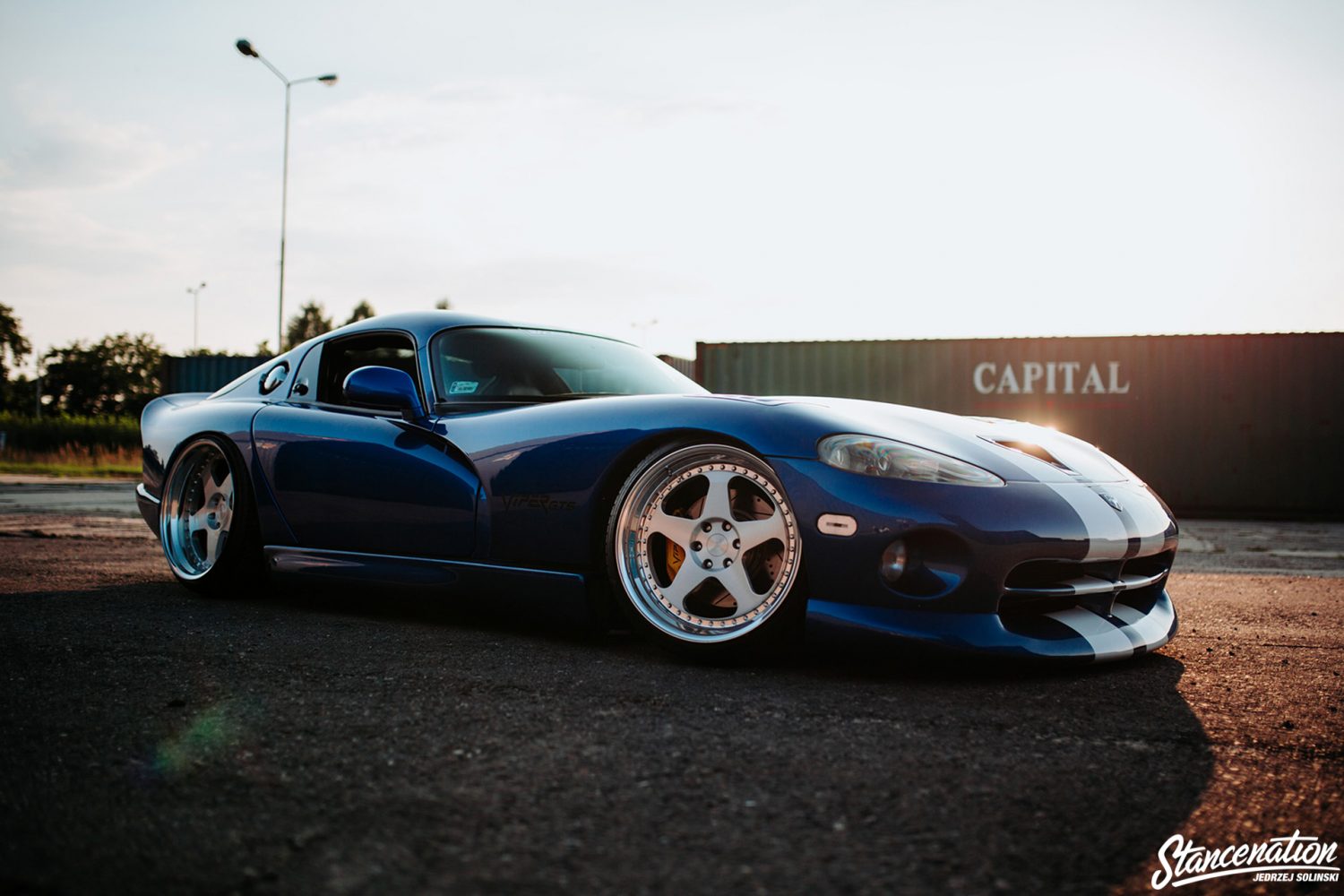 I think the car came out great for a short mod-list, and only 13-months of ownership.  It's not something you see every day, and I always enjoy seeing new things in the scene.  Sebastian guarantees us that he isn't done yet though.  He has plans for a roll cage, big brake kit, and even has plans for a wide-body kit to fit even wider wheels.  At that point we're pretty much entering steam-roller territory, haha.  I certainly look forward to seeing it, and hope you'll enjoy the car as much as I do.  If you don't, I'm sure you'll go out of your way to tell us though.  Just keep the attention coming!