Sometimes, when building things, whether it be a house, car, or bridge, things don't always go as planned. However, this isn't one of those cases. Salik Zaki, hailing from Boston, MA, has spent 5 years with this car, initially as a daily driver, then morphing into the this curvaceous masterpiece. With this car undergoing the knife, Sal has entrusted the crew at FCR Inc. for all the body work and paint on this car. I've been told this is the third reiteration, and I'd have to say it's my absolute favorite. Something tells me most of you will agree!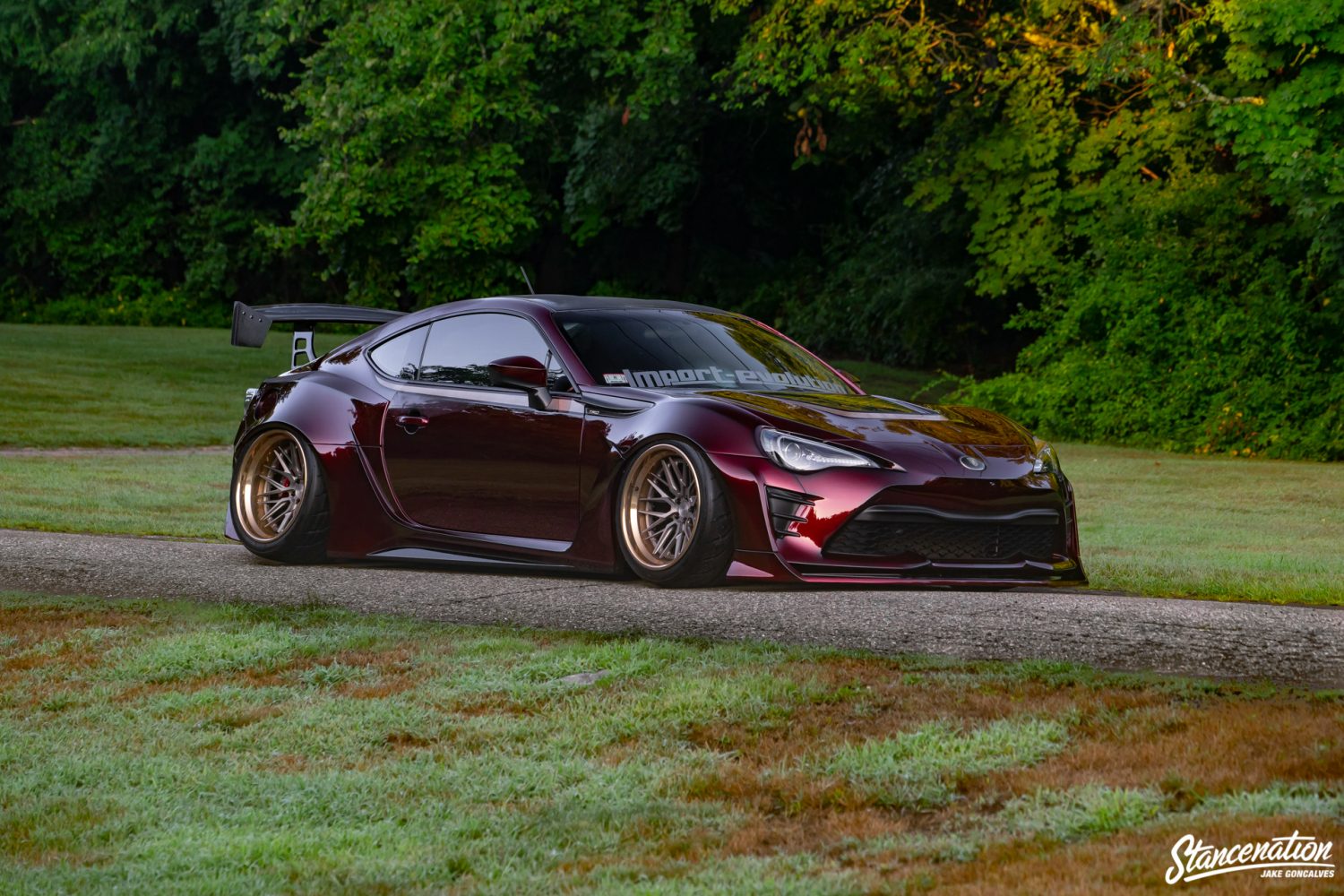 Sal's built this car to his specs, and it's been the prime motivating reason behind his build. There is/was no miscommunication between his ideas and the execution. He tells us he doesn't build his car for trophies, and why would he, when the car itself is a trophy and with all the places and dialogue he's created with the tuner scene in each respective locale, it's probably the most rewarding thing. But forget that, let's see what they're talking about…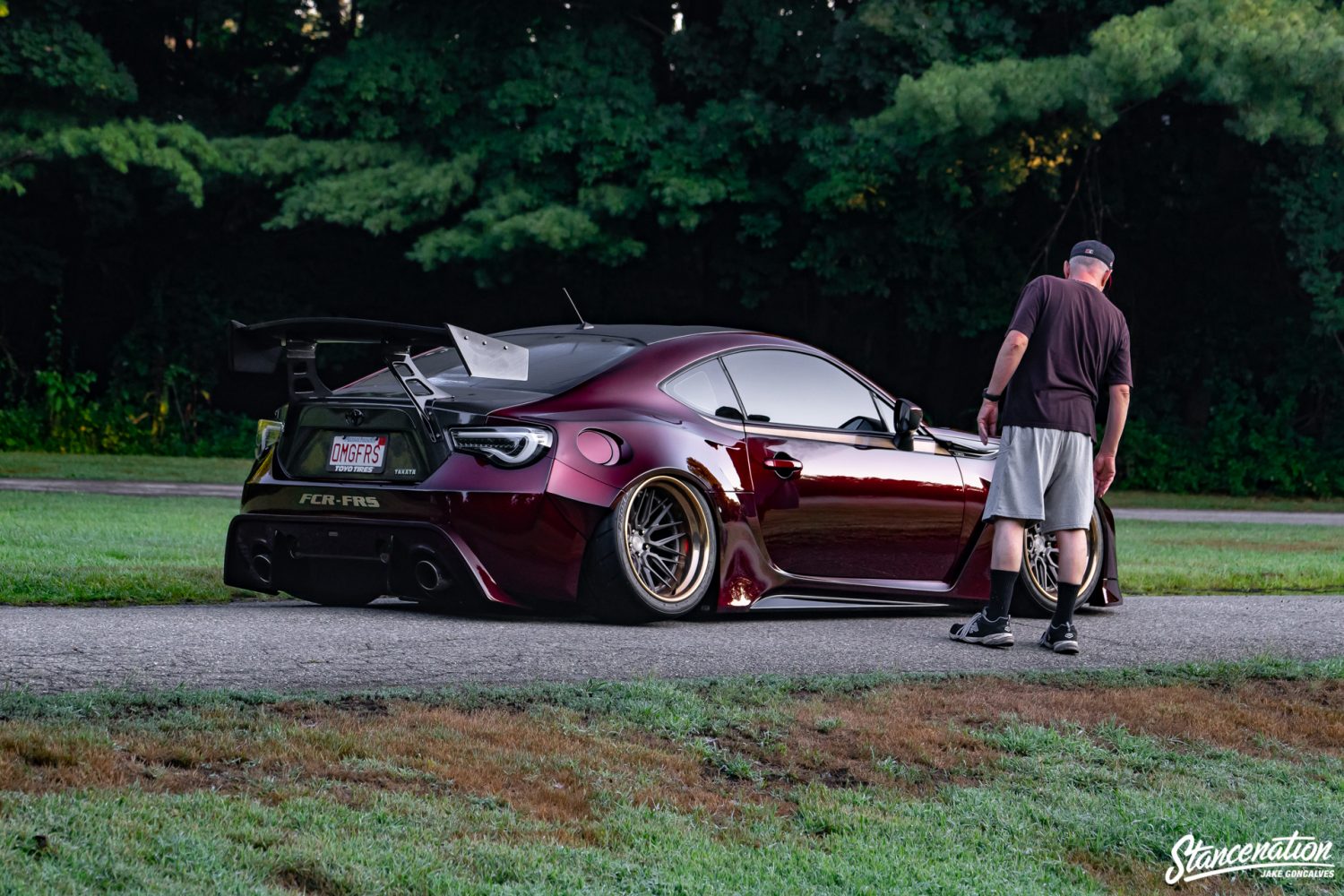 Dripping in a beautiful kandy Obsession Red with gold leaf paint, Sal's FR-S commands attention with the deep candy hues of the sanguine red. Sporting the Stancenation x Aimgain v2 aero, the car commands plenty of space with its widened fenders. One cool aspect that I really love about this car is although Sal's owned his FR-S since 2013, the car is constantly going through changes. In it's current form, he's updated it with the 2017/18 front bumper to pair perfectly with the V2 SN x AIM aero and Seibon Carbon parts on the trunk, roof, and hood. TRD Carbon Fiber Fender Fins are left untouched, as the dark color scheme of the CF pattern accent the paint choice, perfectly.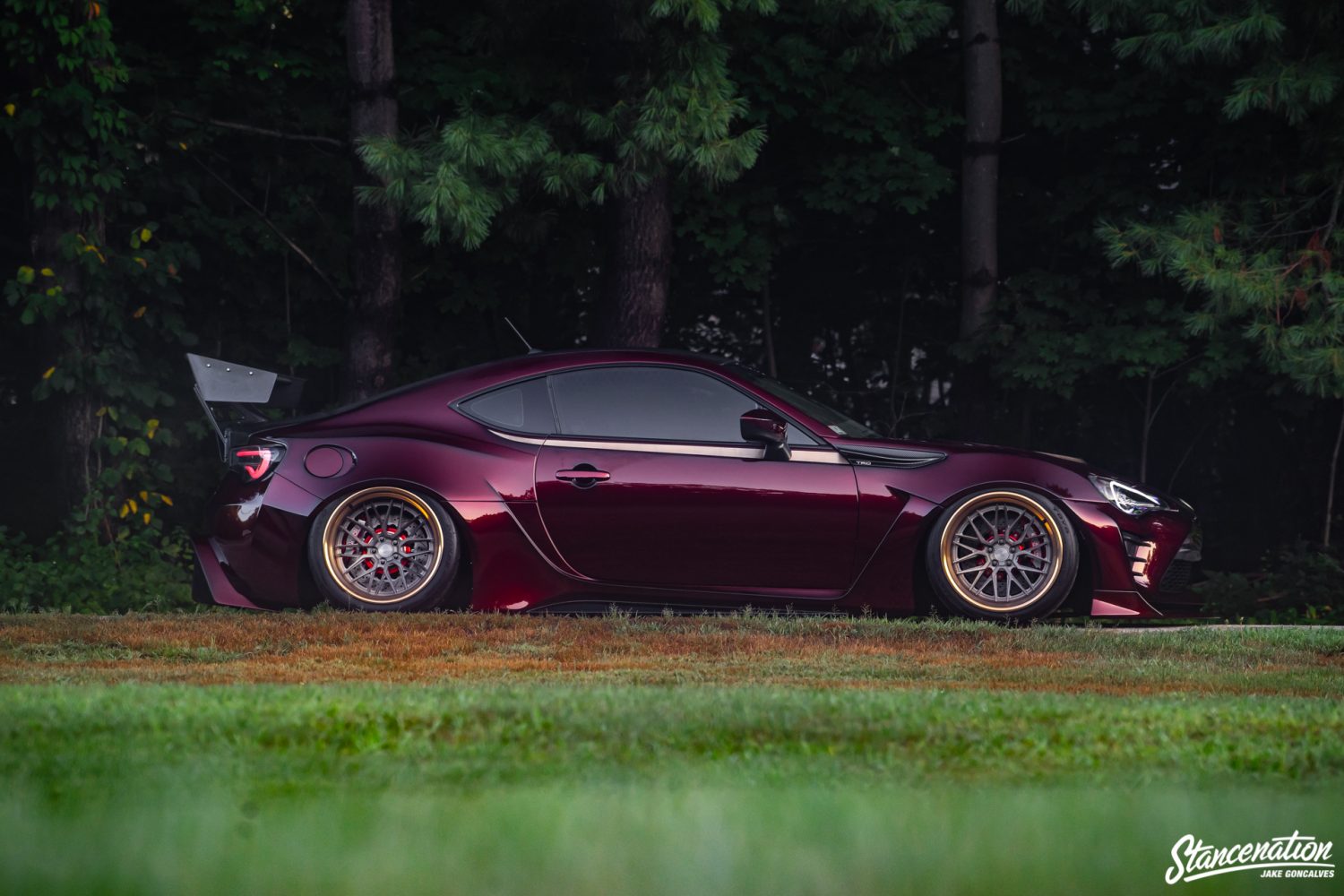 As mentioned before, for the exterior, Sal went with Stancenation x Aimgain V2 widebody kit, which I absolutely love with the color-matched rear diffuser. It gives it an extended and tiered feel, lending much more presence to the already aggressive lines that line up with the overall build. Reminiscent of the RC or LC Coupes from the side/rear, the rear fenders are extended massively, while in the front, the Aimgain kit plays perfectly with the naturally aggressive stock body lines and contours of the FR-S platform, elevating it to the next level.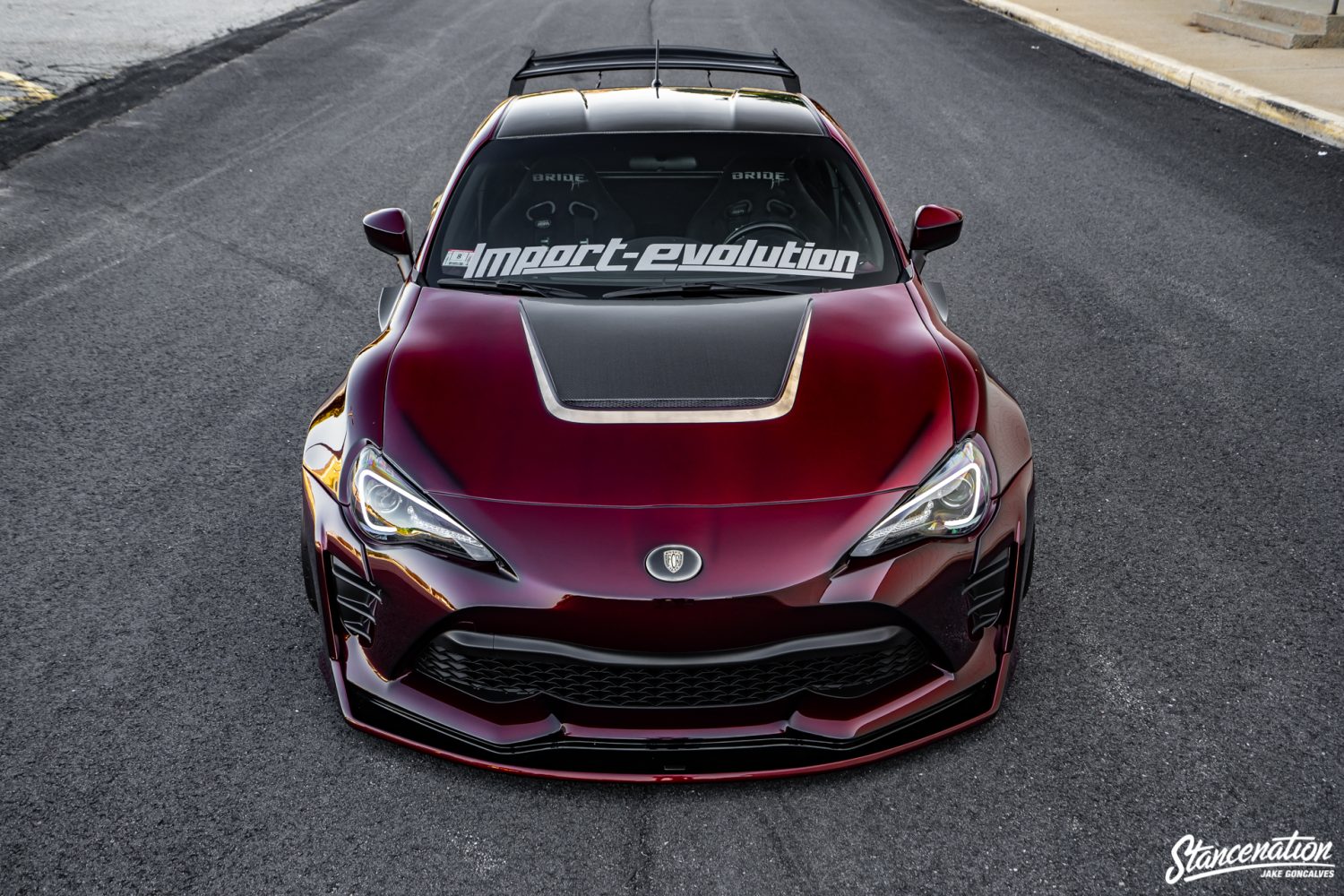 Speaking of next level, to some, a build is done after custom wheels combinations and body colors, kit, suspension, and exhaust. Then there's this attention to detail that Sal's FR-S embodies that I look for when viewing cars. It's the smaller details and modifications that make the car much more memorable and a statement that makes the car a true extension of the owner rather than just another tool, or to some, an accessory. (I'm totally nerding out over the custom 86 engraved lugnuts and 86 engraved door latches.)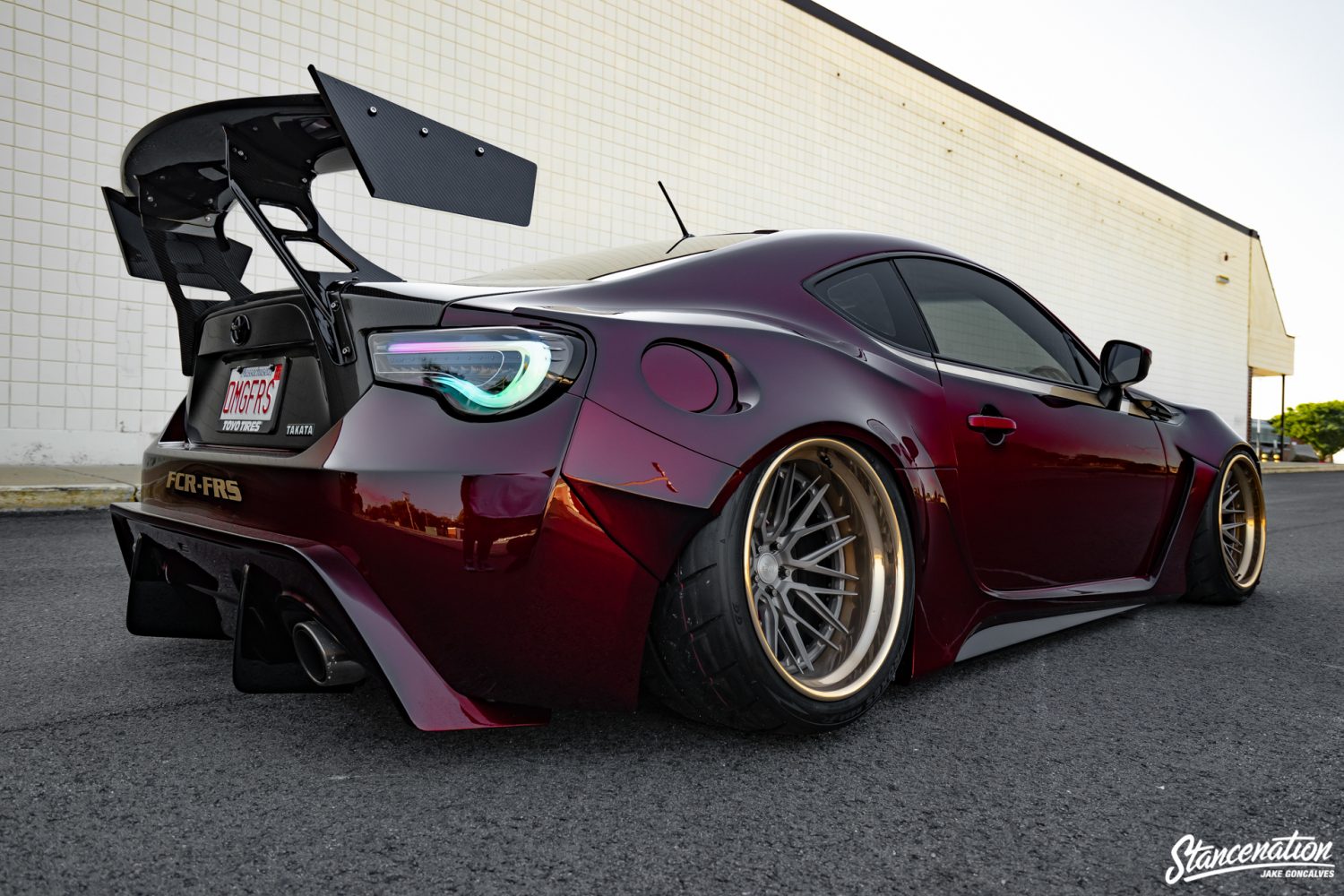 Sal went with massively sized Niche Gamma wheels, measuring in 18×11 and 18×12 for the front and back, respectively. These aggressively spoked wheels look amazing with the brushed anthracite faces coupled with the translucent copper stepped-lipped barrels. The Rolloface 6/4 Piston Brakes add plenty of stopping power to the car, but the custom red accents matched on the caliper and disc really set this build apart. To achieve such a fitment, Sal called upon Airlift for their full suspension kit paired with Buddy Club, Whiteline, and PasswordJDM components to readjust the suspension geometry to align with the new height of the car.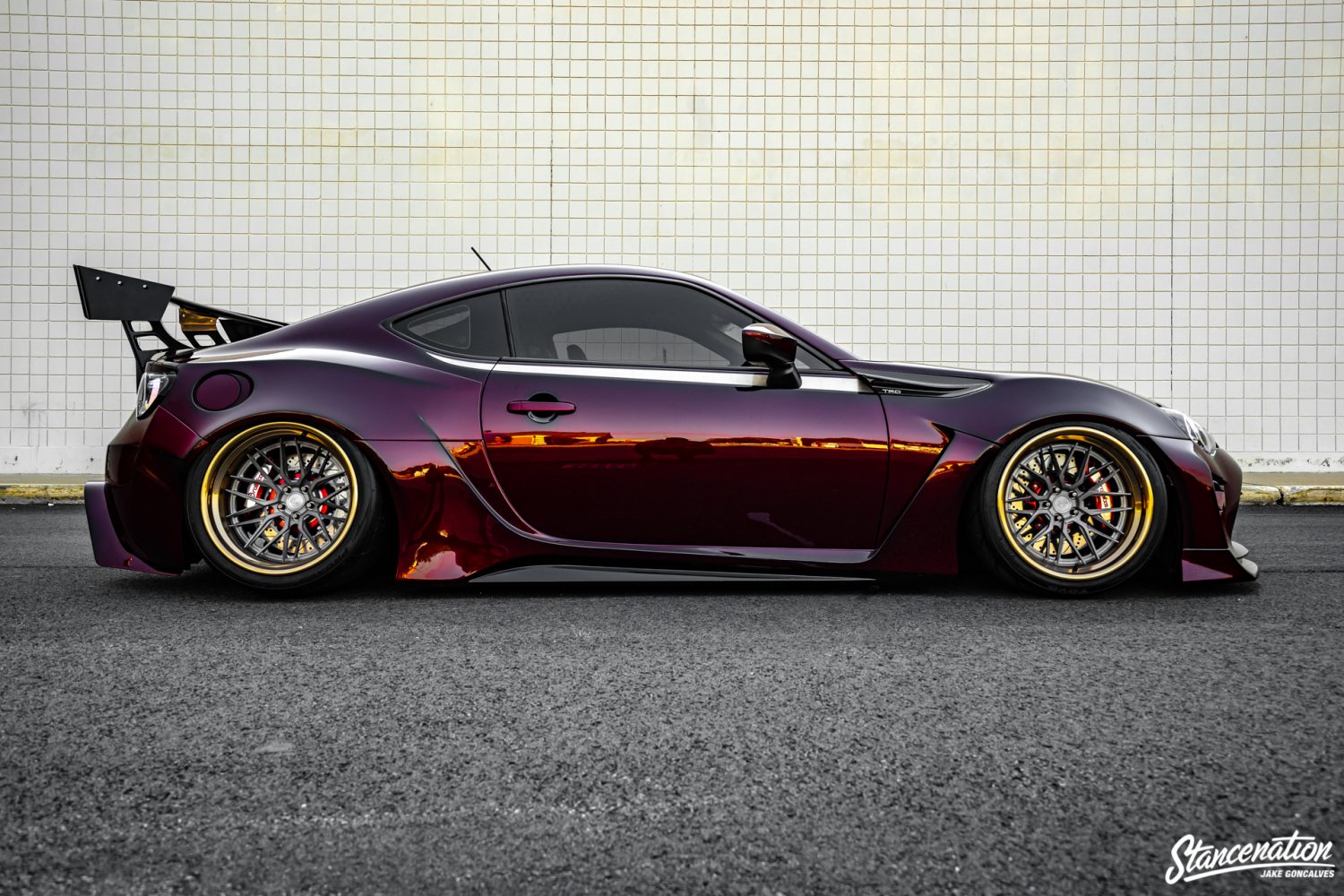 For the interior and safety pieces, Sal's trusts the renowned Takata Drift 3 racing harness in black and the famous Takata green stitching, coupled with Bride Stradia 2 Japan Seats. Combining sleek looks with safety, there's nothing more sexy than responsibility and looking damn good doing it too. The addition of custom sized door speakers housing Focal speakers and custom tweeter pods to up his audio game was also a must. Sal shows you can't forget about the quality of life modifications among all the performance, safety, and aesthetic modifications. Because sometimes, you have to just treat yourself.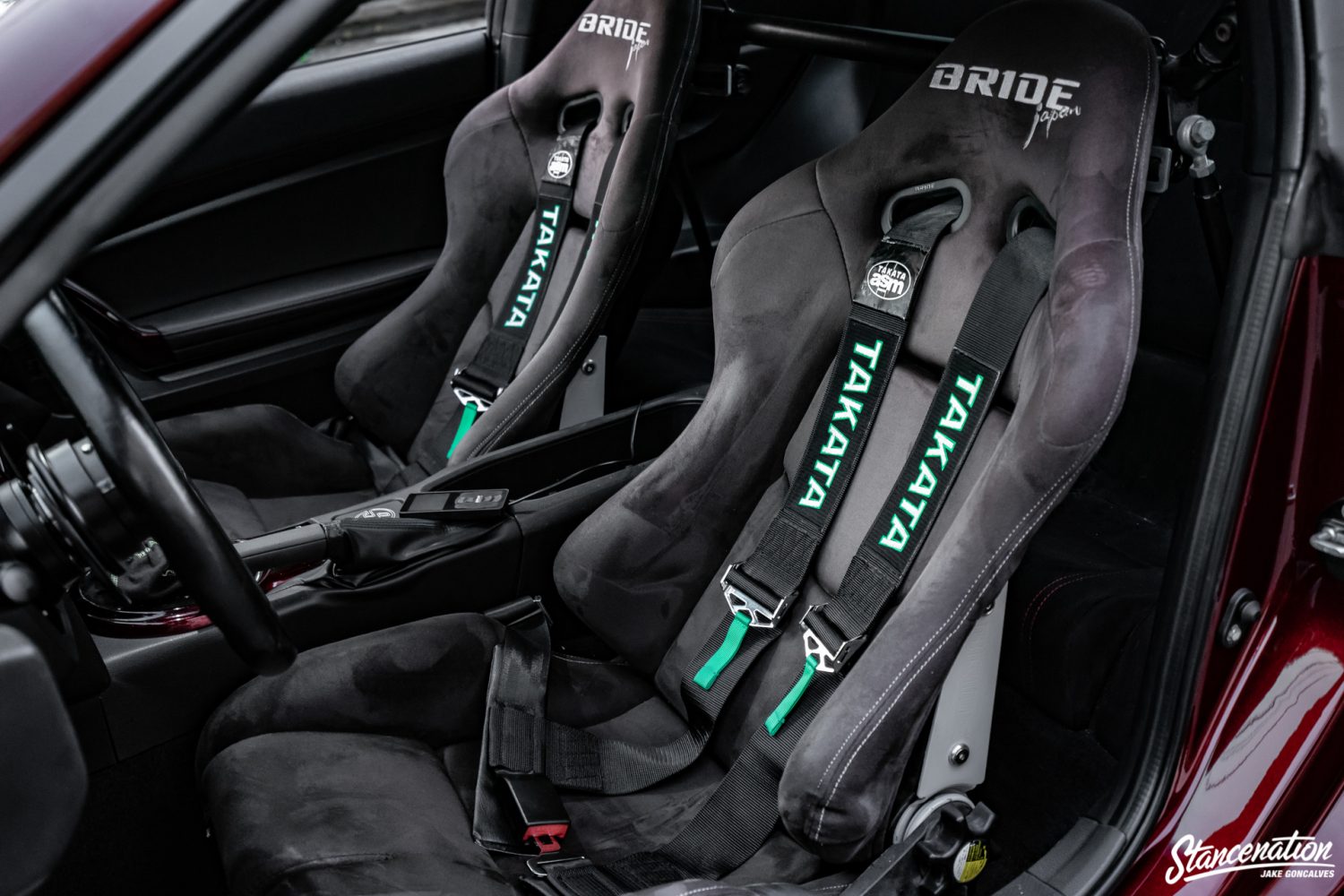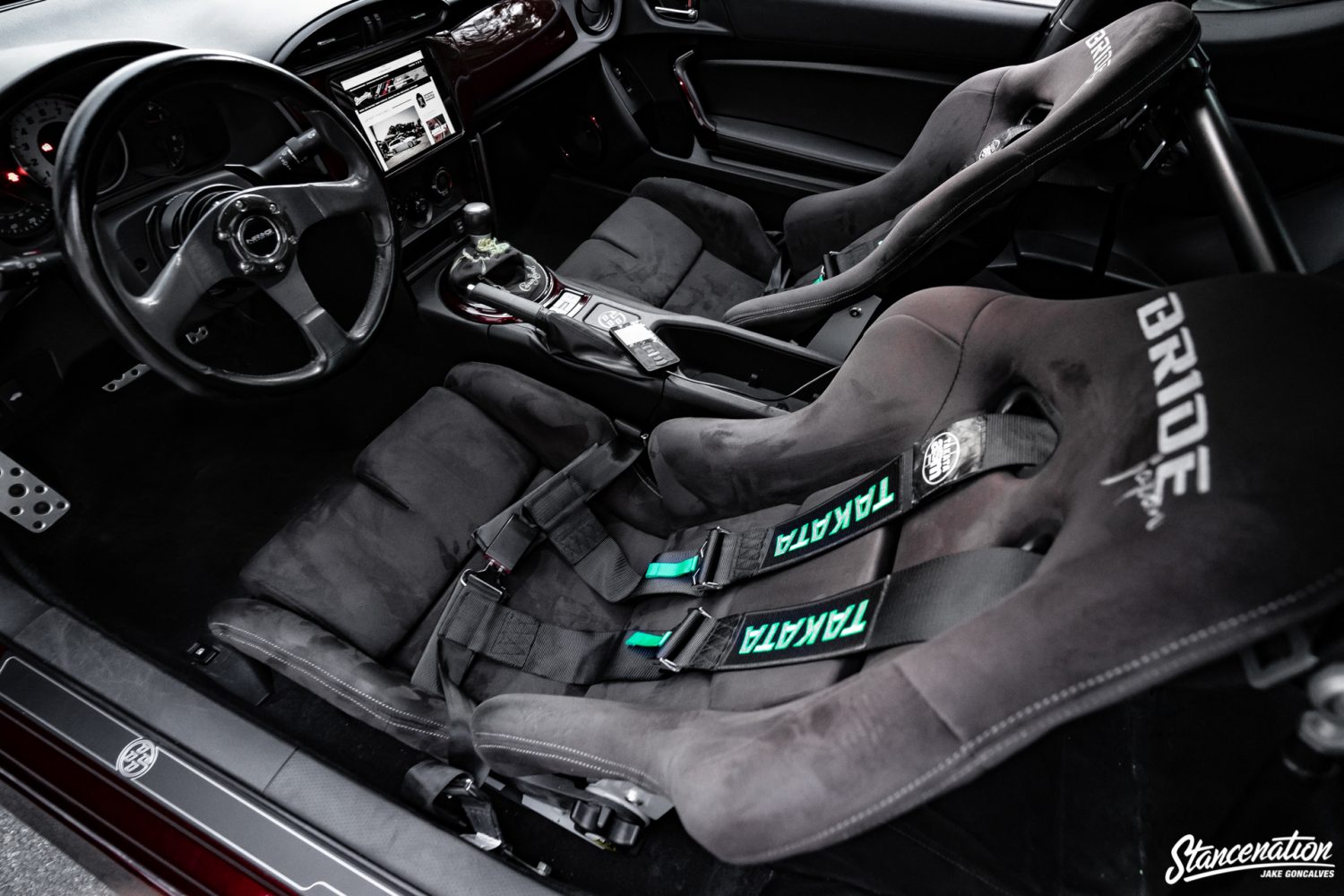 Sal tells us he has some future plans for the car which include some force induction modifications with RPGroup and Autotronix for a custom trunk enclosure that will highlight aspects of the car like audio and suspension. I'd have to say I cannot wait as it's truly a beautiful build that takes attention to detail and is built to the owner's vision. Stay tuned and you may see this car on our site again as Sal tells us he has plans to be at SEMA.