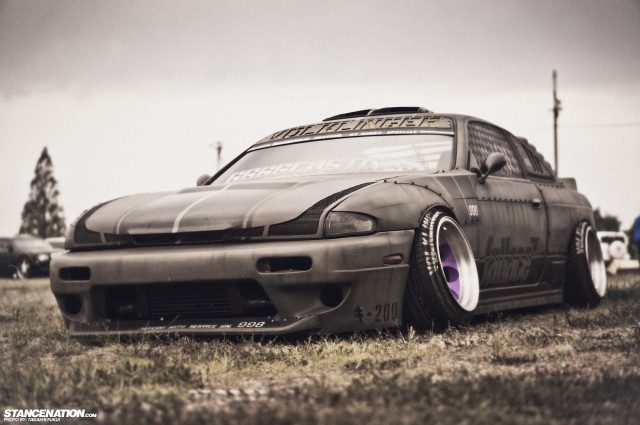 The automotive community is fueled by a competitive spirit. Everyone wants to be the best and when it comes to track racing the best is usually decided with one undeniable factor, track time. What happens when you are competing for style? Do you "grade" according to the recent trends? Maybe, color and shine? Is it a matter of simplicity vs complexity? Well if there IS a rule book for modifying a vehicle, I'm pretty sure that our friend Nakawatase-San's Volklinger S14 is doing everything wrong, yet it looks damn good doing it! Nakawatase-San's S14 looks different every time you see it. He is always changing things up and doing stuff that many would never even imagine. Open minded folks will surely appreciate the thought and creativity put into this car, though we have a feeling that many will also be quick to criticize it simply because it is out of norm, when in reality such cars will get overlooked for their "unoriginality" by the same folks. With that said, allow us to introduce you to Nakawatase-San's pride and joy.
Photos By: Takashi Fukui exclusively for StanceNation.com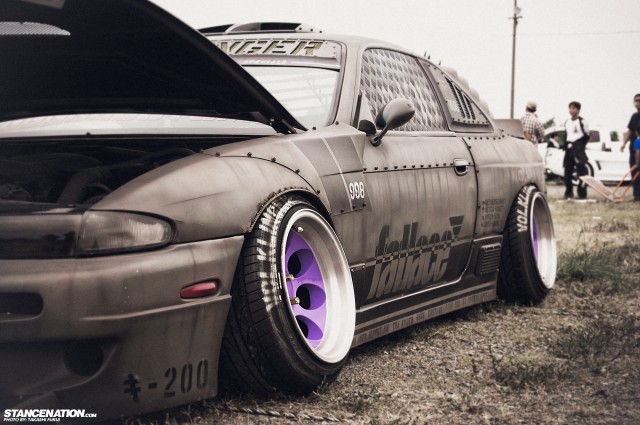 Most cars inspire dreams of sunny mountain roads and an attractive passengers riding shot gun. This car seems to inspire visions of a post apocalyptic wasteland and a story of survival. From the random body parts with rivets left on display, to the rusted looking flat paint, everything is chaotic, yet, methodical. I wouldn't say that this cars "post war" illusion is created by one individual feature, this car is perfect because it was assembled in this exact fashion.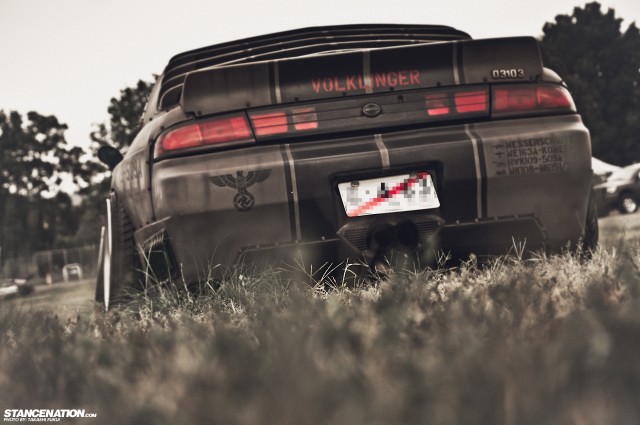 The kit started with the popular TRA-Kyoto Rocket Bunny that has now evolved through the many additions that have been fit to every corner of this battle ready Nissan. The left front fender seems to be inspired by a Z-tune GTR while the right fender looks like its been creatively remolded using old license plates. Not just any license plates, but plates from right here in America.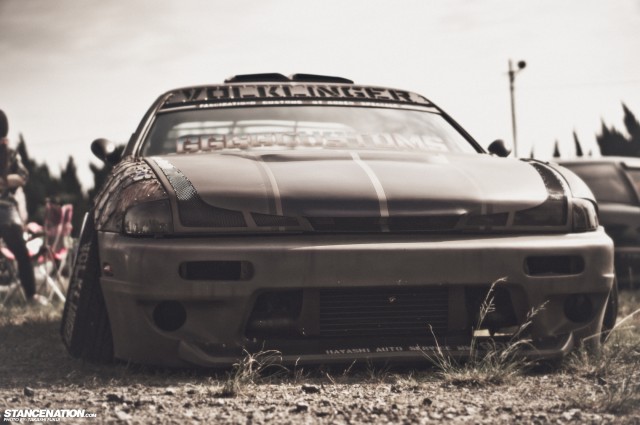 The hood has been modified to shield the front headlights and most of the windows have been covered by pieces that resemble steel tank armor. The front windshield displays a VOLKLINGER sign and the back window was covered with a vented rear window louver. Nakawatase-San also decided to add random vents and a paint theme that helps solidify the military transportation theme. Specifically, that theme from the old Völklingen, Germany.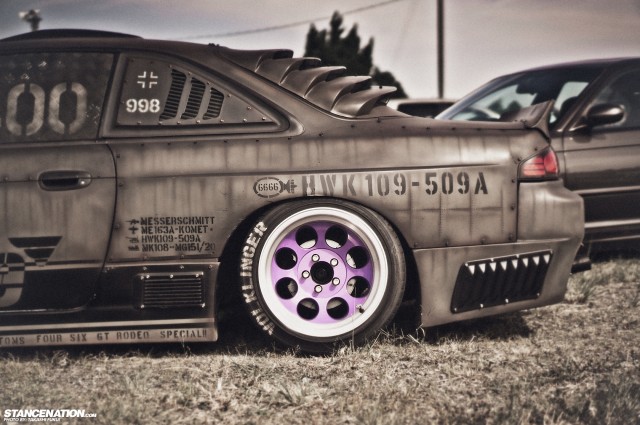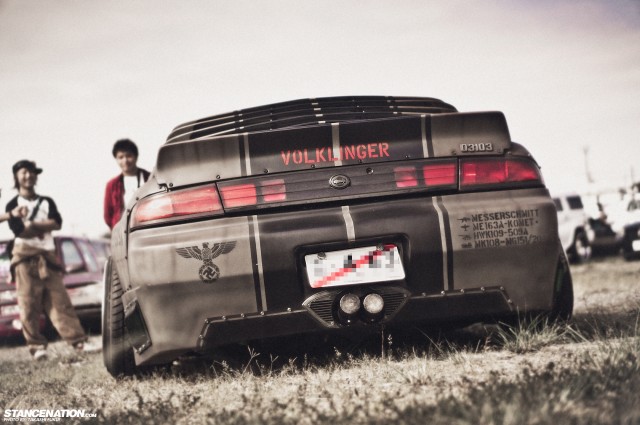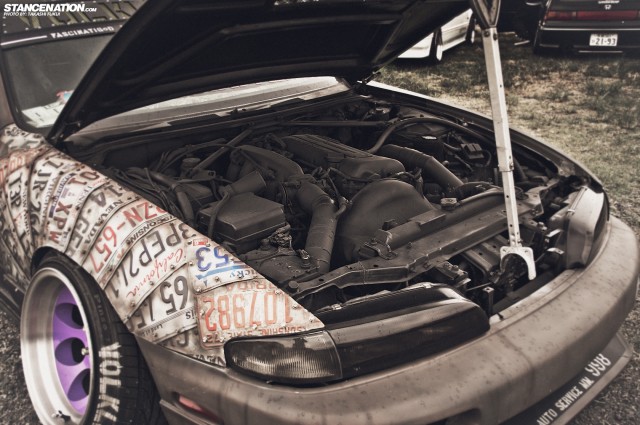 The engine of choice is a Nissan SR21det. This is an SR20det with a displacement increase from 2.0 liters to 2.1. This turbo four is being force fed fresh air with a TD06-20G turbo that seems to flow through aftermarket inter cooler piping and center mount exhaust. The engine bay appears to have also been spray painted so everything has a flat black shade to it.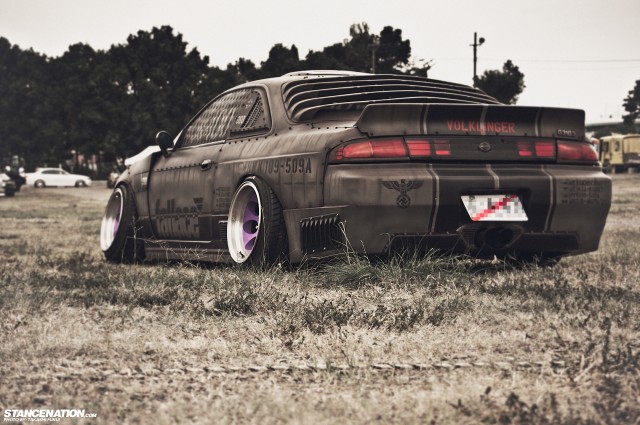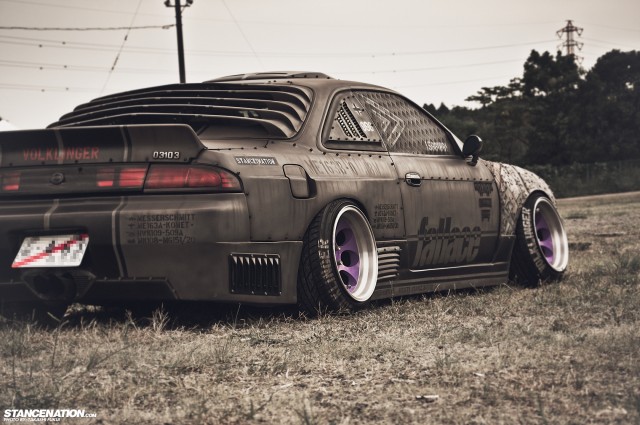 One interesting aspect of this car that seems to catch my attention is the mix of cultures that can be find in Nakawatase-San's part choices. Nakawatase-San chose a "Japanese" Nissan to create a "German" military theme and then added "American" Mickey Thompson wheels. Even though these wheels don't exactly fit this theme perfectly, they look incredible under this mayhem of a machine. Those purple circles are the classic model and they measure 16×10 with a crazy -45 offset and a thick 205/45/16 tire.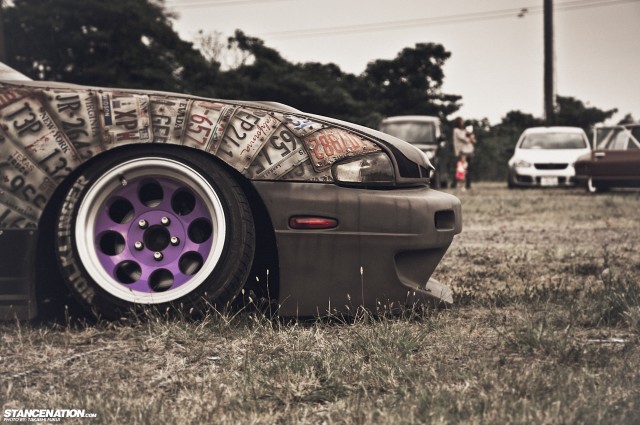 The purple and silver wheels help break the dull looking flat colors but don't necessarily take away the attention from the car itself.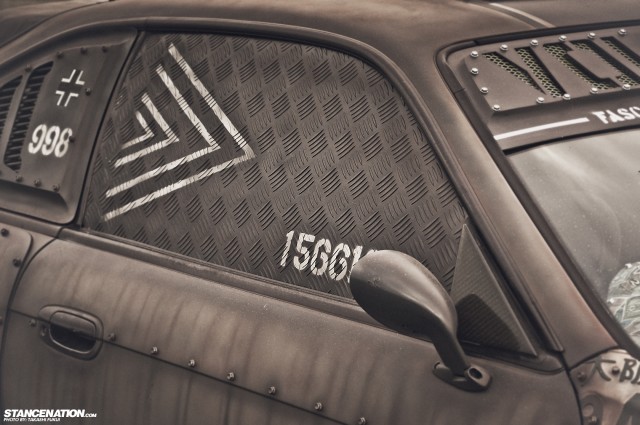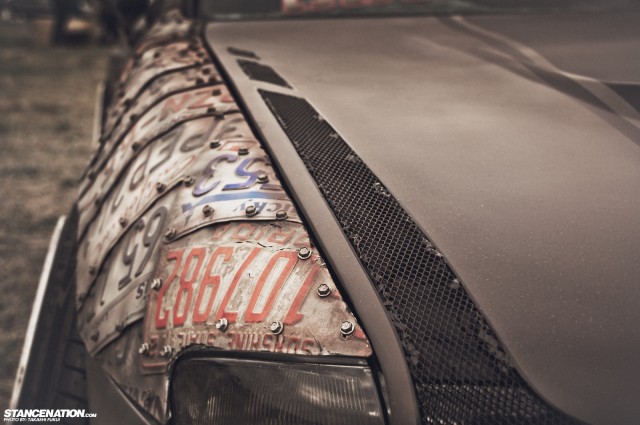 Utilizing these license plates was a great way to portray a survival style. When resources are low, you have to use whats available to fix your equipment. Why would you look for a new front fender when you have a stack of old license plates sitting around?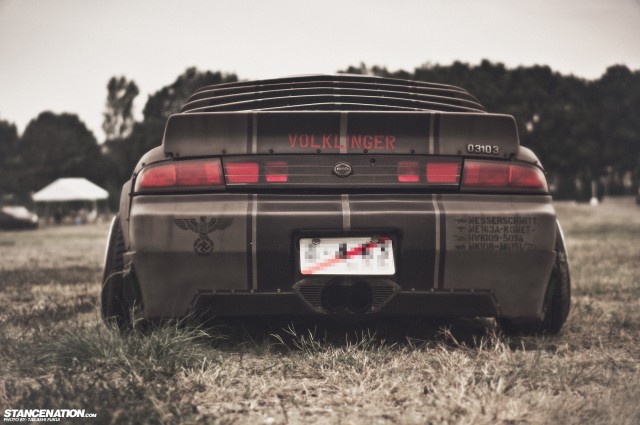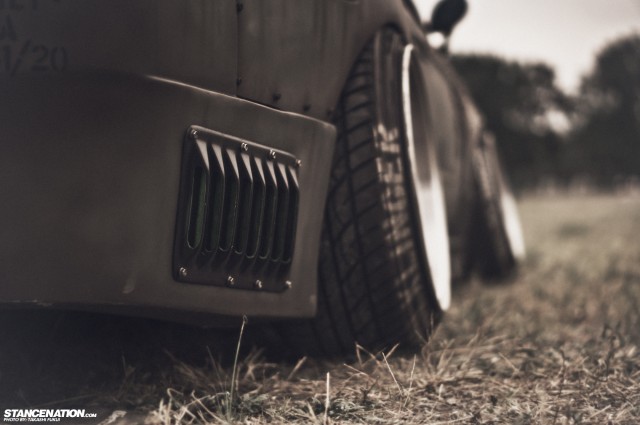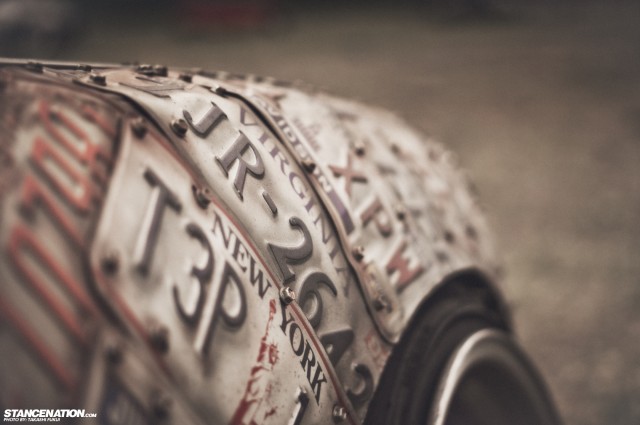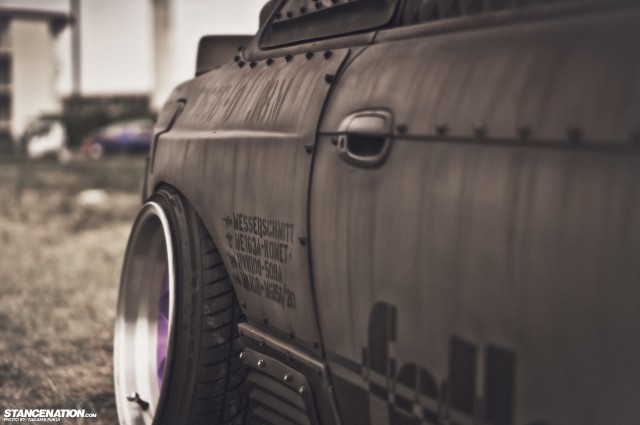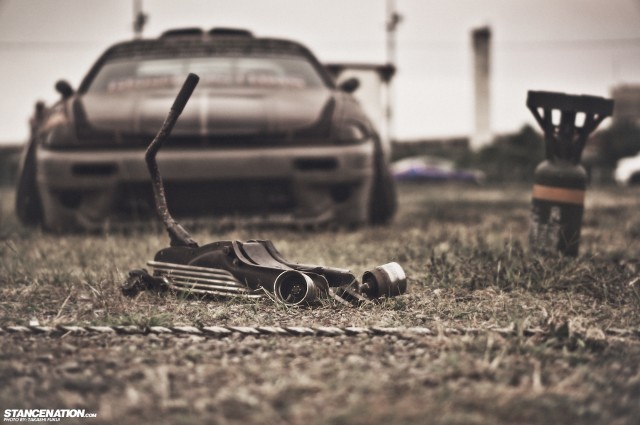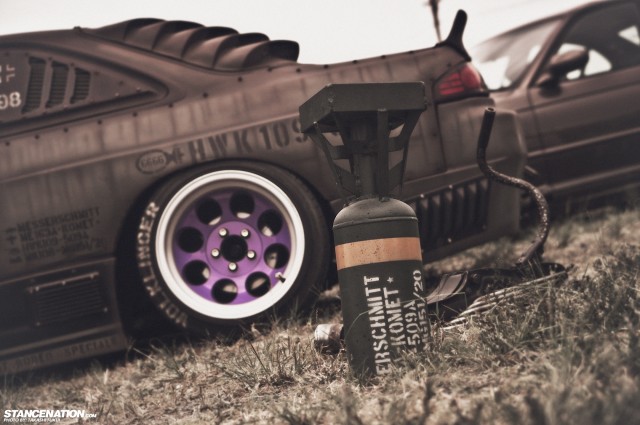 Everything about this car seems like a bad idea. The color, the wheels, the abundance of body additions. The craziest part however is how well it all comes together. Nothing really appears to be out of place, and there actually seems to be a balance. Don't get me wrong, this may not be an example of what a "perfect car" may be but that's what helps make it so interesting. It's yet another example that you don't need to worry about having the biggest wheels, most flashy paint or even sit the lowest. All it takes is a goal and some creativity. Most importantly though, you gotta build a car for yourselves and not others.