It's not too often that we get to feature a car like this.  Some really cool cars have been posted here, but cars of this caliber are a rare sight.  Cars of this caliber end up in magazines and/or on covers of said magazines (as this one has).  Builds of this caliber are actual builds, and not some "build" that was done in a weekend in someone's garage.  This is a real build.  Really, in truth, all I need to write here is, "look at the spec list."  It's that long, and it tells you that this car has been gone over top to bottom, inside and out.  Most of the story is told there, but what about the story of the owner?  Well, I guess I do need to have a job to do right?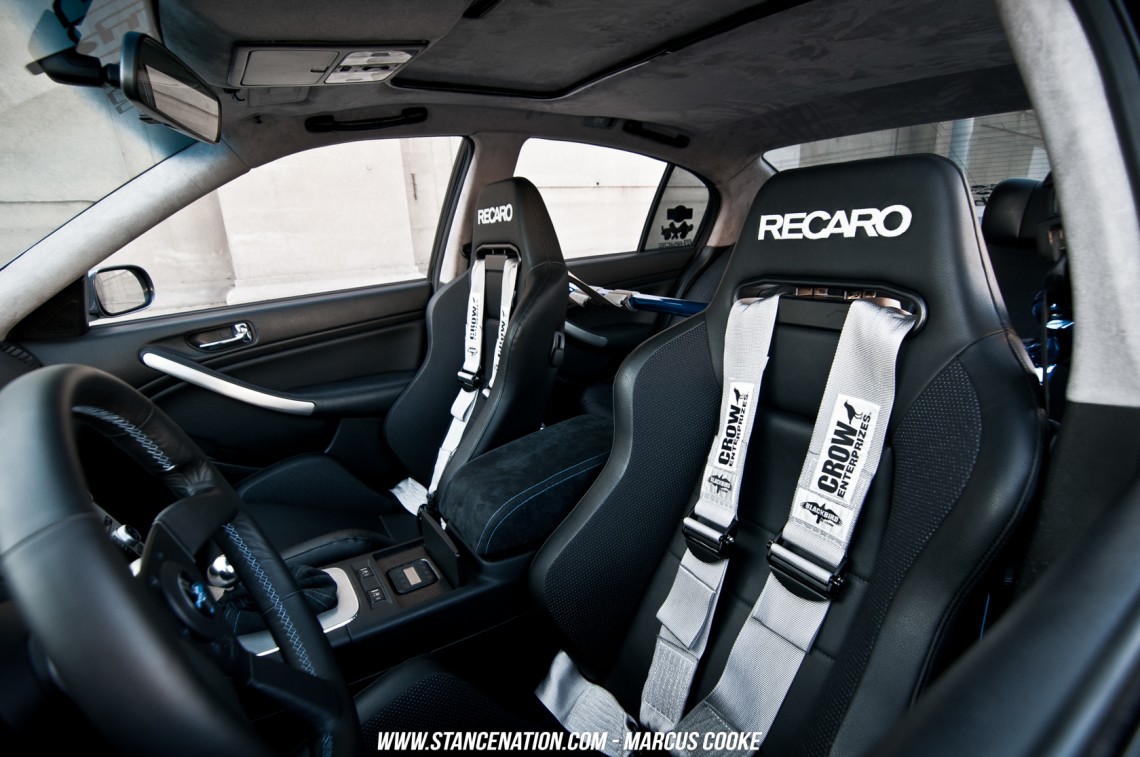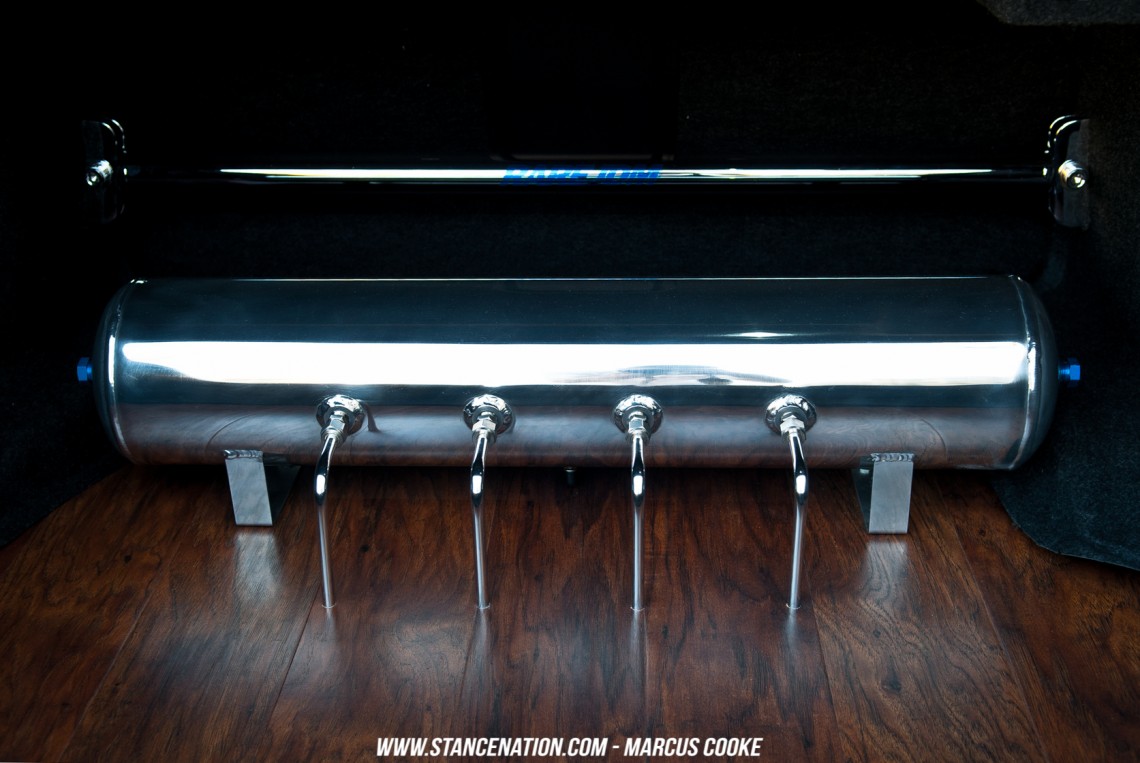 My prowess has always been what I can tack away at on a keyboard, and despite my (fruitless) efforts behind a camera which originally landed me at S:N, I'm left with the duty of filling these spaces between the amazing photos that you all enjoy looking at so much.  This is also a rare feature in that it is a bit personal for me as I know the owner, Marcus, myself.  Well, at least I know him on the internet through Facebook, haha.  I guess that's the cool thing about this hobby and working for a site like S:N, I've gotten to connect with a lot of really cool people in the car community, people I never thought I'd be able to call a friend.  And Marcus, well not much else needs to be said other than he's a genuinely good guy.  I don't think I've seen anything but praise for this man from a number of people in the vast scene we have.  On top of that, he's a family man too, with a lovely wife and two, adorable kids that have all sorts of fun adventures.  It's one thing to get to know a certain car, but when you get to know the owner behind it, you kind of get a better understanding of why the car is a certain way too.  Also goes to show that there is hope in our hobby after tying the knot and  starting a family, haha.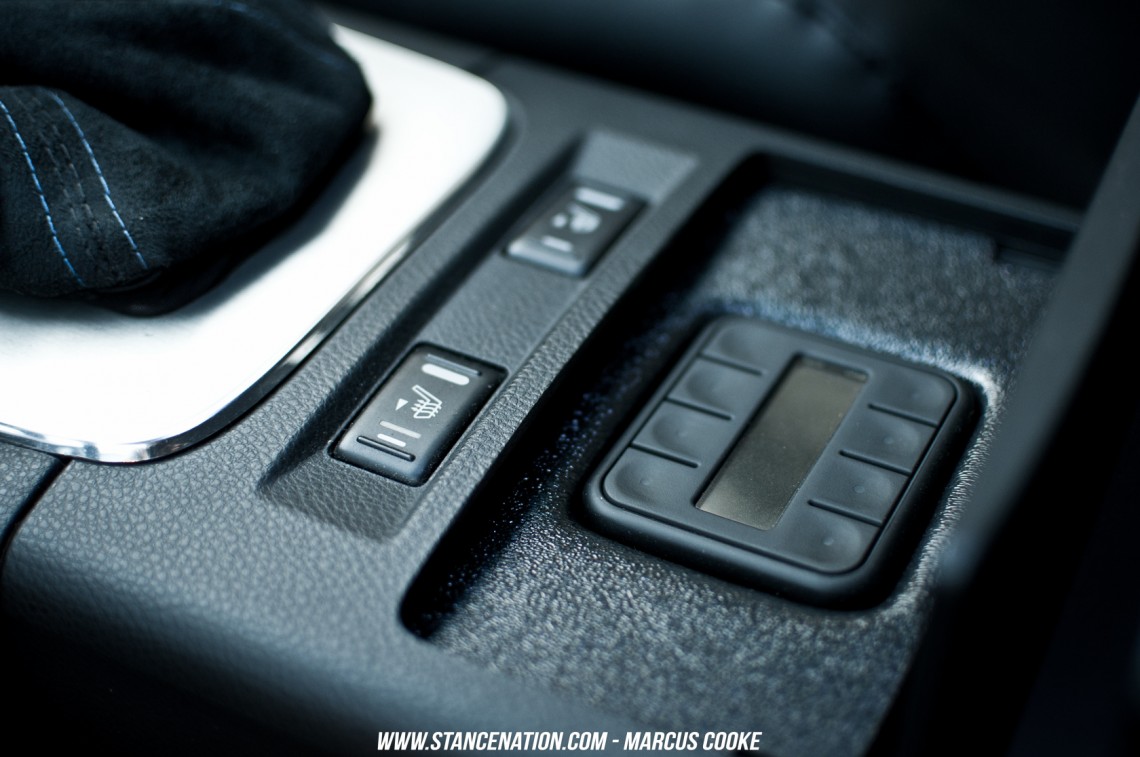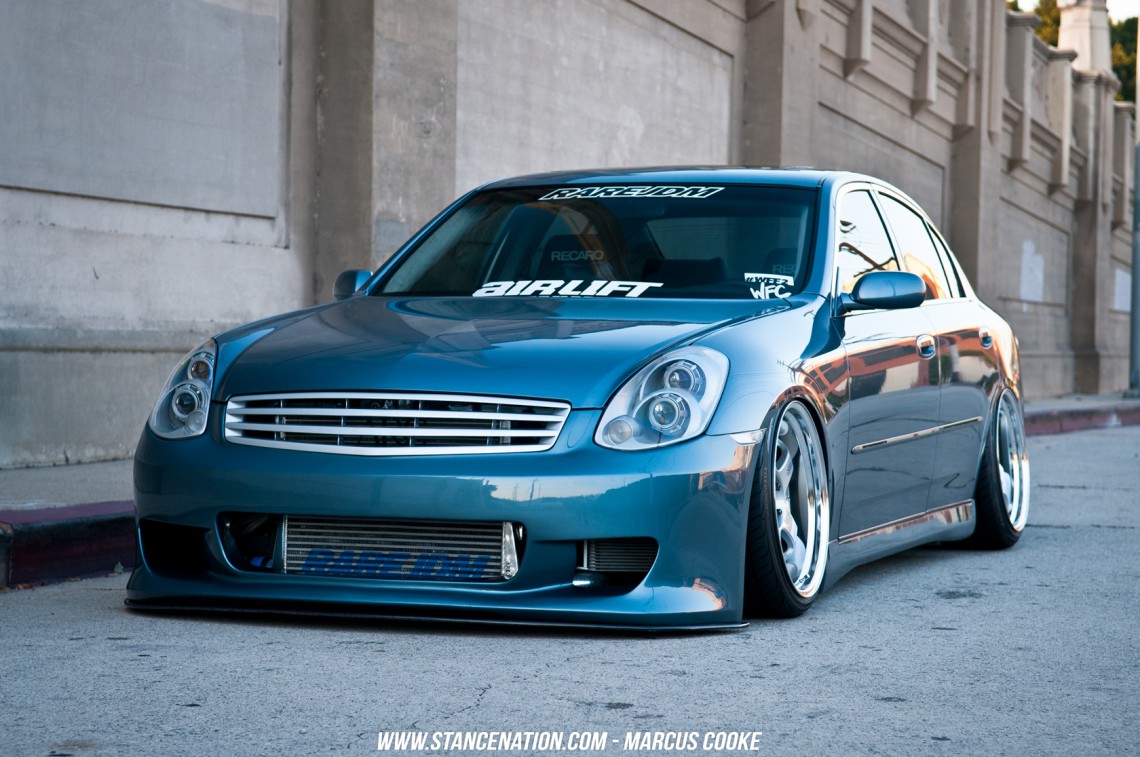 Getting to know Marcus over the last few years, his car is pretty much an expression of his life; thorough, well built, and well executed.  Cars with this level of detail are seldom seen in the import community, reserved for those with big-budgets who are after best-of-show trophies at the biggest car shows in the nation.  Marcus is just a regular, real-world guy who has spent the last 7-years perfecting his sedan, and in turn created one of the most recognized, 4-door Infiniti G35s in the US, if not the world.  And guess what?  Marcus will probably be the last person to tell you so.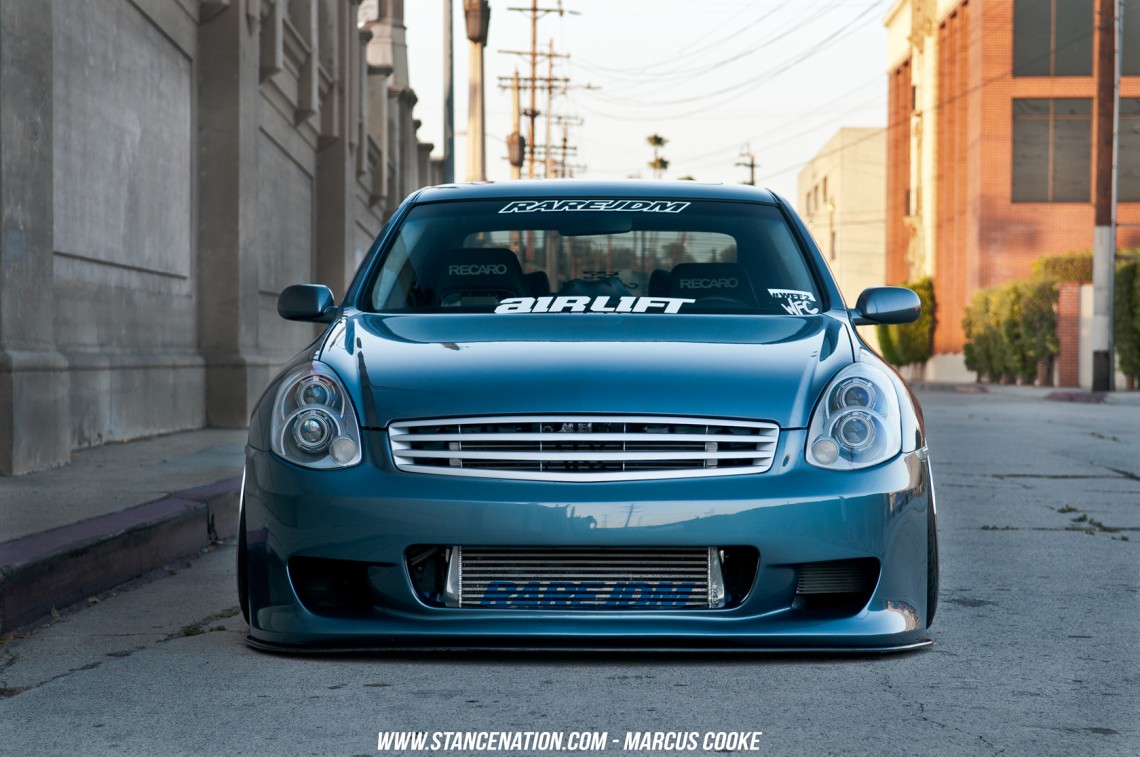 He's one of those enthusiasts who just has the right attitude that I wish more people had (myself included).  No bragging, no gloating, no putting his own car on a pedestal, just him putting his vision into reality and letting the rest of the world react.  Maybe it's the whole parenting thing that keeps him away from forums, online groups, instagram, and all the drama associated with it, so M and J, keep it up by keeping your Dad preoccupied with the whole growing up thing so your Dad keeps on doing what he does.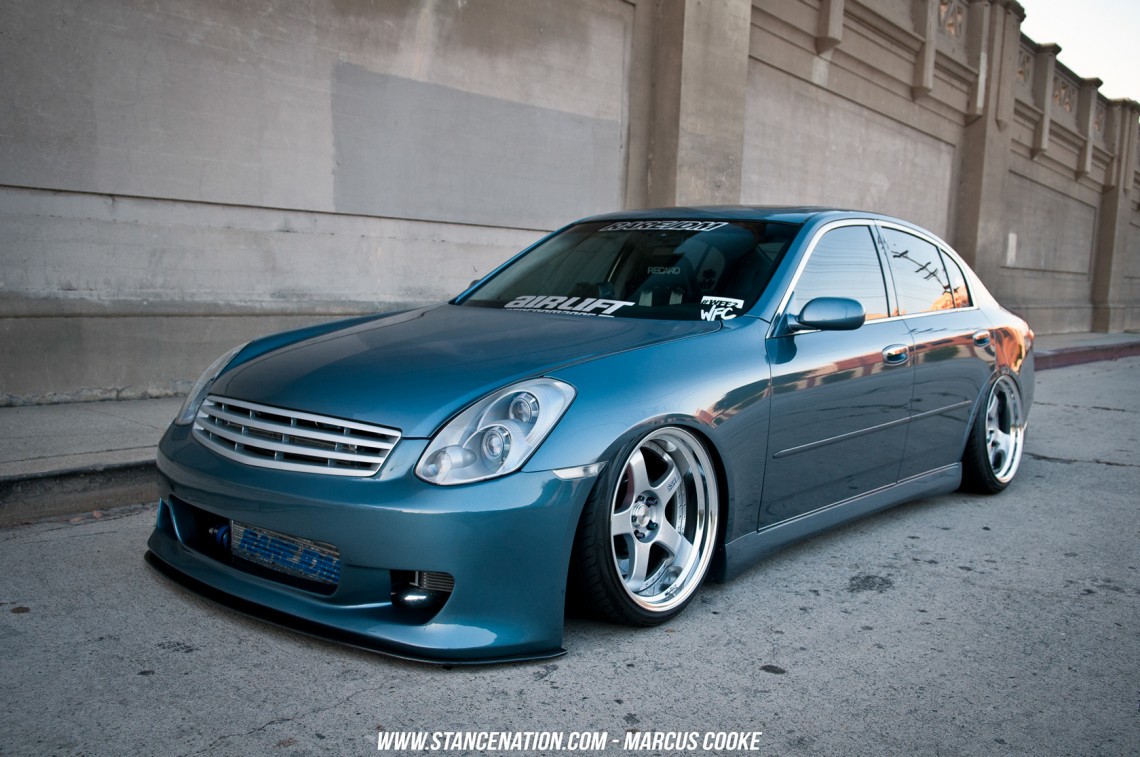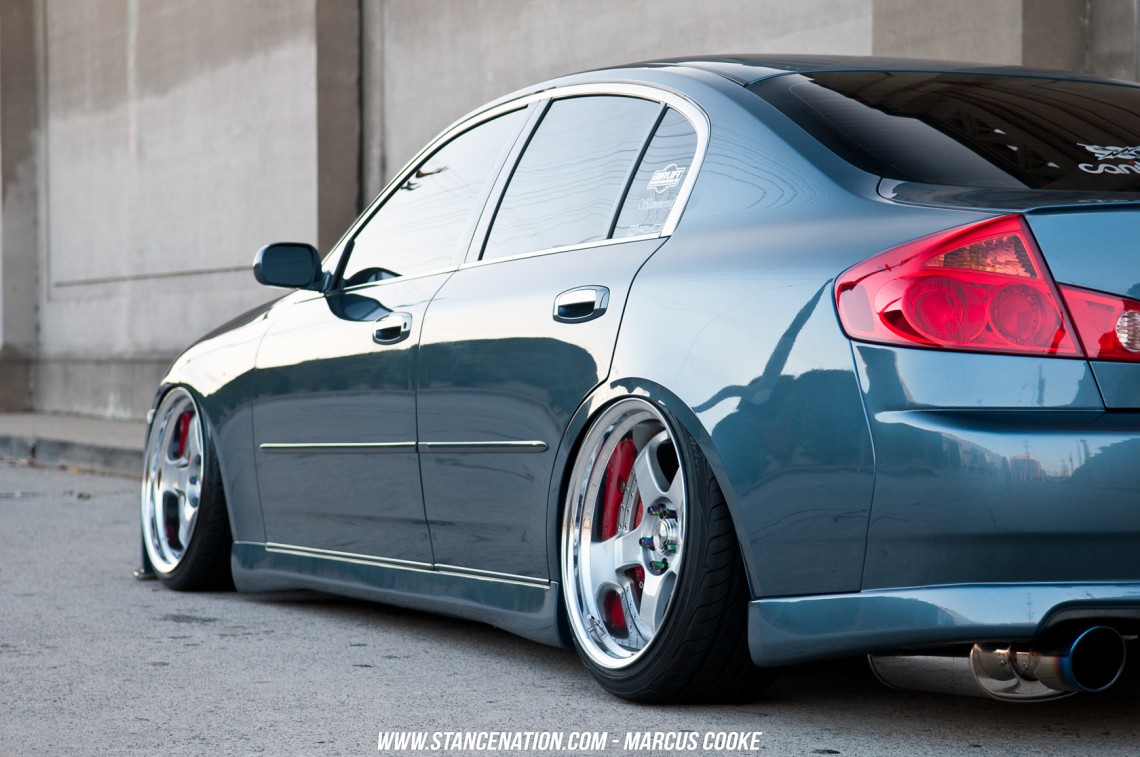 The car, as you can imagine, has changed quite a bit over the last 7-years.  The 2005 Lakeshore Slate sedan was bought bone-stock back in 2007 by Marcus' wife as a gift for getting his MBA (obligatory, "stay in school kids," message).  Ladies, take note; when your man pops the question with a $$$$$ ring, it doesn't hurt to give back a little at some point, just saying.  Like most cars, thing started small and eventually snowballed out of control, but the car's latest guise is pretty much as extreme as it can get without getting wild with wide-body conversions and crazy paint jobs.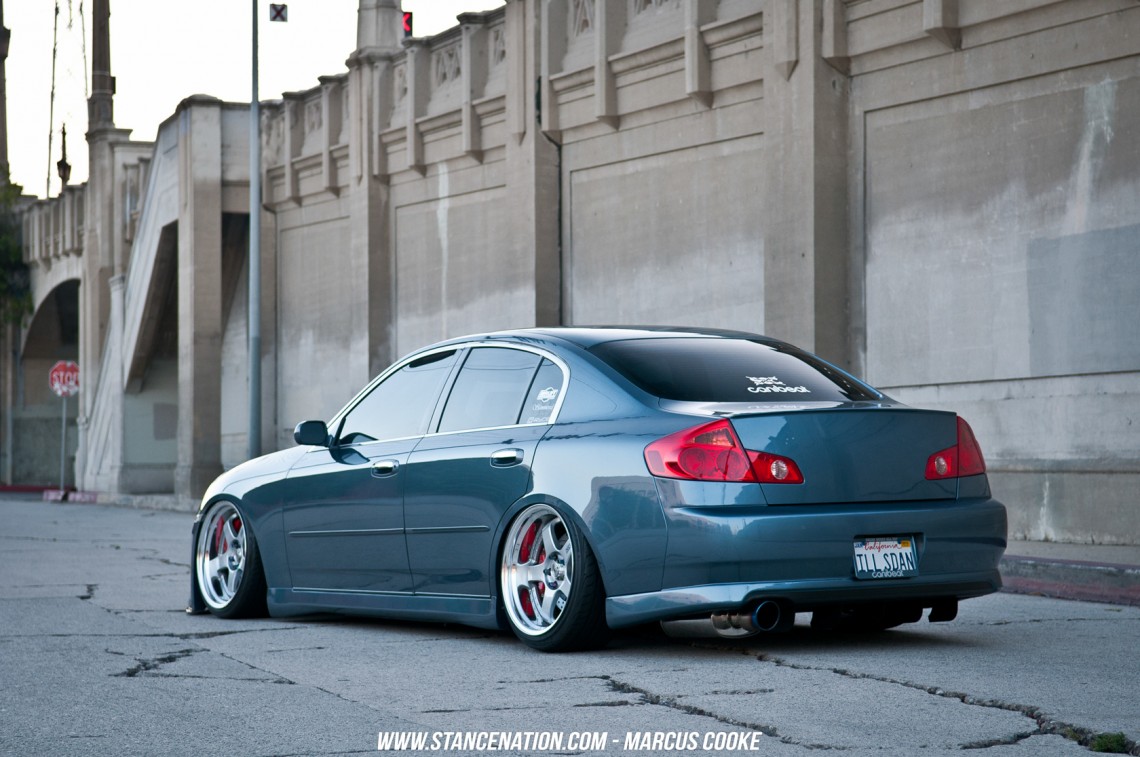 Marcus has worked over every inch of the car; interior, exterior, engine bay, suspension, brakes, trunk, it's all been done, and no corner of this car has been left untouched.  In fact, the longest part of the spec-list is the engine section, and it's pretty much my favorite part of this car.  I have one of these for my daily grind, and I'm still blown away that Marcus has taken that engine bay and made it so damn clean.  Seriously, I don't know how he deleted and hid everything and the car still runs.  The bay is flawless, completely shaved and tucked, and everything that couldn't shaved off or tucked out of view was polished to the highest level of finished.  The engine itself is fully detailed and decked with some of the best parts out there for the platform, the center-piece being the polished, Vortech V3 supercharger.  With everything dialed in, the car was tuned to 420hp and 345tq at 10.5psi which results in some big smiles when the go-pedal is pressed down.  And I bet you all thought this was just some hard-parker huh?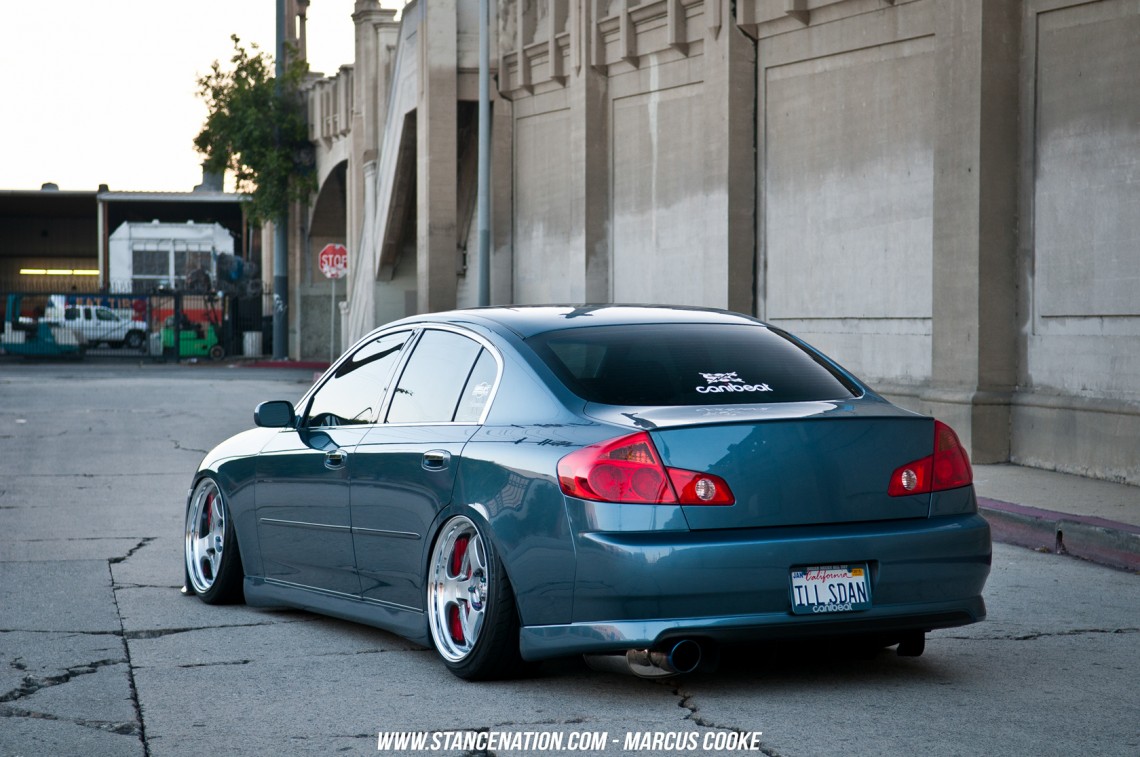 Granted the car does look absolutely stunning parked though.  All thanks to the recent switch to an Air-Lift Performance air-ride system and their Autopilot V2 management.  In Marcus' words,
The biggest challenge I've faced was when I was static, slammed and dragged the car everywhere. Places I could drive were super                limited.  I had to check routes street view on Google Maps just to see if I'd be able to get into a driveway at a particular location. Driving      slow which wasn't fun once I boosted the car last year. With as much work as I've put in the car breaking things every other month got        old.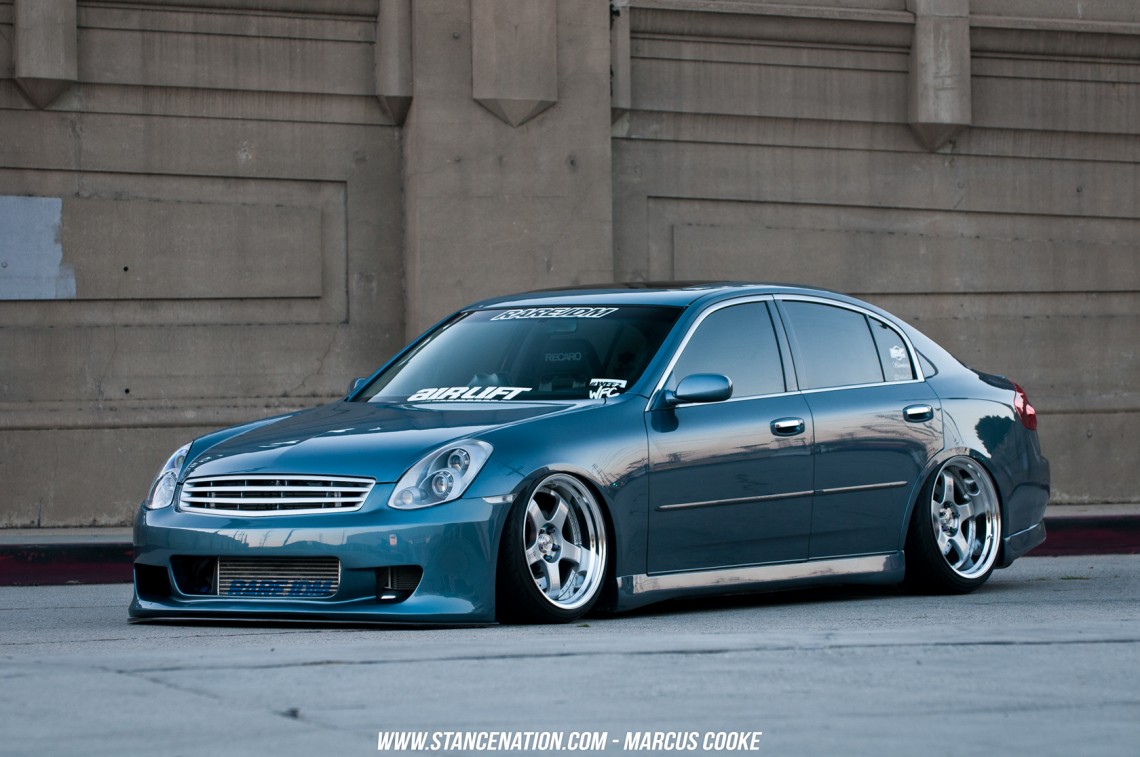 With the car able to be planted lower to the ground than he could on coilovers, and able to raise when he wanted to enjoy driving it, the next area to sort was the wheels.  Marcus' wheel of choice has always been SSR, so it's no surprise that his G35 wears a set of Professor SP1s sized up at a 19×9.5 +5 up front, and 19×10.5 +18 in the rear.  Framed by those timeless wheels is a Wilwood 6-pot big-brake kit in the front, and a 4-pot big-brake kit in the rear.  A host of adjustable suspension pieces ensure the stance is dialed in, and that the car handles well when Marcus decides to have a little fun.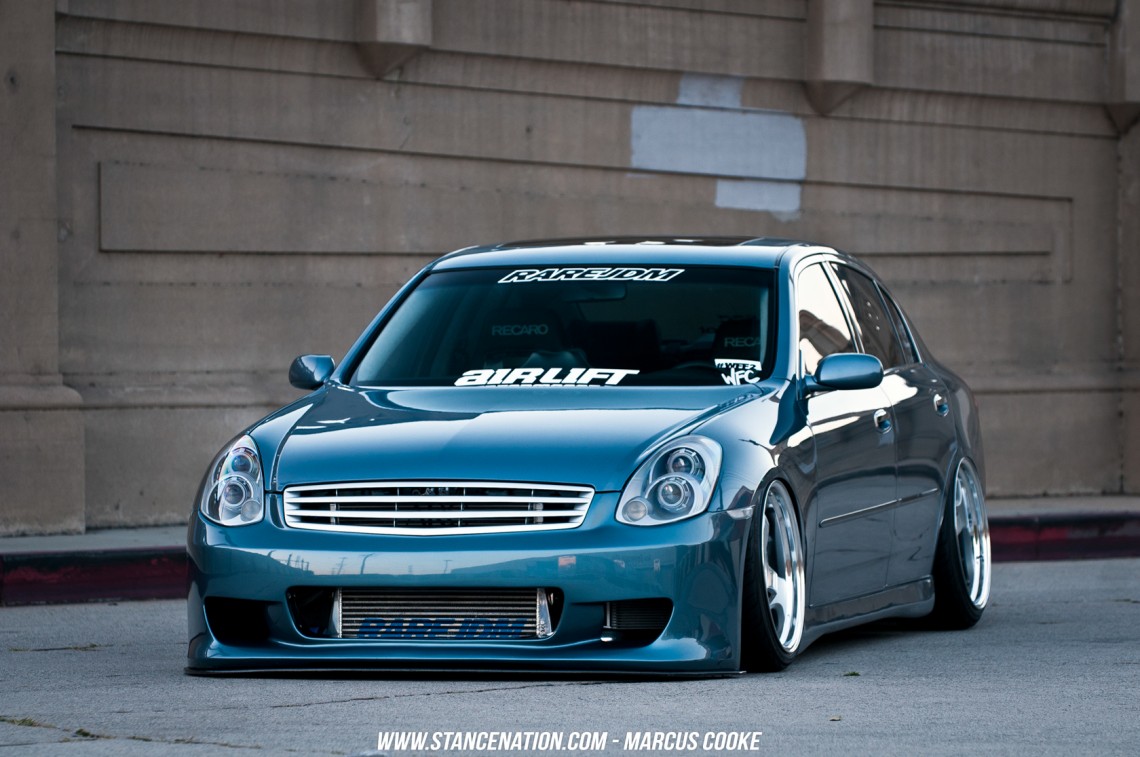 The exterior is also full of custom touches, most of which you'll be able to read at length in the spec-list section as I'd be here all night typing it out which would probably put you all to sleep.  From the custom, retro-fitted headlights, to the extremely rare bits like the front bumper and side-skirts, the details on the outside are just as impressive as the details under the hood and inside the car.  Marcus has really prided himself on having more than a few rare parts on his car, and the real talent is in the way it's all tied together that it flows well together.  It's easy to throw rare bits at a car and wind up with something that looks tacky, but this car is anything but.  The exterior of this car is so clean that you wouldn't know just how much work has gone into making it look this good.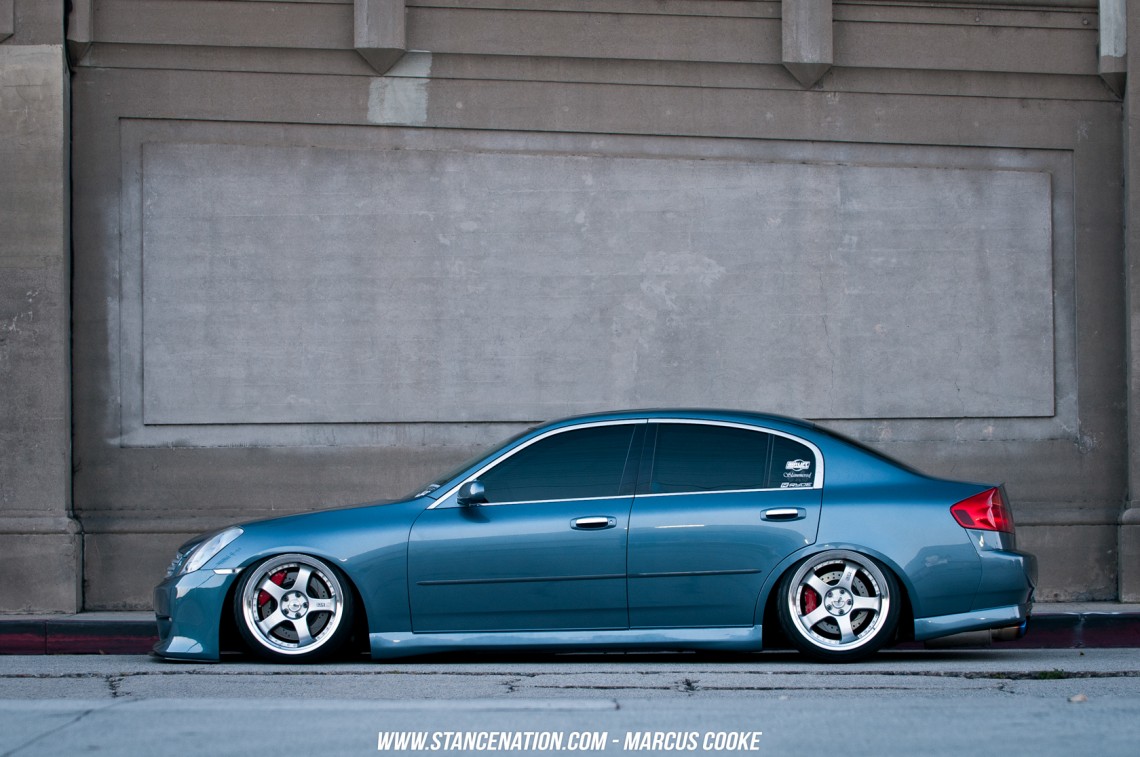 The same goes for the interior.  It looks super clean, and super simple, yet the amount of work it took to achieve that look has been immense.  What started out as simply adding a pair of Recaro seats lead Marcus on the immense task of changing every bit of his OEM tan interior to the OEM black interior.  This is not a simple, seats and carpet change.  This is an everything, including the dash and kitchen-sink change.  Those are the details that put this build above the rest.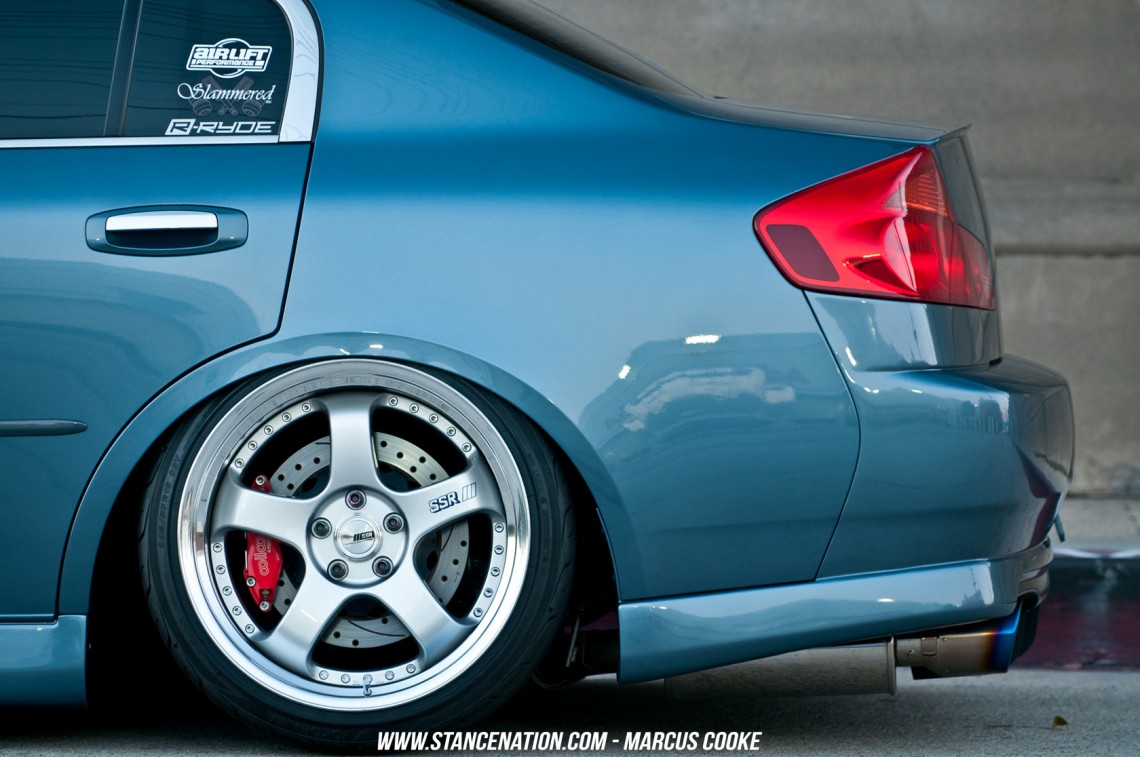 Like most builds, this one probably isn't over yet either.  Marcus still enjoys tweaking the car to his liking, changing bits here and there to keep things fresh.  Still, it's good to just take a step back and enjoy it for a bit every now and then.  Plus, he has to balance this with raising two boys, and still find time to keep the wife happy.  Kudos to her for allowing her husband to have a rather expensive and time-consuming hobby.  Still, what I like the most about it all is that after all the success and attention that this build has, none of it has gone to Marcus' head.  He's still the same, humble guy I see always talking about his family.  The car is just an added bonus.  Till next time.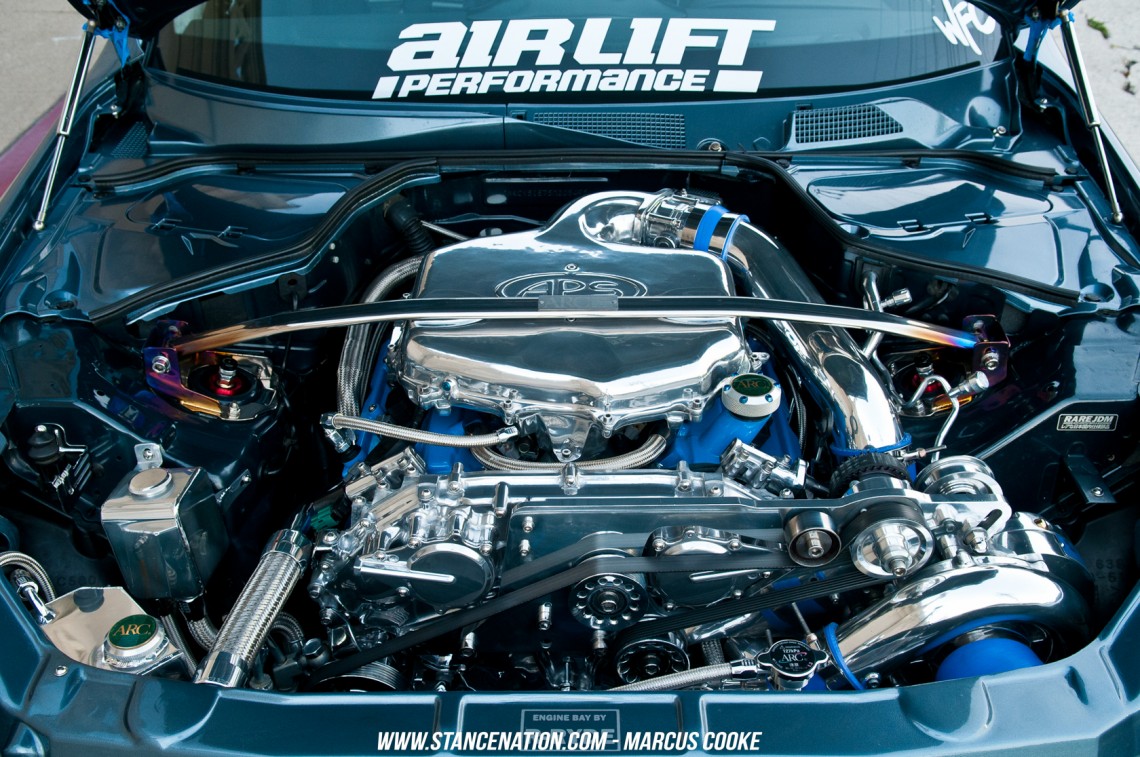 Engine
Vortech V3 Supercharger Polished
3.12" Pulley Polished
GTM pulley mod Polished
Custom billet Vortech pulley Polished
DW 600cc Injectors
Walboro 255 Fuel Pump
Custom One Piece Intake Pipe Polished
Custom CAI
Spearco FMIC polished
Polished Vortech Pipping
Polished Mounting Bracket
Polished Cog Belt Tensioner Pulley
HKS Bypass Valve Polished
1 Step Colder Spark plugs
Full wire tuck
Polished APS Tallboy Plenum with shaved tabs
Polished Lower Plenum with shaved tabs and smoothed runners
Polished Throttle Body
Polished Timing Cover
Polished Cam Covers
Polished VTC Housings
Polished Moroso Power Steering Tank
Polished Lower Collector
Polished Alternator
Polished PS Pump
Polished Thermostat
Polished Unorthodox Racing Alternator Pulley
Polished Earl's AN fittings
Polished A/C lines
Idler Pulley Delete
Chrome Pulley brackets
Chrome Hood Pin Bracket
Chrome PS Pump Bracket
Chrome Hood Latch
Chrome Earl's Hose Clamps
Chrome and Welded Coolant Pipes
200+ Polished & chrome bolts
ARP polished windshield wiper nuts
ARC Oil Cap (with blue Titanium bolts)
ARC Radiator Cap
ARC Custom Modified V36 Overflow/Coolant Tank
ARC Cooling Panel – Polished
ARC Z33 Oil Cooler – Polished
ARC Oil Pan
Greddy Thermostatic Sandwich Plate
RareJDM Polished Aluminum Underpanel
Koyo V-Core 36mm Aluminum Racing Radiator
Forged Racing Slim Fan Shroud – Polished
Earl's Transmission Cooler w/ Rare JDM bracket
Motordyne Iso Thermal™ Aramid gasket
Custom Hidden Grounding Kit
NRG Chrome Hood Dampers
Pi-Thon Chrome A/C Line Caps
Earl's Braided Hoses
Hose Techniques Silicone Coupler
Hose Techniques Polished Clamps
JDM Right Side Battery Cover
Painted/shaved Color-matched Core Support
Painted/shaved Color-matched Battery Covers
Painted/shaved Color-matched Wiper Cowl
Painted Valve Covers
Painted Crank Pulley
Momentum Performance Headers Jet Hot Coated
Labree Resonated Test Pipes
Tanabe Y-Pipe
Tanabe Y-back Medalion Exhaust System w/ Motordyne Titanium tip
Transgo Shift Kit
3.5 FD w/vLSD pumpkin
Odyssey Battery
Suspension
Wilwood 6p BBK w/14″ Drilled & Slotted Rotors
Wilwood 4p BBK w/13″ Drilled & Slotted Rotors
Airlift Performance Front/Rear shocks and bags
Air Lift AutoPilot V2 Management
3/8" lines
4 Gallon Airlift Tank – Polished
Custom Hardlines bent by Slammered – Polished
Dual Viair 400cc Compressors
Airlift Compressor Isolators
ARC Titanium Strut Tower Bar – Polished and Burned
RareJDM Rear Strut Tower Bar – Chromed
SPL Front A-arms
SPL Rear Camber Arms
SPC Toe bolts
Motordyne Sway Bars
Powergrid Endlinks
Energy Suspension Lower Control Arm Bushings
Energy Suspension Compression Rod Bushings
Wheels/Tires
19″ SSR Professor SP1s
19 x 9.5 +5 – 225/35 Yokohama S-drives
19 x 10.5 +18 – 245/35 Yokohama S-drives
Project Kics Neo Chrome R40 Lugs
Exterior
Custom BAUSauto Quad Projector
Retrofit headlights (TSX-R w/ ZKW-R clear lens, iron man shrouds and blue demon eye – 2.5″ clear lens installed in turn signal, housings/shrouds painted silver)
KuRookie Front Bumper
Carbon Fiber splitter
Custom Aluminum Rear Diffuser
NisRookie Side Skirts
Nismo Aero Rear Lip (molded)
03-04 G35 Sedan Bumper/Mudguard Swap
Shaved trunk w/ molded lip spoiler
JDM Tail lights (05-06)
JDM Clear Corners
Color matched painted mirror bases
Color matched lower rubber door moldings
Custom OEM Emblem-less Grill (painted Silver)
Blue Titanium license plate bolts
Interior
Recaro Speed Seats
Crow Enterprizes Harnesses
Harness bar (Chromed and Hot Candy Blue)
Personal Steering Wheel (with blue Titanium bolts)
Works Bell Hub
Full Black Interior Swap (rear seats, seat belts, carpet, door panels, plastic pieces, moldings, etc)
Grey Suede Headliner, Pillars and Rear Shelf
Black Suede w/blue stitching Armrest and Shift Boot
Machined Titanium Shift Knob
Greddy Multi/DA Gauge
Innovate AFR Gauge
Custom Gauge Pod above clock
Custom cupholder pod for Airlift Autopilot V2 Controller
Custom blue/white interior LED swap (gauges, buttons, etc.) – ledmod.com
JDM Clock (with LED swap)
Vanity LEDs
USA Spec iPod adapter
Dynamat in entire trunk
Custom wood false floor in trunk
Thanks:
Dave and Darren at Rare JDM, Tom at Airlift Performance, Danny at Slammered Inc., Randy Riggs, Grant Plummer, James and Danh at Tanabe USA/SSR, Bryant and Arcee at OC Infiniti, Team Rare JDM, Wrong Fitment Crew, Canibeat Crew, Chris Berry, Sean Chase, Shawn Donaldson, Marty Huynh, Shane at Allout Dent, Chris Leiva, Chris at Outcast Garage, Baid Polish, Stephen at R1 Autoworks, and Todd and Danny at Custom Autoworks and S:N for the feature and support!