I think it's safe to say that every project car will hit a few road blocks before being complete. Most enthusiast face common issues like unexpected part failure, lengthy part sourcing, shipping delays and the most common issue of all, being low on funds. Now some of these unfortunate events will only slow a build project slightly. Some problems can shift project plans into a whole new direction and under some very unfortunate circumstance, some obstacles can end a project completely. Obviously not all setbacks end in disaster. Andreas and his sexy Swedish Supra are proof that some problems can have quite a beautiful solution.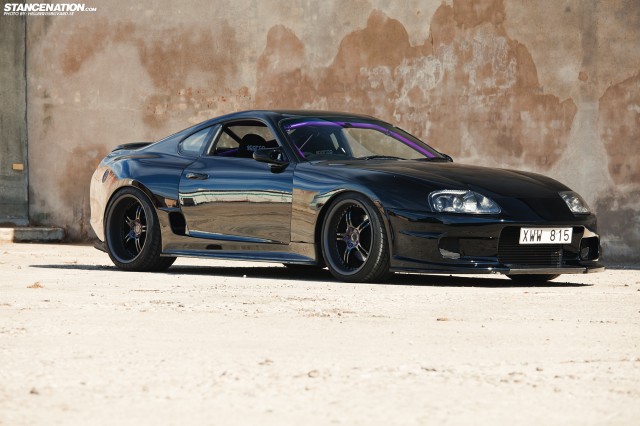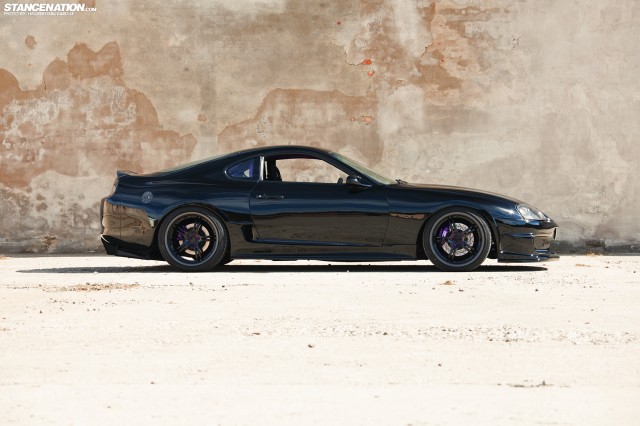 Andreas purchased his Supra in the early months of 2010 and kept his twin turbo Toyota in stock form until winter of that same year. As the temperatures dropped and the air began to thicken, the modifications began and Andreas's Supra got quite a bit thicker too. Although Andreas likes the natural oem curves of the Supra, he also wanted to add a bit of width to his wheels. Knowing exactly what he wanted his car to look like, he chose not to waste time searching for body parts. Instead he decided to create a wide body kit by himself.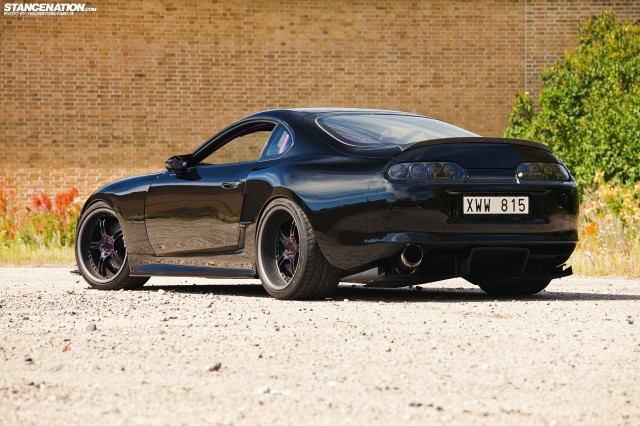 Although I have always believed that a "hands on" approach is the best way to build a car, I have also had the unfortunate opportunity to witness failed attempts at "do it yourself" auto-body modification. The custom made fenders on this diy project are an absolute success. They are molded so clean that they look natural from many different angles. The most impressive part about that clean natural look is that Andreas added an additional 30mm to each front fender and 50mm to each rear fender. Although the additional width is obvious from the back, the car still looks smooth and sleek. To put that width into perspective, thats 2.3 inches wider across the front and just short of 4 inches in the back. These immense bulging fenders make his car look like its been lifting weights… very heavy weights.
Owning a well modified vehicle is often the source of great pride. Being able to attend a car event to showcase your hard work and share conversation with fellow enthusiasts is a great feeling. That feeling is even more intense when your displaying modifications that you built yourself. Andreas decided to reveal this bulging beauty at the Elima custom show, which happens to be the biggest car show in Sweden. Unfortunately Andreas's moment of joy was short lived. After the show, Andreas Supra had blown a headgasket and If that wasnt enough, he had also blown both turbos.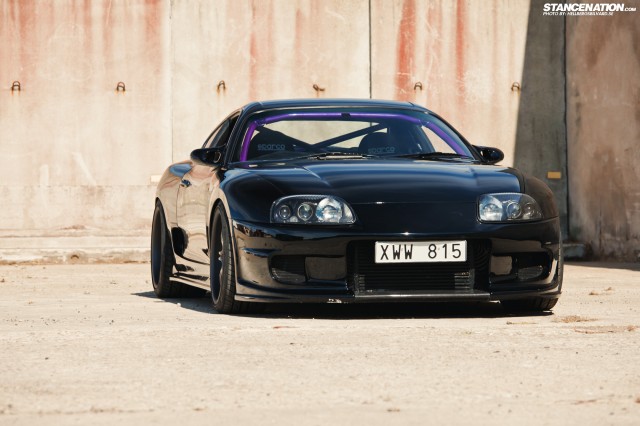 This could easily have been the end for this Supra. Luckily Andreas isnt the kind of guy that gives up when times get hard. So instead of throwing in the towel he decided to take the the rest of the season and give his car a complete rebuild. Thats when this Supra was completely disassembled. While the chassis was stripped, Andreas had a roll cage built and then custom painted it himself. He also cleaned and painted many of the parts that he had removed
Before reinstalling the interior, Andreas chose to flock the all of the panels. This covered everything in a fiber that gives a flat cloth look and protects the interior. Its a very clean looking and best of all, its waterproof. This is a common modification used on track cars to decrease sun glare from the dashboard and interior bits as well.
Knowing that he was going to add power and improve the handling of his supra, Sparco Pro2000 seats were installed to help hold himself and his passenger in place. A Sparco suede steering wheel helps to soften the feel of the wheel and improve grip while steering. The instrument panel is redone in carbon fiber and Andreas installed all of the gauges he'd need to properly monitor engine performance- boost pressure, fuel pressure, oil pressure, oil temp, exhaust temp and an AEM wideband uego . The gauges are sit flush with the dash so well that it looks as if this were a factory option, or at least it should have been.
The brake upgrades are mild with Euro brake pads, slotted and drilled rotors to reduce brake fade and improve stopping. One fun mod that Andreas installed is a linelocker. This locks the front brakes without having to push the peddle. So Andreas can do some smokey burnouts without having to swap feet. He just stops, lock, and clutch drop it.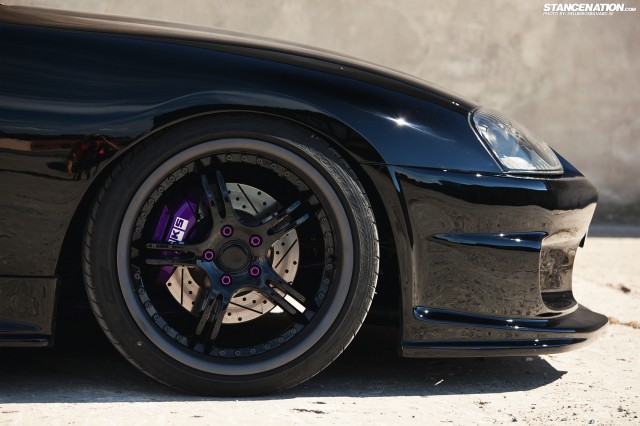 The custom fenders weren't the only exterior mods that Andreas made. He also added a Do Luck front bumper and side skirts. These would already be fantastic looking additions to any Supra but Andreas wanted a little more originality. So he shaved the turning lights off the front  bumper, added a carbon fiber insert to the middle of the bumper then added Blitz vents above both side skirts. These changes make the car flow seamlessly. The vents in the bumper seem to match the vents above the side skirts. The fact that they match so well but were created by two separate companies is quite impressive. Adding a bit of function to the form, a TS-style rear diffuser was installed below the Ridox rear spoiler. Another functional addition that also improves the look. Helping Andreas get a full view of whats around him are a set of Ganador side mirrors.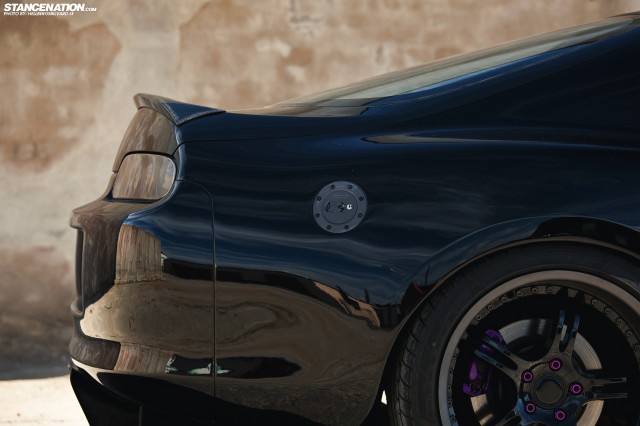 Even though this Supra was built to be more of a performance vehicle, it still has a very clean flush stance. To fill those wider fenders Andreas chose the Cobain model of Eagle brand wheels. Then had them custom painted black with a glossy face and flat lips. These wheels sit beautifully in those fenders as a 19 x 9.5 up front and 19×10.5 in the back. Andreas then squeezed these wheels into a very meaty set of Dunlop Sportmaxx 245/35/19s in the front and massive 305/30/19 in the back, as you can see, theres plenty of rubber to burn.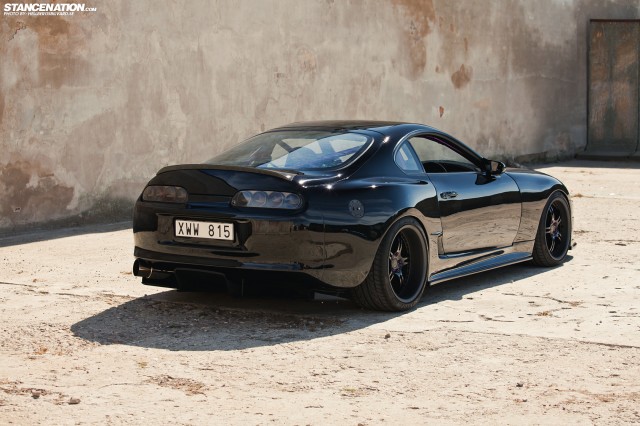 We should all know by now, a stance like this isnt achieved with stock suspension. Andreas installed Tein HA coilovers and replaced the old worn out suspension arm bushings with R2 bushing in the front and rear. This helps to bring the body closer to the ground, improves handling and most importantly, it helps to eliminate any gap between those massive tires and those flawless fenders. To continue the purple and black theme, he also painted all of the suspension arms purple to match the rest of the car.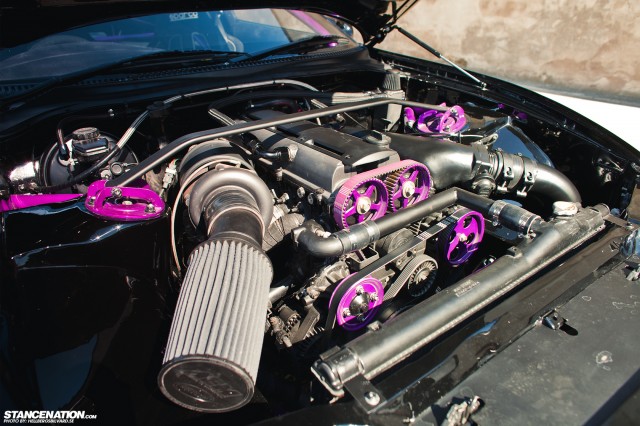 Now for the part that started it all, the legendary motor. With a blown head gasket and turbos, the motor had to be rebuild. Engine internals are mostly stock other than ARP head, main and rod bolts, and Clevite 77 rod bearings. Now that his 2J has the added strength Andreas decided to bolt on some horsepower starting with a swap to single Precision 6766 twin entry turbo attached to a 46mm wastegate. Helping get that turbo spinning is a twin entry manifold with  3in exhaust directing that rich exhaust out the back. On the intake side of the turbo is a AEM intake filter and when the air has passes through the turbo it will be forced into a 4″ intercooler. When that freshly cooled air leaves the intercooler, it will meet a Infinity Q45 90mm throttle body bolted to Greedy intake manifold.  To help make certain that his valves open and close at the correct time, Adreas installed a HKS timing belt wrapped around color matched cam gears and crankcase breathers were installed with AN12 fittings to help avoid unnecessary pressure in the crankcase.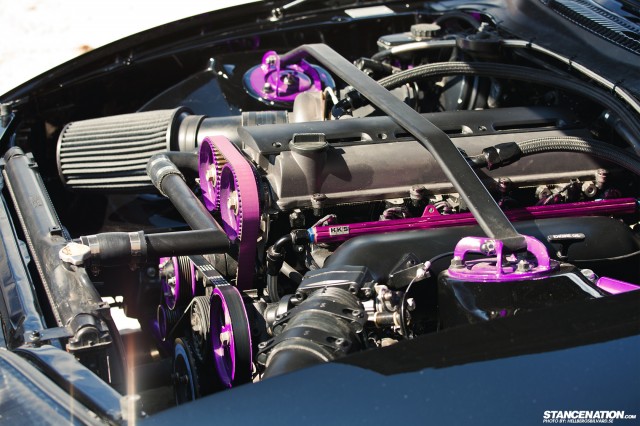 The engine bay was cleaned up with an engine tuck that happens to be Andreas favorite feature "only the things you need are there, an engine a turbo and an intake manifold".  The ABS system and fuse box were relocated and engine harness was modified to tidy up under the hood. Also helping to keep things stylish on this mega motor are color matched pulleys. A Ati crank damper helps keep those pulleys turning keep the engine running smooth. This Supra runs on E85 which is fed by 2 Aeromotive 340 pumps connected to a Aeromotive fuel pressure regulator. That fuel is fed through an10 teflon hose and meets a HKS dual feed fuel rail with any unused fuel being returned back to the tank through An8 teflon hose.  An AEM EMS V2 helps control fuel amount as its dumped into the cylinders through 1200cc injectors. An ACT heavy duty pressure plate is teamed with a HPF ceramic clutch disk, helping the v-160 getrag transmission connect to the motor through the stock flywheel. Solid  bushings help to keep the differential from twisting, which helps horsepower transfer to the rear wheels. Whats that? How much horsepower? Well.. with all of the changes that this motor has been through, its now able to create an very powerful 600whp and 750wtq! Thats a lot of stallions with a lot of muscle.
Considering how many project are stopped by sudden miss fortune, you really have to appreciate when a project gets completed. Not only has Andreas created a fantastic looking Supra it also preforms quite well and he did a huge portion of the work himself. Now Andreas wouldnt take all the credit. He'd like to give thanks to Adam C from "Team Royal Fluffy" for all his help and support in getting this feature to happen. So for all of you hard working car enthusiast out there… when ever you feel the let down of a sudden car project road block, I hope you can look to Andreas and his Swedish Supra as a reminder that the hard times can help create a stronger finish.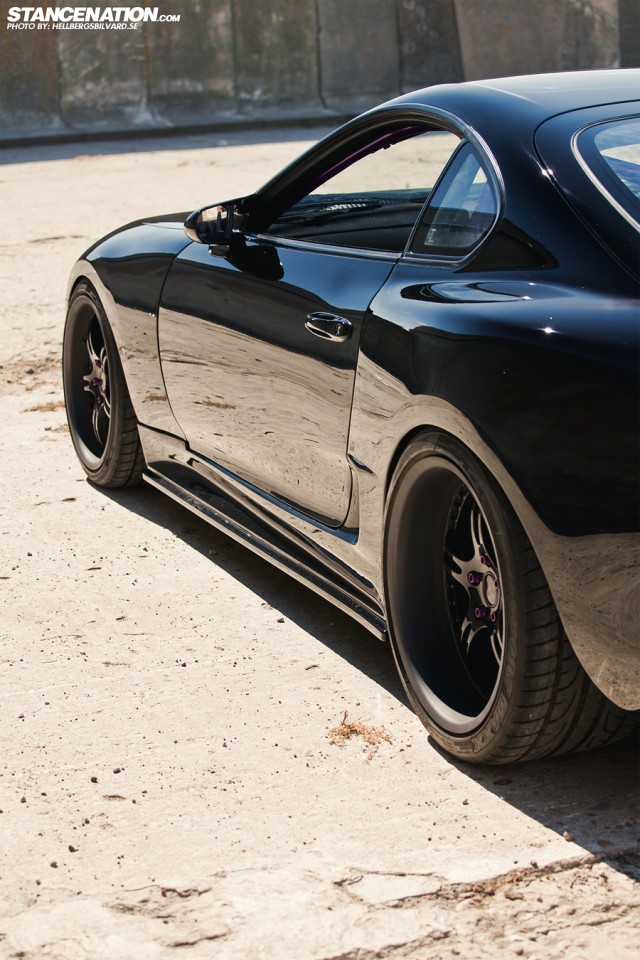 [toggle_box]
[toggle_item title="Wheels/Tires/Suspension" active="true"]Eagle Cobain in Black (custom painted)
Front 19×9,5 // Tire: 245*35*19 Dunlop sport maxx
Rear 19×11,5 // Tire: 305*30*19 Dunlop sport maxx
Tein HA coilovers
R2 Bushings front and rear
Euro brakes up front,oem in the rear
Linelocker
All the control arms, sturt etc. painted purple [/toggle_item]
[toggle_item title="Exterior" active="false"]Custom built widebody that follows the Oem lines, 50mm wider in rear, 30mm wider in front, on each side
Do-luck sideskirts with ventilation from blitz
Do-luck frontspoiler with shaved turning lights, and carbon fiber middle
Ridox Bootlip
TS-style diffuser
Sparco race fuel cap
Ganador mirrors[/toggle_item]
[toggle_item title="Interior" active="false"]Custom built rollcage painted purple
Sparco pro2000 seats
Sparco steering wheel
Entire interior flocked
Carbon fiber instrument panel
Aem wideband uego
Gauges for: boost pressure, fuel presure, oil pressure, oil temp, exhaust temp[/toggle_item]
[toggle_item title="Engine" active="false"]Engine:
Oem head and cams
Oem pistons and rods
ARP-bolts: Head, main and rods
Clevite 77 Main and rod bearings
Twin entry manifold
Precision turbo 6766 twin entry a/r 1.0
Precision 46mm wastegate
3″ exhaust
"Greedy" intake manifold
90mm Infinity Q45 throttle body
An12 Crankcase breathers
HKS Timing belt
Ati crank damper
Abs relocated
Fusebox relocated
Modified engine wire harness
4″ intercooler
19 row oil cooler with thermostat
Fuel system:
Aem ems v2
E85
Double Aeromotive 340 pumps
An10 teflon hose feed
An8 teflon hose return
Aeromotive fuel pressure regulater
HKS fuelrail, dual feed with return in middle
Precision 1200cc injectors
Drivetrain:
v-160 getrag
ACT Heavy Duty pressure plate with HPF Feramic clutch disk
Oem flywheel
Titan solid differential bushings[/toggle_item]
[/toggle_box]