If you are like us and spend several hours every day surfing forums and social networks there is a good chance that you've seen Chris' Honda S2000 before. As if it wasn't "e-famous" enough for rolling ridiculously low on a different set of wheels what seems like every month and running some serious camber, Chris was kind enough to provide us with some exclusive photos with his newest wheels, the CST Zero 1's. As mentioned before, Chris seems to get tired of his wheels very quickly. We've seriously lost count of how many different sets we've seen on it already. But that's not the reason we wanted to get this car up on StanceNation as it has plenty more going for it besides the wheels.
Photos By: Brian Arthus exclusively for StanceNation.com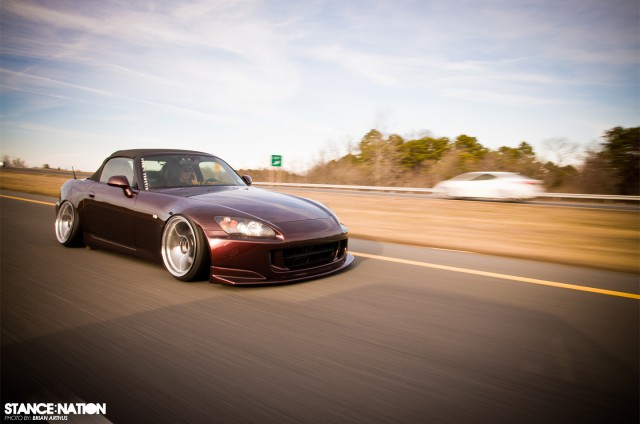 Chris started off with a stock Berlina Black S2000 about a year ago. Since then he has certainly come a long way, building a car strictly to his likings yet at the same time managing to get quite a few people to like it, including us. I personally remember seeing Chris' car (on his blog IvyLeagueEast.com) going under the knife last year. Ever since it came out with a fresh coat of Brickyard Red coat of paint it has been all over the internet.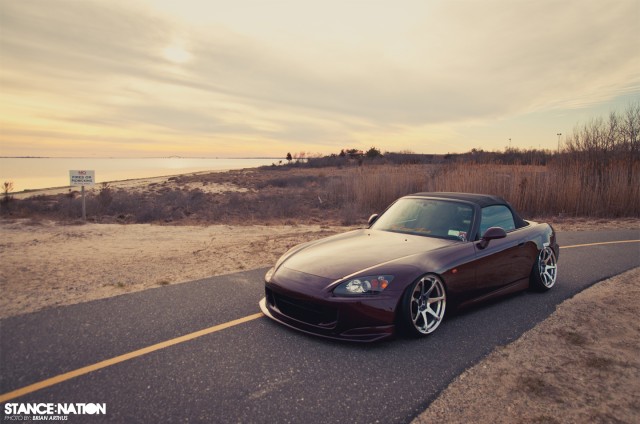 Ever since he can remember he has always had a soft spot for S2000's. He tells us that when he was a kid he used to ride his bike past the Honda dealership and admire all the S2000's they had on their lot. He is currently on his second one and it's looking sexy as hell! Chris never really "had a thing for speed", it was always about driving a clean convertible around town and modifying it to improve it's looks even more.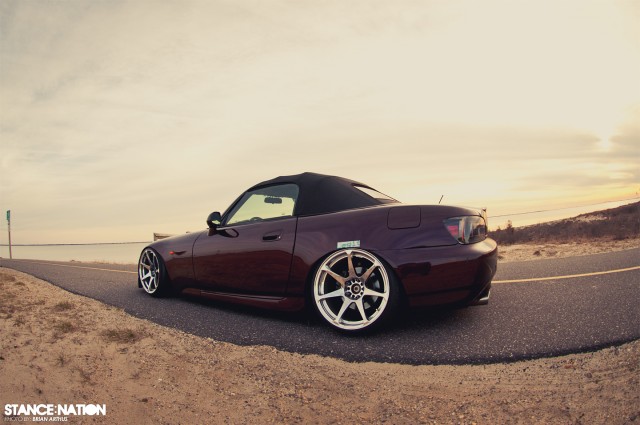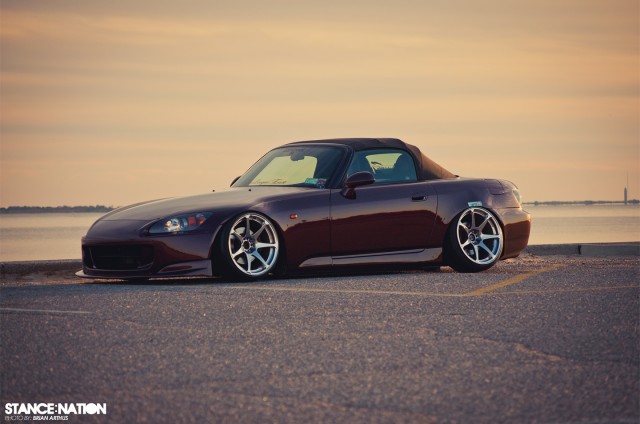 Some of the current body mods include flared front and rear fenders, a shaved front bumper with amuse lip and of course completely shaved trunk. Chris slammed the car using Megan track coilovers and added Eibach front and rear camber kit to help him clear the wheels and of course hurt some feelings. We all know that camber isn't everyones thing but it's a definite must for Chris. Up front he sits at -5 degrees and in the rear he is right around -10 degrees. Currently his wheels are 18×9.5 all around with +15 offset in the front and +10 offset in the rear wrapped in 215/35/18 tires.
So what does the future hold for this young bodyshop manager? Some of the things he has planned are much wider front fenders, flared quarter panels, super aggressive wheels, ASM rear bumper, 4 pt roll bar, some more wheels, another color change, then of course it'll be time to let the car go. We certainly can't wait to see just what this car turns out looking like when everything is done!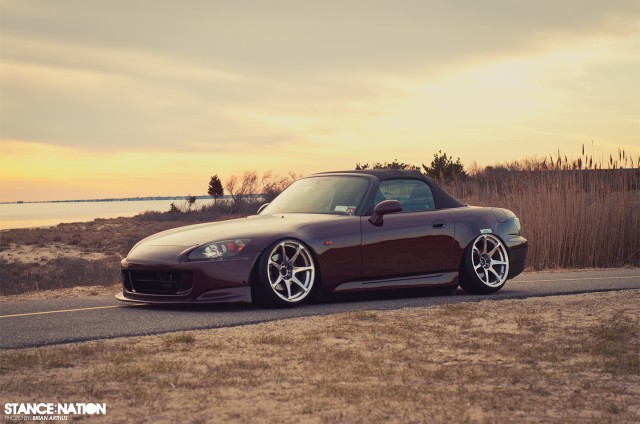 Huge shout out to Chris for sharing his ridiculously slammed ride with us and of course photographer Brian Arthus for sharing these awesome photos with us. You know the drill, if you think your car has what it takes to be on our site we strongly urge you to email us at snfeatures@gmail.com with a few photos right away! We're always on the lookout for cars to feature and events to cover! What are you waiting for!?