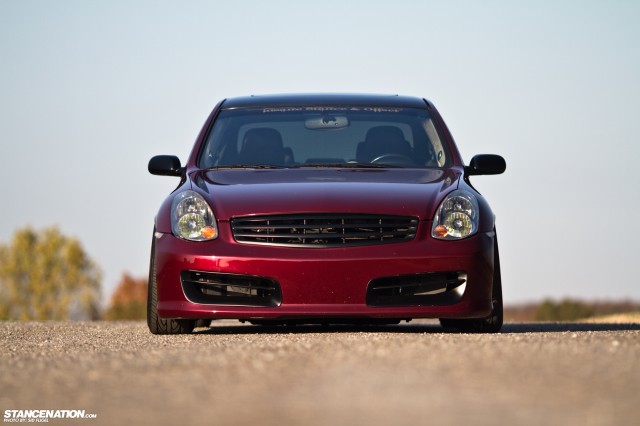 In a scene that may be becoming pretty repetitive, where every single car starts looking the same, it becomes extremely difficult to execute a car that represents your style and personality without looking identical to the next car. Stephen Stern has overcome that obstacle with this very clean and tasteful Infiniti G35 sedan which he named, Gina.
Photos By: Sid Fligel exclusvely for StanceNation.com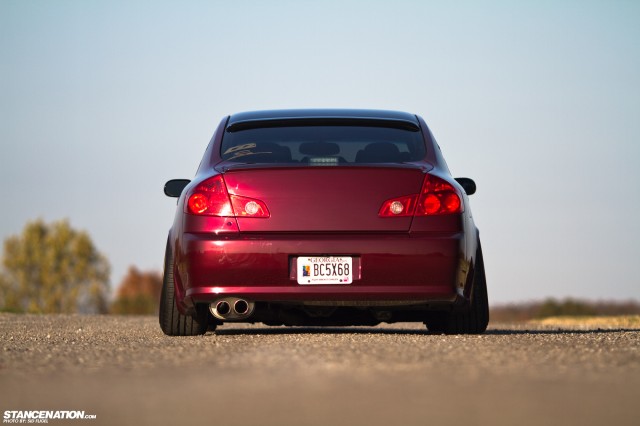 Stephen told us that when he initially started modding the car, he was going to be very conservative with his fitment and just keep the car on lowering springs. After some time, Stephen acquired a set of custom powder coated J Line SDLMR2 wheels which he planned on putting on the car. However, with the specs being 20×8.5 -11 and 20×10 +0 on Toyo Proxes 225/35 and 245/35 tires, he knew that his lowering springs and unmodified fenders weren't going to cut it. He installed a set of D2 coilovers with UAS bags and an Accuair Switch Speed management system with a custom painted Red Stripe air tank. To keep all that in line, front and rear SPC camber kits were also installed.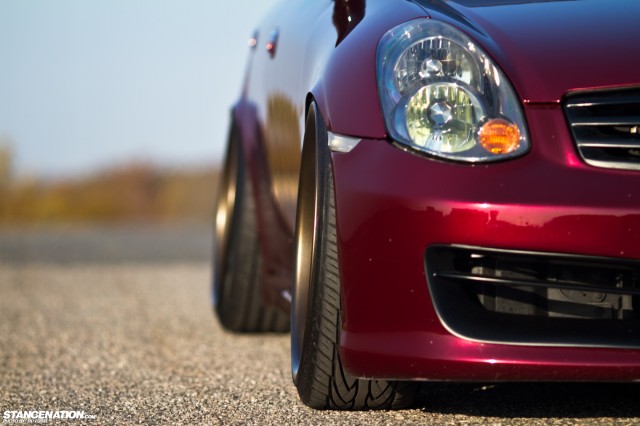 With the reference of his friends over at Insane Stance and Offset, Stephen dropped "Gina" off at Exotics Paint & Body for a pretty aggressive fender and quarter panel pull as well as the beautiful Brandywine/Cherry Pearl paint job you are looking at. The work didn't stop there however. Stephen also had the shop shave the door ding protectors and install a BausAuto front bumper with inserts and sideskirts. They also added a custom //M3 trunk spoiler and a custom roof spoiler. To top it all off, Stephen threw on an emblemless front grill and called it a day.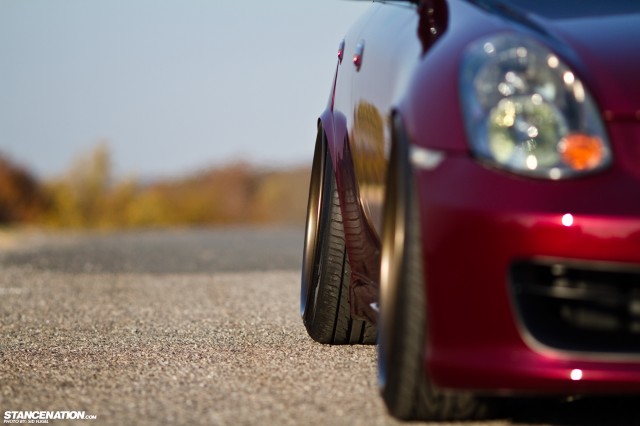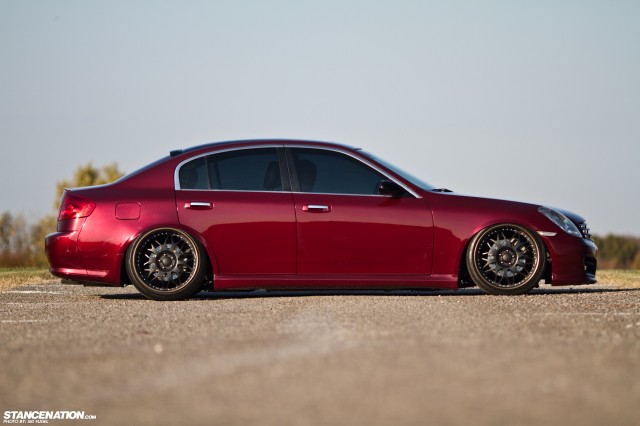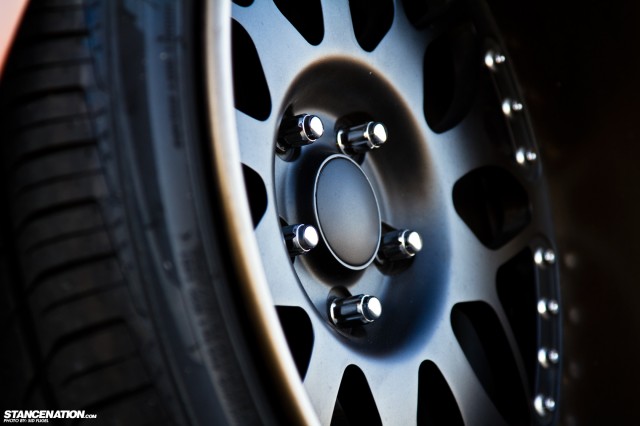 Stephen wasn't done with the car just yet. He tackled the interior modifications with aluminum pedals that can be found on the 350Z, custom carbon fiber dash kit, perforated leather custom shift boot and arm rest, and a Pioneer Double DIN with a JDM Nissan stereo finisher & trim. Small changes that make a big difference.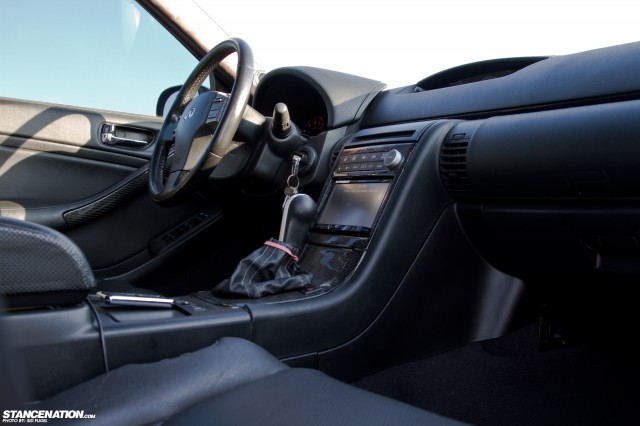 Of course, Stephen isn't even close to being done with Gina. As of the time of writing this feature, his quad projector headlight retrofit was completed and he plans to be doing a complete audio setup. Stephen also plans on getting different wheels, going lower, running a brass hard-line setup for his Accuair VU4, and a big brake kit. A custom one-off VIP styled body kit is also in the works and I am just as excited for it as Stephen is!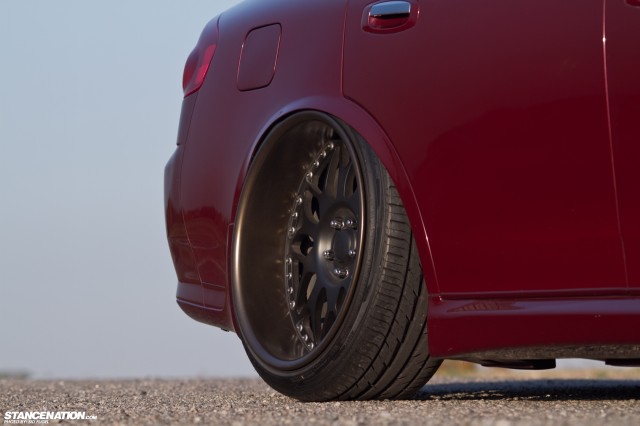 With that said, Stephen would first and foremost like to thank his grandmother, who has passed. She loved "Gina" and he dedicated this build to her. Stephen also thanks Larry Young for pushing him to go against the norm and disregard the naysayers. He lastly thanks Steve Nguyen, Zeb Magsi and the rest of the ISO family for their help and support in Gina's build. And one last shout-out goes out to Team BMF.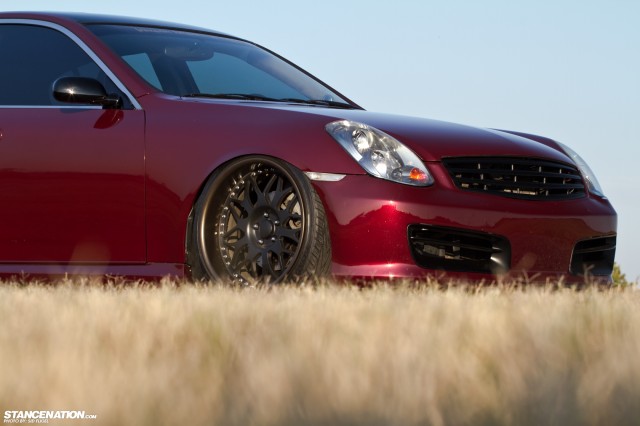 Big thanks to Sid Fligel for the awesome photos and a speacial thanks goes out to Stephen from all of us at StanceNation here. As always, we'll leave you with a few more photos and a full spec list located below.