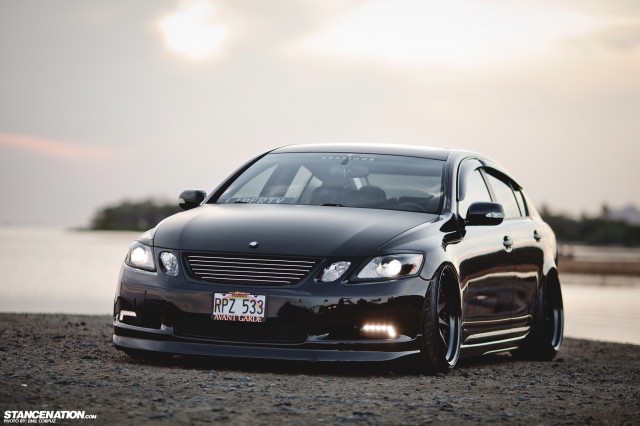 With aggressive fitment easily being the most popular forms of modification on cars at the moment, you would think that slapping on wheels and suspension on a car and calling it a day would do the trick. Sure that can work and in most cases look pretty decent, but for every ten cars slammed with stretched tires there's one that will stand out and turn the heads of every single person that sees it drive by, which even includes those who aren't enthusiasts. Liberty VIP definitely has a knack for adopting those who build this type of superior neck breaker and it's without a doubt that one of their cars has been the wallpaper on your computer at least once if you are into VIP style as much as we are.
Photos & Video By: Emil Corpuz & Jay Mora exclusively for StanceNation.com
Hawaii, despite its small measure is known to be home of some of North America's biggest and baddest VIP builds; many of which Stance Nation has had the pleasure of featuring in the past. Hawaii also being as far away from Philly (home of Liberty VIP) is also the closest to Japan that the states can get, I like to think that has something to do with how they build their cars. Myself as a Canadian, I struggle with steep shipping fees and import taxes. In Hawaii, they have a hard enough time finding companies and people willing to ship outside of continental 48 states, yet they still run the same parts and build to the same quality (and better in some in cases) as us "main landers".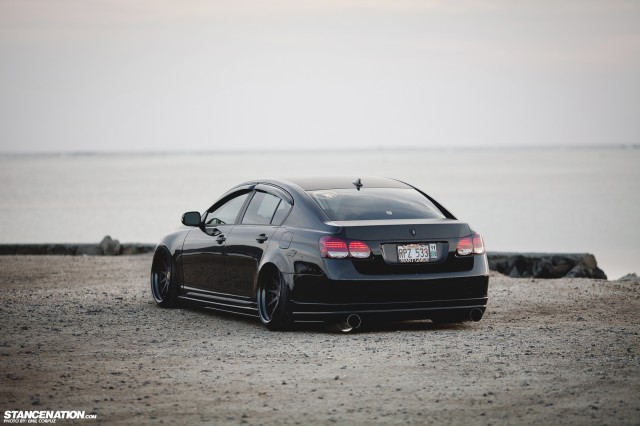 All of that aside, meet Albert Lee, a business man who has been associated with industry most of his life. I say Albert is a man of the industry not only because he works in it like many of us, but because his work is still his passion as much as his car is. All too often when you work in the car industry your desire and drive to build and work on your own vehicle diminishes. However, Albert does pretty much everything himself. Over the last 3 years with "Stella" he's done everything from the vinyl, air install, right down to the custom headlights. Quite frankly, that's something that is scarce in the North American VIP scene. Not that there is anything wrong with that, but I know how hard it can be coming home from talking cars all day just to talk cars some more!
Now a bit about Stella, she's a 2007 Black Sapphire  Lexus GS350. On the outside she has been outfitted with a relatively sporty Rando lip kit, fabulous front eye lids and an LX Mode front grille. Albert didn't just slap on a body kit and grille though, he's also widened both front and rear fenders for added wheel clearance and finished off the bumper with custom retrofitted Mercedes E Class fog lights. The third brake light has also be relocated to the roof on the inside, this tends to help brake up the lighting in the rear and also make the car a little less recognizable from afar. Overall the exterior is very sport oriented, but the third generation GS is one car that can make anything look very classy and refined. Helping out with that is the Sessions pin striping down the side of Stella, which is something I love about about Asian VIP cars yet isn't done very often over here.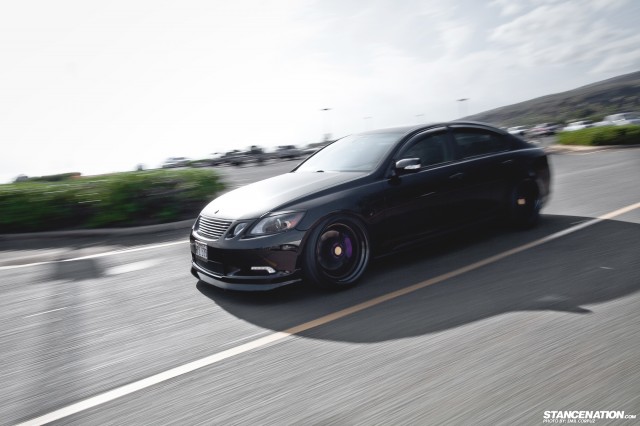 Stella's suspension has had a fair bit of help getting her to sit the way she does. She's equipped with a full Air Runner set up running dual Viair 444 compressors into an Asco manifold, a relatively uncommon valve set up. Management is the ever so popular Dakota Digital which Albert has mounted into a custom control panel. Front camber is controlled via SPC ball joints. Adjusting the rear is a Megan set up of RUCAs and toe arms. Last but not least is the Sage RCA kit front and rear, which is basically a spacer kit to allow the car to go even lower than it already is. At the end of the day this car sits just right, maybe a little more camber than some would like to see but nothing is over the top and fitment is on point!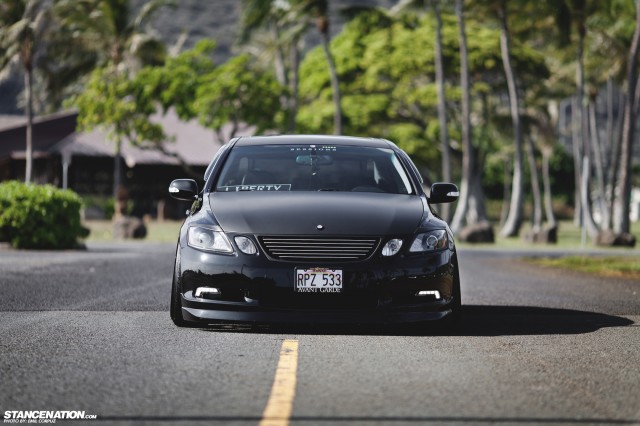 Obviously given Albert's choice of work, it was natural for him to go with Avante Garde's flagship wheel line, AG Forged. The F420 is a very clean concave 10 spoke design that is topped off by being step lippped! Finished with satin black faces, gloss black lips and 24k gold hardware, they complement the lines and color scheme of Stella perfectly. Peaking out from behind the wheels are actually the OEM big brakes that Lexus loves to add to their cars and Albert wanted to make it known by powder coating them purple. It's just the right amount of color on a black car to make it work.
The interior only sports hints of being modified, Classic Garson neck pads, the Dakota Digital gauges in their custom enclosure and a little bit of added bottom end from the trunk. Unfortunately we weren't able to get any photos of the interior or trunk set up but the trunk is sporting an RE sound 12″ sub powered by a Diamond 1200 Monoblock amplifier, the trunk as been custom built to house the air essentials and the audio so you can bet that it is put together just as nicely as the rest of the car.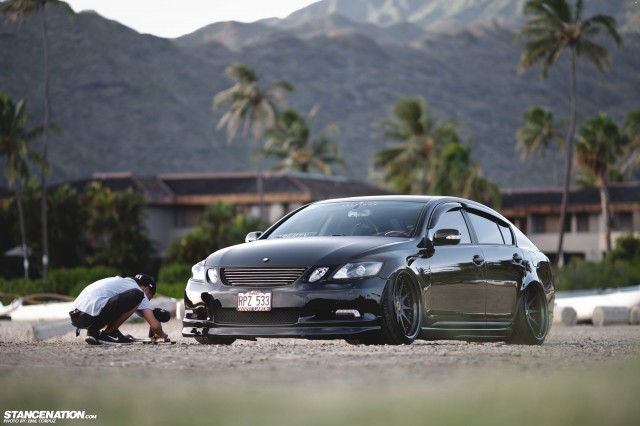 Unlike traditional VIP builds, Albert couldn't quite leave the engine alone and also has big plans for it. Currently the bay has a K&N intake as it's only breather mod thus far, a Tom's front strut bar and the rest of the bays engine plastics have been painted to clean it up a little. The exhaust is an HKS set up with an Invidia mid pipe. However that is just scratching the surface, Albert tells us he definitely intends to boost the car in the near future, which you can rest assured that the motor build will be just as extensive as the exterior and suspension. Other future plans consist of a new kit, which I personally don't think it needs, but often times a new kit ends up meaning a new paint job. Hopefully in the future once this car sees some boost and some aesthetic changes we will have the opportunity to feature once again. I leave you with a few more photo's to get the just of how clean this car really is.