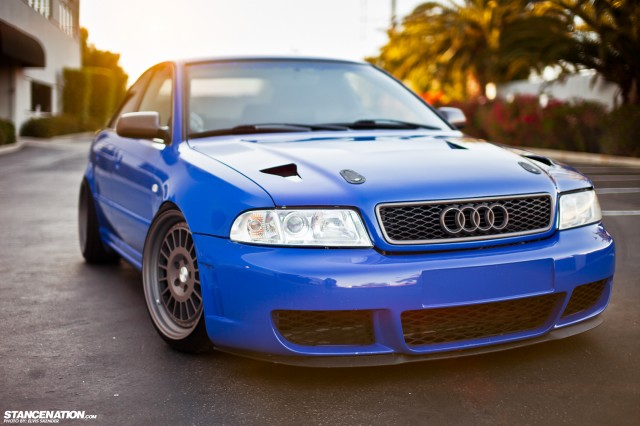 I've been around cars all my life, "seen them all" as they say, so it takes quite a bit nowadays to really be "blown away". This particular car did just that, from the very first time I saw it on our facebook page right to the time I found myself in it's presence couple of weeks ago. I'll be honest with you and tell you that I'm not the best with euro cars even though I'm originally from Europe myself, but I do know that this Audi S4 was one of the baddest euros I've ever had the opportunity to be around. It belongs to our friend Ken Stevens out of San Jose, California who also happens to be one of the most down to earth guys I've meet in a long while. Let's check this beast out now, shall we?
Photos By: Elvis Skender exclusively for StanceNation.com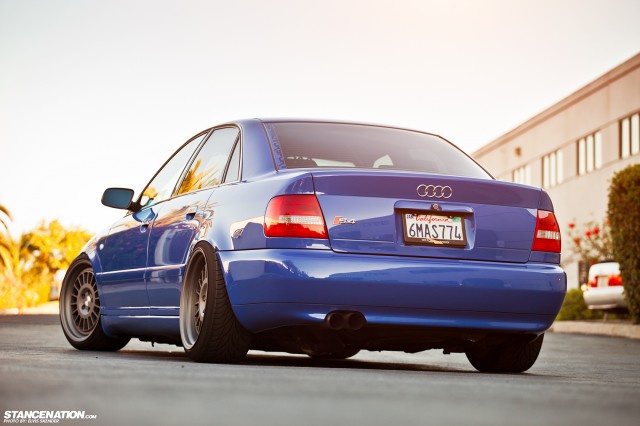 Before we go any further, I think we should get right down to what makes this particular S4 stand out from others. Well, besides that flawless stance that is. While many of the folks in this scene opt for just "looks", Ken decided to do things the other way around. For the last couple of years he has been building one of the baddest S4's around, pushing over 600HP at the crank, and over 530HP at the wheels! An aggressive set of Rotiform wheels to be exact.
The 2.8L engine has been completely redone with everything from new IE rods & 2.8 heads and cams to Tial R770 turbos & 034 Motorsports downpipes with external waste gate dumps. This water methanol injected B5 is nothing to play with and at 530WHP it is guaranteed to leave almost everything you see on the streets nowadays in the dust.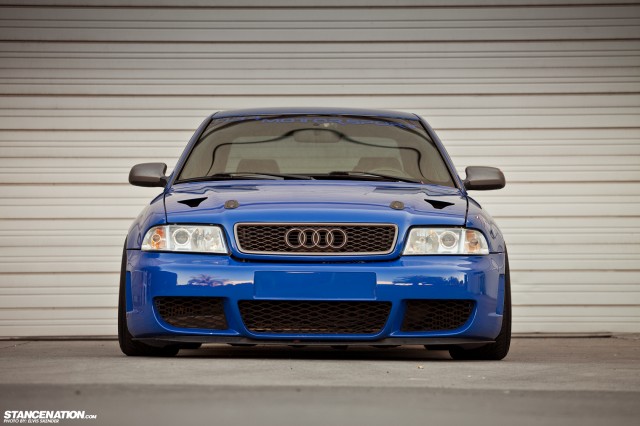 Suspension wise, the car is dropped on Stasis Street Sport coilovers though it also features a Neuspeed rear swaybar. Check out the side of the tire in the picture below by the way. Talk about "aggressive fitment", huh?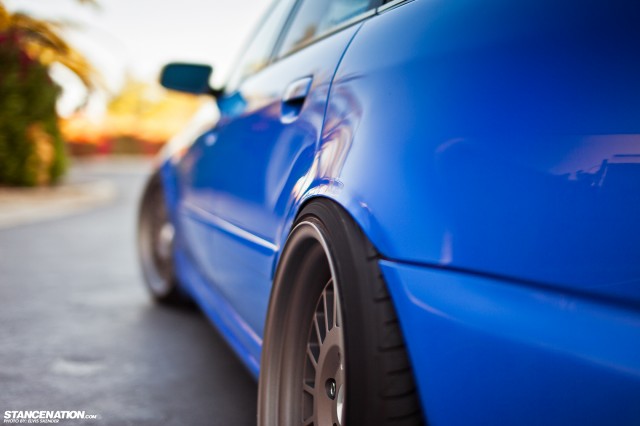 Ken spent some time working on the exterior to get it to look as sexy as it does. The front end features a OEM RS4 front bumper with a custom Seat Cupra lip for that extra touch. It's also rocking e-code headlights and a ridiculously badass vented carbon fiber hood which was as you can see painted to match the car.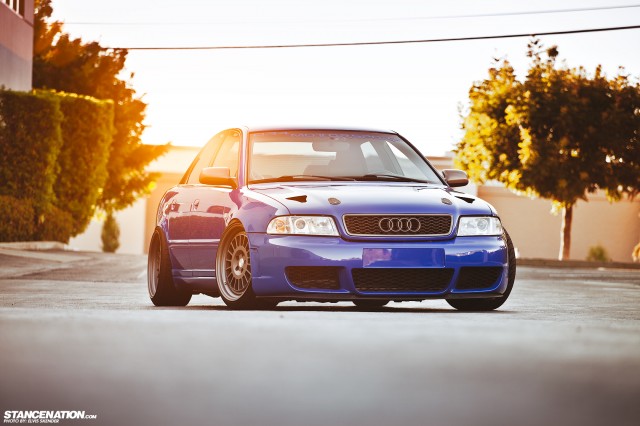 Ridiculously dumped, check out the way that rear sits…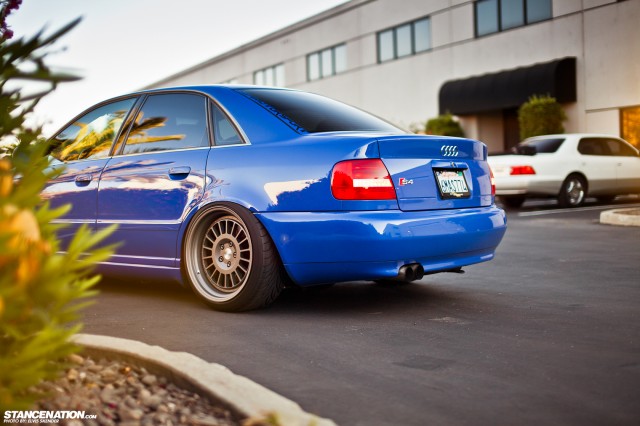 As mentioned before, Ken went with a set of Rotiform wheels, IND's to be exact in a pretty aggressive specs for B5's. The are 18×10 all around with 225/40/18 Federal tires. I'm really liking the finish on the wheels, great little touch.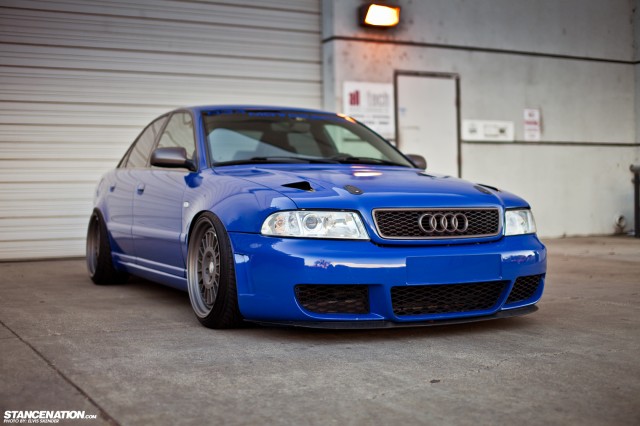 Simple, clean, stock looking rear end…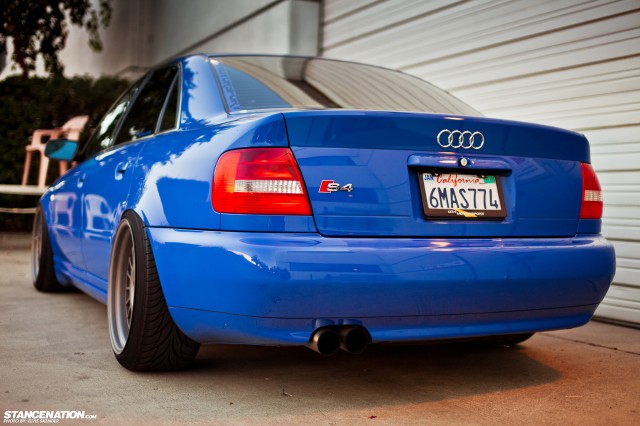 Behind those Rotiform IND's is a Rotora 355mm big brake kit. 034 rear 300mm with Adams Rotors and Hawk Pads to be exact. Scroll down some more for a couple more up close photos.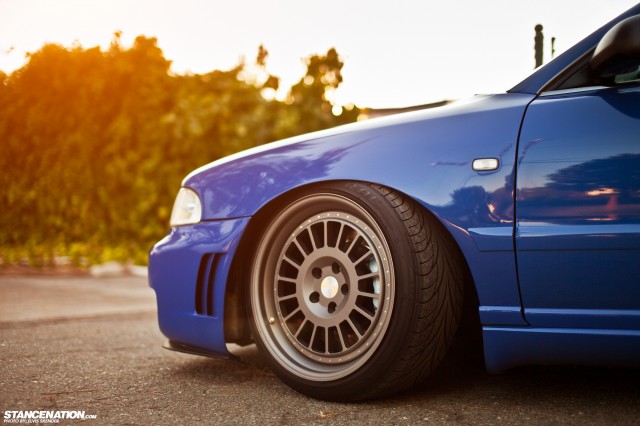 Unfortunately I didn't get a chance to take any interior photos due to it being packed with Audi R8 bumpers at the time, but Ken did tell me that he is running things like AWE vent boost gauge, AME AFR gauge, JHM shift knob and some Alpine sound goodies. As always, please scroll down for the entire spec list.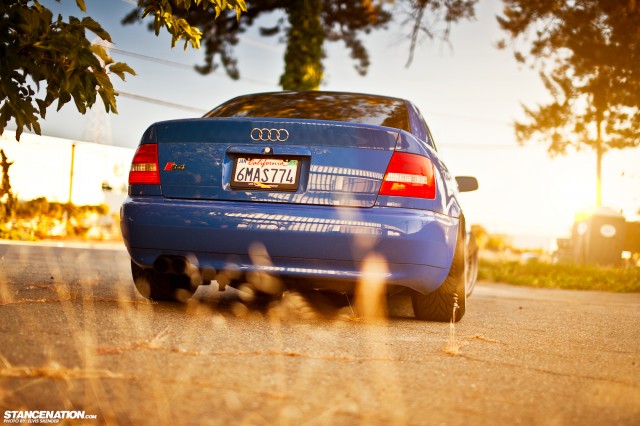 With that said, I would like to give a huge shout out to Ken for giving us the opportunity to shoot his stunning Audi. Also a huge shout out to 034 Motorsports, make sure you guys check out their site by clicking here. Like we always do, we'll leave you with a few more photos to enjoy.
f you think your car has what it takes to be on our site make sure you email us at snfeatures@gmail.com. Make sure you include a few photos and your spec list as well as any other information we should know about you or your car. We're always looking for cars to feature! In the meantime we'll see you guys over on our facebook.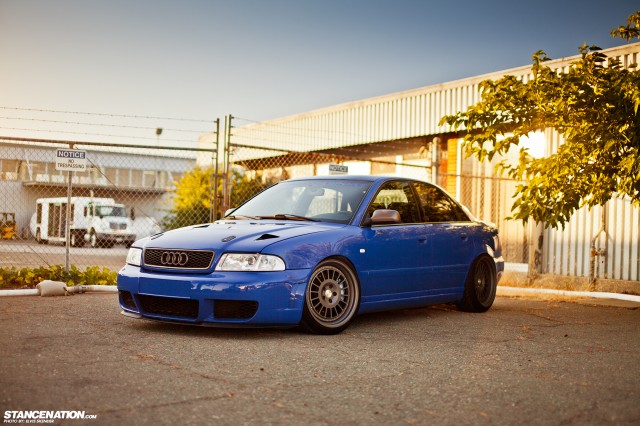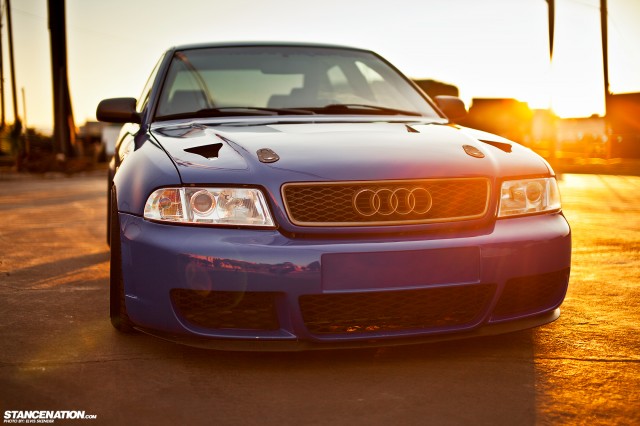 [toggle_box]
[toggle_item title="Wheels/Tires/Suspension" active="true"]18×10 Rotiform IND's
225/40/18 Federal 595's
Stasis Street Sport coilovers
Neuspeed rear swaybar[/toggle_item]
[toggle_item title="Exterior" active="false"]Rolled & Pulled fenders
vented carbon iber hood
e-code headlights
RS4 grill
OEM RS$ front bumper
Seat Cupra lip[/toggle_item]
[toggle_item title="Interior" active="false"]AWE vent boost gauge
AEM AFR gauge
JHM shift knob
Alpine Type-R 12″ sub & amp in custom box
Infinity Kappa front & rear door speakers
Powered by S8 amp[/toggle_item]
[toggle_item title="Engine" active="false"]2.8L, 82.5mm 9:1 JE pistons
IE rods
2.8 heads and cams
supertech valves
springs and TI retainers
Tial R770 turbos
750cc injectors
034 fuel rails
034 FP34 surge tank
034 carbon y pipe
034 billet MAF
034 X34 carbon intake
034 bipipes
Water methanol injection
Wagner RS4 intercoolers
RS$ intake manifold
034 phenolic spacer
RS4 throttle body
034 diverter valves
034 downpipes w/external wastegate dumps
034 3.5 inch exhaust
Drivetrain:
Southbend stage 4 extreme with billet steel flywheel
JHM center diff
JHM shifter and linkage[/toggle_item]
[/toggle_box]