There are plenty of cars out there that follow a less is more strategy, in fact, many of my favorite builds are just that. I've no doubt championed that build style here. As an inverse, I wouldn't say that I dislike cars with more things done to them. I just think that once you complicate things with a more complex build, more tends to go sideways. It takes a collective vision to be able to create cars with mod lists that are longer than the articles we write about them. Leonard Caesar's 2010 Audi A4 is a shining example of a lot of ambition, a lot of quality parts and a real dreamers vision.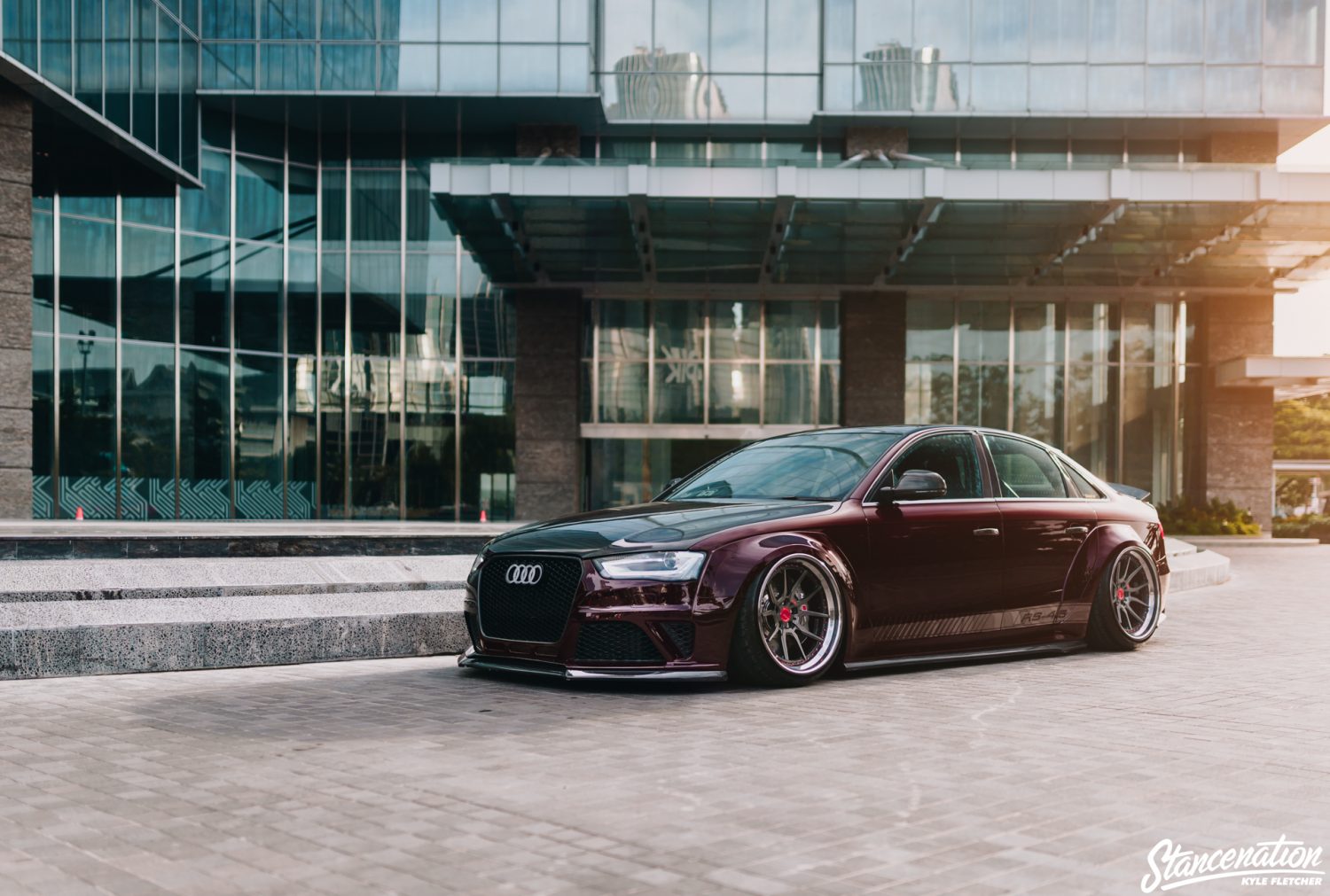 Leonard has a strong love of the Audi brand. This isn't his first build based around an A4, his first car being a B6 A4 with a long list of car show trophies. Armed with all of his previous experience, he set out to build something that was as unique as it was stylish. What he came up with is shown here, an all in combo of some of the best OEM Audi parts he could mash up with the aftermarket.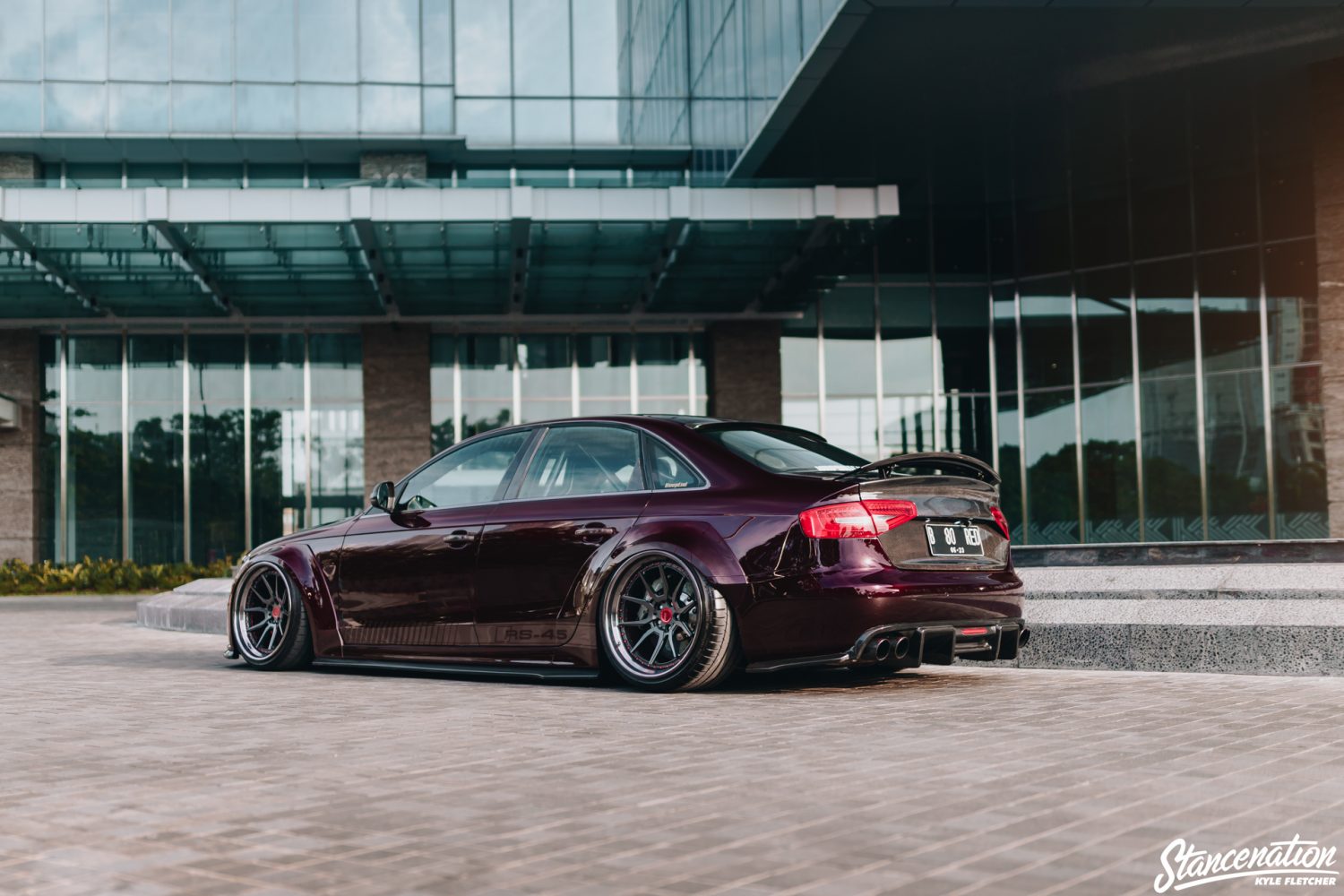 The outside of Leonard's current A4 is striking right away. Being a car that isn't commonly modified in his home country of Indonesia, he notes that most people aren't really sure what model it even is. He's gone to great lengths to make it stand out from other B8 A4's. It's been converted to a later B8.5 S4 rear end, including a carbon trunk. Up front, it's mostly B8.5 RS4 bits, with a Seibon Carbon hood to match the back. To keep things congruent, he's also gone with a carbon roof and grille. Beyond the OEM parts, the car also sports a completely custom widebody kit and carbon diffusers both front and rear.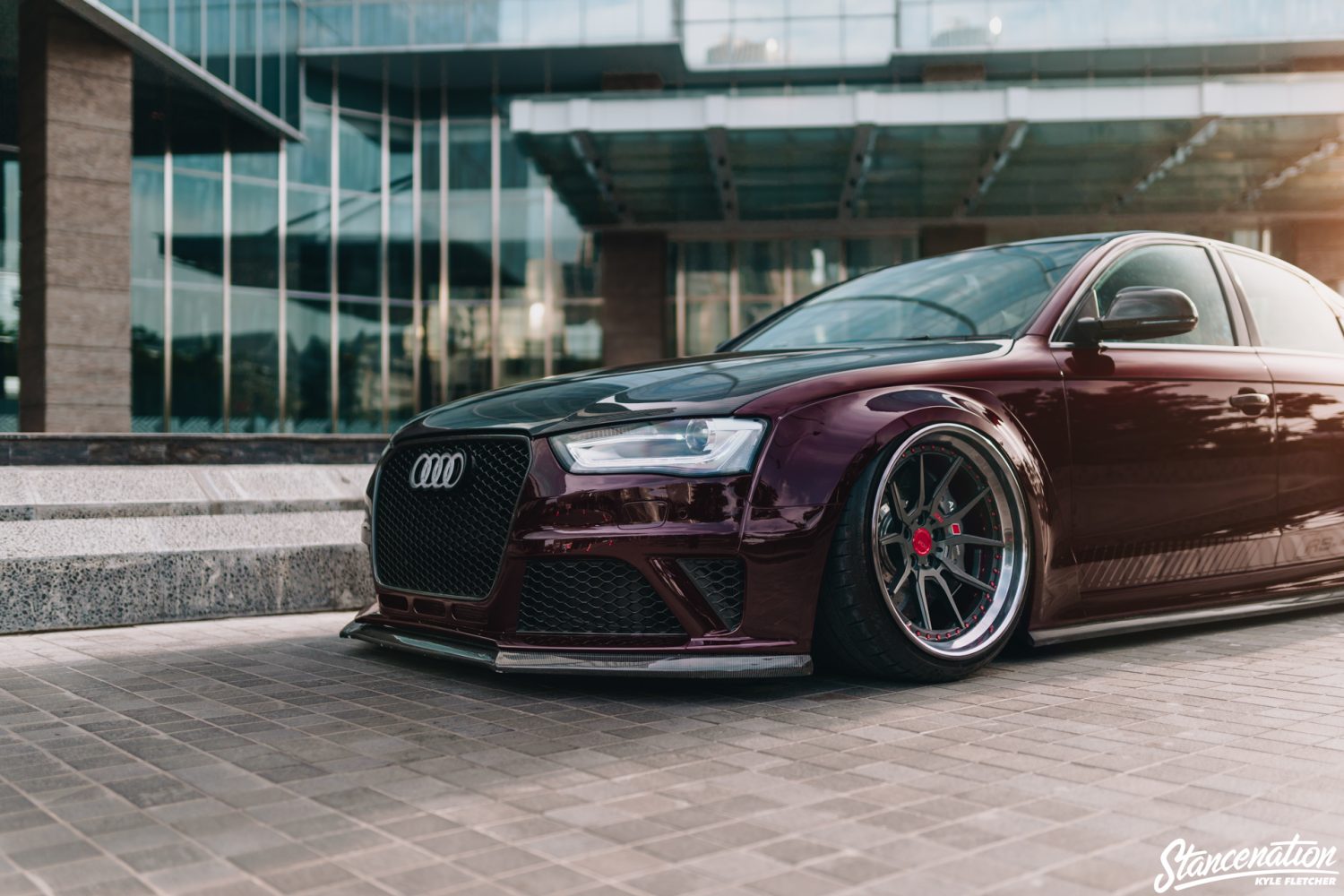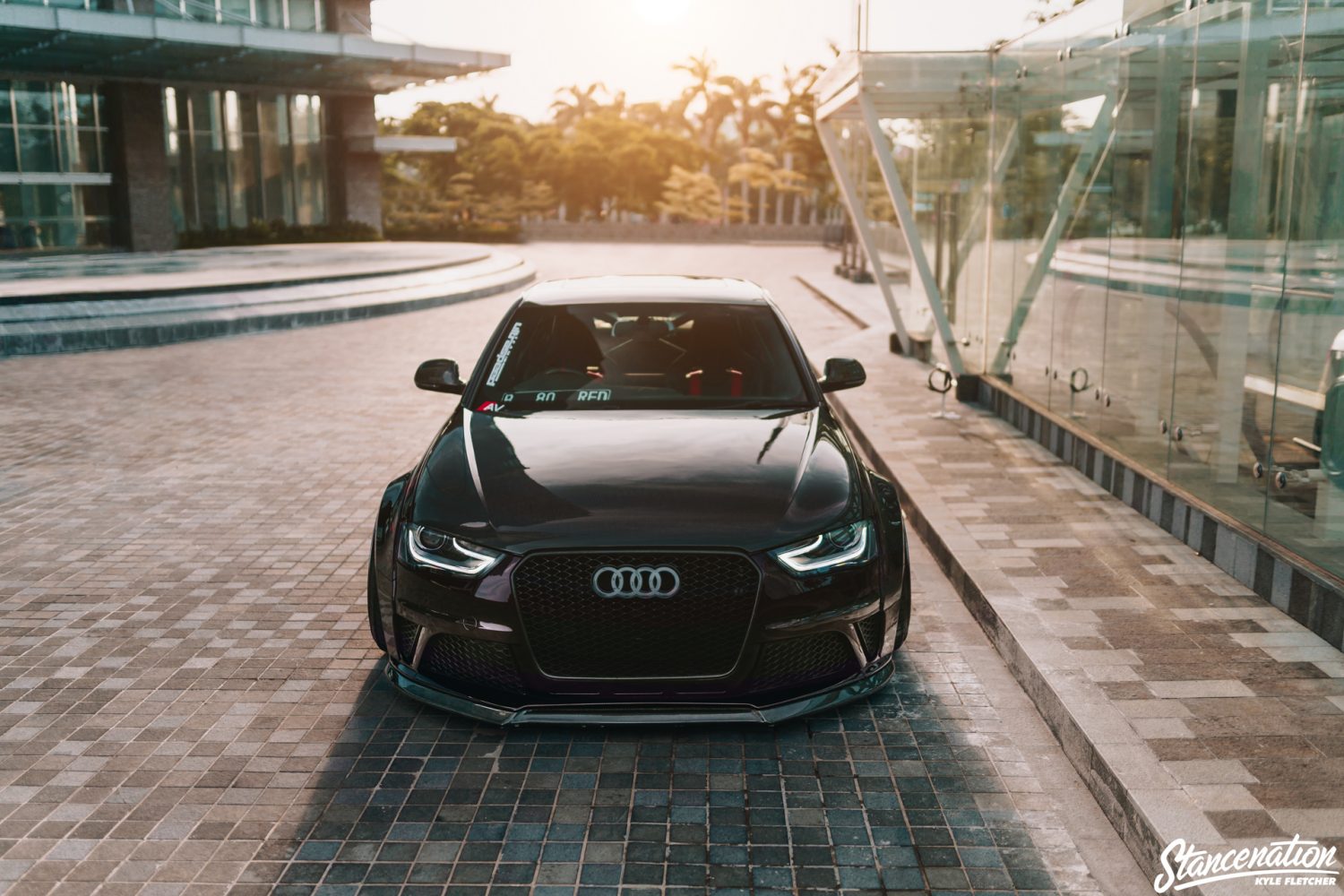 The paint is a custom xrallic candy mix that comes across as many different shades of metallic burgundy, depending on the angle that you look at the car. On top of that, every part on this car seems to perfectly color match. The carbon pieces, the wheels, the interior, it all flows together. Even under hood, the level of detail on this car is almost unbelievable, especially when you start to look at the amount of parts that have been changed.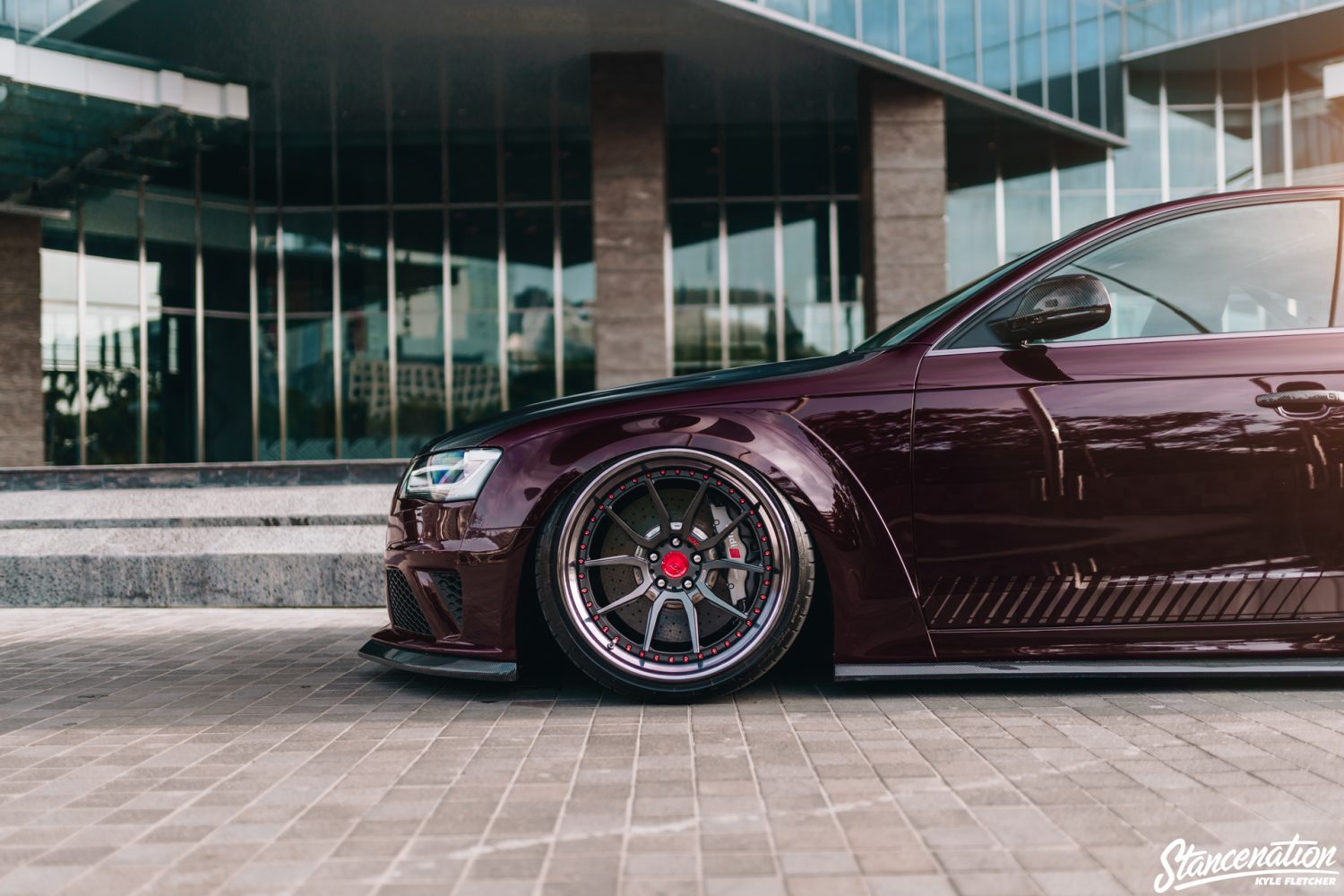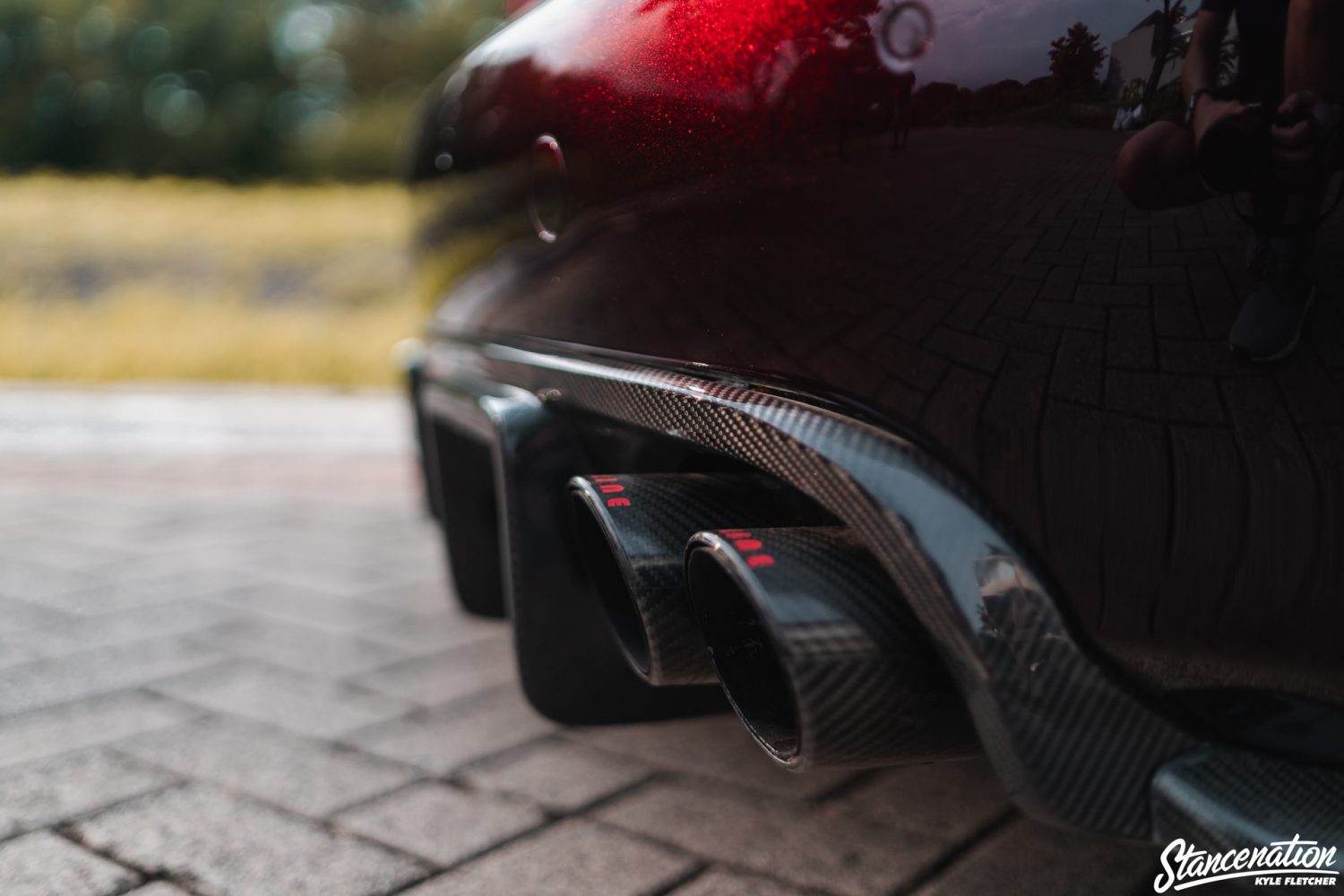 Inside, the OEM Audi upgrades really start to stack up. Leonard dug into the RS5 catalog, going with an RS5 cluster, display monitor, and carbon dash trim. It's got an Audi R8 GT steering wheel, complete with aluminum shift paddles. Everything else that could be changed inside the car is either converted to carbon, or painted black to match. Front seats were swapped to a pair of black Recaro Sportster CS, while the rears were deleted to make room for the custom 4-point cage.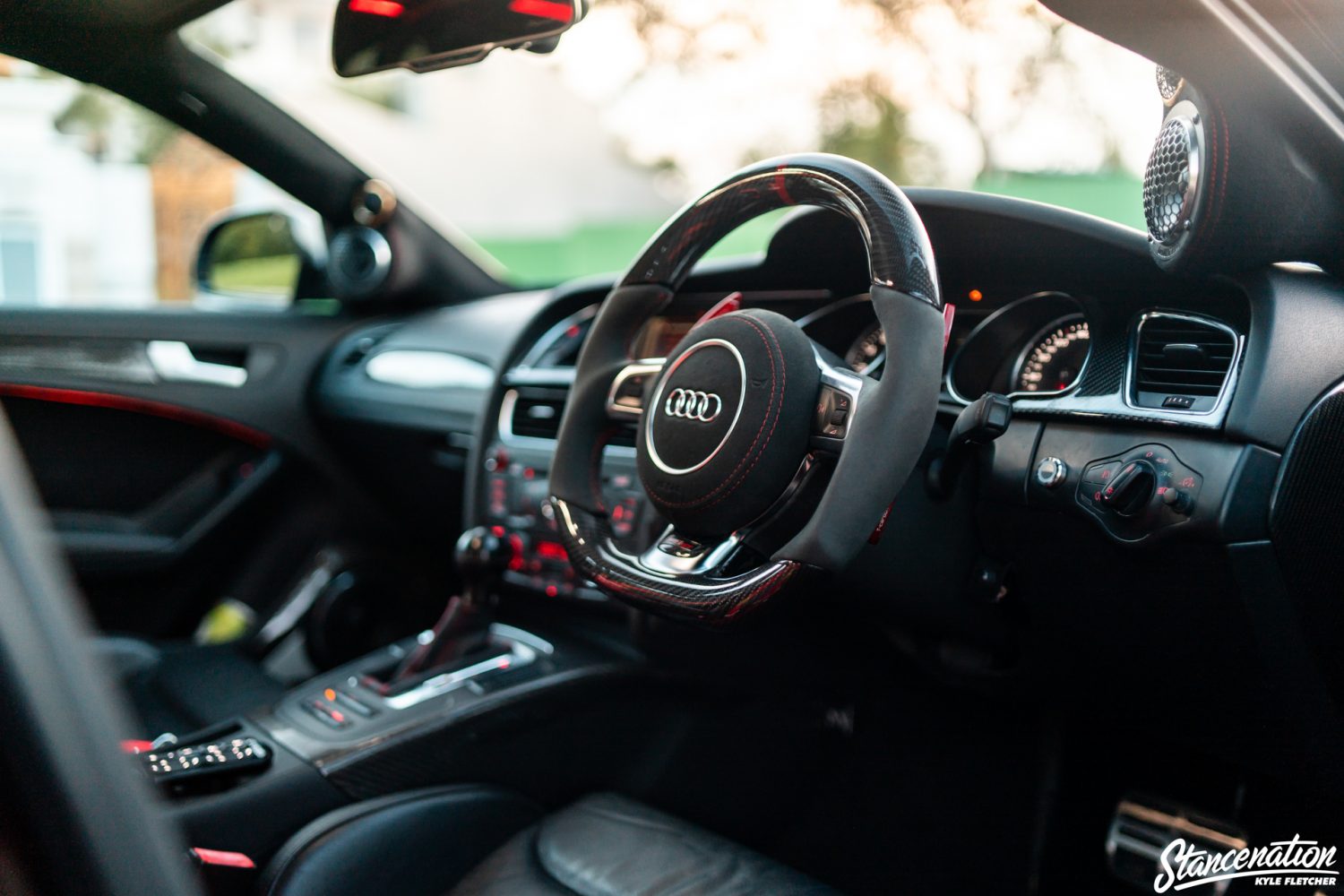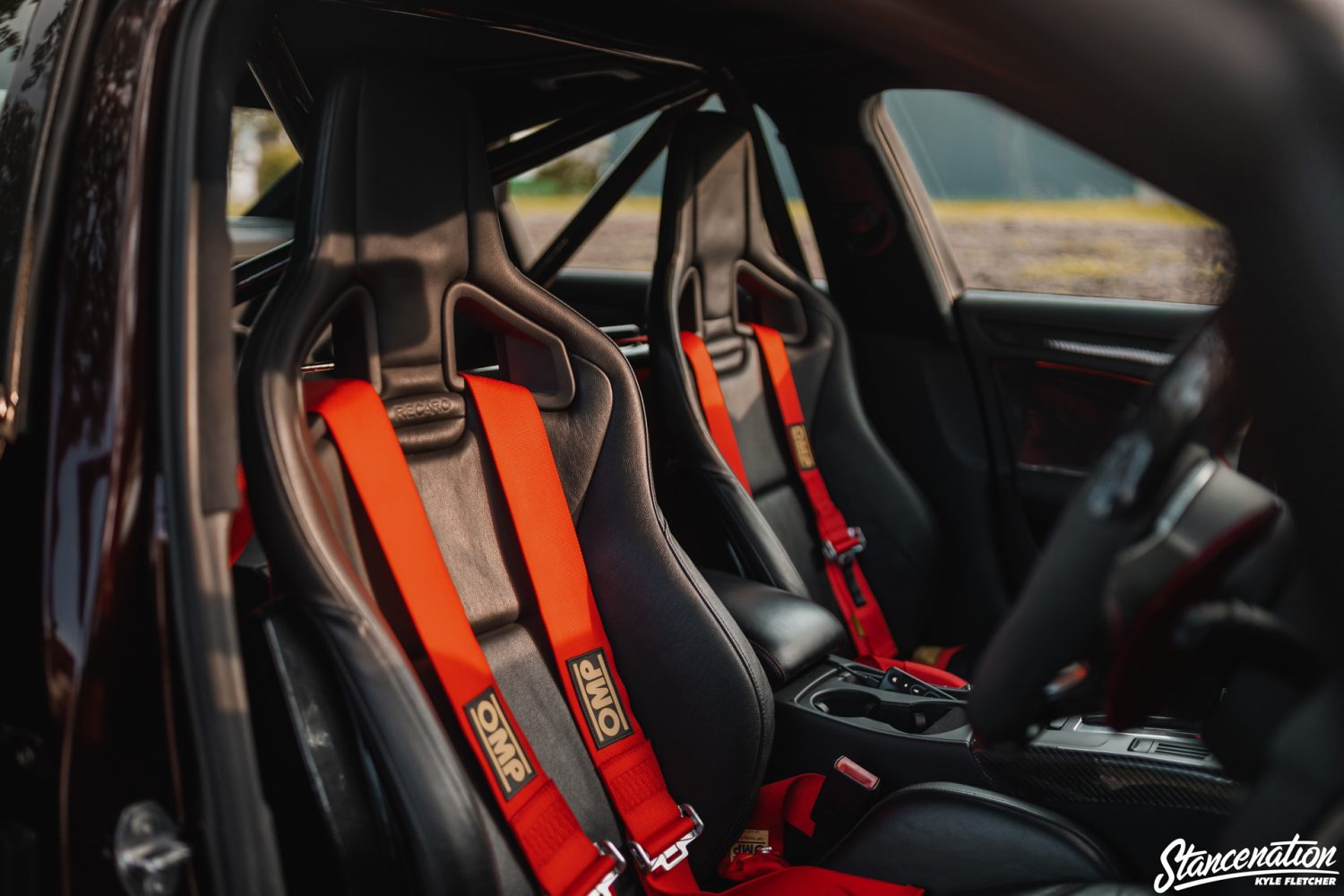 Something we don't see all that often these days is a car like this with an extensive audio build as well. But, Leonard being the person he is, there was no way that anything could stay stock, or even mild here. This car has one of the most detailed trunk builds that I've seen in a long time. You're looking at a beautiful trio of Ground Zero amps here, a 6, 4, and 2 channel. The wiring for these is all run through copper hardlines and through a Helix digital sound processor. From there, he's got a custom carbon framed subwoofer enclosure with 4 Ground Zero 8" subwoofers, as well as Ground Zero Reference speakers throughout the rest of the car.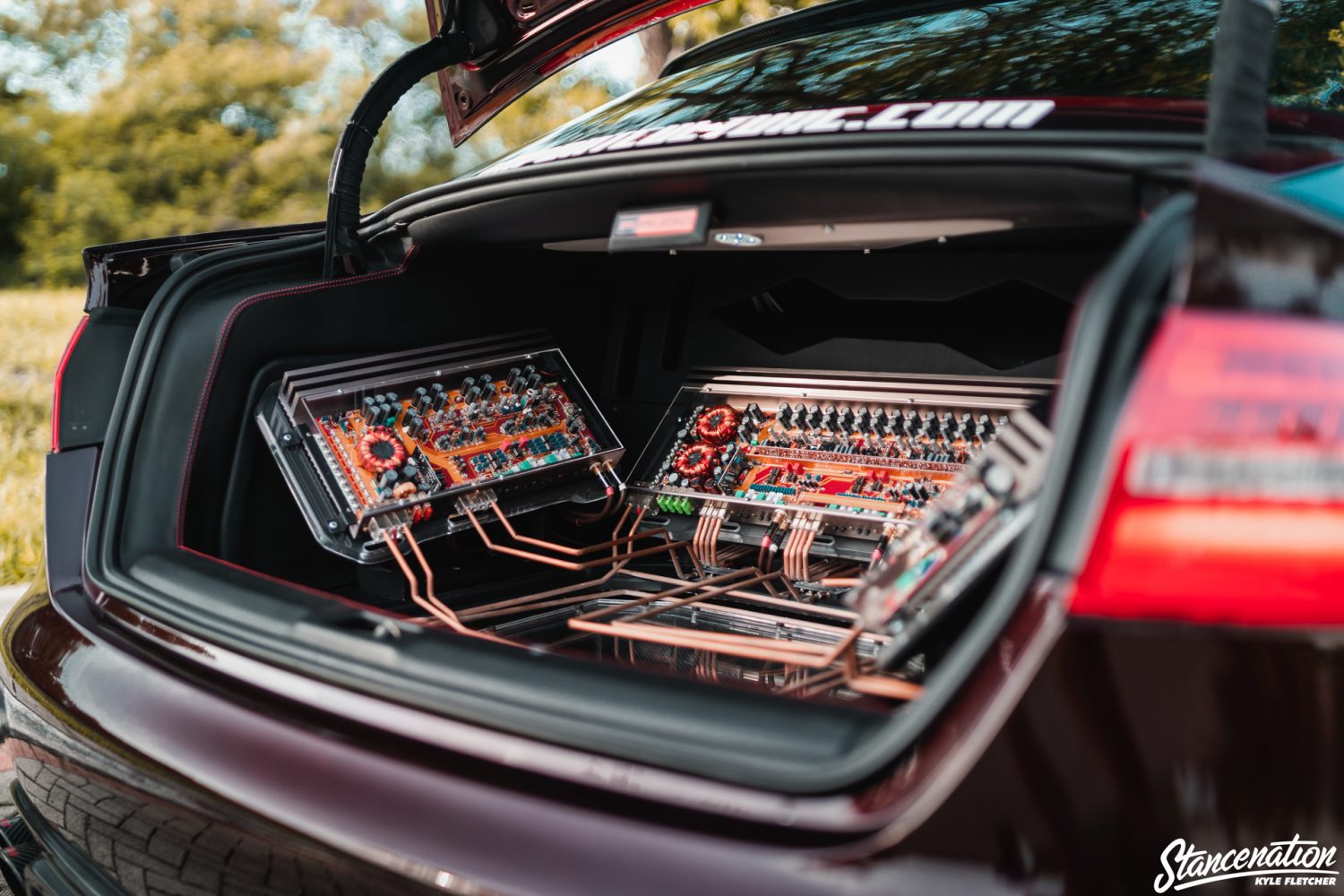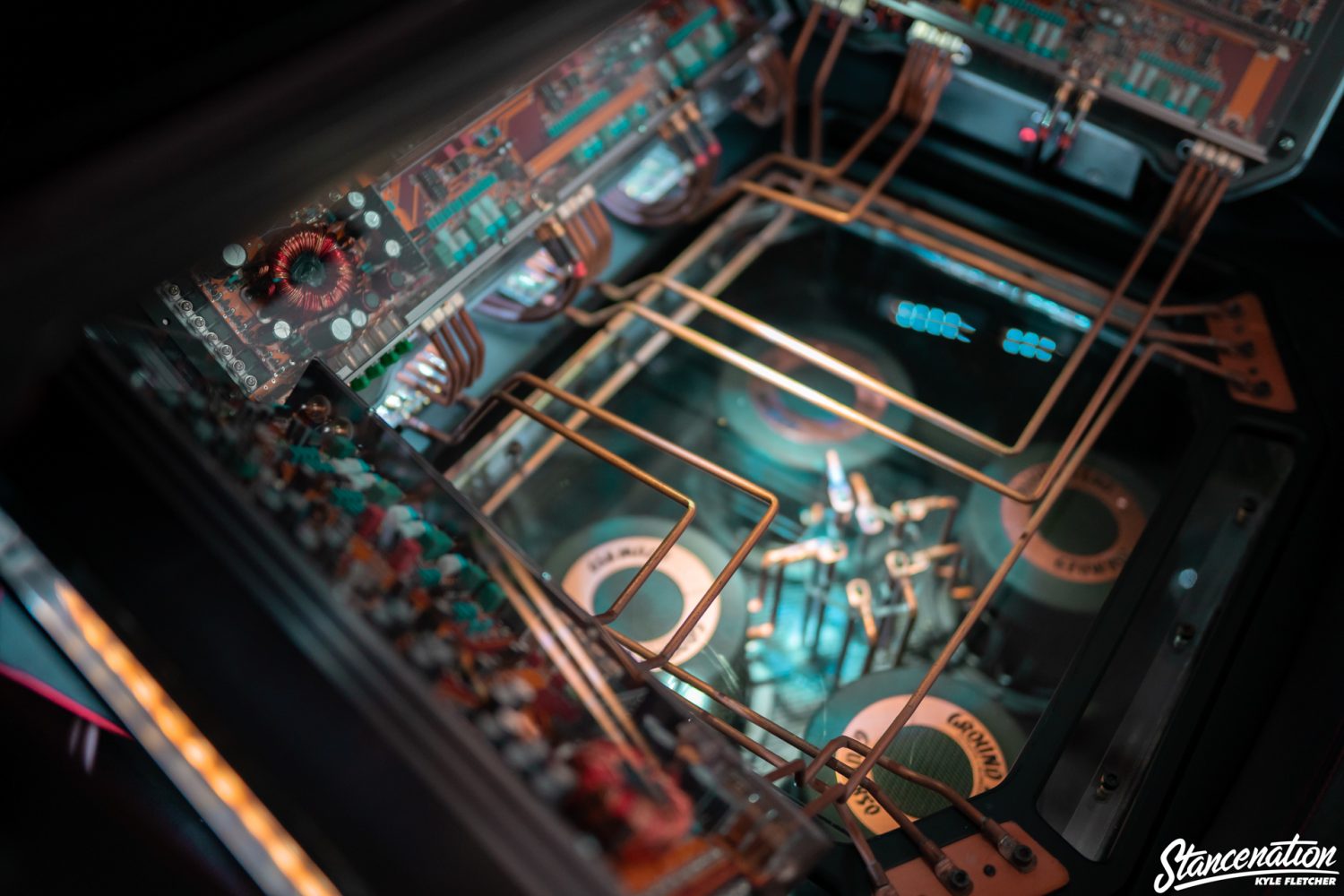 Back to the outside, it's almost hard to believe that neatly tucked under those widebody flares are a square set of 20×12 ADV1 5.0's. Of course, they're not a standard finish, the centers are color matched to the car, the barrels are red candy, the lips are black chrome, and the bolts are done with the red candy to match the barrels. On top of all of that candy, he's also gone ahead and added RS5 390mm carbon ceramic brakes in the front AND the back, complete with 6 piston calipers.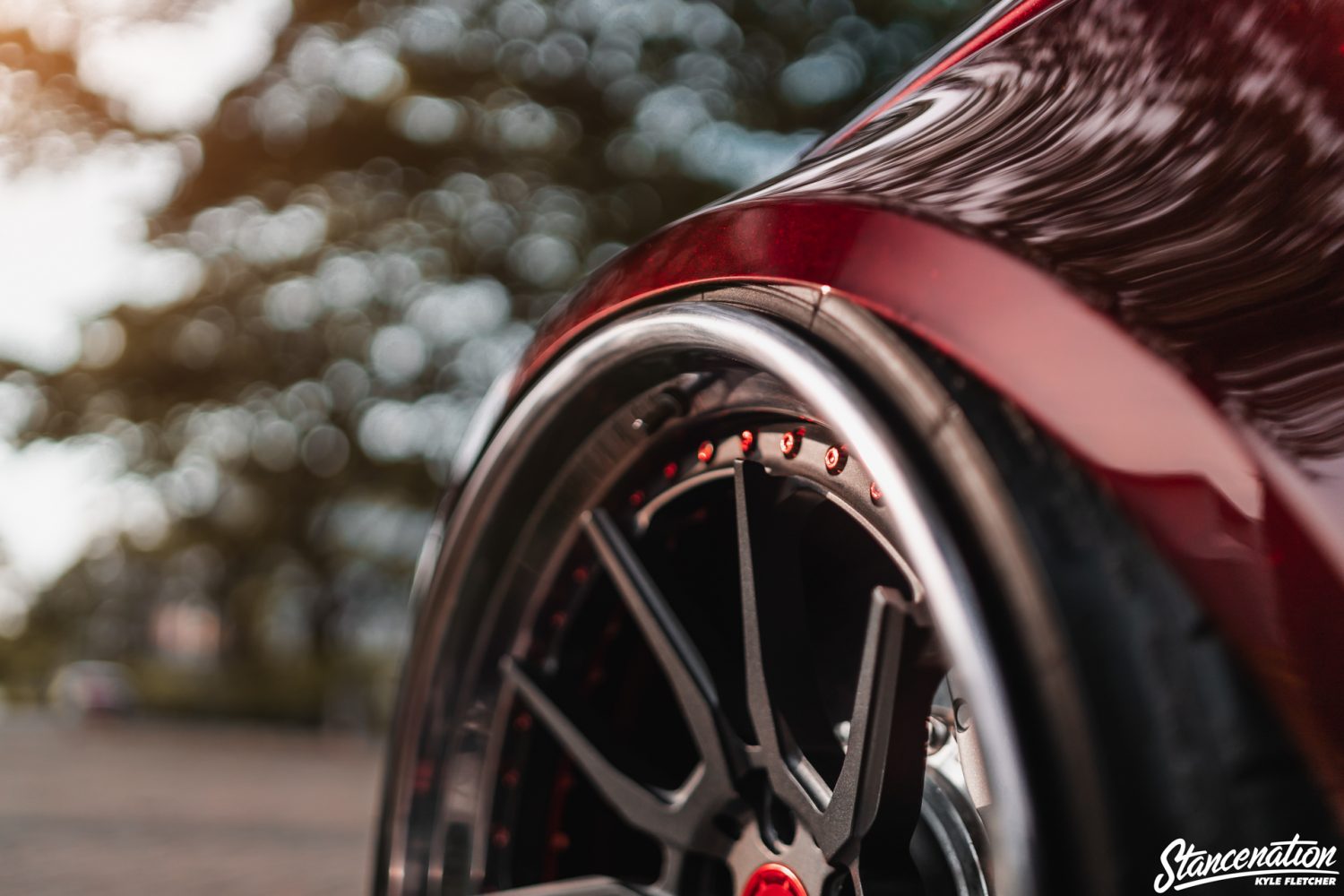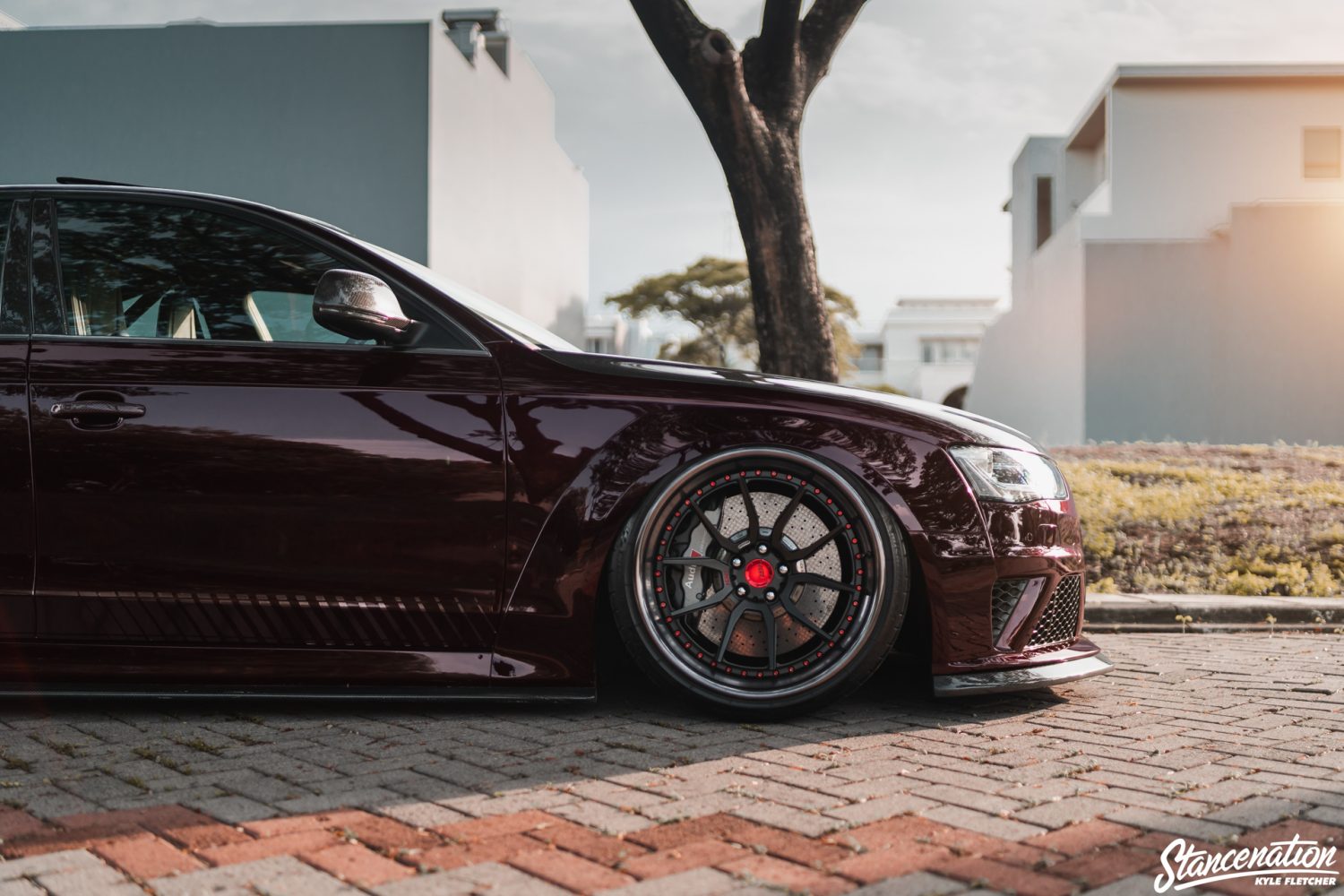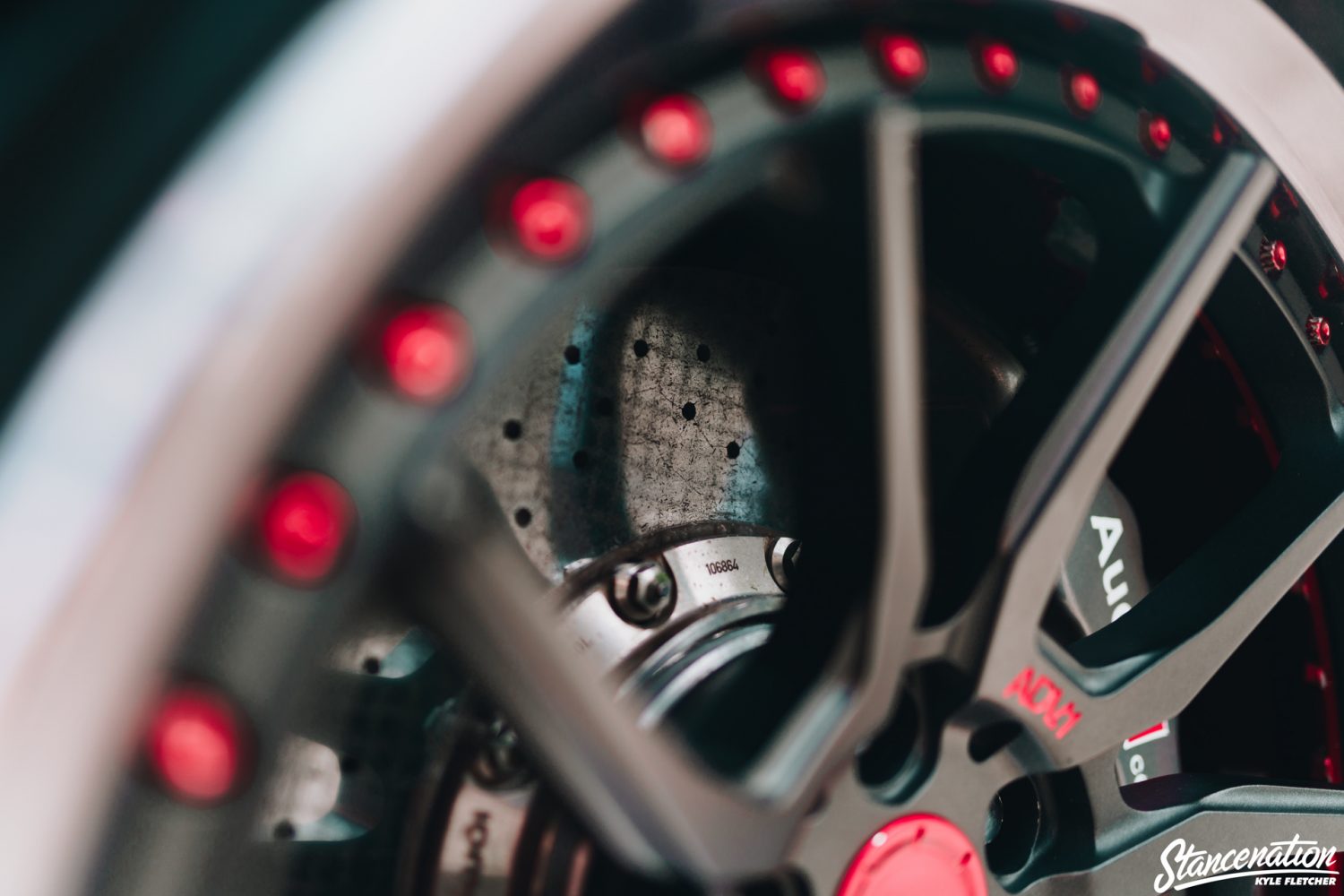 I'll keep it short and sweet here, however, the engine bay in this one could be an entire article all on it's own. You see, all of those RS5 bits would add up to a lot of cool extra pieces if this car was just a standard A4 2.0t, or, they would even fit pretty well if it had a 3.0T swap from the S4. But, Leonard went ahead and dove all the way in, just as he did with every other aspect of this car, with a full RS5 4.2 v8 drivetrain conversion as well. When I say full conversion, I mean EVERYTHING. Not only that, he took the liberty of modifying it a bit along the way. Adding every undercarriage piece he could get from the folks at 034Motorsports , as well as Kline Performance headers and exhaust. It also has a beautiful carbon intake setup from Eventuri that includes their carbon radiator cover and under hood scoops.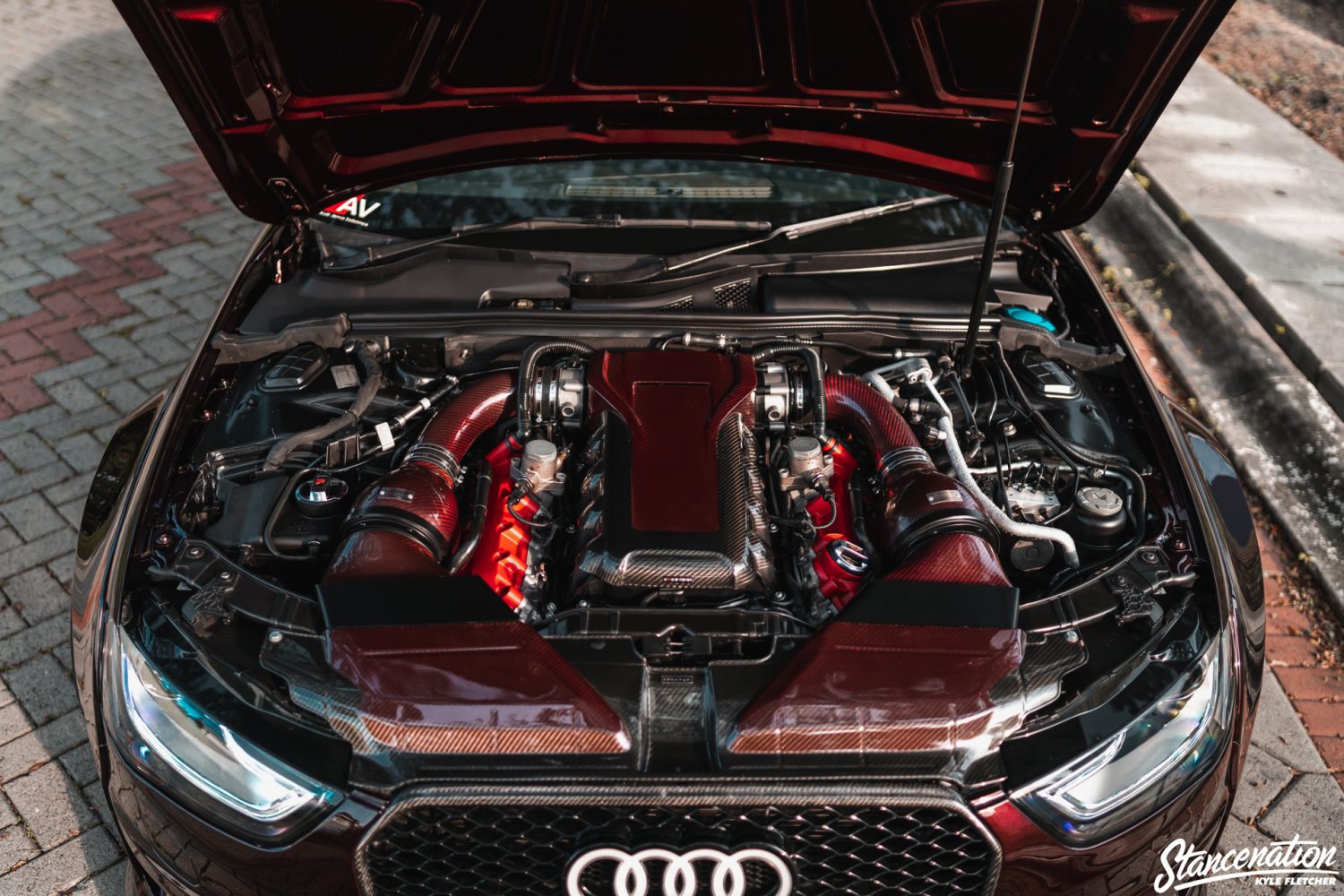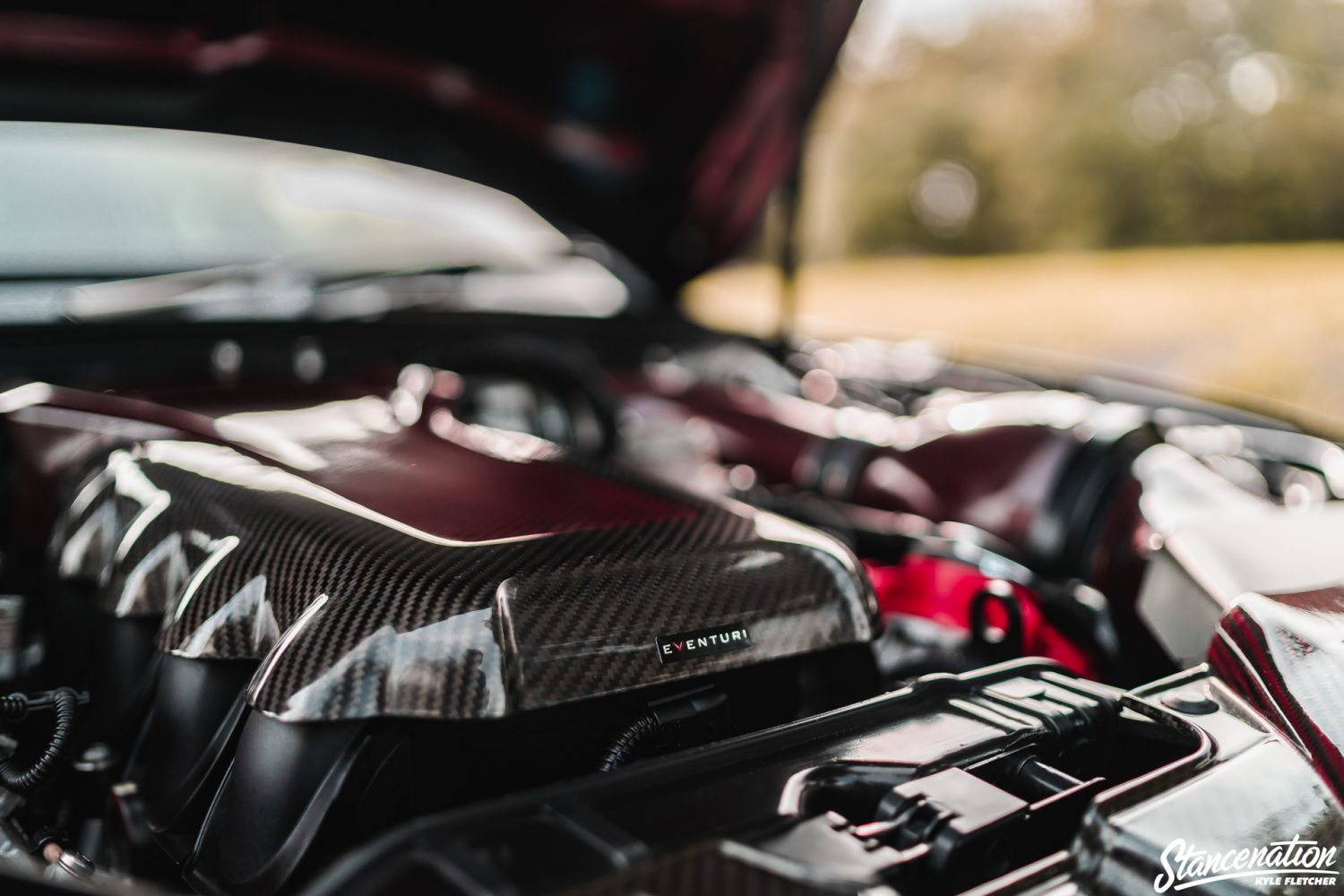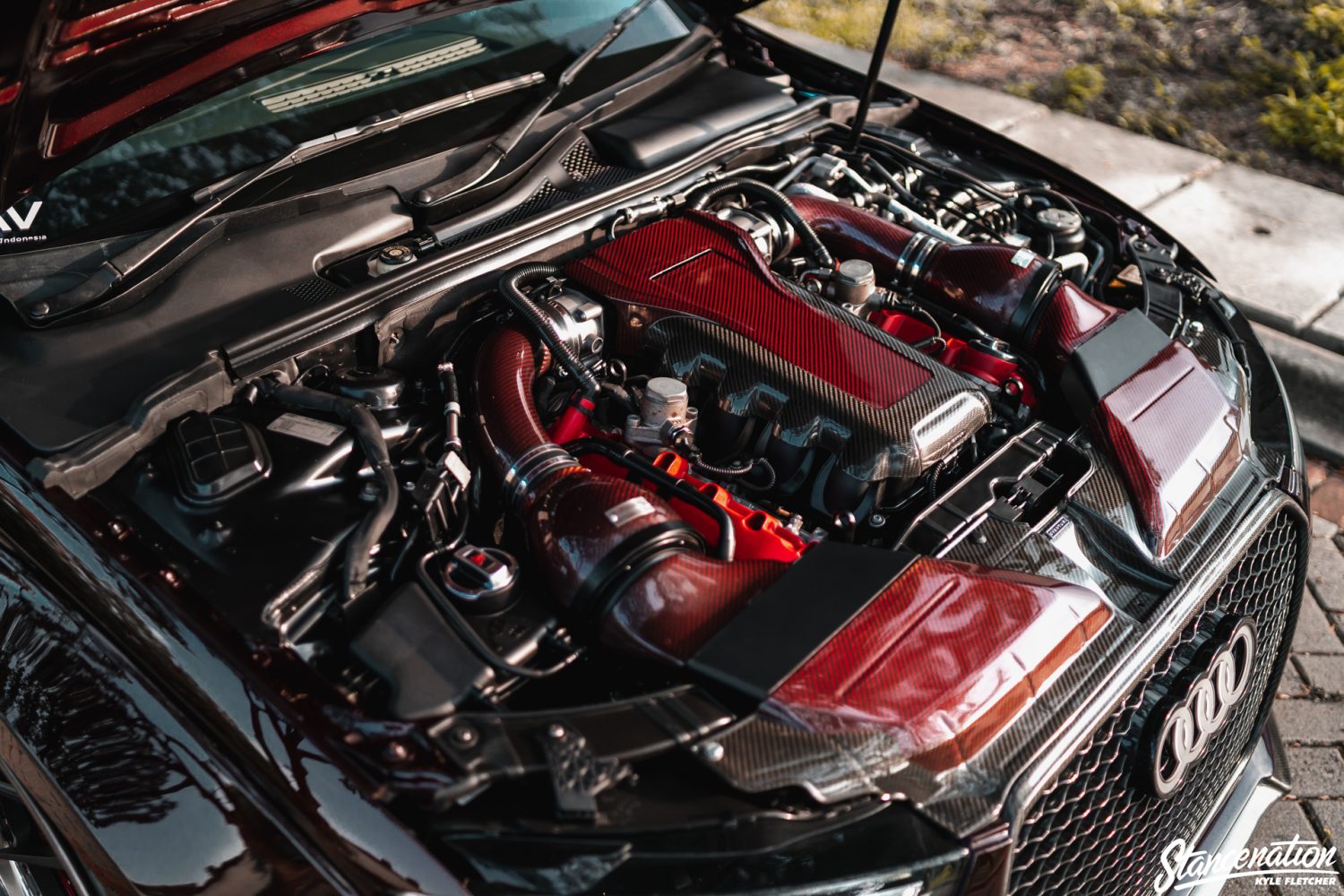 I'm afraid that my summary of this masterpiece doesn't tell enough of the details for the casual reader to really understand what has gone into this build. It's a beautiful car at a surface level. The color combo, attention to detail, and overall direction is very good all on it's own. But, when you dig deep, this is one that keeps on giving. Leonard set out to build a car that even hardcore Audi enthusiasts had never seen done, something so unique and epic that it would leave a mark on the scene. I'd say he crushed his goal, not only with Audi lovers, but with car enthusiasts as a whole. Even if you have no clue what a B8 A4 with a B8.5 RS4 front end, a B8.5 S4 rear, and an RS5 drivetrain is, you can certainly appreciate this one.