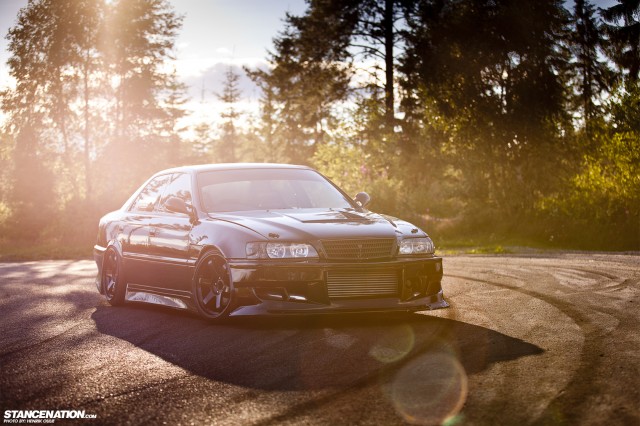 We all have dream cars.  When we're kids there are posters of Ferraris or Lamborghinis tacked up to our walls, or even Camaros, depending where you're from or what you're into.  When I was a kid I really wanted an 18-wheeler — I changed a bit; nevertheless we always have vehicular aspirations.  Naturally, as we age our tastes expand and mature and sometimes big, 90's model Toyota sedans make an appearance on dream-car lists.  It takes a special kind of person to find such an interest in the various 'JZX' models.  I myself am one of those individuals; you can imagine my excitement when Elvis pitched this particular feature to me.
Photos By: Henrik Oulie exclusively for StanceNation.com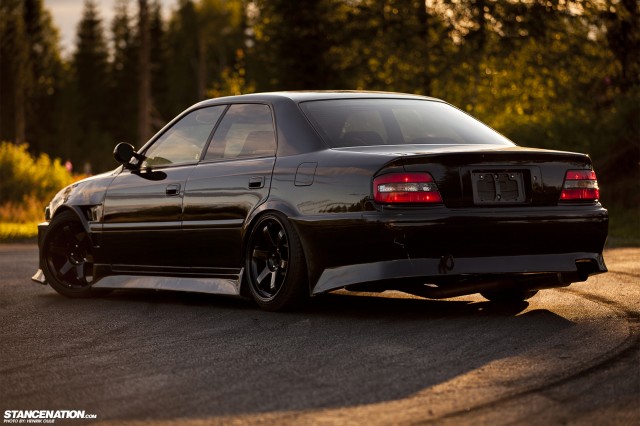 Emil Christiansen is a lucky enough person to actually have his dream car.  He has been the owner of this particular Chaser since around Christmas of 2009.  Emil, inspired by the Japanese VIP and drift culture, yearned for a Chaser of his own.  Andrew Gray from PowerVehicles (If you haven't heard of PowerVehicles, you should.  They make dreams come true on a regular basis.) helped him import this 1998 JZX100 example all the way to Christiansen's home in Fredrikstad, Norway.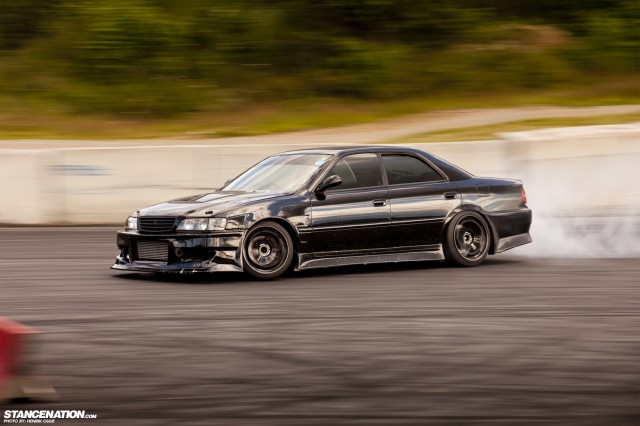 Once the vehicle was securely in Emil's grasp he went to work creating the Chaser of his dreams.  Being influenced by the Japanese style and having friends like Rolv Jacobsen (his S13 was featured on S:N 2 years ago) he already knew which direction he wanted to take with the car.  Emil tells us that the laws on imported vehicles in Norway are extremely strict, practically making the car only usable as a race car — however this track toy still had to possess plenty of style.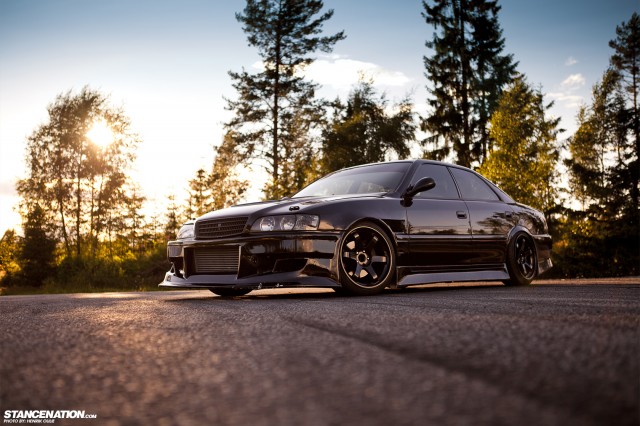 Tein Driving Master coilovers provide the control Emil needs when he's flinging the large sedan around on track and they bring the Kunnyz aero down closer to the earth where it belongs.  Always a classic choice, square-fitment 18×9.5"(+12) Volk TE37s sit flush under the D-MAX front fenders and factory rear arches.  The overall stance reminds me of a D1SL (D1 Street Legal) Chaser you'd find cruising Japanese streets or running the wall at Ebisu.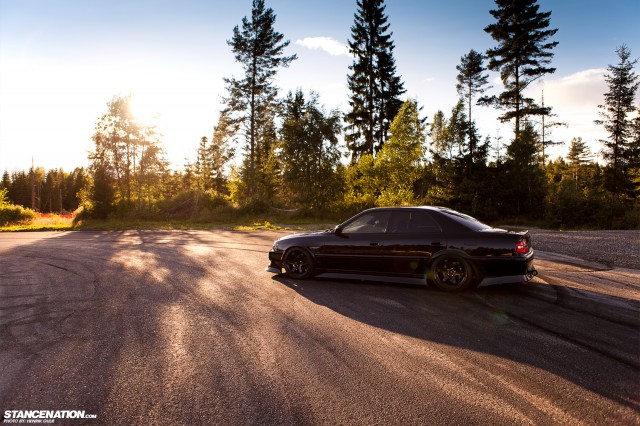 The factory 1JZGTE has been mildly enhanced with the addition of a front-mount intercooler and a custom exhaust.  Obviously, many of you reading this are familiar with the capability of the JZ-series of engines.  Even in near stock form the power from this 1JZ makes itself evident when Emil lays down the hammer, locking up the Tomei 2-way LSD and blowing by in a cloud of tire smoke and twin-turbo Toyota straight-six howl.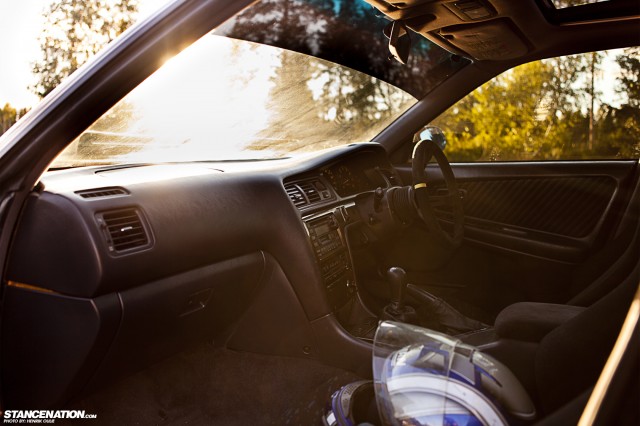 Emil's dream is a continuing story.  Future plans call for a full roll-cage, one that maintains the original feel of the car in true Japanese form.  The coilovers will be replaced as well in order to achieve a lower stance.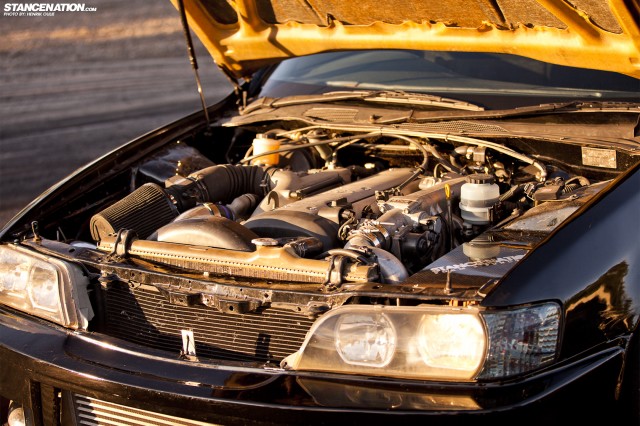 Emil popped his hood to display one of the biggest reasons these cars are so desirable… the Stance:Nation sticker.  Well, the availability of factory JZ-engines is one too I guess.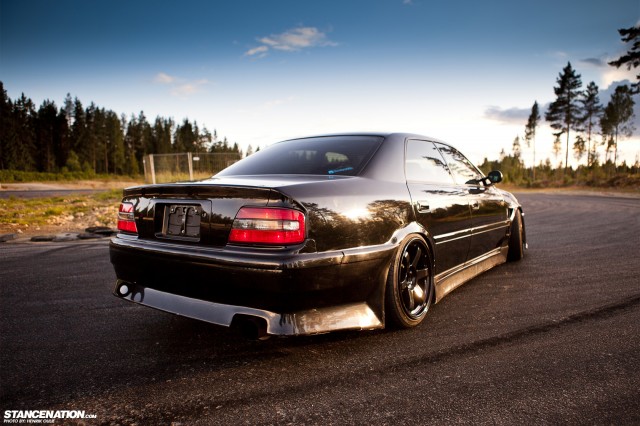 We're all chasing a dream.  Be it an exotic car or even just very specific ways of building a common car, we each find ourselves on a quest of attaining a personal goal.  Christiansen has a done a great job of chasing down his Chaser and bringing a little bit of Japanese auto culture to Norway.  Thanks for keeping the dream alive Emil, and showing us it is possible to reach.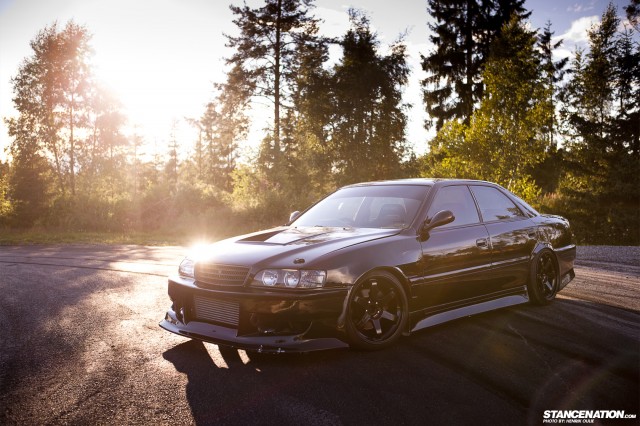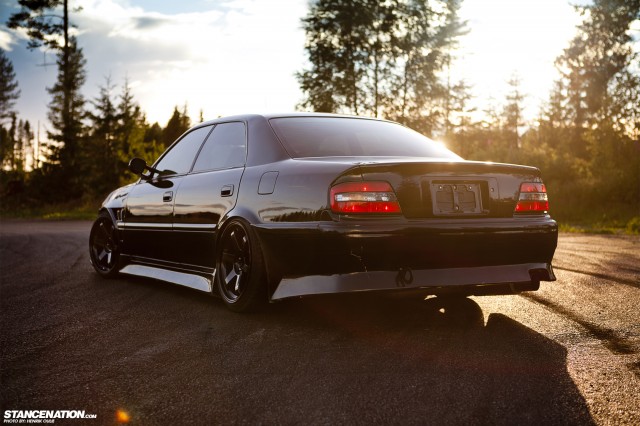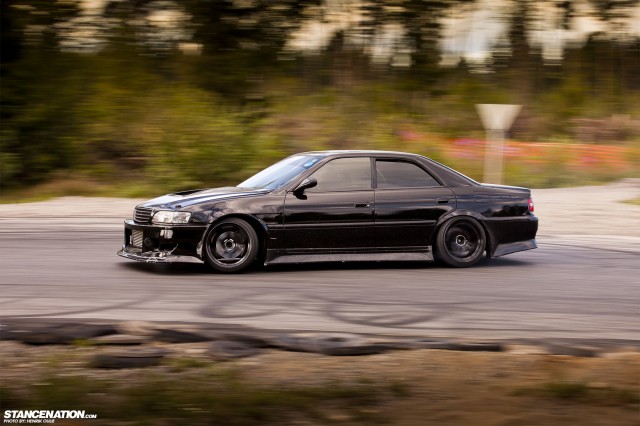 [toggle_box]
[toggle_item title="Wheels/Tires/Suspension" active="true"]Volk Racing TE37 18×9.5 +12
Tein Driving master Coilovers
custom front wheel cases
Kazama Auto driveshaft couplings
Rolled & Pulled fenders[/toggle_item]
[toggle_item title="Exterior" active="false"]Dmax front fenders
Kunnyz bodykit
FRP hood[/toggle_item]
[toggle_item title="Interior" active="false"]Supra seats[/toggle_item]
[toggle_item title="Engine" active="false"]1JZ-GTE VVTi
big intercooler & custom eksos
Tomei 2 way LSD[/toggle_item]
[/toggle_box]