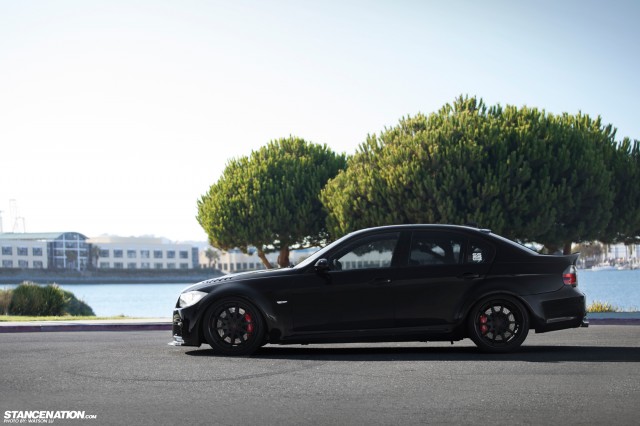 When I first saw Lance Taylor's widebody 2007 BMW 3 series my jaw literally dropped, and as it passed I immediately took out my phone to see if I could find the owner on e90post (popular BMW forum). Luckily enough, within five minutes, I had his username on e90post and I just had to contact him. It wasn't until weeks later, that we finally got together to shoot. As an e90 owner myself, I really noticed how much wider Lance's car was than my own. This is the most aggressive non-M BMW I've ever seen. Everything from its custom 3″ fiberglass fender flares, to its carbon Vorsteiner body parts easily makes this one of the sexiest 3 series I've ever seen.
Photos By: Watson Lu exclusively for StanceNation.com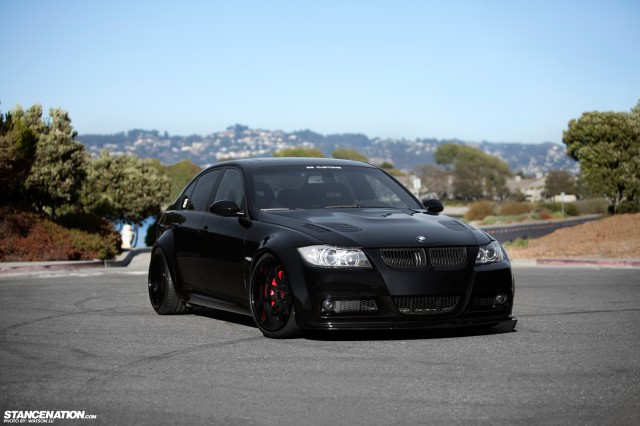 For those of you lucky enough to have seen this car in person, you know exactly what I'm talking about. As for everyone else stuck reading this article, I'll try my best to show you how awesome it is. Lets start with his Radenergie r10.1 wheels, they're 19×9.5″ up front and 19×12″ in the rear, 12″ wheels on a 3 series! That's no $5 foot long. 😉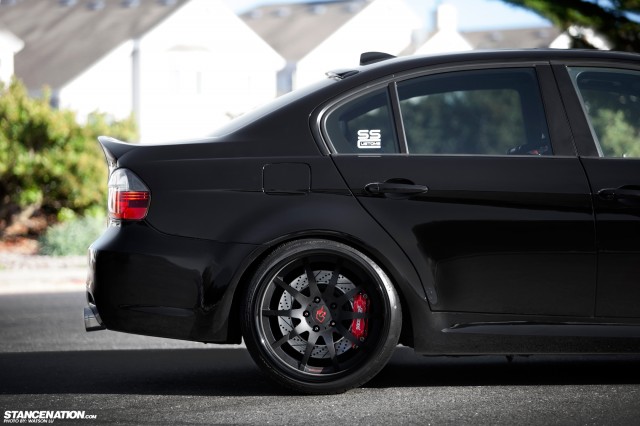 The mods don't just stop at the exterior either, he has a BMW Performance steering wheel with their matching shift knob. He also has a custom fabricated SSC harness bar. For what you might ask? Well for the Status racing harness of course. Oh wait, I forgot to mention those sit on his full carbon Status racing seats!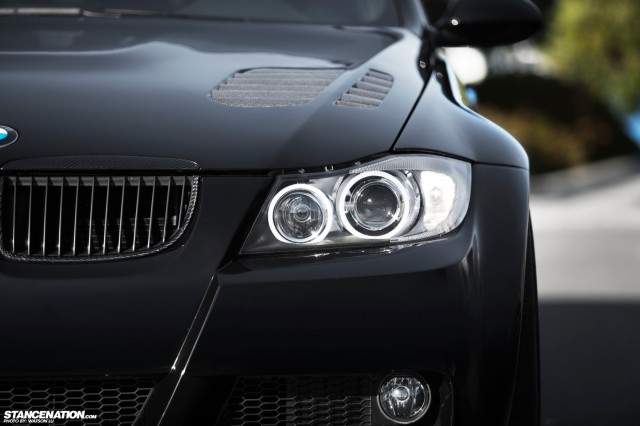 Lance has had a long journey with this e90. While talking to him about this car, he told us the following: "It all started with my first set of wheels, the BBS CH and then turned into an obsession, much thanks to e90post. I had HR sport springs with Koni yellow shocks, full AC Schnitzer kit with a custom made quad exhaust. From there I sold the BBS CH wheels to purchase 20" I-forged Daytonas with a gloss black face and metallic cherry red lips. After that, I bought an e90 335i to do the widebody project on, the car however got lemon lawed while most of the parts were on order already. I decided to fulfill my dream on creating a one of a kind BMW e90 on my reliable 330i. I could have gotten another 335 but figured that this 330i would be a car I would never sell as it holds priceless sentimental value to me. Although I am quite happy with the way it looks, it certainly needs more power. More aesthetic modifications will be done to the exterior and the interior as well, a new paint job is quite high on my list of "to dos" on the car but it can wait.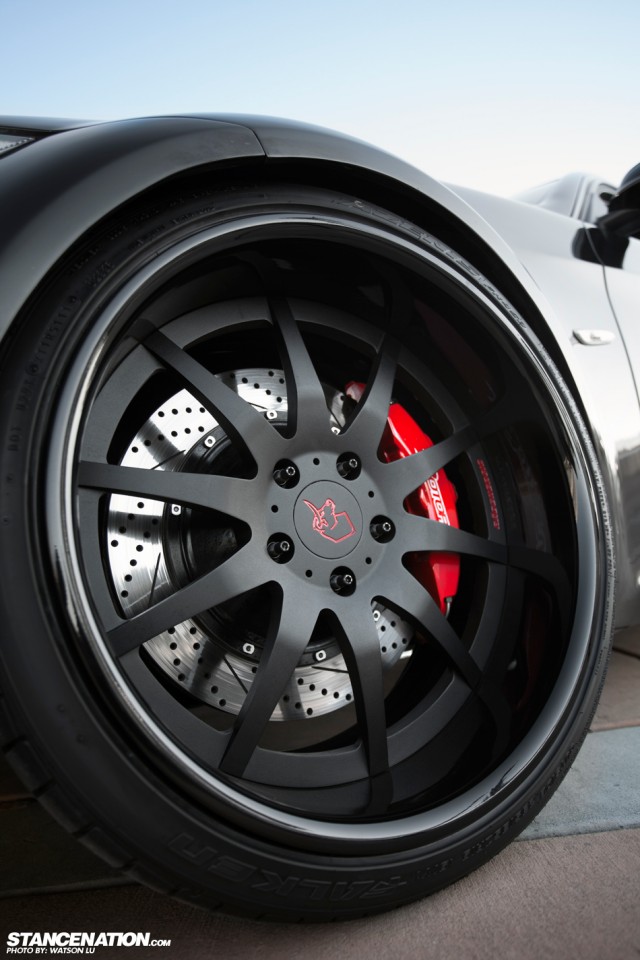 Next up will be an engine swap. I'm not going to say which engine quite yet but here is a hint that most BMW enthusiasts will get right away, "comes stock with 500hp". Being a part of SS Customs has given me a real reason to justify my madness for wanting to make this car one of the craziest e90 builds out there so I'm going balls to the walls as they say it, Lance says. He is hoping to have it done for next years show circuit, so keep a look out for it!
StanceNation and I will definitely be keeping an eye on Lance's car.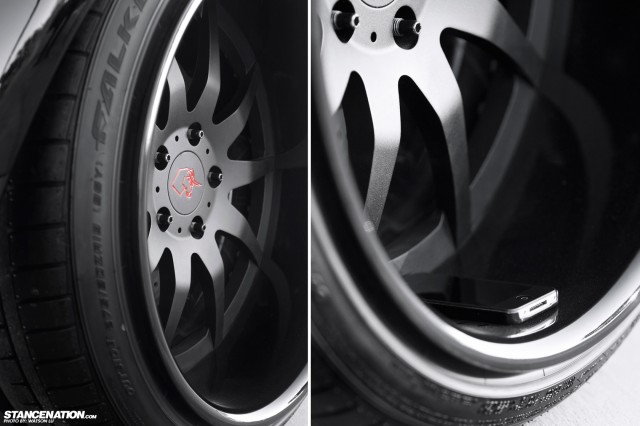 In the meantime, we are going to leave you with a couple interior photos and then some. Big thanks to SS Customs and make sure to check out my fanpage by clicking here!