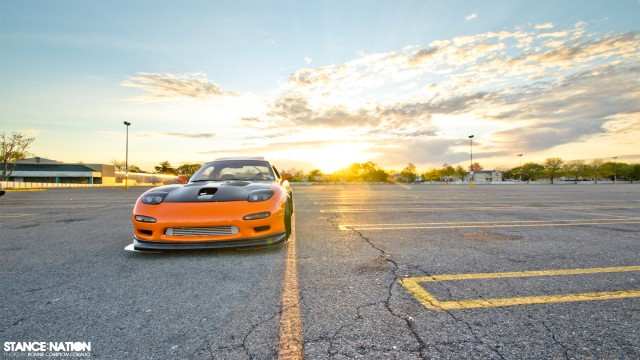 Where do you even begin when you have a car and story behind it such as this? Please allow us to introduce you to Arvin and his beautiful '93 Mazda RX7. After purchasing a car that started out as a stripped down shell that had to be built back up from scratch, the day these photos were taken was something Arvin looked forward to very much. The car was done and after a long east coast winter it was finally ready for a proper photoshoot, but what ended up happening was something no one expected. You'll see exactly what we're talking about below. In the meantime why don't we tell you a little bit about this beast of an FD that Arvin had built.
Photos By: Ronnie Corado exclusively for StanceNation.com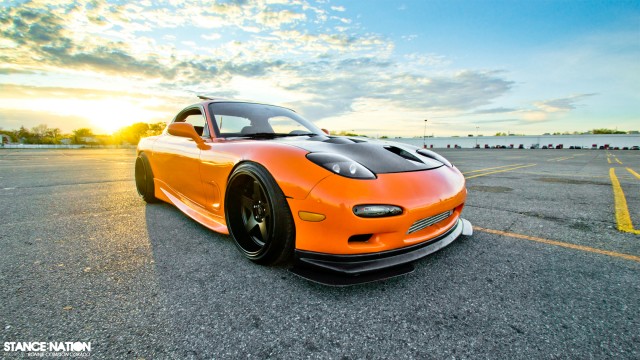 As we said before, everything on this car is practically changed especially under the hood. The 13B motor was fully rebuilt with all new internals and the twin turbos were converted to a single turbo. We'll attach a full spec list on the bottom of the feature so make sure you check it out. The car features everything from new apex seals, side seals, corner seals, oil pump to oil injectors & rotor bearings. Few other things include a complete Pineapple racing close up kit (pineapple racing large street ports, ported and polished, polished lower and upper intake manifolds, greddy custom intake, etc). The car has no AC or power steering, Arvin strictly built the car for speed.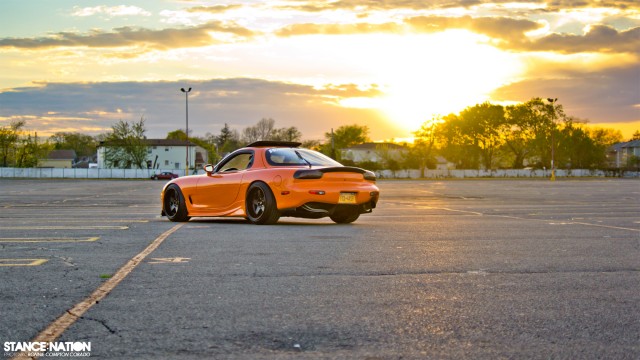 Did you really think it stops there? Arvin is running a Garrett GT35R dual ball bearing turbo with Greddy turbo manifold, tail 44mm waste gate, Greddy front mount intercooler & aluminum 3 inch piping with tail blow off valve. You already know the drivetrain needed some refreshing so Arvin went with a completely rebuilt 13B turbo tranny which includes a Act 6 puck sprung hub clutch with heavy duty pressure plate and a 8lb act flywheel. When it came to exhaust the Apexi N1 full 3 inch exhaust from down pipe backed with 3 inch electric exhaust cut out does the job!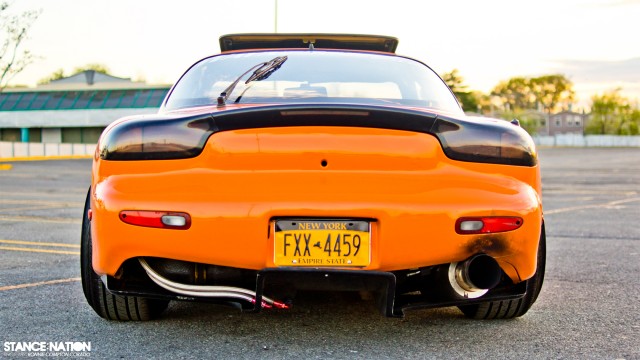 This daily driven beast is setup to run on E-85 fuel and runs on 14lbs od boost on daily basis. It made 505HP on 22lbs with a manaul holmes boost controller. Arvin customized a lot of things to make everything work such as the RE-Amemiya rear diffuser which had to be tweaked in order for the fuel lines to run thru it. It runs on E-85 fuel with 1600cc injectors, (secondary's and primary's) KG fuel rails, aeromotive high pressure regulator, -10 fuel lines with fittings welded sump on gas tank with two -10 fittings going out to two -10 lines running into 2 aeromotive fuel filters going into two Bosh 044 in line fuel pumps. Whew, why don't we move to the exterior..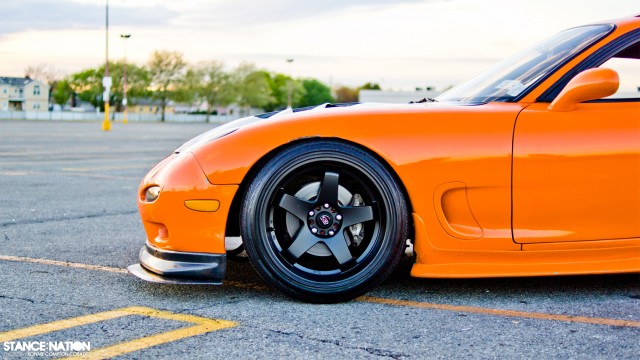 How about that stance? The car is dropped on Tein super street coilovers and is rocking an aggressive set of Rotas. They are 18×12's with a 0 offset Rota P45R3S, only available in New Zealand apparently! Those tires are 245/40/18 Hankooks! So what else do we have on the outside? How about the Scoot carbon fiber hood and the RE-Amemiya rear diffuser that we mentioned before? How about the custom RE-Amemiya style headlights with projectors and of course that custom front lip with carbon fiber custom splitters. Let's not forget the veilside side skirts though and that flashy Tangerine orange paint!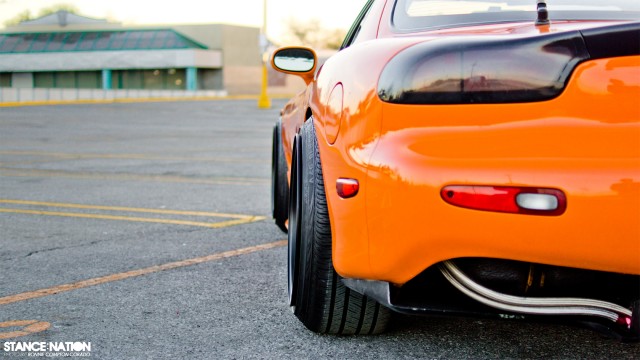 Interior of the car features a Sparco carbon fiber steering wheel, autometer guages on the dash with a custom switch panel for the fans, pump 1 and 2, ignition, and kill switch. Unfortunately we don't have any photos that show the interior properly but it is one of the things that got damaged the most in what happened below during the shoot…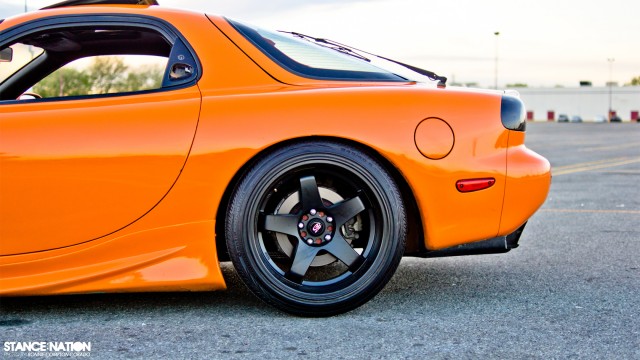 The car was parked away for winter (since november actually) and Arvin was finally bringing it out for the first time of the year. He dusted the car off and put his new wheels on. He also changed the plugs and oil, grabbed a full tank of E-85 and drove her for the weekend to break her back in. He then decided to do the first photo shoot of her ever for the paint/body shop he is opening soon called STK STREET KINGS, so he called up the hottest photographer he knew, Ronnie C.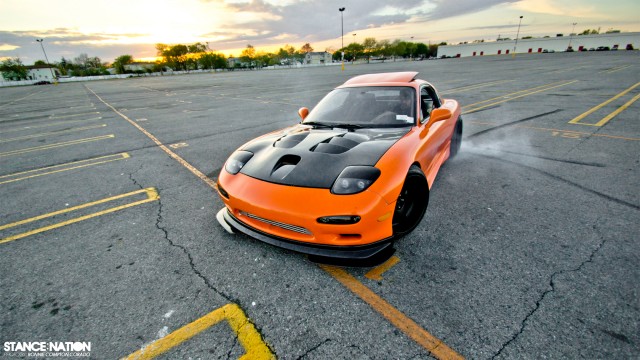 Every body wanted to shoot his RX7 but he felt that Ronnie was going to do the car justice so they went to a great location for some random teaser piks before the
sun went down and it was going great, i decided to up photos before the sun went down. He also wanted to do some burnout photos with full boost, waste gate screaming & the whole nine yards but things then took the wrong turn…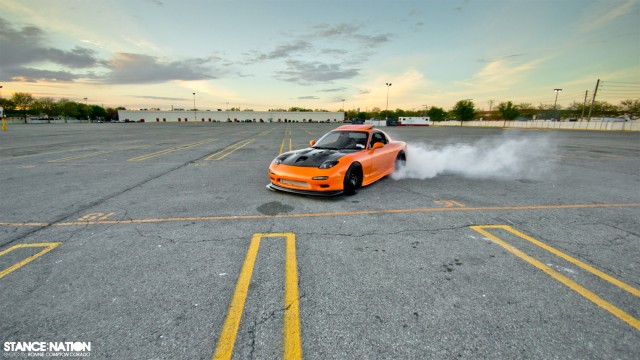 While the car was in the middle of doing the burnout, the harness being soo brittle from
the cold weather of the winter just collapsed, heated up and melted. That obviously had the positive & negative touching and sparking a small electrical fire under his secondary fuel rails. Thankfully Arvin noticed the fire on time because the car started breaking up…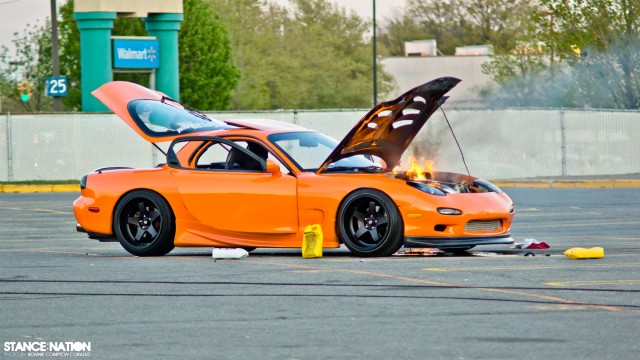 Arvin suddenly stopped the car and popped the hood open only to see fire. Before he could do anything the fire burned thru his oil metering lines which spilled oil all over the motor, which eventually ignited with the flame. It then burned thru the injector o rings which made all the pressure of the fuel rails let go and sprayed all over the flame which unfortunately made it impossible to control. That's even with the car off and everything disconnected of course…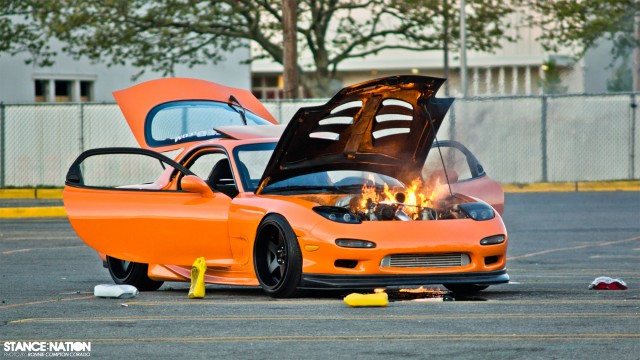 Arvin and his friends tried everything to stop the flames but they just couldnt stop her from burning. They ended up calling the fire department and it was history after that. The engine turbo body and engine harness brunt and it spread to the fender. It also blew the shocks and burnt the master brake and clutch cylinders. All the plug wires and motor mounts melted and it burnt off all the intercooler couplers. It was going to spread into the cabin if it wasn't for the fire department so big ups to them for everything!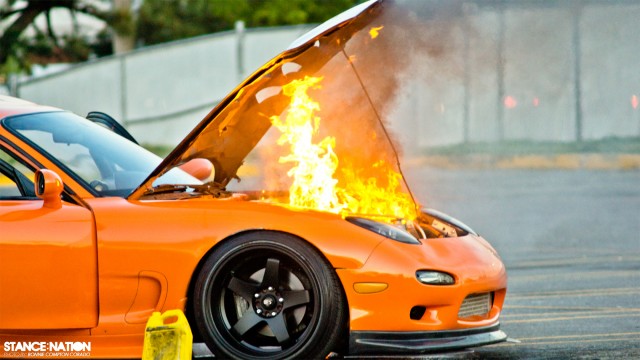 The downside to the fire department coming out and putting the fire out was that they broke his door open, tore thru his dash and literally ripped out his interior. They also broke his windshield. "It was the saddest day" Arvin tells us but he is still very thankful to the fire department…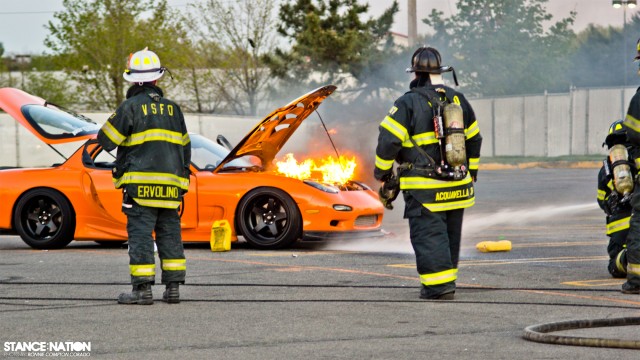 After we heard the story the first thing we asked was if the car had insurance. Well, let's just say that he didn't have everything insured. He says the car will be up and running in no later than a month hopefully, he is just deciding whether to stay with a rotary, go the 2j or LS route. Ronnie (photographer) tells us that Arvin is too attached to the car to simply move on, but in the meantime he is going to be finishing up his FC project that sits in the backyard!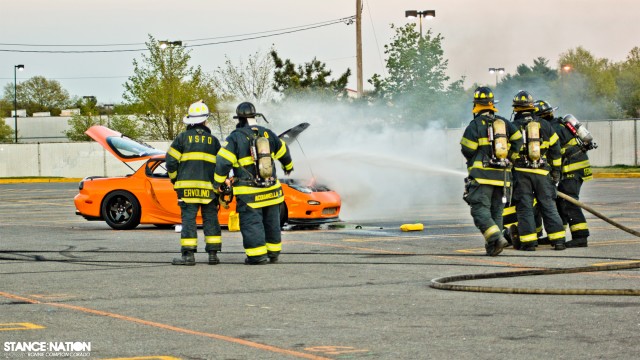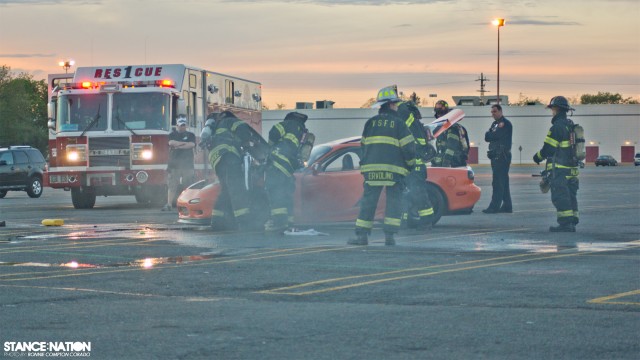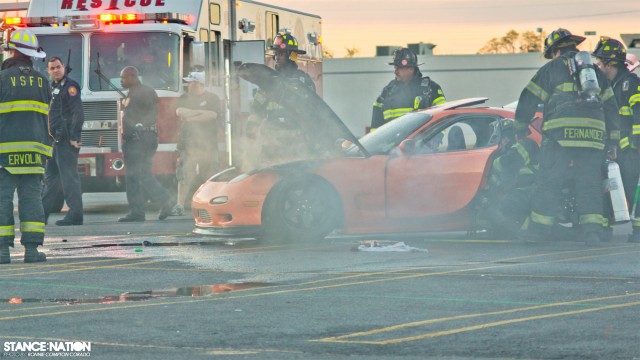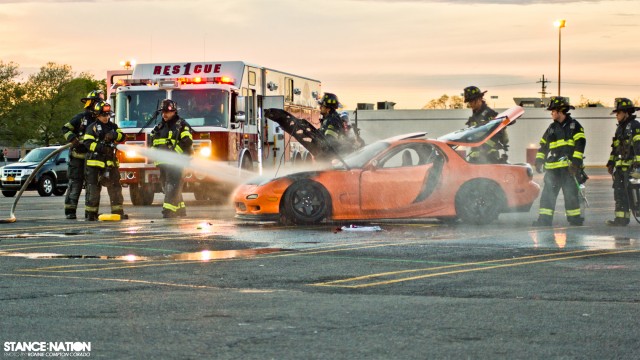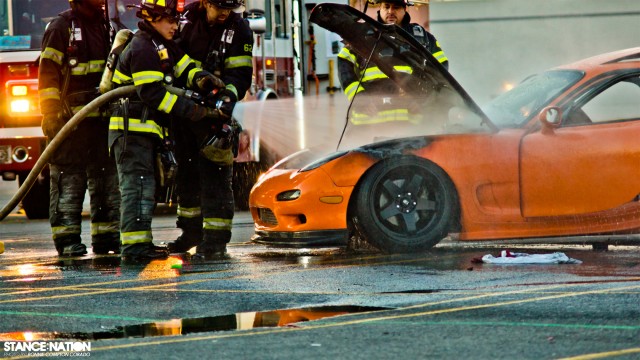 [toggle_box]
[toggle_item title="Wheels/Tires/Suspension" active="true"]18×12 (0 offset) Rota P45R3S wheels 245/40/18 Hankook tires
Twin Super Street Coilovers[/toggle_item]
[toggle_item title="Engine" active="false"]Motor:
Fully Rebuilt 13B
apex seals
side seals
corner seals
oil pump
oil injectors
rotor bearings
pineapple racing close up kit
pineapple racing large street ports
ported and polished
polished lower and upper intake manifolds
greddy custom intake
Fuel:
E-85 fuel with 1600cc injectors secondaries and primaries
KG fuel rails
aeromotive high pressure regualtor
-10 fuel lines with fittings
welded sump on gas tank with 2 -10 fittings
2 -10 lines
2 aeromotive fuel filters
2 bosh 044 in line fuel pumps.
ECU:
Apexi power fc with commander
Turbo:
garrett gt35r dual ball bearing turbo
greddy turbo manifold
tail 44mm waste gate
greddy front mount intercooler
Aluminum 3 inch piping with tail blow off valve
Drivetrain:
rebuilt 13b turbo tranny
Act 6 puck sprung clutch
heavy duty pressure plate
8lb act flywheel
Exhaust:
apexi n1 full 3 inch exhaust
3 inch electric exhaust cut out.
[/toggle_item]
[toggle_item title="Exterior" active="false"]Custom Tangerine Paint
Custom RE-Amemiya rear diffuser
Custom RE-Amemiya style headlights with projectors
Custom Front Lip with CF splitters
Veilside Sideskirts
Scoot CF Hood[/toggle_item]
[toggle_item title="Interior" active="false"]1994 Mazda RX7 R1 interior
Sparco Steering Wheel
Autometer Gauges
Custom Switch Panel
Kill Switch[/toggle_item]
[/toggle_box]