Growing up with an interest in cars, like many of us, I always had a list of cars I would love to own one day. Topping that list for me since I was a little kid and still sitting at the top today is an FD RX7. Since they first came into production in 1992, the FD rx7 was way ahead of its time in many aspects, from the motor to the exterior styling. This made it an instant classic and for so many a dream car to have in their collection. While stock, the FD was already an automotive design masterpiece, that didn't mean it couldn't be made into something even better. Well, this is exactly what Austin did with his build. He created the perfect FD from the inside out.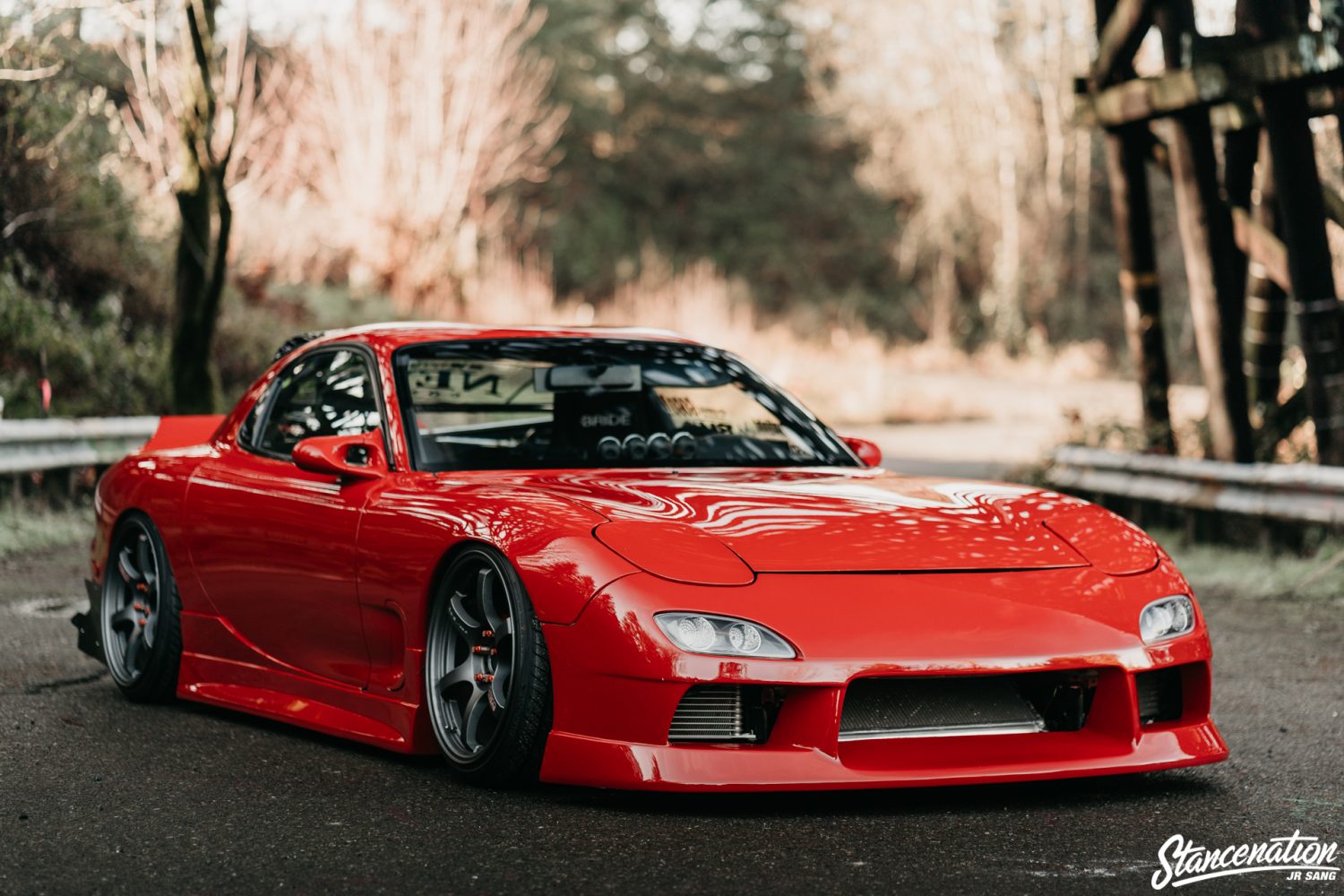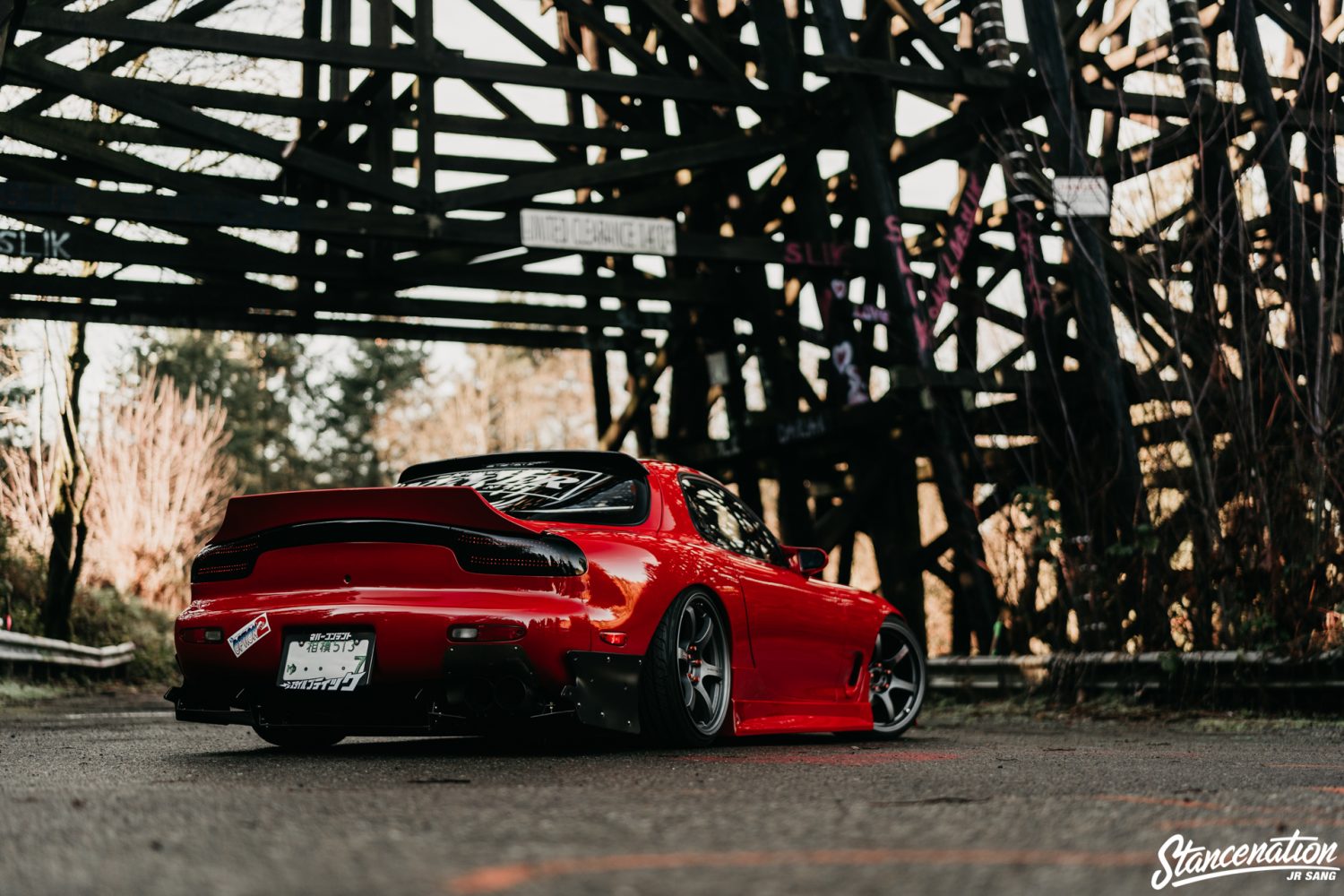 With having such a perfect base to start with, Austin had plenty of options as to what path to take his build. The final choice was, in my opinion, the the perfect route. These cars were built with such smooth yet subtle lines that gave them that futuristic super car look. Maintaining a stock body without going over the top, like many FD builds out there with bolt on wide body kits and overly aggressive wheels, was the perfect choice in my eyes. One thing about this car that grabbed my attention the first time I saw a shoot of it was that it is so simplistic yet so detailed all at the same time. The more I looked over it, the more I noticed. The first thing that drew my eyes as I was looking over the car was the M-Sports front bumper/side skirt combo. This allowed for it to maintain the look the FD is notorious for while giving it the aggressive style elements that the car needed. Hiding under the pop up headlights, he has a set of SakeBomb Garage projector headlights. Looking over the side of the car, not much needed to be changed at all to achieve the look Austin was shooting for. You'll notice one of my favorite mods to these, which are the Ganador mirrors. A subtle touch that most may never realize unless seeing a stock FD side by side would be that the stock antenna was shaved to allow the smooth curves to be unobstructed by a useless antenna. Now for the rear, where a crazy amount of attention to detail set in. The first thing on the back that instantly popped to me was the modified Rocket Bunny rear diffuser. This piece coupled with the Attain Carbon Kevlar bumper guard and modified Rocket Bunny duckbill wing set off everything. It really gave the car that OEM+ aggressive track look that many attempt, but fail to achieve. With so much eye catching work done on the outside, it was only right to have such a iconic paint code tied to the vehicle, this color being Ferrari Rosso Corsa Red.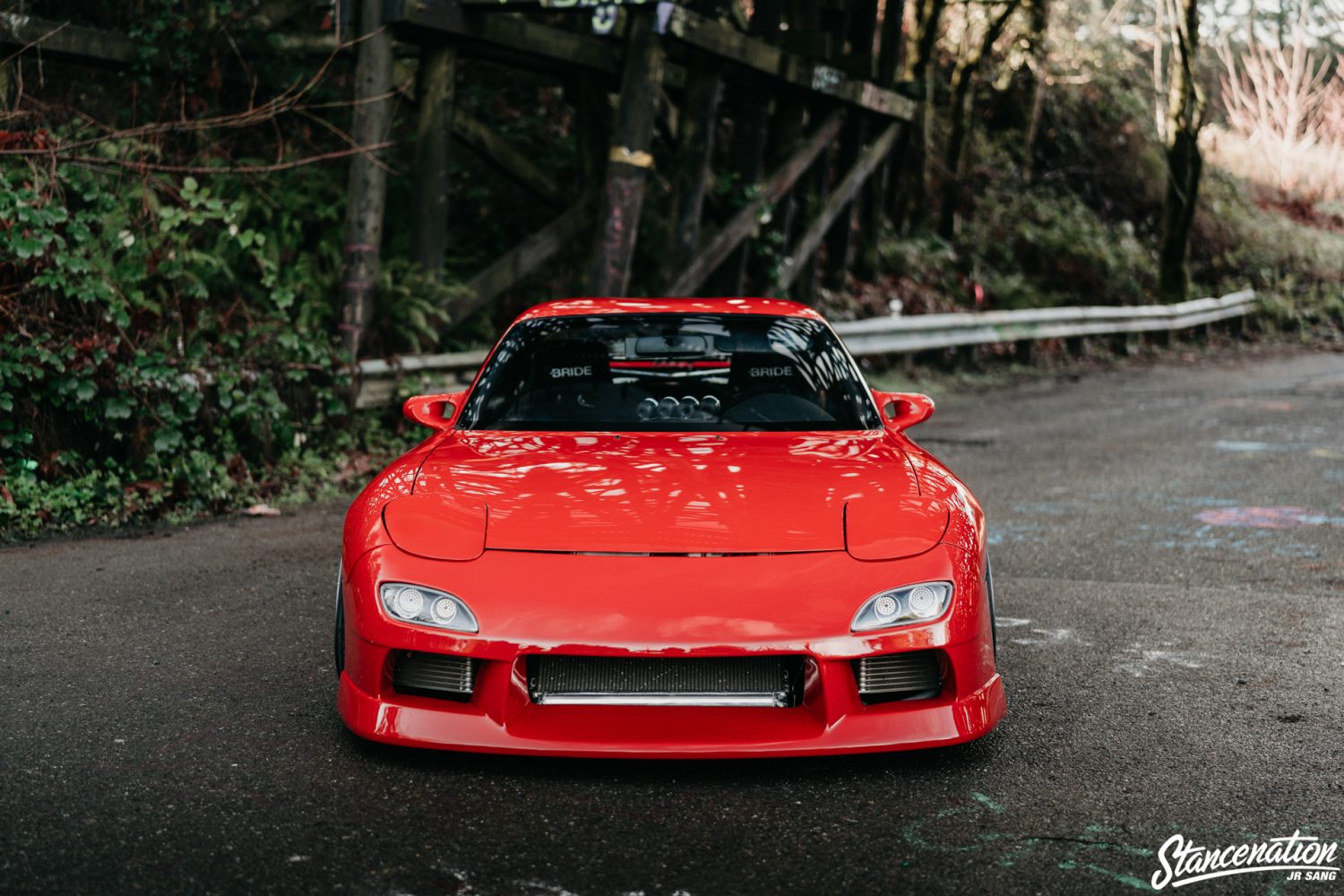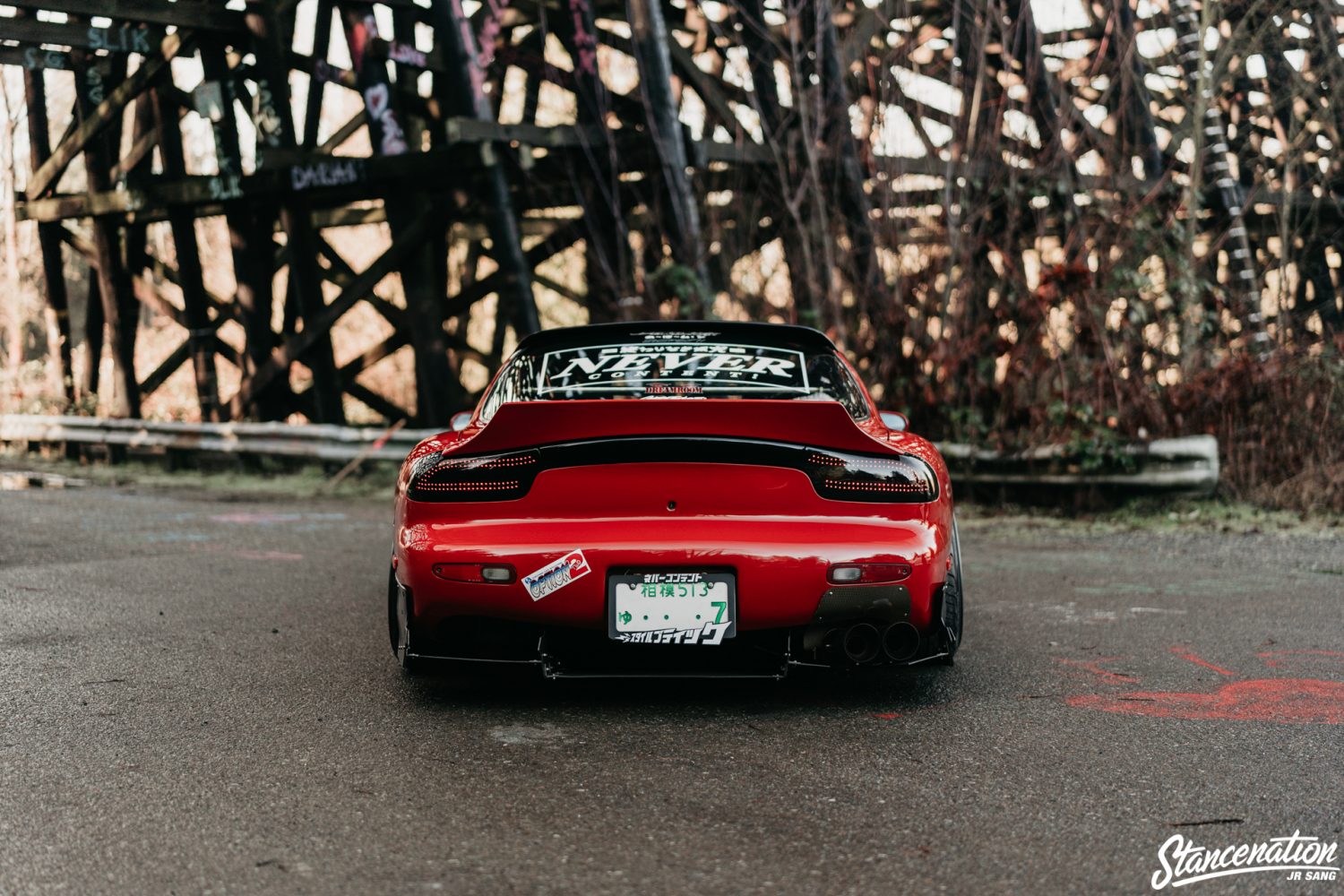 If you have read any of my previous articles you'll learn that for me what makes a car are the subtle touches and details that give the build personality. Austin had no shortage of unique details on this build. With these details, one thing that really excited me was the LED lights he has built into the vehicle. The Car Shop Glow fog lights have a circular LED layout that flowed perfectly with the original light housings without going to overboard. Looking at the tail lights, the same attention of lighting detail was applied when he installed the Car Shop Glow tails and center tail section that had an LED board lay out that flows flawlessly with the OEM light housing. This gives it a simplistic yet much needed, updated look. Even the simple placement of stickers that Austin put on the car were able to give it that perfect touch of extra personality and individuality that flow from every crevice of this build. These stickers signify more than just random slaps on a car and are all meaningful pieces he had collected from friends within the community as well as companies that he had worked side by side with over the course of this three plus year build.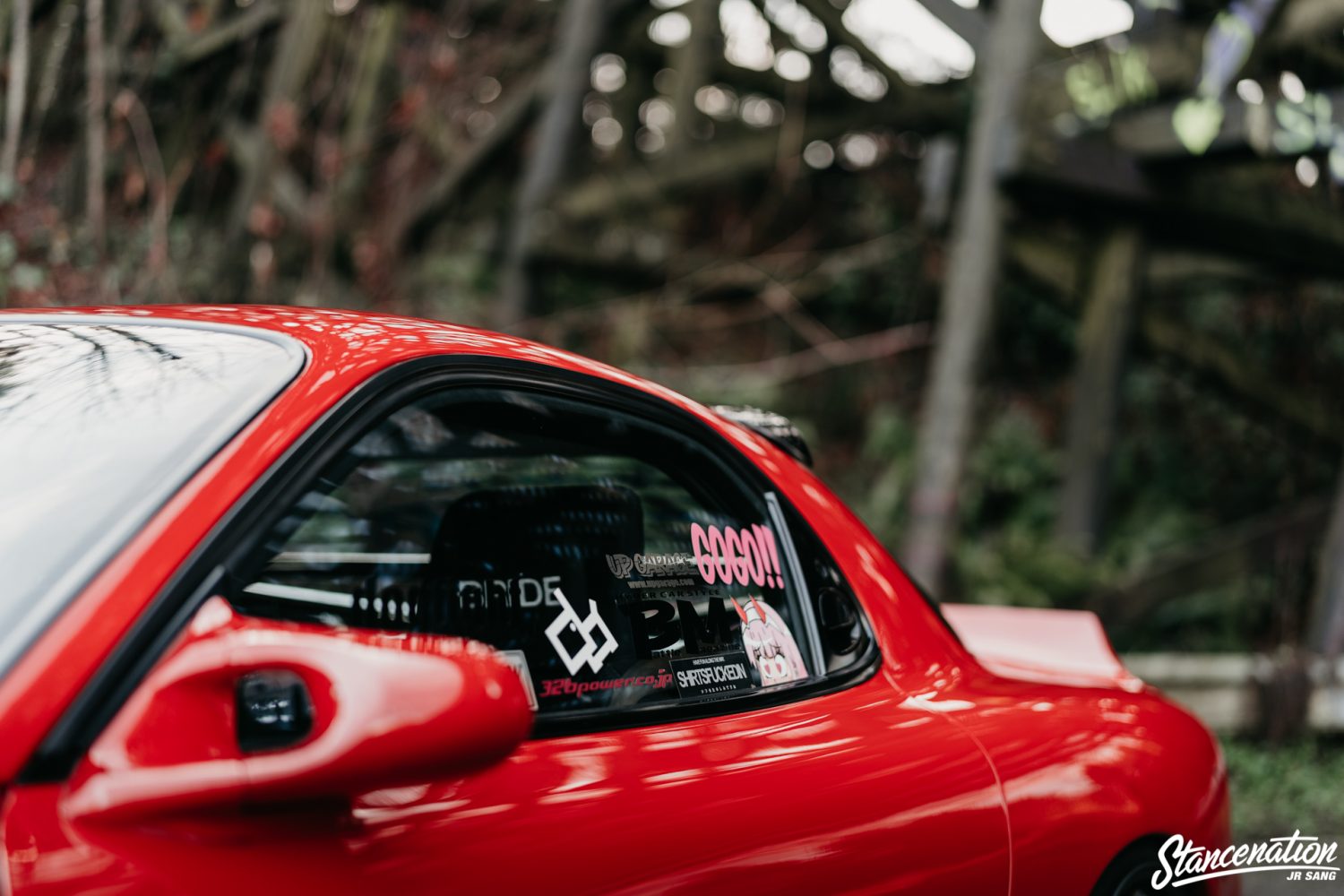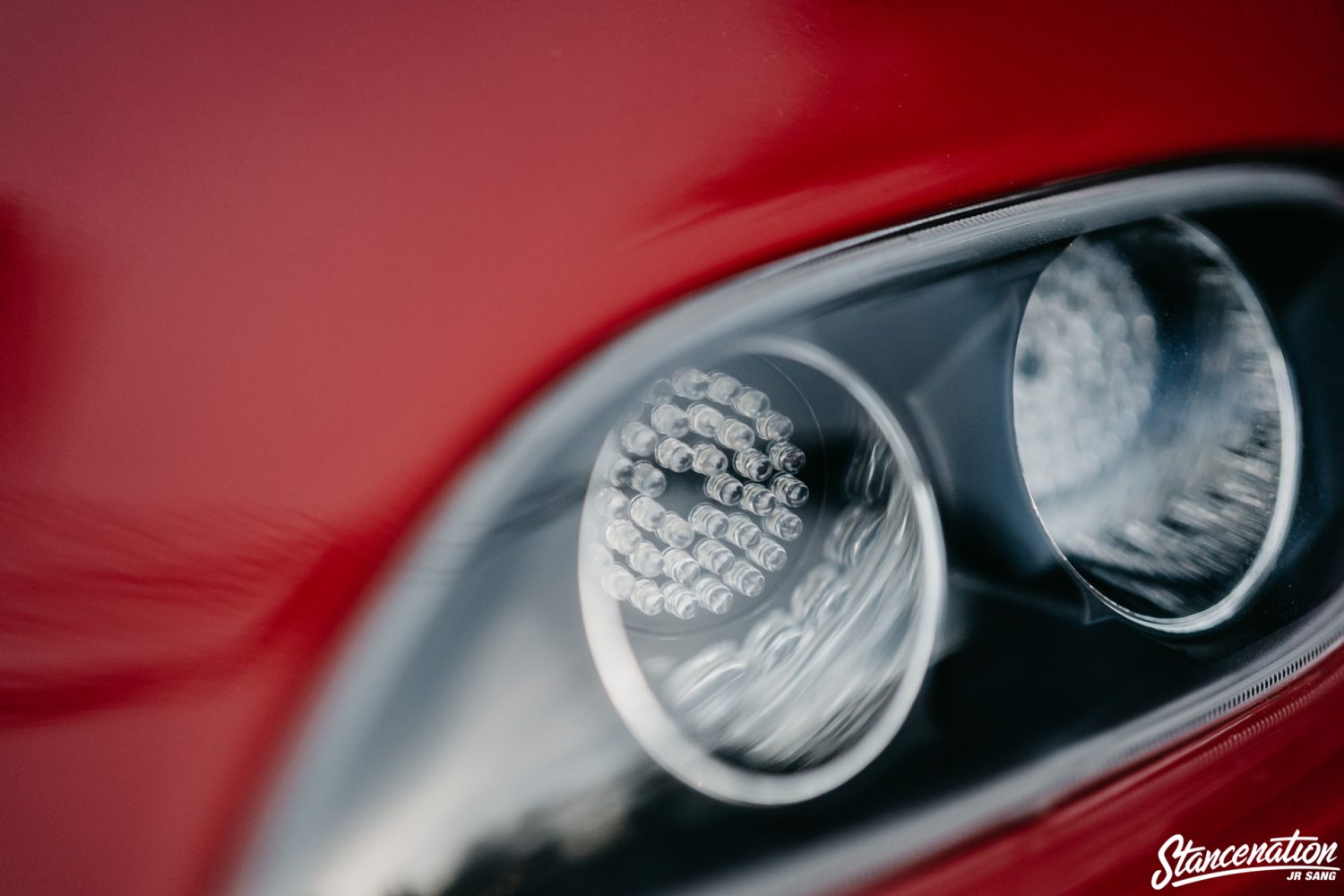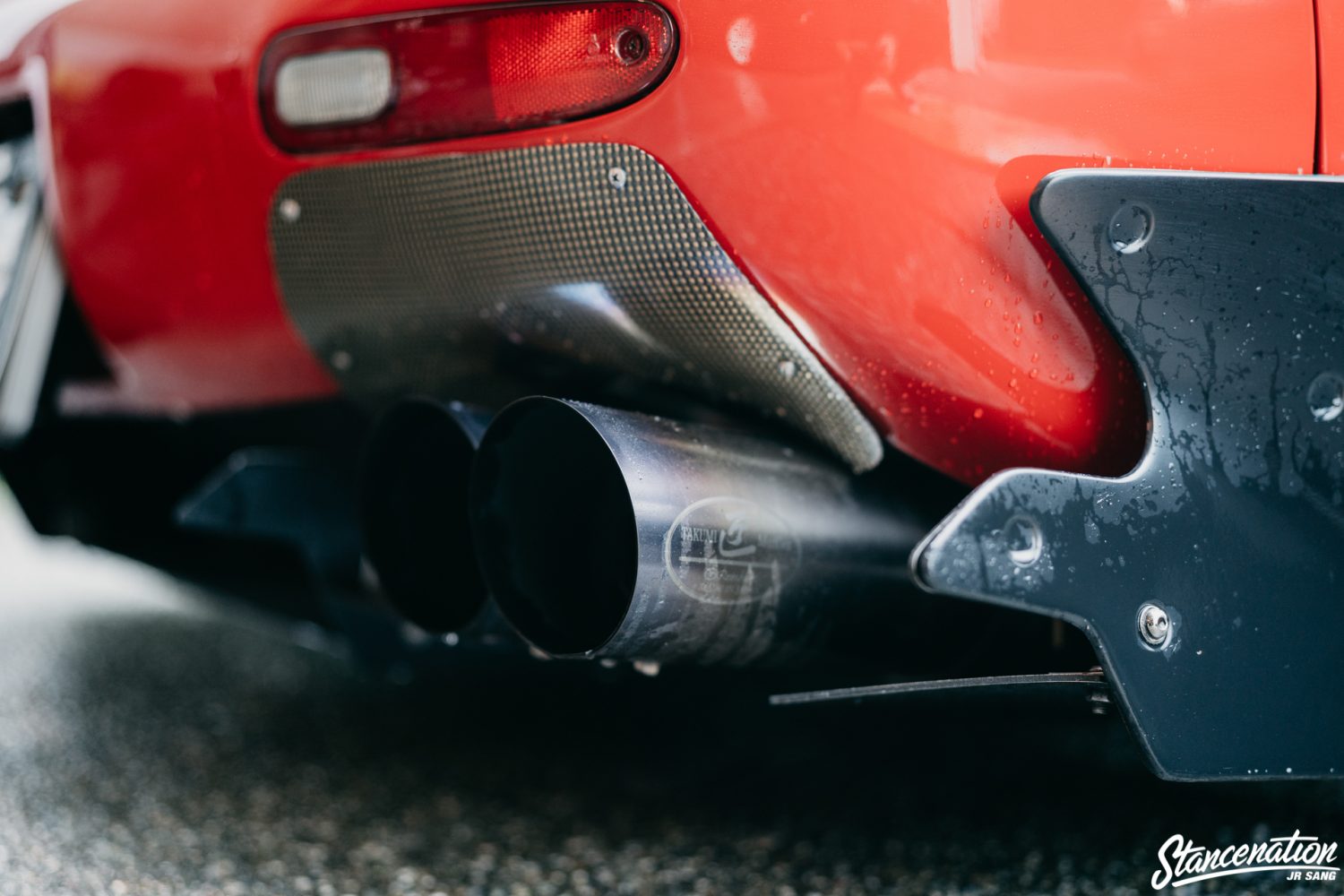 A major make it or break it with a build of this caliber comes down to wheel choice. This is one thing Austin chose perfectly. Instead of going with the current trend of big, polished lips and some crazy complex face design, he chose to keep it simple and pay homage to the FD's rich racing history. When I first saw Austin's build at its current stage, it was during a photo set in a studio where he had a set of 18×9.5 white Desmond Regamasters MP's. This setup popped like crazy with the bright red paint and with the track influenced setup. Now the Regamasters are not the only setup Austin has for the FD. He also has a set of 18×9.5 Gramlight 57DR. These really set everything off to me because they allowed for the 304mm 4 pot 326POWER Gachi Stop Brakes to show through giving that extra aggressive touch that this car delivers everywhere else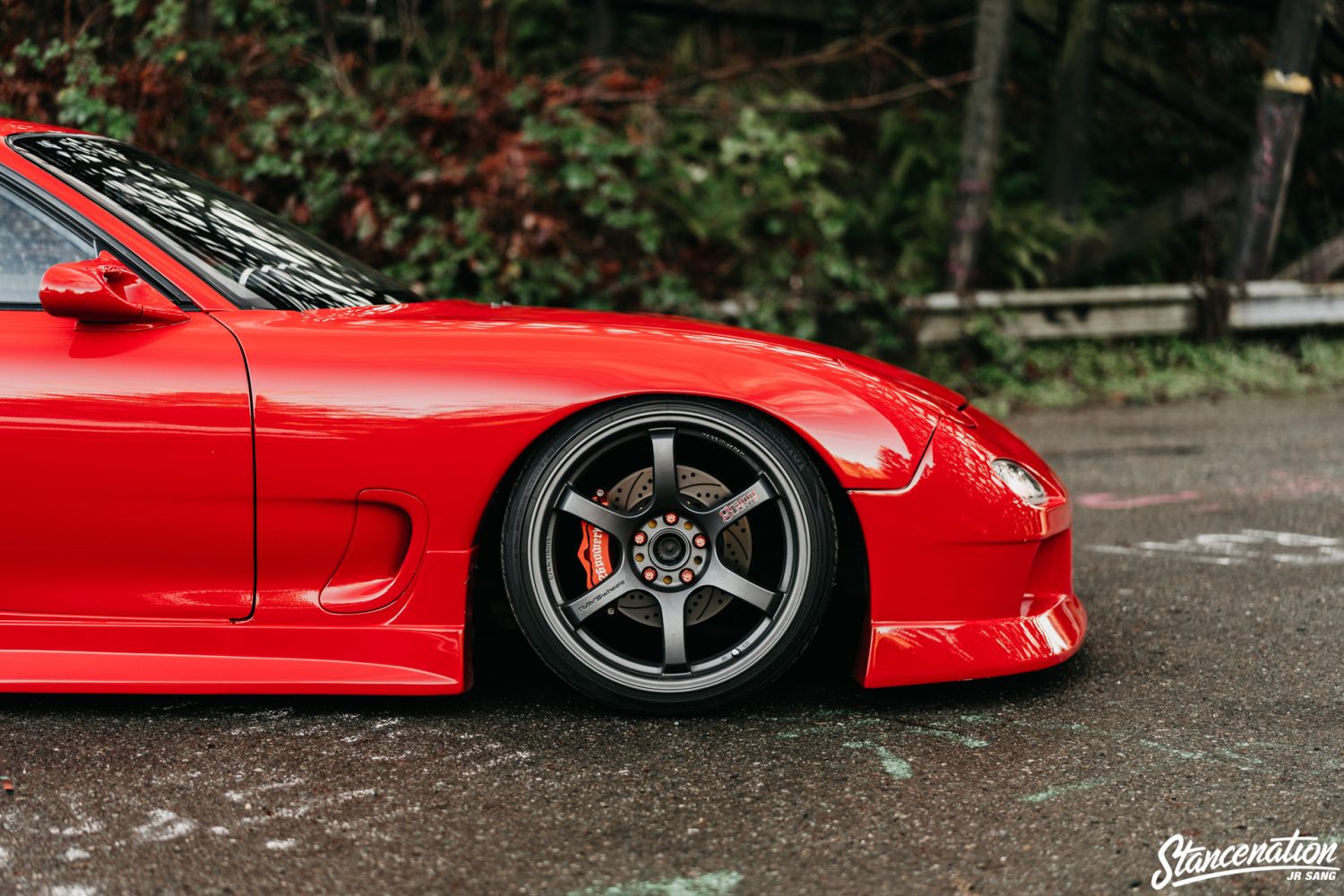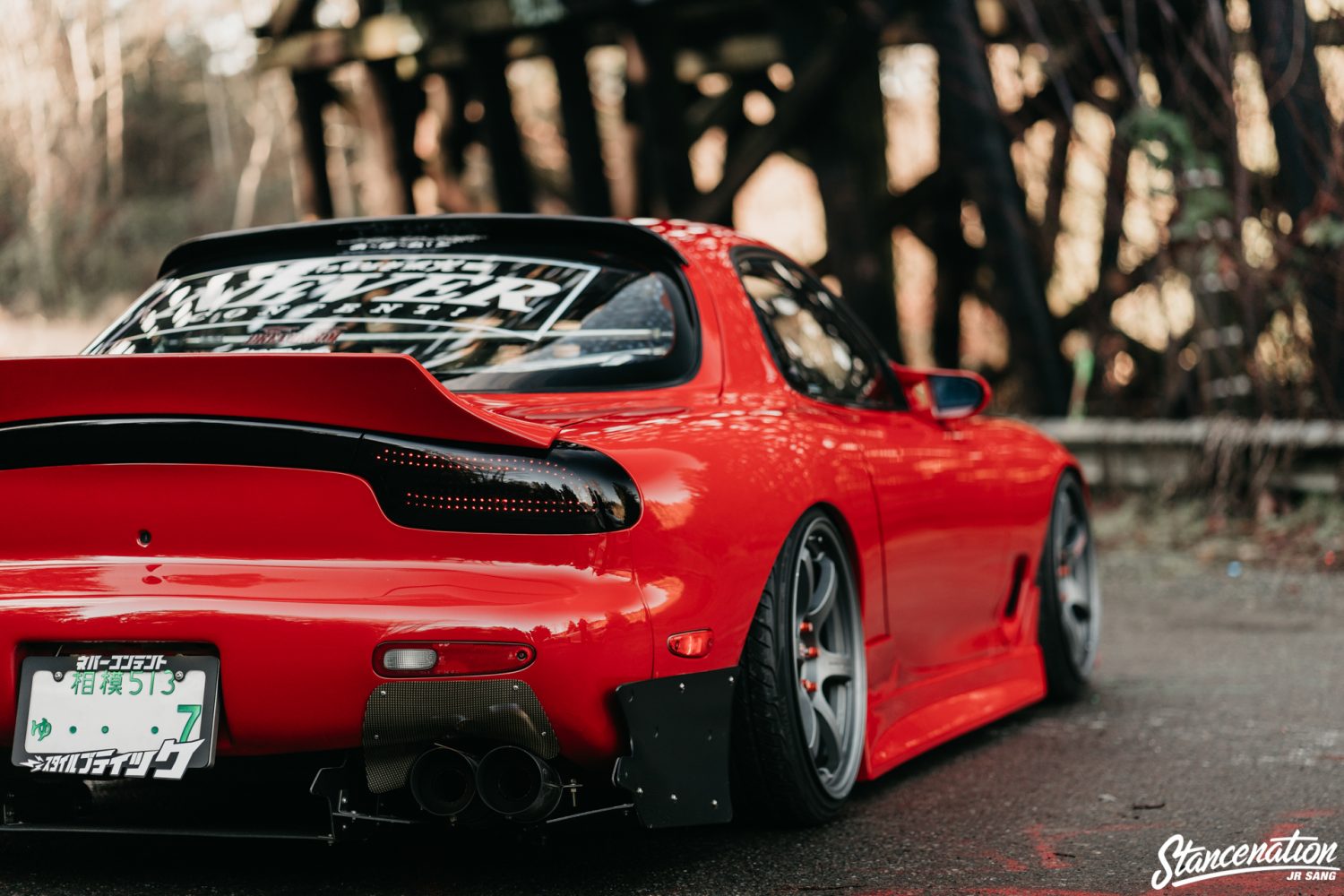 This entire build was built off of quality and top notch parts. The coilovers he chose for this build are exactly that. With so many options to choose from for this chassis, Austin chose to go with 326POWER チャクリキDAMPER Coilovers. This choice was based on the amount of customization allowed with those coils for things such as valving and spring rate. He chose to go with a aggressive spring rate of 34K F/ 24K R. This allowed for the car to stay planted at the perfect ride height while keeping the fenders and kit in perfect shape.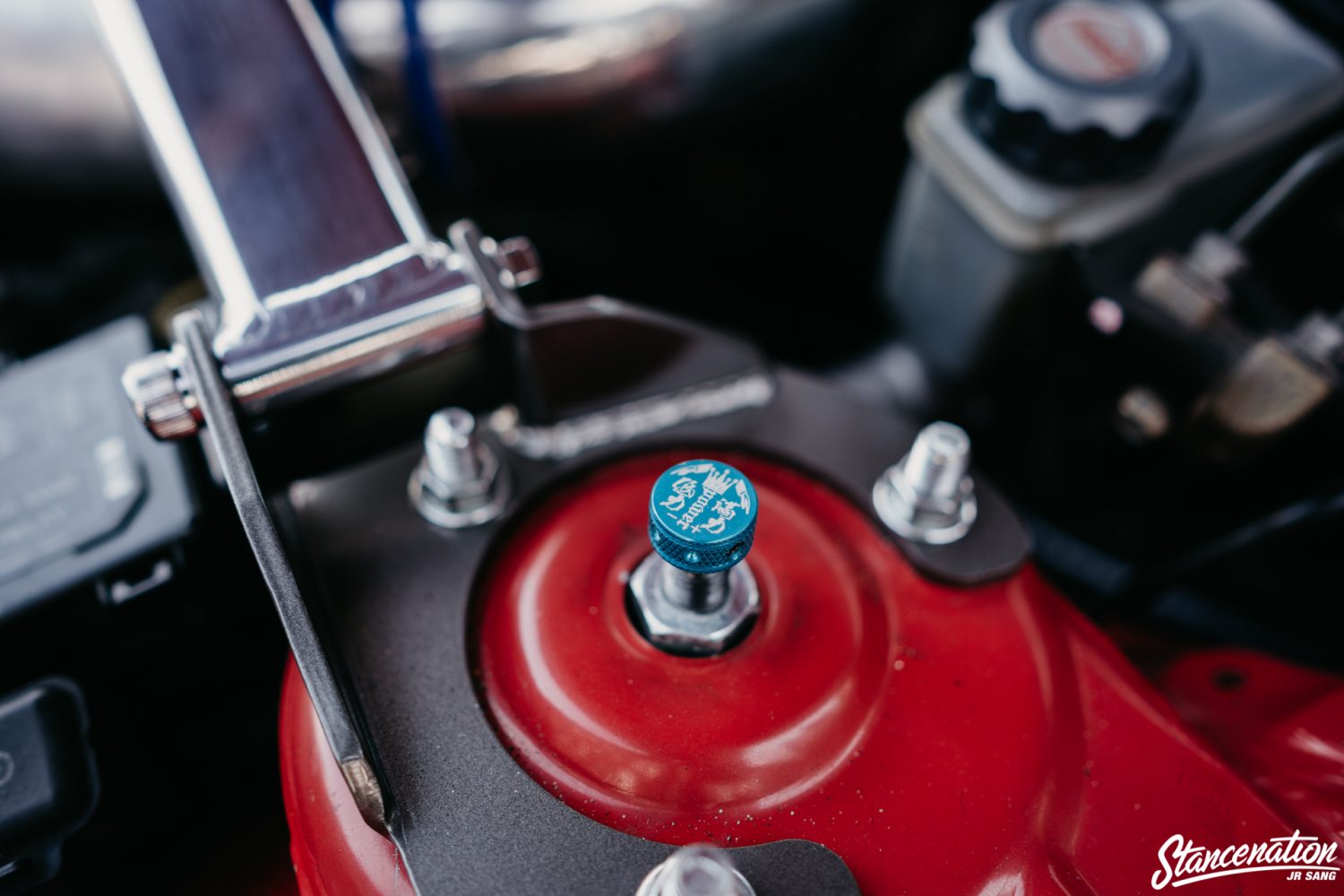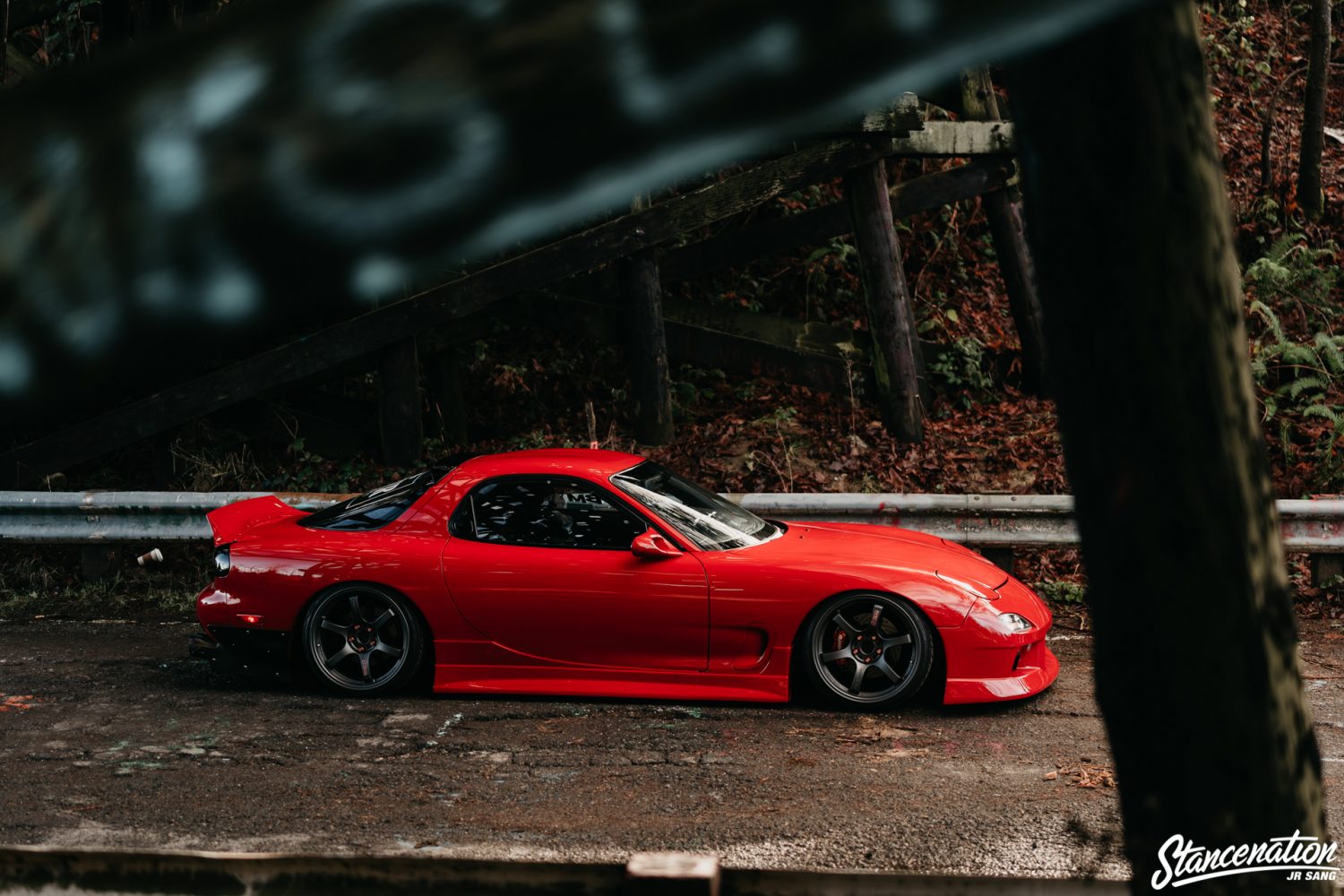 Making your way into the interior of Austin's FD, the attention to detail does not stop at all. There are so many awesome little style elements that look great yet are functional for a car that is not only style driven, but also very performance based as well. Right when you open the door, your eyes are immediately drawn to the D-shaped Key!s steering wheel with Works Bell wheel hub and quick release. Hiding behind this is the new gauge cluster that Austin installed due to the typical FD odometer failure. He replaced the stock cluster with a RE-Amemiya (RE-雨宮)Gauge Cluster that reads up to 300KHM with a working odometer to resolve this issue. This added just another nice, subtle touch that most may never notice while looking over the car. To complement the gauges even more, he installed a set of Defi Advanced BF gauges and a Defi advanced computer to allow for him to keep an eye on the essential pressures and temps of motor components. These additional gauges were a necessity due to the amount of work put into the motor as well as having the Apexi Power FC LED commander setup. With the FD built like it is, it only makes sense to have a setup that will hold you planted as you rip around whatever street/track roads you'd like. For this reason, Austin chose to go with authentic Brides. For the drivers seat, he chose to go with a Bride Zieg II that has a carbon Kevlar base and for the passenger side a Bride Zeta II with an FRP base. One piece to me that truly tied everything inside together was the installation of the Miracle Cross bar set by NEXT.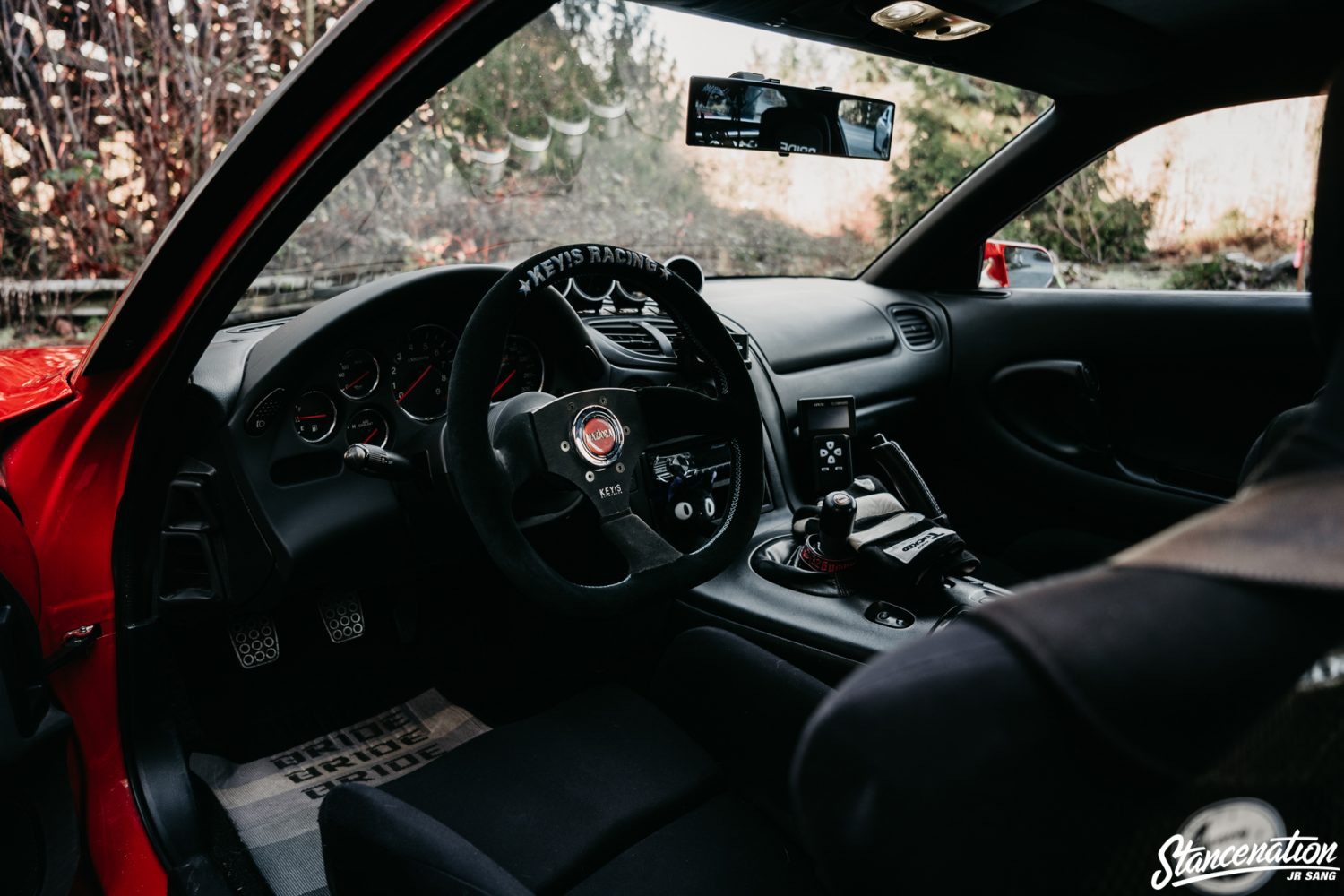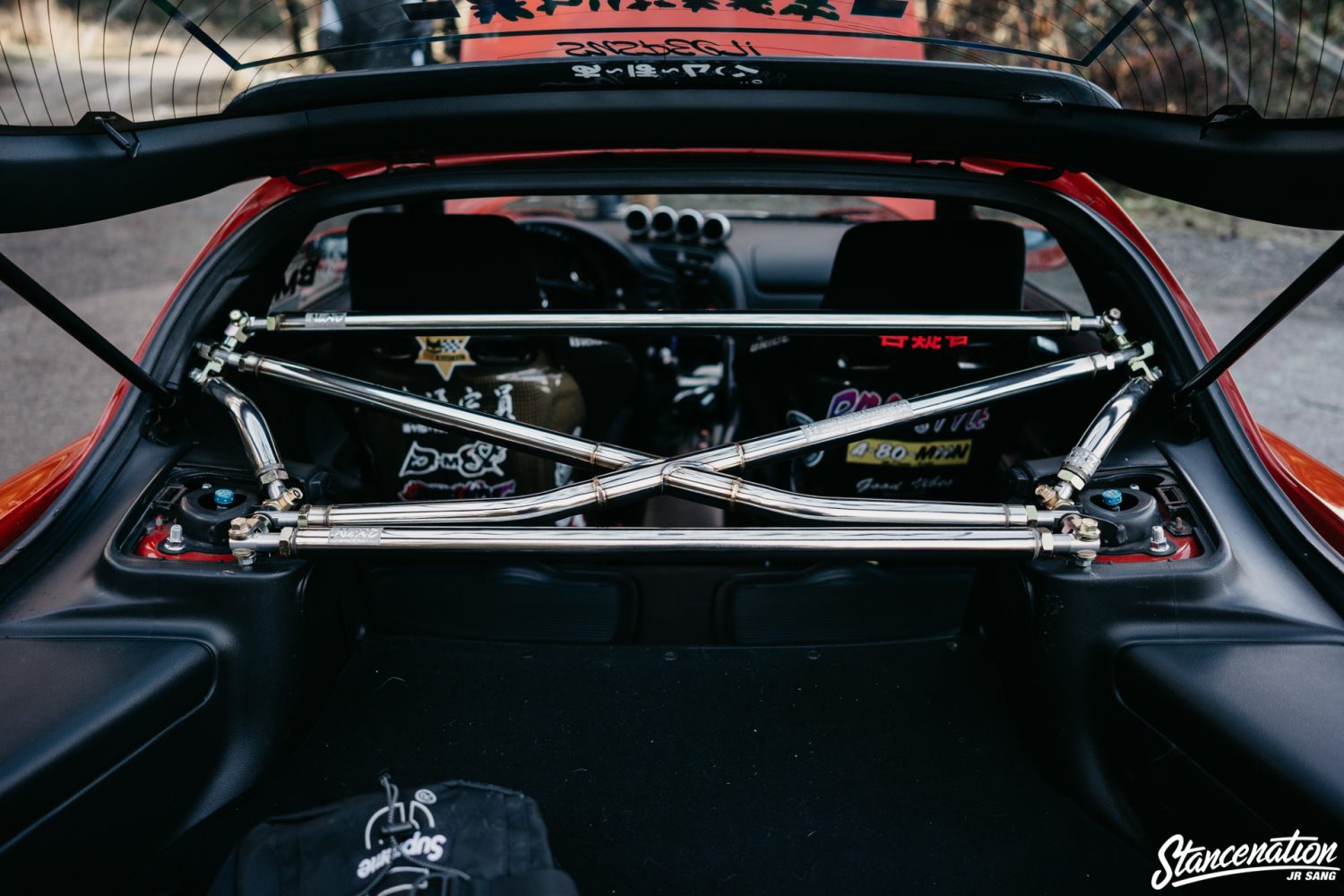 With a build of this caliber, it only makes sense that every part is top quality, and that includes the heart of this beauty, the motor. The way Austin chose to go about this, to me, made me love the car 100x more. Nowadays, with so many FD builds you see the iconic rotary removed and replaced with something that's less of a headache to work with, like an LS, 2jz, etc. This is awesome, of course, but for me the rotary truly made the FD rx7 the iconic car it is today. With that being said, he was not going to leave this motor untouched. He chose to have his 13B-REW completely rebuilt. Attached to this freshly rebuilt motor he chose a set of Revolution turbos allowing much more power. Coupled with the upgraded twins, he chose a pair of Thrust dual air filters giving this setup plenty of air flow. Additionally, he installed a slew of RE-Amemiya parts, SUPER NOW large diameter pulley set, HKS oil cooler, Revolution fans, FEED throttle elbow, and of course, his Apexi Power FC to tune this setup to perfection. With so many upgrades, it's only right he setup the exhaust so that the legendary rotary exhaust notes can be heard with all their glory. For this reason, he chose a RE-Amemiya down pipe mated to a R-Magic comp spec mid pipe ending with a semi titanium Reinhard circuit exhaust. Out of all the mods done to Austin's FD, to me, the most exciting part was all of this work. Maintaining this motor and building it to a powerful street car that just looks perfect was the cherry on top.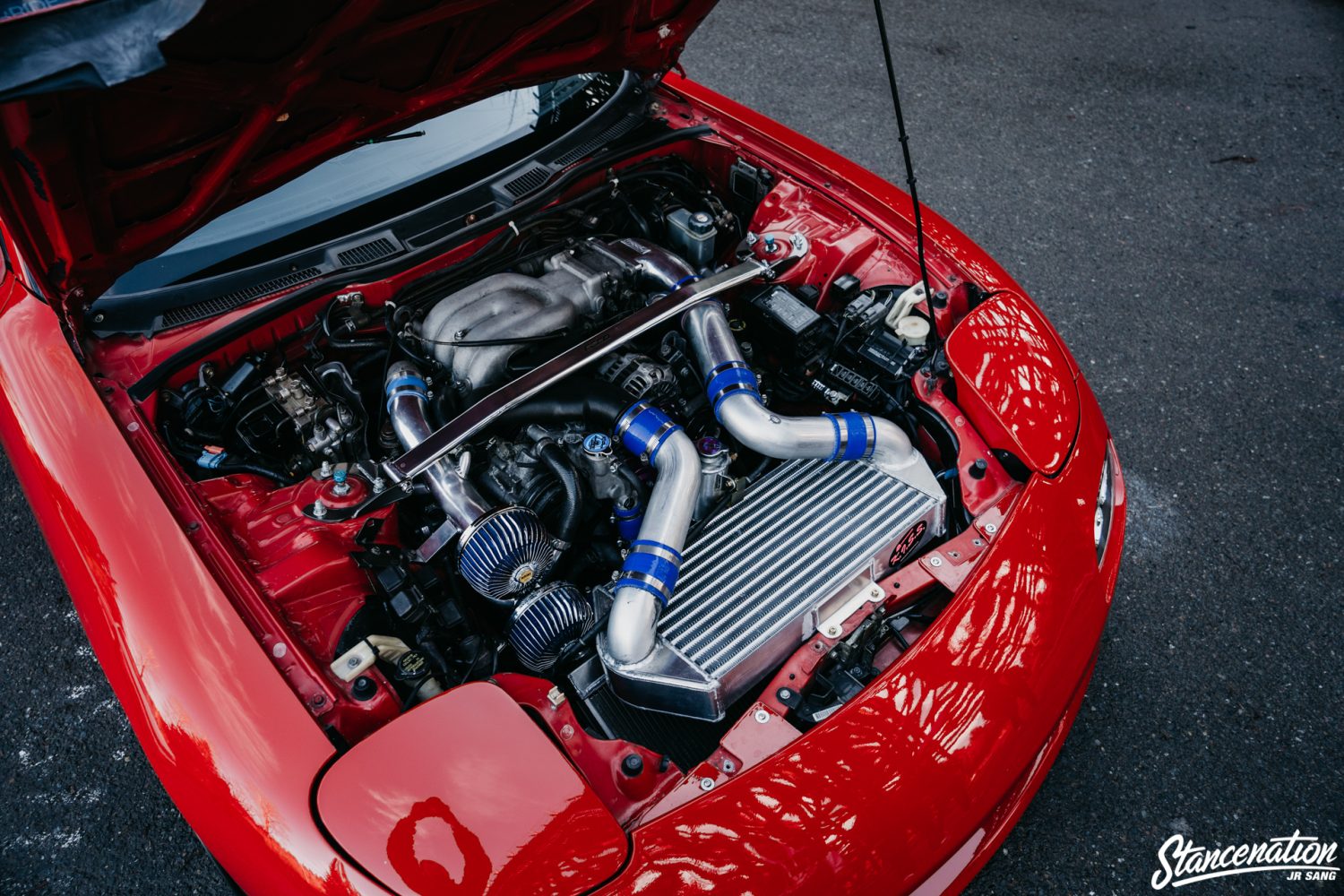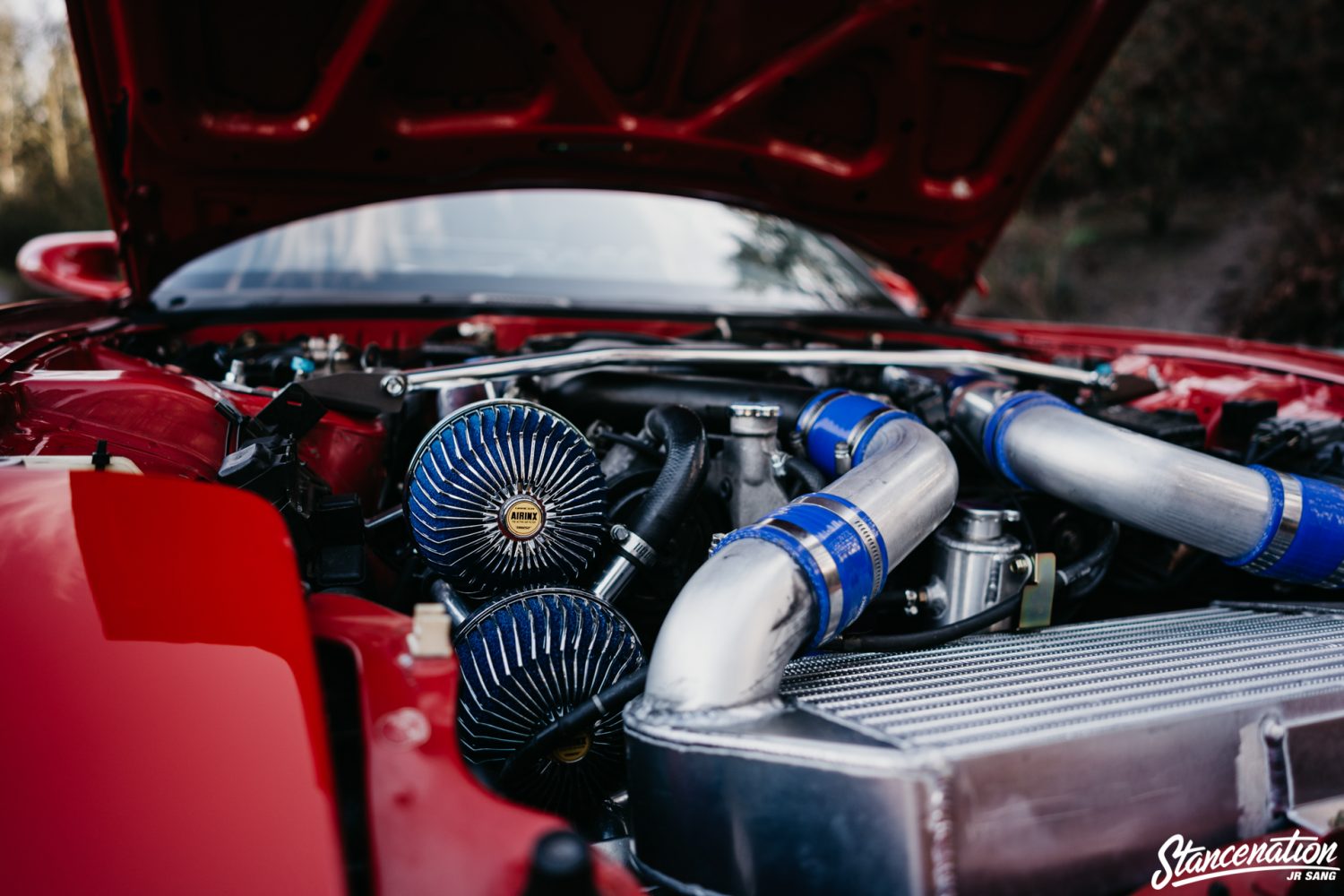 Seeing the love Austin put into this build and his drive to keep the rotary heart beating truly makes this an exciting build to follow. I've always found myself draw to FD's, and seeing the passion behind this build just made my love for them even stronger. This is one car that I am excited to watch continue to progress and to see Austin's vision of the perfect FD come into its final form.