In the stance oriented car scene, it is common to see a variety of different types of cars (Subaru's included) sitting extremely low, hunkered down on a set of super wide wheels, with undersized and stretched tires, that rub almost constantly even when gliding over perfectly smooth roads. In my opinion, there is nothing wrong with that! I personally love the over the top fitment, that breaks necks and causes normal people to shake their heads in disbelief. But I also know that a large portion of our viewers feel the opposite way, especially with a performance based platform like the Subaru WRX STI. Well, if there ever was a perfect combination of unhindered performance, style, and fitment, I would eagerly suggest Matt Tomczek's 2007 STI to be the exemplar model for it.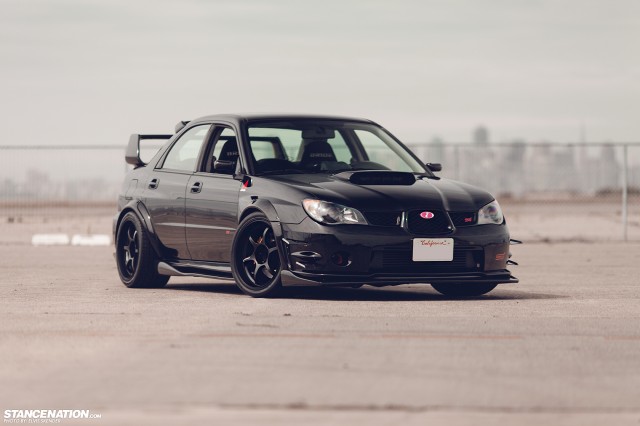 Matt recalls playing Gran Turismo on the original Playstation, and after using both the STI and Evo in the game, they both quickly rose to the top of his dream car list. Well, in 2007 he was able to make his dream come true in the form of the brand spankin' new 2007 Subaru WRX STI that you see before you.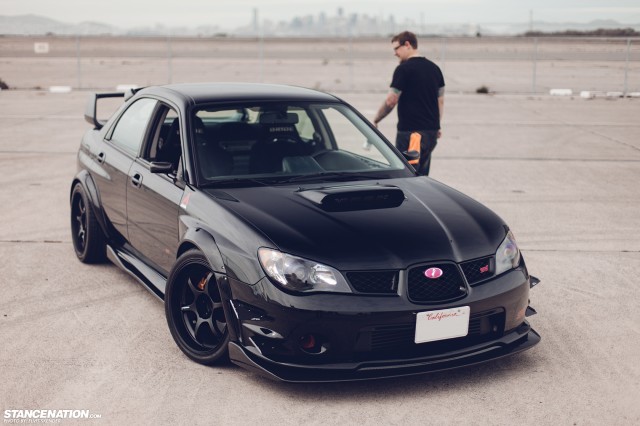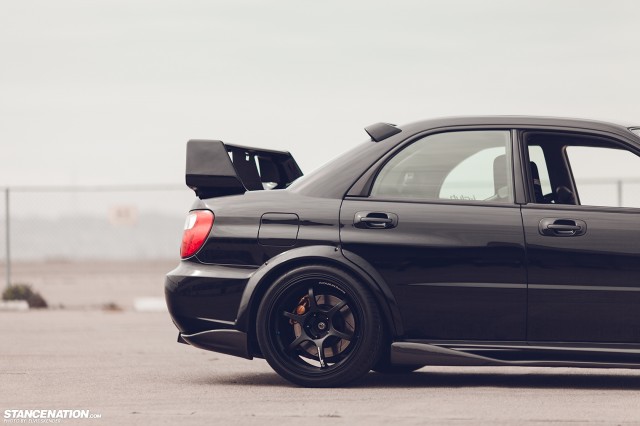 Stock off the lot, the STI boasts an impressive 293hp, delivered from a 2.5 liter flat 4 boxer, connected to a 6 speed manual transmission. Well, Matt wasn't satisfied with the stock specs, and over the 6 years of ownership he has transformed his Subaru into a monster, pushing 422hp to the wheels. The spec list under the hood is insane; everything has been upgraded, from the pistons, to the turbo, fuel system, and drivetrain.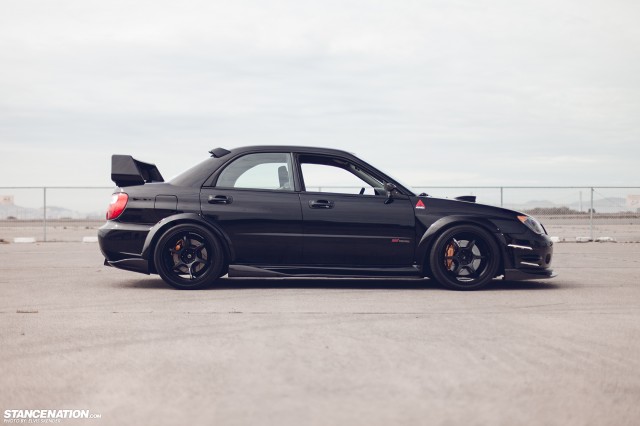 Matt built up the STI's block with CP 100mm pistons and Darton Big Boy sleeves, to ensure that the added power from an Element Tuning GT52 turbo would not cause any (more) issues in the future. Clean air is routed through a custom 3" short ram intake, and is cooled via a Turbo XS front mount intercooler. As for exhaust, Matt went with an Invidia catless downpipe, Tomei EL headers, and a Tomei full titanium exhaust. There is much, much more, so check out the full spec list down below to get the full scoop!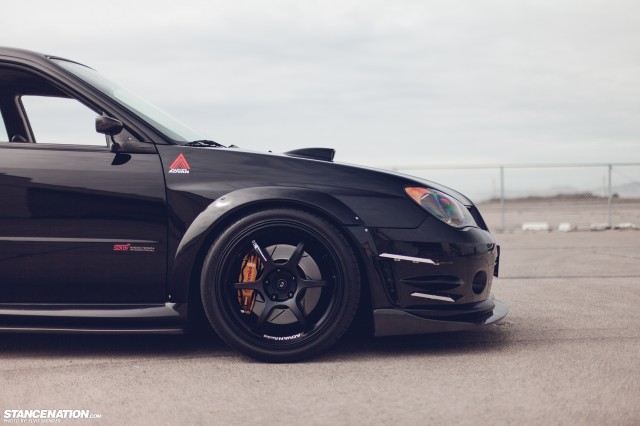 To upgrade the already incredible handling of the STI, a set of Tein Flex coilovers were selected, and Cusco braces were installed all around to stiffen the chassis. Matt also upgraded the brakes with a set of Girodisc slotted rotors front and rear, with Hawk HP-Plus pads.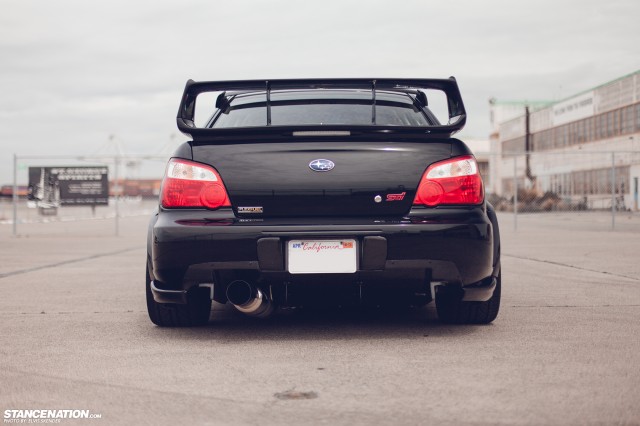 When it comes to wheels and fitment, the choice was made and a set of Advan RG-D wheels were picked up, sized at 18×10.5 all around, with an offset of +10. There is no lack of tire contact on this Subie; Matt wrapped the Advans in Hankook Ventus Evo tires, sized all around at 295/30/18!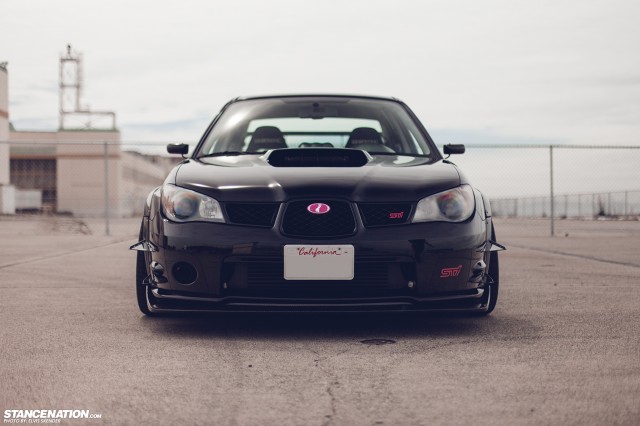 The exterior of this STI is menacing, all black everything, with lots of carbon fiber. For aero, Matt went with the Chargespeed Bottomline 2 lip kit, a Seibon front lip, and a HKS/Kansai carbon fiber rear diffuser, and to house those massive Advans, a set of Karlton fender flares were bolted on. Carrying out the carbon theme, a pair of APR GT mirrors were chosen, along with APR canards, a rear window wing, and a Carbing rear plate housing, all in matching carbon fiber.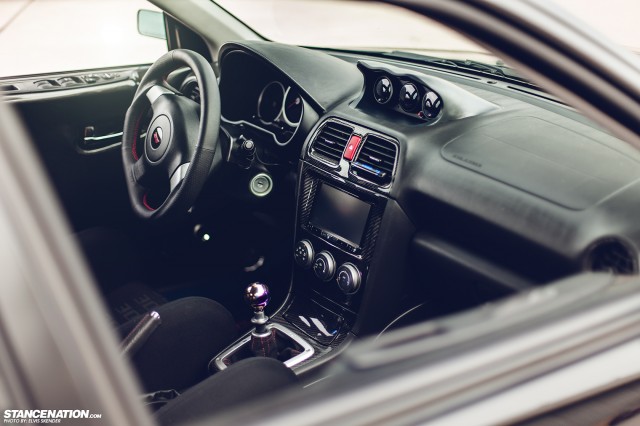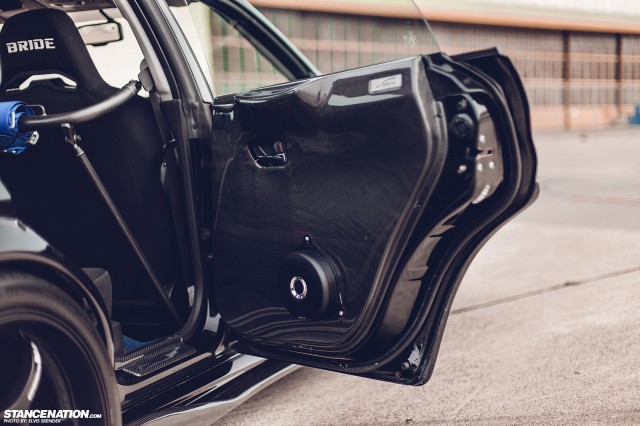 The carbon theme is carried on throughout the interior as well, with Werkshop carbon vent rings and center console, and most noticeably with the Arai Motorsport carbon fiber door cards, which are in fact the only left hand drive set ever made… talk about rare! A pair of Bride Brix II front seats are matched with a set of Bride rear seats, and a Sparco harness bar and harnesses keep Matt and his passenger firmly in place.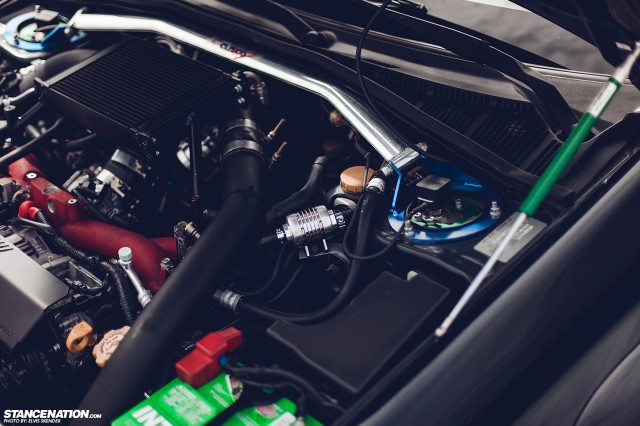 Matt has transformed his Subaru from an ordinary STI, to everything that a modified Subaru should be; incredible performance, menacing attention grabbing exterior, and on point handling. The car isn't so low that it is undrivable, yet it still has a muscular meaty stance; style without taking away from performance. In order to truly appreciate this STI for what it is, you really have to take a look at the spec list, so you can get the full scope of how much work went into it. So I hope you will all take a look at the specifications below, and as always, let us know what you think!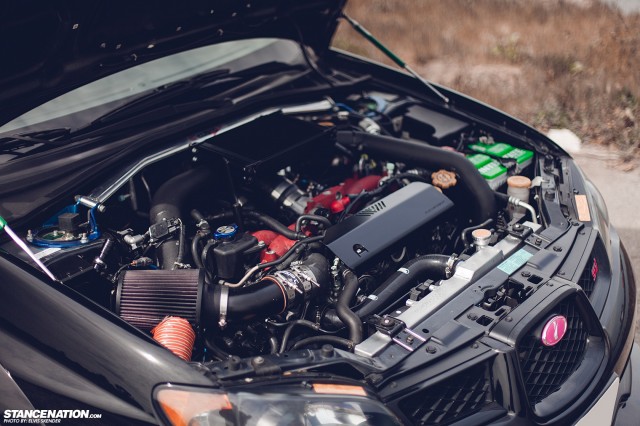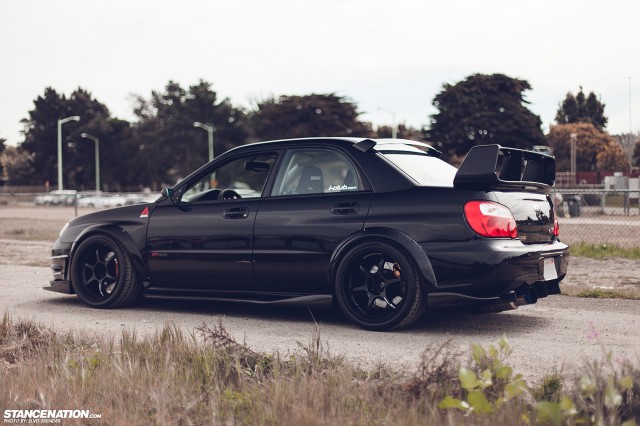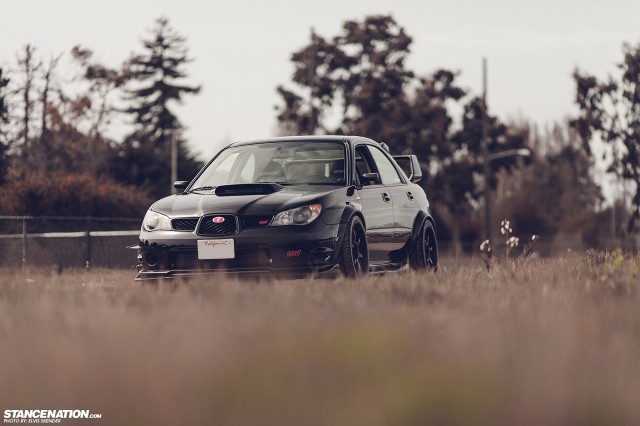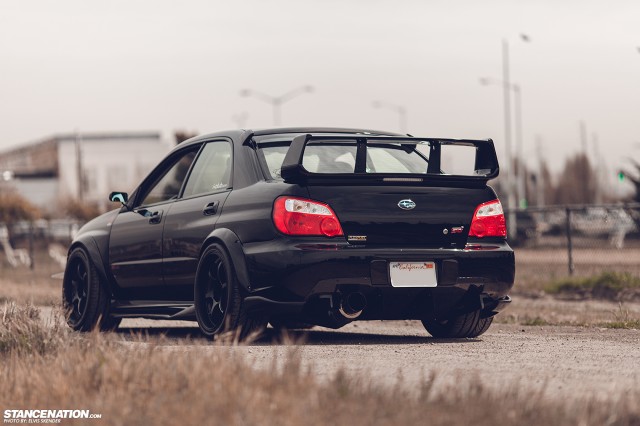 Wheels/Tires/Suspension
Suspension:
Tein Flex coilovers
Tein EDFC
Cobb 24mm rear sway bar
Kartboy rear end links
Cusco rear strut bar
Cusco lower H brace
Cusco front strut bar
Cusco rear V-brace
Ingalls camber bolts (rear)
Wheels/Brakes:
Advan RG-D 18×10.5 +10
Hankook Ventus Evo 295/30/18
Girodisc slotted rotors front and rear
Girodisc titanium brake shims
Hawk HP-Plus Pads
Exterior
Chargespeed Bottomline 2 kit (sides and rear carbon fiber)
Seibon carbon front lip
Carbing Carbon Fiber rear plate housing
Perrin wing stiffies
Carbon fiber rear window wing
Karlton Fender Flares
HKS/Kansai Carbon Fiber rear diffuser
APR Carbon GT Mirrors
APR Carbon canards
Blacked out headlights
JDM 04/05 Tail Lights
Interior
Bride Brix II seats and rails
Bride rear seat
Arai Motorsport Carbon Fiber door cards. (Only LHD set ever made)
Carbon Fiber door sills
Werkshop Carbon Fiber center console
Werkshop Carbon Fiber vent rings
JDM Red Hazard button
Sparco 3" 4 point harnesses
Sparco Harness Bar
STI black floormats
Prosport Boost Gauge
Prosport Oil Pressure Gauge
Innovate Motorsports Wideband AFR
Blox Iridium 16oz shift knob
JPM Coachworks Alcantara shift boot
JDM DAMD D-Shaped Steering Wheel
Pioneer AVH-P8400BH Touch Screen Head Unit
Polk 5.25″ 2 way coaxial speakers front and rear
Engine
Element Tuning GT52 turbo
Injector Dynamics 2000cc Injectors
CP 100mm pistons
ACL rod bearings
Manley I beam rods
Darton Big Boy sleeves
LIC Motorsports adjustable idler pulleys
Killer B oil pickup
ARP head studs
Perrin 2.4" turbo inlet
Perrin 4bar MAP sensor
Turbo XS FMIC
Tial 50mm BOV
EQ TGV Deletes
EQ Baffled Air/Oil catch can
EQ Blow through maf setup
EQ Air Pump Block Off Plates
Hallman MBC
Custom short ram 3″ Intake
Aeromotive Fuel Pump (E85 Compliant)
Golan in-line fuel filter (E85 Compliant)
Cobb AP v2.0
Tomei EL Headers
Invidia Catless DP
Tomei Full Titanium exhaust
Cosworth Billet timing belt guide
Killer B alternator cover
Killer B radiator shroud
B-Line Motorsports top mount oil cooler
Koyo Aluminum Radiator
E85 Speed Density full tune
Drivetrain:
RPS Street Max clutch
ACT Street Lite flywheel
STI Short Shifter linkage
Kartboy Short Shifter
Kartboy Shifter bushing kit (front and rear)
STI Group N engine mounts
STI Group N transmission mount
Whiteline Steering Rack Bushings
Whiteline Rear Differential Bushings
Beatrush Pitch Stop Mount
Cusco Master Cylinder Brace