In the year 2018, standing out (in most cases) means offending people. As you gain exposure, you will eventually come across someone or even an entire group that does not necessarily see eye to eye with your ideas or vision. This usually begets negative social commentary and back-and-forths but sometimes the person can handle the plethora of people and diversity in opinions with social grace. ART as he's known on Instagram, has found a way to stand out and still thrive in this niche he has carved out within his little corner of life.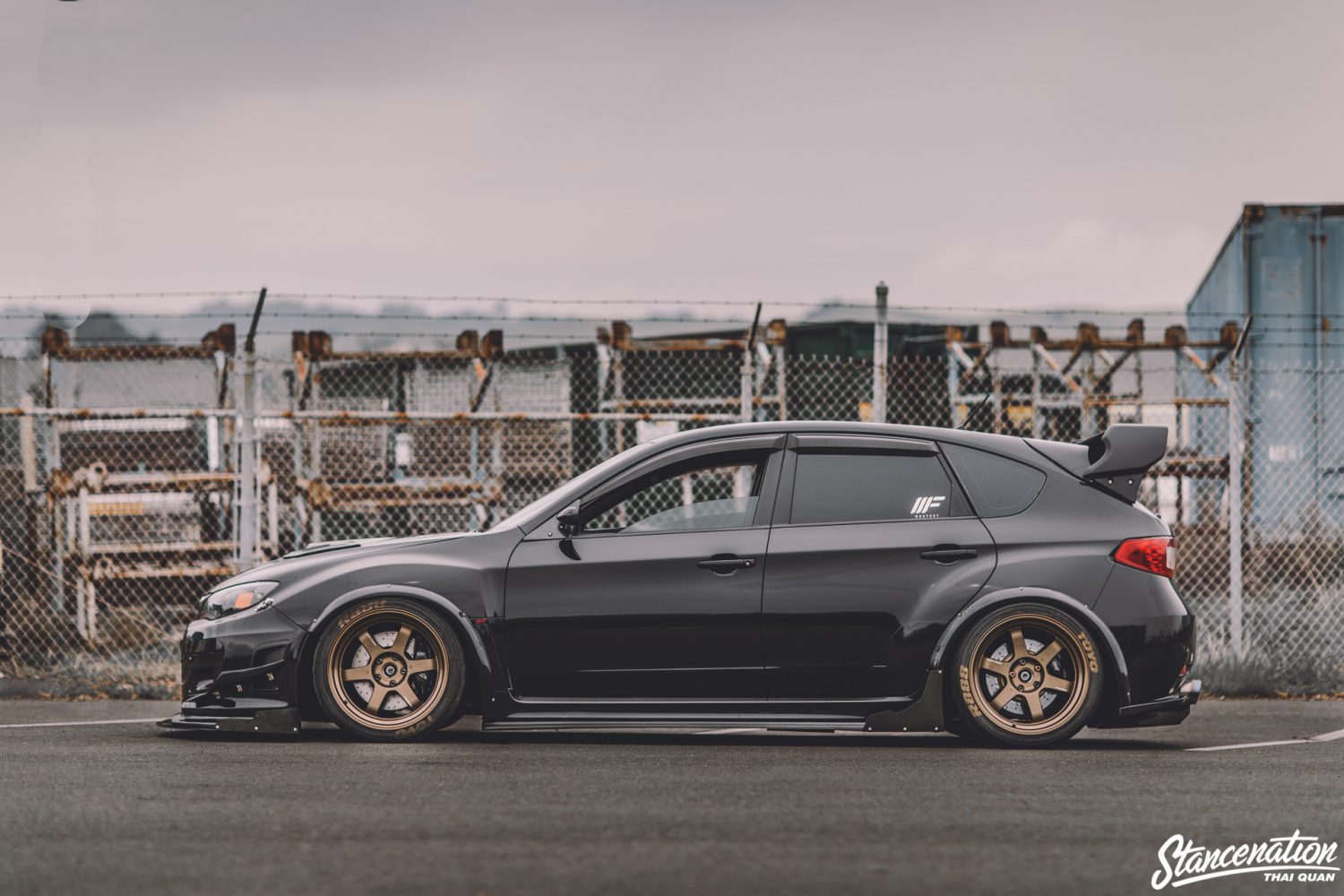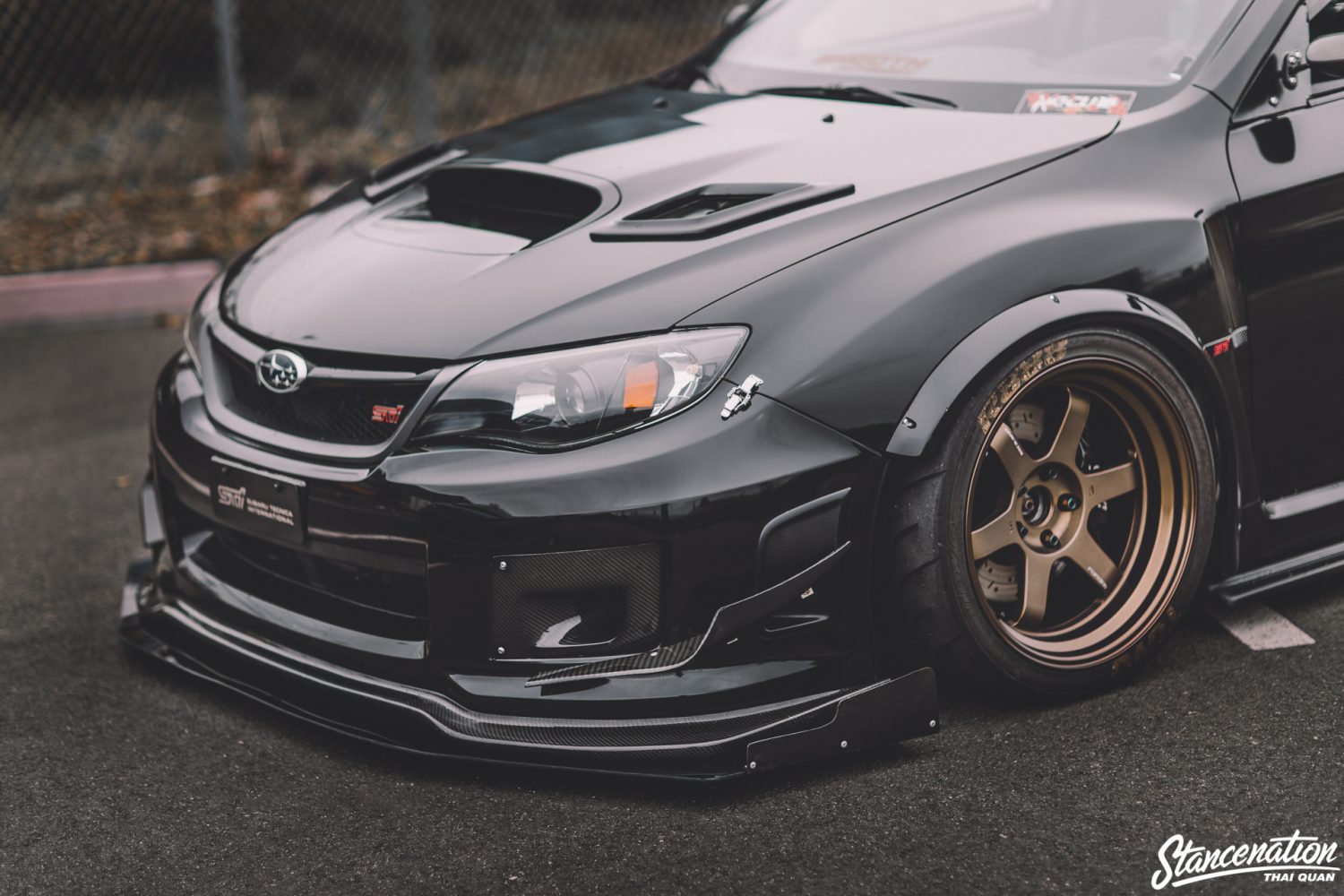 ART aka Thai Quan, hails from the Bay Area of Northern California, and has owned this Subaru for the past 5 years. Its' predecessor was a 2004 Bugeye WRX before that, as the Bugeye WRX drew him in, it would be the STI that kept him, and so far his love for Subaru holds true. Just like how the Subaru community seemingly grew and expanded overnight, Art feels the same way about his love for the stance "scene" and the rapidity of how they accepted him.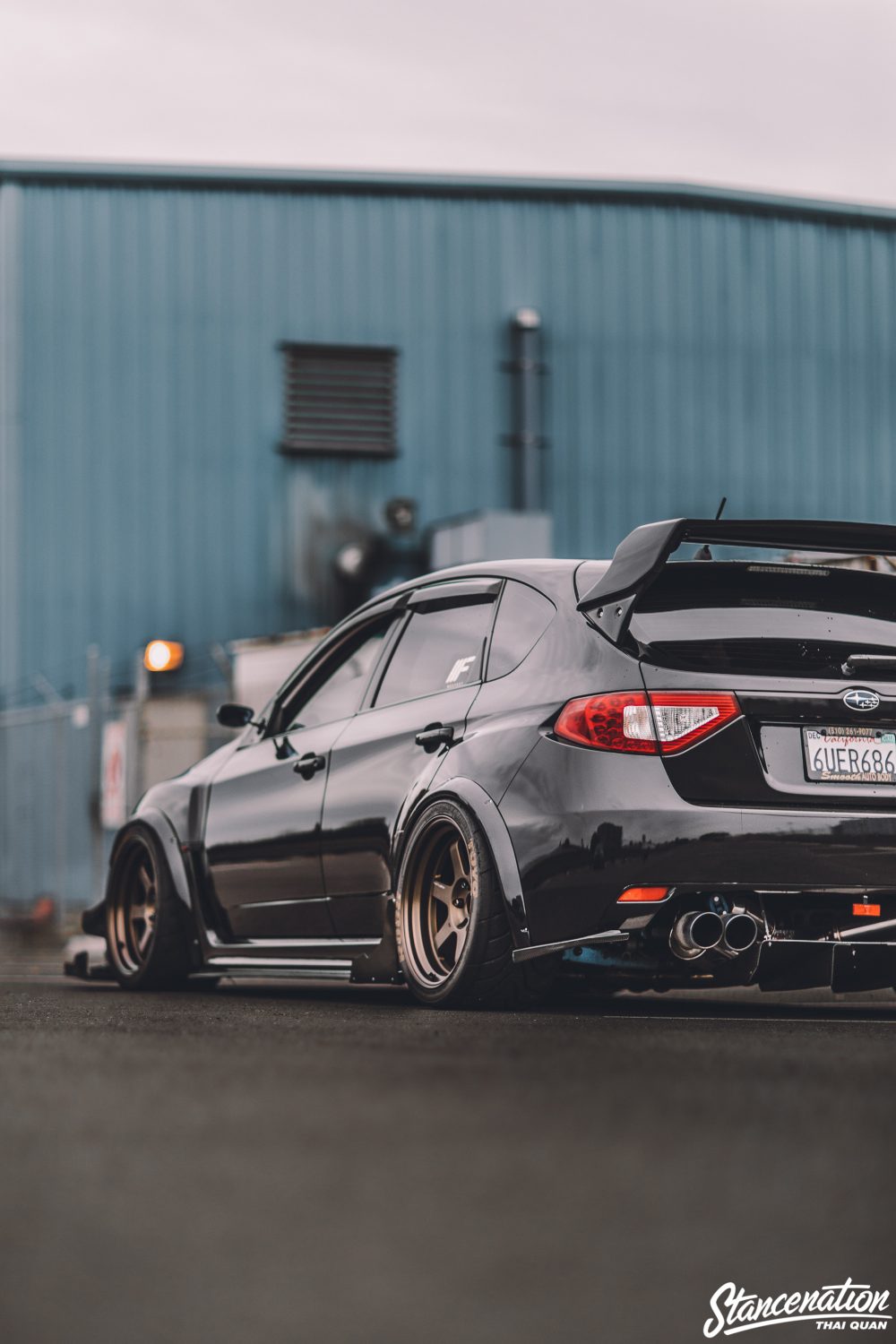 One aspect of the car that I love a lot would be the lower half of the car's valence with the multitude of layered lines. The way it sits level across all four ends, and that the lines from the HP Auto Wide Body Flares, Custom Front Splitter, Canards, and Side Skirts, really grabs the focus to the wheel choice and makes you look at how low it truly sits.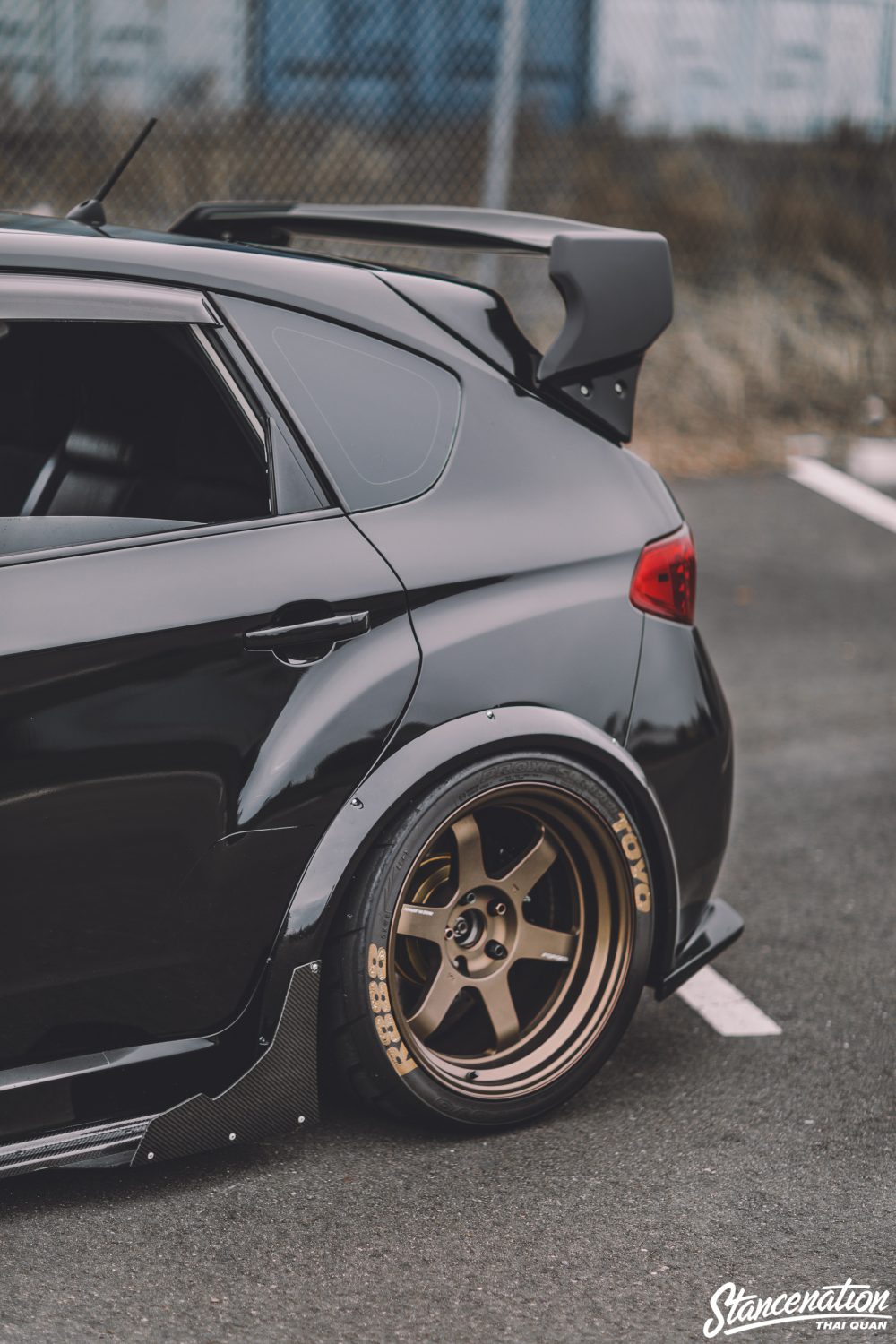 As for his wheel choice, ART went with a squared set up, consisting of TE37V's measuring in at 18×10 +0 in what looks to be a matte bronze finish. Wrapped in Toyo Tire R888's with a meaty profile, Art tells us he likes to drive his car without being scared of breaking something, not a sentiment we can all echo or share. Air Lift Performance Kit is used to add some variable ride height change options, while Cusco and Whiteline make an appearance lending solid suspension geometry modifiers like control arms, braces, swaybars, endlinks, and struts.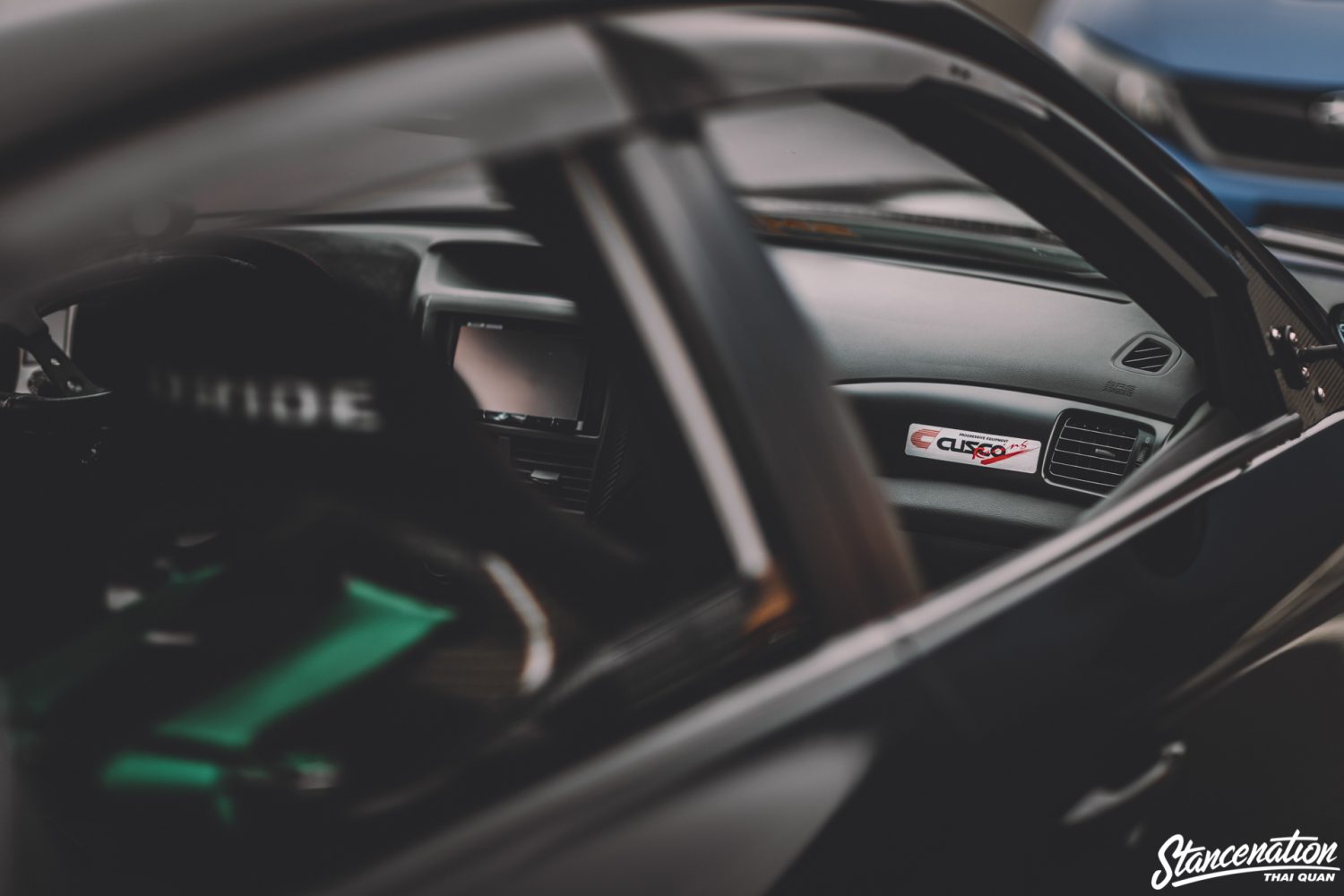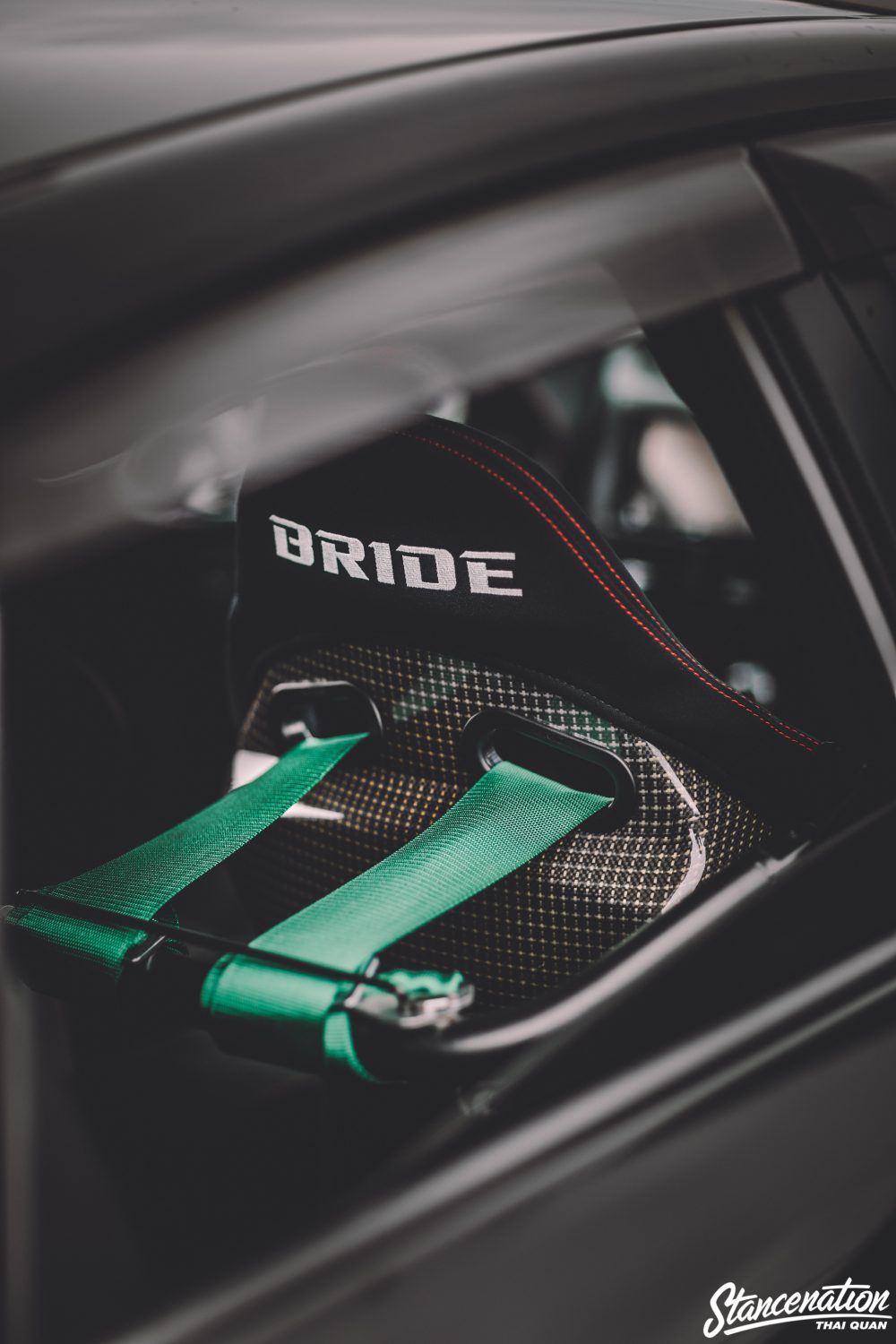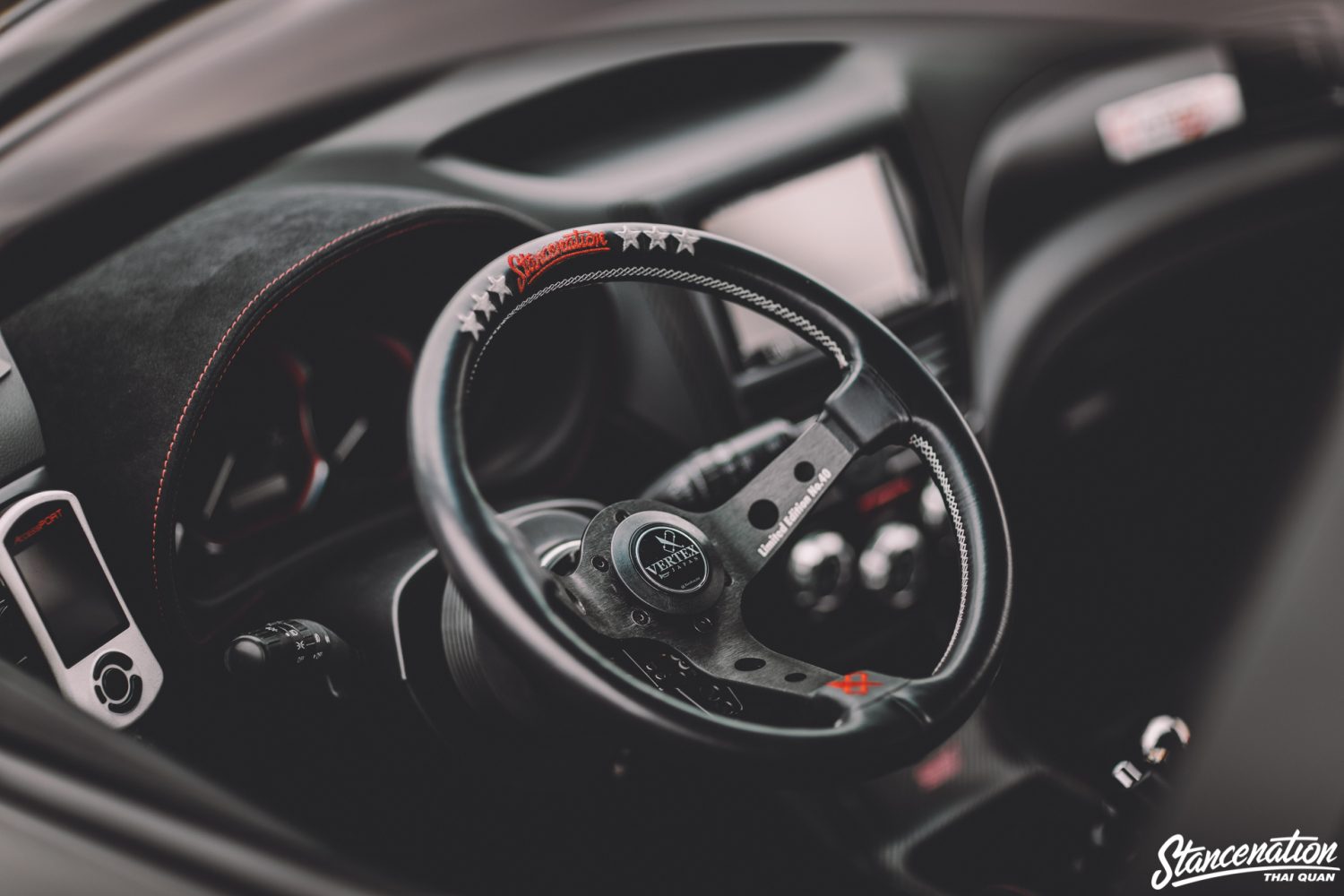 Within the cockpit, ART does not take safety or style lightly. A very limited edition Vertex x StanceNation steering wheel & Worksbell Hub and Tilt System take care of the style. But for safety, Carbon Kevlar Bride Gia 2's give his seat rigidity and comfortably hugs him through the lateral G's, should he decide to milk the AWD system for what its worth. Takata Drift 3 Harnesses keep him safely locked to the seat. I can attest to the safety strength behind proper harnesses as I have known two acquaintances that are still with us on this Earth, – thankfully because they did not cheap out on safety.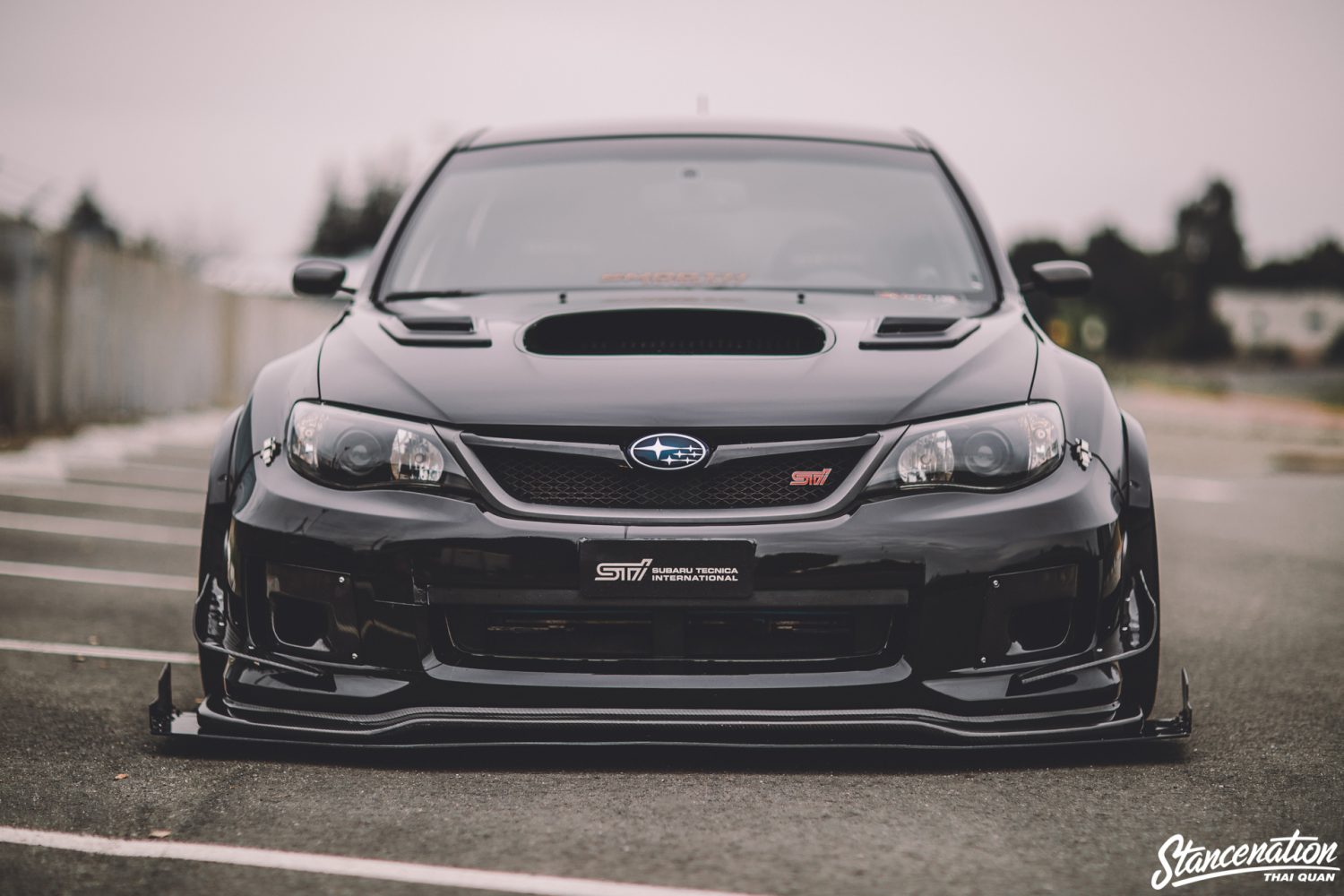 I personally love black cars, its probably because of how the paint sits like serene calm water, effortlessly pooling and hiding details that reveal themselves in clear light or closer inspection. This Subaru captures that perfectly, betraying the aggressive lines on the front fascia stemming from the WRC Hood Vents and APR Brake Duct, front splitter, canards, and Varis front lip. Did we mention this is his 3rd splitter? The previous 3 can be found on Freeway 880 – likely in pieces.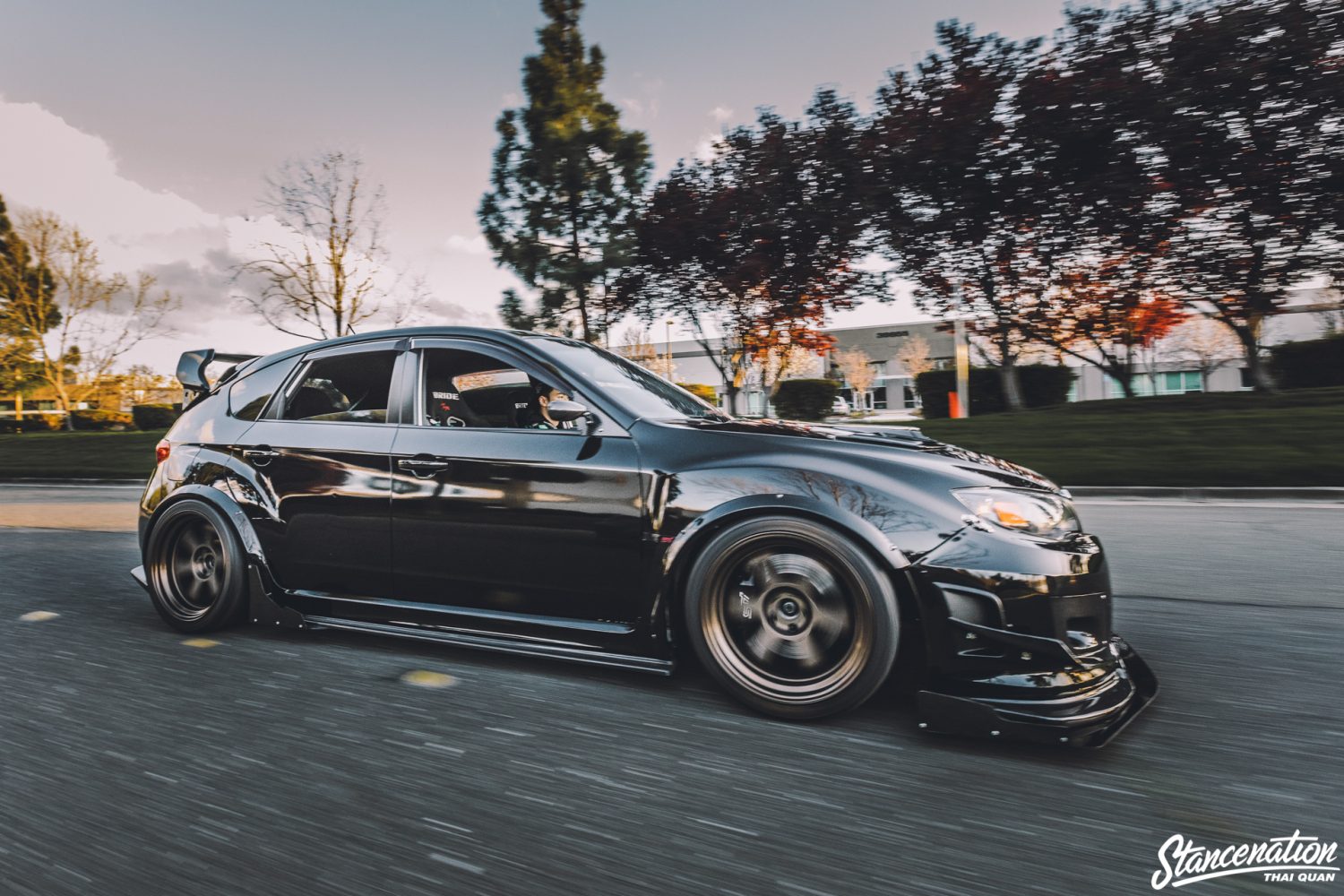 To get down and dirty, ART has a tune from Cobb, coupling it with proper injectors and fuel pump to feed the powerplant within. Grimmspeed lends a TMIC to inlet air into the engine while a Ark Performance Exhaust and External Wastegate act as outlets to let the engine "exhale". Pro tuned at Snail Performance, ART wanted to make sure all the variables were balanced properly. A Varis Rear Spoiler sits prominently at the top, while a custom rear diffuser pairs neatly with the Ark Exhaust, lending this author inspiration for the rear lower half of his own car.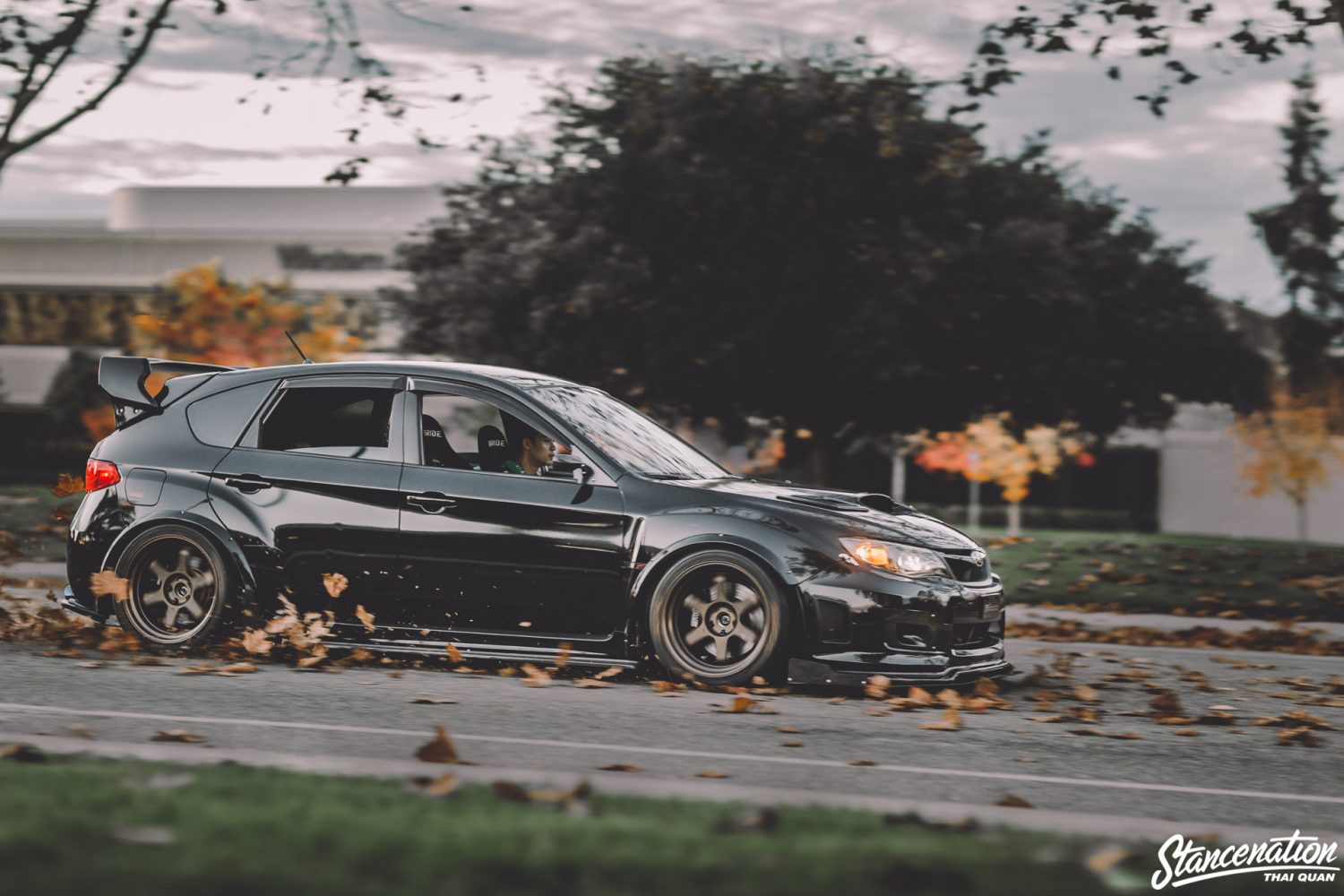 ART's favorite thing about the stance scene is how it has accepted him. The acceptance that came in unison with his rise within the community and the support and passion that came with really amazed him, and as pessimistic as I am, it amazes me as well. You tend to catch a lot of negative comments and attention when you try to be different. I hope we all can learn something from this and maybe apply it into our own lives to see if it can bring us joy and happiness like it did for ART. Build your car for you, and if some couple thousand people love it along the way, then that's just the cherry on top.