I have been on a serious old-school kick as of late. So, I eagerly anticipated writing an article about Phil Sohn's 1973 Mazda RX-3. I wrote an article about Phil's RX-7 a few months back, and while I was writing it, all I could think about was his RX-3. The RX-3 Savanna was Mazda's small sport coupe that made a 6-year run in the 1970s. The Mazda Motor Company designed the RX-3 to be shorter, lighter, sportier, and wider than its brother, the RX-2 Capella. The RX-3 was a huge hit in the USA and extremely successful, easily becoming Mazda's most popular pre-RX-7 vehicle. Even with that being said, you don't see too many of these cars rolling around these days, and you see even fewer as clean and well-built as Phil Sohn's.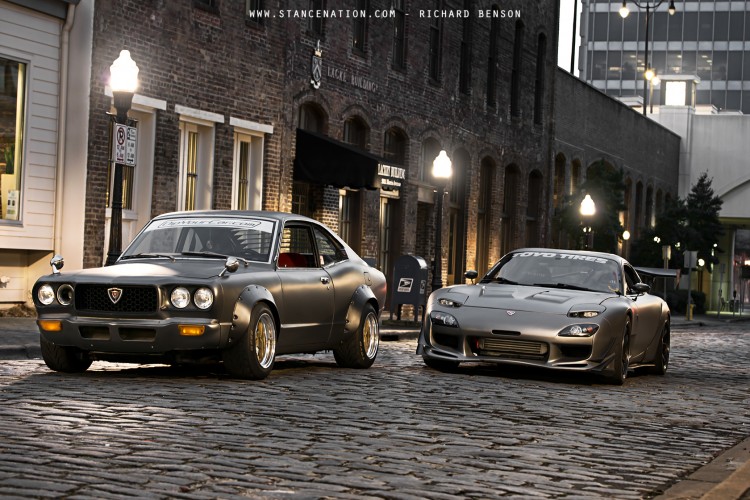 Phil is a seasoned Mazda owner and his love for the Mazda Wankel engine is undeniable. As you may remember from the article about his RX-7, in the last 15 years Phil has owned over 10 Mazda vehicles. Phil has owned this RX-3 for the past 6 years, on and off. This RX-3 has been around, in the least naughty way possible. It's been owned more than once by Phil and a few of his good friends. Each owner has helped to make the car what it is today by adding their own personal touches. The original owner, Tom McGuire, did the mechanical and suspension work. Phil's good friend, Stephen White, sold the car to Phil; and previous owner, Marco Lau did all of the exterior work on the car. Phil purchased the car once again and decided to refinish the exterior.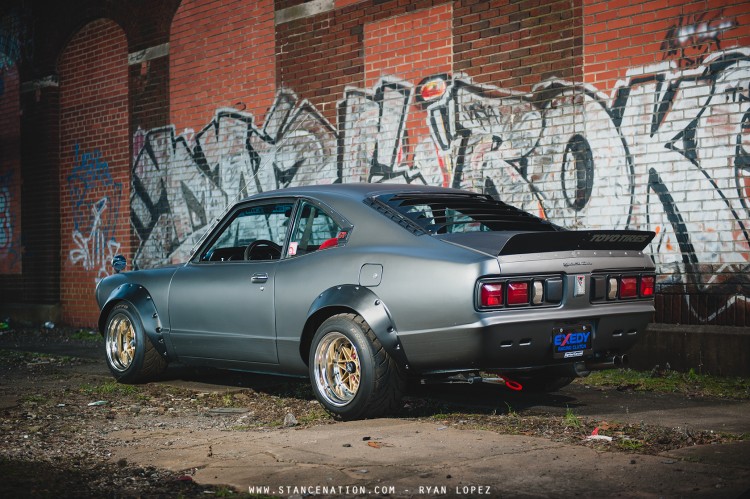 The biggest problem Phil has had with the car is rust. So, Phil took his RX-3 over to the guys at DipYourCar.com to have the car's exterior sprayed with PlastiDip to prevent further weathering while he drives this classic around. Underneath the PlastiDip lies a pristine two-tone Mazda Blue Mica and Porsche Gunmetal Gray paint job. This Savanna is also sporting shaved bumpers and side marker lenses, FEED-style over fender flares, custom front air dam, custom aluminum rear spoiler, JDM fender mirrors, Rx-3 SP rear louver, and Mazda 808 tail lights. The front air dam, fender flares, rear wing, and old-school fender mirrors were Phil's additions.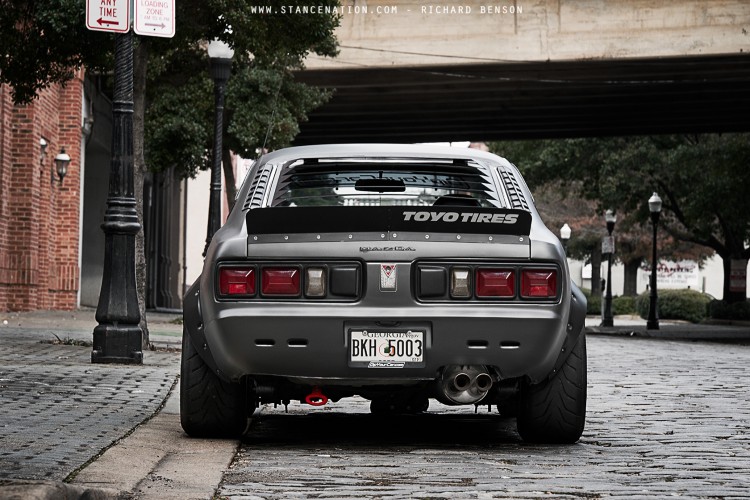 Phil's favorite part about the car is the car's old-school feel. He loves how unique the car is and he loves comparing its drivability to his other rotary cars. Phil says, "It's amazing to drive 40 year old car, then getting into something modern. You appreciate what has evolved in the automotive world and what you missed."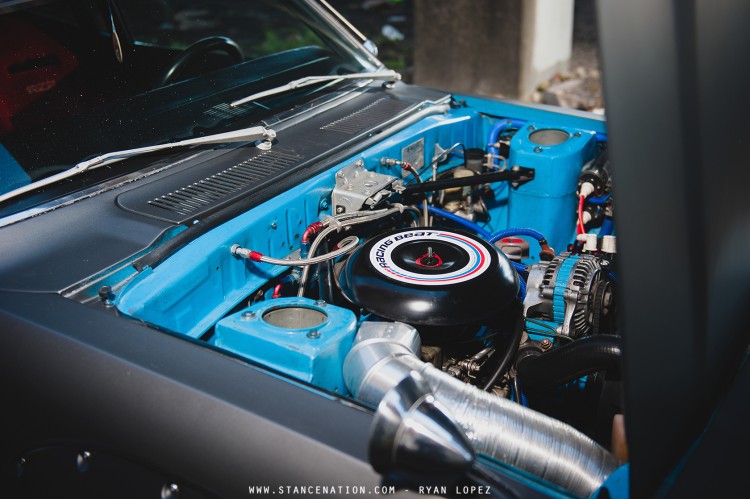 The RX-3's original power plant has been replaced with a "built" and naturally-aspirated 13B engine. It's a four-port 13B engine with custom intake and exhaust porting, a Holley 750 CFM four-barrel carburetor, Racing Beat intake, and a custom exhaust system with a Racing Beat muffler. The motor is fed by a Holley fuel pump and regulator, ignited by a JACOBS ignition amplifier and coils, and cleaned-up with a full set of AN fittings and lines under the hood. Phil also added an RX-7 radiator and aluminum rotor oil filler cap. His motor is paired with a RX-7 Turbo II five-speed manual transmission with custom gearing, clutch, and aftermarket lightweight flywheel.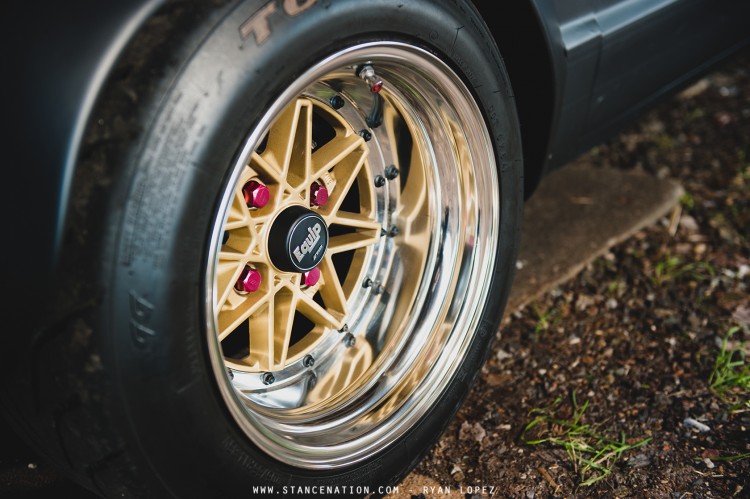 The RX-3 is sitting on custom built coil-over suspension built by Tom McGuire with adjustable camber plates and a custom strut tower reinforcement brace. These suspension upgrades help keep the aggressively sized wheels from ripping at the car under hard cornering. Phil is running Work Equip 03 wheels in 14×9 sizing with 205/55R14 Toyo R888 tires up front and 14×10 wheels with 225/50R14 Toyo R888 tires in the rear. The RX-3 is also equipped with custom disc brakes with cross-drilled rotors on all four corners for serious stopping power on this small chassis.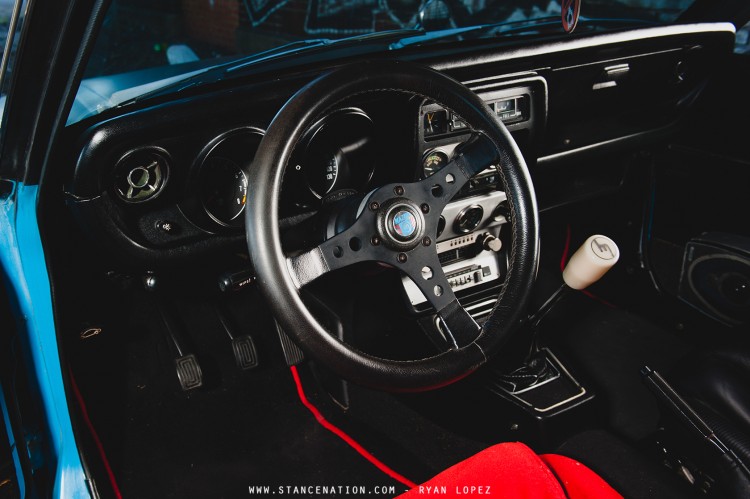 The interior of Phil's RX-3 is furnished with an early-model SPARCO driver side race seat and an RX-8 GT passenger side front seat from the RX-3's most recent successor. You'll also find a set of AutoMeter gauges to supplement the car's minimal factory gauges. Smaller details like a custom old-school Mazda shift knob, custom RX-3 floor mats, an RX-4 overhead center console, and a Racemark steering wheel also grace the interior of this RX-3.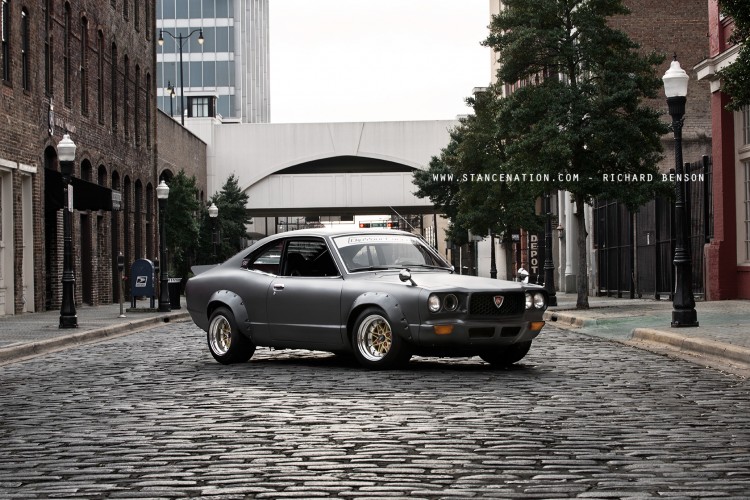 Phil's future plans for the car are simply to enjoy driving it and showing off at car gatherings. The only other thing I would add to that list would be to "not sell the car again". Hopefully Phil agrees with me, because he may not be so lucky next time.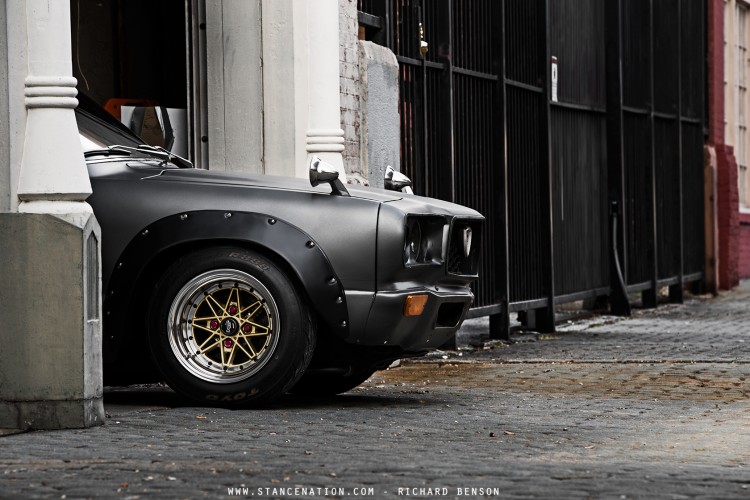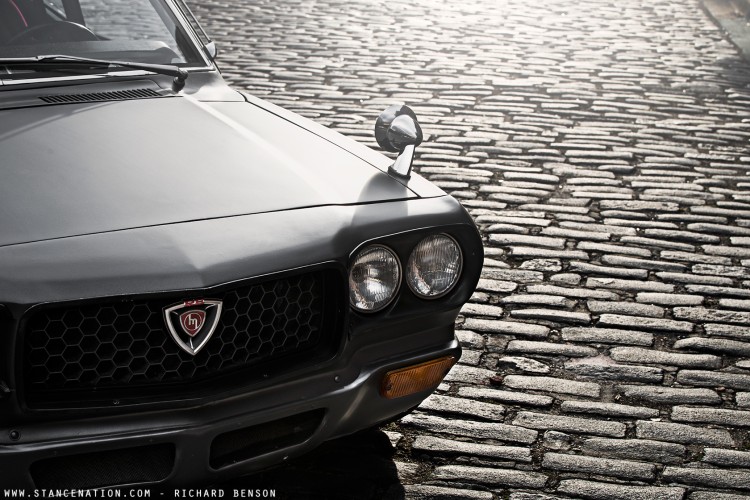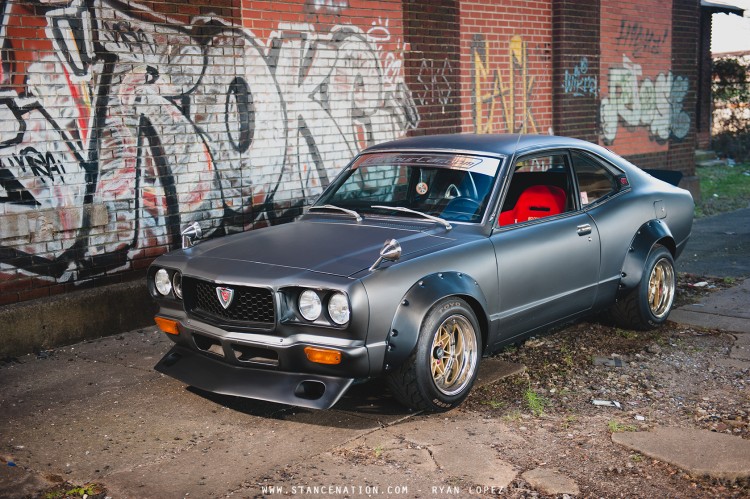 Make/Model:
1973 Mazda RX-3
Engine
13B Rotary Four-Port Engine
Custom Intake and Exhaust porting
Holley 750 CFM Four-barrel Carburetor
Racing Beat Intake
Heat Shield and Manifold
Custom Exhaust System with Racing Beat Muffler
Holley Fuel Pump and Regulator
Jacobs Ignition Amplifier and Coils
AN Fittings and Lines
RX-7 Radiator
Aluminum Rotor Oil Filler Cap
Drivetrain
Mazda RX-7 Turbo II 5 speed Transmission
Custom Gearing
Custom Clutch
Lightweight Flywheel
Suspension
Custom Coil-over Suspension
Adjustable Camber Setup
Custom Strut Tower Reinforcement Brace
Wheels/Tires
Front:
14×9 Work Equip 03 Wheels
Toyo R888 205/55-14 Tires
Rear:
14×10 Work Equip 03 Wheels
Toyo R888 225/50-14 Tires
Brakes
Custom 4-corner Disc Brakes
Cross Drilled Rotors
Exterior
Plastidip over Two-tone Mazda Blue Mica with Porsche Gunmetal Gray Paint
Shaved Bumpers and Side-Marker Lenses
FEED-style Overfender Flares
Custom Front Air Dam
Custom Aluminum Rear Spoiler
JDM Fender Mirrors
RX-3 SP Rear Louver
Mazda 808 Tail Lights
Interior
Old School Sparco Driver Side Seat
RX-8 GT Passenger Side Front Seat
Auto Meter Fuel, Oil, Water Temp Gauges
Custom Old School Mazda Shift Knob
Custom RX-3 Floor Mats
RX-4 Overhead Center Console
Racemark Steering Wheel