It's impossible for you to forget the first car you took for a spin after you got your driver's license. Windows down, your favorite music on the radio, and the feeling of freedom on the open road. Whether it was the parent's mini-van, or your $400 sedan—you will always hold a special place in your heart for your first cruiser. For our friend, Takanobu Sugahara from Hiroshima, Japan, his first licensed joy-ride was in his Toyota AE86. After getting rid of his first, he missed it dearly. He promised himself that he would own another AE86 again when he found the right one.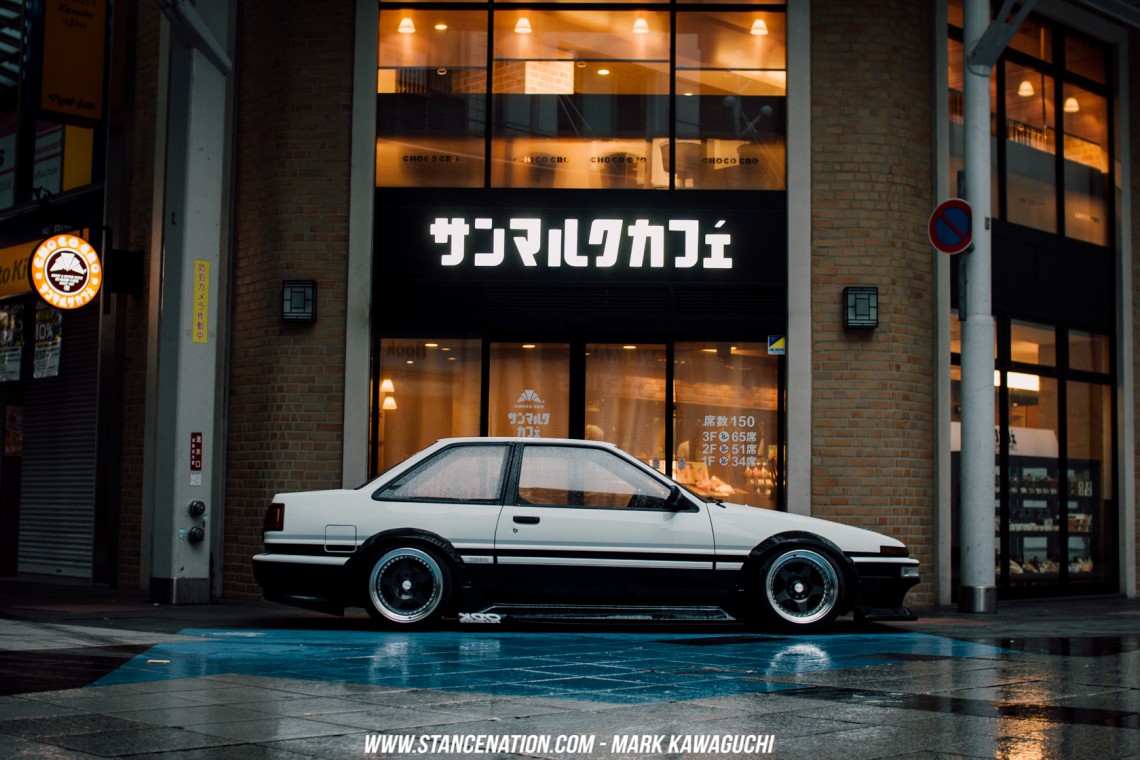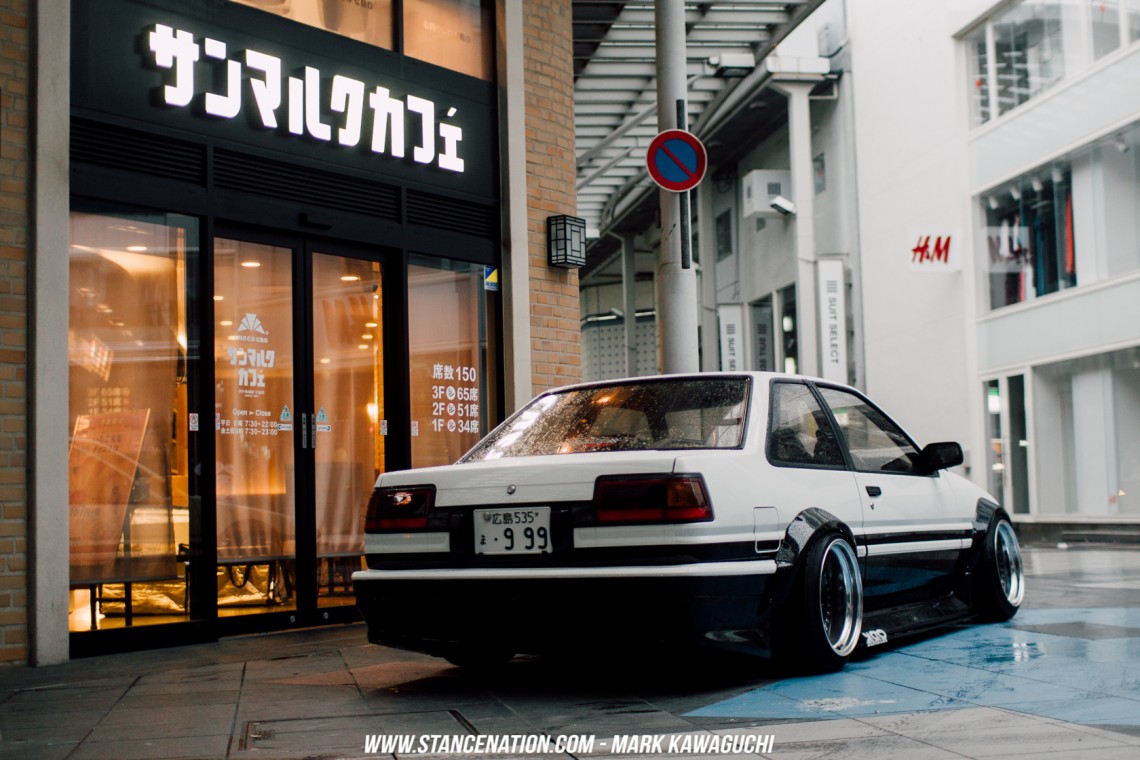 Some six months ago, fate brought Takanobu-san together with an immaculate stock 1985 Sprinter Trueno Apex 2CP. Takanobu-san wanted to build an AE86 that was quick, looked great, and was reliable enough to daily. Years of build plans came to fruition soon after he had the car in his possession.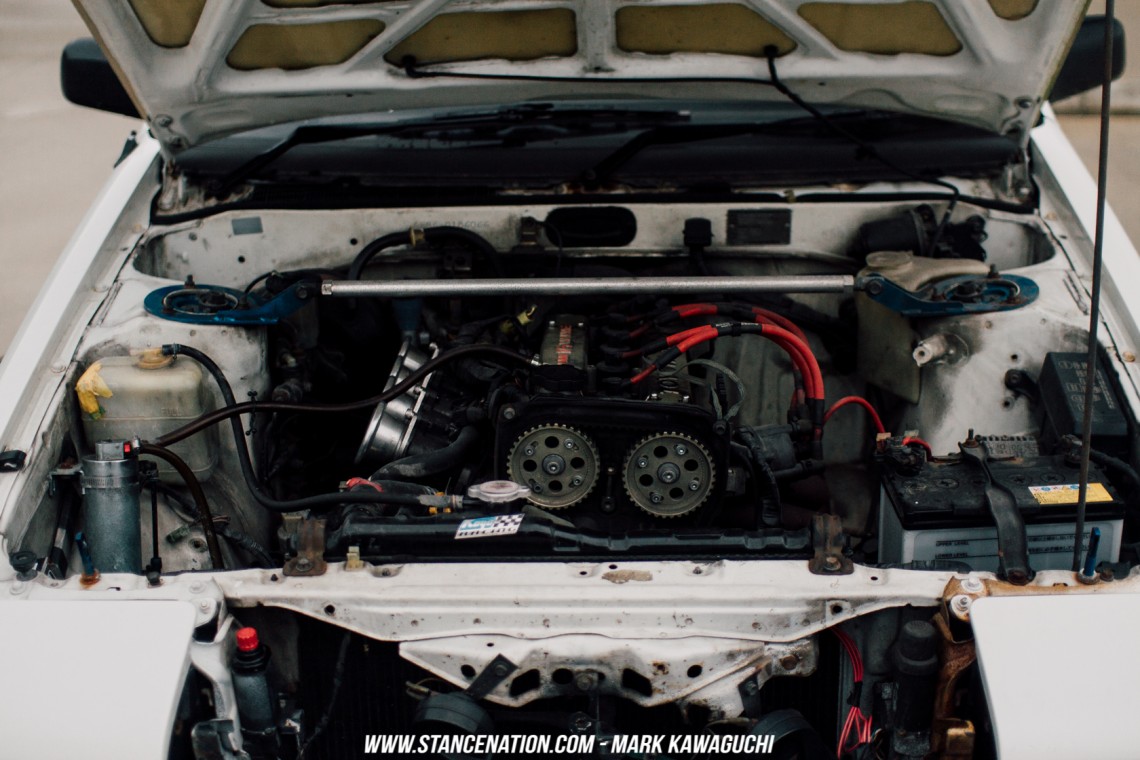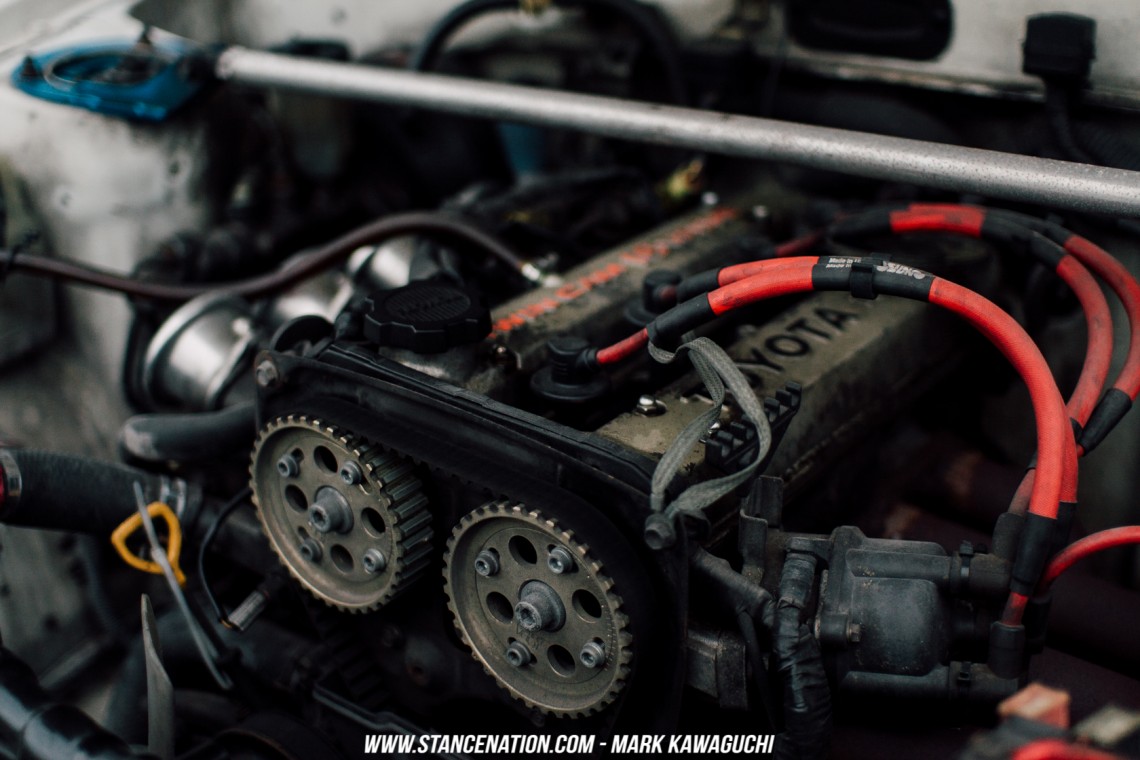 One of Takanobu-san's favorite things about the car is the engine. He said from the exterior his car doesn't look quick, "but it's fast!" The car has a more powerful "red-top" 4A-GE power-plant from the Toyota AE92. He also ported the motor, added a metal head-gasket, big valve kit, Escort 82.5 cast pistons, Toyota Vitz lifters, Toyota AE111 connecting rod, individual throttle bodies, TODA Racing high camshafts (IN 304, EX 288), TODA Racing adjustable camshaft pulley, and a Freedom computer to tune it all properly.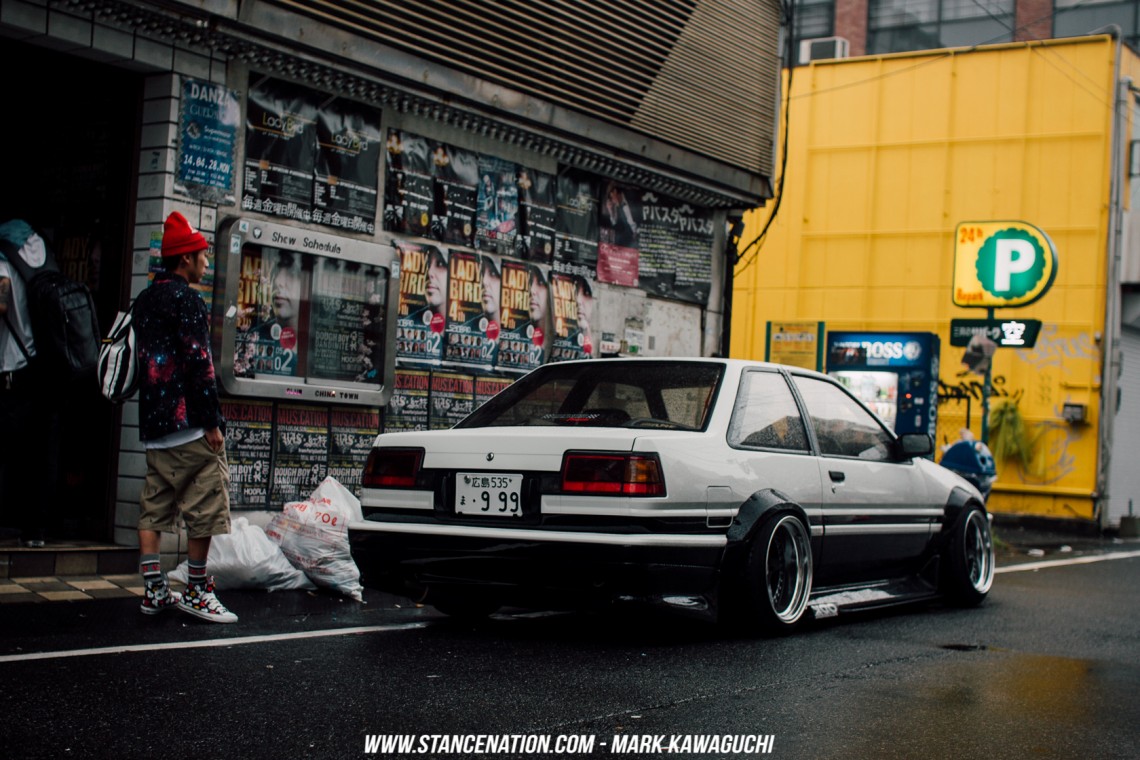 Takanobu-san is also running a TODA Racing lightweight flywheel, SECTION racing clutch, and a TRD 2-way differential. So, not only does the car look great, it's also fairly fast!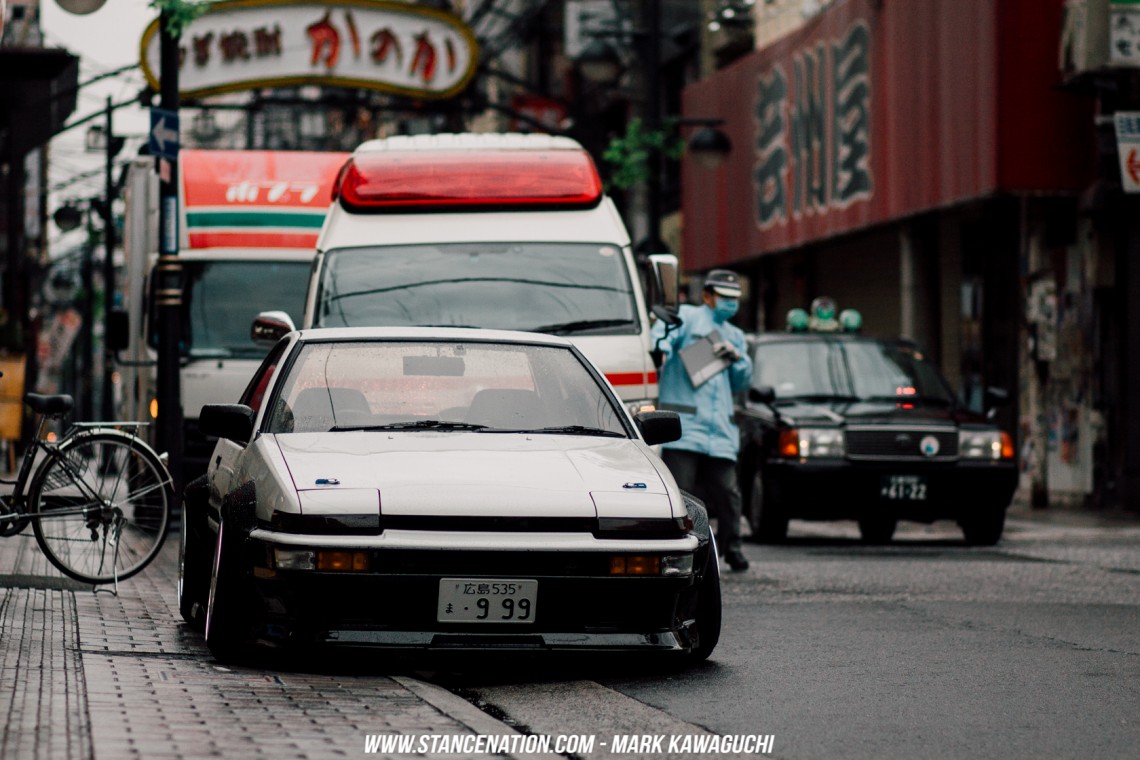 The biggest challenge Takanobu-san had with his AE86 was dialing in the fitment and cutting the stock body to add his other favorite part of the car, the Crystal Body Yokoyama (CBY) over-fenders. The task of cutting the body wasn't difficult; it was bringing himself to cut the car. After that was done, he had a hard time finding the right tire size. He says, "They didn't fit and so I have bought brand new sets of tires 3 times. Even then, the tire still rubs, so I'm currently working on sorting out the front suspension."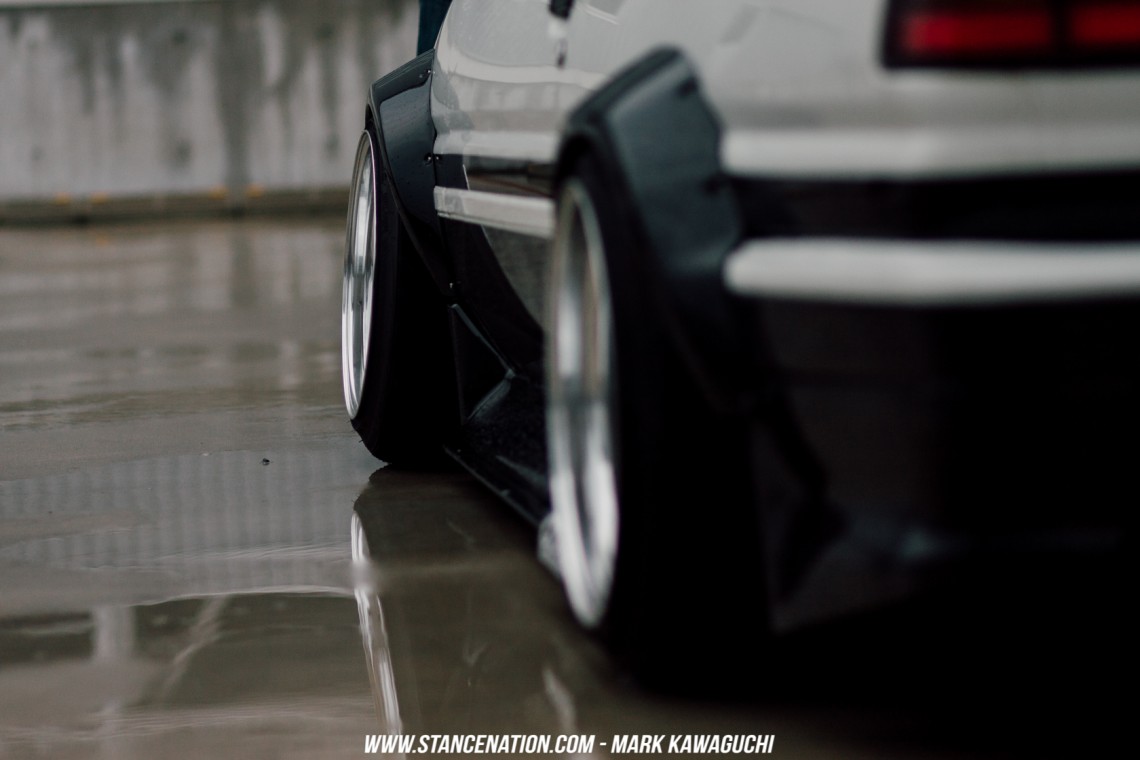 Takanobu-san is currently running TRD short-stroke suspension from AE92 shock cartridges and Swift 8K springs coilovers up front. In the rear he is running Tokico HTS dampers with TRD 6K springs. He also added adjustable control arms to the front and rear, and reinforced the tie rods up front. In the future, he has plans to update the suspension with Nissan Silvia suspension all around to eliminate the rubbing.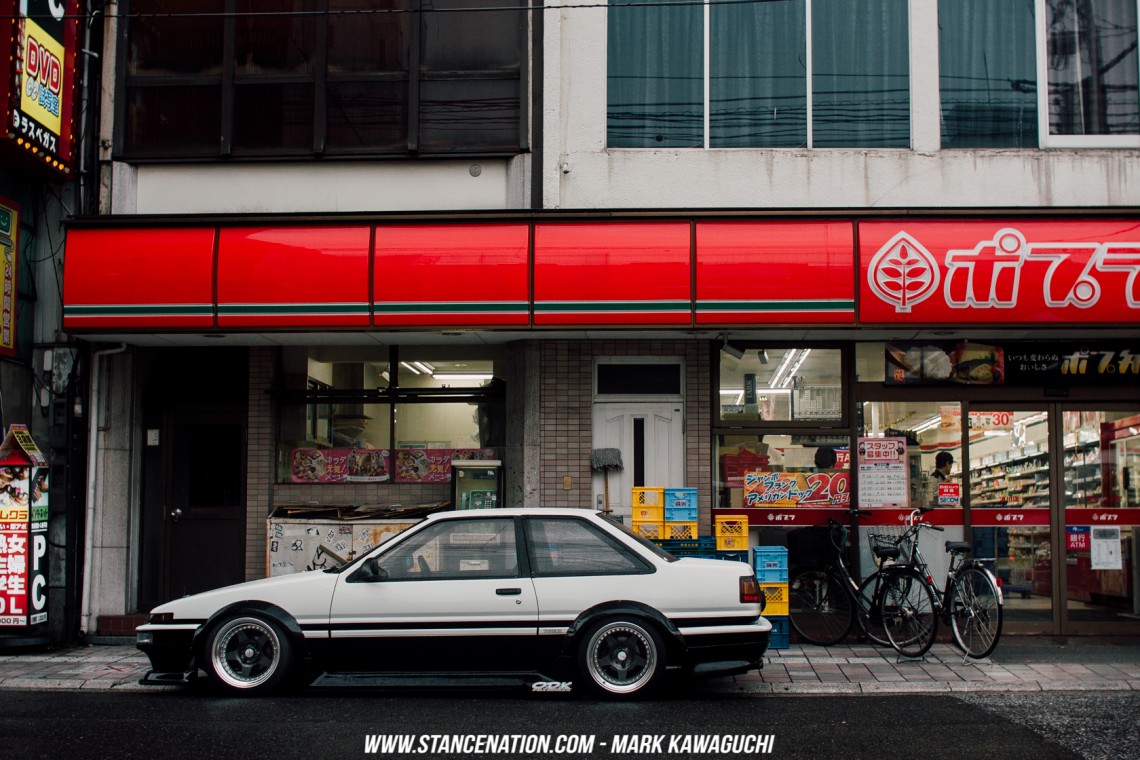 Under the CBY over-fenders you will notice the beautiful set of Work Meister CR01s Takanobu-san chose. They are 16×9 on all four corners with an effective offset of -51 up front and -66 in the rear. He chose to wrap them in 195/45R16 Toyo Proxes tires all around.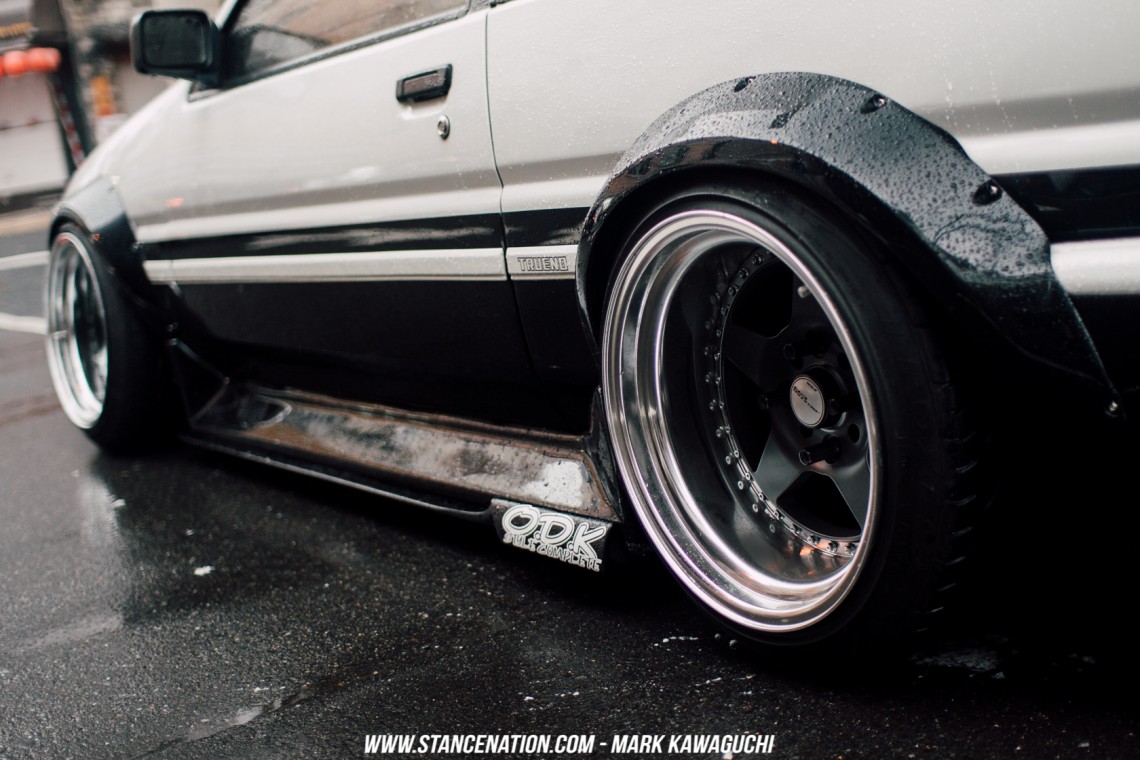 In addition to the amazing wheels and CBY over-fenders, the exterior is topped off with a Duce front bumper, CBY side-skirts, Aero Master rear bumper, and FRP bonnet with bonnet pins.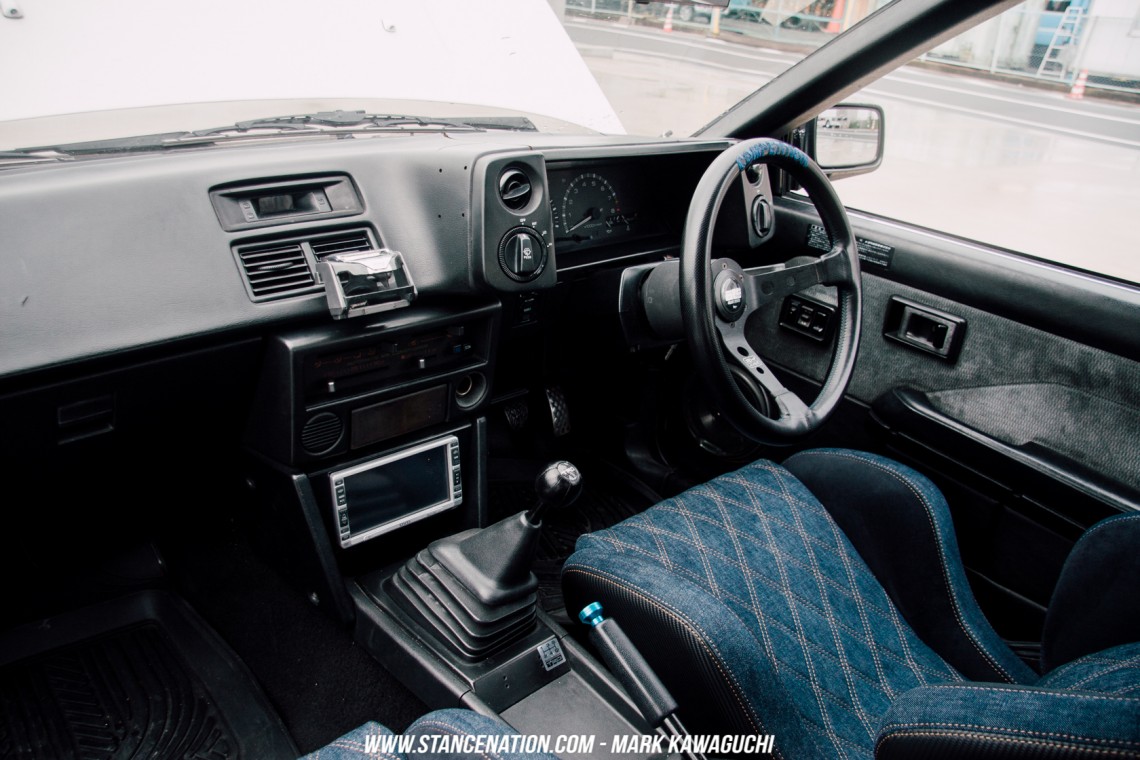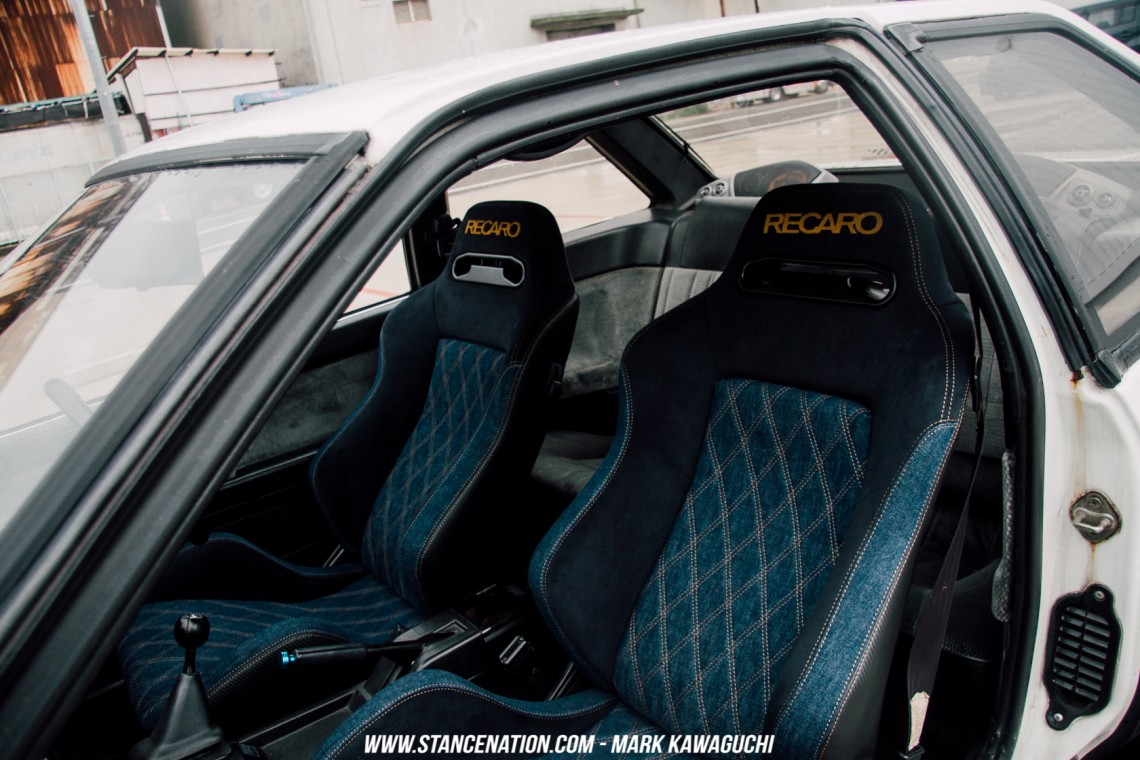 Takanobu-san says people often overlook the interior of his AE86. Most people don't notice his custom wrapped Recaro SR3 seats—wrapped in denim, ecsaine, and carbon leather. In addition to the seats he added an ATC steering wheel, Alpine speakers, Pioneer door speakers, and Toyota navigation system. One thing you may have noticed he did not add was gauges. Even with a fully tuned motor, Takanobu-san wanted to keep his interior free of excess gauge clusters. His future plans for the interior are to wrap the door cards, rear seats, and headliner in the same fabrics and patterns as his Recaro seats.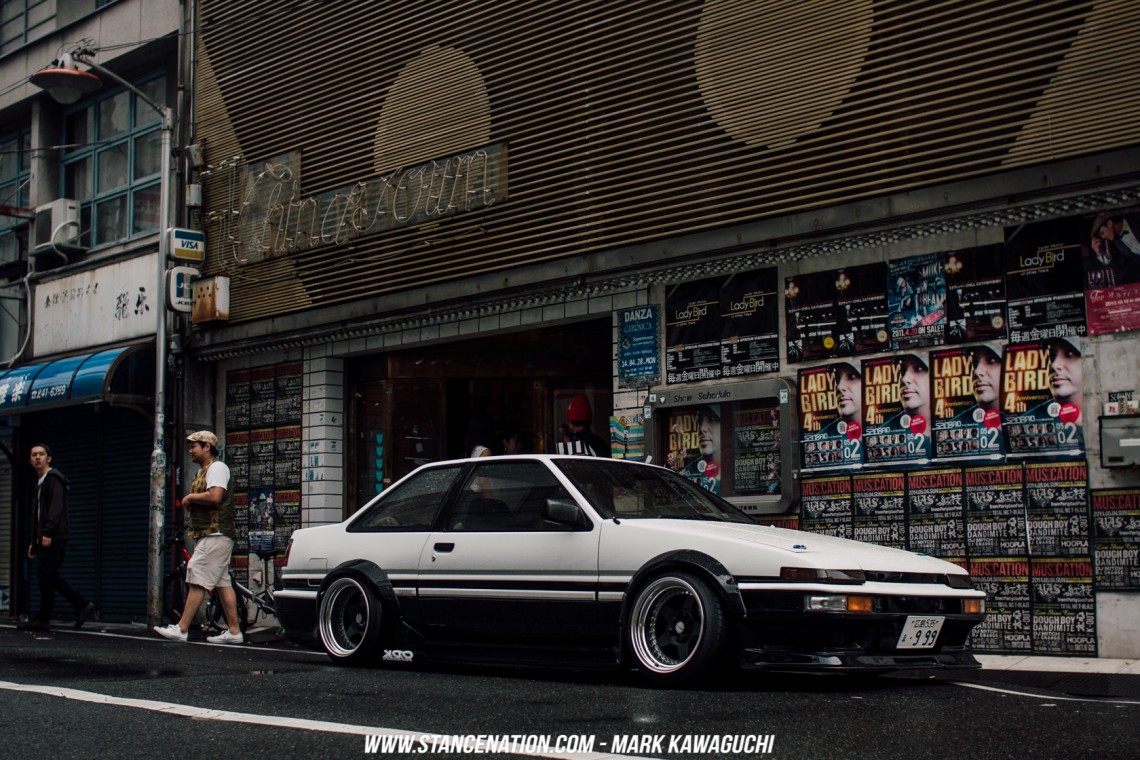 Takanobu-san has managed to create a beautiful and beastly AE86 in just a manner of months, and I foresee it only getting nicer with his future plans. Well done Takanobu-san! We can't wait to see what the future holds for you and your AE86!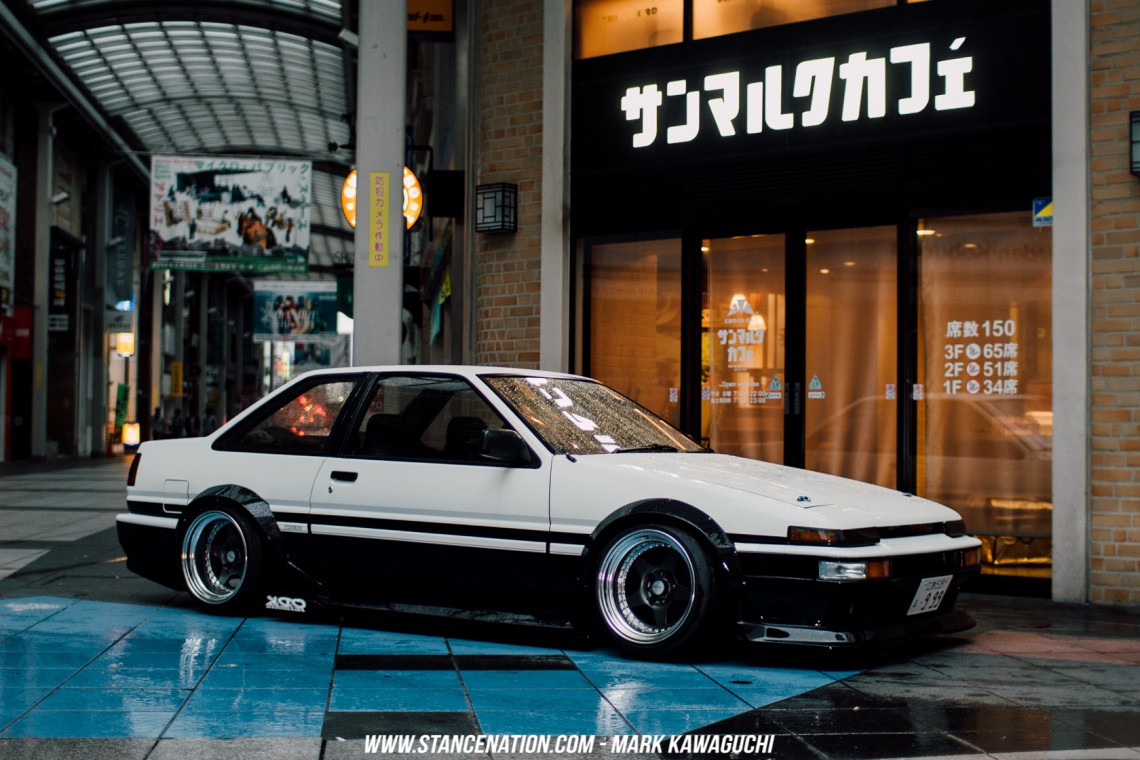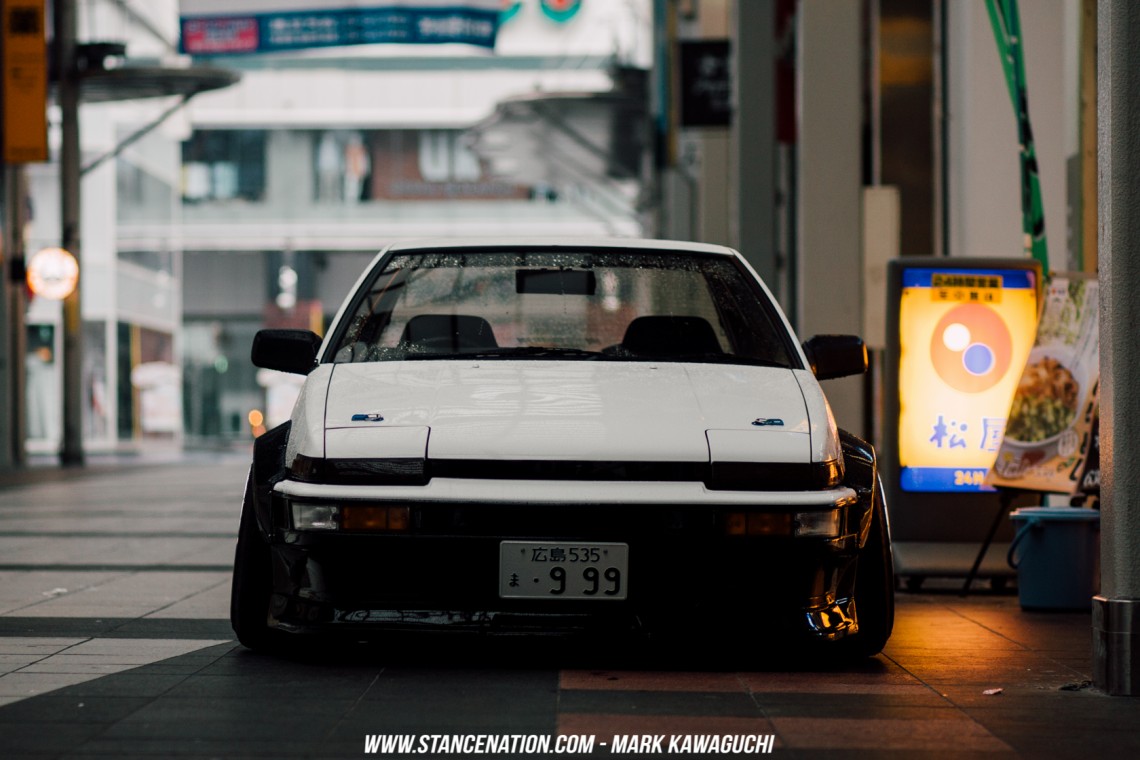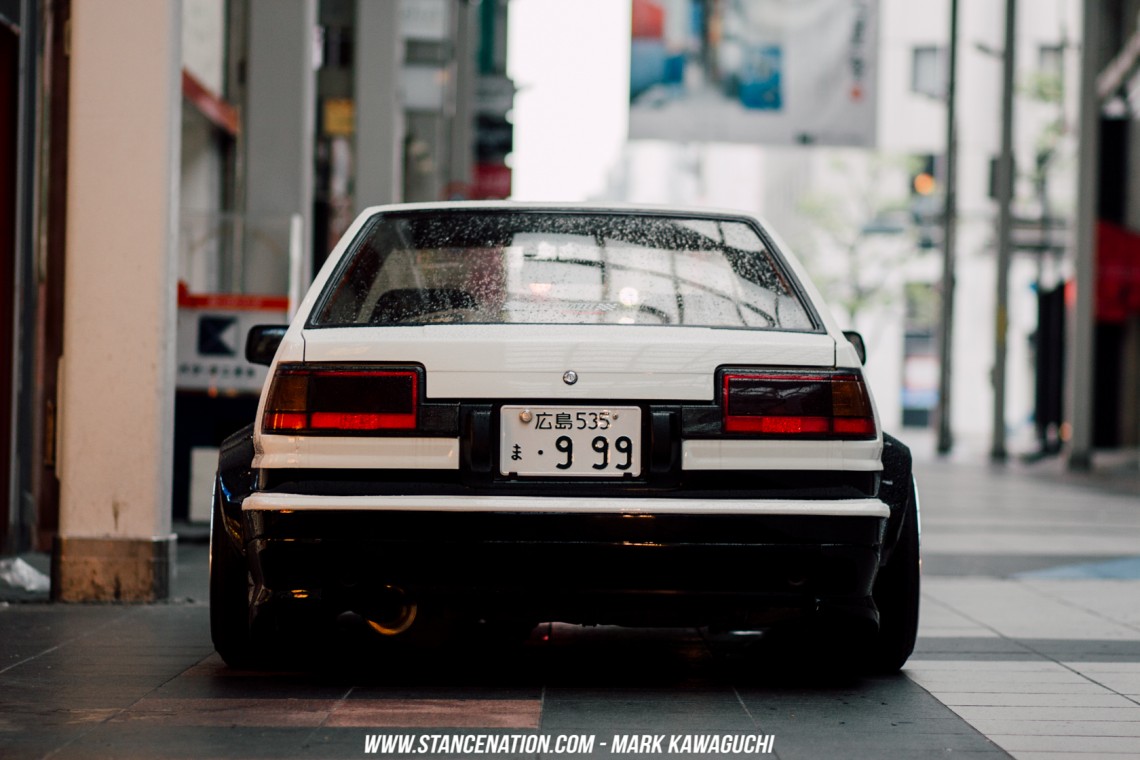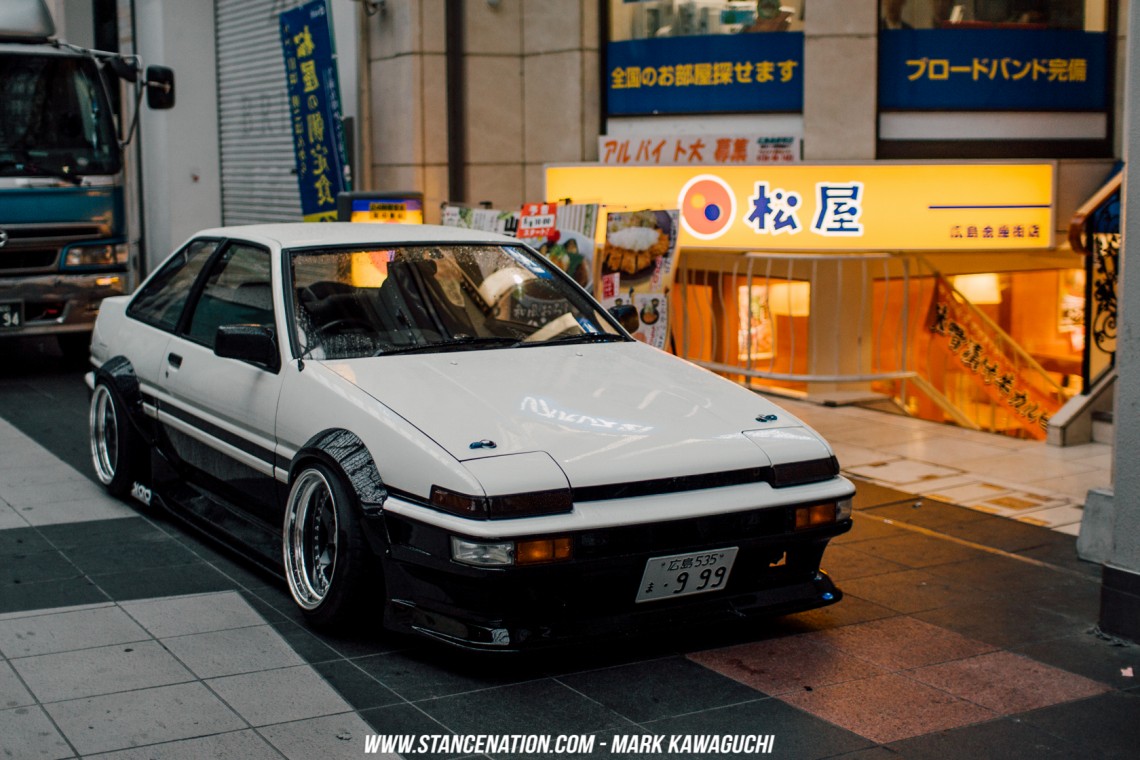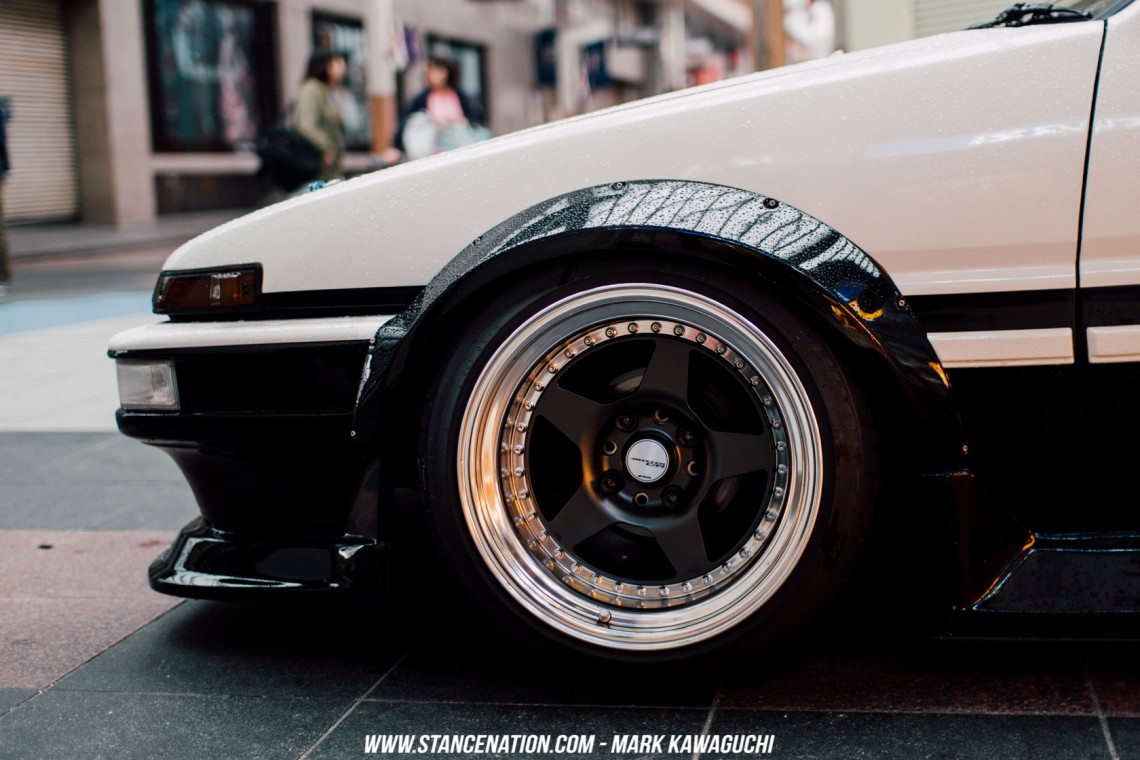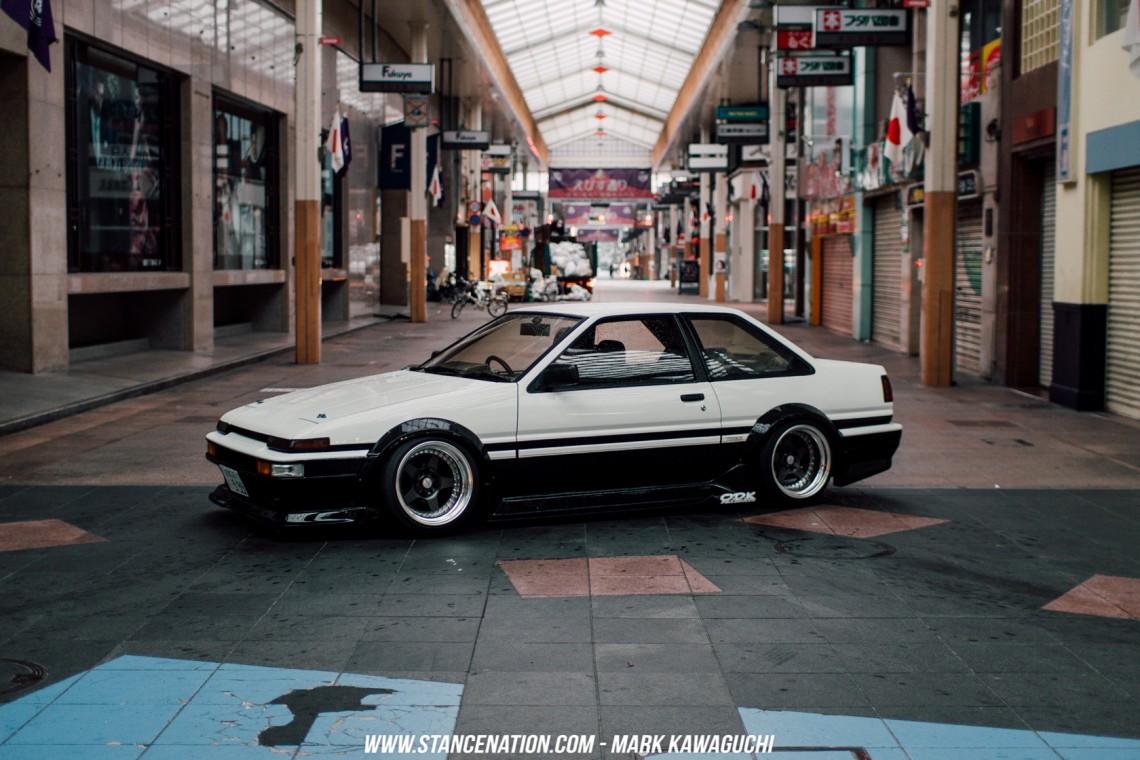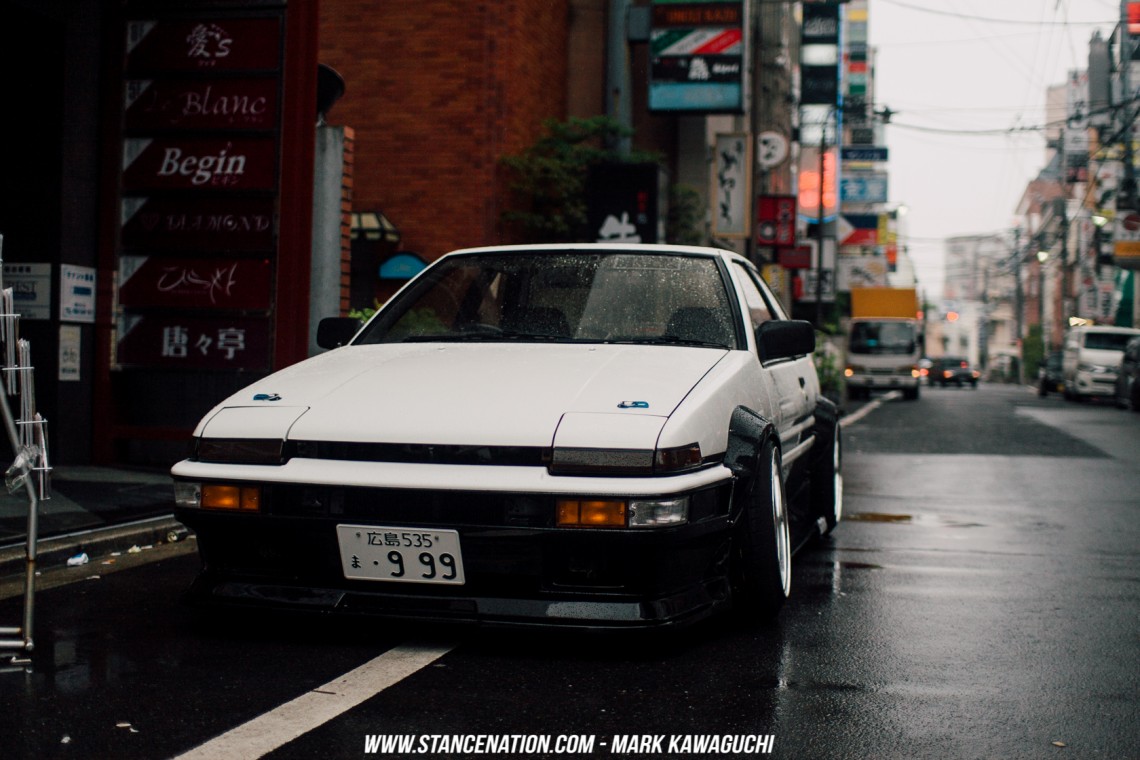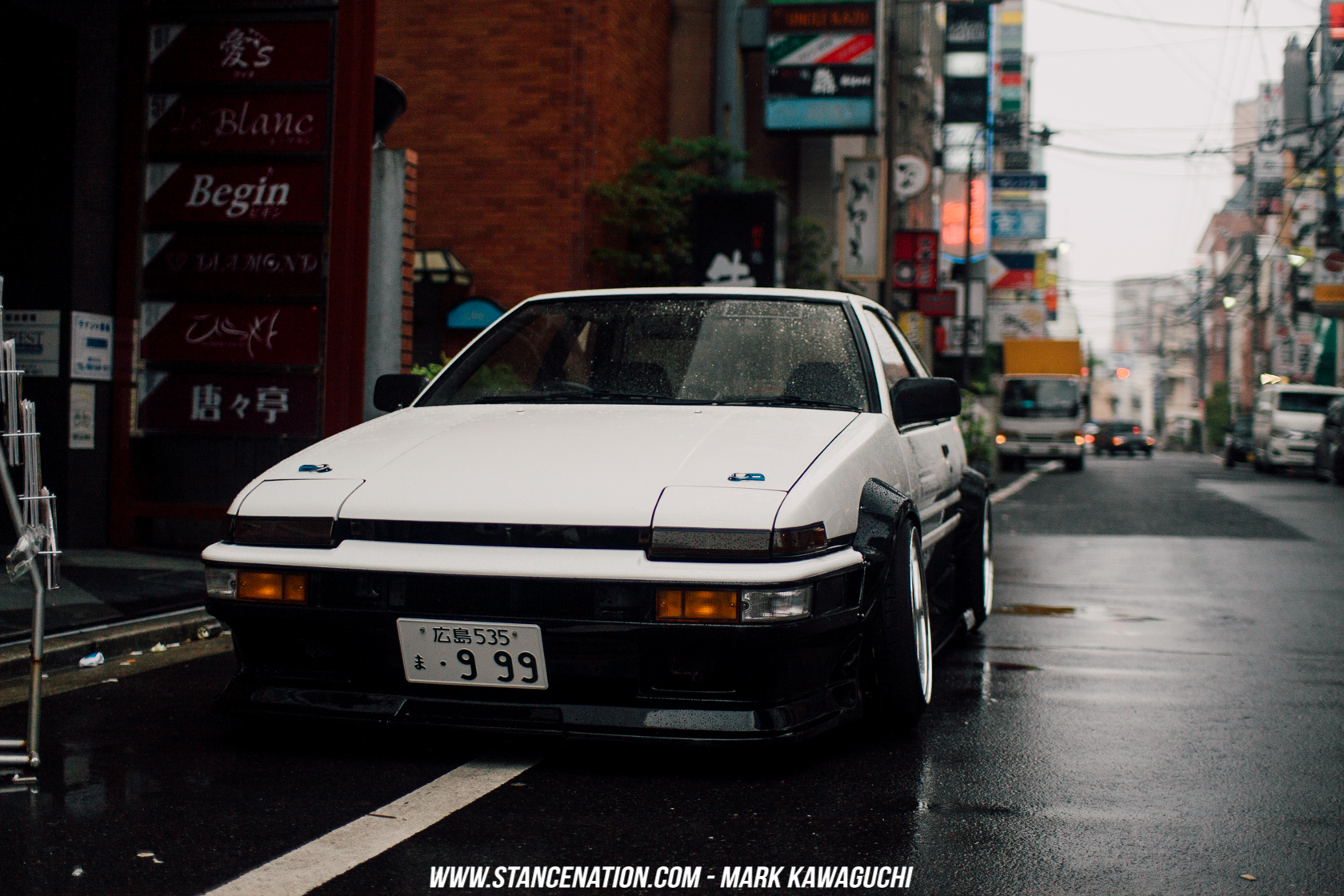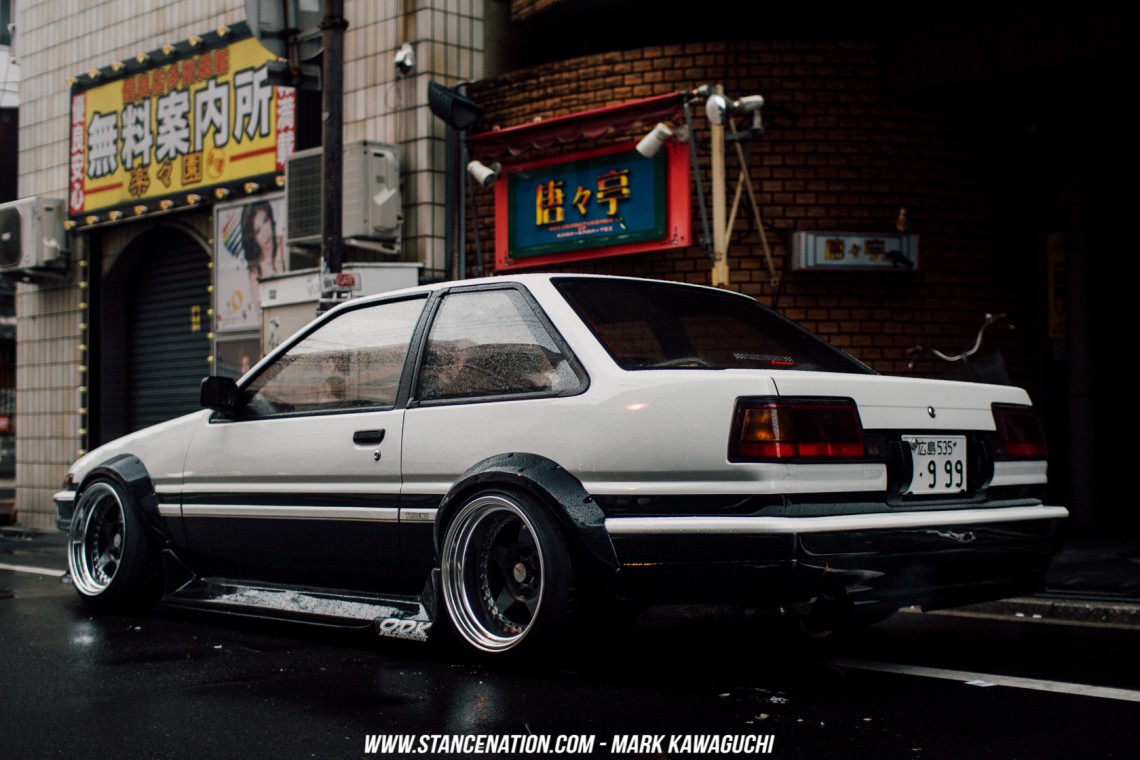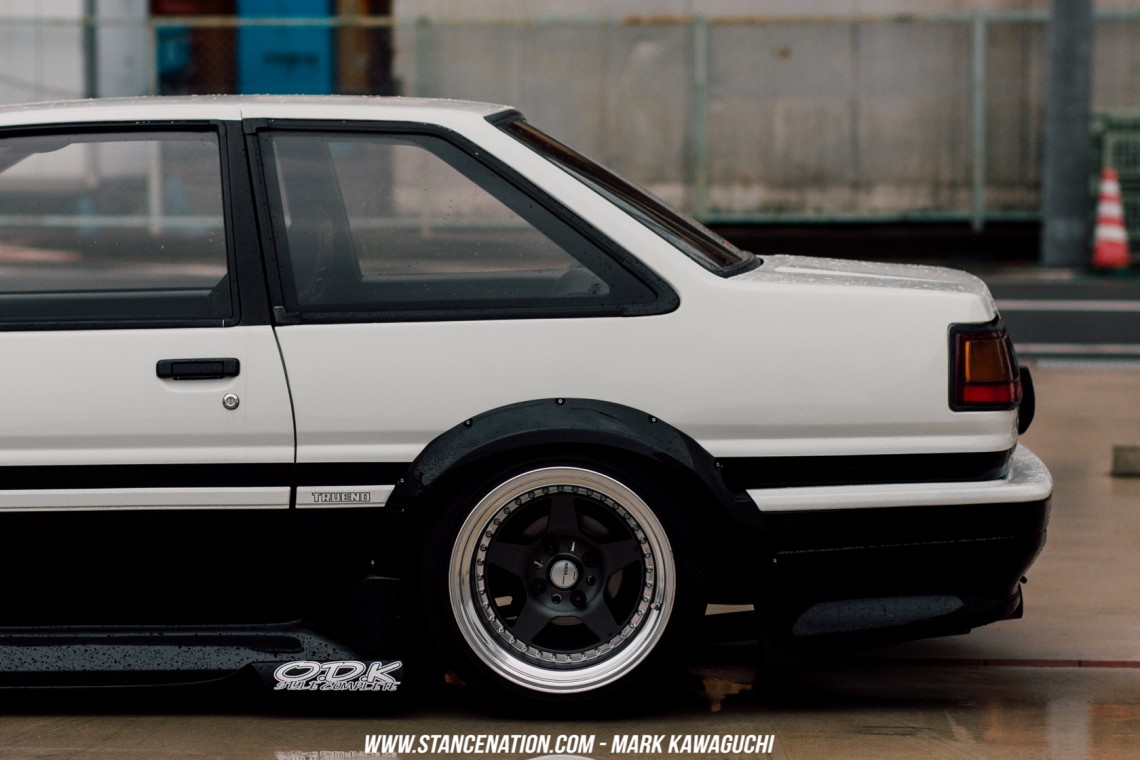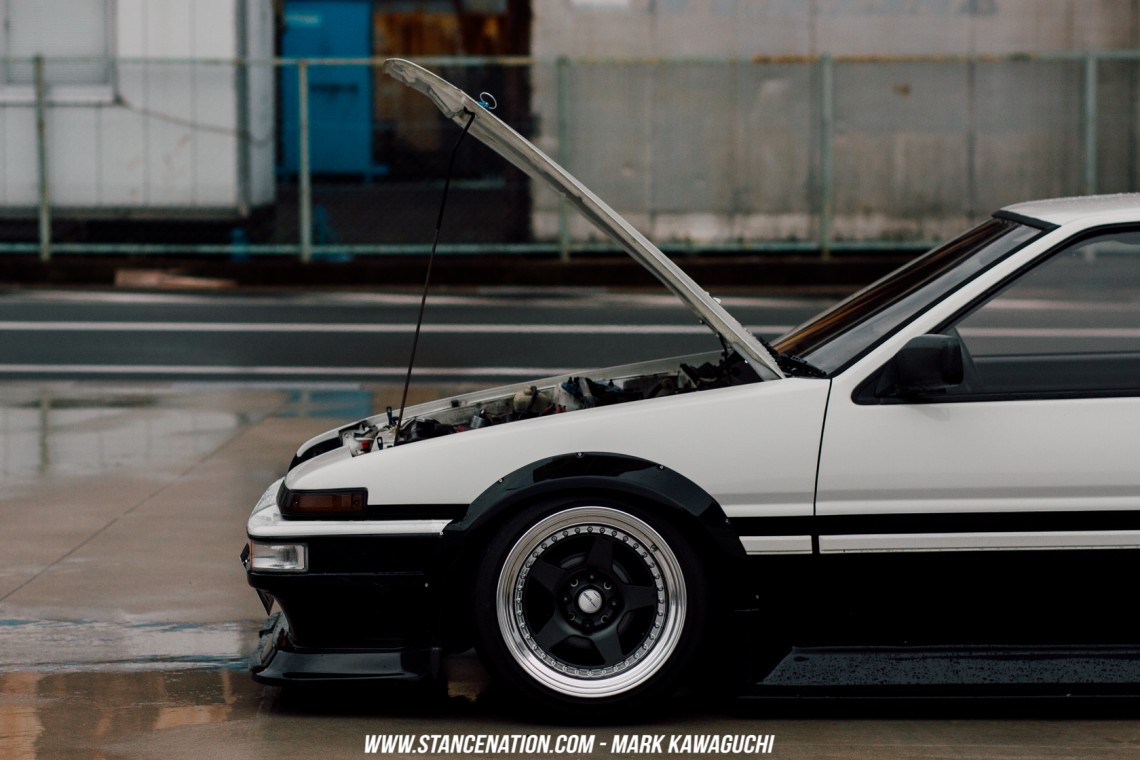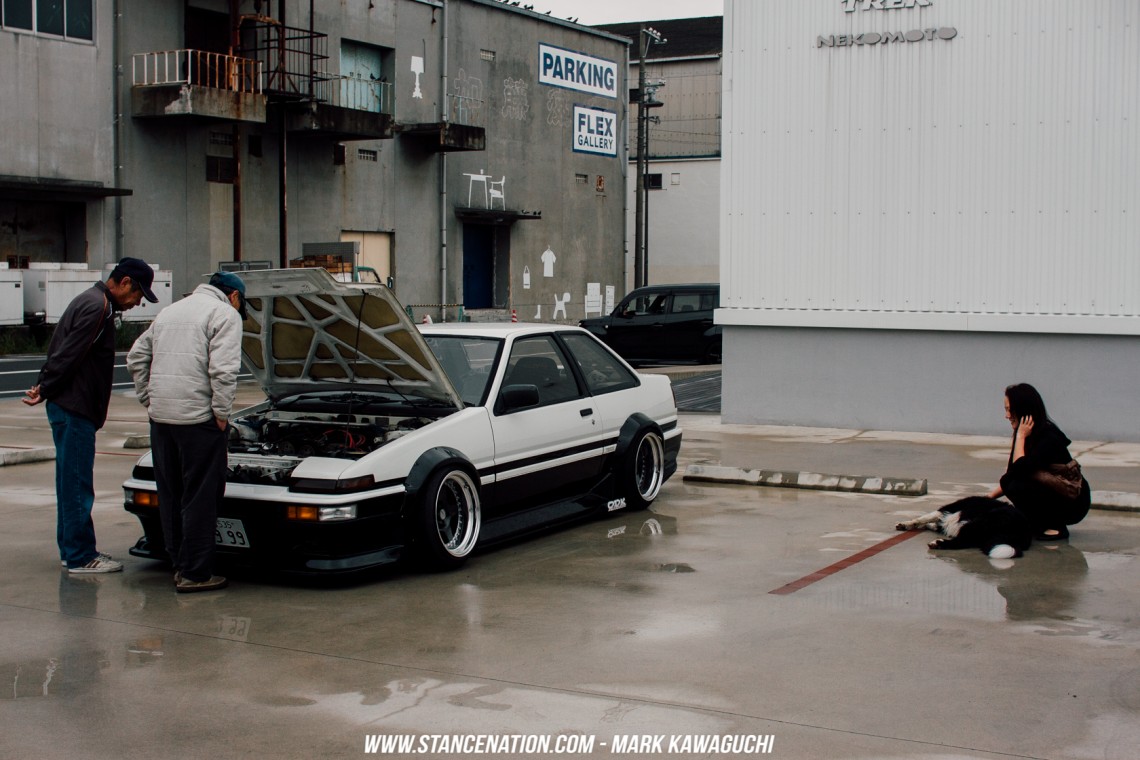 1985 Sprinter Trueno Apex 2CP
Bodykit
Duce front bumper
Crystal Body Yokoyama fender flares, side skirts N-Design side flap
Aero Master rear bumper
FRP bonnet, bonnet pins
Wheels
Work Meister CR01 F 9J 16 -16 R 9J 16 -31 35mm spacers in front and rear
Auto Staff wheel nuts
Tires
Toyo Proxes T1R 195/45R16
Suspension
Front
TRD 92 short shock Swift 8K springs coilovers
Rear
Tokico HTS damper
TRD springs 6K
Arms
Front
section pillow adjustable lower arms, pillow tension rods, reinforced tie rods
Rear
pillow adjustable control arms, lateral rods
Engine
92 kouki base
TODA Racing high camshaft IN304 EX288
TODA Racing adjustable camshaft pulley
Toyota Vitz lifters
BIG Valve, cut seat rings
porting
metal gasket
Escort 82.5 cast piston
AE111 connecting rod balanced
AE111 4 throttle funnel type
Freedom computer
Drive line
TODA Racing lightweight flywheel, SECTION racing clutch
TRD 2way LSD
maker unknown exhaust manifold, and exhaust
Interior
Recaro SR3 denim, Ecsaine, carbon leather
ATC steering wheel
Alpine speakers, Pioneer door speakers, Toyota navigation system