Have you ever noticed how things that are out of reach sometimes are the most desirable? It's a natural human tendency, to want what you can't have. I think for most American car people, it's the cars we didn't get here in the states that give us that feeling more than most things. The S15 Nissan Silvia is a prime example of this. S chassis cars in general have seen a huge popularity spike over the years. But, since we never got the s15 variant, people here go nuts for them. That's certainly part of the puzzle when I saw this one. Not only is it stunning, but, I see them so rarely that they almost feel exotic.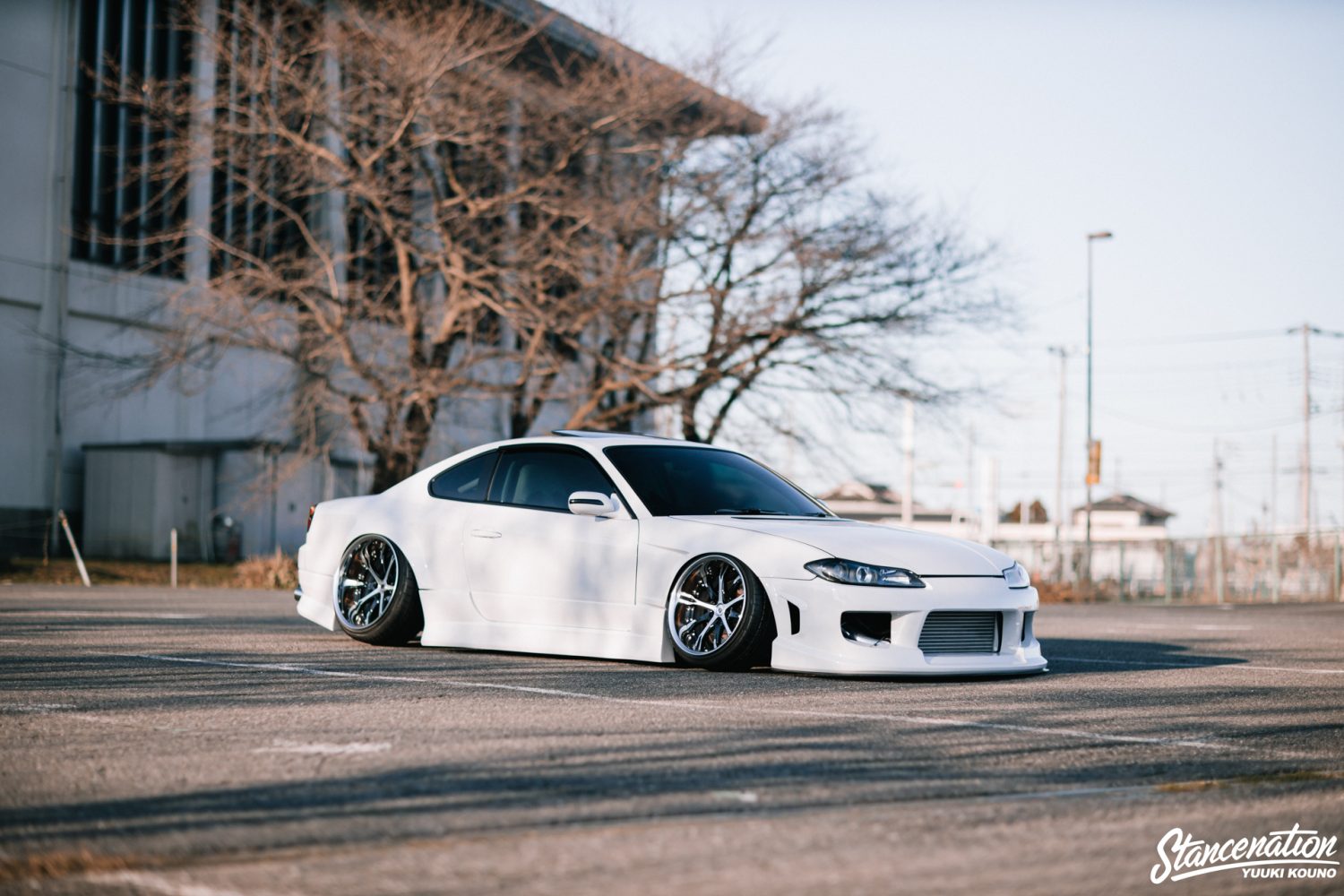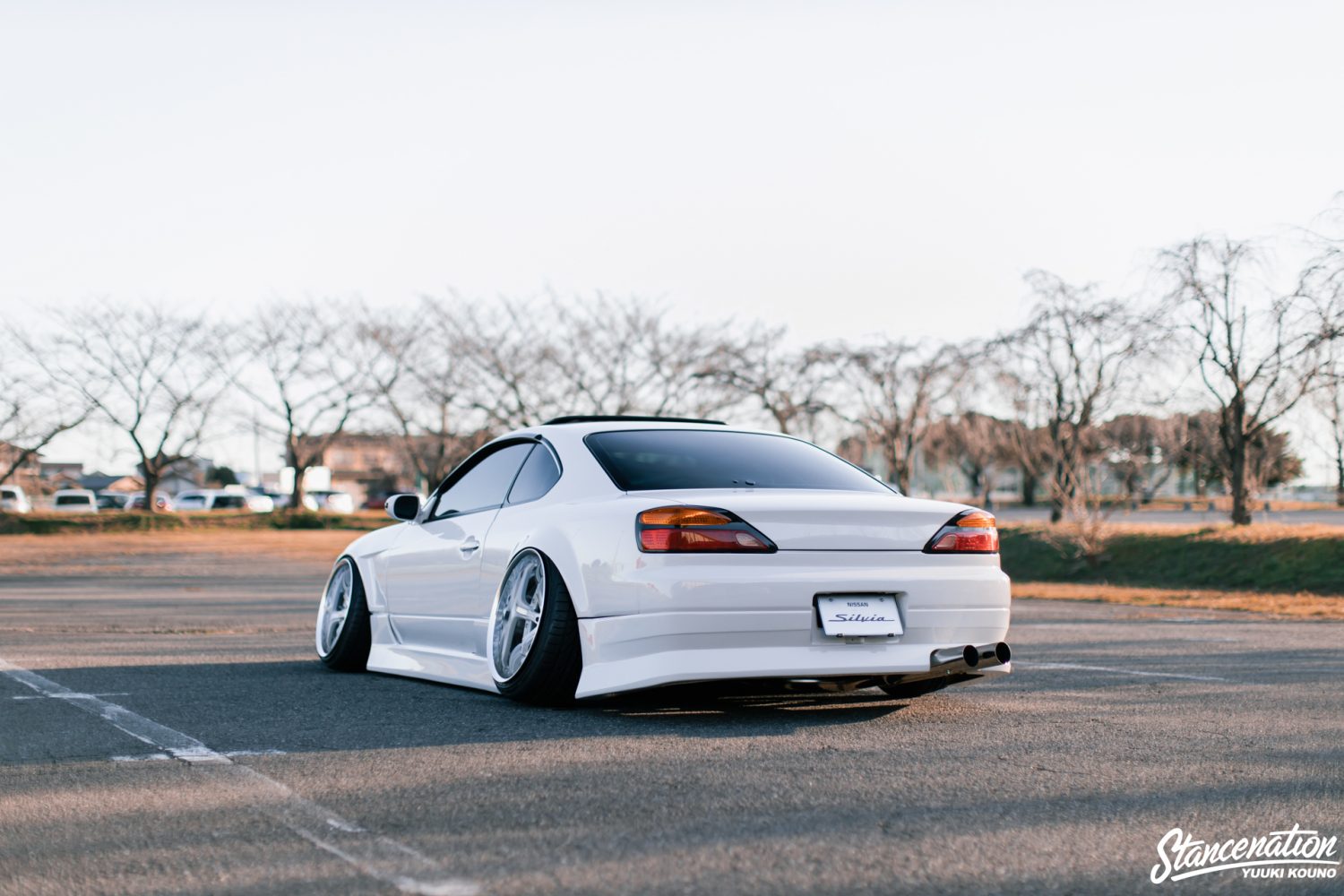 This article started off like most of the pieces I write for StanceNation. Elvis sends a car over and says something along the lines of "hey, how do you feel about this one?" A static low 1jz powered s15 with giant work wheels? I reply, "Super into it, definitely in" Because really, how could I not? Not only is it beautiful. But, it's from Japan, and the owner sends his submission in loosely translated through Google translate. The challenge is unavoidable. I love super authentic cars like this. So raw, so perfect, so Japan. So, like we've done before, let's take a journey along some amazing photos and try our best to put together the broken translation.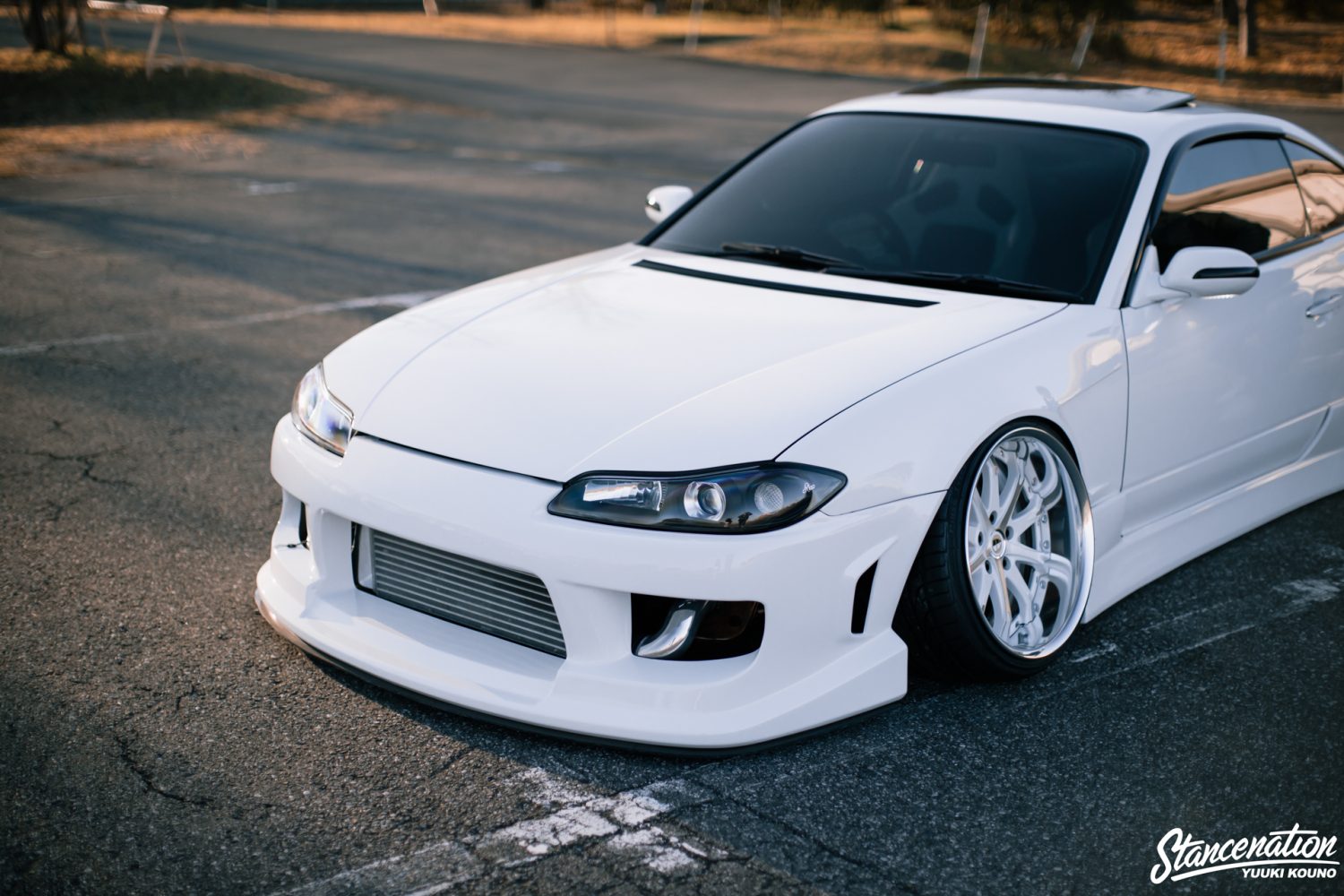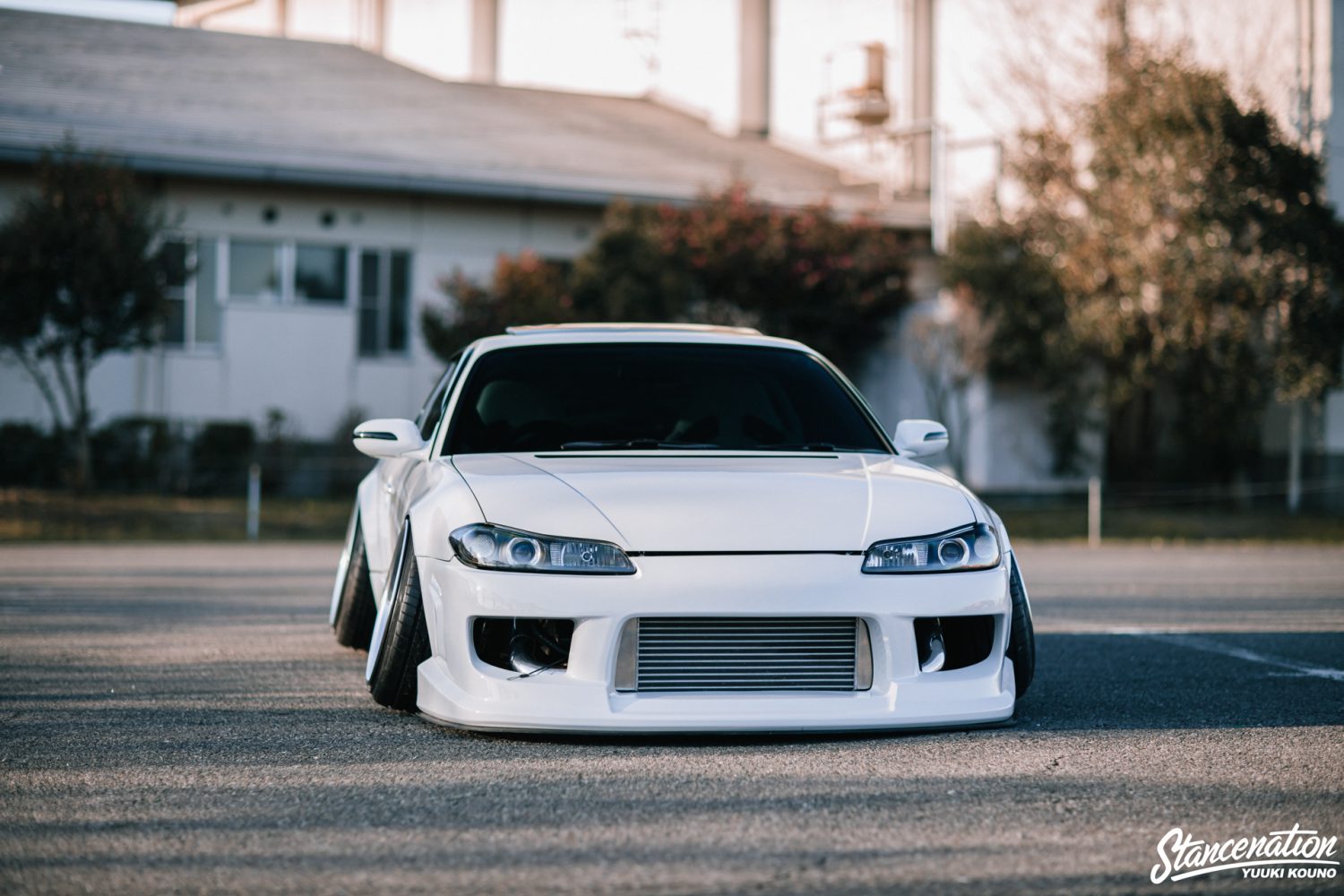 Let's start with the first impressions. That stance is commanding. I don't think there is a better descriptor for it. Staggered diameter is a tough thing to properly pull off and I think that the simple fact that I didn't catch this cars 18/19 stagger until reading the specs is a statement to how well it works here. Wheel specs are 18×10 – 64 and 19×11-67. Take a second to think about that. More than 2.5" of negative offset on both front and rear, and it still tucks under the fender lip. We all know that the Japan car scene does these things with ease, this car being a prime example.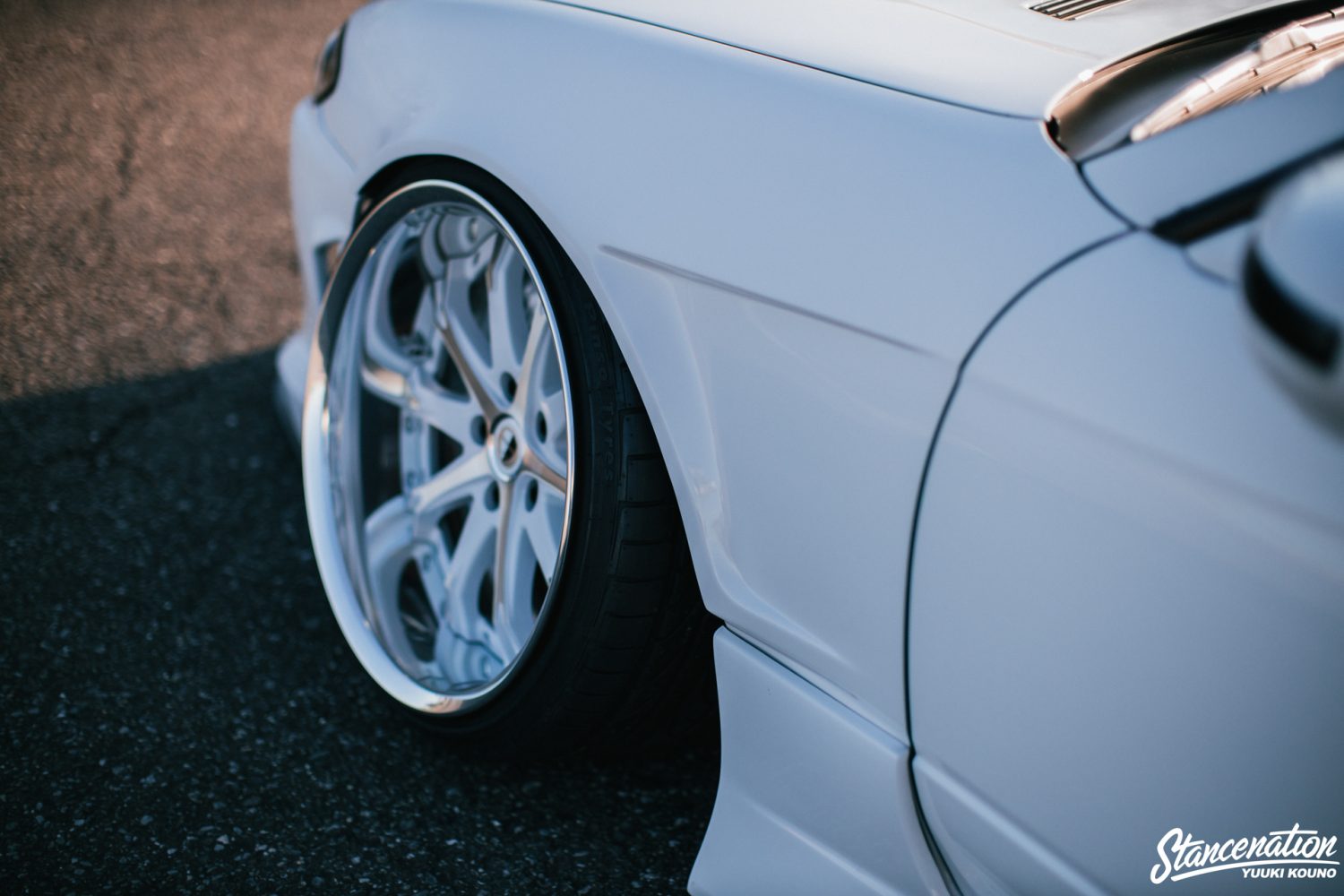 The inside is a little less subtle. White marble finish throughout instantly catches the eye. The two tone white/black Recaro SR7F helping to blend in the black that covers the remaining interior parts. The one off cage reminds us that this car means business. Just in case you forgot, the JZX TRD cluster gives a clue toward what's hiding under the hood.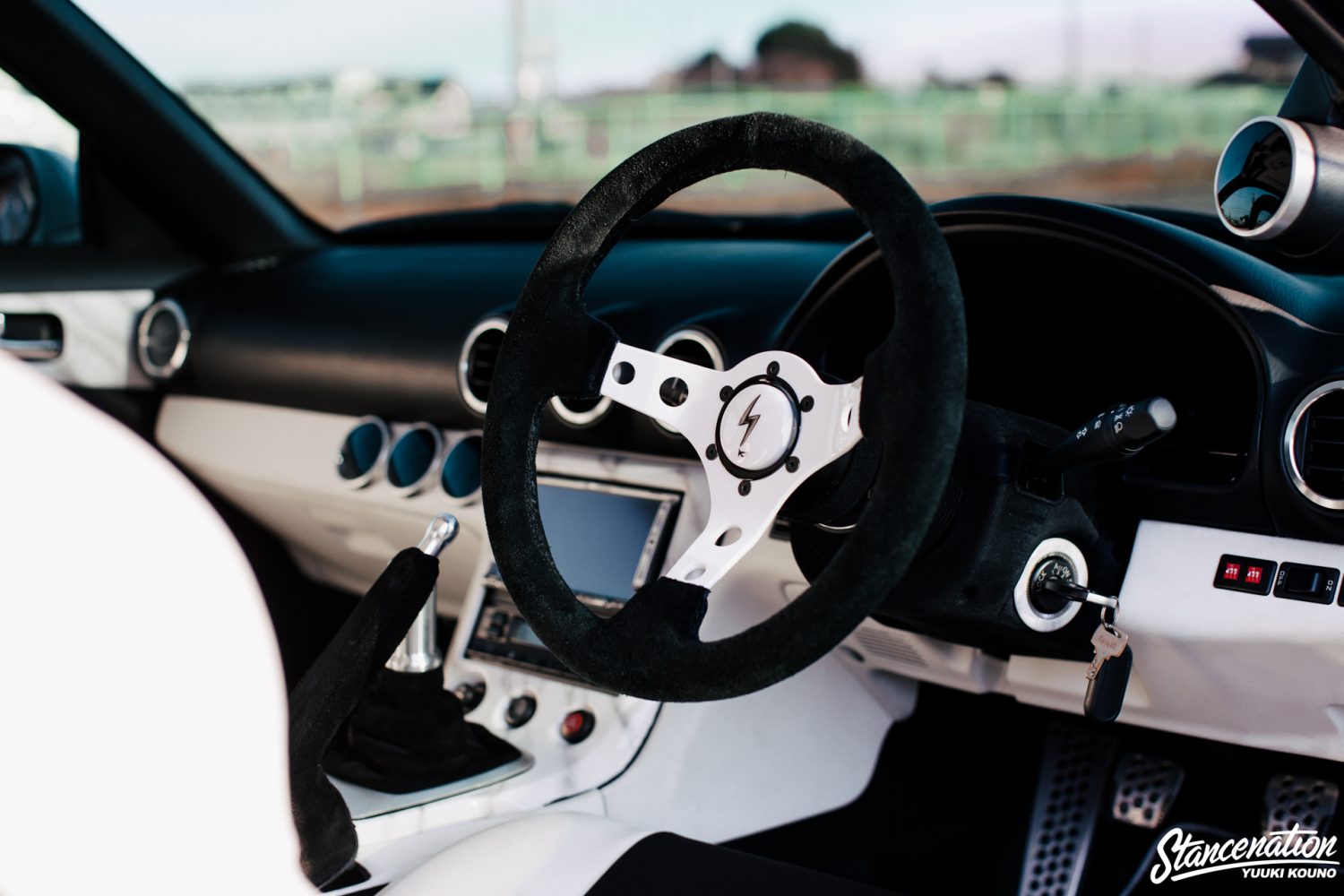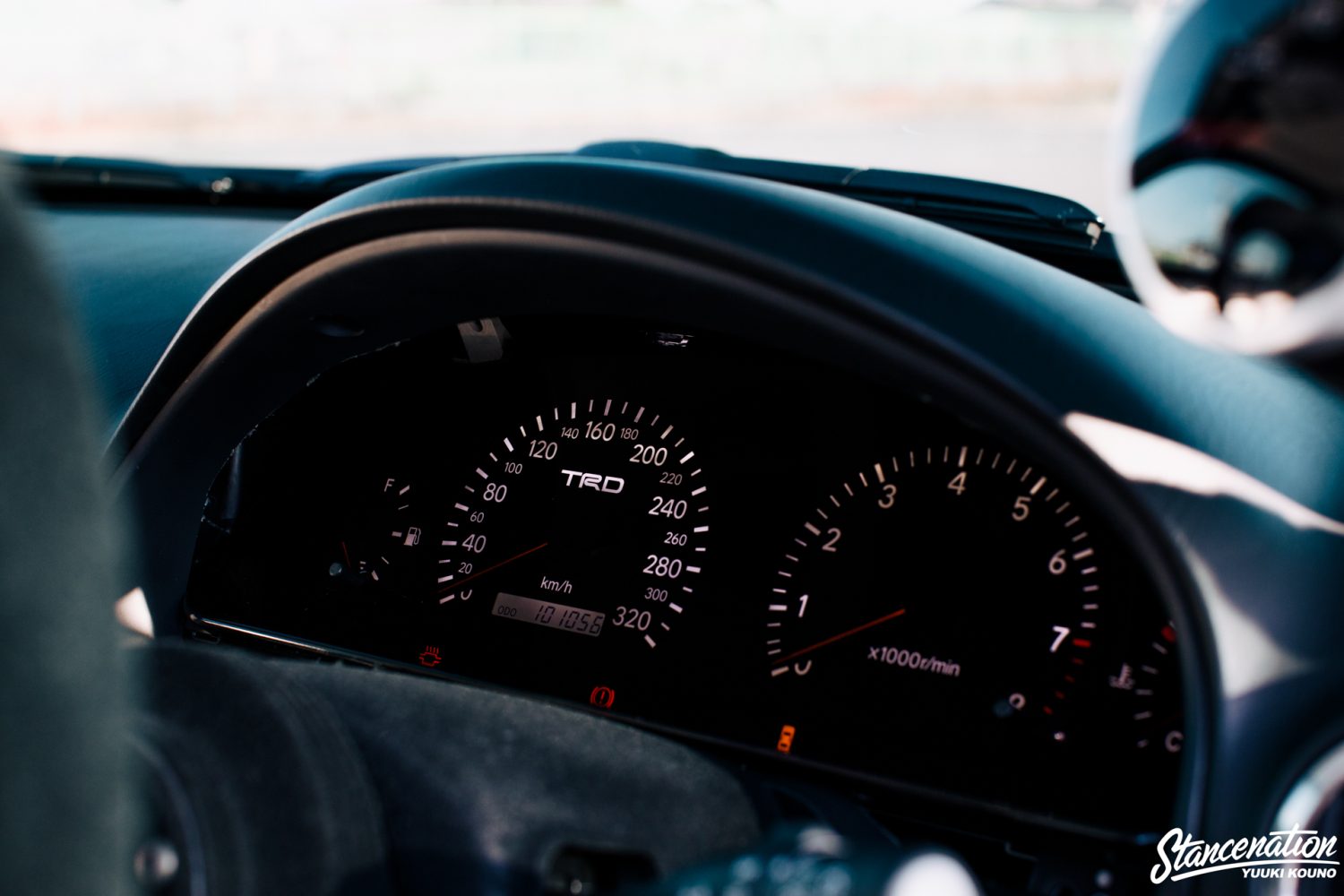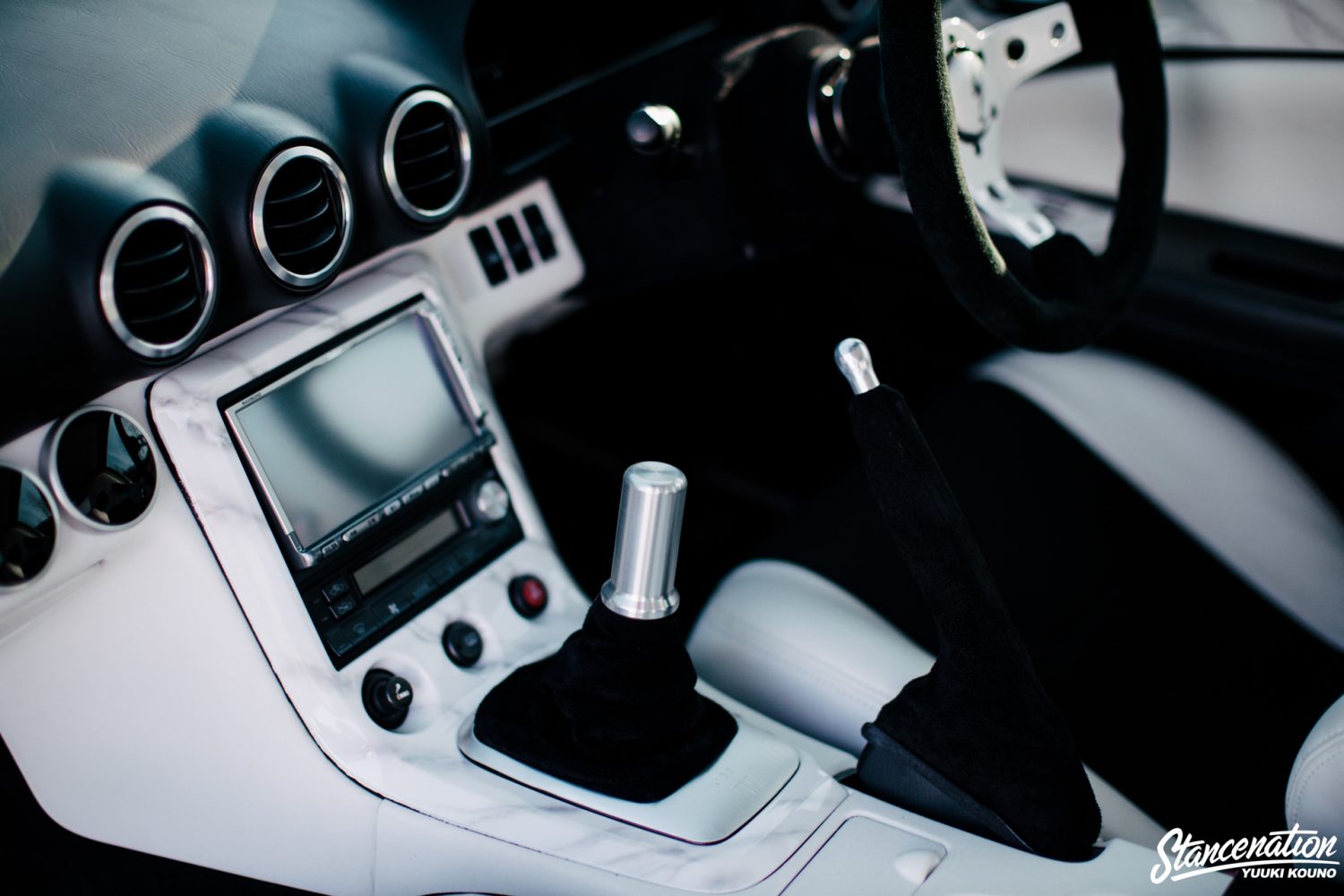 There are a few other key pieces that you may miss at first as well. For example, those door handles are grafted on from a Toyota Celsior. The subtle upper hood vent? That's a Mercedes piece. No info on the mirrors, but they flow very well with the rest of the exterior. Also worth adding, I think the choice to go wingless worked perfectly for this car. Helping bridge that styling gap between a classy sedan look and a sporty aero kitted coupe.
This S15 also has an impressive list of exterior mods. Which is another testament to the thoughtfulness of the build. I think one of the best compliments that I can give here is that it really doesn't look all that crazy. That's pretty easy to say when you just casually look past the car. But, then you remember those crazy specs on the Work Schwert SC4's, tucked under those fenders thanks to a mix of 326 power and T-demand parts. Oh, did you notice that it has white accents on one side, black on the other? Neither did I. It also sports a mix of aero parts, including a Garage Mak Type 1 front, Bloom Japan sides and rear, as well as custom fenders with a shaved fuel door.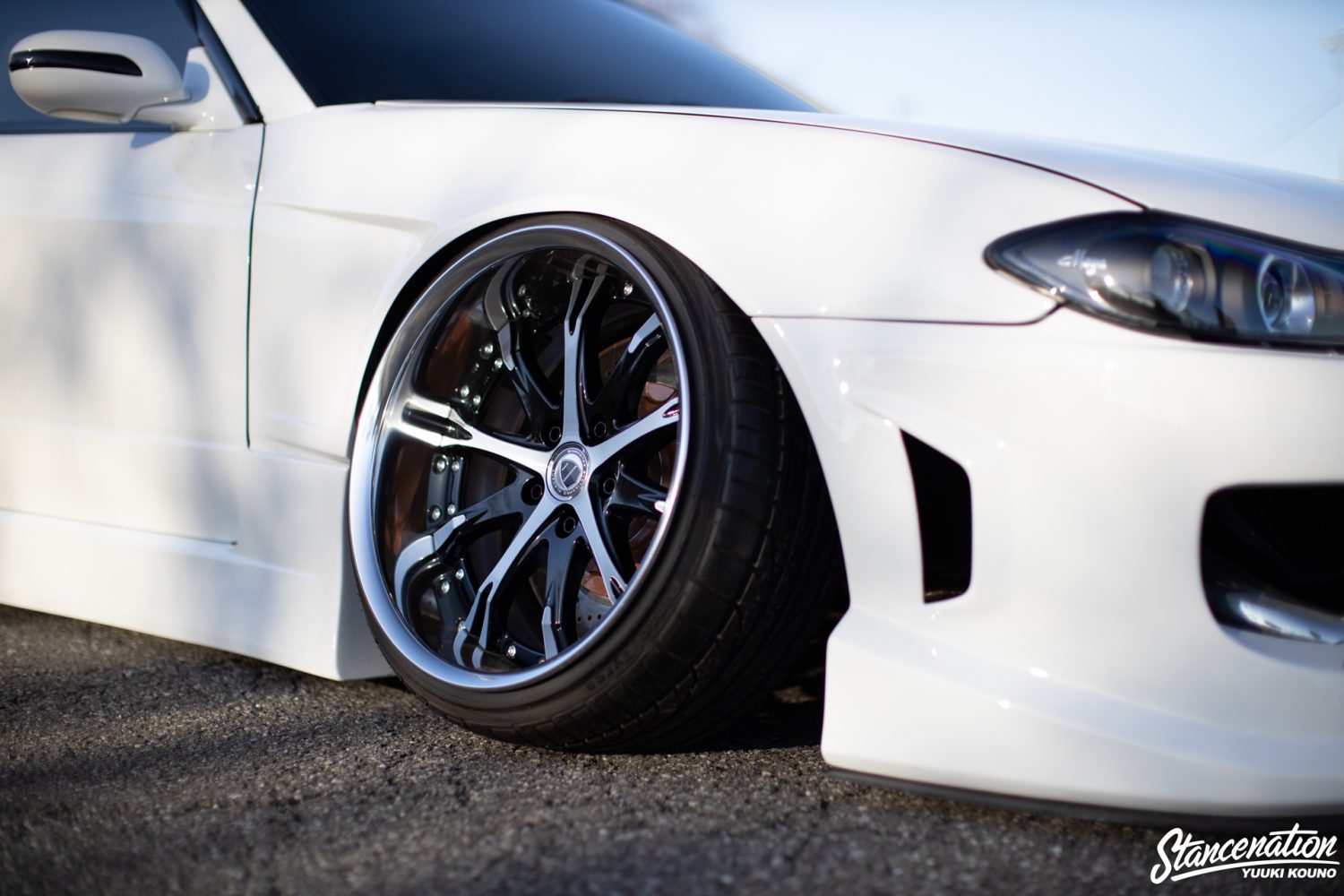 Sadato Fukumoto has a perfectly simple explanation for this Nissan/Toyota mashup, he likes the aesthetic of the S15 and enjoys the sound of the 1JZ. I can't say that I blame him much. The 1J and 2J engines have become a go to swap for many in the drift crowd, from ae86's all the way to current generation mustangs, people can't get enough of Toyotas venerable series of straight 6 turbo motors. Specs are sparse on the engine itself. But, what we do know is that power is sent through a JZX90 manual transmission and a Nismo 2 way lsd. It's also sporting a tubular manifold from S&A, all nicely tucked into a tubbed and smoothed engine bay. There's one more interesting piece to the swap, apparently, it still retains the a/c system. Very impressive feat, considering both the tidy engine bay and the fact that the car itself was never intended to have an I6 engine configuration.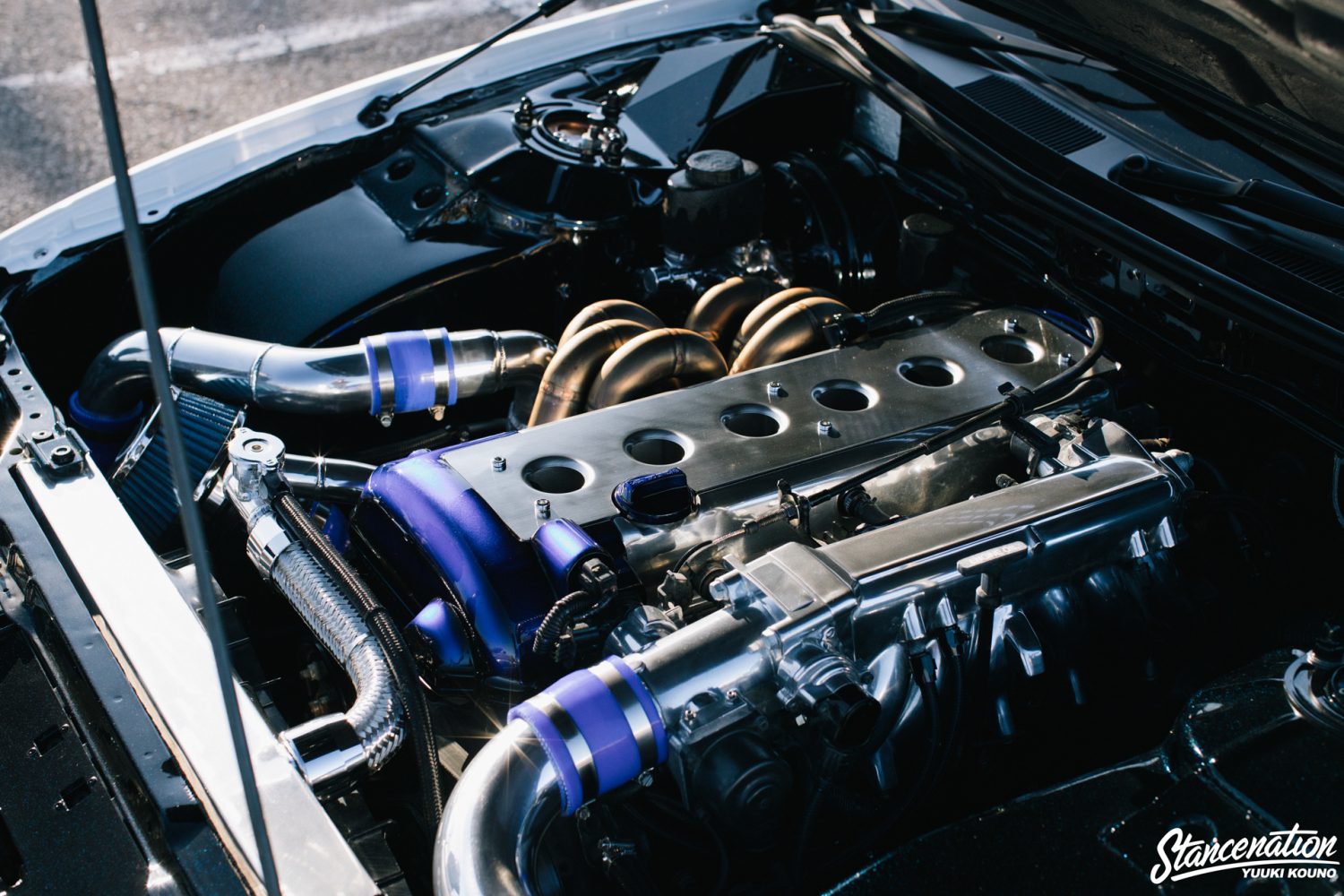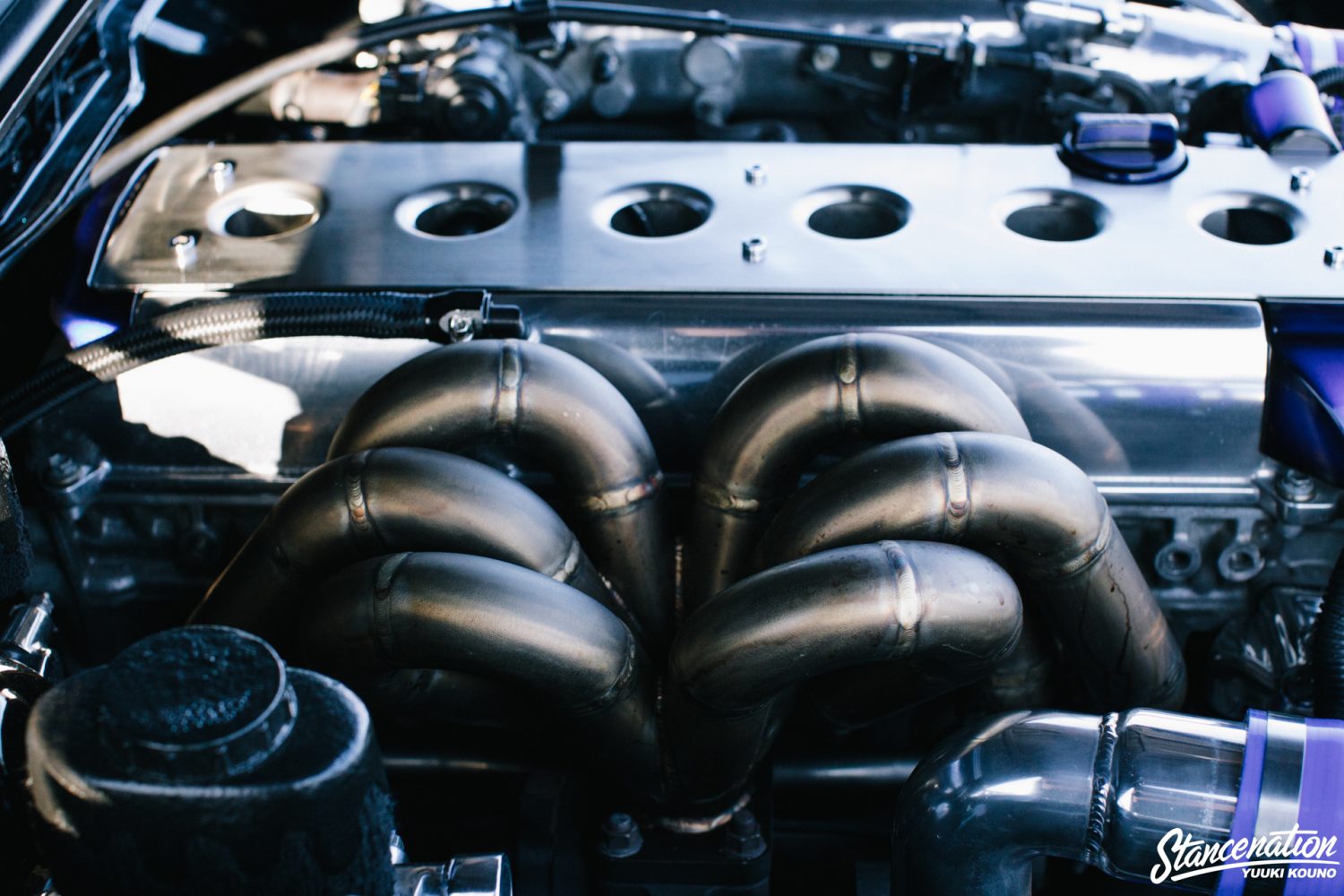 In another 4 years, these Silvias will finally be available for legal import into the US. I'm sure some of the draw of the S15 will start to fade as they become more and more available to us. Until then, beautiful examples such as this one will continue to captivate everyone who lusts after the forbidden fruit of the JDM car world. One thing is for certain though, as much as we all try, it's very difficult to capture the magic that the Japanese car culture seems to effortlessly feed to us. That's something that takes much more skill to acquire than just getting a car here. So, maybe, in that sense, the S15 can stay exotic for years to come.