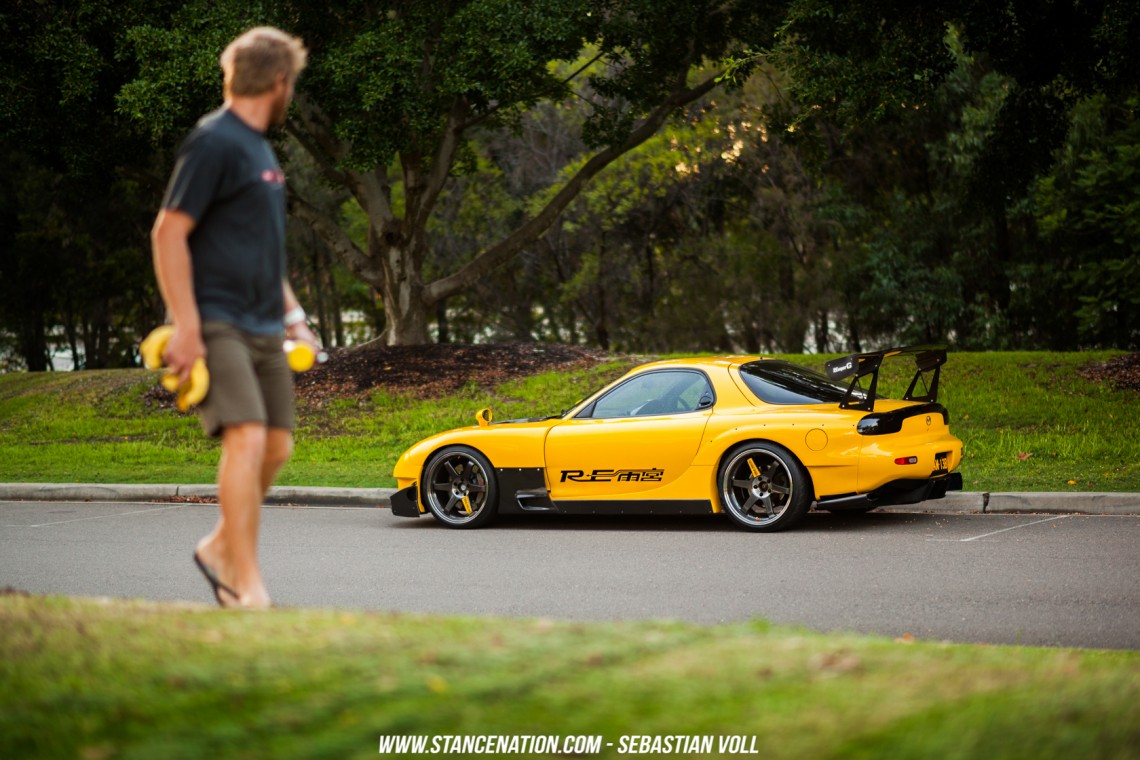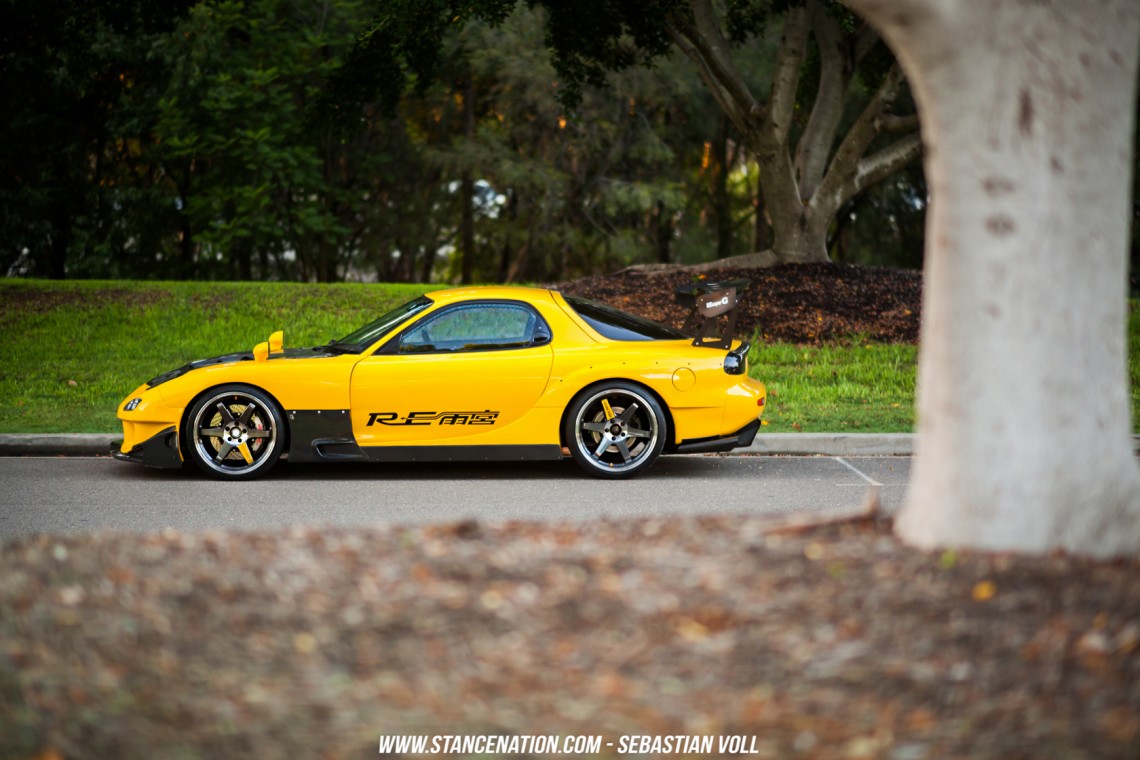 The Mazda FD RX-7 needs no introduction.  I'll even go and put it out there, that of the iconic, 90s Japanese super-cars, this one looks the best, and this is coming from the guy who has a huge bias towards the mk4 Supra.  The lines of the FD simply can't be beat.  It looks as good today as it did when they came out in 1993.  Now with the US being the US, the RX-7 only lasted until 1995, but the rest of the world got to enjoy the car until 2001, and in 2001 there was this special little model called the Bathurst R, and this RX-7 featured here is one of those rare models.  The Bathurst R featured lots of little updates over a standard RX-7 to somehow make it even sexier.  As you can see though, this isn't a very standard RX-7.  It's very far from standard, but my goodness just look at the damn thing and tell me that it doesn't just make you feel some type of way…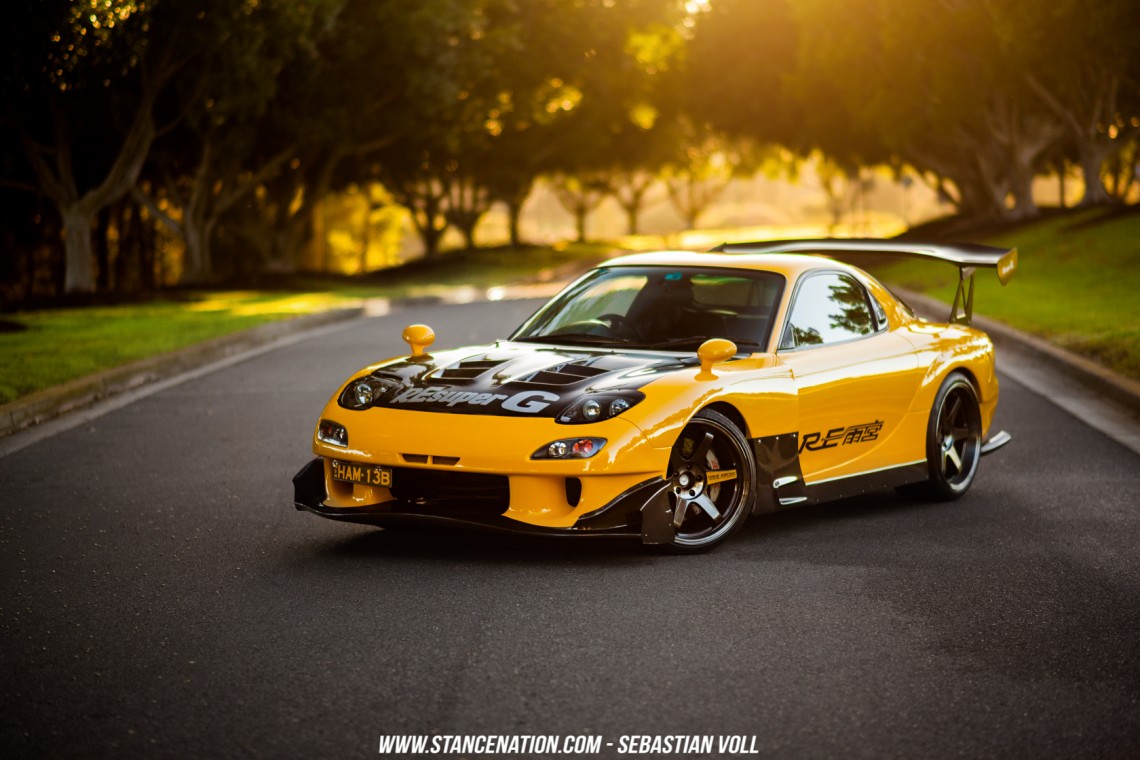 Mazda's rotary engine gave birth to what would become THE tuning shop for rotary-powered Mazdas in 1974.  Isami Amemiya is a name that is synonymous with rotaries and RX-7s, building some of the fastest and most finely tuned rotary-machines out there.  In 1995, RE-Amemiya entered the ultra-competitive Super GT series in Japan with their version of the FD3S RX-7 which really put them on the map globally.  With their tuning prowess that encompassed engines, suspensions, and aero, the technology they put into their race cars eventually trickled down to their street cars which gave birth to some of the most aesthetically pleasing, yet brutally fast cars the world has ever seen.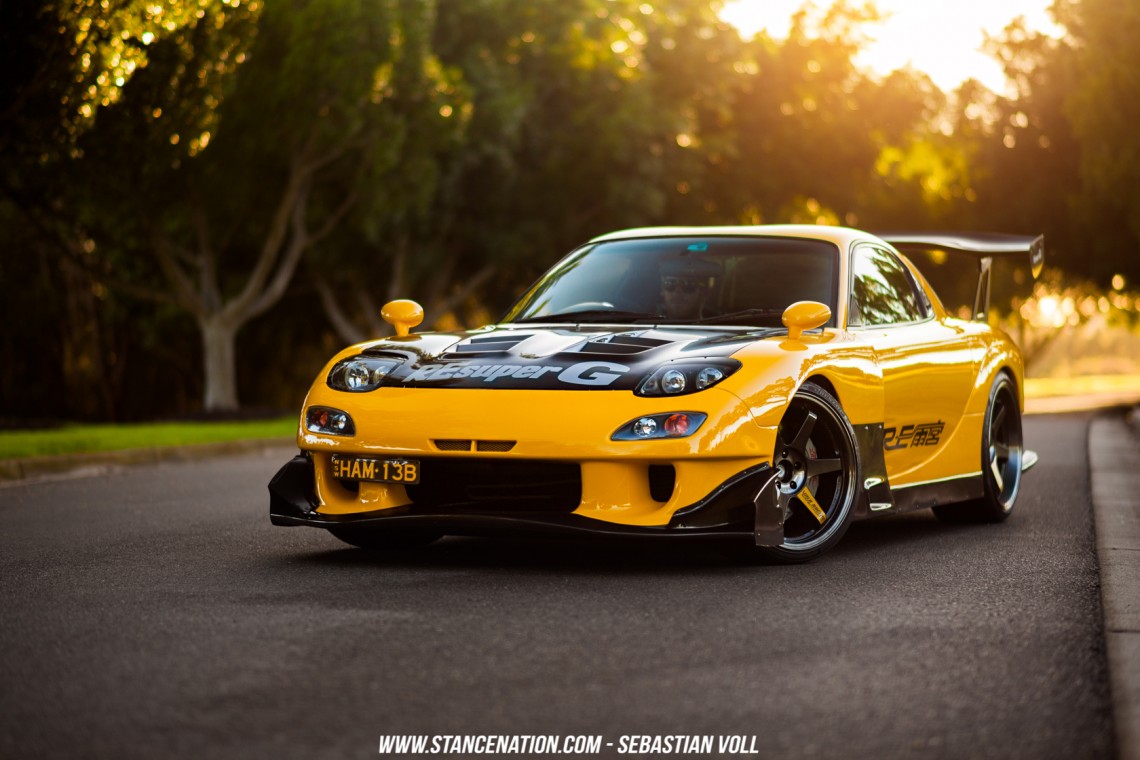 This FD is a very fine example of an RE-Amemiya styled RX-7.  It's aggressive, purpose built, yet it looks just as good sitting still as it does tearing down the track, or the driver's favorite twisty road.  There are some cars whose lines are sexy just the way they are.  Despite how sexy the FD is in stock form, the RE-Amemiya AD-GT wide-body takes that sexiness and amplifies it by 100x.  I cannot get enough of this car from any angle, it just does not get tiring.  The kit features full front bumper with carbon front diffuser, wide-front fenders, carbon side-skirts, rear-wide over-fenders, carbon rear diffuser, carbon AD-9 vented hood, carbon gt2 wing, sleek headlight kit and AD-type side-mirrors, and custom tail lights.  Phew!  That is a lot of panels to be replaced, but the results are definitely worth it.  After all the body-work was in place, the whole car was resprayed in the vibrant Bathurst R Sunburst Yellow hue the car left the factory with.  With the car now super-wide, and super-aggressive, it was time to bring the rest of the car up to par.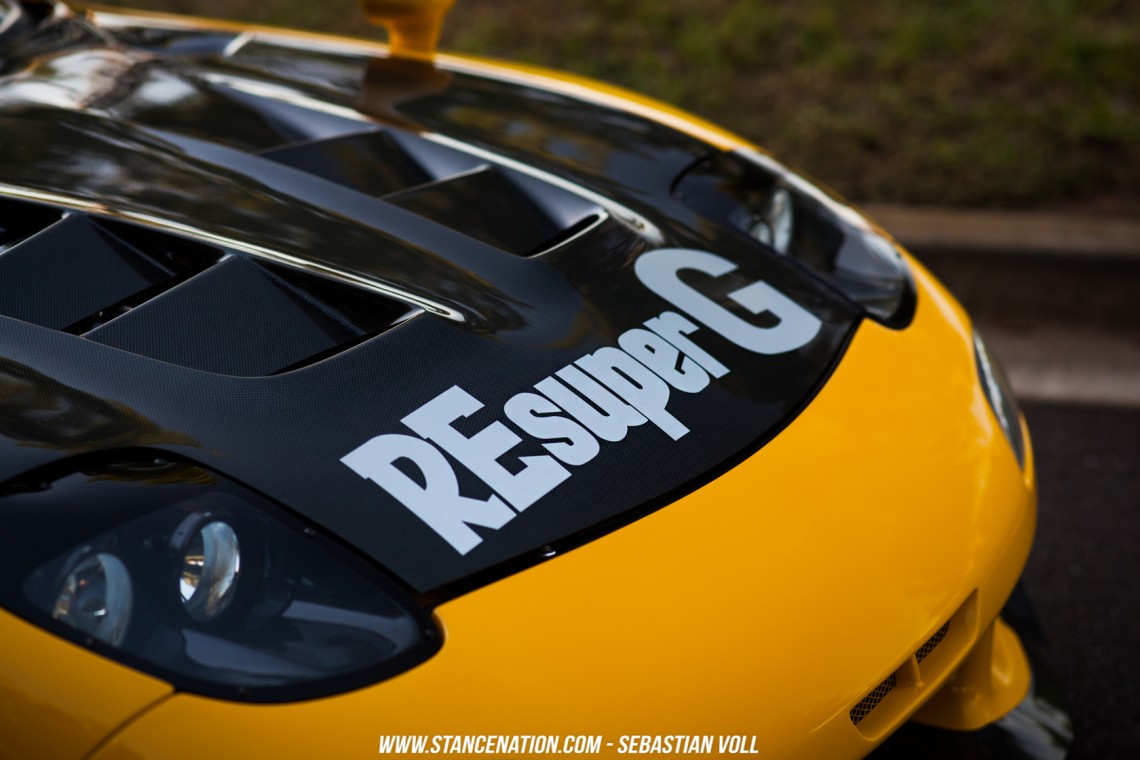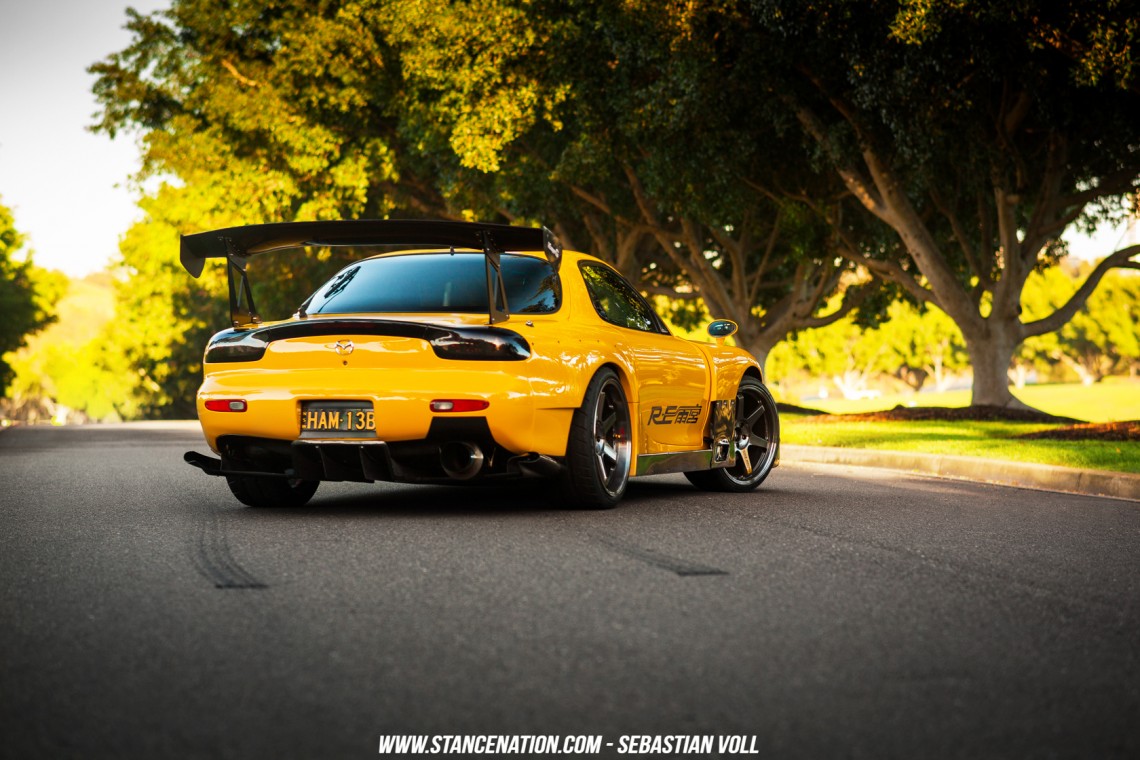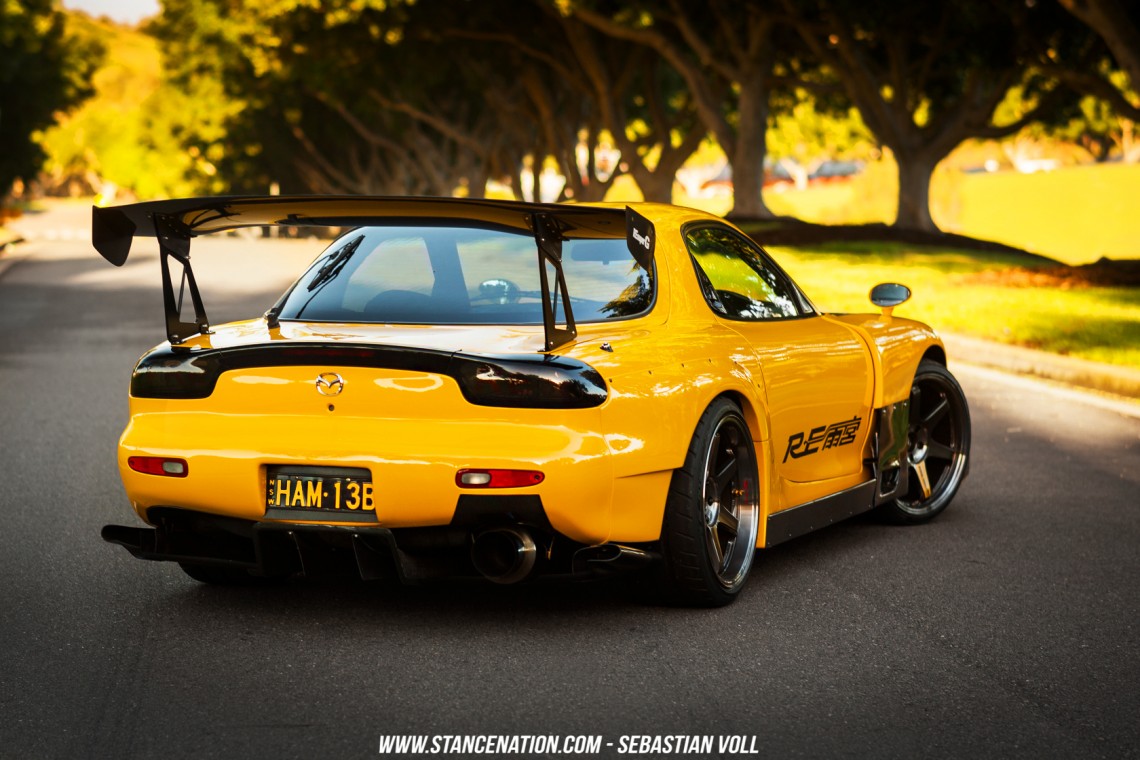 The car is lowered on HKS Hipermax 3 coilovers which provide Graham ample adjustment for the ride-height and dampening settings.  This car is a little bit more on the function side of things we feature on the site, so you won't be seeing any arch-destroying fitment here, and I can see all the hardcore function guys losing it that we can still throw a feature about a car that is setup to be driven hard too.  The car sits on xx X xx +/-x Volk Racing TE37SL wheels which look right at home under the wide arches.  I'm not keeping the wheel specs secret or anything, but the short-version of the story is we done f*cked up and somebody didn't get the wheel specs.  Even the best can have an off day, right?  Framed by the aggressive rollers is an aggressive, 6-piston/4-piston Rotora brake kit with 360mm rotors all around to insure this FD stops as fast as it can accelerate.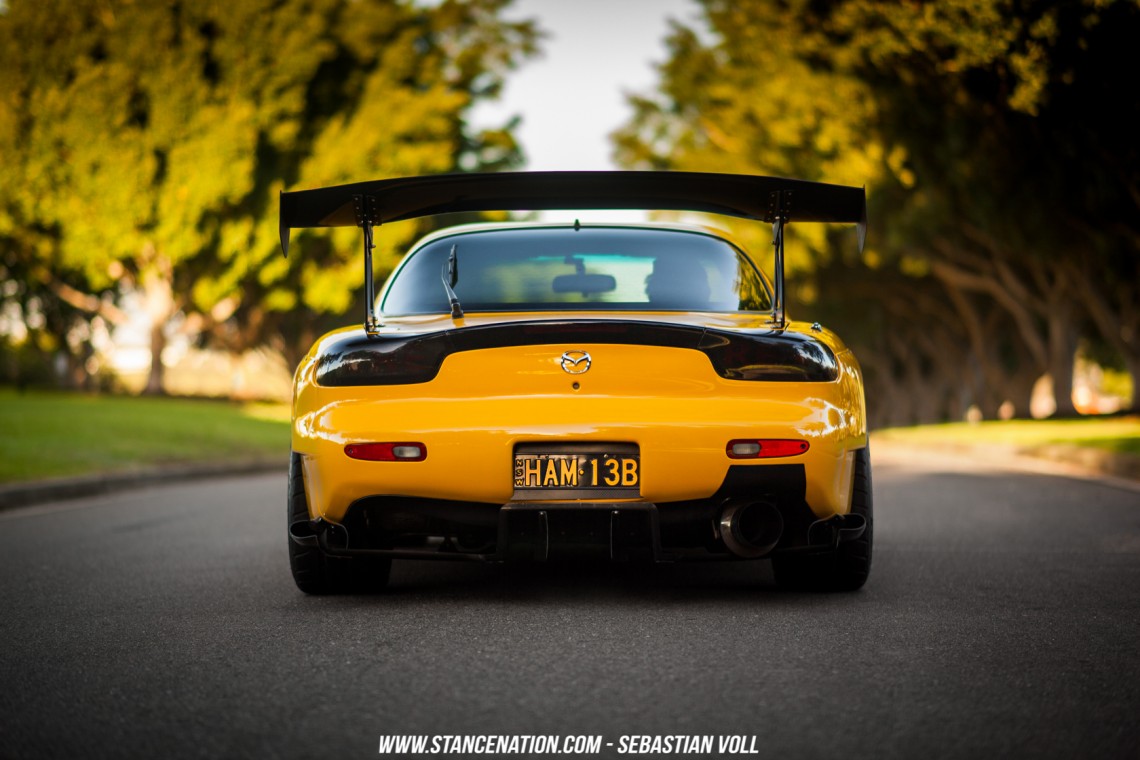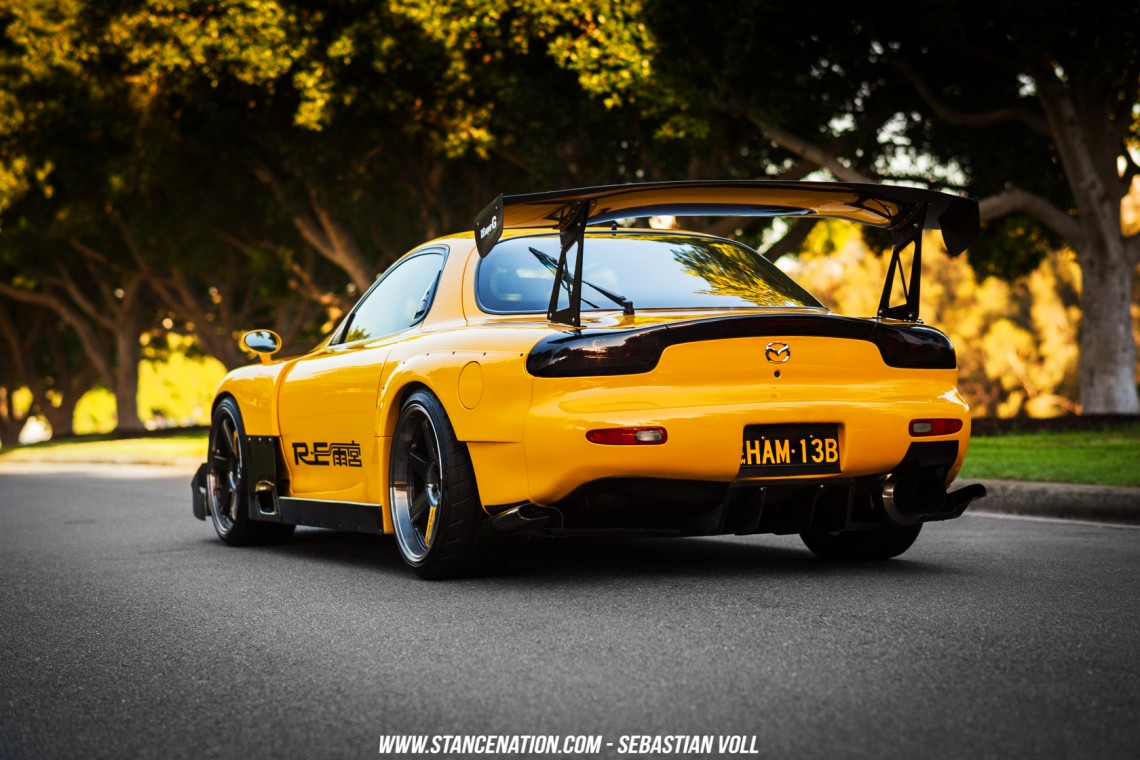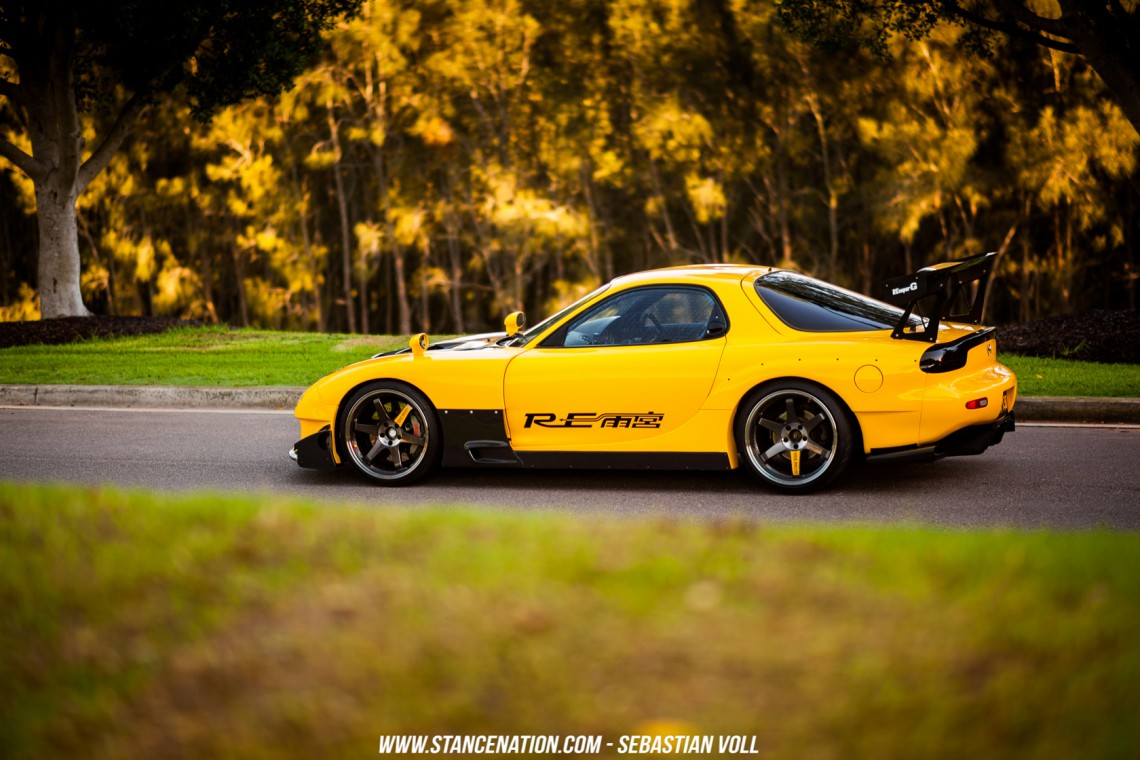 Under the hood, no expense was spared either.  In fact, the amount expensed under the hood comes out to the tune of $50k.  That's pretty steep, right up there with big-power 2JZ and LSx builds.  The 13b, 2-rotor engine has been completely gone through, being fully rebuilt to handle the extra power.  A pair of upgraded turbos were bolted to the block which are fed by a Mazdaspeed carbon intake box.  The air is chilled via a custom intercooler before making its way to the combustion chamber by way of a custom intake plenum that has been plated in gold (bling-bling!).  The engine has been fine-tuned to 301kw (or a little over 400hp for those playing the home game) via an Apex-i Power FC computer.  The car also features an upgraded 5spd gear-box and an upgraded clutch to handle the extra power.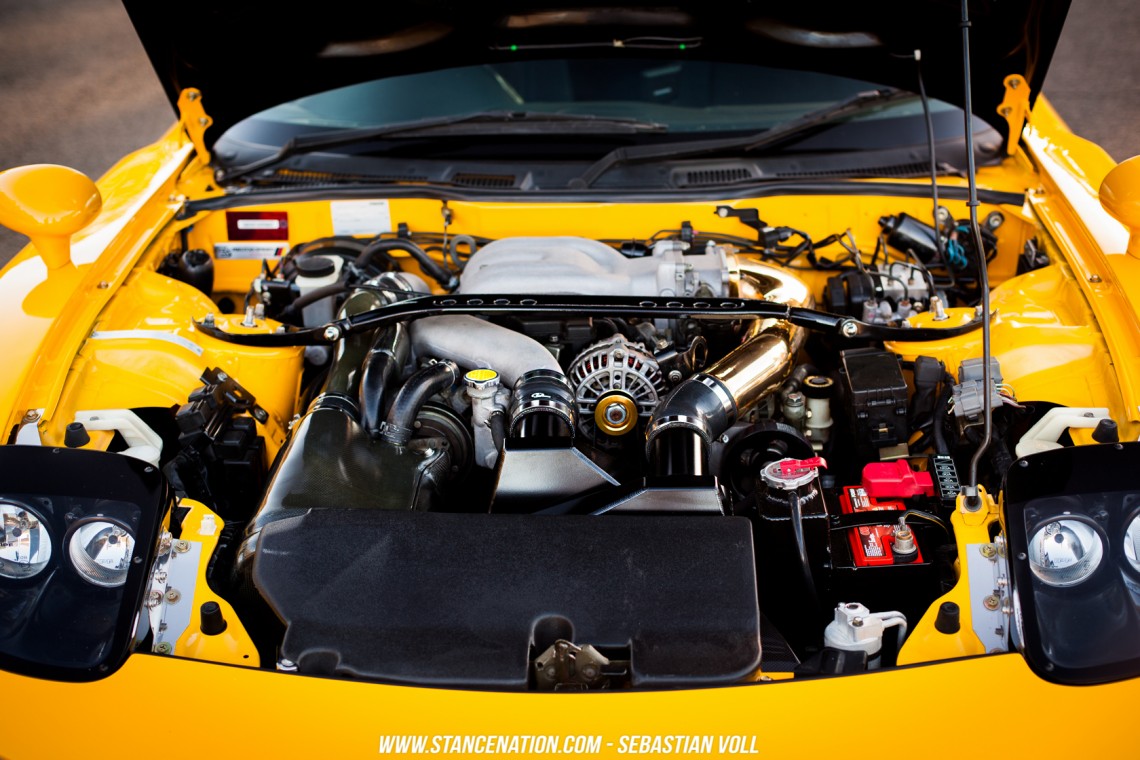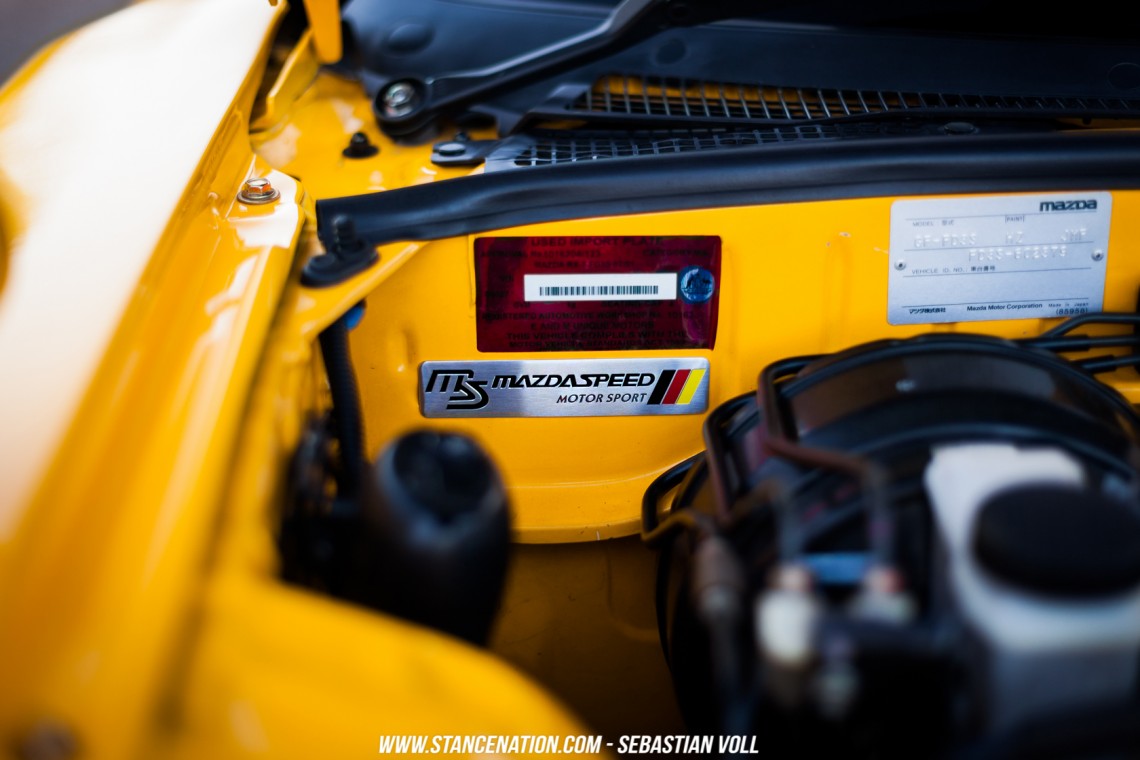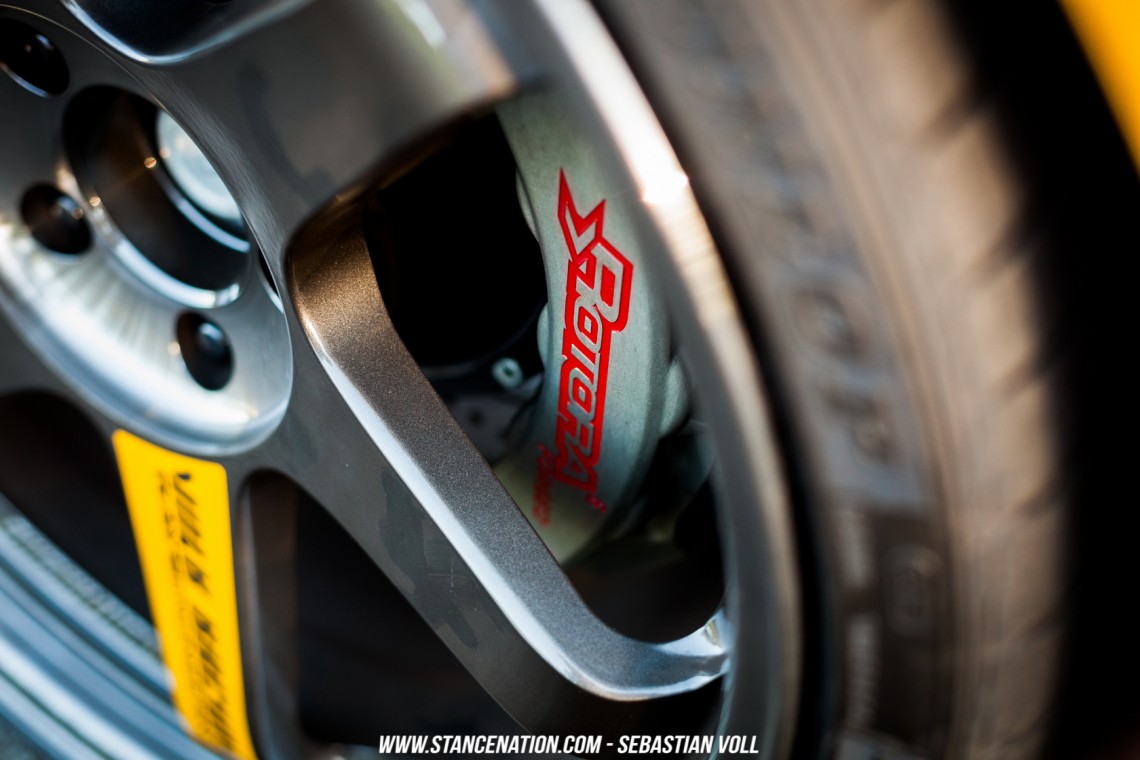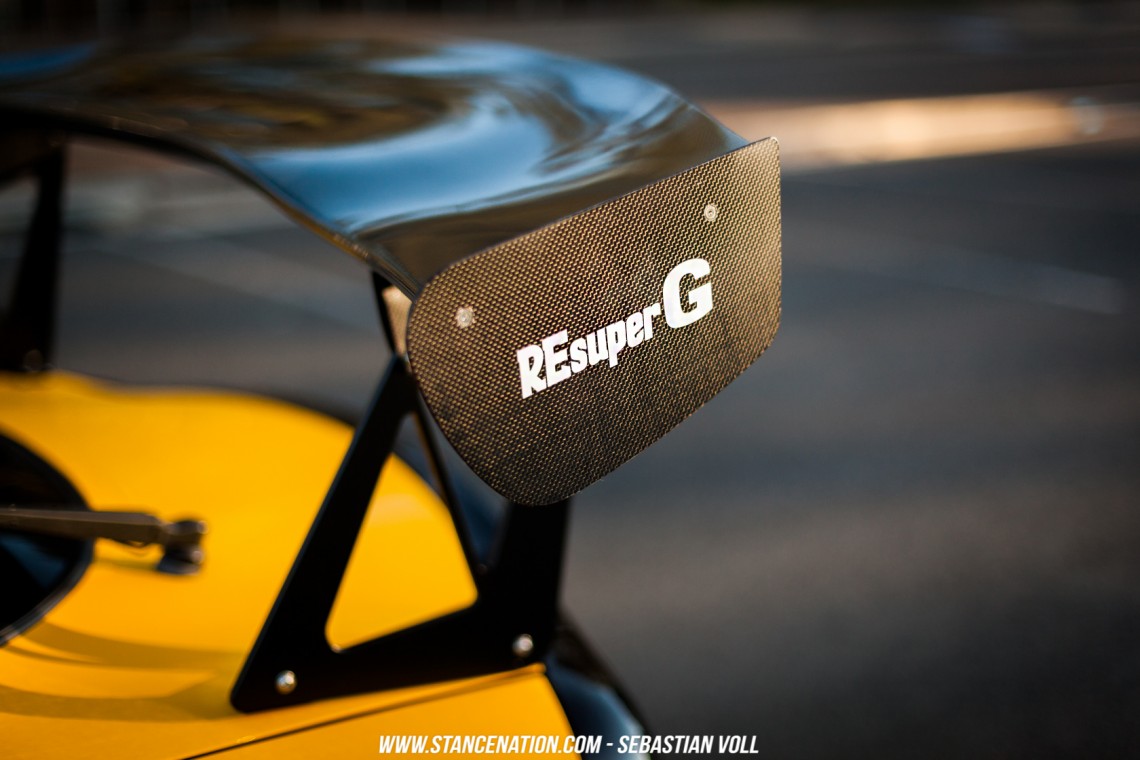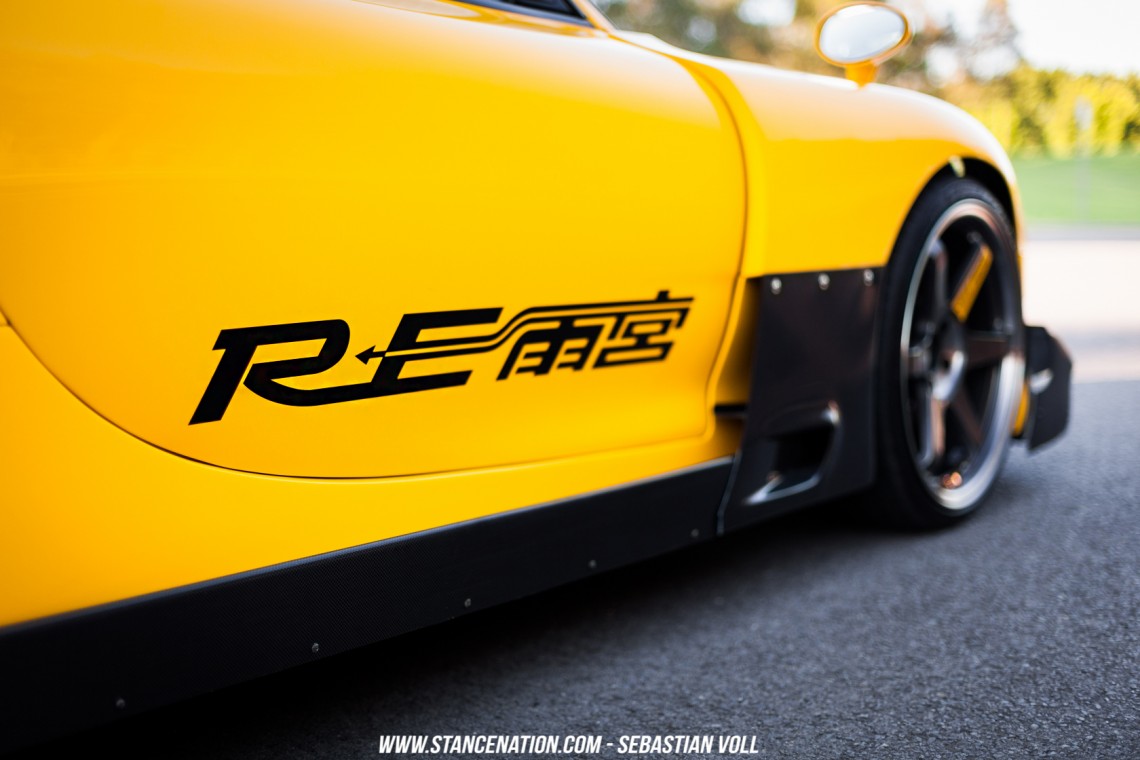 The end result is a car that matches its aggressive looks with the power and handling to back it up.  Having such a limited car with such a crazy amount of modifications doesn't come cheap either, with the build of this RX-7 costing over $150k.  Building a car right never comes cheap, especially when dealing with a car of this caliber.  Still, Graham did a fantastic job paying homage to such an iconic car by using the best parts from an iconic name in the tuning industry.  Amemiya-san would be certainly nod his head in approval seeing this FD RX-7. and you should look on it and admire it with respect if you're ever lucky enough to catch it out in the wild.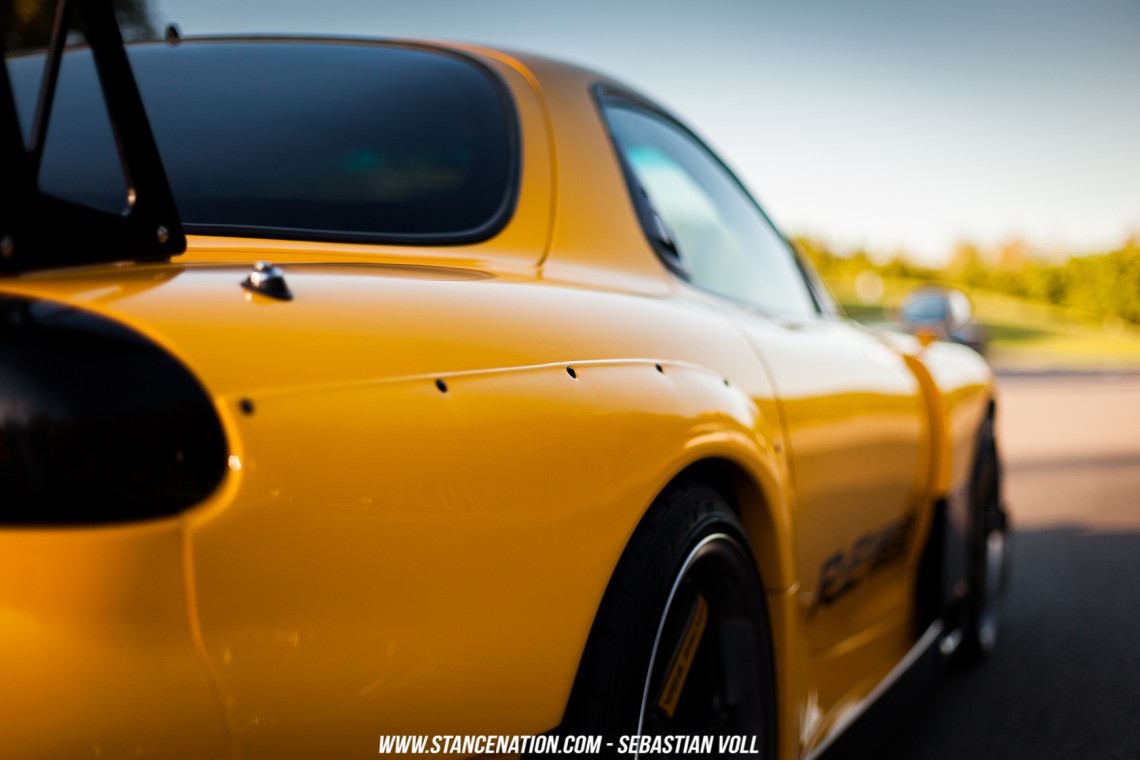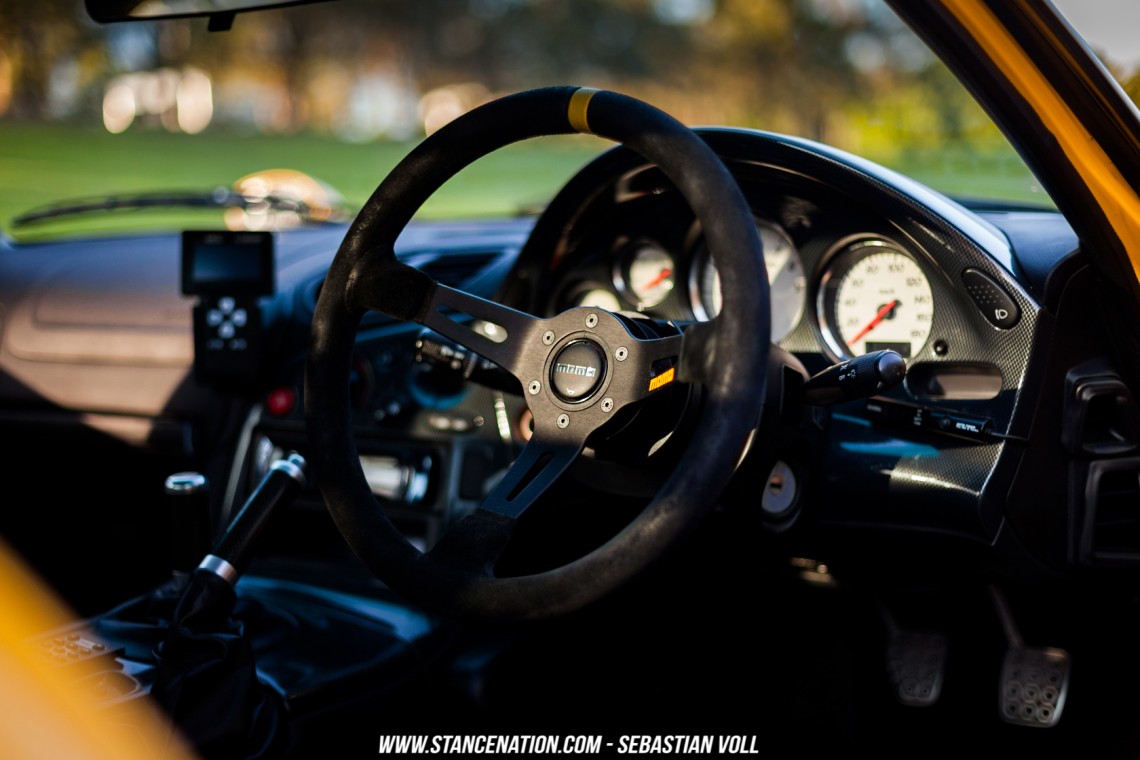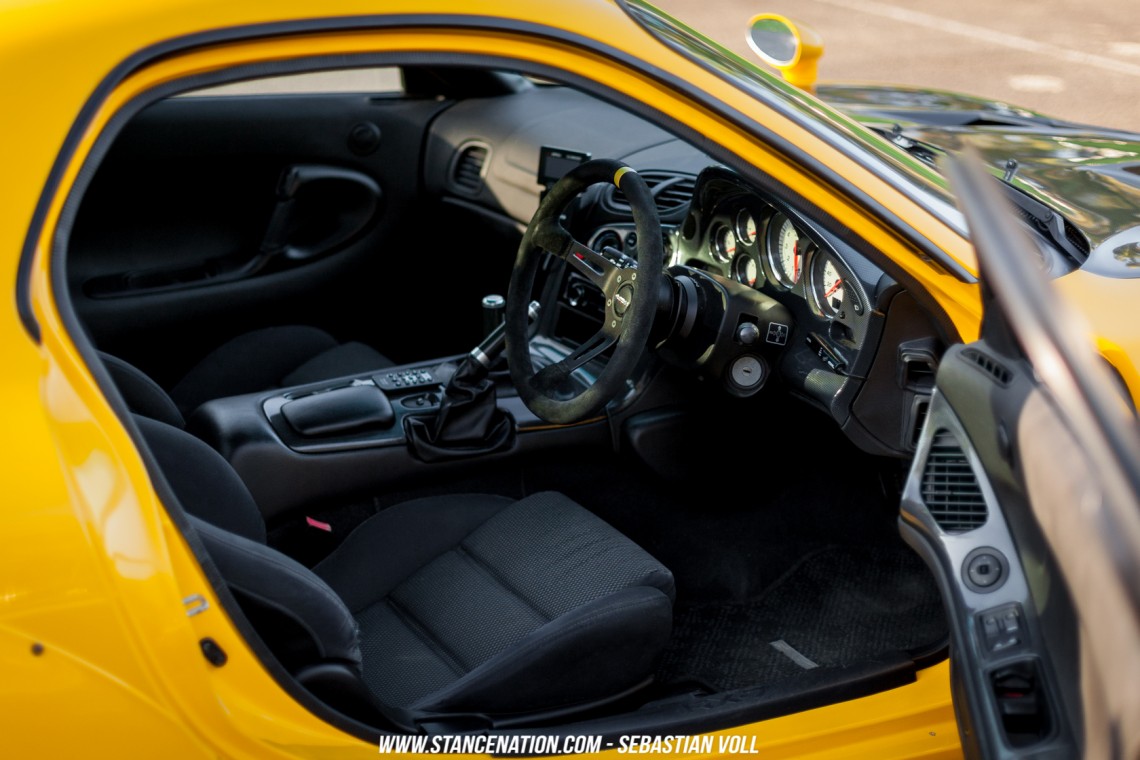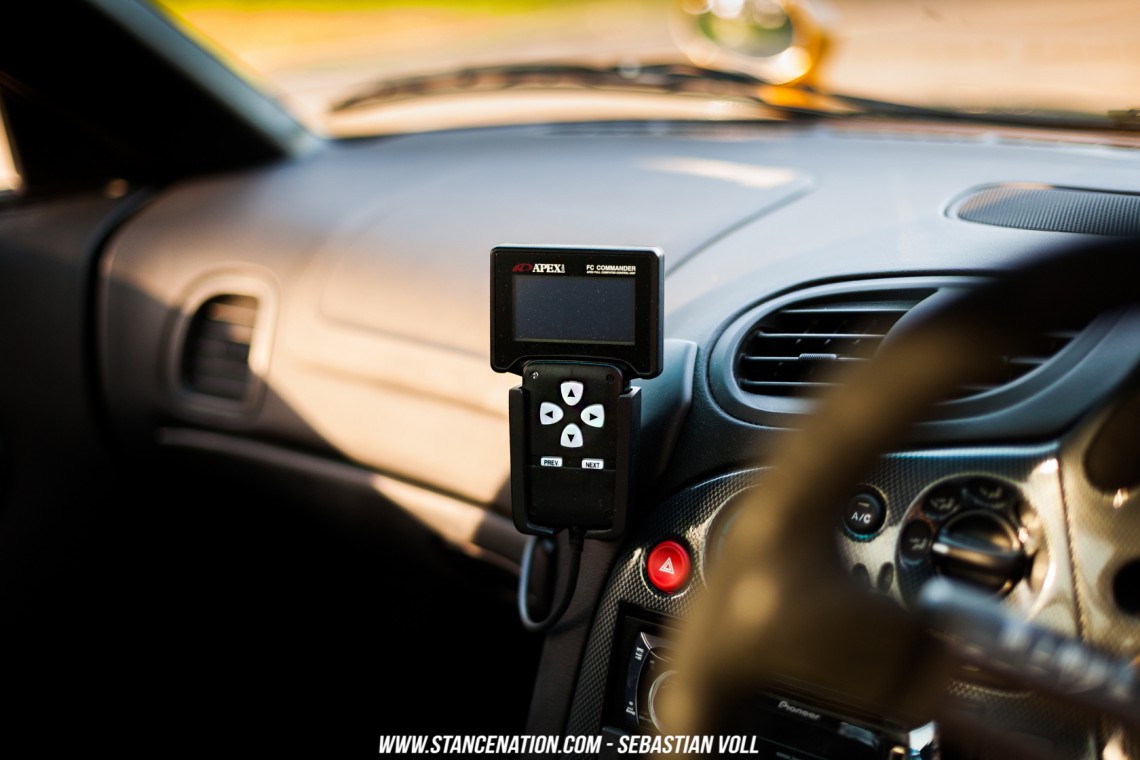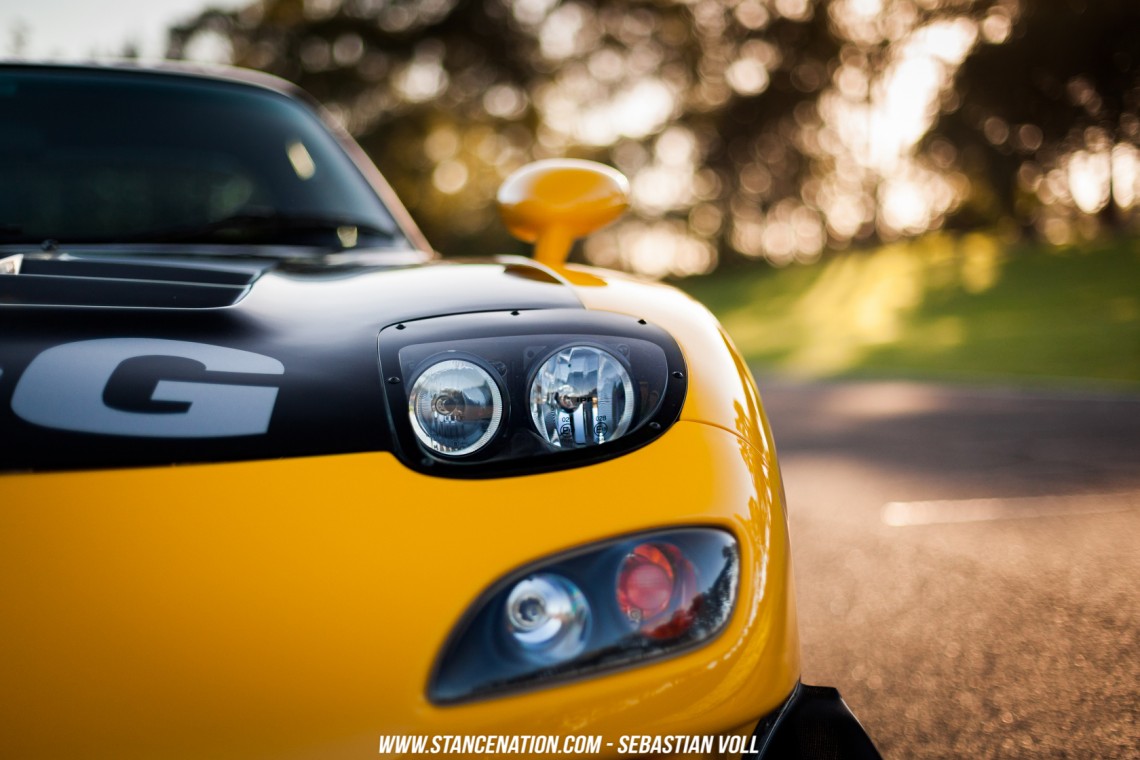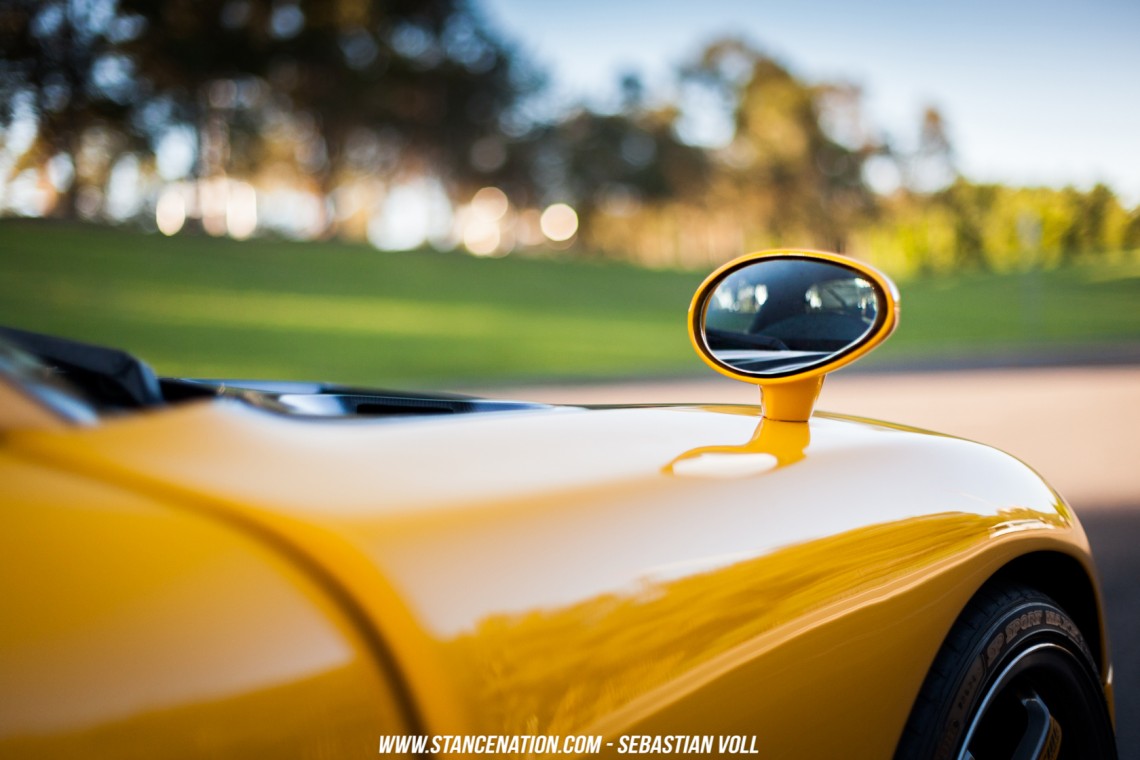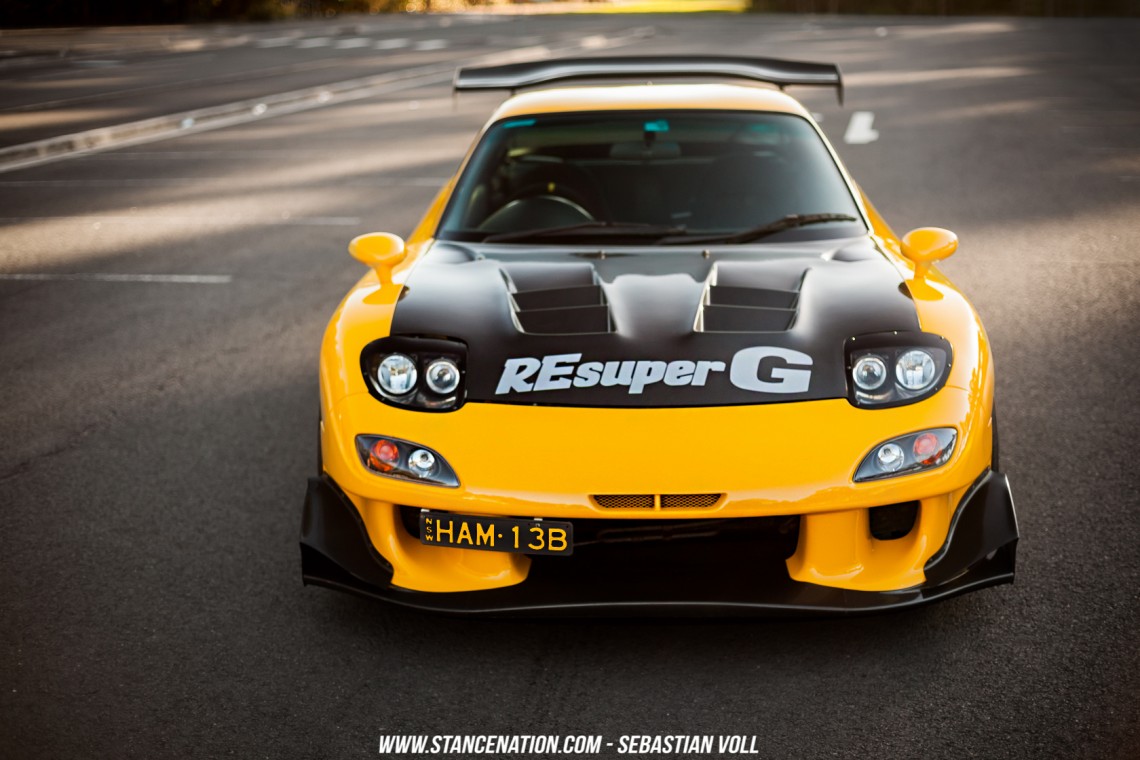 Engine
13b upgraded twin turbo rotary.
Custom intercooler
custom gold plenum
A'pexi power FC management system
Mazdaspeed SP carbon fibre intake
upgraded 5speed gear box
brass button clutch
Suspension/Wheels
rotora forged brakes (360mm drilled&slotted rotors, 6piston calipers)
HKS Hipermax 3 coil overs
19in volk racing SL wheels
Exterior
Bathurst R sunburst yellow respray on the RE Amemiya AD-GT body kit
N1 facer front bumper
carbon front deffuser
carbon front canards
carbon rear deffuser
carbon AD hood 9 vented bonnet
carbon GT2 rear wing
sleek head lights kit and AD side mirror pro kit
custom tail lights
Interior
mazdaspeed carbon interior